A Metaphor for the Planet Baffler. Important.
Kangaroo Dies After Visitors At Chinese Zoo Hurl Rocks To Force Her To Jump Huffington Post
'Sea Nomads' Are First Known Humans Genetically Adapted to Diving National Geographic
Government Accidentally Releases Documents on "Psycho-Electric" Weapons Popular Mechanics. This should not be news. Not long after the USSR fell, one of its prominent scientists wrote a book about the government's parapsychological research program, which was investigating things like mind control and long-distance messaging. They concluded that there were people with real psychic abilities, vastly above random, but still not reliable enough to use for military purposes. The book said the US has a similar research problem….and not the one later described in The Men Who Stare at Goats, which may well have been the DoD funding some cranks to provide cover for their serious programs.
These floating buildings are made from thousands of plastic bottles that can withstand flooding Business Insider (David L)
America's nuclear headache: old plutonium with nowhere to go Reuters (EM)
Department of Justice reportedly investigating AT&T and Verizon over collusion against eSIM technology The Verge
Impossible Burger draws environmentalists' ire AdAge (David L)
China
Bike Share Oversupply in China: Huge Piles of Abandoned and Broken Bicycles Atlantic (furzy). You have to look.
North Korea
North Korean Leader Says 'We No Longer Need' Nuclear or Missile Tests New York Times

North Korea halts nuclear and missile tests ahead of planned Trump summit Guardian
India's grand data system: a greater disaster than Facebook? Asia Times
Europe in diplomatic push to ease Russia sanctions Financial Times
Brexit
Brexit: No 10 still 'confident' of Irish border solution BBC. And I can run a four minute mile.

Britain risks 'disorderly' Brexit, Michel Barnier warns after EU rejects Theresa May's Irish border solution Telegraph

UK to present new Brexit 'backstop' plan on Ireland Politico. We said before this was never gonna fly. The Single Market is not just a matter of having the same rules. The rules are interpreted and enforced by a large bureaucracy. It's one package deal. The simple reason this is a non-starter is the UK would have to accept the primacy of the ECJ, which is a third rail issue.

It's time to stop believing in these 'magic' Brexit solutions Guardian
"This is the United Kingdom for God's sake, not some third world banana republic where the organs of state are in hock to some sort of kleptocracy" https://t.co/NpSSc0TVNh pic.twitter.com/PMA1AZlNs8

— Nicholas Shaxson (@nickshaxson) April 20, 2018
Zimbabwe's Mugabe summoned over alleged diamond looting Los Angeles Times (furzy)
Myanmar police 'set up' Reuters reporters in sting-police witness Reuters (furzy). Wowsers.
Syraqistan
Man linked to 9/11 attacks on U.S. captured in Syria: Pentagon Reuters (EM)

Syria Sitrep – Cleanup Around Damascus – WMD Rumors Prepare For New U.S. Attack Moon of Alabama

Yesterday Israeli military killed 4 Palestinian protesters, wounded 729 including 156 w/ live fire. In past few weeks, they've killed dozens more, wounded hundreds more, & shot at least 6 journalists, killing one. Many of those wounded/killed are children.https://t.co/d07DOJ6Sx4

— Lee Camp [Redacted] (@LeeCamp) April 21, 2018
Imperial Collapse Watch
Bomb Them Over There So We Can't Build Our Communities Here Ghion Journal (UserFriendly)
Big Brother is Watching You Watch
This is how Facebook collects data on you even if you don't have an account Recode (David L)

Palantir Knows Everything About You Bloomberg
Trump Transition
DNC sues Russia, Trump campaign and WikiLeaks over alleged election interference The Hill. UserFriendly: "Just fucking shoot me."
Democratic National Committee's Lawsuit Against Russians, Wikileaks And Various Trump Associates Full Of Legally Nutty Arguments Techdirt (furzy)
.@TheDemocrats suing @wikileaks for costing them the election is like an armed robbery convict suing a security camera company for getting them arrested.

— Caitlin Johnstone (@caitoz) April 20, 2018
Hillary Clinton on Election Night: 'They Were Never Going to Let Me Be President' Daily Beast. Furzy: "'They' who?"
Two Comey Memos Shared With Friend Are Under Scrutiny Wall Street Journal
Cuomo Team Pressed Officials to Skip Protest of His Pressure Tactics New York Times (UserFriendly)
Beyond Starbucks: How Racism Shapes Customer Service New York Times
Apple shares slide 7% in two days on iPhone fears Financial Times
Why undertakers are worried Economist
The SEC's "Regulation Best Interest" is in the best interest of Wall Street, not retirement savers and other investors Economic Policy Institute
Now Even a Fed Dove Homes in on the "Everything Bubble" Wolf Richter (EM)
Class Warfare
This one should send chills down everyone's spine. Looks like a synthesis of corporate economic thinking on a world-wide scale. This kind of dangerous nonsense calls into question the (not so) long-term viability of capitalism.
Due Process: Lamenting the death of the rule of law in a country where it might have always been missing. Lewis Lapham (witters)
Antidote du jour. MGL: "Sandhill cranes in late August on reserve near Homer, AK. Kenai Mountains are seen across Kachemak Bay."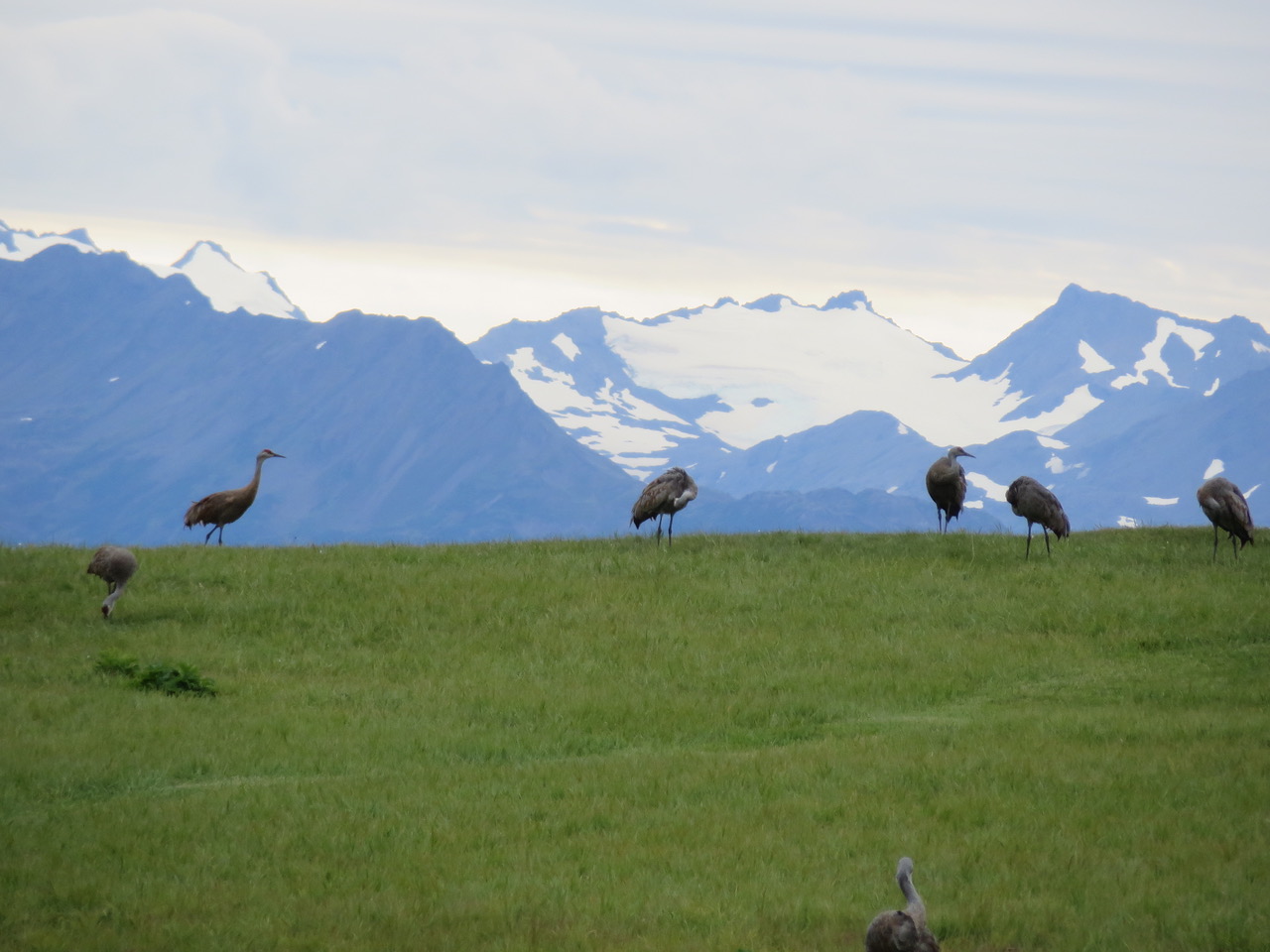 See yesterday's Links and Antidote du Jour here.