A cell phone carrier in Asia has a perverse sense of humor. While my dumb phone is charging, it can still take calls. Apparently this network regards charging phones as off line and gives overseas callers this message:
You have reached a test number. [cheesy woo woo music starts] This highway leads to the shadowy tip of reality. You're on a through route to the land of the different, the bizarre, the unexplainable. Go as far as you like on this road. Its limits are only those of the mind itself. Ladies and gentlemen, you're entering the wondrous dimension of the imagination. Next stop, the code zone." [pause in speaking, woo woo music gets louder] There may have been more but I got the idea
How to Hit the Brakes on Climate Change Bloomberg (PlutoniumKun)
The smartphone sales slowdown is real Axios
Pump And Dump Schemes Take Over Crypto Markets SafeHaven
Smart contracts, stupid humans: new major Ethereum ERC-20 token bugs BatchOverflow and ProxyOverflow David Gerard. Richard Smith: "Live sightings of the genius of smart contracts and the wonders of immutability." Moi: Adam Leviin wrote a paper on how residential mortgage securities were immutable contacts, or as he put it, "Frankenstein contracts". Lambert: "Just avoid any product with the word 'smart' in its marketing collateral and you'll be fine."
Analyzing Operation GhostSecret: Attack Seeks to Steal Data Worldwide McAfee (furzy). Established readers will recall that many security experts debunked the notion that the Sony Pictures hack was brought to you by North Korea. First, Sony was so badly protected that hacking it was akin to going through an open door. Second, the North Korean attribution was laughably poor. One item I recall is the breathless claim that the "keyboard" (which is a misleading term no pro would use) was "Korean". In fact, the choice was South Korean….and the use of their language is outlawed in North Korea (the dialects are sufficiently different as for them to be more like distinct languages).
North Korea
Note the rather unjournalistic choice of words in the Asia Times article: "In a photo-op that looks certain to become iconic, North Korean leader Kim Jong-un will waddle across the inter-Korean border in the iconic truce village of Panmunjom at 9:30am on Friday for the third-ever inter-Korean summit…". Watching the coverage on one of the local Korean TV affiliates, the body language of the 2 leaders at their face-to-face meeting was very friendly, and undiplomatic though it may be, "waddle" is an accurate description of the portly Kim Jong-un's gait. Important as this event is, if they pre-empt my regular Korean evening dramas – tonight would normally be Queen of Mystery 2 followed by Let's Watch the Sunset – for it, I'm gonna be pissed. :)
China
Canadian Senate lost at South China Sea South China Morning Post
Brexit
Irish prime minister: Progress on border needed by June EU summit Politico. Note escalation from a threat to a red line.

EU doesn't need the City of London, says chief Brexit negotiator Guardian. We've repeatedly said this was the EU's view and that we regard it as correct. The UK has astonishingly carried on as if the City is somehow uniquely valuable, as if British firms were necessary to the Continent, and separately, as if the activities performed there could not be moved elsewhere if necessary. Yet again, the EU has to be explicit when the UK insists on not getting an oft-sent message (the City is getting no breaks).

Barnier rebuffs UK hopes of special financial services access Financial Times. Again, not news if you have been paying attention.

There's a much better option for leaving the EU staring us in the face if only we could seize it Telegraph. Way too late, someone catches up with Richard North.

Resistance to joint proposal to WTO leaves UK and EU divided Guardian. This is a big deal despite the anodyne headline. We've never been on board with the oft-made claim that the UK could somehow default to WTO rules. Without getting into details, the EU often has quotas regarding imports from various third countries. So what happens when the UK leaves the EU and the UK and EU want to come up with a deal on goods where other countries in the world are subject to quotas or higher tariffs? The EU and UK acted as if they could not just settle their hash but impose a new arrangement on all the other third countries. Not surprisingly, they aren't going along.
Syraqistan
Big Brother is Watching You Watch
Google and Facebook Likely to Benefit From Europe's Privacy Crackdown Wall Street Journal (Li)

How a Genealogy Site Led to the Front Door of the Golden State Killer Suspect New York Times. I know we are supposed to be glad this guy was caught, but this is also a reminder of why never to give a DNA sample if you can possibly avoid it.

Ex-California policeman arrested in 'Golden State' serial killer case Reuters (EM). Explains more clearly the importance of him having been a cop.
Trump Transition
2016 Post Mortem
Jill Stein Defies Senate Intelligence Document Request, Calling It "Overbroad" and Unconstitutional Intercept (Kevin W). Good for her. The request was disgraceful, particularly after Stein effectively went to bat for Clinton by filing suits challenging election results.
Democrats Prepare to Pimp The Left Again in 2018 and 2020 Bruce Dixon
The West Wing reboot: Aaron Sorkin considering revival Radio Times. UserFriendly: "This is how liberals deal with republicans in the White House."
Democratic super PAC meddling in GOP primary in West Virginia Washington Examiner (UserFriendly). As Talleyrand said of the Bourbons, "They have learned nothing and forgotten nothing."
Claims by Joy Reid's Cybersecurity Expert Fall Apart Daily Beast
Opioid Crisis Cost Washington State $9 Billion in 2016 Governing
Health Insurers Spend $158K to Make Sure 'Blue Wave' Is Against Medicare for All GritPost (UserFriendly)
Bill Cosby Found Guilty of Sexual Assault in Retrial New York Times
On tectonic plates, the economic system & the economics profession Ann Pettifor (Chuck L)
Tesla Autopilot crisis deepens with loss of third Autopilot boss in 18 months ars technica
Deutsche Bank has a €60bn problem – but doesn't want to talk about it IFR. Richard Smith: "Multiple levels of IBGYBG going on here The chief exec lifecycle cycle (shorter term) and the 'book trades, trouser bonus and vamoose' cycle from 10+ years ago."
Ford is basically giving up on US car business, and GM is not far behind CNBC (Kevin W)
Class Warfare
How Guaranteeing Jobs Became the Hot New Policy Priority for 2020 Dems Daily Beast (UserFriendly)

What Does America Have to Complain About? Bloomberg. (UserFriendly). Need we say more: "…. adapted from a speech given at the "Disinvitation Dinner," an event sponsored by the William F. Buckley, Jr. program at Yale University."

LOOK: A stunning image of just how many teachers are marching to the Arizona State Capitol. #RedForEd pic.twitter.com/1KygktI99N

— Matt Rodewald FOX 10 (@Matt_Fox10) April 26, 2018

A high class problem (UserFriendly):

.@GOP email to reporters on job guarantee, single-payer, $15 wage, free college: "By the time we get to 2020, will there be any Bernie policy that the rest of the field hasn't adopted? Or will the debate stage be filled with self-avowed socialists?"

— Josh Eidelson (@josheidelson) April 25, 2018

The Amazon Effect On Housing Markets SafeHaven

Big Business Tax Breaks May Worsen Income Inequality Governing. UserFriendly: "May? lol."

Rural Teachers Working Second Jobs, Struggling To Make Ends Meet CBS Denver

Why we should bulldoze the business school Guardian (vlade)
Antidote du jour. Crittermom:
White-lined sphinx moth (Hyles lineata), also known as the hummingbird moth.

The cherry tree just bloomed & they showed up to feast last night.
This was the first time I photographed them after dark.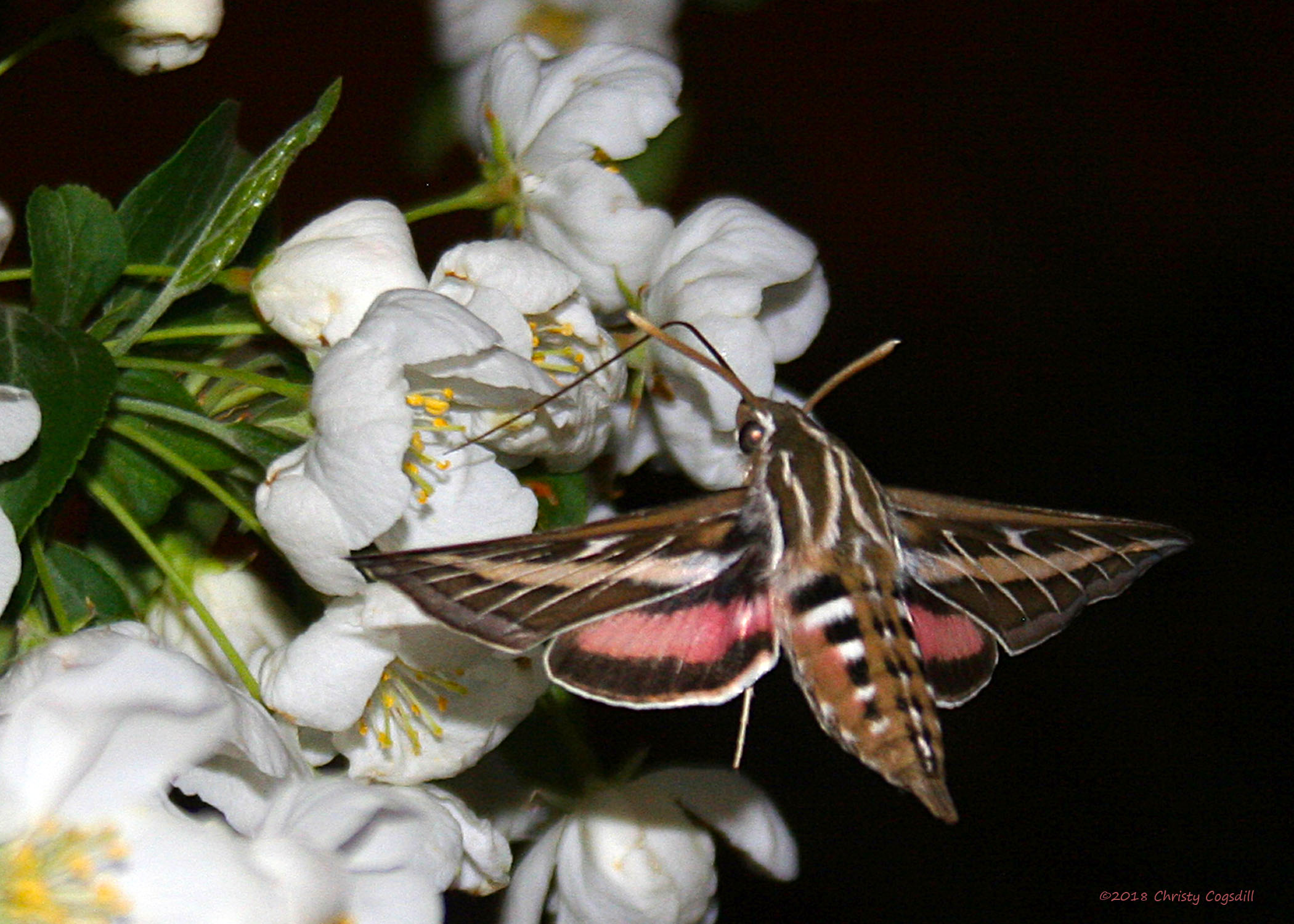 And a bonus video:
This little girl grew up with two gorillas — and now they're reuniting for the first time in 12 years ? pic.twitter.com/KnZi8Knf92

— Nature is Amazing ? (@AMAZlNGNATURE) April 23, 2018
See yesterday's Links and Antidote du Jour here.