Mr. Market is not happy with Trump's latest move in his trade war of wills with China. US stock futures have fallen overnight by more than 1.5% and Asian markets are volatile.
Yesterday, Trump announced that he would have the US Trade Representative identify another $100 billion of goods imported from China on which the US might impose 25% tariffs, with a 60 day comment period. This was in response to China's reaction to Trump's threat to impose 25% on $50 billion of Chinese goods. China responded that it would impose tariffs on its own list of $50 billion of US goods, including soybeans and 127 other agricultural goods, cars, chemicals, and aircraft. China also said it would file a case in the WTO contesting the Trump tariffs. Remember that these measures are in addition to the tariffs Trump imposed on steel and aluminum.
The Chinese also made a tart announcement overnight. From Bloomberg:
"The Chinese side will follow suit to the end and at any cost, and will firmly attack, using new comprehensive countermeasures, to firmly defend the interest of the nation and its people," the Commerce Ministry said in a statement on its website, without further detailing any planned measures.
The Commerce Ministry also made clear it would prefer not to have a trade war.
The earliest the US might impose tariffs is the end of May, on the first $50 billion of Chinese goods targeted. The Trump Administration has been deliberately silent about when it might pull the trigger. However, team Trump may have gone out of the gate sooner than was in its best interest. It was naive to think they could wrest a quick win from China. April is a long time before the November midterms. If the Trump administration keeps the tariff threat in play though then, investors won't like the volatility, and the trade row could be the trigger for an overdue revaluation. A protracted trade game of chicken would probably weaken the dollar, which would increase import prices and thus the inflation rate. That in turn could stiffen the Fed's resolve to stick to its guns on interest rate increases, which would be another negative for asset prices.
The $50 billion tit for tat round was expected to have limited macroeconomic impact. We'll presumably get an update on the latest threats. The effect on the Chinese economy was estimated to be 0.1-0.2% of GDP. Asia Times has a write-up of a Goldman Sachs analysis which shows both sides so far have been targeting goods with limited knock-on effects. Moreover, as some experts noted even before the details were announced, given how many manufactured goods are part of global supply chains, measures nominally targeting Chinese goods would have some of their costs going to other countries, including the US.
However, Congresscritters representing farm-heavy constituencies are upset about the prospect of Chinese agricultural tariffs, particularly since farm incomes have already been under stress. Agriculture secretary Sonny Perdue tweeted that Trump told him, "Sonny, tell them we're going to take care of our farmers," which is pretty thin gruel. This Financial Times chart maps out which parts of the US are most exposed: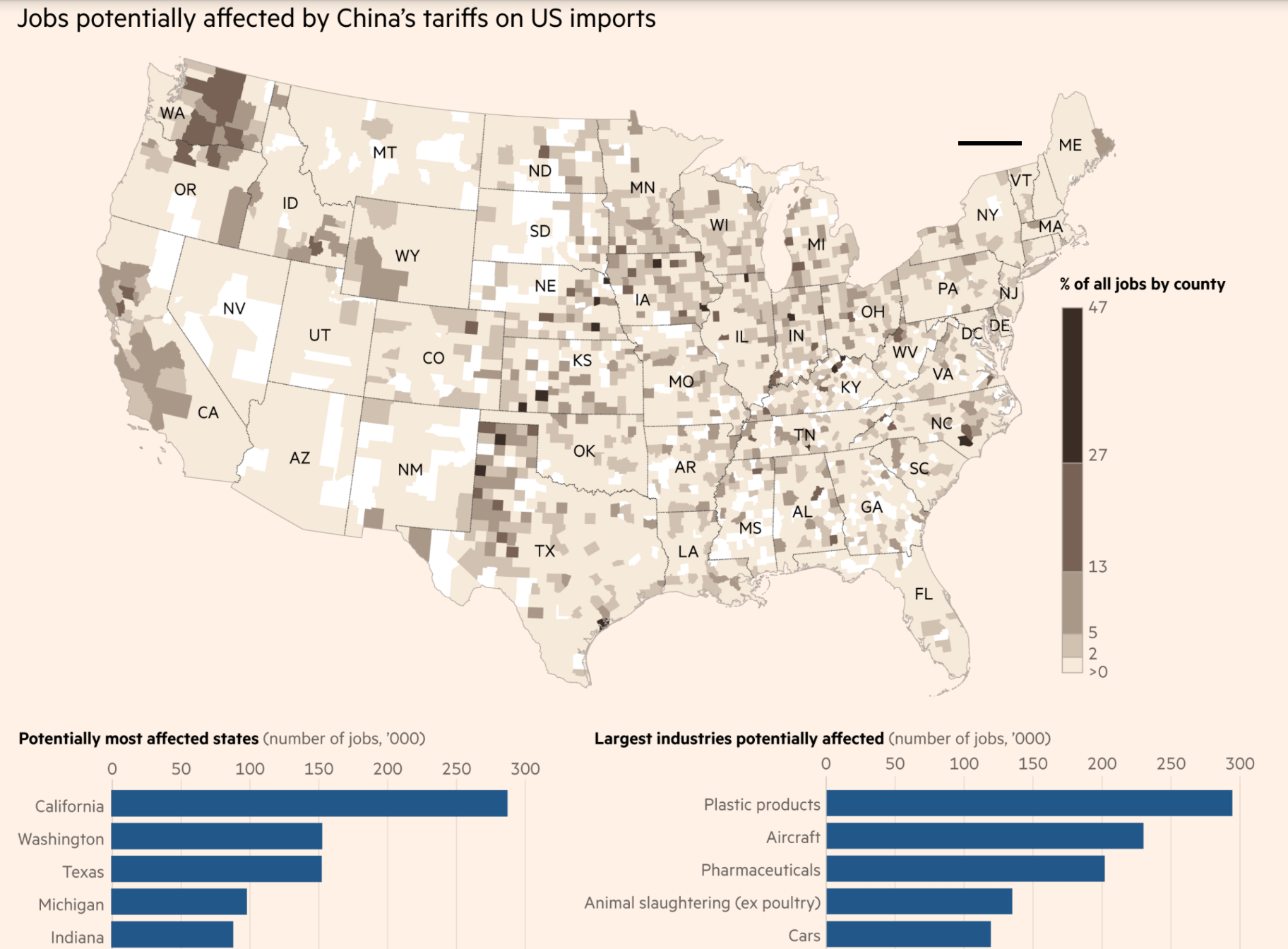 From Asia Times:
A report released Thursday found that levies on products targeted in both the Trump administration's tariff list and China's retaliatory one would have limited impact on the global tech supply chain. This, despite the US list's targeting of electronics exports, which accounted for US$130 billion of the total US$600 billion in cross-border trade in 2016.

In fact, the US tariff proposal appears to be applied primarily to component products not often shipped directly to the US, according to the research from Goldman Sachs. The tariffs on consumer electronics categories make up a relatively small amount of sales for most tech companies. Similarly, the analysts point out, the China list also includes items that are either not high-volume tech products, or are often assembled in China directly, such as cars.

In order to limit the pain felt by the US consumer, end-use products, including smartphones, servers, and PCs, were conspicuously absent from the Trump administration's initial list.
Analysts warned it would be hard to spare US consumer goods in the proposed additional $100 billion of Chinese goods to be tariffed.
Trump has been attempting to use trade threats to force concessions on other fronts. The US has always compartmentalized its negotiations: trade issues are handled separately from national security matters, for instance. Trump has been trying to use trade to force concessions on other fronts, such as telling Mexico that they needed to restrict migrant entry into the US as a condition of preserving Nafta in some form. Team Trump may have interpreted China pressuring Kim Jong-un, in the form of summoning him for less than a state visit, as a geopolitical gesture in response to Trump's trade ultimatums (China announced that Kim Jong-un said he was willing to denuclearlize in return for security guarantees, which means the US taking its troops out of South Korea. That is actually a long-standing offer, but the US press rarely mentions it. And the US is not prepared to take it up since among other things we like having a military presence close to China. But the optics were presumably helpful to Trump)
The effort to force China to the negotiating table is not working very well. Before Trump's $100 billion raise in his trade poker game, Administration officials had done a good job of persuading investors that the two sides were talking, with the implication being China would agree to offer some concessions and the tariffs would not be imposed.
However, the fact that the US and Chinese were communicating isn't tantamount to serious horse-trading. From the Financial Times:
The [Thursday] rally was helped by soothing words from senior US officials, who insisted there was still plenty of time to strike a deal with Beijing. Larry Kudlow, the new White House economic chief, noted "it's nothing around the corner" since the tariffs were currently only "proposals". 

But his attempts to calm market fears came as people briefed on bilateral negotiations said there appeared to be little in the way of grounds for hope. "Clearly the two sides are talking but the discussions do not appear to be meaningful," said one person familiar with the talks. 
But China is going to find it hard to match Trump's $100 billion raise. From Bloomberg:
Were China to want to match Trump's latest threat in kind, it wouldn't have enough American goods imports to target. It could still take other measures — like curbing package tours or student transfers to the U.S., or steps against American companies' operations in China.
I always thought it was crazy to invest in a country where you could not be sure of your property rights. The Chinese are just about certain not to do anything as aggressive as seizing assets. But they could become relentless in enforcing usually ignored regulations, or restrict dividend payments to parent companies. Since the government has been pursuing overinvoicing as a way to evade capital controls, they should have a bureaucracy in place to assess the validity of purchases of the prices at which foreign materials are purchased. And for US firms, the hassle factor of having the Chinese government all over their foreign purchases would probably be a much bigger cost than a restriction on dividends (most US firms care much more about reported enterprise profits).
The Administration isn't clear about what it wants. Even though Trump has stated a high-level goal of reducing the US-China trade deficit by $100 billion and curbing China's misappropriation of US intellectual property, his team does not appear to have an idea of how to get from A to B. From the Financial Times:
The Trump administration has long been divided on how aggressively to embrace protectionist measures, and it appears to be split again over how best to deal with China…

The mixed signals from his administration have also muddied Washington's negotiating stance and, some analysts argue, played into China's hands. 
Trumps presidency has been a wild ride from its outset. Why should trade be any different?