By Lambert Strether of Corrente.
Trade
"U.S. aluminum users are breathing a sigh of relief. Prices of the metal have fallen 6% from a peak in February…, despite a tariff aimed at holding back imports to boost domestic production. Manufacturers of products such as beer cans and car hoods now are paying 3% less for aluminum than they were before the Trump administration announced the tariff on March 1" [Wall Street Journal]. "That's a sign of the fast-changing impact of the trade maneuvers as buyers and suppliers adjust to changes in the markets and the administration rolls out exemptions for many top aluminum-making countries."
"Soybean and corn prices were trading lower in the wake of China's announcement that it would impose retaliatory tariffs on various agricultural products, adding to the pain on farms already weighed down by diminished income from crops and livestock. China is by far the largest foreign buyer of U.S. soybeans, and bought 32 million metric tons of the crop from U.S. exporters last year—more than half of all foreign sales. Analysts say the mere threat of tariffs should prompt buyers in China to cancel some unshipped orders and shop for Brazilian-grown commodities instead" [Wall Street Journal].
"Trump's being cunning — not dumb — over China, says trade expert" [MarketWatch]. ""Does President Trump really not understand that a trade war is a lose-lose situation or is he playing a smart strategic game? There are indications the latter is the case," writes ING's Raoul Leering in a blog post. Other countries depend much more on American demand for their products than the other way around, Leering notes. 'It is likely that China will, in the end, cut its losses and be willing to give Trump something,' he says…. 'If Trump succeeds in getting more favorable terms of trade from his trading partners … he will emerge as the winner in the noisiest trade quarrel the world has seen in the last couple of decades. This would get him in the voters' good books in the run-up to the midterm elections in the U.S. in November,' the ING expert says."
"Trump's predictably ruinous strategy in the trade war" [The Week]. "China's leadership, composed as it is by intelligent people with a decent grasp on policy, are aiming their tariffs directly at so-called Trump Country — rural, conservative places that export a lot of food, as well as manufacturing regions. The objective, pretty clearly, is to be to put pressure on Republican congressmen from Trump's base regions, who can then press the president to roll back his tariffs. A straightforward, logical strategy at the least. [However,] Intelligent people often struggle to understand incredibly stupid or ignorant ones…. [These voters] are disproportionally employed, married men with children at home. They are also mainly college educated and are the likeliest group to call themselves 'upper class.' These are upscale suburban dads, not suburban moms."
Politics
2020
Sanders asks for votes in Jackson: Thread:

.@BernieSanders is in Jackson, Miss., with Mayor Lumumba for #MLK50. Q&A tonight: "What does economic justice mean to you?" pic.twitter.com/cGU8Jq6FHz

— Ruby Cramer (@rubycramer) April 5, 2018

More from Jackson:

"He was obviously an extraordinary candidate, brilliant guy. But beyond that reality," Sen. Sanders says, Democrats have lost a record no. of legislative seats.

— Ruby Cramer (@rubycramer) April 5, 2018

More from Jackson:

Bernie says one of the reasons he's in Mississippi tonight is because the Democratic Party "has got to be a 50-state party." You can't be a real national party, he says, by not listening to and including some states, "including some of the poorest states."

— Ruby Cramer (@rubycramer) April 5, 2018

Sanders asks for votes:

Somebody told me that West Virginia, Oklahoma and Kentucky are "red" states. They got that wrong. These are the states where teachers are now leading the nation in the fight for workers' rights and adequate funding for education. Thank you teachers! https://t.co/4BDgn3v0iK

— Bernie Sanders (@SenSanders) April 3, 2018

Good to see liberal Democrats all over the teacher strikes. Oh, wait…
2018 Midterms
"The Left's Year of Magical Thinking" [Jeff Greenberg, Politico]. "My anecdotal sense is that countless liberals are drawn to the never-ending, numbing procession of TV panel after TV panel, all focused on the Mueller investigations and what they might yield. (Stormy Daniels has now become the second obsessive subject.) Whenever I click on CNN during prime time, it feels like Groundhog Day. Each hour seems to promise that any minute now, federal marshals will parade down Pennsylvania Avenue with warrants and cuffs. And for many Democrats, the promise of a House takeover in 2019 is that impeachment hearings will begin roughly 30 minutes after Paul Ryan hands the gavel over to Nancy Pelosi (or her successor)… But if Democrats should have learned anything from 2016, it is that the low regard in which most Americans hold Donald Trump does not necessarily translate into votes for Democrats." Strange article that berates fringe elements for anti-gun and pro-abortion sentiments that hand isssue to Republicans, while simultaneously arguing that the central tendency of the liberal Democrats who run the Party — Russia, Russia, Russia! and Daniels Davis! — will be the cause of a 2018 debacle.

"Can 'Reluctant Trump' Voters Rescue the G.O.P.?" [Henry Olsen, New York Times]. "[I]t looks like a blue wave is swelling for the midterm elections. There's still time for Republicans to change that, but first they must figure out how to mount an effective defense. To do that, they need to focus on a largely overlooked group of voters: Donald Trump voters who did not like him. According to the 2016 exit polls, 18 percent of Americans did not like either Mr. Trump or Hillary Clinton. Mr. Trump owes his victory to the fact that he beat her among this group by a 17-point margin."

"How Women Could Lose Senate Seats in the Latest Year of the Woman" [Inside Elections]. "[T]here are more opportunities for women to lose their Senate seats than for women to gain seats. Of the 13 women incumbents on the ballot this year, four are Democrats running in Trump states, and at least three of those will face off against GOP men in November…. In the 2018 House elections, there's a wave of women with no experience in politics running, including Democrats Chrissy Houlahan in Pennsylvania and Gina Ortiz Jones in Texas. But in the Senate, the candidates most likely to add to women's ranks have spent years laying the groundwork for major statewide races. Current House members seeking Senate seats this year, including Sinema, Blackburn and McSally, have been "waiting and working and laying groundwork and [staying] connected in party politics in the ways the men are in those states," said Debbie Walsh, director of Rutgers Center for American Women and Politics."

WI: "On Tuesday, in Wisconsin's Supreme Court election, a liberal challenger who nationalized the race prevailed. In a shocking outcome, Milwaukee County Judge Rebecca Dallet beat Sauk County Judge Michael Screnock, who was supported by conservatives, with 56 percent of the vote. Her decisive victory marked the first time liberals prevailed in an open seat state Supreme Court race in 23 years" [RealClearPolitics]. "[L]iberals saw the Wisconsin judiciary seat as territory to be reclaimed – a blow to be struck in support of the national "#Resistance" movement. They nationalized the election, focused on President Trump and issues such as gun control. They brought in big dogs Democrats like Eric Holder and Joe Biden to drive the message home and rally their base. It worked. What's troubling for conservatives is that the left's playbook, which failed in the past, seems to be working now." Liberals and the left are not the same, of course.

NY: "Nixon-Cuomo Primary Spotlights Role of State Democratic Party" [Gotham Gazette]. "[Geoff Berman, the executive director of the New York State Democratic Party] drew a line between the party at large — composed of every registered Democratic voter who can vote in the primary for the candidate of their choice — and the State Democratic Party Committee, which is made up of elected district leaders and is not necessarily a neutral entity." He did?!?!?

FL-27: "Donna Shalala Won't Discuss Working for Lennar During Housing Bust, Profiting Off Health-Care Work" [Miami New Times]. I'm shocked.

FL-27: "Shalala raises big bucks in first three weeks of Congressional campaign" [Miami Herald]. "[A]lready she's raised more than $1 million, her campaign announced Thursday. Her first-quarter total — an eye-popping number even for the woman who helped raised billions for the University of Miami — immediately gives her one of the fattest war chests in a crowded Democratic primary… It's unclear how much of the haul, if any of it, is self-loans, although the campaign's release says the $1.17 million she's reporting was in the form of contributions. Shalala, 77, began advertising last month, rolling out a television commercial just two weeks into her campaign."

VA-7: "At the height of the Tea Party movement, Dave Brat stunned the political world by knocking off House Majority Leader Eric Cantor in a Republican primary, then winning his seat that November. Now, just four years later, Brat may again be in for the race of his life, but this time as the incumbent facing a wave of energized Democrats determined to knock him out of Congress and turn the district blue" [ReaClearPolitics]. I remember that race; the Democrat's did squat for Brat's opponent in the general, Jack Trammell (also a professor at Brat's school, Randolph-Macon), so given a chance for a referendum on the Tea Party, they whiffed.

MN: "Trump Is 'Saving Us': Minnesota Mining Country Warms to Tariffs and G.O.P." [New York Times]. "In the union halls and restaurants of northern Minnesota, the enthusiasm for the tariffs is tempered by decades of ups and downs, hiring sprees and layoffs. People often use phrases like 'guarded optimism' and 'stabilization.'"

IL-12: Over the transom: "IL-12 came up a few days ago ("Conor Lamb Clone"), and that's the district I grew up in. It's pretty funny that "union, guns, and weed" is now being workshopped as a campaign slogan in Southern Illinois. . . sign of the times I guess. Kelly's quote feels like a formulation to me, meant to talk to the very different types of people and economic situations that exist in the district (en. wikipedia. org/wiki/Illinois%27s_12th_congressional_district): "Unions" – Granite City residents who work/worked at US Steel. "Guns" – well, probably works with a lot of residents in the cities more than 30 miles from downtpwm St. Louis MO. "Weed" – the kids at SIU in Carbondale, but maybe a wink towards decriminalization. The cities in that district also have very different situations at the moment – cities like O'Fallon and Shiloh are booming – housing, air force base nearby, hospitals relocating there, and new big box retailers opening monthly. Belleville – de-population with residents moving to places like O'Fallon, Shiloh, and more rural cities further away from the St. Louis MSA. All that said, not sure I see a Democrat taking this one outside of a wave. It's still socially conservative, and evangelical churches 'open' just as often as the big box retailers I mentioned above. And things are going well enough in the well-off cities that they'll probably vote for Bost in support of the status quo. Thanks again for the great work! – Jon

Registration deadlines:

11 states have #APRIL #VoterRegistration deadlines for #2018Primaries. #RegisterToVote here: https://t.co/RsmJSGCNrL

Ind. (4/9)
Ohio (4/9)
Pa. (4/16)
W. Va. (4/17)
N.C. (4/20)
Idaho (4/20)
Ark. (4/23)
Ky. (4/23)
Ore. (4/24)
Ga. (4/24)
Neb. (4/30)#MondayMotivation pic.twitter.com/IZ5iiziSvI

— HeadCount (@HeadCountOrg) April 2, 2018



New Cold War
Onward together:

"For whatever reasons… you've got Trump basically parroting what Putin says." Hillary Clinton slams President Trump for his relationship with the Russian president https://t.co/JAcsKhqyil pic.twitter.com/0TFzzCZSwi

— CNN (@CNN) April 5, 2018
Realignment and Legitimacy
"The Preeminent Fundraising Group For Democratic Women Is Stuck In The Middle Of The Party's Wars" [Buzzfeed]. ""EMILY's List is in the business of electing pro-choice Democratic women who will be champions for women and hardworking families. That just isn't possible without defending a woman's right to choose, full stop," said [Christina Reynolds, vice president of communications for EMILY's List], when asked whether the group feels compelled to engage with divisions animating Democratic politics at the moment." Ugh, "champions" (Clinton) and "hardworking families" (as opposed to the working class, which includes single people without "families"). Anyhow, it's not clear to me how anybody can "champion" "hardworking famlies" without making #MedicareForAll a litmus test, which Emily's List does not do (as I show here).

"Redefining Civic Engagement: Why City Bureau's Documenters Do This Work" [Medium]. "These aren't journalists by trade. They're citizens who understand the value of reclaiming journalism and citizenship for the public… .The results were similar when we asked our Documenters what doing Documenters work (i.e. live-tweeting public meetings, note-taking and producing audio/video at public meetings) has taught them… The Documenters program creates a new space and a new dynamic for civic engagement — unlike volunteering or donating to charities, the work in which Documenters engage is, by its nature, a two-way exchange where they derive concrete benefits (skill-building, knowledge about the city, self expression) while contributing to their communities in meaningful ways. In short, they can give and get at the same time. Getting paid for their work also is a crucial part of this exchange, not necessarily because of the dollar amount, but because it acknowledges the value of their time and allows them to prioritize the assignments among competing interests." This is really, really good and important work. If any readers are doing this, I'd love to hear about it.

Ouch:

You know I try not to keep up with the latest happenings of 'the resistance' but am I to understand now they are protecting the powerless mom & pop business called *checks notes* Amazon from Trump? ?

— DarkSkintDostoyevsky (@daniecal) April 4, 2018
Stats Watch
Coincident Indicators: "January 2018 Philly Fed Coincident Index Year-over-Year Rate of Growth Again Marginally Improve" [Econintersect]. "The reality is that most of the economic indicators have moderate to significant backward revision – and this month they are generally more positive. Out of this group of coincident indicators discussed in this post, only ECRI and the Aruoba-Diebold-Scotti business conditions index have no backward revision – and both have a good track record of seeing the economy accurately in almost real time…. ECRi's Coincident Index's rate of growth is relatively unchanged…. The Aruoba-Diebold-Scotti business conditions shows above average business conditions."
International Trade, February 2018: "The nation's trade deficit keeps deepening, to $57.6 billion in February for the fourth straight showing over $50 billion in a curve that continues to accelerate" [Econoday]. "The goods gap reflects a 1.6 percent rise in imports to $214.2 billion that offsets and masks a solid 2.3 percent rise in exports to $137.2 billion. Leading the import side is a jump in food and industrials supplies and especially capital goods, the latter a positive indication for domestic business investment. Leading the export side are industrial supplies as well as a rare jump for vehicles and also a solid gain for capital goods which points to international business investment." And: "The data in this series wobbles and the 3 month rolling averages are the best way to look at this series. The 3 month averages are slowing for exports and accelerating for imports. Thus the trade balance worsened" [Econintersect].
Jobless Claims, week of March 31, 2018: "After holding steady near record lows since the middle of January, initial jobless claims popped 24,000 higher to 242,000 and well beyond Econoday's high estimate" [Econoday]. "Despite the headline rise for initial claims, unemployment claims remain solidly consistent with strong demand for labor."
Bloomberg Consumer Comfort Index, week of April 1, 2018: Rose to a new 17-year high [Econoday]. "This year's confidence is tied to the tax cut and strength in the jobs market."
Banks: "Wall Street's Big Banks Are Waging an All-Out Technological Arms Race" [Bloomberg]. "Investment banks are starting to unleash a new generation of learning machines on the markets to customize, hedge, and execute trades. It's a step toward the post-human vision of markets that Pandit had at Morgan Stanley in the 1990s. Across the equities and fixed-income world, apart from a dwindling pool of human traders working on bespoke deals and the human minders of the machines, algorithms will be connecting sellers and buyers….And yet, for all the ways in which finance is becoming a place where machines transact with other machines, the race for trading riches will ultimately be won or lost by people such as Blankfein, Gorman, and Dimon, men driven to keep the throne—or claim it at last." So, the future of work is a few hundred rich dudes who own the Big Iron?
Shipping: "Drivers need to get paid twice as much, says [Owner Operator Independent Drivers Association (OOIDA)] president Todd Spencer" [Freight Waves]. "[ATA senior vice president Bob Costello] refuted the claim of the Department of Labor that lists the number of trucking-centric drivers to be 864,000 but rather estimated it to be around 500,000. And since the industry ran with an estimated 50,000 drivers short last year, Costello believes the situation is more ominous than it looks. Todd Spencer, the president of OOIDA, mirrored the views of Costello and extended his reasons for the shortage while talking on a Fox Business segment yesterday. "Pay for truck drivers has been falling for three decades, while the demand and the responsibility to the job are going exactly the opposite," he said. "It will always be difficult to find people to do jobs that are hard, that doesn't really pay much."…. The average trucker wage was $38,618 annually in 1980 and if it is adjusted to the present, would be over $111,000 a year. But as Spencer points out, the average wage today as estimated by the Department of Labor is a paltry $41,000, which is nearly a third of what a trucker needs to draw, considering the inflation over the years. The buck does not stop here. Drivers in the trucking industry are among the hardest toiling working class, with weeks that range between 70 to 80 hours on the road. Spencer believes that 'the trend hasn't really changed,' and for a job that pays less while demanding incredibly long work weeks, it does not come as a surprise that drivers are hard to come by."
Shipping: "Trucking companies are ordering big rigs at a record pace and it's still not fast enough to meet shipping demand. U.S. fleet owners in the first quarter nearly doubled their orders from a year ago, … a stark sign of the strong expansion in the American economy" [Wall Street Journal]. "Relief from truck manufacturers may not arrive soon: ACT Research reports factory backlogs are near a three-month high."
The Bezzle: "A Handy Guide To Tesla's Guidance" [Bloomberg]. "So how have Tesla's targets fared in general? I went back through the past three year-end shareholder letters and counted up 36 objectives in their outlook sections, falling into three buckets: Financial, Operations and Sales. Judging fulfillment is naturally a bit subjective, but seven were met unambiguously. On another six, I surmise Tesla kinda got there. The single biggest group is the 12 misses (including those Model 3 targets). The jury's still out on another 11."
The Bezzle: This is interesting; an aggregation of bills of lading for Tesla. Thead:
Although I can't quantify it exactly, most of the Model 3 part imports that I have been monitoring seem to have gone down in quantity for February so I expect that production is a bit slower than expected.

— Bozi Tatarevic (@hoonable) March 5, 2018
But I'm not sure how good that data is, since big shippers can conceal what they ship. Still, at the worst a good try.
Mr. Market: "Opinion: Here's why you should ignore quarterly GDP numbers" [MarketWatch]. "The wisest course of action is to just ignore the quarterly GDP reports. Over longer periods (a year or more), GDP does an adequate job of summarizing economic growth. But it's a mess in the shorter term. In an attempt to get a fast read on the economy, the government statisticians at the Bureau of Economic Analysis have to rely on data that are incomplete or preliminary. Some of the data is just an educated guess. Sometimes the GDP numbers are revised going back several decades! Swings in inventories and trade flows — which don't have much bearing on how the economy feels for workers, businesses, savers, and consumers — can have a big impact on the bottom-line GDP number. In addition to those long-standing problems, the BEA has also been having a lot of trouble lately quantifying the seasonal quirks in the economy. All the GDP figures are reported on a seasonally adjusted basis so that the usual rhythms in the economy don't fool us into thinking the economy is going into recession every January. But seasonal adjustments are tricky. Lately, for whatever reason, the first-quarter GDP has been much weaker than the other three quarters, even after applying the proscribed seasonal adjustment."
Five Horsemen: "Facebook remains a below-market performer as Mr Zuck goes to Washington" [Hat Tip, Jim Haygood].
NakedCap Mania-Panic Index: "The mania-panic index improved to 26 (worry) on yesterday's bounce, while new lows exceeded new highs for the 15th day running" [Hat Tip, Jim Haygood]. (The NakedCap mania-panic index is an equally-weighted average of seven technical indicators derived from stock indexes, volatility (VIX), Treasuries, junk bonds, equity options, and internal measures of new highs vs new lows and up volume vs down volume … each converted to a scale of 0 to 100 before averaging, using thirty years of history for five of the seven series.)
Facebook Fracas
"How to invest in water: A long-term bet on an essential commodity with limited supply" [MarketWatch]. "There are different ways to invest in water, starting with simply buying the shares of those companies that make everything from pipes, pumps, meters, filters and other equipment and infrastructure, to investments in the water utilities and environmental-services companies that clean, purify and distribute it…. Investors can also invest in exchange-traded funds that group baskets of stocks with exposure to the commodity…. The list includes utilities, infrastructure companies and the makers of equipment, instruments and materials…." Michael Burry, courtest phone…
Black Injustice Tipping Point
Handy map:
African American Population in the United States, as percentages pic.twitter.com/icIgXbN4tr

— Bucky with the Good Arm (@benjancewicz) April 3, 2018
And an excellent thread from Tressie McMillan Cottom with anecdotes reacting to the map. Cottom: "As I've said before I do a version of this in almost all my undergrad classes. Hands down, virtually all students think the US pop. is almost half black. My joke is, black people are in ten places. I'm only half joking."
The 420
"Please stop smoking weed in the drive-through, Gulfport restaurant asks" [Sun-Herald]. "'ATTENTION,' a laminated sign reads in the window of the Sonic on 17th Street. 'If you are smoking weed in the drive thru you will not be served! Please show some common courtesy and smoke and air out before pulling up to order.'"
Big Brother Is Watching You Watch
"Your Alexa and Fitbit can testify against you in court" [CNET]. Of course they can.
Class Warfare
"What does she think she looks like?" [London Review of Books]. "If human character did, as [Virginia Woolf] famously suggested, change in or about 1910[*], women's clothes changed very soon afterwards. Another product of 1925 was the woman's 'pullover'. Not today the most exciting item in anyone's wardrobe, it was in its way revolutionary. A pullover is pulled over the head both on and off and the person who does the pulling is the wearer. Yes, I know, but until then it had been, for more than a century, virtually impossible for a woman to get dressed – or undressed – by herself. The rich had ladies' maids, the poor had one another, but the laces and hooks and eyes, the fastening behind, required assistance. This was not true for men. In the persisting convention that women's clothes have buttons on the left, for the convenience of the average right-handed dresser, while men's have them on the right, to suit themselves, there remains an archaeological trace, a fossil record, of the different history of women and men in their relation to their clothes." NOTE * That's "in or about 1910," ffs. In the London Review of Books!
"Tariffs Aren't the Best Way To Protect U.S. Steelworkers. Global Solidarity Is." [In These Times]. "Tariffs will do nothing to improve labor rights or working conditions for workers in China, and may perversely result in a greater squeeze on labor as exporters look to cut costs. And if foreign workers were to be laid off or squeezed as a result of the tariffs, how likely will they be to stand in solidarity with us in the future?"
"Burying The White Working Class" [ARC]. "It's not an accident that the single largest egalitarian transfer of capital in the United States was the (vacillatingly but still explicitly) anti-racist project of freeing enslaved people. Racism and capitalism in the United States cannot be untangled from one another. Focusing on the oppression of the white working class as a somehow purer socialist fight just means that you're not willing to tackle the actual difficult work of confronting capitalism in the United States."
News of The Wired
"What Americans Think Is A Fair 'Hourly Rate' For Advertising" [MediaPost]. "To find out what consumers think the fair value exchange is for paying attention to advertising, Research Intelligencer surveyed two samples of American adults about what they feel is a reasonable hourly rate…. The average of the multiple-choice respondents was $3.40, which is close to the actual amount that U.S. advertisers currently spend, in aggregate, to reach the average American per hour of pure advertising time… On an open-ended basis, the average was $8.40 — just over minimum wage. But that average was skewed by some very high-end results — as much as $100 per hour of advertising attention. (Interestingly, none of the respondents entered an amount higher than $100)."
Setting flags:
So there was a MYSTERY at the library today.

A wee old women came in and said "I've a question. Why does page 7 in all the books I take out have the 7 underlined in pen? It seems odd."
"What?" I say, thinking she might be a bit off her rocker. She showed me, and they did.

— Georgia | Saoirse (@green_grainger) April 3, 2018
Has anybody else ever seen this?
A facade of crapification:
Heavy wind gusts swept across southern Ontario yesterday, leaving tens of thousands without power and the side of this townhouse a bit worse for wear. https://t.co/GLE2D9rDKa pic.twitter.com/RH5wAMTc6t

— CBC News (@CBCNews) April 5, 2018
And that brick seemed so solid!
* * *
Readers, feel free to contact me at lambert [UNDERSCORE] strether [DOT] corrente [AT] yahoo [DOT] com, with (a) links, and even better (b) sources I should curate regularly, (c) how to send me a check if you are allergic to PayPal, and (d) to find out how to send me images of plants. Vegetables are fine! Fungi are deemed to be honorary plants! If you want your handle to appear as a credit, please place it at the start of your mail in parentheses: (thus). Otherwise, I will anonymize by using your initials. See the previous Water Cooler (with plant) here. Today's plant (TH):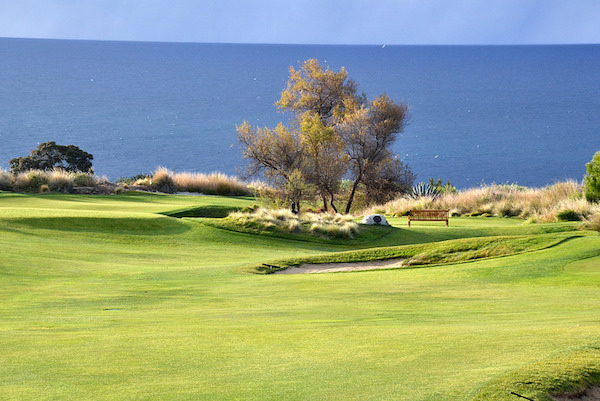 TH writes: "This may be too landscape-ish and not enough plant-ish but I love this tree. 'The Links' Golf Course at Terranea Resort in Rancho Palos Verdes, California." I love the colors. If I were a real WASP, I'd have a boat, and I'd wear pants the color that green grass, and a polo shirt the color of that blue sea. Maybe with a whale belt.
* * *
Readers: Water Cooler is a standalone entity not covered by the NC fundraiser. So do feel free to use the dropdown and click the hat to make a contribution today or any day. Here is why: Regular positive feedback both makes me feel good and lets me know I'm on the right track with coverage. When I get no donations for five or ten days I get worried. More tangibly, a constant trickle of small donations helps me with expenses, and I factor that trickle in when setting fundraising goals. So if you see something you especially appreciate, do feel free to click the hat!