By Lambert Strether of Corrente.
Trade
"US Dashes Hopes for Quick NAFTA Deal Amid 'Gaping' Differences" [Industry Week]. "President Donald Trump's chief NAFTA negotiator said the U.S., Canada and Mexico are 'nowhere near close to a deal' to update the region's 24-year-old free-trade pact as U.S. lawmakers warn that time is almost up to reach a agreement that can pass the current Congress. 'There are gaping differences on intellectual property, agricultural market access, de minimis levels, energy, labor, rules of origin, geographical indications, and much more,' U.S. Trade Representative Robert Lighthizer said Thursday in a statement e-mailed by his press office…. 'We're that close on autos,' the [Canadian] ambassador said, showing a small gap between his index finger and thumb. Canada and Mexico expressed continued resistance Thursday to the U.S. proposal for a so-called sunset clause that would kill NAFTA after five years unless all parties agree to extend it. Trudeau said the idea is still a sticking point, while Guajardo said it was out of the question."
"China Casts Doubt on Report of $200 Billion Trade Deficit Offer" [Bloomberg]. "The Chinese social media posts, made on accounts operated by the Xinhua News Agency and the People's Daily, sought to reassure readers that no 'unilateral concessions' would be made, and that China will 'never negotiate' under conditions set by the U.S. In Beijing, foreign ministry spokesman Lu Kang was pressed by reporters on the accuracy of the claim. 'The question is about some US officials who said China will cut the deficit,' Lu said. 'This rumor is not true. This, I can confirm. I do not know about the offers made by either party. As we know the consultations are still underway. I am not getting ahead of that. The consultations themselves are constructive.'"
Politics
2020
UPDATE "Could Bernie Sanders run against Elizabeth Warren in 2020 presidential race?" [ABC]. "Sen. Bernie Sanders is still considering a second run for president, according to his former campaign manager Jeff Weaver, and he may decide to enter the race even if it means running against another progressive powerhouse, Massachusetts Sen. Elizabeth Warren."
2018
"The Battle of Woodstock" [Matt Taibbi, Rolling Stone]. This is an must-read article on the Democrats, focused on New York, but with national implications:

the Great Democratic Divide that opened last election and has been widening ever since, and which seems on the surface to be a clash of two strident and intractable cult-of-personality movements – Bernie Bros vs. Hillbots – has really very little to do with personality at all. It is, for sure, about ideology. But it is also a prosaic argument about money and tactics.

The core Sanders argument was always that Democrats could never effectively represent people against corporate power while continuing to be sponsored by it.

The counter to that has been that Democrats can get more done working with business than against it, and moreover, they can't afford to cede the fundraising battle to Republicans (although the Democrats out-raised Trump nearly 2-to-1 in 2016, and still lost).

For example:

Woodstock high school history teacher Jeff Beals decided to run for Congress late last year. He set up a time to talk to national Democrats [i.e., the DCCC] about his run. The call was set for four in the afternoon, just after he finished classes.

Ten minutes before four, his cell rang. A local political operative with connections to the party was on the line.

"So," the man said. "I hear you have a call at four. OK if I prep you?"

Beals, a bright-eyed, lean-framed ex-diplomat who'd been all over the world and seen some bizarre things in his relatively young life, was experiencing the first moments of a political career. Before anyone in politics even knew who he was, he was already being coached on what to say.

"OK," he replied.

"They're gonna ask you two questions," the man said. "First, they'll ask you how much you think you can raise in the first quarter. You want to know how to answer?"

A curious Beals answered in the affirmative.

"Tell them you can raise $300,000."

"Three hundred thousand, OK."

"Next," the man said, "They're gonna ask how much you think it will cost to win the whole race. You wanna know the answer to that also?"

A dizzy Beals again answered, "Yes."

"Tell 'em it'll cost between a million to $2 million to win. You got that?"

"I got it."

The man hung up.

And then there's the DCCC's MOU (Memorandum of Understanding) which Taibbi also quotes. Allow me to hoist my own comment from the last worksheet:

I think the key passage, which I didn't emphasize nearly enough — I seem to have suffered a sort of brainlock when I got close to the heart of the matter — is this:

In a 2013 PowerPoint slide, the DCCC famously told freshmen Democrats in Congress that they should plan on spending [my emphasis*] for their re-election campaigns.

This reminds me powerfully of the Hollywood casting couch. And although I deprecate comparisons of politics to prostitution (it's insulting to prostitutes), I am reminded of the process whereby the pimp (the party) introduces a new member of his stable (the candidate) to clients (the donor class), after, naturally, first having tested the new member themselves personally (what they were willing to do in the primary).

* NOTE Sadly, I couldn't figure out how to make BLINK work…
That is, I think that what for lack of a better word we'll call the Sanders faction (I would say "the left") need to do is characterize DCCC fundraising as not merely tactically incorrect, or ethically wrong, but taboo-violating, disgusting, like (say) eating scat. And the way to do it is to ask any DCCC-supported candidate whether they plan to comply with the DCCC MOU ("Do you really plan to spend four hours on the phone servicing donors?").
Cuomo v. Nixon (1), the opportunity:
The lot pic.twitter.com/BWzS6fMNMU

— Shane Goldmacher (@ShaneGoldmacher) May 17, 2018
Cuomo v. Nixon (2), the opportunity seized:
Volunteers for @CynthiaNixon talking to commuters waiting for delayed L Train @ Union Square. #FixOurSubway #CuomosMTA pic.twitter.com/Sam109Bqku

— Alex Zeitz-Moskin (@AlexZeitzMoskin) May 17, 2018
Has it occured to anyone else that Cuomo gutting the New York Subway system and signing off on testing robot cars in Manhattan are connected?
2016 Post Mortem
UPDATE "At DNC women's forum, Hillary Clinton declares Democrats stand for truth, evidence and facts" [CBS]. "To the tunes of Tina Turner and Katy Perry, Democrats gathered four floors below ground, deep in the Washington D.C. Marriott Marquis to hear from a litany of Democrats and [odd, that]. Former Secretary of State Hillary Clinton took the stage to high octave cheers, addressing a female coalition at the DNC Women's Leadership Forum she founded as First Lady alongside Tipper Gore, 25 years ago. 'We stand for truth, for evidence and facts. What an incredible thing!' Clinton exclaimed. '…We have kind of an affection for evidence. We think it should inform our policies [Clinton seems to have reverted to 2014 talking points; see NC here], because they'll actually work better,' she declared, prompting modest laughter from the female-dominated audience. With DNC Chair Tom Perez standing behind her and against a pink and blue backdrop emblazoned with a large 'D,' Clinton praised party leadership for running a staff whose leadership positions are filled by 44 percent people of color and 70 percent women. "And you know why that's important? That is what America looks like.'" Clinton is right. In the same way that it's a victory for all women when a woman torturer becomes head of the CIA, it's a victory for all people of color and all women when the "coalition of the ascendant" can rig elections and service big donors.

UPDATE "How A Twitter Fight Over Bernie Sanders Revealed A Network Of Fake Accounts" [HuffPo]. Reposting from March, just to cast a little light on that truth and evidence thing.
Realignment and Legitimacy
"A Wake-Up Call for Dems? 4 Women With Socialist Platforms Win PA Primary to Replace Male Incumbents" [Democracy Now]. "This is a huge wake-up call for the Democratic establishment. And one of the defeated Democrats even tried to hustle and run a write-in campaign to win the Republican nomination at the last minute, in southwestern Pennsylvania, because there were no Republicans running. It was an unopposed site. And so, he thought that, "Well, if I can get 10 votes or whatever, then I can get this nomination." And that's how desperate the establishment was here to cling to power, that they would do something so disgraceful to them, as these longtime Democratic partisans, as try to get the Republican ballot. That failed."

"Is the United States Too Big to Govern?" [New York Times]. "There are clear economic and military advantages to being a large country. But when it comes to democracy, the benefits of largeness — defined by population or geographic area — are hard to find. Examining data on the world's nations from the 19th century until today, the political scientists John Gerring and Wouter Veenendaal recently discovered that although size is correlated with electoral competition (in line with the Madisonian argument), there is no association between size and many other standard measures of democratic functioning, such as limits on executive power or the provision of human rights." So who gets the nukes after the breakup?

"#MeToo Leader, Also a California Lawmaker, Disciplined for Sexual Harassment" [Governing]. "California Assemblywoman Cristina Garcia has been removed from all of her committee posts after facing accusations of sexual harassment, with the investigation into her conduct coming to a close Thursday…. The ex-staffer, Daniel Fierro, alleged that Garcia stroked his back and buttocks and reached for his groin at a charity softball game in 2014." What if… power imbalace is gender fluid? And sexual harassment — as we are often told — is not about sex at all? But power?

"Democrats Have It Too Good to Shoot Themselves In the Foot" [Eugene Robinson, RealClearPolitics]. "The Democratic leadership is trying to squelch loose talk of impeachment, but Republicans are going to keep sounding the false alarm." Liberal Democrats are trying to walk back what they've been yammering about for two years. If you work from their premises, Trump should be impeached; Clinton called Trump a "Russian puppet" in debate, and that's treason; and if Clinton wasn't lying, calling for Trump's impeachment isn't "loose talk" at all. Sadly, although impeaching Trump appeals to Clinton's faction, it hasn't resonated with the electorate as a whole. So now the Democrats are casting about for some other issue — income inequality, marijuana legalization, fake Medicare plans, even a Jobs Guarantee — all issues that they would have been hammering for the last two years if they really cared about them. It's very difficult for a party with no core principles* to come up with them on the fly. Life can be unfair sometimes! NOTE * Except goodies for the 10%. To be fair.
Stats Watch
There are no official statistics of note today.
Debt: "Household Debt Continues Its Increase in the First Quarter of 2018" [Econintersect]. "The Center for Microeconomic Data's latest Quarterly Report on Household Debt and Credit reveals that total household debt reached a new peak in the first quarter of 2018, rising $63 billion to reach $13.21 trillion. Balances climbed 0.6 percent on mortgages, 0.7 percent on auto loans, and 2.1 percent on student loans this past quarter, while they declined by 2.3 percent on credit cards."
"Container Ponzi scheme becomes one of Germany's largest investment scandals" [Splash 247]. "In Munich a fallen container leasing firm is unravelling to become one of Germany's largest investment scandals in recent years. P&R Group, once one of the world's largest container leasors, stands accused of operating a Ponzi scheme. Top management at the firm, which went bust in March, are now under investigation with prosecutors claiming P&R sold nearly one million more shipping containers than it owned. Based in Grünwald near Munich, P&R sold new and used containers to investors, rented them back and offered to repurchase them after five years for 65% of the original value. In total, P&R claimed it had sold some 1.6m containers to around 54,000 investors for a total EUR3.5bn euros ($4.12bn). But a tally made after its German units filed for insolvency earlier this year has shown that P&R only has a fleet of around 600,000 containers, administrator Michael Jaffe said in a statement." $4 billion is real money, even today, but wake me when the credit markets get twitchy…
Shipping: "Workhorse now making residential deliveries with HorseFly drone" [Freight Waves]. "For some customers in the Cincinnati area, their packages are now being dropped on their doorsteps – literally. Workhorse, the FAA and city of Loveland, OH, are testing a pilot drone package delivery program. Workhorse Group's HorseFly autonomous drone package delivery system is making deliveries to customers who have opted-in to a test program that utilizes the Workhorse Ares Drone Package Delivery App, which is integrated with existing online e-commerce platforms. 'We feel this is a to the way packages are delivered for many years to come,' said Steve Burns, Workhorse CEO. 'By not only reducing the expense of last mile delivery, but also providing the consumer with the ability to opt-in, visualize, and confirm their package delivery on their property, we have home delivery.' The HorseFly is an unmanned drone capable of delivering a 10-pound package and uses just 3 cents per mile to operate. Built with carbon fiber construction, the HorseFly is capable of flying at a max speed of 50 mph with a 30-minute flight time." I've helpfully underlined the corporate bafflegab, but for all I know it works. Interestingly, the drones lift off from, and recharge at, a delivery truck, not the warehouse.
Shipping: "Don't sleep on the inventory-to-sales ratio" [Logistics Management]. "But now the inventory outlook has improved significantly. Perhaps the best, and first, place to confirm this is by taking a look at the inventory-to-sales ratio data from the United States. The inventory-to-sales ratio is derived from dividing the number of sales compared to available inventory, with the higher the ratio meaning inventory levels are running too high…. Based on data issued today by the United States Department of Commerce's U.S. Census Bureau, the total business inventories/sales ratio based on seasonally adjusted data at the end of March (the most recent month for which data was available) was 1.34, which marks a 0.04% annual gain. That is a pretty good number, especially when considering back in January 2016, which is really not all that long ago, the ratio was checking in a 1.41…. [ American Trucking Associations (ATA) Chief Economist Bob Costello] took the online sales impact a step further, noting that current inventory levels appear to be in the "zone" they will remain in for a while, with the rapid pace of online sales preventing inventory levels From getting down to all-time lows for some time. This is something he tells motor carrier fleets to keep an eye on, because is the ratio starts to head up, it could translate into a freight slowdown."
Shipping: "ELDs hurting flatbed carriers more than other modes" [Freight Waves]. As the trucking industry continues to broadly install and learn to use the ELDs (electronic logging devices) required by the FMCSA (Federal Motor Carrier Safety Administration), there are beginning to be large disparities in the way the devices are impacting capacity via mode. Carrier size is a challenge to ELD adoption, with smaller carriers struggling more than larger carriers, but equipment type is proving to be a larger challenge than carrier size. Truckers that are pulling dry van trailers still face challenges as they learn to re-optimize asset utilization but they are proving to be the most successful of all the truckload modes. Reefers face larger challenges and are still struggling to adapt. Flatbed carriers are struggling and failing to adapt as solutions such as 'drop and hook' that are relatively easy for dry van and possible for reefer are difficult, if not impossible, for flatbed truckers."
The Bezzle: "Uber chief product officer to leave in latest executive departure" [Reuters]. "Uber Technologies Inc [UBER.UL] Chief Product Officer Jeff Holden is leaving the ride-hailing company, an Uber spokesman told Reuters on Thursday, the latest of more than a dozen senior executives to depart since last year. Holden oversaw Uber Elevate, the company's flying car operation, which is now headed by Eric Allison, the spokesman said, but declined to elaborate on the reason for his departure." How is it that the business press able to type phrases like "the company's flying car operation" without breaking into hysterical laughter and being unable to continue?
The Bezzle: "Tesla Strikes Lithium Deal From Plant That's Not Yet Built" [Bloomberg]. "Tesla Inc. struck a lithium hydroxide supply deal with a junior Australian miner that won't start production until next decade, underlining the scramble for the raw materials needed to meet forecast demand for electric vehicles…. Car and battery manufacturers, including Elon Musk's Tesla, are on a global hunt for sources of lithium, cobalt and other raw materials, with BMW AG forecasting in December that its requirement for the key metals will surge 10-fold by the middle of the next decade. Production of lithium alone probably needs to quadruple within a decade to meet demand for EVs, Goldman Sachs Group Inc. said last year. Tesla plans to announce the location of a new gigafactory in China as early as in the third quarter as it seeks to produce batteries and cars in the world's biggest electric vehicle market."
Tech: "The Big Disconnect: What happened to Google Fiber in Atlanta?" [Atlanta]. "From Alpharetta to Avondale Estates, College Park to Decatur, folks fed up with chronically unreliable internet connections, abysmal customer service, and expensive monthly bills lapped up Google Fiber's promise to change all that. And there was an altruistic component, too: Google Fiber would help close the digital divide in part by extending discounted or free high-speed internet to low-income residents…. Atlanta isn't the only city to see Google Fiber falter. In Nashville, big telecom operators sued and all but blocked Google Fiber from tapping half of the city's 88,000 utility poles, which it needed to build out its fiber system. Nearly four years after the company announced it was coming to Nashville, Google Fiber finally reached 10 Nashville neighborhoods late last year…. Google Fiber has never given a definitive answer as to when it will complete its Atlanta rollout. A review of hundreds of emails, internal memos, and other correspondence shows Google Fiber was careful not to make such promises—even to top officials, and even as it expanded to new cities across the nation." This is just a mess. There's no smoking gun here, but the details add up to an opaque corporate behemoth signing non-disclosure agreements right and left, and then not living up to its public commitments, or respecting the regulatory process. In other words, Silicon Valley.
Fodder for the Bulls: "ECRI's WLI Growth Index Rate Marginally Slips" [Econintersect]. "Even with the general downward trend in this index over the last 6 months, the forecast is for modest growth six months from today."
Five Horsemen: "The Fab Five are mixed today, with Apple and Microsoft the only gainers in late morning trade" [Hat Tip, Jim Haygood].
NakedCap Mania-Panic Index: "The mania-panic index ticked up to 64 (complacency) as the put-call ratio dropped to 0.83 yesterday" [Hat Tip, Jim Haygood]. (The NakedCap mania-panic index is an equally-weighted average of seven technical indicators derived from stock indexes, volatility (VIX), Treasuries, junk bonds, equity options, and internal measures of new highs vs new lows and up volume vs down volume … each converted to a scale of 0 to 100 before averaging, using thirty years of history for five of the seven series.)
Big Brother Is Watching You Watch
This is Reddit Hacker News. Nevertheless:
Good morning! Have some dystopia. https://t.co/PsZakwadHc pic.twitter.com/3aEl5cFdw4

— Zack Whittaker (@zackwhittaker) May 16, 2018
"The LAPD Has a New Surveillance Formula, Powered by Palantir" [Medium]. "These surveillance reports identify "probable offenders" in select neighborhoods, based on an LAPD point-based predictive policing formula….. Los Angeles police argue that targeting "chronic offenders" in this manner helps lower crime rates while being minimally invasive. But the Stop LAPD Spying Coalition, a community-based alliance that has advocated against increased LAPD surveillance efforts since 2012, paints a different picture of the Chronic Offender Bulletin program. The group calls it a "racist feedback loop" in which police surveil a set number of people based on data that's generated by their own racially biased policing, creating more monitoring and thereby more arrests." It's a self-licking ice cream cone….
Class Warfare
Helpful advice:
By age 35 you should have:
Sold at least one bodily fluid for cash
Been laid off from at least 4 jobs
Cashed out at least one 401(k)
Missed at least 1 rent payment to pay medical bills
Sold all of your belongings at least once
Become a socialist

— Kameron Hurley (@KameronHurley) May 16, 2018
News of The Wired
"Steve Wozniak Talks Disk ][" [Paleotronic]. This is really fun. Engineering!
"Securing DNS across all of my devices with Pi-Hole + DNS-over-HTTPS + 1.1.1.1" [Scott Helme]. "DNS queries are not secure, they're sent in the clear, which means that others can see and manipulate the queries and responses. An attacker may change the IP address in a response to send you to a different server, ISPs can censor the web by blocking resolution of certain domains and they can even build a profile of the sites you visit by storing your DNS queries."
"Banksy hoax caveman art to go back on display at British Museum" [BBC]. "A fake cave painting by Banksy is going back on display in the British Museum, 13 years after it was first placed there as a hoax. Peckham Rock, essentially a lump of concrete showing a supposed prehistoric figure pushing a shopping trolley, was smuggled into the venue in 2005. It stayed for three days before staff realised it didn't belong there."
"People crave silence, yet are unnerved by it" [The Economist].
"Have You Had a Psychedelic Trip Worth Telling?" [Michael Pollan, Medium (GF)]. "These aren't just 'weird drug experiences.' Rather, they're powerful stories about how a psychedelic trip changed someone's life in a lasting way. There have been times when I felt like I was taking confession! People told me about trips that led to scientific insight, or recovery from psychological trauma, or freedom from addiction, or a vocation change. Many of these trips took place decades ago, but their ripples and implications are still being felt today. The culture has not offered much space or opportunity for sharing this kind of story." Now Pollan does. There are submission guidelines and a form at the end of the story. Eat blotter, lots, never plants?
* * *
Readers, feel free to contact me at lambert [UNDERSCORE] strether [DOT] corrente [AT] yahoo [DOT] com, with (a) links, and even better (b) sources I should curate regularly, (c) how to send me a check if you are allergic to PayPal, and (d) to find out how to send me images of plants. Vegetables are fine! Fungi are deemed to be honorary plants! If you want your handle to appear as a credit, please place it at the start of your mail in parentheses: (thus). Otherwise, I will anonymize by using your initials. See the previous Water Cooler (with plant) here. Today's plant (TH):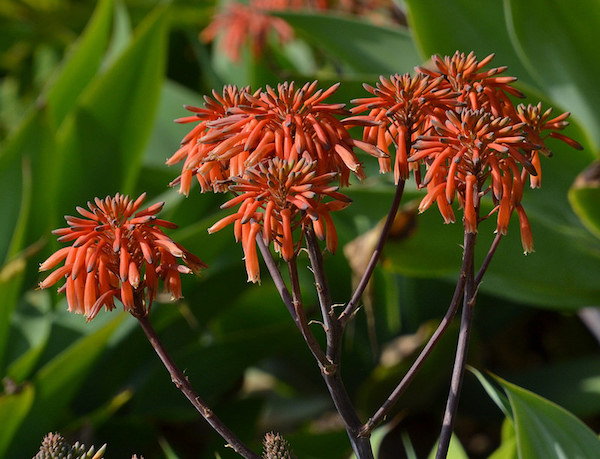 TH: "Aloe Vera flowers. (Rancho Palos Verdes, California)."
* * *
Readers: Water Cooler is a standalone entity not covered by the annual NC fundraiser. So do feel free to make a contribution today or any day. Here is why: Regular positive feedback both makes me feel good and lets me know I'm on the right track with coverage. When I get no donations for five or ten days I get worried. More tangibly, a constant trickle of small donations helps me with expenses, and I factor that trickle in when setting fundraising goals. So if you see something you especially appreciate, do feel free to click the hat!

To give more, click on the arrow heads to the right of the amount.
If you hate PayPal — even though you can use a credit card or debit card on PayPal — you can email me at lambert [UNDERSCORE] strether [DOT] corrente [AT] yahoo [DOT] com, and I will give you directions on how to send a check.