By Lambert Strether of Corrente.
Trade
"U.S. Trade Representative Robert Lighthizer said the U.S. and China are in the early stages of 'developing how we deal with each other over a period of time' as he downplayed the chance of any major breakthroughs in meetings this week" [Politico]. ""I'm always hoping but not always hopeful,' Lighthizer said at the U.S. Chamber of Commerce on Tuesday. 'It's a big, big challenge. There's a very different system over there and a system that, in all honesty, has worked very well for the Chinese.' The trade chief said the list of issues the U.S. finds troubling in its economic relationship with China is "very long," but that his goal is not to change the Chinese system. 'If they want to do it, that's fine, but I have to be in a position where the United States can deal with it, where the United States isn't a victim of it,' he said."
"Job-killing Trade Deficits Surge Under FTAs: U.S. Trade Deficits Grow 568% With FTA Countries, but Decline 15% With Non-FTA Countries" (PDF) [Public Citizen]. "The aggregate U.S. goods trade deficit with Free Trade Agreement (FTA) partners is more than six times as high as before the deals went into effect, while the aggregate trade deficit with non-FTA countries has actually fallen. The key differences are soaring imports into the United States from FTA partners and lower growth in U.S. exports to those nations than to non-FTA nations. Growth of U.S. exports to FTA partners has been 34 percent lower than U.S. export growth to the rest of the world since 2005 (the year before the median entry date of existing FTAs)."
Politics
2020
"Already, a jobs-guarantee idea polls pretty well" [MarketWatch]. "In a new Rasmussen Reports poll, 46% said they favored such a program. Sanders, according to the Washington Post, backs a version that would see local and state governments offer proposals for public works projects. Workers would be hired for at least $15 an hour with paid family and medical leave."
2018
"Nancy Pelosi doesn't plan on going anywhere" [Boston Globe]. "[Republicans are] featuring Pelosi in at least one-third of their House campaign advertising, according to a USA Today analysis…. Pelosi said the GOP strategy shows the 'bankruptcy' of the opposition's ideas and the negative ads only help her cause. Pelosi said. 'Because I have a following.'" Well, if that's your metric…

"May brings key primaries across nation" [The Hill]. "Voters in twelve states will choose party nominees in closely watched primary election contests around the country this month, as Democrats and Republicans jockey ahead of November's midterms. The battles include costly and competitive Senate contests in states like Indiana and West Virginia, closely watched House seats in Texas and Pennsylvania and gubernatorial races that pit competing visions of both the Republican and Democratic Parties against each other in states like Ohio and Georgia."

"GOP's Midterm Mission: Triage the Seats That Can Be Saved" [Charles Cook, Cook Political Report]. "Republican concern over House losses begin with open seats—they have 38 members not standing for reelection, either retiring or running for other offices, to only 18 for Democrats. Obviously open seats in safe districts don't matter much, but in more hostile terrain, they are key. Cook Political Report House Editor David Wasserman points out that 'since 1990, in cases where a House member of the president's party has not sought reelection two years after the president lost his/her district, the party has batted 0 for 23 attempting to defend the seat.'… Given that there are eight open Republican seats in districts carried by Hillary Clinton in 2016, that means that if this pattern holds, Republicans could lose a third of their narrow advantage without a single incumbent losing. These seats are Arizona's 2nd District, California's 39th and 49th Districts, the 27th District of Florida, Pennsylvania's 5th, 6th and 7th Districts, and the 8th District of Washington state. There are another eight open GOP districts where Trump took 55 percent or less of the vote." All those districts are on our worksheet. Readers? Cook concludes: "With just over six months to go before the election, many things can still happen that could push the tide either way. For Republicans that means hoping and praying for the best, but preparing for the worst. For Democrats it means not thinking small, looking beyond the obvious possible pick up seats to spot secondary and tertiary targets if things were to get even better. This is quite a year." Yep!

"Are Democrats Winning The Race For Congress?" [FIveThirtyEight]. Chart of the generic ballot. And "Democrats' Horrible 2018 Senate Map Couldn't Have Come At A Better Time" [FiveThirtyEight]. "Democrats have regularly faced unfavorable Senate maps (albeit none as bad as 2018's), and they have regularly overperformed anyway, winning an average of 2.4 more seats per cycle than they are entitled to based on partisan lean alone. Much of this is likely because of the advantage of incumbency, but on three occasions (1992, 2006 and 2012), Democrats have actually gained Senate seats despite being at a partisan-lean disadvantage. Only in three famously strong GOP wave years (1994, 2010 and 2014) have Republicans overperformed the partisan baseline."

TX-07: "A Texas Democrat's campaign just unionized. Here's why so few campaigns do that." [Texas Tribune]. "In late March, the campaign staff for Democrat Laura Moser, who secured a spot last month in a primary runoff to take on Republican U.S. Rep. John Culberson of Houston, announced they had unionized. Though the workers initiated this, Moser's support of the move aligned with her campaign's message." Readers, I looked at the Texas Monthly, Texas Observer, and Texas Tribune for Moser v. Fletcher coverage. It's pretty thin. Suggestions?

TX-07: "Lizzie Fletcher is trying to run a normal campaign in a race tainted by DCCC interference" [Vox]. "the local race Fletcher has tried to run has nevertheless become the flashpoint for a larger drama between the party's establishment institutions and its progressive wing. A few months ago, in the middle of a crowded Democratic primary, the Democratic Congressional Campaign Committee (DCCC) released an opposition memo slamming Fletcher's opponent Moser for past articles she'd written seemingly denigrating parts of Texas. The unusual move to try to knock Moser out of the race elevated the congressional district's national profile and helped Moser raise thousands of dollars in the process, making it into the runoff along with Fletcher. It's worth noting that the DCCC has not yet added Fletcher to its Red to Blue list of top candidates (a recent email snafu saw her name added to the list, but was corrected minutes later)." Oh. A snafu. DCCC delenda est

TX-07: "Only Democrats Could F*ck This Up, Volume Infinity" [Charles Pierce, Esquire]. "Democrats In Disarray is on afterburners because there is a noisy claque of "progressives" that not only is willing to contribute to the construction of the narrative, but also seems to greet its appearance with conspicuous glee. The failure to recognize the power of that narrative, and to acknowledge the changes that have occurred in it over the past two years, almost guarantees that the DCCC will stumble into situations like the one in Texas over and over again. It should just let people run and keep its thousand-pound thumbs as far from the scale as it can." No. DCCC delenda est.

UPDATE MN Senate:

When Hillary Clinton gave her approval to Richard Painter, Bush's ethics lawyer, to run for Minnesota Senate as a Dem .. @SenseOf_OUTRAGE pic.twitter.com/YMlIaPqDWn

— Foxfire (@welltraveledfox) May 1, 2018

Back in February, I agree. Nevertheless.
2016 Post Mortem
ZOMG:

When Obama left the White House in a helicopter that horrible day, I had the impression our true father was leaving & the nation was stuck with a stepfather who was going to rape us. Now I increasingly believe that the media is the mother who won't stand up for us & defy him.

— Virginia Heffernan (@page88) April 30, 2018

"Hillary Clinton's High Profile Is Hurting the Democrats" [The Atlantic], "[W]hen it comes to the national political landscape, [Clinton] has not yet reached the point where she can sound off in a way that doesn't reek of self-pity and bitterness and rationalization. Until that changes, she should recognize the yuge favor she is doing the GOP—and, by extension, Donald Trump. With that in mind, she really does need to stop. Just. Stop." Sharks gotta swim, bats gotta fly…
Realignment and Legitimacy
"There's a new Democratic agenda taking shape. It's more and more progressive. Can it survive success?" [CNN]. "Still, there remains considerable [emphasis in original] worry within liberal circles about the prospect of ceding too much influence to the progressive left [so liberal != left. Good]. The behind-the-scenes jockeying to clear contested midterm primary fields is one contentious battleground. Others will pop up when — and if — Democrats actually win a congressional majority this fall. While the House is very clearly in touching distance, the Senate will be a much tougher nut to crack. How Democratic officials would interpret their mandate, should their resistance be so empowered, is an open question. Being shut out of power so completely, as the Democrats are now, can be liberating. It's in the party's DNA to regard the responsibility of governing as a most serious task [no, it isn't], and certainly not one to be trifled with by a person or organization adjudged to be insufficiently savvy or pragmatic." I disagree with the headline. The Democrats are not there — note the careful equivocation between "progressive" and "left" — for the simple reason that not only does the left have little institutional power, the liberals have systematically ejected them from the positions they have held (see, e.g., the RBC fiasco at the DNC).

"After the violence" [Nature]. "When she first began studying the people who had terrorized her country, Natalia Trujillo prepared herself to come face to face with monsters…. Trujillo, now a neuroscientist at the University of Antioquia in Medellín, was interested in studying the psychological roots of violence by looking at fighters who had laid down their weapons and were trying to re-enter civilian society…. She and her research team entered the enclave with a battery of cognitive tests, panic buttons — in case something went wrong — and some preconceived ideas. "I thought people who can kill their neighbours, that can destroy their communities, that can have the heart to force other people to abandon their farms — they have to be really bad," Trujillo says. She found a few who met her expectations. With chains around their necks and boastful swaggers, some tried to intimidate the researchers. But more often, the scientists found ordinary people, strolling in the garden and eating ice cream with their children."

"Red State: Does Socialism Have a Future in Texas?" [Texas Observer]. "'Even a year ago, most us of weren't where we are now politically,' said Kristian Hernandez, the 29-year-old co-chair of the 400-member North Texas DSA. 'People have the potential to grow and be radicalized,' she said. 'And it's the only chance we have — because we need all of us.' With about 37,000 dues-paying members spread across 200 local groups, DSA now dwarfs all other far-left organizations in America. There are at least 11 chapters in Texas, including in Houston, Dallas, San Antonio, Austin and El Paso. Nationwide, DSA claimed only 6,500 members in May 2016, but it grew rapidly alongside the Bernie Sanders campaign and exploded after Trump's election. DSA tends to support proposals on the left edge of the Democratic Party, like a $15 minimum wage and single-payer health care — issues that once seemed radical but, after Sanders' campaign, are on the lips of many Democratic presidential hopefuls. In many ways, the tide is with DSA, and there's reason to think it could be more durable than other far-left movements. The group engages in electoral politics and is open to organizational structure in a way the high-octane but short-lived Occupy movement wasn't, and while DSA doesn't shy from critiquing the Democratic Party as beholden to corporate interests, it generally shuns the pure, winless road of Green Party activism."

"Climate group raises money to carve Trump's face into glacier" [The Hill]. Probably the same overexcitable crew who raised money for millionaire McCabe's retirement.
Stats Watch
ADP Employment Report, April 2018: "ADP sees less strength for April employment, at 204,000 for private payroll growth vs a revised 228,000 in March" [Econoday]. "ADP had been on a hot run until March employment came in much weaker than expected." And: "Above the consensus forecast" [Calculated Risk]. But: "This month the rate of ADPs private employment year-over-year growth remained in the tight range seen over the last year" [Econintersect]. "ADP employment has not been a good predictor of BLS non-farm private job growth."
GDP: "As previously discussed, something has to give to bring the savings rate inline, and the low reported personal consumption expenditures are a step in that direction, and housing has also been soft, as were prices. Also, while inventory building adds to GDP, combined with slower sales growth it doesn't bode well for the future" [Mosler Economics].
Automotive: "Annual Vehicle Sales: On Pace to be unchanged in 2018" [Calculated Risk]. "The BEA released their estimate of April vehicle sales this morning. The BEA estimated sales of 17.07 million SAAR in April 2018 (Seasonally Adjusted Annual Rate), down 1.7% from the March sales rate, and up slightly from April 2017. Through April, light vehicle sales are on pace to be unchanged in 2018 compared to 2017. This would still make 2018 tied with 2017 for the fourth best year on record after 2016, 2015, and 2000….. As I noted last year, this means the economic boost from increasing auto sales is over (from the bottom in 2009, auto sales boosted growth every year through 2016)."
Banks: "Australia's Largest Bank Lost The Personal Financial Histories Of 12 Million Customers" [Buzzfeed]. "The Commonwealth Bank lost the personal financial histories of 12 million customers, and chose not to reveal the breach to consumers, in one of the largest financial services privacy breaches ever to occur in Australia. BuzzFeed News can reveal that the nation's largest bank lost the banking statements for customers from 2004 to 2014 after a subcontractor lost several tape drives containing the financial information in 2016." Oopsie.
Shipping: "Spear, ATA president, tears into OOIDA over its agenda, tactics" [DC Velocity]. In an extraordinary series of comments, Spear said that he and his family have received death threats from OOIDA interests, that persons affiliated with OOIDA interests have threatened to bomb ATA's headquarters in Arlington, Va., and that OOIDA interests have labeled an ATA executive vice president—who Spear did not identify–a child molester. OOIDA officials did not respond at press time to an e-mail request for comment…. Most of OOIDA's enmity towards ATA, and by extension towards Spear, stems from the sharp break over the federal government's requirement that electronic logging devices (ELDs) be installed in virtually all trucks built after the year 2000 to ensure drivers comply with federal regulations governing their hours of service. Spear joined ATA less than two years ago from carmaker Hyundai Motor Co. He added that many of the hot-button ELD-related issues had been well vetted long before he got to ATA. ATA, many of whose members had installed ELDs in their fleets long before it became compulsory, has long supported the mandate. OOIDA has adamantly opposed it, calling it unconstitutional, a waste of money, and a failure in boosting highway safety. "
Shipping: "Most warehouses rely largely on human labor, but automation beckons as companies face surging e-commerce volumes and a tight hiring market. Mobile robots now zoom down warehouse aisles to help assemble orders, but training machines to handle goods of varying sizes has proven challenging" [Wall Street Journal].
Shipping: "Tide of digitalisation caught up in auto-pilot mode" [Splash 247]. "The first requirement of successful digitalisation is the availability of complete digital data set of each supply chain participant. The industry has not created a clear and convincing incentive for all players to update their operations to the digital age in all aspects related to cargo shipments. The second problem is a lack of standard for generation, usage and transmission of cargo and trip-related data between all external parties participating in each shipping contract. The third problem is the lack of proper understanding of the concept of digitalisation within the shipping companies themselves."
Supply Chain: "Fast Fashion Goes Green With Mushrooms, Lumber Scraps, and Algae" [Bloomberg]. "The $3 trillion fashion industry consumes vast amounts of cotton, water, and power to make 100 billion accessories and garments annually—three-fifths of which are thrown away within a year, according to McKinsey & Co. And less than 1 percent of that is recycled into new clothes, says Rob Opsomer, a researcher at the Ellen MacArthur Foundation, an environmental research group in England. 'The equivalent of a dump truck filled with textiles gets landfilled or incinerated every single second,' he says."
Tech: "The surprise in Apple earnings: Big growth in China" [MarketWatch]. "Apple says sales in China grew 21% in first three months of 2018, and iPhone X was biggest selling smartphone in the country."
Tech: "Apple Inc.'s revenue is growing despite slowing demand for its marquee product. Revenue from the iPhone rose 14% in the company's fiscal second quarter…. even though shipments of the phone only grew 3%. Apple suppliers like Broadcom Inc. have been warning of sputtering global smartphone sales, as consumers hold on to phones longer or switch to cheaper models sold by Chinese rivals. Analysts say the $1,000-pricetag for the company's iPhone X put a further brake on demand" [Wall Street Journal]. "Apple's more interested in profits than shipping volumes, however, and reported in a 25% gain in earnings, to $13.82 billion, and plans to spend an additional $100 billion on stock buybacks."
The Bezzle: "I'm Sorry I Criticized You, Apple. You Win [Leonid Bershidsky, Bloomberg]. "'m no longer knocking Apple for any of this. In fact, I'm sorry I ever did. Why the change of heart? Because this is a time when Amazon is pushing innovations that don't solve any real-world problems but may create some: like smart speakers, with their threat of big brother-style surveillance in exchange for a minimal increase in convenience, or complex and expensive cashierless stores that won't deliver much of an improvement to our shopping experience but may cost underprivileged people their jobs. This is a time when an entire driverless car industry is trying to convince the world that its products are safe before it can even come up with convincing stats — or prevent deadly accidents like the one in Tempe, Arizona, earlier this year. This is a time when Google is trying to subvert new privacy regulations to turn them against content producers. A time when Facebook, blasted by media and regulators for ignoring people's privacy concerns, starts a dating service which will collect people's most intimate data. This is a time when companies whose innovations are more intrusive than useful, more gimmicky than problem-solving, operate with business models that either burn investors' cash or turn the users into products. ."
The Bezzle: "Tesla is an easy fix — if Elon Musk's ego allows it" [MarketWatch]. A COO. "Selling vision is plainly what Musk likes to do. It's why the "production hell" of the Model 3's stumbling launch has been interrupted by launching a Roadster into space on a rocket, or by the boss traipsing off to the SXSW conference 1,700 miles from headquarters to muse about life on Mars. His heart isn't in making cars, even though he took over responsibility for production in March, and he's not fooling anyone. At his SpaceX rocket company he has a COO, and he had a chief operations office at SolarCity before it merged with Tesla. It's not a new or novel idea, even for this micromanaging boss. So do it."
The Bezzle: " Musk learns Munro & Associates has done a teardown on the Tesla Model 3″ [YouTube]. You knew this was coming:
"Munro had no reservation! Who sold him the car?" (Not sure the build cost is $36,000 though.)
The Bezzle: "Martin Kenney: Who, then, detects the fraud?" [The FCPA Blog]. "So in [2018 Association of Certified Fraud Examiners (ACFE)] report [link], what catches the eye? How about the overall losses of $7 billion plus? An incredible 22 percent of frauds accounting for losses in excess of $1 million. In the context of detection, only 15 percent originates from the work of internal auditors, a mere 13 percent from management scrutiny, and a significant 40 percent coming from tip-offs. Why is only 15 percent being picked up by auditors? Surely this figure should be higher?"
Capital Investment: Handy chart [Mosler Economics]. Capital investment is obviously sporty, but the decreasing amplitude…. Well, a capitalist society needs to invest capital, no?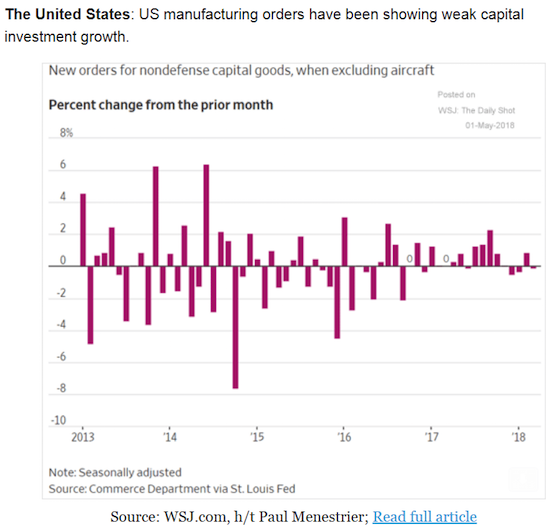 Startups: "An average of 7.99 percent of job seekers started a business in the first quarter, the highest quarterly average since the fourth quarter of 2013, when 8.6 percent of job seekers started a business. This was up from 5.01 percent of job seekers who started new businesses in the last quarter of 2017" [Econintersect]. "Would-be entrepreneurs also find themselves in a period of high approvals for small business loans. According to the Small Business Administration, as of the week ending April 13, 2018, lenders have approved $8,023,745,900 in loans to new businesses, 77 percent more than the $4,534,996,900 lent through the same period last year. Money for new businesses has remained below $5,000,000,000 for this time period for the last five years."
Facebook Fracas
"Facebook says it really cares about your privacy this time, honest" [Columbia Journalism Review]. "The Facebook CEO also announced a new feature that will enable users to block Facebook from tracking their behavior on the Web and through apps with Facebook access. It's called "Clear History," and operates much like a similar feature in most Web browsers: When clicked, it removes all of the data related to that user that is normally stored—data that is used by Facebook to help its algorithms figure out what you might be interested in, and which ads to show you (Zuckerberg pointed out that if you do enable this feature, "Facebook won't be as good" until it gets to know you again)." Why do I believe the data will actually be deleted? And "as good" is rich.
"Mark Zuckerberg Doesn't Understand Journalism" [The Atlantic]. "Facebook wants its users to see less news on its platform these days, and most publishers are feeling the pain. The latest algorithm tweaks were meant to prioritize information posted by users' friends and family—community! common ground!—rather than by professional news outlets. The average decline in Facebook-referred traffic to top publishers in recent months, Zuckerberg said, is something like 20 percent." If your business depends on a platform, you don't have a business…
I think this diagram needs to be revised, now that Facebook MR SUBLIMINAL Are you [family blogging] kidding me? has introduced a dating app:
Me? Jealous of what I see on Facebook? ??? pic.twitter.com/xu4Jx20VEt

— "he do got an alligator." (@KiaSpeaks) April 29, 2018
Gaia
"California, 16 Other States Sue US EPA Over Proposed Rollback of Auto Emissions Rules" [MarketWatch]. "There are two central issues. First, under the 2012 deal agreed to by the Obama administration and automakers who sell vehicles in the United States, the fleet average fuel efficiency rating will increase to a range of 40.3 to 41.0 mpg by model year 2021, on its way to 54.5 mpg by 2025. The Obama EPA issued a final determination upholding the standard just days before leaving office in 2017. The Trump EPA wants to freeze fuel-economy and emissions standards at levels already agreed to for 2020. The second issue is California's waiver allowing the state to set stricter standards for emissions than those set by the federal government. The EPA is threatening to revoke that waiver and the state of California has vowed to fight that revocation."
"EPA Head Pruitt Gives Wisconsin's Walker, Foxconn a Big Break on Smog" [Governing]. "The Trump administration on Tuesday exempted most of southeast Wisconsin from the latest federal limits on lung-damaging smog pollution, delivering a political victory to Gov. Scott Walker as he makes a new Foxconn Technology Group factory the centerpiece of his re-election campaign. By dramatically reducing the size of the areas required to crack down on smog, Trump EPA Administrator Scott Pruitt overruled the agency's career staff, a move that will save Foxconn from having to make expensive improvements as it builds a sprawling new electronics plant in Racine County, just north of the Illinois border in an area with some of the state's dirtiest air."
Health Care
"Expanding Medicare Advantage Benefits to Address Social Determinants of Health" [The Incidental Economist]. "McCullough and Leider argued in Health Affairs for more aggressive action to address social determinants. Their Exhibit 3…. demonstrates the degree to which spending in some non-health areas is associated with improvements in county health rankings. Some non-health investments are associated with bigger improvements than those more directly related to health. Investments in education, for example, are associated with bigger returns than those in public hospitals or community health care… Such supplemental [Medicare Advantage] benefits could include things that are not normally thought of as 'health care,' like, for example, groceries, air conditioners for beneficiaries with asthma, and even provider organized Lyft and Uber rides to and from and medical appointments" [raised eyebrow at Uber and Lyft worming their way in]. Why on earth is this being implemented in Medicare Advantage, as opposed to Medicaid?!
Neoliberal Epidemics
"Loneliness May Be a Bigger Public Health Threat Than Smoking or Obesity" [Governing]. "Today, an emerging consensus on loneliness suggests that it isn't just bad for communities, it's a legitimate public health threat. A groundbreaking 2010 study from Brigham Young University found that weak social connections can shorten a person's life by 15 years — roughly the same impact as smoking 15 cigarettes a day. Research presented at the American Psychological Association's annual convention last year showed that greater social connection corresponds with a 50 percent decrease in the risk of early death. A related report, which analyzed 70 other studies representing some 3.4 million individuals in North America, Europe, Asia and Australia, found that social isolation or living alone can be more harmful to a person's health than obesity. Loneliness isn't just an undesirable way to live. It can kill you."
Class Warfare
"Here's How Arizona Teachers Organized the First Statewide Teacher Strike in Arizona's History" [Labor Notes]. "How did teachers build their co-workers' support to demand more school funding, culminating in the first statewide teacher strike in Arizona's history? What they did is a great example of a classic organizing strategy: … If the first action doesn't win your demand, you can try something a little harder that pushes the boss a bit more. Gradually increase the intensity of actions, making sure not to leave people behind by escalating too quickly."
"Is Marx Still Relevant?" [Peter Singer, Project Syndicate]. "The most important takeaway from Marx's view of history is negative: the evolution of ideas, religions, and political institutions is not independent of the tools we use to satisfy our needs, nor of the economic structures we organize around those tools, and the financial interests they create. If this seems too obvious to need stating, it is because we have internalized this view. In that sense, we are all Marxists now."
News of The Wired
"Jupyter receives the ACM Software System Award" [Jupyter Blog]. Impressive.
"What's in those mysterious cabinets?" [The Universe of Discourse]. This is an old-school blog (tech) from Philly. It's good to know that this kind of writing is still going on. I had a lot of fun poking around!
Owwww! My eyes!
One ring to rule them all pic.twitter.com/NbYzu79plE

— 70s Dinner Party (@70s_party) April 29, 2018
* * *
Readers, feel free to contact me at lambert [UNDERSCORE] strether [DOT] corrente [AT] yahoo [DOT] com, with (a) links, and even better (b) sources I should curate regularly, (c) how to send me a check if you are allergic to PayPal, and (d) to find out how to send me images of plants. Vegetables are fine! Fungi are deemed to be honorary plants! If you want your handle to appear as a credit, please place it at the start of your mail in parentheses: (thus). Otherwise, I will anonymize by using your initials. See the previous Water Cooler (with plant) here. Today's plant (TH):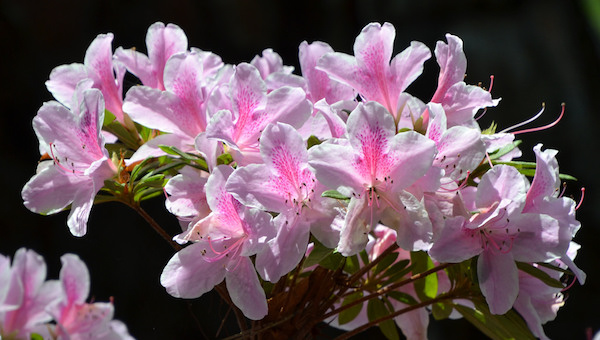 TH writes: "Azaleas as part of the landscaping at the Wayfarer's Chapel in Rancho Palos Verdes, California."
* * *
Readers: Water Cooler is a standalone entity not covered by the annual NC fundraiser. So do feel free to make a contribution today or any day. Here is why: Regular positive feedback both makes me feel good and lets me know I'm on the right track with coverage. When I get no donations for five or ten days I get worried. More tangibly, a constant trickle of small donations helps me with expenses, and I factor that trickle in when setting fundraising goals. So if you see something you especially appreciate, do feel free to click the hat!

To give more, click on the arrow heads to the right of the amount.
If you hate PayPal — even though you can use a credit card or debit card on PayPal — you can email me at lambert [UNDERSCORE] strether [DOT] corrente [AT] yahoo [DOT] com, and I will give you directions on how to send a check.