World's oldest known spider dies at 43 after a quiet life underground Guardian (Chuck L)
Fly Me to the Sun Atlantic. Too late for you!
Activity on Hawaii volcano could indicate new eruption Associated Press (David L)
Climate group raises money to carve Trump's face into glacier https://t.co/0yOWb4SfNP pic.twitter.com/rDRsW8LwMP

— The Hill (@thehill) May 1, 2018
A Precautionary Approach to Artificial Intelligence Project Syndicate (David L)
A New Algorithm Identifies Candidates for Palliative Care by Predicting When Patients Will Die MIT Technology Review. Dr. Kevin: "Take the place of Death Panels … ?"
Jeff Bezos explains how his space company Blue Origin will save civilization Quartz. Chuck L: "There's a fine and blurry line between the visionary and the hallucinatory." Moi: In this case, the line does not look all that fine…
That Collapse You Ordered…? James Howard Kunstler (Chuck L)
If You Think The World Is A Terrible Place These 20+ Wholesome Pics Will Change Your Mind Bored Panda. In case you need some feelgood..
North Korea
Nearly 80 Percent of South Koreans Say They Trust Kim Jong Un Bloomberg

UBS: One of the biggest expected benefits of a North and South Korea peace deal could fail to materialise Business Insider. Honestly, this wasn't on my list..
Congrats to our Richard Smith and his allies:
'Dirty money': U-turn as Tories back plans to make tax havens transparent Guardian. This is a bigger deal than the disappointment below.:

Our @theSNP amendment on Scottish Limited Partnerships was defeated by 314 votes to 301. The UK Government had an opportunity to legislate this afternoon and failed to do so. Shame the 13 Scottish Tories wouldn't vote with us on this. #SLPs #SAMLBill #SanctionsBill pic.twitter.com/7ZA67ZnDN4

— Alison Thewliss (@alisonthewliss) May 1, 2018
TSB
TSB crisis: key questions MPs will ask bank bosses about IT crash Guardian. I was tempted to write about this today, but there will be a lot of coverage tomorrow due to Parliamentary hearings, which will hopefully induce an enterprising news outlet or two to talk to customers, as opposed to using Twitter as a proxy for how bad things are. Notice that the Guardian says some standing orders (pre-set instructions for regular payments, like rent) weren't going through. This is contrary to what the bank claimed, per a BBC report. Our Clive sent the link to the BBC article before the Guardian story was published, so that would appear to be based on later information. And regardless, even if TSB had actually been able to pay all standing orders, it is premature to declare victory. Clive also pointed out: "Merely means they have caught up on the backlog, not necessarily fixed the underlying cause.

'We're on our knees': Inside the totally avoidable TSB crisis Wired. This article demonstrates a lot of ignorance about bank IT. These days, any bank other than a US credit union scale bank will be the product of mergers. The issues of the TSB systems may be on the worse end of the spectrum but are comfortably within bank IT norms. Moreover, the author buys the spin that the Cobol-.Net-UNIX consultant-fest that Sabadell was the right scale for the TSB systems. And the headline presupposes a migration could have been done at an affordable cost with better planning and more time. As we've said from the very outset, many a US bank deal has been nixed over IT compatibility issues, and this has the hallmarks of being one than never should have been done.

And I hate to say it, the "experts" quoted in the article above are way behind our Clive. They assume testing was done over the weekend. He saw evidence that the data migration took the entire weekend, which meant no testing at all happened. Will this come out in Parliamentary testimony or will TSB manage to cover that one up?

Do read this thread:

Ok so I just looked at the source code for the @TSB online banking login page and I am screaming. The running up and down the walls kind

— Chris Applegate (@chrisapplegate) May 1, 2018
Brexit
Brexiteers send customs 'ultimatum' to Theresa May BBC. Help me….

Founder of pro-Brexit think​tank has link with Russian intelligence, says MP Guardian (Fazal). Legatum does the most consistently slipshod, obviously intellectually dishonest work I have ever seen out of any think tank, which is saying quite a lot given the existence of shops in the US like AEI. But this is just silly. "Intelligence" out of Monaco, a corrupt teeny enclave run for the benefit of the seedy super rich? And super stale at that? Who are we kidding?. Richard North, as usual, has the better take: Brexit: wrong end of the stick

Inside Theresa May's Brexit War Cabinet, Where Tory Battles Rage Bloomberg. More confirmation of the fixation on the "customs union" distraction, where the Remain/soft Brexit camp is deploying a ton of political firepower to push for a remedy that solves almost nothing.

May faces biggest Brexit battle yet as DOZENS of Tory MPs threaten to 'collapse' the government if she 'breaks her promises' by pushing through plan for customs partnership with the EU Daily Mail. May's idea is barmy, but the objections are just screeches.

Brexit prompts UK to probe developing satellite navigation system PhysOrg
These Are Sanctions Directly Aimed at the Civilian Population FAIR. On Venezuela.
New Cold War
Russian Oil Turns Its Back On Its Biggest Customer OilPrice

Media attacks US Green candidate Stein over her non-existent collusion with Russia RT (Kevin W)
Syraqistan
Big Brother is Watching You Watch
Amazon tells Signal's creators to stop using anti-censorship tool The Verge and Amazon threatens to suspend Signal's AWS account over censorship circumvention Signal. UserFriendly: "Amazon really wants that CIA contract.​"
This is what happens when your "privacy" app depends on on USG funds *and* private property owned by a global monopoly (aka Amazon).

Remember, the internet is private property dominated by giant corporations and spies. Until that changes no privacy app will help you. pic.twitter.com/JhvOKuAYv8

— Yasha Levine (@yashalevine) May 1, 2018
Facebook dating: Tinder shares crash after Mark Zuckerberg announces service for singles abc.net.au (Kevin W). Ugh. To induce more people to share more accurate, including "in real life" details like their true name and coordinates.
A few Wi-Fi transmitters and your house becomes a coprocessor ars technica. Haha! Another reason for good old fashioned Ethernet cables…You can bet this would be hijacked.
Powerful women are rushing to Tom Brokaw's defense. Are they wrong? Guardian (JTM)
Tariff Tantrum
Entscheidung der Vereinigten Staaten von Amerika, die Europäische Union für einen weiteren Monat von Zöllen auf Stahl und Aluminium auszunehmen Die Dundesregierung. Over my pay grade, but I understand it says that Europe and the US Need to Talk…

….while the EU harrumphs "not" EU slams Trump for short delay on steel tariffs Politico

The German auto industry could be the biggest loser in a US-EU trade war Business Insider
Trump Transition
Rosenstein Says He Won't Be 'Extorted' Amid Impeachment Threat Bloomberg. This is silly unless they have the votes, and I can't imagine that they do.

'So disgraceful': Trump lashes out at publication of special counsel questions Washington Post (furzy)

Trump doctor Harold Bornstein says bodyguard, lawyer 'raided' his office, took medical files NBC. I am not saying that the Trump folks behaved properly, but I have zero sympathy for the doctor. As this account makes clear, the doctor had told the press about meds he had given Trump. That's a violation of the law and medical ethics. Normally, a patient can always get copies of his records but the doctor keeps his files even for ex-patients, presumably for malpractice. Trump probably could have threatened litigation and demanded all copies of the records in return for a broad waiver…but if they guy had so little respect for the law that he'd blab about a patient, it's not clear he could be trusted to destroy his copies. Plus the MD could have called the cops during the raid. The NYC police are not Trump fans.

FCC commissioner broke the law by advocating for Trump, officials find The Verge

Central American migrants from caravan wait and worry at U.S. border Reuters
Hillary Clinton Must Stop Relitigating 2016 Atlantic. Dream on. She is guaranteed to keep this up as long as she has any cognitive function.
The Ghosts of 'New Democrats' Are Haunting Us Norman Solomon, Truthdig
Health Care
Patients face expensive ER bills even when they don't receive treatment Vox (UserFriendly). Moral of the story: Always always always go to an urgent care clinic if you can.
2020 Democratic Contenders Are Making the "Cheap Gesture" of Swearing Off Corporate PAC Money, but Big Checks Are Still Flying Intercept
Documents show ties between university, conservative donors Associated Press. "Link" is way too weak a word. And this is a public university.
Sex in Politics…Not!
Literature Nobel In Doubt Amid Claims Swedish Princess Was Sexually Harassed NPR (UserFriendly)
Apple Allays iPhone Worries, Adds $100 Billion to Buyback Plans Wall Street Journal
Manage your money better with these tips from behavioral economics Quartz. UserFriendly: "Urgh."
Google vs. Google: How Nonstop Political Arguments Rule Its Workplace Wall Street Journal. Key bit. No wonder things are fractious. Google successfully creates cult-like levels of involvement without the cult requirement of conformity to certain rules:
Googlers, as employees are called, are encouraged to think of themselves as entrepreneurs and to "bring their whole selves to work," a motto used widely on campus to promote inclusion.
Class Warfare
Almost half of pregnancies in the U.S. are unplanned. There's a surprisingly easy way to change that. Washington Post

From UserFriendly. At this address, there are many videos of May Day events from different places showing rough handling of participants.

#PuertoRico: Police crackdown on demonstrators at the Milla de Oro, arrests and several peoples injured. #ParoPR #MayDay #1Maio #1Mayo https://t.co/YChH8FZO6h pic.twitter.com/kclERIQPzd

— ubique (@PersonalEscrito) May 1, 2018

Socialist Ideas in 2018: Karl Marx's Legacy is Manifestly Complex IPSOS. Even with not having read the survey instrument, the press release makes clear the poll was biased. First, they are conflating communism with socialism which will produce worse ratings for "socialism". The headline makes this clear. Karl Marx was not a socialist. Note also trying to associate state sponsored terror with "socialism" when last I checked this has never been observed in Sweden or in, say, Chile under Allende, as opposed to being rampant under "free market" booster Pinochet. And, as we have regularly discussed, "free market" is an intellectually invalid, incoherent, internally contradictory construct. The use of that expression says at best the person using it is intellectually captured by the right and at worst is selling Chicago School tropes.
Antidote du jour. Almost too late for a wintry-looking birdie! Kittie Hall via Lawrence R: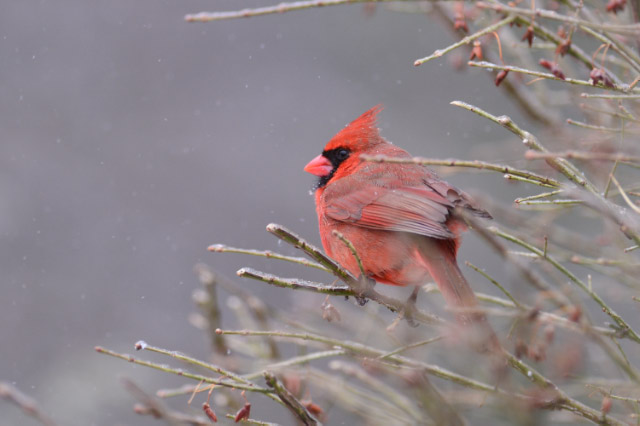 And maybe an anti-antidote. I have decided NYC rats are OK. They are big and sleek and keep our subways clean, or at least cleaner than they'd be if we didn't have humans dropping food trash and not picking up after themselves. I was once waiting for a train at the far end of the station and a rat scooted up and grabbed a piece of edible garbage and dragged it off the platform.
Pizza Rat is BACK! ?? @michaelcourant #MorningsOn1 pic.twitter.com/Vg2XSFXf3L

— Spectrum News NY1 (@NY1) April 30, 2018
See yesterday's Links and Antidote du Jour here.