Yves here. Please welcome Rob Urie to Naked Capitalism. Many of you will know him from his regular appearances at Counterpunch.
This piece is meant to to be, as Rob put it, constructively provocative. As many have argued, the Democrats have been demonizing the white working class as irredeemable racists, and ignoring that what might look like race-driven actions are not so tidily separated from "competition from lower-wage workers who in my line of work are significantly from a specific ethnic group." Urie stresses that capitalism has regularly created that very sort of competition.
This pattern has occurred often in American history. Waves of new immigrant groups, when they came and stayed in cities, as opposed to using ports of entry as stopping points to taking up offers of free/cheap land in the boonies, were correctly seen as economic competitors to lower-class "natives" even if those "natives" were themselves American-born children of immigrant parents. It isn't that long ago in historical terms that Irish and Jews were both seen as non-white in America.
As we have also written, there was an outbreak of anti-immigrant sentiment in America at the beginning of the 20th Century, both from the labor movement, which was beginning to achieve some success, and even from the bourgeoisie, where the concern was loss of American culture and values (with the immediate symptom too many 'furriners who didn't speak English well). The National Association of Manufacturers, whose members wanted unimpeded access to cheap workers, launched a very successful Americanization program, supposedly to help new arrivals learn English and become citizens. The intent was to drive a wedge between the working class, who saw immigrants as an economic threat, and the better off, who saw them as a "way of life" threat. That led to the creation of an astroturf group, the North American Civic League for Immigrants, in 1907.
This Americanization movement had business backers in every sizable city with an immigrant population doing outreach to business organizations, church leaders, and other community groups. In 1914, NACLI decided to extend its program nation-wide, and changed its name to the Committee for Immigrants in America. President Wilson spoke at a highly staged "patriotic" event for 5000 recently naturalized citizens in spring 1915. This event was so successful that the movement leaders succeeded in forming local Americanization committees all over the US. That led the Committee for Immigrants in America launched a campaign to establish a national Americanization Day, a day for a 'great nationalistic expression of unity and faith in America'.
The day was July 4. After the first couple of years, it was rebranded as Independence Day.
By Rob Urie, who writes on politics and economics. He is a political activist and has been a regular contributor to Counterpunch. And for the stout of heart, his book Zen Economics is publicly available
In 1994 several million Mexican peasantswere living with their families, friends and communities in Mexico. Several thousand miles away a group of politicians, economists and corporate lobbyists were negotiating an agreement to destroy the economy on which they depended in order to replace it with industrial imports. Once theireconomy had been destroyed, these people had a choice of going to work for American corporations in Mexico (maquiladoras) for whatever wages they were offering or migrating to the U.S.
The politicians and economists who gave crucial support to this agreement (NAFTA) were liberal Democrats. They presumably didn't hate the people whose lives they were so radically disrupting. This includes American workers who were placed in manufactured 'competition' with these displaced Mexican immigrants. The analytical frame used to justify their actions was basic capitalist theory, 'economics.' Two years later Bill Clinton launchedthe 'criminal aliens' theme to explain why displaced Mexican peasants were migrating to the U.S.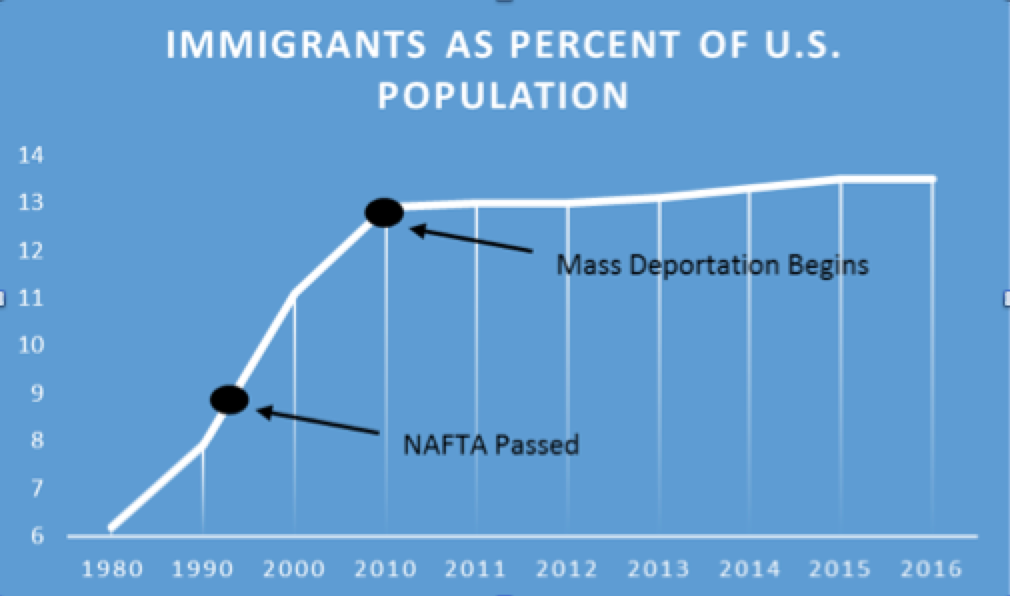 Graph: immigration to the U.S. began to rise rapidly in the mid-1990s with passage of NAFTA. Much of it was driven by the havoc that NAFTA wreaked on the peasant economy in Mexico. American industrial corn flooded Mexico making the local corn that the peasants depended on for income no longer viable. The political architects of NAFTA soon thereafter began to demonize Mexican immigrants. Barack Obama's gift to civility was to deport more immigrants than any other president before him without displaying any apparent animosity toward them. Source: migrationpolicy.org.
Popular perceptions and social mythology have it that capitalism and racism (and xenophobia) are driven by separate and distinct motives. Capitalism is about work and products and racism is a hateful attitude toward people based on race. When considered together, these premises establish the paradoxical relation that (1) race-based differences in economic outcomes must be based on racism and (2) because capitalism is racially neutral, there must be substantive race-based differences that explain differentiated economic outcomes.
This either / or conundrum supports the liberal / progressive explanation for the persistence of institutional racism. Deficiencies in 'human capital' such as education and acculturation must be overcome for all people to partake in the bounty of Western capitalism, goes the theory. Otherwise, profit-seeking entrepreneurs would hire equally-qualified blacks and immigrants at lower wages until systematic differences in wages and employment disappear. As the facts have it, this turns out not to be true. The question then is why?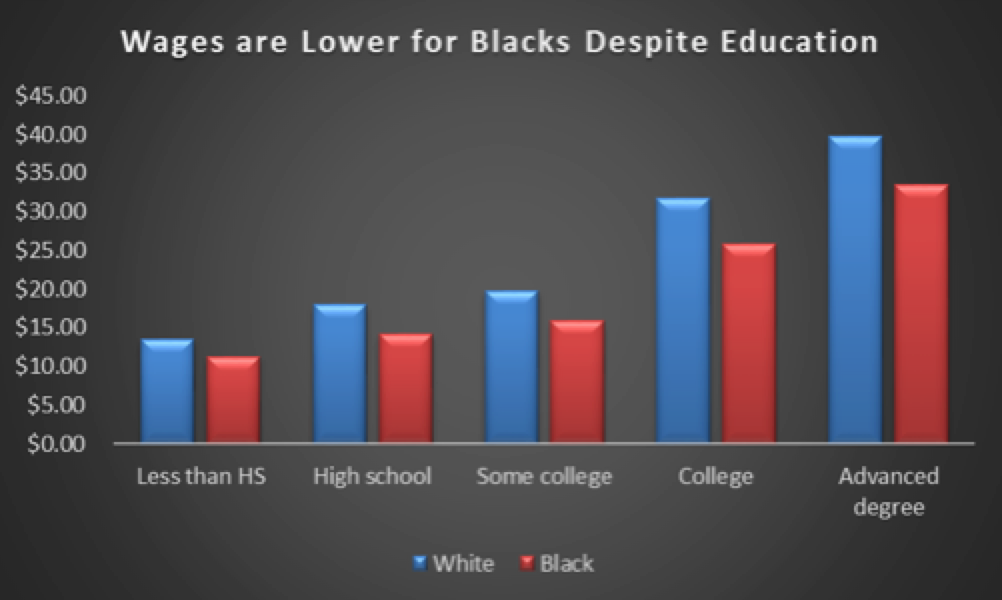 Graph: the liberal/progressive answer to institutional racism is education, the building of 'human capital.' However, at every level of educational attainment blacks are paid less than whites. According to free-market economics, employers should hire equally-qualified blacks at lower wages until this difference is eliminated. But this has not happened. In fact, as blacks made economic gains under Lyndon Johnson's 'war on poverty' and affirmative action, trade agreements, and with them cuts to social spending and labor outsourcing, were used to increase the supply of labor. This had its intended effect of lowering working class wages. Source: epi.org.
As several of the graphs in this piece suggest, race-based differences in economic outcomes for working class workers have remained approximately unchanged over the last thirty or so years. No determinable difference is observed between liberal (Democratic) and conservative (Republican) administrations. The question then is: does racism explain the difference in race-based economic outcomes or is some as-yet unexplored factor at work?
Analytically, if race is the frame, then race is the answer by default. Conversely, the predominant economic outcome of the last half-century is the concentration of income and wealth by a tiny ruling elite. The scale of this concentration far outweighs differences by race. Business executives went from earning 20X what the average worker earned in 1970 to 270X today. In comparison, the difference between white and black incomes and wealth remained (1) inequitable, but (2) relatively unchanged.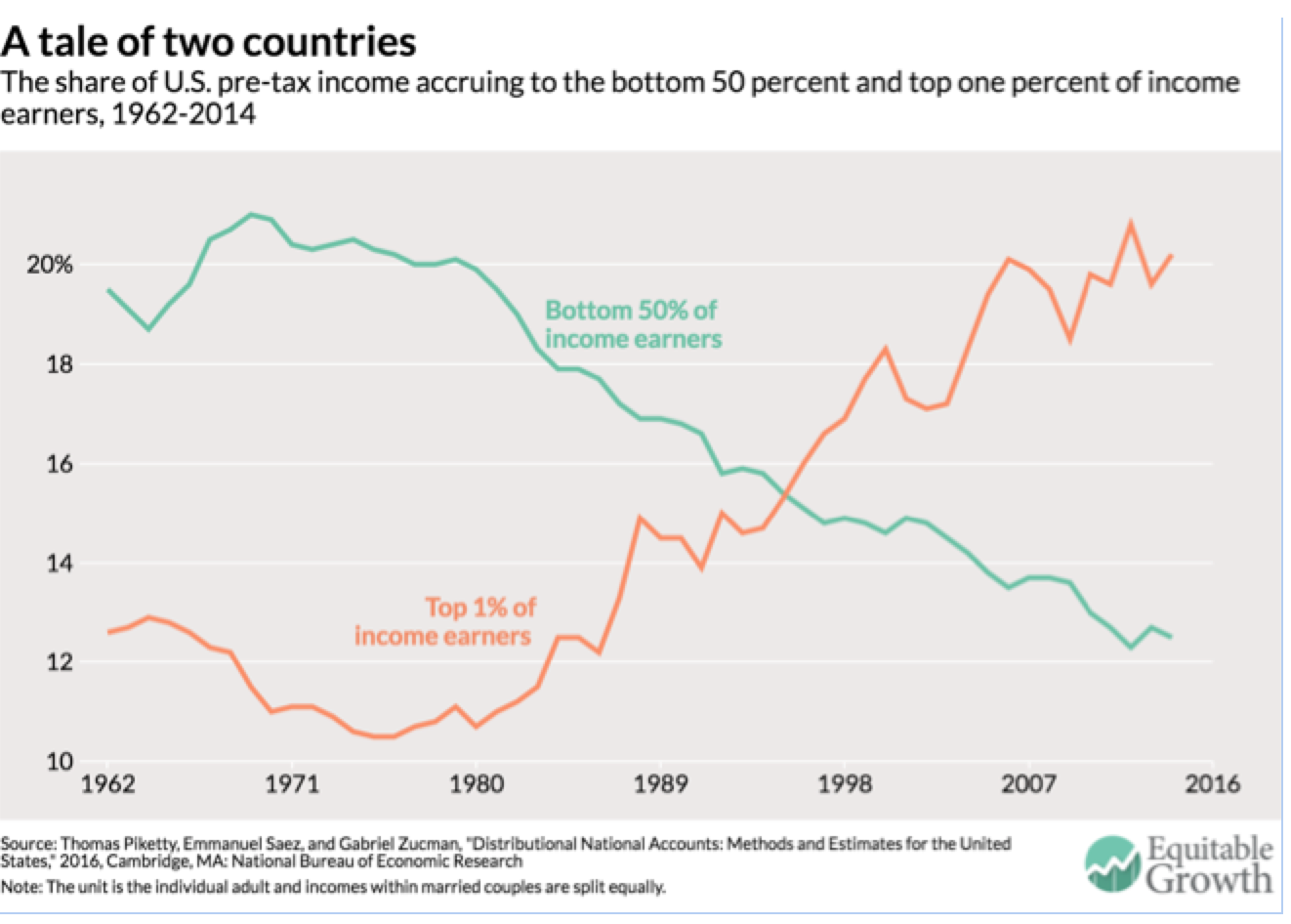 Graph: as institutional racism has persisted the broad question of who benefits from it needs to be answered. Since around 1980 the economic fortunes of the working class have deteriorated in approximate proportion to the rising fortunes of a tiny ruling elite. This has taken place while the relation of black and white wages and wealth have remained inequitable but constant. Race divides the working class to the benefit of this ruling elite. Source: Thomas Piketty/Equitable Growth.
Back to NAFTA (North American Free-Trade Agreement) for a moment: imagine yourself working a line job at an auto factory with a family, a mortgage and kids to raise. One day in 1995 the boss comes forward with three displaced Mexican immigrants in tow to tell you that they have been offered your job at one-third of your wages as other factories are being closed to be reopened with 'new' workers in Mexico. This type of manufactured economic 'competition' breeds social divisions even without Bill Clinton railingagainst 'criminal aliens.'
This isn't to understate the social iniquity of institutional racism. But it is to question the liberal / progressive canard that working class racists have any material bearing on its existence or persistence. Racial animosity certainly exists— four hundred years of white terrorism against blacks is historical fact. But as argued below, capitalism can cause institutional racism outside of racial animosity.  And the 'deplorables' canard is especially offensive given the role of liberal economists in engineering the economic facts that racism and xenophobia are being exploited to explain.
In the current era, when NAFTA was passed, Mexico was floodedwith American industrial corn. Its lower cost destroyed the peasant economy in Mexico by rendering locally grown corn 'uncompetitive.' This cut the peasants whose livelihoods depended on selling their corn out of the cash economy. Millions of suddenly 'freed' peasants went to work in maquiladoras or fled North in search of work as undocumented workers. Without racial or national animosity, NAFTA created a new sub-class of industrial labor.
In the context of labor coerced through manufactured circumstances (work for us or starve) and control of government by the industries doing the employing, the idea of market wages is nonsense. And therein lies the point. The 'free-market' way to entice labor is to pay the wage that people are willing to work for— without coercion. The 'capital accumulation' theory behind NAFTA— that sacrifice is required to accumulate the capital that makes capitalism function, (1) begs the question: function for whom and (2) was also used to justify slavery.
A crude analogy would be to set the CEOs of major corporations on life rafts in the middle of the ocean and let them 'compete' with one another for bread to eat. A 'market' would have been created for bread, so how is this not 'free-market economics?' These CEOs could be dubbed a 'criminal flotilla' intent on invading the U.S. and political talking points could be traded regarding whether or not they are actually human. As with NAFTA, few, if any, would likely volunteer for the privilege. This is how 'natural' the economics behind NAFTA are.
By the time NAFTA was fully implemented the powers-that-be behind its central policies busied themselves creating racialized explanationsof Mexican immigration to the U.S. In their telling, NAFTA had nothing to do with the millions of Mexicans leaving Mexico for the U.S. or for the rapidly declining fortunes of American workers who suddenly faced competition for their paychecks from people willing to work for whatever they could get. 'Criminals' and 'freeloaders' were coming for American jobs went the carefully-crafted storyline.
The actual engineers of NAFTA were corporate lobbyists, 'free-market' economists, industrialist-friendly Republicans and Wall Street-friendly Democrats. There wasn't a working class racist, a 'deplorable,' to be found amongst those crafting these policies of mass economic displacement. Liberal / progressive champions Paul Krugman and Bill Clinton were enthusiastic supporters of NAFTA and 'free-trade.' Paul Krugman, in particular, rode herd over critics of so-called free trade claiming superior knowledge. And Bill Clinton decries Trumpian xenophobia while being one of its major causes.
Of current relevance: (1) different classes of workers were created and placed in competition with one another to benefit a tiny ruling elite, (2) the interests of this elite were / are centered around pecuniary and political gain, (3) after implementation racialized explanations were put forward in lieu of the original economic explanations used to sell these programs and (4) these explanations followed the creation of the racialized 'facts' they were conceived to explain. The temporal sequence is important— mass immigration from Mexico and the destruction of the American working class were well-underway before racialized explanations were put forward to explain it.
What bearing does this have on institutional racism and its causes? The neo-colonial economic model is about coercing labor apart from whatever racial and / or national animosity might exist. American industries could have offered market wages to the Mexican peasants that NAFTA targeted until they agreed to work for them— this is the way that labor 'markets' work. But instead they chose to 'free' several million people from subsistence economies to compete with previously displaced Mexican labor and American industrial workers with the result that wages were lowered all around.
The argument was made at the time, and is still made today, that 'everyone' benefits from massively disrupting the lives of millions of people with trade agreements. Theoretical proof is put forward in terms of dollars / pesos of GDP gained. Left out is that the Mexican peasant economy wasn't monetized and therefore its loss wasn't counted. Even on its own terms NAFTA was a loser. And imposing these outcomes from above makes them profoundly anti-democratic. In other words, even if the outcomes were as promised, the decisions were made by its largest beneficiaries, not those whose lives were disrupted.
Inhuman Capital
The Anglo-American version of slavery was a more insistent form of coerced labor. Chattel slavery was a system of economic expropriation where human beings (slaves) were conceived as capital. The fact of chattel made plantation owners capitalists who owned slaves as 'factors of production.' 'Human capital' is a term of modern business meant to describe the value workers bring to the production process. Plantation owners 'invested' in slaves and their profits were plantation revenues minus costs. Modern capitalists invest in plants, equipment and hire 'human capital' and their profits are corporate revenues minus costs.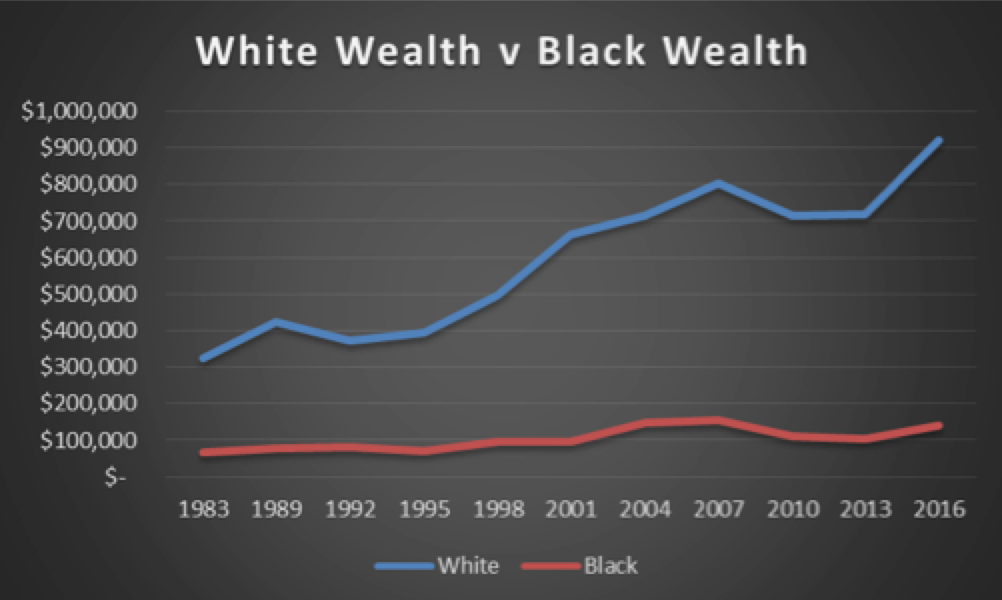 Graph: Wealth is the value of what people own minus any debt owed. Since the so called founding of America whites have had greater wealth than blacks. However, the frame of race obscures the class relations that determine who the real beneficiaries of American capitalism are. The difference between the wealth owned by American workers, black or white, is microscopic compared with that between most people and the very rich. In fact, when confrontedwith how wildly disparate income and wealth distribution are, most people are incredulous. Source: urban.org.
As uncompensated labor, slavery reduces employment and wages for the non-chattel working class. Without slavery, plantations and factories hire labor and pay it the prevailing wage. But doing so reduces profits. Then consider: this dynamic places the working class in direct competition with more deeply exploited classes, be they slaves, descendants of slaves or displaced peasants. This economic relationship of competition is (1) imposed from above and (2) socially divisive by being economically divisive.
From slavery through convict leasing, Jim Crow and the New Jim Crow, the economic lots of American blacks were never left to market forces. Each of these institutions were used to expropriate the product of black labor outside of market forces. And this racialized economic 'management' impacted labor markets more broadly through controlling the supply of labor. What this means is that 'management' of black labor was to manage the supply, and with it the price, of the entire working class, not just blacks.
In human terms, unless the source of this systematic exploitation is made visible, the class dynamic that it establishes is to make the most deeply exploited the most blameworthy. Slaves, descendants of slaves and displaced immigrants were never the creators of the circumstances of their exploitation. The fallacy of 'takers' that unites white racist chatter confuses state strategies to maintain relative class positions for employers with the power to expropriate social resources. The class that largely controls economic outcomes remains well-hidden in this ruse.
So, did racism cause the Anglo-American variant of slavery or did slavery cause racism? As the history books have it, different incarnations of slavery preceded its Anglo-American manifestation by millennia. Anglo-American slavery, like most its predecessors, was primarily an economic institution. This is partly demonstrated by the persistence of strategies of economic expropriation that followed the formal end of American slavery. As argued in this piece, institutional racism is one of these strategies.
Nothing argued here contradicts the theses of white supremacy or settler colonialism. The relation of these to 'market' colonialism, of which NAFTA is an example, is that earlier strategies of economic expropriation and exploitation were likewise given theoretical explanations iteratively after economic relationships had been established. Slavery preceded the concept of race, if not manufactured social divisions explained in different ways. Bill Clinton could have given an economic explanation of the causes of the Mexican diaspora. But he chose to slander those affected instead.
American culpability for the Northward migration caused by NAFTA is nowhere to be found in official explanations of 'illegal' immigration. And no racial or xenophobic animus is to be found in documents related to NAFTA because they weren't motivating factors. Xenophobic explanations came largely after the migration had run its course. In similar temporal fashion, slavery existed primarily as an economic institution for millennia before race was conceived to give its Anglo-American form a 'natural' basis. But conceiving race outside of its material basisobscures more than it illuminates.
Many of the more repressive modern corporate business practices were conceivedand implemented on American plantations to 'manage' slaves. And as the outsourcing of American labor since the 1990s has demonstrated, employers in the present most certainly understand the impact that managing labor supply through a racialized variant of Marx's 'reserve army of the unemployed'  has on the broader labor 'market.' What isn't well understood amongst workers is this relation of institutional racism to their own diminished fortunes.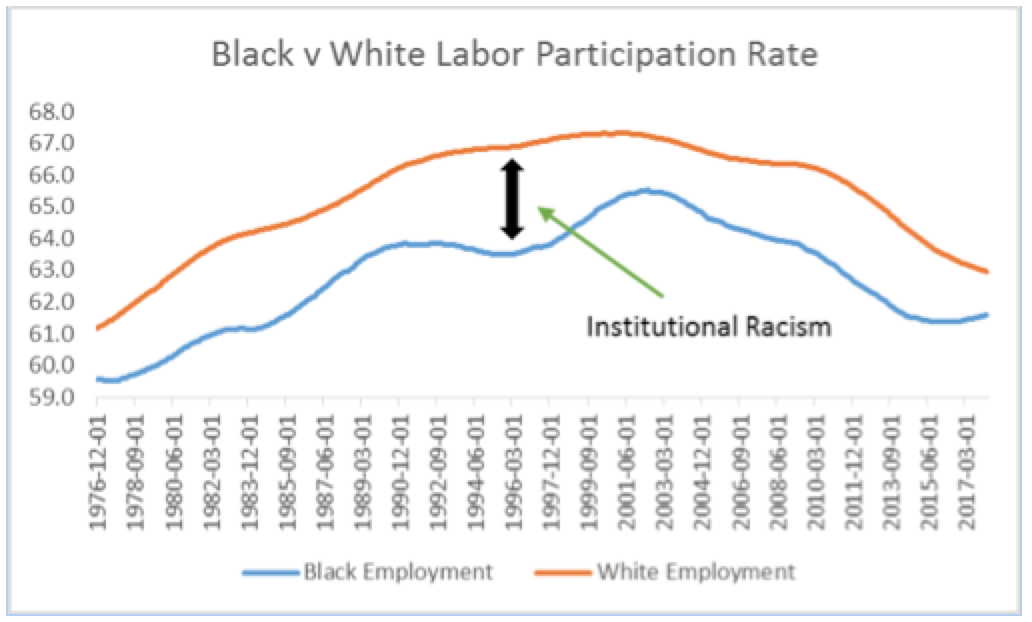 Graph: Labor Force Participation is the percentage of a given population that is employed. The persistently lower rate of black labor participation is evidence of institutional racism. Through slavery, convict leasing, Jim Crow and the New Jim Crow, black labor in the U.S. has been systematically expropriated. In other words, whatever employers might believe about race, institutional racism gives them economic advantage over the black working class. Higher unemployment and lower wages for the black working class lowers wages for working class whites. Monthly data is smoothed using a five year moving average. Source: St. Louis Federal Reserve.
When it is conceived as racial animosity, resolving racism requires changing minds without first resolving the material bases for social divisions. National Democrats have spent thousands of hours over the last three decades talking about racism while promoting economic policies designed to foster social divisions— in class terms, intra-class divisions. The practice of the political leadership and the American bourgeois to blame 'down' when it comes to racism, to conflate manufactured racial animosity with culpability for economic outcomes they (pols, bourgeois) conceived and implemented, is misdirection with a purpose.
As history has it, the Anglo-American version of slavery is inexorably tied to the Anglo-American version of capitalism. In addition to all of the other social ills that it represents, the concept of raceas basis for hierarchical social division remains irresolute to the benefit of the rich and the bourgeois bureaucrats who labor in their service. The impact of NAFTA in 'liberating' Mexican peasants from sustainable economies to join the global labor 'market' was used here as a metaphor for the complex relation of economic class to race.
Ending racism in all of its forms would serve the purpose of social reconciliation and ending social injustice. The aspect of racism that is most readily resolved through political means is institutional racism, economic outcomes that are differentiated by race. Economic democracy is a term for the elimination of coercive economic power. The New Deal took steps in this direction. But it was motivated by the desire to save capitalism, not from an enlightened view of social reconciliation through the elimination of class conflict. Economic democracy would end the motivation for institutional racism.
A Federal jobs program offering a guaranteed job to all comers at a living wage would eliminate the threat that racist bosses, landlords, etc. pose to anyone's ability to earn a living. This idea has been put forward by MMTers from their perspective, Marxists from their (my) perspective and now Bernie Sanders has taken it up. Employing all comers could quickly eliminate the 'reserve' character of marginalized and displaced labor through equalizing economic outcomes for a broadly considered working class. It would also be a step toward redistributing social power to create a true democracy.