By Lambert Strether of Corrente.
Trade
"Why Trudeau doesn't have the high ground on trade" [WaPo]. "One of President Trump's darkest talents is his ability to identify an opponent's delicate spot and stab it remorselessly. From his knack for condescending nicknames (Low Energy Jeb, Little Rocket Man) to inviting Bill Clinton's various accusers to the second presidential debate, there's no denying the man has a skill for knifing sensitive areas. And now he has found Canada's vulnerable flank: dairy tariffs… As the CBC reminded, 'Canada levies a tariff of 270 percent on milk, 245 percent on cheese and 298 percent on butter in an effort to keep U.S. and other foreign dairy imports out.' These tariffs exist almost exclusively for the benefit of the agriculture sector of Quebec, a province with a unique stranglehold on Canadian politics…. For centuries, much of Canadian policymaking has been justified on the grounds that maintaining sovereignty from the United States is the highest good. It works fine — so long as the United States never feels the need to indulge in a bit of pompous sovereignty of its own." Imagine that California had broken up, and the part of with almond growers was thinking about secession. Suppose the Feds protected almonds with trade barriers as an, er, inducement to prevent the country from breaking apart. That's the leverage Quebec has. Trudeau surely knows this.
"[Trump's] crime [at G-7] was to insist that the North American Free Trade Agreement (NAFTA) should have a sunset clause. In other words, it should not remain valid indefinitely, but expire after five years, allowing its members either to renegotiate it or to walk away. To howls of execration from the world's media, his insistence has torpedoed efforts to update the treaty" [George Monbiot, Guardian]. "[T]he people of North America did not explicitly consent to NAFTA. They were never asked to vote on the deal, and its bipartisan support ensured that there was little scope for dissent. The huge grassroots resistance in all three nations was ignored or maligned. The deal was fixed between political and commercial elites, and granted immortality…. NAFTA provides a perfect illustration of why all trade treaties should contain a sunset clause. Provisions that made sense to the negotiators in the early 1990s make no sense to anyone today, except fossil fuel companies and greedy lawyers. The most obvious example is the way its rules for investor-state dispute settlement have been interpreted. These clauses (chapter 11 of the treaty) were supposed to prevent states from unfairly expropriating the assets of foreign companies. But they have spawned a new industry, in which aggressive lawyers discover ever more lucrative means of overriding democracy."
Politics
2018
"Where's the wave? Political reporters hatch new plan for election predictions" [McClatchy]. "McClatchy's East Region Editor Kristin Roberts told McClatchy's Beyond the Bubble podcast Tuesday that reporters from McClatchy and the online news magazine OZY are teaming up to identify and talk to specific voters they believe will decide key races in November…. "The Ground Game project really is animated by a single question, and that is, ''" [McClatchy's East Region Editor Kristin Roberts] told the podcast." Wait, what? 145 days 'til the election and we don't already know? More: "McClatchy will focus its 2018 election coverage on six Congressional districts it believes will serve as archetypes in the battle for the House: North Carolina's 9th, California's 10th and 45th, Pennsylvania's 8th, Illinois's 12th and Florida's 26th." All these districts are on our worksheet. As ever, I welcome district reports from readers; just put the district first in the subject line, so I am sure to spot it. Thank you!

ME: "No Democrat won a majority in the gubernatorial primary, meaning the winner will be determined in further rounds of counting. As of early Wednesday, Attorney General Janet Mills led the pack, while Sweet and Eves were running in third- and fourth-place, respectively" [Governing]. Ranked choice voting isn't "convenient," then. Reminds me of all the yammering for "closure" in Florida 2000.

ME-02: "U.S. HOUSE DISTRICT 2, DEMOCRATIC PRIMARY" [Bangor Daily News]. "This contest will be decided by ranked-choice voting. Only candidates' first-place vote totals are listed here." Jared Golden: 49.9%; Lucas St. Clair: 40.7%; Craig Olson: 9.4%. So Golden barely failed to make the 50% plus one threshold. More yammering for "closure," I imagine. "We can't wait a week!" Maybe the best thing about RCV is that it will make horse-race stories harder to write. That alone is reason to support it!

NV: "Dennis Hof, Nevada's most famous pimp, wins GOP primary" [Las Vegas Sun]. "Pimp Dennis Hof, the owner of half a dozen legal brothels in Nevada and star of the HBO adult reality series 'Cathouse,' won a Republican primary for the state Legislature on Tuesday, ousting a three-term lawmaker. Hof defeated hospital executive James Oscarson."

WI: "Democrats Flip Wisconsin State Senate Seat" [Governing]. "Democrats in Northern Wisconsin declared victory in a state Senate special election on Tuesday, the party's 43rd red-to-blue state legislative flip since President Donald Trump stepped into the White House last year."

VA-05: "Varying Degrees of Horror": In 2018, the Republicans Are Really Just Running Against Themselves—and Their Party's Future" [Vanity Fair]. Entertaining detail on VA-05. Then: "[O]ne of the defining characteristics of the 2018 cycle is the extraordinary number of House Republicans who are not standing for re-election—a number now approaching 50, and which exceeds any similar exodus in modern political history. [M]ore than anything else, the departures reflect the difficulty of acclimating to a political party increasingly defined by Donald Trump. Many Republican members of Congress view the G.O.P.'s transformation from a party based on principles of limited government to one that has become a populist front for Trump's unique brand of Twitter demagoguery with "varying degrees of horror," as Peter Wehner, a senior fellow at the Ethics and Public Policy Center, who also served three Republican presidents, put it. Trump's strong hold on the base, which has apparently not eroded at all in the last 18 months, has made it politically difficult for those in office to confront this directly, and some are choosing retirement as a means of jumping off a 'vessel that is . . . damaged and stained.'" And Chuck Schumer is waiting, with open arms, to catch them when they jump! Finally: "In the end, the 2018 midterms are not merely important for settling who will control the House for the next two years. Equally important, they will determine the changing composition of the Republican caucus, and help define the future of the G.O.P."

SC-05: "[Mark] Sanford's fatal sin: Crossing Donald Trump" [Politico]. "The South Carolina congressman's stunning defeat in Tuesday's Republican primary effectively ended the turbulent two-decade career of a political icon who once harbored presidential aspirations. State Rep. Katie Arrington defeated Sanford 50.6 percent to 46.5 percent…. .Mark had a long and storied career, he was a very famous and successful politician. But he didn't read the tea leaves right, and that came back to haunt him," said former state Rep. Chip Limehouse, who hails from a prominent Charleston family and has known Sanford for years. 'Mark misjudged it, attacking Trump. That's what killed him.'" Then again: "In what was perhaps an early sign that his political strength was abating, Sanford received just 55 percent of the vote in his 2016 primary, against an opponent who spent little."

UPDATE NY-14: "Dem leader paying campaign rent to lobbyist brother" [New York Post]. From 2017, still germane.
Health Care
About those two words the DCCC says are unsayable:

Democrats have been advised not to say the words "Single Payer" Healthcare.
This is what happens when Bernie Sanders says it in Pennsylvania. Voters make the Earth shake…. #MedicareForAll #SinglePayerSunday pic.twitter.com/4g2wqdv3VC

— Our Revolution CCC (@ORContraCosta) June 11, 2018

Dunno about "make the Earth shake." C'mon, OR. The last thing our discourse needs right now is less sobriety.
New Cold War
"The Mueller Indictments Still Don't Add Up to Collusion" [Aaron Maté, The Nation]. "The January 2017 intelligence report begat an endless cycle of innuendo and unverified claims, inculcating the public with fears of a massive Russian interference operation and suspicions of the Trump campaign's complicity. The evidence to date cast doubt on the merits of this national preoccupation, and with it, the judgment of the intelligence, political, and media figures who have elevated it to such prominence." Given the current McCarthyite climate — at least on my laptop, this article displayed an email list sign-up teaser identifying The Nation with the lower-case "r" resistanceMR SUBLIMINAL Cash cow — this exercise in critical thinking from Maté is courageous. And if the Mueller report doesn't drop until September, the timing will be curious to say the least.

UPDATE "Bernie Sanders supporter attends every DNC rule-change meeting. DNC member calls her a Russian plant." [WaPo]. "'I'm going to keep showing up as long as I can afford to do so,' [Selina[ Vickers said. 'I wish Mr. Mulholland the very best, and I hope he can find some peace.'" One of the costs of citizenship, apparently, is being smeared by DNC members. I'd call Mulholland a fossil, except fossils can't lose their minds. (This is good straight reporting from WaPo, that adds to the original HuffPo story.)
Realignment and Legitimacy
"Maine Tests a New Way of Voting, and Opts to Keep It" [Governing]. "For voters, though, [ranked choice voting] is a straightforward way of making sure that they get what they want when they cast their ballots in races with more than two candidates running for the same spot. So perhaps it's no surprise that Maine voters decided to buck the political establishment and stick with the new system Tuesday, which also happened to be the first election that it was used for statewide races anywhere in the United States."

UPDATE "Maine Gov. Paul LePage 'Probably' Won't Certify Primary Election Results" [HuffPo]. "'I will not … certify ranked-choice voting because it is unconstitutional,' LePage told Maine Public Radio. 'The Supreme Court has said it is unconstitutional.' Maine Secretary of State Matt Dunlap (D) said LePage's threat was without weight. 'It really doesn't make a difference. His authority to certify is inherent in election results; the primary is a nomination, not an election. So he can't prevent people from qualifying for the November ballot,' Dunlap said in an email."

* * *

"The Left's Problem With Order, the Center's Problem With Happiness, and the Right's Problem With the Truth" [Benjamin Studebaker (via the excellent BLCKDGRD)].

The center speaks for the order we have–it emphasises the value of its order, the value of the institutions and norms that it defends. But it increasingly is unable to tell a story about its order which speaks to the values we have beyond order itself…. The right doesn't buy the story. It's sick of the center's order. But the right's solutions all involve trying to make the world more like it used to be…. The right tells compelling stories but there's no truth in them. It is a movement built on lies and false hopes.

The left understands the economic origins of the problems which the right mistakes as racial, ethnic, or national. It understands that we can't go on ignoring the mass unhappiness our order increasingly leaves unaddressed. But the left is order-phobic. It views powerful institutions like the state or major political parties as fundamentally corrupt, and it views the strategies and tactics necessary to capture those institutions as morally unclean. The left wants a politics of self-actualisation–it wants to prioritise happiness not merely in its policies but also in the political means by which it pursues its ends. Worse, it wants this self-actualisation on an individual level, making it difficult for people who self-actualise in different ways to work with one another. The left resists engaging with institutions, and it views efforts to engage with institutions and the constraints they impose as an assault on the purity and moral identity of its movement. It is so hostile to order that it is unable to tell a story in which its proposals to make us happy can be enacted or sustained through stable, lasting institutions. This makes the left increasingly irrelevant and allows the political debate to focus around the distinctions between the center and the right.

I like the "order, happiness, truth" trope, but I think Studebaker is stuck on the linear, "Overton Window" model that sees left, center, right" as a spectrum. I think this is a category error. To recategorize, I think that conservatives, liberals, and the left are on a plane, not a line: Conservatives and liberals put markets first; the left puts the working class first, and so are not simply more liberal liberals. Ergo, the identity politics crowd ("politics of self-actualisation") needs to be taken out of the left bucket, and thrown into the liberal ("centrist"* bucket). If you unmuddy the waters like that, the willingness of the left, in the form of both Sanders and institutions like DSA, to "engage with institutions" becomes clear. I mean, surely the left's call for #MedicareForAll brings about both happiness and "stable, lasting institutions," in contrast to the "End ____ism" calls from the identity politics crowd, which cannot. NOTE * Both liberals and conservatives can be centrists, exactly as they can both be neoliberals. A good litmus test for a centrist, at least in the national security arena, is using the phrase "rules-based international order" non-ironically. After Iraq? Libya? I'm all for a "rules-based international order." We should try it some time.

UPDATE "The union may find itself relegated to a political bit player. The chief may find himself out of a job. And the SFPD may continue to run on autopilot" [Mission Local]. "The Sixth and Bryant headquarters of the San Francisco Police Officers Association is well-lit and airy, with high ceilings and parquet floors. It is every bit as sleek and elegant as the adjacent Hall of Justice is dumpy and decrepit. It's a fitting citadel for a union flush with cash; an outfit that — until recently — weighed in significantly on who advanced in the San Francisco Police Department, and could demand fealty from elected officials. It's still a hell of an office, but those days are done, at least for now. The police union has poured vast quantities of its members' money into failed causes of late, with each mounting loss being more humiliating than the last. Most recently, in this month's election, the POA's Taser measure, Prop. H, not only lost, but lost by a 60-40 split — and " Interesting, but the article leaves us hanging on how the DSA did this, if indeed it did. Readers?

UPDATE "Durbin and Duckworth give Emanuel a pass on CPS scandal" [Chicago Tribune]. "Days after the Chicago Tribune began publishing stories of alarming and unreported sexual abuse and assault within Chicago Public Schools, Illinois' two U.S. senators fired off letters demanding accountability and transparency. But something — or rather someone — was missing from their missives. No mention of Mayor Rahm Emanuel. Must have been an oversight. Instead of directing their concern at the person who actually oversees CPS, U.S. Sens. Dick Durbin and Tammy Duckworth sent letters to U.S. Secretary of Education Betsy DeVos and Illinois schools Superintendent Tony Smith expressing their alarm and requesting more data collection at federal and state levels. By threading the needle carefully, they honed in on narrow aspects of the Tribune's investigation that touched on state and federal data collection and transparency, not CPS' failures." Shocker!
Stats Watch
MBA Mortgage Applications, week of June 8, 2018: "Purchase applications for home mortgages fell a seasonally adjusted 2 percent in the June 8 week following a rare increase in the prior week" [Econoday]. "Surprising at a time of continuing exceptional labor market strength, the first negative year-on-year reading in purchase applications this year is not a good indication for a housing market already showing signs of weakness." At some point, we've got to put together a post on labor market stats. At the very best, we're finally seeing some wage growth, which the Fed immediately wants to stomp on. Not sure how that's either "continuing" or "exceptional."
Producer Price Index (Final Demand), May 2018: "Large jumps for steel and aluminum and also the closely watched trade services category lead an overheated 0.5 percent rise in the producer price index for May. The results hit the top end of the Econoday consensus range" [Econoday]. "Prices for steel mill products surged… Prices for aluminum mill shapes came in even hotter… Gains in metals are at the intermediate level but may already be affecting the finished level where goods prices rose a sharp 1.0 percent in the month. Year-on-year rates in this report have been flat but they do show a pivot higher in May. The rise in metals will be a general focus while for forecasters and Federal Reserve policy makers the gain that will get special attention is trade services, a reading that offers an indication of price change for wholesalers and retailers." And: "The Producer Price Index rose year-over-year. Food prices did moderate" [Econintersect].
Atlanta Fed Business Inflation Expectations, June 2018: "Despite tariffs and evaporating labor slack, inflation expectations at the business level remain subdued" [Econoday].
Housing: "Housing Inventory Tracking: The Bottom Turn" [Calculated Risk]. "Watching existing home "for sale" inventory is very helpful. As an example, the increase in inventory in late 2005 helped me call the top for housing…. Inventory is a key for the housing market, and I will be watching inventory for the impact of the new tax law and higher mortgage rates on housing. Currently I expect national inventory to be up YoY by the end of 2018 (but still be low)…. This is not comparable to late 2005 when inventory increased sharply signaling the end of the housing bubble, but it does appear that inventory is bottoming nationally (and has already bottomed in some areas like California)."
Debt: "Americans just paid off a ton of credit-card debt—but here's the bad news" [MarketWatch]. "Americans repaid $40.3 billion in credit card debt during the first quarter of 2018, according to a new analysis of data from the U.S. Census Bureau, Federal Reserve and credit agency TransUnion by the personal-finance website WalletHub. That's the second-highest amount paid off in one quarter since the first quarter of 2009, when consumers paid off more than $44 billion…. Now, the bad news: That doesn't mean their debts are getting that much smaller. Americans ended 2017 with $91.6 billion in new credit-card debt, the largest annual amount since 2007 and 104% above the post-recession average. Outstanding credit card debt is at the second-highest point since the end of 2008, the report said… What's more, the first quarter of every year tends to look stunning for debt payoff, [Nick Clements, the co-founder of personal finance company MagnifyMoney] said, because so many people spend massively in the fourth quarter of each year during the holidays. Then, during the first couple months of the new year, they use work bonuses [really?] to pay holiday debt back… Now is a particularly important time to think about paying back debt, McBride said. The Federal Reserve is expected to raise interest rates after its two-day meeting, beginning Tuesday. That, in turn, will likely make debt more expensive."
Shipping: "Truckload and intermodal pricing firmly remains at elevated levels, says Cass and Broughton report" [Logistics Management]. "The pricing train for truckload and intermodal freight movements continues to accelerate at a rapid clip, according to data in the most recent editions of the Truckload Linehaul Index and Intermodal Index from Cass Information Systems and Broughton Capital…. Truckload rates have now risen sequentially for seven straight months and annually for 14 straight months."
Transportation: "'Data is the new asphalt': High-tech Colorado road test to be first of its kind in the U.S., may improve traffic and save lives" [Denver Post]. "[Colorado Department of Transportation (CDOT)] is readying a $2.75 million contract with Integrated Roadways to test the company's technology, which consists of precast and interlocking concrete slabs embedded with an array of sensors, processors and antennae that the company says can easily be upgraded as technology advances. …. Integrated Roadways' long-term goal with its smart pavement is not simply accident detection but a network that provides a collection of real-time services — such as road conditions and traffic alerts — to drivers in conventional cars or passengers riding in autonomous vehicles. Sylvester said the company hopes that its road technology will eventually generate business from trucking companies trying to minimize inefficiencies in fleet mobility, property developers seeking high-resolution traffic data and insurance companies trying to pinpoint accident risk with greater precision." And I'm sure other scenarios can be devised. Like collections, for example. Anyhow, I'm guessing technology like this will provide the inputs that robot car algos need to work (inputs besides enormous amounts of public subsidy, that is).
The Bezzle: "Bitcoin's Price Was Artificially Inflated Last Year, Researchers Say" [New York Times]. "SAN FRANCISCO — A concentrated campaign of price manipulation may have accounted for at least half of the increase in the price of Bitcoin and other big cryptocurrencies last year, according to a paper released on Wednesday by an academic with a history of spotting fraud in financial markets." I'm shocked ("97% of all bitcoins are held by 4% of addresses"). The original paper—
The Bezzle: "Is Bitcoin Really Un-Tethered?" [SSRN]. The abstract: "This paper investigates whether Tether, a digital currency pegged to U.S. dollars, influences Bitcoin and other cryptocurrency prices during the recent boom. Using algorithms to analyze the blockchain data, we find that purchases with Tether are timed following market downturns and result in sizable increases in Bitcoin prices. Less than 1% of hours with such heavy Tether transactions are associated with 50% of the meteoric rise in Bitcoin and 64% of other top cryptocurrencies. The flow clusters below round prices, induces asymmetric autocorrelations in Bitcoin, and suggests incomplete Tether backing before month-ends. These patterns cannot be explained by investor demand proxies but are most consistent with the supply-based hypothesis where Tether is used to provide price support and manipulate cryptocurrency prices."
The Bezzle: "Autopilot tried to kill me twice today. (Since latest update). Revised" [Tesla Forums]. What I'm not getting, no doubt because I don't drive, is why it's so cool to have your hands "rest lightly on the wheel while [AutoPilot] is engaged," as opposed to actually using the wheel for, like, steering. What's the point? It can't be convenience.
The Bezzle: "Uber is set to disrupt another industry: the magazine business" [Daily Beast]. "According to a preview of the two inaugural issues, posted online and viewed by The Daily Beast, the magazine is one part journalism, one part Uber promotional brochure." Oh please. What's "disruptive" about the robot car equivalent of an in-flight magazine?
The Bezzle: AirBnB in Japan. Thread:
As feared the Japanese government is forcing AirBnB to cancel tens of thousands of fully booked and paid reservations. This is the worst possible way the government could have dealt with this issue. 1/ pic.twitter.com/MouoRkzckk

— Nick Kapur (@nick_kapur) June 8, 2018
It seems that AirBnB's view that one's dwelling is simply a cash machine isn't a cultural universal.
Investment: "$1.5 Trillion Says: Eat What You Kill" [Bloomberg]. "With 160 trillion yen ($1.5 trillion) to invest, Japan's Government Pension Investment Fund [(GPIF)] has an awful lot of clout. Its latest innovation is to oblige many of the outside firms that manage its money to eat what they kill rather than enjoy a free lunch from simply gathering assets. And where the world's biggest pension fund leads, the rest of the money-management industry looks bound to follow… The pension fund says it doesn't need active managers to fulfill its obligations. 'GPIF is basically able to meet its investment targets for pension funding through passive management alone,' it says. So the only reason to employ active managers, who currently oversee about 20 percent of the fund's assets, is if they can effectively guarantee to deliver better returns than an index tracker."
Investment: "Does The Revised Volcker Rule Signal A Return To Risky Banking?" [Investing.com]. "Even Paul Volcker, the man who proposed the rule, isn't against the changes. 'What is critical is that simplification not undermine the core principle at stake — that taxpayer-supported banking groups, of any size, not participate in proprietary trading at odds with the basic public and customers' interests,' he said in a prepared statement. While some decry the Volcker reforms as a return to the pre-financial-crisis days of risky banking, it remains to be seen if the sector will indeed revert back to the 'free for all' that existed prior to the 2008 crisis. For many the new changes mean the opposite: less busy work and more time for regulators to make sure banks don't bring about another financial crisis." If they can, they will….
Five Horsemen: "In late morning trade, juggernaut Amazon is at a fresh record high, putting the top of our chart in danger of another rupture" [Hat Tip, Jim Haygood].
NakedCap Mania-Panic Index: "After yesterday's mild market gain, the mania-panic index gained one tick to 70 (complacency) as the CBOE put-call ratio dropped again to a "no fear" 0.72″ [Hat Tip, Jim Haygood]. (The NakedCap mania-panic index is an equally-weighted average of seven technical indicators derived from stock indexes, volatility (VIX), Treasuries, junk bonds, equity options, and internal measures of new highs vs new lows and up volume vs down volume … each converted to a scale of 0 to 100 before averaging, using thirty years of history for five of the seven series.)
Gaia
"Grantham says capitalism is making this one big global risk to humanity worse" [MarketWatch]. "'Fossil fuels will either run out, destroy the planet, or both. The only way out is the complete de-carbonization of the economy,' [Jeremy Grantham, the co-founder and chief investment strategist of GMO] said at Morningstar's annual investment conference, in a presentation entitled 'the Race of our Lives.' 'Capitalism and mainstream economics can't deal with these problems. Given how corporations are driven to maximize profits, it's nearly impossible for them to give up profits in order to address this" and focus on sustainability.' 'Capitalism has a problem with the very long term because of the tyranny of the discount rate,' he added. '.'"
"Putting logistics on a low-carbon diet" [DC Velocity]. "Experts say logistics (which accounts for an estimated 10 percent of total carbon emissions worldwide) will be one of the toughest economic sectors to decarbonize, due to expectations of rising demand for freight transportation and the industry's heavy reliance on fossil fuels."
"On a Photograph of Philip Hyde" [Compass Rose]. "Philip Hyde [1921-2006] was among the first photographers to feature and promote photographic imagery in support of environmental ideals. Beginning in the early 1950's, he along with Ansel Adams, and Eliot Porter, contributed to the growing body of work that came to be called the Western Landscape Tradition…. What immediately strikes me about this image is its mystery of scale…. Is the 'tree' 20 feet high, the image taken from a considerable height? Or is it a foot or two high, just a little seedling sprouting between boulders? The shadow suggests the latter, and the grain of the rock also confirms that."
"Hawaii's Kilaeuea Volcanic Eruption: A Stunning Time-Lapse" (video) [The Atlantic (Kokuanani)]. It's alive…
Class Warfare
"Failing Pension Fund Threatens Thousands of Retired Truckers" [Transport Topics]. "There are more than 1,000 multiemployer pension funds in the U.S., and about 100 of them — of which Central States is the largest — are projected to run out of money within 20 years. … Nevertheless, if all endangered multiemployer pension funds were to go under, some 1.2 million active and retired workers in the U.S. would be left with a fraction of the pension benefits they were promised…. In many cases, endangered multiemployer pension funds haven't fully recovered from downturns [sic (!)] in financial markets during the last decade [sic (!!)]. Another reason the funds are collapsing: Many companies that used to pay into the pension funds have either left or gone out of business, such as Consolidated Freightways, the company Onley once worked for. Trucking companies and factory workers — two industries that have shrunk considerably in recent decades — have traditionally made up the bulk of Central States members."
"Angry Chinese truckers in mass strike as fuel costs overtake haulage fees" [The Loadstar]. It's almost like things are the same all over:
Truckers across the country have staged mass protests and refused to work over the weekend.

They claim transport fees are no longer sustainable in the face of rising fuel costs.

An anonymous social media post said: "We can't take it anymore, we have no choice but to stand together."

It added: "We won't starve to death if we don't work for a few days, but we will certainly not survive with the ridiculously low transport fees we are being paid."

The message called on the country's to join the strike and threatened to "smash the vehicle" of any who refused to participate.

In the past four days, .

One striking driver told Radio Free Asia [ugh] on Monday the protests were also linked to a rising sense of job insecurity, exacerbated by the introduction of bidding systems for loads.

s"Have you heard of Yun Man Man? It's , and recently they introduced a bidding system, which means that they will definitely pick the cheapest bid," said the driver.
If the neoliberals, when they moved our industrial base to China, had also encouraged unions, China might be quite a different country today. But n-o-o-o-o.
"Here's How Higher Education Dies" [The Atlantic]. "In the spring of 2013, there were 19,105,651 students enrolled in higher ed; this spring, there were 17,839,330, according to recently released data from the National Center for Education Statistics. That represents a roughly 7-percent decrease—and is driven largely by declining enrollments in the for-profit and community-college sectors, as well as stagnant enrollments among four-year non-profit public and private institutions…. Why is the dip in enrollment such a big deal? Well, quite plainly, the business model for a lot of colleges is dependent on enrollment. That creates a sort of death spiral in which colleges are getting rid of programs, which in turn makes it harder to attract students, and so on." Oddly, or not, we're leaving he parasitical administrative layer out of consideration. Why not gut it, instead of cutting programs, and return universities to their formerly central missions of teaching and research? Sure, that'll throw a lot of highly credentialled administrators into the labor market, but "disruption" and "innovation," ya know….
UPDATE "The $1.5 Trillion Student Debt Bubble Is About To Pop" [NASDAQ]. "According to a report published by the Levy Economics Institute of Bard College, wiping away the $1.4 trillion in outstanding loan debt for the 44 million Americans who carry it could boost GDP by between $86 billion and $108 billion per year, on average, for the 10 years following the debt cancellation. It would also lower the average unemployment rate by 0.22 to 0.36 percentage points over 10 years and could add between 1.2 million and 1.5 million jobs per year." I'm a little stunned to see MMT's Levy Institute cited in this venue.
"Driver guards cargo at crunch time" [DC Velocity]. "One of the prime directives given to truck drivers is to safeguard your cargo. Most of the time, that simply entails following safe driving practices and remembering to lock up the vehicle at rest stops. However, an Oregon trucker went above and beyond expectations when he recently became lost in the woods outside Pendleton, Ore., for four days after led him off course. Despite being stranded in a remote location without food or water, the driver never touched his tasty freight—a load of potato chips….. Asked by his boss why he didn't eat some of the chips for sustenance, the driver said he relied on his upbringing. 'That stuff's worth something, that's the load—I'm not gonna touch it,' trucking company owner Roy Henry said Cartwright told him. 'That's the way he was raised, that stuff's not yours, you don't touch it.'"
"The Destruction of Latin America's Left And Lessons for Everyone" [Ian Welsh]. "This is a very dirty game, and left-wingers keep treating it as if it is not: as if there are rules, and both sides play by them. Increasingly in the US that is not the case, and it is clearly not the case many other places. If your enemies win, they will destroy you by any means. You should think long and hard about what you will do to them if you get into power, because they know what they will do to you."
News of The Wired
"The Strange Case of the Missing Joyce Scholar" [New York Times]. This is fun! Disinterested scholars in the quest for truth, and all that.
"The future of classicism" [New Criterion]. "Any major building project involves expenditure. For architects who, like many classicists, rely on private patronage, the fact that there are so many more extremely rich people in the world, quite a number with homes in or around London, is a wonderful thing. The opportunities presented by the colonization of London's most prestigious streets by families wanting to live not merely in the manner of the Georgian, Victorian, and Edwardian builders, but on a significantly increased scale, are prodigious. What have always been large houses are being enlarged with swimming pools, gyms, and cinema rooms, often provided in new basements." That said, I prefer the Parthenon to anything by Frank Gehry….
"This 30-second change to your computer settings is the easiest way to stop hackers" [MarketWatch]. "Change the Domain Name System (DNS) that your computer uses. Most computers connect to the DNS that's automatically set by their internet service providers, but there are safer alternatives…. The DNS services that your internet service provider connects to automatically are likely not as secure as they could be … Users can set up a new DNS with a few clicks. On a Mac, go to System Preferences, click 'network settings,' click 'advanced' and 'select DNS.' Then change your server location to the desired DNS address. For Google, 8.8.8.8; for Cloudflare 1.1.1.1; and for Quad9, 9.9.9.9. Save settings, and you're done. Windows users can take similar steps through its 'control panel.'"
* * *
Readers, feel free to contact me at lambert [UNDERSCORE] strether [DOT] corrente [AT] yahoo [DOT] com, with (a) links, and even better (b) sources I should curate regularly, (c) how to send me a check if you are allergic to PayPal, and (d) to find out how to send me images of plants. Vegetables are fine! Fungi are deemed to be honorary plants! If you want your handle to appear as a credit, please place it at the start of your mail in parentheses: (thus). Otherwise, I will anonymize by using your initials. See the previous Water Cooler (with plant) here. Today's plant (IME):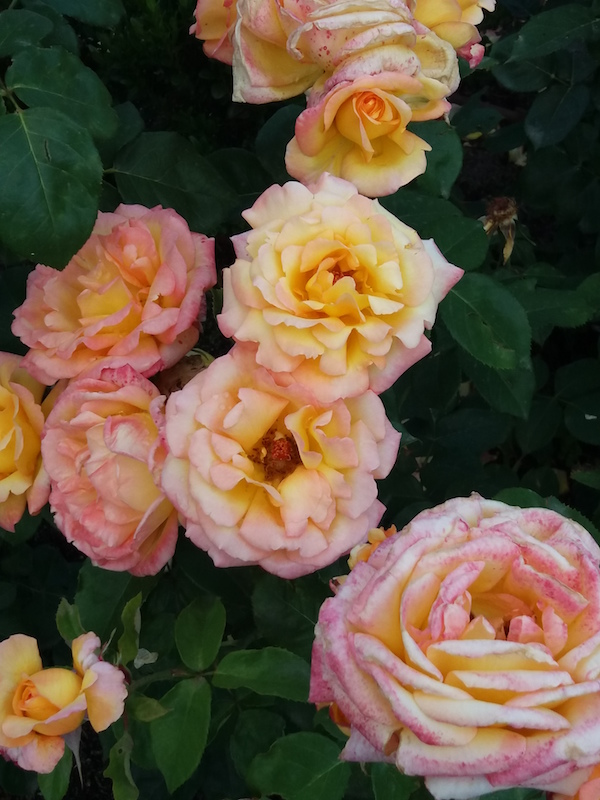 IME writes: "Yesterday at the bookseller fair in Retiro Park (Madrid) went to the rose garden and took some pics with my not so good cellphone. This year we are having a gorgeous spring thanks to May rains." Gorgeous! As readers know, I encourage walks, and talking photographs on one's walk.
* * *
Readers: Water Cooler is a standalone entity not covered by the annual NC fundraiser. So do feel free to make a contribution today or any day. Here is why: Regular positive feedback both makes me feel good and lets me know I'm on the right track with coverage. When I get no donations for five or ten days I get worried. More tangibly, a constant trickle of small donations helps me with expenses, and I factor that trickle in when setting fundraising goals. So if you see something you especially appreciate, do feel free to click the hat!

To give more, click on the arrow heads to the right of the amount.
If you hate PayPal — even though you can use a credit card or debit card on PayPal — you can email me at lambert [UNDERSCORE] strether [DOT] corrente [AT] yahoo [DOT] com, and I will give you directions on how to send a check.