Patient readers, Again, I ended up writing a few mini-essays and not getting to everything else I wanted to do, so expect a bit more shortly, especially on immigration. –lambert UPDATE 3:02. All finished.
By Lambert Strether of Corrente.
Trade
"Trump trade adviser says he has no knowledge of iPhone tariff exception" [The Hill]. "President Trump's trade adviser Peter Navarro says that he doesn't have any knowledge about conversations between Trump and Apple CEO Tim Cook on allegedly exempting the iPhone from future U.S. tariffs…. Navarro said he had no information about the deal, signaling that Trump could have made the agreement with Apple without consulting his top trade advisers…. 'With respect to Tim Cook and exceptions, I have no knowledge or comment about that,' Navarro said. Apple's iPhones are assembled in China from parts manufactured in China, the U.S., and other countries, a process that could bring the tech giant into the forefront of the Trump administration's escalating trade actions against Beijing as well as China's retaliatory measures."
"The Apple iPhone shows that Trump is misreading trade deficits and what they mean" [CNBC]. "$70 billion of the U.S. trade deficit with China is from shipments of cellphones. But that $70 billion is not an accurate measure of the value China added to the cellphones it shipped to the U.S. That's because the accounting used in the 'official' trade statistics hasn't kept up with the growth of global supply chains, which source parts and raw materials from multiple countries to make a single product. 'About two-thirds of world trade now is involved in value chains that cross borders during the production process,' said David Dollar, a senior fellow at the John L. Thornton China Center, in a blog post. Each country that adds a link in the chain also adds a little value to the final product. But those intermediate contributions are rolled up into the final export value that tallied when the product reaches its final destination. As a result, much of that $70 billion U.S.-China cellphone trade deficit really comes from other U.S. trade partners, such as South Korea, Japan and Singapore." Yes, to be fair, we didn't deindustrialize the heartland only for China's benefit….
"Time for a trade war to clear the air?" [Claude Barfield, American Enterprise Institute]. "As Politico argues, on China, Trump has decided to 'go big or go home.' In turn, China accused the US of blackmail and vowed to respond in kind with both quantitative and qualitative responses. At this point, the battle clearly transcends economic issues and has become a test of political will on both sides…. As an aside, the Trump administration is going big across the world on trade. Analysts have concluded that the Trump administration has now declared war on nations from which the US obtains more than two-thirds of its imports — $600 billion from Mexico and Canada, more than $500 billion from China, and $450 billion from the European Union… Last week, Megan Greene of The Financial Times pulled together results from a number of models predicting the impact on the world economy and some individual countries from Trump's projected trade actions. Most found ' in gross domestic product growth in the US, China and global economies.'… Similar effects are forecast regarding the potential collapse of the North American Free Trade Agreement. Although Mexico would suffer great losses, the US and Canada would barely notice changes in their growth patterns…. On the Chinese side, there is the calculation, openly touted by Chinese officials, that their authoritarian regime has greater discipline and leeway to withstand US economic attacks…. With both sides dug in, it may well be that only a trade war will settle the matter — and prove (or not) each side's governing assumptions." If ever a situation cried out for soft power, it's this one…
"Trump Tariffs Slam Canada, EU—Not China" [Council on Foreign Relations]. "As we show in the graphic below, Canada is by far the hardest-hit by the tariffs, with over $12 billion of annual exports targeted. ­­­The EU is second, at just under $8 billion. China, a far more grievous transgressor of trade rules and norms, is way back there at under $3.5 billion." Hmm; see above. Nevertheless, I don't see why we don't pivot from war with China to war with Canada; we're gonna need that water for Vegas, so why not go get it now?
Politics
2020
"Hillary Clinton: I Warned You Of Trump Separating Families, 'People Being Rounded Up On Trains And Buses'" [RealClearPolitics]. Allow me to re-up this extremely important thread from yesterday. If you have not read it, you should:

Thread: How did we get here?
In 2015, I shook President Obama's hand, thanked him for DACA, and asked him to reverse course & close the for-profit baby jails (also known as "family detention centers") he opened in Dilley & Karnes City, Texas. What he said shook me to my core 1/ pic.twitter.com/K5vi6S2RPj

— R. Andrew Free (@ImmCivilRights) June 19, 2018

Expect more of the Cassandra role-playing…

UPDATE "Eric Holder May Be Considering a Presidential Run. But Has His Time Passed?" [The Appeal]. Yes. This article is better than its headline: "According to a dataset made public by legal historian Jed Shugerman, who is writing a book on the rise of the prosecutor politician, our political class is saturated with crusading DAs. From 2007-17 in 38 states, his research shows that 38 percent of state attorneys general, 19 percent of governors, and 10 percent of U.S. senators have prosecutorial career backgrounds. The big presence of prosecutors in our politics goes a long way in explaining why our government has been so ready to see our collective problems (and even some non-problems) as criminal justice issues, always requiring the response of more police, prisons, and criminal law statutes. Have we reached peak prosecutor politician? It does seem like the bloom might be off the rose. Take Senator Kamala Harris…" please!
2018
"Trump Policies Abroad Will Hurt at Home" [Charles Cook, Cook Political Report]. "It's hard these days to meet with governmental and business leaders from around the world and not be struck by their growing feelings of anxiety, impatience, and resentment toward the United States…. So why is a political analyst who specializes in U.S. politics and elections writing about this? Because we know that midterm elections are referenda on the incumbent president. Everything that a president does is important and potentially decisive in a pivotal midterm election, one with the House teetering on a knife's edge, majority status in the Senate likely to be decided by a fairly small number of votes in a half-dozen states, and the GOP having more exposure in terms of governorships and state legislative seats than either party has faced in many years. Indeed, as my friend, fellow political analyst Rhodes Cook (no relation) points out, Republicans hold more offices from top to bottom than they have since the 1920's. So the risk in November for Republicans is enormous, and yet they seem to be sprinting along in a distinctly uncareful way — both at home and abroad." Weirdly [er….] conservative post. Oh for the days of John McCloy!

"Wave elections (1918-2016)" [Ballotpedia]. "In this paper, we examine the results of the 50 election cycles that occurred between 1918 and 2016—spanning from President Woodrow Wilson's (D) second midterm in 1918 to Trump's first presidential election in 2016. We define wave elections as the 20 percent of elections in that period resulting in the greatest seat swings against the president's party. We apply this definition to four different election groups: U.S. Senate, U.S. House, governorships and state legislatures. Applying this definition to the 2018 midterms yields specific numbers of seats that Republicans would need to lose in each group of elections for the term wave election to apply. , seven U.S. Senate seats, seven gubernatorial seats, and 494 state legislative seats for each group of elections to qualify historically as a wave against the president's party in November 2018." I guess we'll see!

"Latino voter expert: Trump has no support to lose" [McClatchy]. "Exit polls from the 2016 election showed Trump taking roughly a third of the Hispanic vote nationwide. Republican and Democratic strategists estimate Trump's actual support was closer to the high teens, citing election eve polls and precinct level analysis." Translating: The headline doesn't match the body, and we don't have any hard numbers. We do, however, have opinions from experts partisan strategists. Ka-ching.

* * *

Impressive:

I absolutely refuse to stand by and do nothing as infants are ripped away & thrown in cages.

I will be flying to an ICE detention center on the border this weekend.

I have full trust in our supporters to carry the campaign torch for 24-48h.

This is a crisis and cannot wait. https://t.co/UC4USA7nzu

— Alexandria Ocasio-Cortez (@Ocasio2018) June 20, 2018

Maddow wept…. It's opportunistic, but at least Ocasio-Cortez has some skin in the game (being elected). And "I have full trust in our supporters to carry the campaign torch for 24-48h" is GENIUS!

Interesting:


More @DemSocialists chapters around the country are getting involved in direct actions against ICE. In Washington DC, the @mdc_dsa and @_IWW disrupted dinner for one of the key people responsible for the recent detentions — at a Mexican restaurant. Threadhttps://t.co/ms5bmhqdvX

— ? DSA-LSC ? (@dsa_lsc) June 20, 2018

UPDATE Lambert here: Since it's not my role to wave pom poms, but to keep a cool head (and a cool heart) let me contextualize both Ocasio-Cortez's visit and the DSA direct actions in terms of electoral politics. I'll do that by asking this question: "For liberal Democrats, what does victory in the #KeepFamiliesTogether campaign look like?" (Let's remember at the outset this moral panic is driven by the same combination of political actors and media venues — "Maddow wept" — who generated the Russia! Russia! Russia! panic, which allows us to simplify matters by factoring out considerations of morality, empathy, thematerial conditions of children everywhere, and so forth, at least in the political class, and not necessarily the good-hearted people at street level.)

1. First and foremost, victory looks like victory. Liberal Democrats need one badly. (See Jill Abramson below.)

2. Victory looks like victory in the midterms for Latinx-heavy districts in California.

3. Victory looks like victory for mobilizing citizens on issues vertically by identity, rather than horizontally by class. (In other words, it reinforces the worst tendencies of the "coalition of the ascendant" ideology that dominates the current Democrat Party.)

4. Victory looks like victory for activism that is neither nor . After some thought, I would add "," by which I mean considering material conditions taken over time. In this instance, that would mean–

5. Victory looks like the erasure of liberal Democrats' own role in creating today's immigration system (see the Tweetstorm beginning "I shook President Obama's hand…" above).

6. Victory looks like creaming off left leadership and re-incorporating it into the liberal Democrat project at the national level. Wait and see!

7. Victory looks like liberal Democrats regaining moral standing, so they can virtue signal from a position of strength.

You will notice that the DSA brakelight project is consistent, universal, and systematic. Making sure people do not get ground up in neoliberal law enforcement for profit schemes is consistent with DSA's larger project. Ditto universal: Although black people, as targets, are most vulnerable, anyone can gain a concrete material benefit (fixed brakelights). And ditto systematic: America has a long, long history of this sort of scheme, which, albeit in a small way, DSA attempts to heal and reverse. The #KeepFamiliesTogether project is none of those things. It is not consistent; measure it against deaths of despair (see under Neoliberal Epidemics below). It is not universal (being only about children at the border, and not, say, about children in Flint, who also suffer in place under a regime structured by the state for profit). It is not systematic, again because of the erasure of liberal Democrats' role in creating the problem in the first place. (This is especially important for critiques that use fascism as a frame). In short, whatever else it may be and whatever other benefits it may being, with #KeepFamiliesTogether liberal Democrats have served up a poisoned chalice for DSA, the IWW, and the left generally. It was a stroke of true genius that they have used the real suffering of real children to do this. Kudos!

Follow the money:

I circled a name on this Immigration memo kickstarting the whole detention horror happening now.
I did because Dan Ragsdale quit ICE last year and too a cushy job with GEO GROUP.
What does GEO DO? they hold the second largest immigration prison for profit detention contract pic.twitter.com/gblFDodFLJ

— ALT- Immigration ? (@ALT_uscis) June 20, 2018

Dan Ragsdale, Flexian. (I need to do real research on the correction industry and privatization in this context, but this sure smells bad.

"Trump says he'll be 'signing something' on detained children" [Associated Press]. "Homeland Security Secretary Kirstjen Nielsen has drafted an executive action for President Donald Trump that would direct her department to keep families together after they are detained crossing the border illegally. She was at the White House where Trump told reporters he would be 'signing something' shortly. The effort to end what has become a major crisis for the Trump administration was outlined by two people familiar with Nielsen's thinking who spoke on condition of anonymity to discuss the effort before its official announcement. It's unclear exactly what the president might be supporting, but he said he would be signing something "in a little while.'" That's quite a climbdown.

"The forced separation of families is Trump's 'Katrina moment'" [Jill Abramson, Guardian]. "… 2,000 migrant minors…" While tens of thousands die "of despair" in the flyover states. Can we, as alert reader MyLessThanPrimeBeef requests, have some consistency and universality here? (Nevertheless an excellent explication, however performative, of the electoral aspects of the moral panic.)

UPDATE "How Democrats can shut down the Senate" [Vox]. In essence, quorum calls. Not even for DACA, not for #MedicareForAll, not for the Defense Budget, not for war powers and Yemen, and on and on and on. I guess this is a consequence of going to a "selective" school….
2016 Post Mortem
"Trump spent about half of what Clinton did on his way to the presidency" [CNBC]. "His campaign committee spent about $238.9 million through mid-October, compared with $450.6 million by Clinton's. That equals about $859,538 spent per Trump electoral vote, versus about $1.97 million spent per Clinton electoral vote." Let me help out the donor class here: A Democrat dollar is worth fifty cents. Depending on the candidate and their message, of course.
Realignment and Legitimacy
Demands are listed at the bottom, including #MedicareForAll

All roads lead to DC this Saturday, June 23rd, 10am on the National Mall. #PoorPeoplesCampaign pic.twitter.com/9Kg1STv5SP

— Rev. Dr. Barber (@RevDrBarber) June 19, 2018
Stats Watch
No official statistics of note today.
Retail: "Starbucks Pumps the Brakes in Its Home Market" [Bloomberg]. "The coffee behemoth is retrenching in its home market as it contends with sales growth that Chief Executive Officer Kevin Johnson acknowledges isn't fast enough. The cafe chain said Tuesday it expects comparable sales to rise just 1 percent globally for the current quarter—the worst performance in about nine years. That's well below the 2.9 percent analysts were expecting, according to Consensus Metrix. Starbucks also plans to close about 150 company-operated stores in densely penetrated U.S. markets next fiscal year, three times the number it historically shuts down annually."
Retail: "Jeff Bezos Announces Customers Can Delete All Of Alexa's Stored Audio By Rappelling Into Amazon HQ, Navigating Laser Field, Uploading Nanovirus To Servers" [The Onion]. Does that include the Alexa stored audio from my hotel?
Debt: "General Electric gets booted from the Dow" [CNN Money]. "S&P Dow Jones Indices announced on Tuesday that the iconic maker of light bulbs and jet engines will be replaced in the 30-stock index by Walgreens Boots Alliance…. Being ousted from the Dow is the latest indignity for GE, which is dealing with a serious cash crisis caused by years of bad deals. GE has replaced its CEO, slashed thousands of jobs and cut its coveted stock dividend in half. Last year, GE was the worst-performing stock in the Dow, losing almost half of its value. GE is down by another 25% this year…. To pay down a mountain of debt, GE is selling off long-held businesses. Last month, GE agreed to sell its century-old railroad division. GE is also searching for a buyer for its struggling light bulb division."
The Bezzle: "Big bank auditor KPMG was tipped off before regulatory inspections" [Francine McKenna, Financial News]. From the Department of Everything is Like CalPERS. Well worth a read to see the machinations.
The Bezzle: "The bigger cryptocurrencies get, the worse they perform: BIS" [Reuters]. "Cryptocurrencies are not scalable and are more likely to suffer a breakdown in trust and efficiency the greater the number of people using them, the Bank of International Settlements (BIS)said on Sunday in its latest warning about the rise of virtual currencies."
The Bezzle: "SEC documents detail scores of fraud allegations against Coinbase" [Mashable]. "In 134 pages of complaints filed to the SEC and the California Department of Business Oversight obtained by Mashable following a five-month FOIA process, a picture emerges not of a responsible actor in the cryptocurrency space opening the market to new investors, but rather a company overwhelmed by and underprepared for its own success. … A recurring theme in the SEC complaint files Mashable obtained is the seeming disappearance of a would-be trader's money, and what is portrayed as an aggressive nonchalance on the part of Coinbase in response to the loss." "Aggressive nonchalance" is good…
The Bezzle: "With More Self-Driving Tech, Is Tesla Ruining What's Best About the Model S?" [Bloomberg]. The Model S is actually fun to drive. (I wouldn't know.) So turning it into a robot car seems paradoxical. "The juxtaposition of all those cars raised a conundrum I kept chewing over as I drove through New York. Tesla's sales strategy—and its current pricing structure—is aimed squarely at attracting everyone besides people who love the act of driving: commuters, tech-nerds, first-adopters, wealthy Californians keeping up—anyone who might be the opposites of all you dear stick-shift diehards and track-fiends. Yet the Model S P100D still delivers an authentic, and powerful, driving experience sure to pump adrenaline through the veins of even the most discerning driver. The Tesla Model S is a true drivers' car—for drivers who appreciate nice things. But as Tesla continues to add layers of autonomous and self-driving faculties to its products, it threatens to dull and eventually remove that thrill of being a driver—exactly what I've always found the car's most pleasurable surprise. Is the comfort of technology taking care of things for you worth giving up the fun of an actual experience?" "[W]ho appreciate nice things." Best euphemism for the 10% on up that I've heard yet!
The Bezzle: "Why Are There So Damn Many Ubers?" [Villlage Voice]. "[T]here's the answer to how Uber got onto New York's very regulated streets: It piggybacked onto an existing regulatory framework, presenting itself as an add-on to the service already offered by licensed livery car companies. Indeed, without livery cars to serve as the thin edge of the wedge, Uber couldn't have launched at all."
Five Horsemen: "Facebook, Amazon and — for the first time since January — Alphabet are at record highs in late morning trade." [Hat Tip, Jim Haygood].
NakedCap Mania-Panic Index: "The mania-panic index receded to 56 (complacency) as new lows exceeded new highs for the first time since May 29th" [Hat Tip, Jim Haygood]. (The NakedCap mania-panic index is an equally-weighted average of seven technical indicators derived from stock indexes, volatility (VIX), Treasuries, junk bonds, equity options, and internal measures of new highs vs new lows and up volume vs down volume … each converted to a scale of 0 to 100 before averaging, using thirty years of history for five of the seven series.)
Facebook Fracas
"Facebook confirms that it tracks how you move mouse on the computer screen" [India Today]. "The social media giant in a 225-page document responding to a set of 2,000 questions by the US Senate Committee on Judiciary admitted that it collects information from and about computers, phones, and connected devices, including mouse, that users use with its various services and that it combines this information to give users a personalised content. Facebook said that it tracks mouse movements to help its algorithm distinguish between humans and bots. Tracking mouse movements also helps the social media giant, which has been under fire for its data privacy practices, to also determine if the window is foregrounded or backgrounded."
Health Care
"Dr. Atul Gawande to lead Amazon, JPMorgan, Berkshire healthcare venture" [Modern Health Care]. "Dr. Atul Gawande will lead the Boston-based Amazon, Berkshire Hathaway and JPMorgan Chase healthcare venture, the companies announced Wednesday. Gawande practices general and endocrine surgery at Brigham and Women's Hospital and teaches at the Harvard T.H. Chan School of Public Health and Harvard Medical School. He is also the executive director of Ariadne Labs, a staff writer for The New Yorker and a best-selling author who is widely recognized for his contributions to the healthcare industry." Gawande is, of course, a single payer opponent; see here and here.
"Surgeon Atul Gawande selected as CEO of new health care company from Amazon, partners" [Stat]. "Not much has been revealed about the new health care enterprise from the three corporate giants; in the release Wednesday, it doesn't even have a name…. But in his note to friends, Gawande said that 'this new health care organization represents one of the most promising opportunities to accelerate improvement of US health care delivery. The work will be , but it must be done.'" Hmm. It seems to me that quite a good deal has been revealed, no?
The 420
"Canada legalises recreational cannabis use" [BBC]. "Canada's parliament has passed a law legalising the recreational use of marijuana nationwide… Canadians will be able to buy and consume cannabis legally as early as this September. The country is the second worldwide to legalise the drug's recreational use…. The bill will likely receive Royal Assent this week, and the government will then choose an official date when the law will come into force."
Police State Watch
"Police Misconduct Is Increasingly a Financial Issue" [Governing]. It always has been. Especially when law enforcement is used as a revenue raising device, a la Ferguson, and those targeted can't pay the fines or make bail, and lose their jobs, or their homes, etc.
Neoliberal Epidemics
"How faking your feelings at work can be damaging" [BBC]. On "emotional labor, "a term first coined by sociologist Arlie Hochschild, it's the work we do to regulate our emotions to create 'a publicly visible facial and bodily display within the workplace.' Simply put, it is the effort that goes into expressing something we don't genuinely feel. It can go both ways – expressing positivity we don't feel or suppressing our negative emotions." This is an excellent and thought-provoking article — no, FOSTA-SESTA won't solve the problem in the paradigmatic case — although it ends with a series of tips about what to do at the personal level. For example: "Rather than refuting specific, personal allegations, [Ruth Hargrove, a former trial lawyer based in California,] simply sends back a one-line email saying she disagrees. 'Not rising to things is huge,' she says. 'It's a disinclination to engage in the emotional battle that someone else wants you to engage in. I keep in sight the real work that needs to be done.'"
"New Study on Rising Suicide Rates Suggests Capitalism Is Quite Literally Killing Us" [GritPost]. The CDC study (see NC here). With handy map: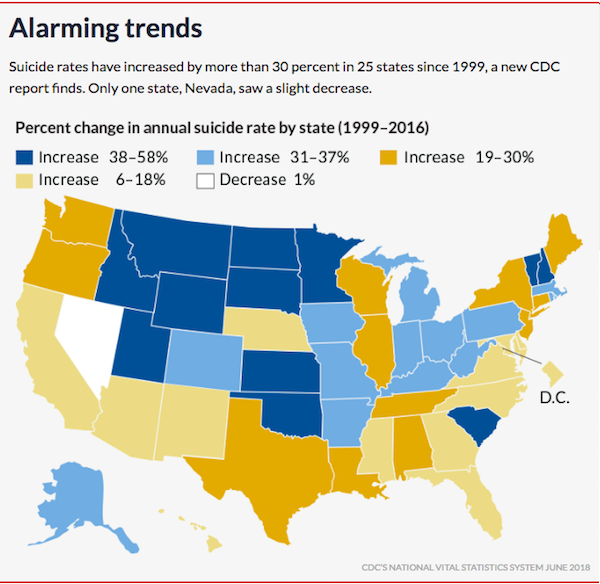 "The fact that more than half of these suicides were not attributed to any mental illness in a majority of states for at least one year of the period the CDC studied is remarkable, and begs the question of what other factors led to . CDC researchers discovered that, outside of problems with intimate partners*, the prime causes of suicide for Americans with no known mental illnesses were primarily ." Oddly, or not, there's no moral panic about these thousands of deaths whatever. And yet the uneven distribution of casualties on the map would suggest there's something systematic at play… NOTE * Not sure how that's separated from finance, which often affects relationships.
Class Warfare
UPDATE "Trump says it'd be a 'great idea' if workers go on 'really long strike' at Washington Post" [FOX]. It would be even better if the tech workers who run The Cloud did….
"In a world of digital nomads, we will all be made homeless" [Guardian]. On WeWork and and "co-working"* spaces: "It is telling that this blurring of work and leisure, and the fading-out of any meaningful notion of home, is reflected at every level of the tech industry – from shared houses that double as start-up 'incubators' (see the hit HBO comedy Silicon Valley), through the co-working and co-living spaces springing up in urban China, to the factories in the same country where workers churning out iPhones sleep in dormitories. The erosion of any barrier between grafting and downtime is reflected in big tech's innate insistence that we are 'on' at all times – checking our feeds, sending emails, messaging colleagues. You see the same things even more clearly among rising numbers of networked homeworkers – translators, CV writers, IT contractors, data inputters – whose lives are often a very modern mixture of supposed flexibility, and day-to-day insecurity…. Marx and Engels said that the bourgeoisie could not exist 'without constantly revolutionising the instruments of production, and thereby the relations of production, and with them the whole relations of society'; Tony Blair told us that the world of globalisation has 'no custom or practice', and gives rewards only to those 'swift to adapt, slow to complain, open, willing and able to change'. And here, perhaps, is the ultimate proof. After a couple of centuries during which capitalism has recurrently tried to kill the inconvenient human need for domestic spaces where people can escape economic demands (witness such inventions as workers' hostels and old-fashioned company towns), that same tendency is being newly dressed up as a matter of aspiration and personal freedom." NOTE * As with the "sharing economy," where's the "co-"? Presumably all the workers are invoiced separately in these 21st Century rooming houses.
"Conflict and the Senses: A Review of The Smell of Battle, the Taste of Siege" [Southern Spaces]. "Sensory history is an exciting new approach to writing history. It offers a fresh take on past perceptions. Sensing between the lines of written sources, the sensory historian recasts history as sense-making activity, not merely a litany of dates and deeds…. Mark M. Smith is the doyen of sensory history in the US … Smith begins by evoking the antebellum sensorium offered in an 1852 essay, 'The Cultivation of the Senses,' published in Harper's New Monthly Magazine that portrayed the senses as shapers of character and agents of civilization, provided they were exercised properly: "[the] eye should not be injured by resting on a vulgar confusion of colors, or clumsy, ill-proportioned forms; the ear should not be falsified by discordant sounds[1], and harsh, unloving voices; the nose should not be a receptacle for impure odors; each sense should be preserved in its purity'. This preoccupation with sensory order and decorum was particularly intense in a city such as Charleston, South Carolina, built on slavery, where every social relation exhibited gradations of command and obedience…. Smith's [The Smell of Battle, the Taste of Siege: A Sensory History of the Civil War is structured around five events, each analyzed through a different sensory modality, while at the same time noting shifts in the salience of certain sensations as the event unfolded. The effect is captivating, and generative of many insights into, for example, military tactics, survival strategies, and commemorative practices." NOTE * Like coffles… This review is from 2017, but it's obviously germane beyond the world of civil war buffs, and I just put it on my summer reading list. For example, what does an Amazon warehouse smell like? Or, readers, your own workplace?
News of The Wired
"Hot or Not History" [Lapham's Quarterly]. "In the centuries since the advent of the printing press, there have surely been myriad instances in which names like Ulysses S. Grant, Prince Wilhelm of Prussia, Julius Caesar, and William Henry Harrison were printed in considerable proximity to one another, and those, in turn, printed within striking distance of names like Pyotr Ilyich Tchaikovsky, Anton Chekhov, and Johannes Brahms. It is only in the present and recent past, however, that one might find all those names closely juxtaposed in a roster with a title like 'Sexiest Guys We Studied in AP History Class, dot Tumblr dot com.'" I think this is great, I remember when the Internet used to be great, and I wish the [family blogging] monopolies and their [family blogging] algos would go away so the Internet could be great again.
"Language is more abstract than you think, or, why aren't languages more iconic?" [Philosophical Transactions of the Royal Society B]. "Why isn't language more iconic? Iconicity—a resemblance between the form of words and their meanings—can be immensely useful in language learning and communication. Languages could be much more iconic than they currently are. So why aren't they? We suggest that one reason is that iconicity is inimical to abstraction because iconic forms are too connected to specific contexts and sensory depictions. Form–meaning arbitrariness may allow language to better convey abstract meanings." Which leads directly to the proliferation of the ubiquitous emoji (not emoticon), and the question of whether they are dumbing us down or worse. What is emoji for emoji? A barber shaving himself?
* * *
Readers, feel free to contact me at lambert [UNDERSCORE] strether [DOT] corrente [AT] yahoo [DOT] com, with (a) links, and even better (b) sources I should curate regularly, (c) how to send me a check if you are allergic to PayPal, and (d) to find out how to send me images of plants. Vegetables are fine! Fungi are deemed to be honorary plants! If you want your handle to appear as a credit, please place it at the start of your mail in parentheses: (thus). Otherwise, I will anonymize by using your initials. See the previous Water Cooler (with plant) here. Today's plant (TH):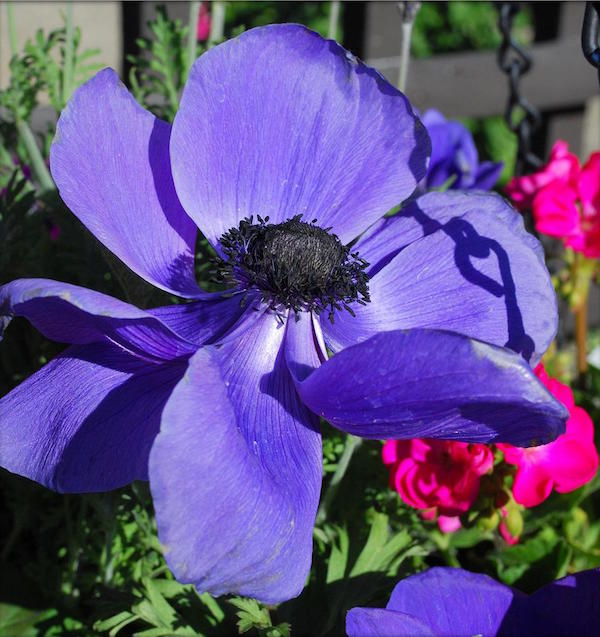 TH: "Anemone Blue Poppy at Roger's Gardens." I'm a big fan of poppies, but they sure are hard to photograph; it's as if their petals are designed to catch the slightest breeze. My poppies — not very many! — self-seeded themselves and are not blue, but orange.
* * *
Readers: Water Cooler is a standalone entity not covered by the annual NC fundraiser. So do feel free to make a contribution today or any day. Here is why: Regular positive feedback both makes me feel good and lets me know I'm on the right track with coverage. When I get no donations for five or ten days I get worried. More tangibly, a constant trickle of small donations helps me with expenses, and I factor that trickle in when setting fundraising goals. So if you see something you especially appreciate, do feel free to click the hat!

To give more, click on the arrow heads to the right of the amount.
If you hate PayPal — even though you can use a credit card or debit card on PayPal — you can email me at lambert [UNDERSCORE] strether [DOT] corrente [AT] yahoo [DOT] com, and I will give you directions on how to send a check.