By Lambert Strether of Corrente.
Trade
"In her acceptance speech, [Canadian Foreign Minister Chrystia Freeland] offered a bold defense of the global rules-based trading system and called on the United States to return to its traditional role leading and working to strengthen those multilateral institutions it helped build. She noted that many Americans are skeptical that the system still benefits them but said that while trade policies can be tweaked to address some issues — and pacts like NAFTA should be changed to include 'labor standards with real teeth — the real way to fix systemic problems is through domestic policy'" [Politico]. "Freeland's evening speech came after a day of meetings on the Hill. She met with members of the Senate Foreign Relations Committee, who sought to counteract negative rhetoric out of the White House toward Canada and shore up beleaguered relations with the U.S.'s closest ally." Editorializing, much?
Politics
2020
"Sanders gets best reception at early 2020 audition" [The Hill]. "The energy in the room was palpable throughout the entirety of Sanders's speech. He received multiple standing ovations, and "Bernie!" cheers broke out when he walked on and off the stage." Notice, however, the continuing success of liberal Democrat brand confusion between "universal health care" and #MedicareForAll. This crowd claimed that ObamaCare was universal long after it was obviously not, and they'll push us into wasting another two or three election cycles on a markets-first solution, if we let them get away with it.

"Rob Reiner thinks Joe Biden could help save Democrats in 2020" [The Hill]. "Director Rob Reiner believes former Vice President Joe Biden would help 'right the ship' for the Democrats if he ran for president in 2020…. Reiner also named one relatively unknown potential candidate — former New Orleans Mayor Mitch Landrieu." Help me.
2018
"Trump administration now ripping nursing babies from their mothers" [Oliver Willis, ShareBlue]. (ShareBlue is a David Brock operation.) I'll use this headline as a hook to discuss the #EndFamilySeparation, #FamiliesBelongTogether moral panic where Resistance liberals seem to be working themselves up to some kinda awful climax; the tone is remarkably similar to the pro-war propaganda about Syrian babies, though directed to a different object. First, and as usual, liberal Democrats have erased Obama's own immigration record, which includes separating children from familes. As so often, the continuities between administrations are greater than the differences. Second, the empathy for which Willis and his cohort pride themselves consists primarily of call-out culture-style virtue-signalling, performative speech, and finger-wagging, satisfying for such as Willis, but empty calories for those Willis et al. purport to be helping. Perhaps in the Willisian hive mind, "caring" is connected to Democrat victory in the mid-terms, for which Latinx votes will be needed, especially in battleground state California. Should this pan out, of course and as usual, those voters — except for a few appropriately identifying charismatic spokespersons, who will be rewarded with media presence and funding — will be promptly abandoned after the election, exactly as Obama did with the black community in 2008 (foreclosures; unemployment). Third, what are the policy outcomes? Open borders, i.e., cheap labor? Good if you need your granite countertops cleaned regularly, I suppose. Finally, working class life expectancy is actually declining in many flyover states (see NC here, here, here, here, here, here, and here). You'd think that the Willises of this world, before they break for their mimosa-fuelled brunch, would be able to work up a little selective screechiness about that. ("One nation, , after all). You would be wrong.

"Analysis: The House Blue Wave Is Alive and Well" [Stuart Rothenberg, Roll Call]. "[T]here is an abundance of evidence that Democratic House prospects are as good as they have been for months and the House is still very likely to flip…. Well, the newest NBC News/Wall Street Journal poll has the Democrats with a 10-point advantage in the generic ballot, Fox News has it at 9 points and Quinnipiac at 7 points — all very reasonable numbers and all generally consistent with my view that Democrats have a clear and consistent advantage in the generic somewhere in the mid- to upper-single digits. But even if [Trump approval numbers show that] voters are giving Trump some credit for the economy and North Korea, they could still prefer a Democratic Congress next year…. But the fundamentals remain very much with the Democrats, as they have been for more than a year. Midterms are almost always about the president. Twenty-three Republicans sit in districts carried by Hillary Clinton. And, voters see the midterms as an opportunity to "check" Trump. That's a formula for substantial Democratic House gains and control of the chamber next year. The burden is still on Republicans and the White House to change the midterms' dynamics" (Rothenberg is the proprietor of Inside Elections, on which our worksheet is based.) Rothenberg has an odd notion of "fundamentals." The generic ballot and Presidential approval ratings are proxies for what is happening with the parties and in the districts. Those are the fundamentals. Control of the House could still flip, indeed, but I continue to insist that for these Democrats, it's a heavy lift.

"Steve Bannon Is Right About the Midterms — Until He Isn't" [Stuart Rothenberg (again!), Inside Elections]. "Bannon surely is correct that the November elections will largely be about Trump. The incumbent president and his administration's performance have almost always been the single most important factor in midterm balloting…. Oddly, in a Washington Post column based on his CNN interview, Zakaria called Bannon's recommendation to nationalize the midterms, apparently around immigration, "a brilliant electoral strategy," since it has both economic and cultural appeal. Take a moment to imagine what Election Day 2018 would look like after Trump spent three or four months hammering away in tweets and at campaign rallies about "the wall," NFL players, sanctuary cities and immigrant gang members… More importantly, it would almost certainly add to his growing problems with the key group of this year's midterms: white, college-educated women, particularly those in the suburbs." I dunno. "Dance with the one that brung ya."

"Two Ways of Thinking About Election Predictions and What They Tell Us About 2018" [Larry Sabato's Crystal Ball]. Worth a read on polling. From the conclusion: "As we head into the heat of the summer of this 2018 midterm cycle pundits, politicos, and voters alike should take note of the past, present, and future differences between quantitative forecasting methods and the typical race-based handicapping. If the past holds true, the former will do well at producing precision probabilities for each U.S. House seat based on its individual characteristics, and the latter will do well at reducing large deviation from the forecast that typically arises from issues with candidate quality and rapidly changing districts."

"How to Lose the Midterms and Re-elect Trump" [Frank Bruni, New York Times]. "I get that you're angry. I'm angry, too. But anger isn't a strategy…. The more noise, the less discernment. The more fury, the less focus…. Enough with Hitler, too. Has Trump shown fascistic tendencies? Yes. Is he the second coming of the Third Reich? No. Nor are the spineless Republicans who have enabled him Nazi collaborators, not on the evidence of what has and hasn't happened so far." For good or ill, however, the anti-Trump schtick is quite profitable for Samantha Bee, Maddow, MSNBC, etc. So expect it to continue, and to form part of the Democrat message in the Fall. Also, Clintonite voters deeply believe most of it, and will have to be catered to.

Bernie hops on board:

The Trump administration's "zero tolerance" policy of separating children, including infants as young as one year old, from their parents at the border is inhumane, cruel and an affront to our values as Americans.

— Bernie Sanders (@SenSanders) June 13, 2018

As he must do, but (see above) some contextualization would be useful.

"Nobody learned anything, there will be another crash and banksters will expect a bailout" [Alice Marshall]. "There is going to be another crash, and it is likely that the top level plutocrats already know this and are laying the groundwork for another bailout. So Wall Street and the political donor community are especially insistent that only Wall Street friendly Democrats win their primaries. Remember, bankster bailouts are centrist, single payer healthcare is lefty fringe." Makes sense. They did learn something, though: How to get away with it!

NY: "Under Pressure From Progressives, Rep. Ro Khanna Endorses Both Democrats in Contentious New York Primary" [The Intercept]. "ON TUESDAY EVENING, New York Rep. Joe Crowley tweeted that he had won the support of progressive Rep. Ro Khanna, D-Calif., in an increasingly heated primary in Queens and the Bronx. By Wednesday morning, following an outpouring of anger at Khanna, the endorsement had become a "dual endorsement" of both Crowley and his opponent, Alexandria Ocasio-Cortez." It's going to take Khanna a long time to live that down.
New Cold War
"The Latest: Report faults Comey but finds no political bias" [Associated Press]. "The Justice Department's watchdog faults former FBI Director James Comey for breaking with established protocol in his handling of the Hillary Clinton email investigation. But it found that his decisions were not driven by political bias. The report also criticizes Comey for not keeping then-Attorney General Loretta Lynch and other Justice Department superiors properly informed about his handling of the investigation….. The report's findings are set to be made public later Thursday."
2016 Post Mortem
"Milwaukee Minorities Didn't Vote Hillary & Don't Regret It" (video) [Jimmy Dore].
Realignment and Legitimacy
"Sens. Warren, Sanders Hear Directly From America's Poor At U.S. Capitol" [HuffPo]. "At the congressional hearing, convened by Sen. Elizabeth Warren (D-Mass.) and Rep. Elijah Cummings (D-Md.), members of the House and Senate listened to leaders of and participants in the Poor People's Campaign, a new movement co-led by the Rev. William Barber against poverty and racism in America. About half a dozen lawmakers attended, including Sens. Cory Booker (D-N.J.) and Bernie Sanders (I-Vt.)…. Sanders responded after people's testimonies, saying, 'How did this happen?' 'I'll tell you exactly,' he continued. 'Because most of the members here in Congress are not here to represent you all but to represent billionaires who fund their campaigns. That's how.' He added that those testifying about their experiences with poverty ― which he called 'so difficult, so painful' ― were 'speaking with enormous courage' and that more Americans should do so." More like this, please. NOTE: I recurated my Twitter feed by adding every Poor People's Campaign account I could find — click, click, click, click, click! I don't think there are as many as DSA, for which I did the same thing, but there are an impressively large number of chapters.

"Liberals Are Criticizing the Korea Summit From the Right. Here's Why They Have it All Wrong." [In These Times]. Indeed. This:

This is some of the most laughable propagandistic garbage I've seen in my life. That it's from someone who was working for Dick Cheney during the destruction of Iraq, torture camps, and kidnappings makes it offensive. But it will be one of the most endorsed tweets of the week: pic.twitter.com/H0kJgj28ty

— Glenn Greenwald (@ggreenwald) June 14, 2018

Back to In These Times: "Yet, there is a yawning gap between the optimistic mood in South Korea and the response among liberal media circles in the United States, where many are reacting with a mix of sanctimony and scorn." [Many links from the usual suspects omitted]. "[Christine Ahn, a South Korea-born, Hawaii-based peace activist] says she is frustrated and discouraged that many U.S. establishment liberals are deeply disconnected from the decades-long peace struggle led by South Koreans. Any peace deal must necessarily involve the United States, and unless U.S. progressives want to condemn the Korean people to another two to six years of military escalation, Trump will have to be involved in that process. Given Trump's proven willingness to turn on a dime and engage in dangerous brinkmanship with North Korea, she argues, it is especially reckless for self-professed liberals to pressure the president to be more confrontational. 'It is very dangerous to pressure Trump to be hardline,' says Ahn. 'We have to put all of our efforts into ensuring this goes well and is not undermined.'"

"Planned Parenthood chapter should back its workers, not side with Trump" [Guardian]. "Planned Parenthood of the Rocky Mountains is asking Donald Trump's National Labor Relations Board for help in busting its staff union. Last December staff at the clinic voted to join the Service Employees International Union (SEIU); management is challenging that decision…. Unionized workers suffer less sex discrimination and sexual harassment than other workers, and when they do experience these things, unions offer grievance procedures to address them, as well as solidarity and guidance. By contrast, the neoliberal workplace – and the gig economy – offer women the opportunity to lean in and suck it up." If you were under any illusion that the liberal Democrat version of feminism has anything to do with working class solidarity, this sordid episode should deal with the matter.

"David Brooks Has a Name for His Jewish and Christian Beliefs: 'Religious Bisexuality'" [Haaretz]. No.
Stats Watch
Retail Sales, May 2018: "The FOMC said yesterday that household spending has picked up and indeed it has. Retail sales jumped 0.8 percent in May which easily tops Econoday's high estimate. And the results include an upward revision to April" [Econoday]. "The report shows balanced gains including a 1.3 percent jump at restaurants and a 0.5 percent increase for motor vehicles, both pointing to rising discretionary demand. … It was only a few weeks ago that the Fed's Beige Book had downgraded consumer spending to "soft" which highlights the importance of today's report." And: "'In a broader sense, the results today continue to support stronger economic growth in the second quarter,' [Ibrahiim Bayaan, chief economist for FreightWaves] added" [Freight Waves]. "'The first quarter of 2018 showed some loss in momentum and a good deal of that was due to poor results in consumer spending on goods. April and May results have both been strong now, so it's looking pretty clear that the second quarter will be much improved over the first.'" And: "Retail sales were up according to US Census headline data. The unadjusted rolling averages rate of growth improved, and was well above forecasts… [S]till, our analysis says this months' year-over-year growth was about average for the growth seen since the Great Recession" [Econintersect]. "The year-over-year growth rate in inflation adjusted retail sales and retail employment have diverged."
Import and Export Prices, May 2018: "Import and export prices are both beginning to move higher" [Econoday]. "Year-on-year rates are rising notably… These are the hottest yearly readings since the easy comparisons early in the expansion, in 2011…. What's not showing any pressure, and what is a reminder of the soft results in Tuesday's consumer price report, are prices for finished goods, whether imports or exports. Today's report is a memorable one for this series. Price data below the consumer level are showing sudden acceleration in what underscores yesterday's FOMC rate hike and increased forecasts for rate hikes to come." And: "There was a big surge in export and import prices this month lead by food and industrial supplies (which includes fuels)" [Econintersect].
Bloomberg Consumer Comfort Index, week of June 10, 2018: "The consumer comfort index had been sagging a bit but popped back sharply" [Econoday].
Business Inventories, April 2018: "Business inventories rose an as-expected 0.3 percent. [Econoday]. "[T]otal inventories look lean compared to underlying sales which are up 6.7 percent in a mismatch that points to restocking and with it a benefit to GDP not to mention gains for production and employment as well. Fed Chair Jerome Powell said yesterday that the economy is in 'great shape' and inventories are part of the success story." And but: "Inventories remain elevated this month. Our primary monitoring tool – the 3 month rolling averages for sales – marginally improved this month and remains in expansion. As the monthly data has significant variation, the 3 month averages are the way to view this series. Overall business sales are improving since the low point in 2015 – but the trend in the last 6 months shows little change in the rate of growth" [Econintersect].
Jobless Claims, week of June 9, 2018: "Jobless claims remain very low and are consistent with a low unemployment rate and strong job growth" [Econoday].
Shipping: "Another Day, Another Pay Hike for Drivers" [Transport Topics]. "With the annualized turnover rate at large truckload carriers soaring by the end of the first quarter, companies continued to open their checkbooks, giving pay raises to drivers as a way to keep them." Quelle horreur!
Shipping: "When it comes to the truck driver shortage, 'the struggle is (still) real'" [Logistics Management]. "When it comes to the state of the somewhat inexorable truck driver shortage, one thing clearly remains certain: not much has materially changed in terms of truly lowering the average turnover rate…. The ATA reported this week in its quarterly Trucking Activity Report that the annualized turnover rate for large truckload carriers or fleets with more than $30 million in annual revenue, increased 6% to 94% in the first quarter of 2018. This marks a 20% annual increase. The latter data point is pretty telling, especially when factoring in that unemployment is below 4% and many potential truck drive candidates prefer other options like construction, for example, which tends to pay better than driver jobs and comes with the benefit of being home every day after work, something which is not a given behind the wheel."
Supply Chain: "Efficient worldwide supply chain flows facilitate competitiveness, experts say" [Logistics Management]. "'We were talking about trade facilitation before it was cool,' said Ralph Carter, FedEx Express vice president of international regulatory affairs. 'If you want to be efficient, you have to have trade facilitation.' Noting that 'nothing is made in one country anymore,' Carter said global supply chain efficiency through technology and other means are absolutely the ante for worldwide players to get in the game. ',' he said. 'When you invest in border efficiency, it has the ability to help U.S. exports. You are giving them more ability to export goods.'" "Trade facilitation." That's a new buzzword to me. Maybe Carter should pick up the phone and call Theresa May.
Transportation: "Elon Musk's Boring Co. Wins Chicago Airport High-Speed Train Bid" [Bloomberg]. "The result gives the young company a big boost in legitimacy as it tries to get transportation projects underway in Los Angeles and Washington." Thanks, Rahm! More: "It is unclear exactly what the Boring Co. high-speed airport link would involve, but last year Musk tweeted about his ideas for Chicago. 'Electric pods for sure,' he wrote. 'Rails maybe, maybe not.' The project is unusual in that no government funding is involved, forcing the winner to finance the entire construction cost itself." I knew Atrios would have something to do, because he hates pods (and rightly). Here we are: "I will never be able to stop talking about this or thinking about it or wanting to explain just how stupid it is even though the stupidest is part is that it will never be built."
The Bezzle: "The Downfall of Dubai's Star Investor" [Bloomberg]. "Private equity is still a nascent industry in the region, so it's a shame to see the biggest name falling apart."
The Bezzle: "Tech-support scam against elderly costs Bay Area businessman $136,000" [Mercury News]. "A man who operated a couple of Hayward-based businesses must pay $136,000 in connection with a tech-support scam out of India, and can never offer tech support again. The Federal Trade Commission this week announced a settlement with Parmjit Singh Brar, who it accused of working with telemarketers to trick elderly Americans into buying fake tech-support services. The judgment was for $7.6 million, but it was partially suspended because of Brar's inability to pay the full amount, according to the FTC…. 'The cost to consumers ranged between several hundred dollars to tens of thousands of dollars,' the FTC said of the scam, which appeared to begin in 2015."
Mr. Market: "MOOD BETAS AND SEASONALITIES IN STOCK RETURNS" (PDF) [NBER]. "We find that relative performance across stocks during past high or low mood months and weekdays tends to recur in future periods with congruent mood, and to reverse in periods with non-congruent mood. Stocks with higher sensitivities to aggregate mood swings—higher mood betas—earn higher expected returns during future high mood periods and lower expected returns during future low mood periods, including those induced by Daylight Saving Time changes, weather conditions and anticipation of major holidays."
Mr. Market: "How the 'big kahuna' of central banks may bring reality crashing down on stocks" [MarketWatch]. "Here's a bit more explanation from Helen Thomas, founder of macro-consulting group BlondeMoney. She says what the ECB has been doing — buying European government bonds and driving the euro lower with negative deposit rates — has forced capital out of that region and into U.S. bonds. That move has acted as an extra dose of QE for the U.S. bond markets, which has driven investors to look for better-yielding investments in equities and corporate bonds. 'Therefore central banks taking away the punch bowl, particularly in Europe which turbocharged the process, is key for the future of all assets globally,' says Thomas." The punch bowl the size of a thimble, if you ask me, but what do I know?
The Fed: [Tim Duy's FedWatch]. "Bottom Line: Pay attention to the interplay of the rate and economic forecasts and the flow of data. The pace of data will almost certainly not slow sufficiently to prevent the Fed from hiking in September and probably December. I would say September is essentially a lock at this point. I also think you need to pencil in rate hikes in March and June of 2019. Recognize though that by mid-2019 the data might reflect the lagged impact of past tightening and the yield curve is likely to be fairly flat; both factors would slow the pace of rate hikes. The Fed will face a more difficult choice if the data holds strong while the yield curve inverts."
Five Horsemen: "Facebook and Amazon reached record highs in late morning trade" [Hat Tip, Jim Haygood].
NakedCap Mania-Panic Index: "On yesterday's market decline the mania-panic index ticked down to 68 (complacency)" [Hat Tip, Jim Haygood]. (The NakedCap mania-panic index is an equally-weighted average of seven technical indicators derived from stock indexes, volatility (VIX), Treasuries, junk bonds, equity options, and internal measures of new highs vs new lows and up volume vs down volume … each converted to a scale of 0 to 100 before averaging, using thirty years of history for five of the seven series.)
Health Care
"When failure is really not an option" [DC Velocity]. "When they wheel you into the operating room (OR), the last thing on your mind is the state of the hospital's supply closet. If there's one thing we take for granted, it's that the surgical ward—the epitome of a high-stakes work environment—will have the proper instruments, medications, and supplies on hand for the scheduled procedure. Unfortunately, you may need to worry about that. A recent survey of medical professionals revealed that OR supply chains are nowhere near the paragon of excellence we expect them to be. The study, which was conducted by healthcare giant Cardinal Health, found that . Furthermore, 27 percent have seen or heard of a recalled or expired product being used on a patient, and 23 percent have seen or heard of a patient being harmed due to missing supplies." Holy moly!
"Association of Long-Term Risk of Respiratory, Allergic, and Infectious Diseases With Removal of Adenoids and Tonsils in Childhood" [JAMA]. "In this population-based cohort study of almost 1.2 million children, removal of adenoids or tonsils in childhood was associated with significantly increased relative risk of later respiratory, allergic, and infectious diseases. Increases in long-term absolute disease risks were considerably larger than changes in risk for the disorders these surgeries aim to treat." Yikes. My parents, then, were wise to leave my tonsils alone….
Neoliberal Epidemics
"Beyond Books: How Libraries Are the Latest Front in the Opioid Fight" [Governing]. "Libraries in New Orleans, Philadelphia, San Francisco and Salt Lake County, Utah, among others, are also stocking the overdose reversal drug. When overdoses in libraries became a regular occurrence in New York state, Gov. Andrew Cuomo signed a bill authorizing them to carry naloxone; libraries in Suffolk County and Middletown have since started."
Class Warfare
"Think Your State Is Ready for the Next Recession? Better Check This Fund First." [Governing]. "States have done a lot over the past decade to be better financially prepared for the next recession. But one area many have ignored is — ironically — their unemployment insurance programs for laid-off workers. More than half of states' unemployment insurance trust funds don't have enough money in them to weather the next economic downturn, according to the most recent federal report on the funds. Of the 28 that don't meet the minimum solvency level recommended by the U.S. Department of Labor, a whopping 11 have less than half of the funds needed to meet a downturn. The lack of recovery in many funds more than a decade after the last recession began is alarming given that many think time is running out on the current economic expansion."
"Truckers in Argentina in strike threat over pay demand to parry galloping inflation" [The Loadstar]. "In the wake of Brazil and China, Argentina now appears to be preparing for a trucking strike as its drivers demand a 27% pay increase. Local media has reported that the pay demand is to offset an annual inflation rate of 20%, which is expected to grow further following a $50bn bailout package from the IMF. Opposition to the bailout saw trade unions march through Buenos Aires last week, with Argentine Truck Drivers Association head Pablo Moyano threatening further action."
News of The Wired
"'The Scale Is Just Unfathomable'" [Logic]. "At this scale, moderation techniques that might have fit smaller venues simply will not translate. For instance, the techniques of online community management are ill-suited to the scale of major social media platforms. Managing early online communities depended in part on community members knowing the webmaster, regulars knowing one another, and users sharing an accumulated history of interactions that provided the familiarity and trust necessary for a moderator to arbitrate when members disagreed. Tough cases could be debated collectively; policies could be weighed and changed by the community. The scale of the forum made self- government possible. But as these platforms have grown, traditional community management has become increasingly untenable." So maybe if we broke up the ginormous social media monopolies, community moderation could re-appear? To put this another way, perhaps the test for "too big" should be scaling beyond community moderation. I wonder if anybody could reduce that concept to a legal theory.
* * *
Readers, feel free to contact me at lambert [UNDERSCORE] strether [DOT] corrente [AT] yahoo [DOT] com, with (a) links, and even better (b) sources I should curate regularly, (c) how to send me a check if you are allergic to PayPal, and (d) to find out how to send me images of plants. Vegetables are fine! Fungi are deemed to be honorary plants! If you want your handle to appear as a credit, please place it at the start of your mail in parentheses: (thus). Otherwise, I will anonymize by using your initials. See the previous Water Cooler (with plant) here. Today's plant (GB):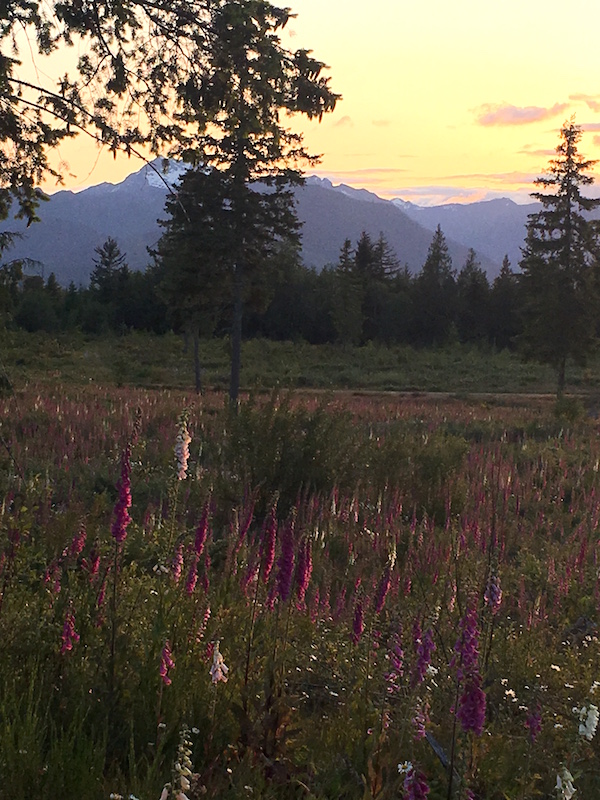 GB writes: "Foxglove by the roadside on recently cleared woodland here in the Pacific Northwest."
* * *
Readers: Water Cooler is a standalone entity not covered by the annual NC fundraiser. So do feel free to make a contribution today or any day. Here is why: Regular positive feedback both makes me feel good and lets me know I'm on the right track with coverage. When I get no donations for five or ten days I get worried. More tangibly, a constant trickle of small donations helps me with expenses, and I factor that trickle in when setting fundraising goals. So if you see something you especially appreciate, do feel free to click the hat!

To give more, click on the arrow heads to the right of the amount.
If you hate PayPal — even though you can use a credit card or debit card on PayPal — you can email me at lambert [UNDERSCORE] strether [DOT] corrente [AT] yahoo [DOT] com, and I will give you directions on how to send a check.