By Lambert Strether of Corrente.
Readers, this may seem forbiddingly long, but in fact most of it is a report from an alert reader on the New York primary. New York readers, dig in! –lambert
Trade
"Scoop: Trump's private threat to upend global trade" [Axios]. [Trump's threatened to withdraw] 100 times. It would totally [screw] us as a country," said a source who's discussed the subject with Trump. The source added that Trump has frequently told advisers, 'We always get fucked by them [the WTO]. I don't know why we're in it. The WTO is designed by the rest of the world to screw the United States.' …. Some aides have tried to explain to Trump that in their view, the U.S. does well at the WTO, given the U.S. has an army of trade lawyers and created the system."
"Trump's Trade Threats Hit China's Stock Market and Currency" [New York Times]. "China's stock market has now fallen close to levels not seen since a crash shocked global investors three years ago. An elite Chinese think tank affiliated with the government warned this week that the chances of a financial panic had risen significantly, shaking markets even more…. Chinese officials are trying to help factories deal with American tariffs by weakening the value of the country's currency. That makes Chinese goods more competitive abroad, but it also gives investors inside and outside China a reason to take their money out of the country…. The president's tariffs so far have been quite small in the grand scheme of things, but they add to China's troubles. The next wave of tariffs, set at 25 percent, threatens to cover at least a tenth of China's exports to the United States, and more could follow."
"Lawsuit Challenges Constitutionality of Steel Tariffs Statute" [Industry Week]. "The American Institute for International Steel and two of its members filed suit Wednesday in the U.S. Court of International Trade challenging the constitutionality of the statute by which President Donald Trump imposed a 25% tariff on imported steel and a 10% tariff on aluminum imports earlier this year…. The lawsuit alleges that Section 232 of the Trade Expansion Act of 1962 violates the constitutional prohibition against Congress delegating its legislative powers to the president because it ." • Interesting argument with wider implications
"Southeast Missouri nail company gets hammered by Trump's tariffs" [Missouri.net]. "President Trump's tariff on steel imports that took effect June 1 has caused a southeast Missouri nail manufacturer to lose about 50% of its business in two weeks. Mid Continent Nail Corporation in Poplar Bluff – the remaining major nail producer in the country – has had to take drastic measures to make ends meet. The company employing 500 people earlier this month has laid off 60 temporary workers. It could slash 200 more jobs by the end of July and be out of business around Labor Day. During a Finance Committee hearing this week on Capitol Hill, U.S. Senator Claire McCaskill, D-Missouri, sounded the alarm… " • Oh. Sadly, combining tariff walls with an industrial policy — an industrial policy other than creating fancy bespoke weaponry, that is — is anethema to the political class, even though other Third World countries have used it successfully.
"A Cleveland Revival Must Include Manufacturing" [The American Conservative]. "If we are to again become a rich city, we must make more things…. The old cities were above all places where people worked. Can we bring it back? Of course we can. We industrialized this country under tariff protection and we can re-industrialize under tariff protection. When President Trump slapped tariffs on foreign steel, Cleveland cheered. In nearby Lorain, Ohio, another steel center, a steel company announced it would reopen a shuttered mill, hire hundreds of people, and was prepared to fill all domestic orders. We can make everything America needs in America—and much of it in Cleveland. China has a plan to make everything it needs by 2025. Why can't America have the same plan? After all, we already did it once."
Politics
2020
"2020 Dems join anti-ICE stampede" [Politico]. "Jane Kleeb, chair of the Nebraska Democratic Party and a board member of the Sanders-backed group Our Revolution, said that a debate over ICE's future promised to help Democrats start about immigration enforcement in the wake of the public outcry over family separations. 'What I'm seeing in rural communities is that people are disgusted and ashamed that our president is separating families,' Kleeb said in an interview this week. 'And when people put proposals like 'abolish ICE' on the table, it's more to shake things up and say 'We have a real problem — the immigration system is absolutely broken — so how do we fix it?'" • Personally, I'm fine with abolishing ICE on civil liberties grounds alone. We got along perfectly well without it. Ditto DHS. However, that word "conversation" is a red flag: There are concrete material benefits for rural districts that OR and the left generally should be thinking through that have nothing to do with the border. Say, actual life and death matters like falling life expectancy among those for whom Maddow does not weep? These matters won't be discussed, if the "conversation" so far is any guide. So everything's going according to plan.
2018
"Democratic strategists on fire off the shoulder of the Bronx. I watched four-color Crowley brochures glitter in the dark near the Götterdämmerung Gate. All that oppo will be lost in time, like tears in rain. Time to die." —Blade Runner NY-14

UPDATE "Obama expected to hit the campaign trail for Democrats with help from Pelosi and Schumer" [CNBC]. • That should do it.

NY: An alert reader throws the following exhaustive report on the NY primaries over the transom:

So Long Island/city went pretty left, and upstate NY Bernie dems ousted a DCCC candidate

While the biggest news is Crowley's takedown, it's worth noting that:

1) CD-1 at the most eastern end of Long Island (eastern Suffolk County) chose someone (Perry Gershon) who ran on Medicare for All and an assault weapons ban out of a field of five competitors, using lots of explicit TV ads and mailers that would make the positions hard to run from. Context: CD-1 voted overwhelmingly for Trump; it's entirely within Suffolk County, which went 52% to 45% for Trump. The current Congressman, Lee Zeldin, is an R (Zeldin) who in many ways is a mini-Trump (his 538 Trump score is 86.9%, 0.4% above what 538 would predict for the district) https://projects.fiv ethirtyeight.com/congress-trum p-score/house/. He had Bannon headline a fundraiser.

Now, Gershon may run to the middle now, and suddenly start supporting Medicare buy-in or whatever–the problem with not being a politician is not having a policy record–but his ads were strong, and his first post primary email listed a series of "rallying cries", the first of which was Medicare for All, so maybe he's for real on it.

In winning the five-person primary, Gershon beat a more moderate female candidate (Kate Browning) from the denser, western part of the district (where 2/3 of the votes are) that had won election to the county legislature three times. Browning was understood to be the pick of the Suffolk County Democratic Party leader, though he officially stayed out of it; she was definitely perceived as the establishment choice. The other three candidates were purely grassroots efforts, and all three were at least as strong as Perry on Medicare for All and related issues. Their loyalists–the ones that made the grassroots campaigns happen–will generally find it easier to coalesce behind him than the more moderate D. People were explicit about this b/c of Browning's moderateness. One of the grassroots candidates said on the record she would not work for Browning because Browning had once belonged to the Right to Life party (anti-choice; said her position had evolved) and a couple other things.

I don't call Gershon a "grassroots" candidate because although he did have his loyalists who worked hard for him, he had the most money, in part because he's a rich businessman who partly self-financed. Hence the TV ads and mailers that dwarfed everyone else in volume.

Perry's pluses (in the political sense for this district): he's a white male non-politician businessman with a veneer of job-creating successful businessman. He had the most money, did a good job organizing and building name recognition, and he ran a campaign on what he was for, not as the alternative to a demon. He has no problem raising money, and the incumbent is very well financed. He did not alienate the activist base so there are a lot of people willing to work for him to help him beat Zeldin even though they did not vote for him.

His minuses: he's an NYC carpetbagger 2nd home Hamptons guy without the massive charisma that bridges the background difference, though he is actually very personable and casual, which will help. The being rich part cuts against him as part of the Hamptonite archetype. Congressman Zeldin is already trying to tag him as "Park Avenue Perry", which, while not accurate, is close enough to the mark to have resonance.

In fact, I think in a Presidential year, when all the regulars vote, it might be enough to beat him. Because this is an off-year election, and it's all about having your electorate shrink less than the other side's (or miraculously matching/exceeding Presidential turnout), I don't think it's a killer. Dems here are very motivated to vote. Primary turnout spiked compared to 2016, which was also a hotly contested primary year (two candidates only). In 2016 turnout was 12k; this year it was 20k.

Another possible minus on the merits: he's a rich guy who may or may not be more corporate friendly as a result; he's certainly not focusing on a small-dollar strategy, though his fundraising emails start with a $5 ask. As a non-politician, he has no track record. My fear: while I think his belief in Medicare for all is real, I don't know that he's a fighter for issues and I have no idea if he'll really be helpful for getting, e.g. Medicare for all done beyond delivering a vote if other people can make it happen.

Still, I think CD-1 might flip from Red to Blue in 2018. I know a lot of people motivated to work to get the vote out.

Elsewhere on the Island and upstate:

2) In CD-2 immediately to the west (part of Suffolk Cty, part Nassau, a young white woman won who also ran explicitly on Medicare for All. I didn't follow this race very closely so I don't know much about her/her opponent.

3) In CD-9 (Brooklyn) another giant was almost slain, with Adem almost beating a 10 year incumbent. Another explicit Medicare for All Democratic Primary:

CANDIDATE VOTE PCT.
Yvette Clarke* 14,804 51.9%
Adem Bunkeddeko 13,729 48.1
28,533 votes, 99% reporting (528 of 532 precincts)

4) in CD-24 (Syracuse) chose Dana Balter over the DCCC candidate. While I don't know her, she was endorsed by the New York Progressive Action Network, which means local Bernie dems endorsed her, and she is explicitly pro-Medicare for All on her website, though the site features what she wants everyone to have in terms of care and then says Medicare for All is a way of doing that would save lots of money, which isn't the way Gershon was running on it.
Some comments: If I worked for a month, I couldn't duplicate this level of on-the-ground insight, so I encourage reports like this from other readers as the season proceeds (especially California and Pennsylvania). And if I weren't so damned jaded and cynical, I'd see a lot of hope in this report! Everywhere, not just from AOC. #MedicareForAll seems to be everywhere! (And if it's a non-reformist reform, so much the better.)
NY: "You can make the Brooklyn Democratic Party more democratic" [RepYourBlock]. "We all think of Brooklyn as overwhelmingly Democratic, yet decisions about the borough's Democratic priorities and candidates are made by a few party insiders. It's time to fix this by making sure everyone – in particular those traditionally excluded from the electoral process – can access County Committee and transform the Democratic Party. It's time Brooklyn set the standard for inclusive and accountable local politics." • Block captains! Everything old is new again!
NY-14: AOC and small donors:
#NY14 victor @Ocasio2018 raised 69% of her funds from small donors – only 1.71% from PACshttps://t.co/ft0sFtzjn6 pic.twitter.com/Es53bPqD8X

— OpenSecrets.org (@OpenSecretsDC) June 28, 2018
I'd like the lowest number to be $27, not $200, but I don't have time to figure out how to work the Open Secrets machine…
NY-14: "Politics Podcast: What Does Ocasio-Cortez's Win Tell Us About The Democratic Party?" (podcast) [FiveThirtyEight]. • If you want to listen to liberal pundits unable to think outside the categories of identity politics, this is the podcast for you.
NY-14: "Where Alexandria Ocasio-Cortez Parts Ways With Bernie Sanders" [The Atlantic]. The article is far better than the editor's horserace headline. "Then there is a deeper problem, namely that Ocasio-Cortez's agenda is riven with contradictions. The most obvious is that in calling for the abolition of Immigration and Customs Enforcement, an agency that has become a bogeyman on the left for its role in implementing the Trump administration's polarizing deportation strategy, she is sending a clear signal that she favors more permissive immigration policies. At the same time, she favors a suite of other policies, such as Medicare for all, a universal guarantee of jobs paying a living wage, and tuition-free higher education, that would have the cumulative effect of sharply increasing redistribution* from the native-born nonpoor to low-income immigrant-headed households. For immigrants, working in the United States offers them a 'place premium'—that is, doing the same exact job in the outer boroughs of New York City will yield a far higher hourly wage than in Port-au-Prince, and from all over the world." • Confirms the "cheap labor" priors I've been shouting into what has felt like a lonely void for weeks now, but dammit, I think they're good priors, and so far as I can tell nobody's laid a glove on them. Of course, we have MMT to handle the redistribution aspect, but for now, open borders looks very much like a "Let's not compensate the losers yet again, shall we?"-type scheme. That worked with deindustrialization, until it didn't. If you want to put the working class first, and you define the working class as the international working class, then you've got to square this circle.
2016 Post Mortem
From The Department of I Don't Doubt It:

If Hillary were President right now I'd be lying awake at night worrying about which new couch to buy.

— Jennifer Wright (@JenAshleyWright) June 29, 2018

UPDATE Sadly, this tweet has been deleted….
Realignment and Legitimacy
"Democrats badly underestimated Trump" [CNN]. "Democrats have a history of underestimating Republican presidents. Ronald Reagan, numerous Democrats originally thought, was a lightweight Hollywood actor with charisma and television appeal but not much more. George H.W. Bush, according to his critics, was a well-meaning "wimp" whose leadership skills were lacking and who could never escape from the shadow of Reagan. In each case, however, the Democrats didn't see what was coming…. Despite all of his chaotic and controversial decisions, his national approval ratings in some polls have even crept upward to the range of 45%. With a low rate of unemployment and a booming stock market, there is reason to believe that those numbers might hold fairly steady…. The Democrats' "McConnell rule" rhetoric also expresses . The new rules are this: There will be no SCOTUS picks if the president's party doesn't hold the Senate. Period." • The Norms Fairy? She's dead, Jim…

"Democrats are acting like a bunch of cowering dandies. They need to grow a spine and throw some punches" [David Faris, The Week]. "[T]he party's strategy came into focus over the past day or so: They will argue that Republicans invented a new 'no SCOTUS picks in an election year' rule by refusing to hold hearings for Merrick Garland in 2016, and that Kennedy's seat should be held open until after the midterm elections. Democrats are out there in force right now making this very case…. Do party leaders want their GOTV volunteers running around talking about something called the McConnell rule? How's that conversation going to go? Wouldn't it be better to put a message about real fairness and real reform out there, to convince Democratic voters that the Supreme Court is not some neutral, umpire-like entity but rather a nakedly political institution that must be treated as such? The base is desperate for hardball."

Guess the deeper story (1):

My last branch meeting as co-chair of @UptownBronxDSA comes on the same day @DemSocialists reaches 40,000 members and I couldn't be more proud. Can't wait to celebrate with my B/UM comrades old and new tonight ?✊ pic.twitter.com/2KKl2CmexJ

— Annie Shields (@anastasiakeeley) June 28, 2018

The deeper story is an agenda with time limits, more respectful of working people that Occupy's open-ended General Assembly. Granted, Roberts Rules can be abused too, but until something better comes along….

Guess the deeper story (2):

The Democratic Socialists of America report their biggest single-day jump in membership ever following @Ocasio2018's victory Tues., w/ over 1,000 joining in 24 hours.@DemSocialists' two next biggest days — after Trump's election & after J20 — were about 800 each

— Jeff Stein (@JStein_WaPo) June 28, 2018

The deeper story is that DSA has members they can count, and somebody is counting them. To be fair, the Democrats count the donor class, especially their contributions, but that's not quite the same, is it?
Stats Watch
Personal Income and Outlays, May 2018: "Personal income and outlays is usually an easy report to forecast, but not May's edition. The most important surprise is the core PCE price index which rose 0.2 percent on the month, which hits expectations, but jumped 2 tenths on the year to 2.0 percent. This hits the high end of Econoday's consensus range and also hits the Federal Reserve price target — inflation is now where the Fed wants it and this means less need to stimulate the economy" [Econoday].
Chicago Purchasing Managers Index, June 2018: "Small-sample reports on June's economy have been mixed, showing slowing for manufacturing in the Philly and Markit reports but overall acceleration for Chicago" [Econoday]. "In special questions, nearly a quarter of the sample said trade issues are affecting purchasing decisions and nearly 40 percent said they are starting to raise wages. Business in Chicago's sample is very good, perhaps too good which points to the risk of imbalances."
Consumer Sentiment, June 2018 (Final): "Consumers were upbeat about June but turned less optimistic on the outlook" [Econoday]. "In an echo of this morning's Chicago PMI, one quarter of the sentiment sample is citing the potential impact of tariffs as an issue. Whether or not tariffs become an increasing risk, the strength in the current assessment is an immediate plus for the economy."
Retail: "Sale coming soon? H&M needs to offload $4 billion in unsold clothes" [CNN]. "The Swedish fashion company said Thursday that the value of its global unsold inventory ballooned in the most recent quarter to 36 billion Swedish kronor ($4 billion). That's a 13% increase over the previous year. The mass of unsold clothes, which has grown over a period of years due to weaker than expected sales growth, helped drag down profits by 28% in the first half of 2018." • That seems like rather a lot…
Retail: "What Retailers Are Doing That Some Consumers Find 'Creepy'" [Footwear News]. "Experience personalization firm RichRelevance surveyed more than 1,000 U.S. consumers last month on some of the most talked-about technologies today. Among the most notable takeaways: digitally savvy millennials (which RichRelevance defines as 18 to 29 years old) are significantly more open to new tech than the general population, describing innovations as 'creepy' in decidedly smaller numbers. Take Amazon's Alexa [–please!], for example, and other voice assistants that can offer product recommendations and place orders for you*, queue up music and spit out weather reports with a simple voice command. Forty-one percent of consumers said they're 'creepy,' compared with 32 percent of millennials." • I can think of other phrases besides "digitally savvy," like "primed and vulnerable." NOTE * "You," and everybody around you, who has to listen to you and your assistant perform the act of consumption. This is especially obnoxious when Alexa clearly doesn't work very well, so "you" cram our ears with noxious verbal rephrasing to try to get the stupid software to work… Voice assistants are going to raise the same, er, civility issues as cell phones. Watch. Silence is a commons.
Retail: "The Big Highs and Deep Lows of Opening an Independent Bookstore" [Literary Hub]. "That leads to the next most common concern, WHAT ABOUT AMAZON?? This one is usually followed up with an admission that they shop on on Amazon all the time and everyone just buys books online. All booksellers are well versed in responding to this claim. We may be somewhat weary, but we soldier on in hopes of converting even a single Amazon devotee. We explain that while yes, Amazon will always be a threat to independent businesses, the general public has been realizing how much they enjoy having community spaces and businesses in their neighborhoods. We talk about the the shop local movement and the resurgence of the independent bookstore. We explain how we can offer lots of things that Amazon can't: personal recommendations, discovery of something unexpected, a space to congregate. No, we will not be able to price match, but we are banking on the people who like what we offer and would rather see money go back into their community than into the pockets of Jeff Bezos. While Amazon is real concern, it is not in fact an obstacle to opening a bookstore in a town that wants a bookstore and does not have one."
Retail: "Instagram star isn't what she seems. But brands are buying in" [CNN]. • Speaking of creepy, robot influencers!
Manufacturing: "Steel Giant Plows $1 Billion Into US and More Will Follow" [Industry Week]. "India's top steelmaker JSW Steel Ltd. says it's scouting for more deals in the U.S. and Europe to expand its global footprint, betting that vibrant growth will underpin demand in overseas markets and complement a boom at home that's seen the mill ramp up local output."
The Bezzle: "Bitcoin Bloodbath Nears Dot-Com Levels as Many Tokens Go to Zero" [Bloomberg]. "Down 70 percent from its December high after sliding for a fourth straight day on Friday, Bitcoin is getting ever-closer to matching the Nasdaq Composite Index's 78 percent peak-to-trough plunge after the U.S. dot-com bubble burst. Hundreds of other virtual coins have all but gone to zero — following the same path as Pets.com and other red-hot initial public offerings that flamed out in the early 2000s."
The Bezzle: "Tesla is asking Model 3 reservation holders for another $2,500 to order their cars" [CNBC]. "Tesla is sending out e-mails to all Model 3 reservation holders in North America this week informing them that their electric sedans are ready to order and asking for an additional $2,500 to fulfill their orders." • So that's how they're raising their capital, eh? Innnovative.
The Bezzle: "Elon Musk Is a Farting Unicorn Fan, but Blew Off Creator Tom Edwards" [WestWord]. "[Artist Tom] Edwards learned that his art had been lifted when a friend who'd bought a Tesla broke the news: Edwards's magical, farting unicorn was being used to show off Tesla's new sketch pad, embedded in every one of Musk's electric cars…. Update: Soon after this story appeared, Elon Musk and Lisa Prank got into it on Twitter. "Your company has been using his creative property for a year without credit or compensation," Tom Edwards's daughter tweeted. "Don't you think artists deserve to be paid for their work?" To which Musk replied: 'Have asked my team to use a diff example going forward. He can sue for money if he wants, but that's kinda lame. If anything, this attention increased his mug sales.'" • Ah, the old "work for the exposure" line. Musk really is a crook, isn't he? One can only wonder what other intellectual property Tesla has stolen; Edwards' unicorn was, after all, embedded in the code for the Tesla's OS… Family fallout:
I'm dying. pic.twitter.com/gBOtuyAmKg

— Jules Suzdaltsev (@jules_su) June 28, 2018
The Bezzle: "Elon Musk is reportedly sleeping under his desk and camping out at the office for days at a time as Tesla faces pressure to make 5,000 Model 3s per week" [Business Insider]. "On a chair next to him was a white caseless pillow that he used while sleeping on the floor under his desk." • Idea: Make Elon sleep under the paint booth. Maybe then it won't catch on fire.
The Bezzle: "How is Airbnb really being used in and affecting the neighbourhoods of your city?" [Inside AirBnB (DG)]. "Airbnb claims to be part of the "sharing economy" and disrupting the hotel industry. However, data shows that the majority of Airbnb listings in most cities are entire homes, many of which are rented all year round – disrupting housing and communities." • Wait, what? I thought "disruption" always netted out positive for everyone!
The Bezzle: "Google Maps removes Uber integration" [Ars Technica]. "Despite the ride-sharing tab supporting 17 different services, Uber was the only one that let you pay for a ride and complete your trip all inside Google Maps. It's not known why Google and Uber have decided to end the program. Maybe not enough people used the feature, maybe Uber decided it would rather have people use its own app, or maybe the tumultuous relationship between Uber and Google has manifested itself." • Given Google's dominance, I could have filed this under Concentration as well….
Concentration: "AT&T bumped a fee on most customers' bills by $1.23, adding $800 million to revenue" [CNBC]. "After a costly acquisition of Time Warner, AT&T may have found a new source of revenue. The telecommunications carrier quietly bumped customers' fees by about $1.23 each since April, which could mean an estimated $800 million in additional revenue per year for the company. The company booked $160.5 billion in revenue last year. BTIG Research analyst Walter Piecyk noticed on Wednesday that the telecommunications carrier had bumped its "administrative fee," a tiny line item at the bottom of customers' bills, from 76 cents to $1.99." • Because they can.
Concentration: "AT&T removed HBO from an unlimited data plan after buying Time Warner" [Ars Technica]. "AT&T has been offering free HBO to its unlimited data customers since last year, and you might have expected that deal to continue unaltered now that AT&T owns HBO thanks to its acquisition of Time Warner Inc. But AT&T revamped its two unlimited mobile plans this week, and in the process it raised the price for the entry-level plan by $5 a month while removing the free HBO perk. The entry-level unlimited plan now starts at $70 instead of $65…. The old unlimited plans were called 'Unlimited Plus Enhanced' and 'Unlimited Choice Enhanced.'" • I'm no expert in mobile plans, thank gawd, but how can the "unlimited" be "enhanced"? It's like having the "Infinity Plan," and then the "Moar Infinity Plan." The complexity approaches the theological… .
Tech: "Google retires DoubleClick, AdWords brand names" [Reuters]. "[I]ts basic tool for buying ads now will be named Google Ads, with access to inventory on Google search, its YouTube video service, the Google Play app store and 3 million partner properties. The default interface for Google Ads will be simplified, executives said, with automation powering the design of ads and deciding where they should run….. Brian Wieser, a senior financial analyst following advertising companies for Pivotal Research, said Google's services generate "a lot of confusion" among people not steeped in the industry. 'It doesn't help that Google … leaves us guessing on the relative size and trajectory of what are strategically important businesses,' he said." • Doesn't help who?
Tech: "A.I. Has a Race Problem" [Bloomberg]. "[Kairos AR CEO Brian] Brackeen is black, but like most facial recognition developers, he'd trained his algorithms with a set of mostly white faces…. At Kairos AR Inc., his 40-person facial recognition company in Miami, Brackeen says he's improved the software by adding more black and brown faces to his image sets, but the results are still imperfect. The same problem bedevils companies including Microsoft, IBM, and Amazon and their growing range of customers for similar services. Facial recognition is being used to help India's government find missing children, and British news outlets spot celebrities at royal weddings. More controversially, it's being used in a growing number of contexts by law enforcement agencies, which are often less than forthcoming about what they're using it for and whether they're doing enough about potential pitfalls. Brackeen believes the problem of racial bias is serious enough that law enforcement shouldn't use facial recognition at all." • Fascinating to see that the old saw, "They all look alike," has been implemented by coders, even those with the best of intentions…
Mr. Market: "Most stockmarket returns come from a tiny fraction of shares" [The Economist]. "Since 1926, most stockmarket returns in America have come from a tiny fraction of shares. Just five stocks (Apple, ExxonMobil, Microsoft, GE and IBM) accounted for a tenth of all the wealth created for shareholders between 1926 and 2016. The top 50 stocks account for two-fifths of the total. More than half the 25,000 or so stocks listed in America in the past 90 years proved to be worse investments than Treasury bills. The sway that FAANG stocks have held recently is not out of the ordinary."
Five Horsemen: "All of the Fab Five are bouncing today but none are at new highs" [Hat Tip, Jim Haygood].
NakedCap Mania-Panic Index: "All of the Fab Five are bouncing today but none are at new highs" [Hat Tip, Jim Haygood]. (The NakedCap mania-panic index is an equally-weighted average of seven technical indicators derived from stock indexes, volatility (VIX), Treasuries, junk bonds, equity options, and internal measures of new highs vs new lows and up volume vs down volume … each converted to a scale of 0 to 100 before averaging, using thirty years of history for five of the seven series.)
MMT
Translating "free stuff", "ponies", "socially liberal but fiscally conservative" and so forth:
??"pie in the sky" is code for:
1) you're a threat: your proposals make economic, political, moral sense to too many people
2) I want the status quo even if it's reactionary or economically irrational
3) I will always fund 2) but cast 1) as out of reachhttps://t.co/htACCilhyw

— Pavlina R Tcherneva (@ptcherneva) June 28, 2018
Class Warfare
"Nurses at Johns Hopkins allege hospital is impeding their efforts to unionize" [Baltimore Sun]. "National Nurses United announced the [formal charge with the National Labor Relations Board] Monday, alleging that hospital management prevented nurses from discussing unionization by barring nurses on their days off from visiting their peers in other departments while they were on breaks."
"California sues nation's largest student loan servicer" [Wild About Trial]. "Attorney General Xavier Becerra said the state will sue Navient Corp. this week, contending the Delaware-based company financially harmed thousands of Californians. He said the firm systematically and illegally failed to properly service federal student loans by steering borrowers to more expensive repayment plans, failing to tell them how to switch to income-driven repayment plans or how those with disabilities could end their debts and misrepresenting how it handled payments." • Hmm. "Good Servicers Gone Bad." I think I've seen this movie before…
"The world's most dangerous countries for women" [Reuters]. • United States enters the rankings for the first time at #10, so it's good to see us makring progress in at least this area. #1: India. The methodology: "[A] global perception poll of experts in women's issues." Hmm.
"Fairbnb, piattaforme cooperative vs piattaforme estrattive" [Openpolis (DG)]. The FairBnB site (in English). DG writes: "Diptherio may be a better judge of the effectiveness of Fairbnb. I'm going to keep it because the Greek member is very lively—typical of the new underground economy that is eking out a somewhat decent existence in Greece."
News of The Wired
"Jane Bown, the English Cartier-Bresson" [The Economist]. I don't know about that but the photos are lovely.
"JavaScript is for Girls" [Logic Magazine]. "Over time, web work professionalized. By the late 2000s, Ehmke says, the profession began to stratify, with developers who had computer science degrees (usually men) occupying the back-end roles, and self-taught coders and designers slotting into the front…. For many people who are teaching themselves to code, front-end work is the lowest-hanging fruit….. When programming professionalized, women got pushed out. Marie Hicks, a computing historian who's looked closely at this phenomenon, explains that as programming came to be viewed as more important to national and corporate welfare, hiring managers began associating it with a specific set of skills. … The traits of a "good programmer" differed by country, but they were universally male-gendered."
"Cuba has a hidden internet system based on trading USB sticks" [New Scientist]. "Cuba has a very special kind of internet. Few people have an internet connection at home because it's so expensive. Instead a weekly collection of websites and entertainment is physically swapped on USB sticks and portable hard drives. Each week, millions of Cubans meet their nearest dealer armed with a storage device ready to download parts of El Paquete Semanal – the weekly package. It's filled with the latest content, including films and TV shows, as well as websites, apps…" • Hmm…
"Neanderthals Hunted in Groups, One More Strike Against the Dumb Brute Myth" [Smithsonian]. "This new research is only the latest in a recent string of studies that indicate Neanderthals were our genetic and perhaps cultural cousins: complex, emphathetic hominins. Neanderthals have now been credited with creating symbolic art, producing geometric structures of broken stalagmites in underground caves and controlling fire to use on tools and food. Moreover, they successfully exploited whatever environment they happened to live in, be it the snowy tundra of Ice Age Europe, or heavily forested lakeshores during the interglacial periods. This is a sea-change from how anthropologists once viewed this group of hominins: as a species doomed to extinction. Such a view meant that researchers were always looking for what weaknesses had set Neanderthals up for failure, rather than the skills that allowed them to successfully survive for so long." • Yes, the Neanderthals had their own Jackpot, and did pretty well for a long time…
"Boots on the ground in Africa's ancient DNA 'revolution': archaeological perspectives on ethics and best practices" [Antiquity]. "Africa's past makes the continent highly attractive to geneticists: sub-Saharan Africa boasts the greatest genetic diversity on the planet, and its centrality in human origins makes both modern and ancient genetic research especially illuminating. African aDNA studies are high-impact publications, thus raising the stakes of the research. Simultaneously, Africa's underfunded archaeological research history—particularly for the Holocene—means that there are fewer skeletons available for study than elsewhere…. An analogy to the Scramble for Africa is regrettably apt."
* * *
Readers, feel free to contact me at lambert [UNDERSCORE] strether [DOT] corrente [AT] yahoo [DOT] com, with (a) links, and even better (b) sources I should curate regularly, (c) how to send me a check if you are allergic to PayPal, and (d) to find out how to send me images of plants. Vegetables are fine! Fungi are deemed to be honorary plants! If you want your handle to appear as a credit, please place it at the start of your mail in parentheses: (thus). Otherwise, I will anonymize by using your initials. See the previous Water Cooler (with plant) here. Today's plant (BB):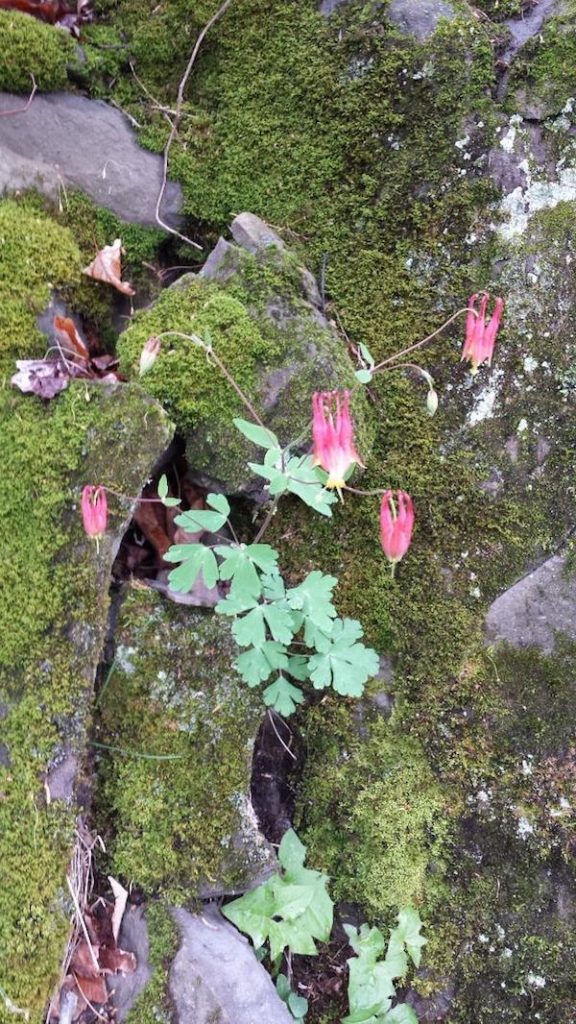 BB writes: "Lovely harbingers of spring here in upstate New York." I think the flowers themselves are a bit soft, but flowers are a tough subject because they are always in motion. I love Columbines because they are graceful and old-fashioned (and also self-seeding). And the moss is lovely too.
Yesterday, I asked for projects, so HF immediately sent this (and go thou and do likewise):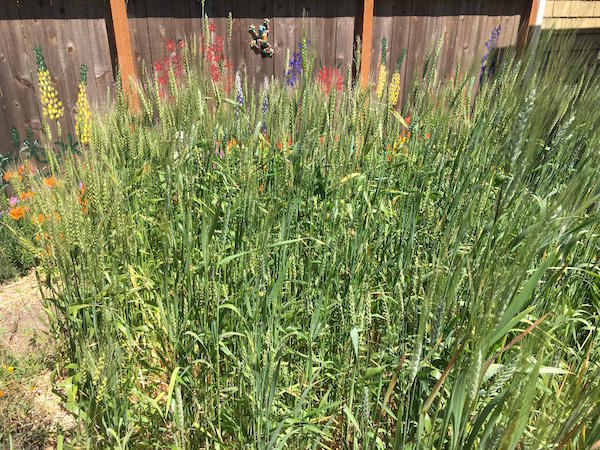 HF: "2018 Chiddam Blanc de Mars (soft white spring wheat) growing in my 400' square foot urban garden in the heart of San Francisco." Makes me think that's the way to attack my quack grass issue. Yes, wheat is still grass, but it's good grass. Too late this year, though.
* * *
Readers: Water Cooler is a standalone entity not covered by the annual NC fundraiser. So do feel free to make a contribution today or any day. Here is why: Regular positive feedback both makes me feel good and lets me know I'm on the right track with coverage. When I get no donations for five or ten days I get worried. More tangibly, a constant trickle of small donations helps me with expenses, and I factor that trickle in when setting fundraising goals. So if you see something you especially appreciate, do feel free to click the hat!

To give more, click on the arrow heads to the right of the amount.
If you hate PayPal — even though you can use a credit card or debit card on PayPal — you can email me at lambert [UNDERSCORE] strether [DOT] corrente [AT] yahoo [DOT] com, and I will give you directions on how to send a check.