By Lambert Strether of Corrente.
Trade
"Trump backs off investment restrictions on China" [The Hill]. "President Trump on Wednesday declined to impose executive actions to limit investments in American technology from foreign countries such as China, instead deferring to Congress to update the review process…. The stock market tumbled following the reports and administration officials rushed to deny that the actions would target China specifically. In particular, Trump put his backing behind the Foreign Investment Risk Review Modernization Act (FIRRMA), legislation that the administration had already signaled it supports."
"Big U.S. seaports are getting anxious about the growing array of tariffs hitting American and foreign goods. Port of Los Angeles Executive Director Gene Seroka [says] that tariffs recently enacted or proposed by the U.S. and its trading partners would affect 15% of all cargo that moves through the nation's largest container port. The impact on trade with China would be even greater, hitting more than half of the $284 billion in Chinese goods that flow through the port" [Wall Street Journal]. "Some of the heat over U.S.-China trade has diminished in recent days as President Donald Trump has pulled back from threats to immediately impose new restrictions on investment and goods. But new levies remain in the pipeline, and Mr. Seroka says higher prices for goods would cut into demand, hitting cargo flows and potentially triggering job losses downstream in supply chains.
Politics
2020
"1 big thing: Trump takes over America" [Axios]. "President Trump, with his refusal to take advice or yield to experts, is the West Wing. Republicans who control both halves of Congress won't lift a finger against him and fully support his every move…. If you're a Democrat who now can't digest breakfast…." • At which point Presidential historian Michael Beschloss presents a number of "Events, my dear boy, events" scenarios without a word about what Democrats might actually do. I guess we'll just have to wait another four years until the Coalition of the Ascendant finally does its work…
2018
"Midterm turnout surges for both parties" [The Hill]. "Almost 13.8 million people have voted in Democratic primary contests this year — 5 million more than the 8.7 million who had voted in the same states in the 2014 midterm elections, according to data maintained by state elections offices. On the other side, 12.3 million people have picked up a Republican ballot so far this year — 2 million more people than the 10.3 million who had cast ballots in a GOP primary in the same 30 states four years ago."
Realignment and Legitimacy
"Did Anthony Kennedy Just Destroy His Own Legacy?" (roundtable discussion) [Politico]. • Since money is speech, through regulating campaign finance, Kennedy writes: "The government has muffled the voices that best represent the most significant segments of the economy." A clearer claim that the United States is, and of right ought to be, an oligarchy is hard to imagine. And Ginsberg, I assume, imagined that Clinton was a lock. Oops.

"The day conservatives have been waiting for on the Supreme Court. Trump is poised to deliver" [McClatchy]. "Trump said the replacement process will 'begin immediately' before quickly saying he would choose from his earlier list of 25 contenders that two conservative groups, the Federalist Society and Heritage Foundation, helped develop. 'It will be somebody from that list,' he said. 'They will come from that list of 25 people.'" • Liberal Democrats probably voted for most of those contenders already, and so have no principled basis for opposing them, sadly.

"Analysis: GOP's long-term Supreme Court strategy pays off" [Associated Press]. "The party's long-term strategy to focus on the Supreme Court — highlighted by an audacious decision not to allow a vote in 2016 on President Barack Obama's judicial pick — culminated this week with a series of conservative rulings and another vacancy. With Justice Anthony Kennedy set to retire at the end of next month, President Donald Trump is poised to appoint his second justice in as many years, giving conservatives a potential bulwark on the bench that could offset national demographic trends [the "Coalition of the Ascendant] that appear set to favor Democrats in the decades ahead. Though Trump, who has little fixed ideology, has been an unpredictable and at times frustrating governing partner for the Republican leadership, he has largely adhered to GOP orthodoxy when it comes to judicial appointments…" • Yes, the liberal Democrat strategy, if you can call it that, was waiting for demographic trends to hand them the votes they're sure they're owned. How's that working out?

"Congrats, Trump voters. You've been vindicated." [Marc Thiessen, WaPo]. "[T]hanks to the Democrats' imprudent decisions to break precedent and change Senate rules to confirm lifetime appointments to the federal circuit court under President Barack Obama, and then to filibuster Gorsuch, Senate Republicans need only a simple majority to confirm Trump's choice. So long as Republican senators stick together, Trump's nominee will be confirmed." • Of course, if the Democrats had deployed the nuclear option in 2009-2010 and used it to, oh, pass #MedicareForAll or a decent stimulus package, Martin O'Malley might be President today. But n-o-o-o-o-o…. Tactics deppoyed too little, too late, then boomeranging: That's our Democrats! And speaking of the filibuster–

"According to a senior GOP senator who spoke on condition of anonymity, Schumer has privately reassured Republican senators in recent weeks that he would not change the rules and is committed to keeping the filibuster" [Politico]. "Schumer's office declined to comment." • Oh.

"California Abortion Ruling Puts Other States' Laws in Doubt" [Governing]. "In a 5-4 ruling, the U.S. Supreme Court decided Tuesday that a California law that requires crisis pregnancy centers — which are often run by anti-abortion groups — to inform women of their rights to an abortion is 'presumptively unconstitutional'…. The case, National Institute of Family and Life Advocates vs. Becerra, came about when religious liberty groups objected to the law. They argued that forcing these centers to advertise abortion services violated their freedom of speech and placed an undue burden on their operations." • Waiting for somebody creative at The Bunny Ranch to rebrand as a temple to Aphrodite…

* * *

"After Crowley's Defeat, Which Democrats Could Go Down Next?" [Roll Call]. • Cuomo and Pelosi, one would hope. This is a good round-up by district, and when you pick through all the indentity politics stuff, there's a little material on policy.

Transcript of Pelosi's comments on Alexandra Ocasio-Cortez:

Here are Nancy Pelosi's full comments about Ocasio-Cortez's victory, per a transcript from her office.

They are not as dismissive as the Twitter pile-on made them seem: pic.twitter.com/ysG79mSmbt

— Greg Sargent (@ThePlumLineGS) June 27, 2018

So here is Pelosi's perspective on the Democrat Party as an institution. "Each of our members is elected to be the independent representative of their district."

"A Dozen Democrats Want To Help Banks Hide Racial Discrimination In Mortgages" [HuffPo]. • Yes, "the beauty is in the mix," as Leader Pelosi remarks (above).

"What, me worry? Cuomo says comparisons to his primary and Ocasio-Cortez's upset over Crowley are 'apples and oranges'" [New York Daily News]. Cuomo: "What you saw in the Crowley race . . . (was) this was a largely in this district that is , that is , that Ms. Ocasio-Cortez did a very good job connecting with,' Cuomo said." • Note Cuomo's instant resort to anger and few as the master key to voter behavior. This is hardly surprising, since those are the emotions Democrats have been engineering for two solid years. To complicatedly unpack Cuomo's "apples" and "oranges" trope, if the essence of being a political fruit — besides being, for the left, low-hanging — is being a Dollar Dem*, then Crowley and Cuomo are indeed apples and oranges. NOTE * A corrupt machine pol who services the donor class at the expense of voters. (I would like to give a hat tip to the NC commenter who coined "Dollar Dem," but neither Google nor WordPress's backstage search is giving me the hit. Please take a bow in comments!)

"What Does Ocasio-Cortez's Win Mean for Cynthia Nixon?" [New York Times]. "Within an hour of Alexandria Ocasio-Cortez's stunning upset of a fellow Democratic stalwart, Representative Joseph Crowley of Queens, staffers for Mr. Cuomo were contacting reporters calling her victory an anomaly borne out of the minority-majority demographics in the district." • Liberal Democrats cannot display adaptability. They are going to go down on the identity politics ship; those are the only categories they can think with.

Apparently Sanders didn't reach everybody:

?'Socialism' has been our top search since Alexandria Ocasio-Cortez's primary win last night. https://t.co/0WzzemkF6Y

— Merriam-Webster (@MerriamWebster) June 27, 2018

Not identity politics (1):

I completely agree with @SenSanders. Interpretations of "us vs them" are unproductive in our discourse and, in my opinion, misguided.

This is about fierce advocacy for working class Americans. https://t.co/ej23YUZF0r

— Alexandria Ocasio-Cortez (@Ocasio2018) June 27, 2018

Not identity politics (2):

Three years ago, I was installing light switches for a living. Two years ago, @pwcdanica was writing news articles for low pay and no benefits. Last year, @Ocasio2018 worked as a bartender.

The future of politics isn't just FOR the working class, it IS the working class.

— Lee J. Carter (@carterforva) June 27, 2018
Stats Watch
GDP, Q1 2018 (Final): 'Inflation was a little bit warmer than thought in the first quarter, a factor that deflates the third estimate of first-quarter GDP more than expected" [Econoday]. "The first quarter was yet another strong one for business, with related investment perhaps getting a boost from this year's corporate tax cut. But it was a soft one for the consumer as spending sputtered and residential investment, though revised higher in today's report, still in reverse. And inflation also made a greater-than-expected appearance in the quarter… But for growth, the early outlook for the second quarter is extremely positive." And: "The decline in GDP in this third estimate was primarily due to an consumer services spending and inventory change. The consumer spending declined from the previous quarter" [Econintersect].
Kansas City Fed Manufacturing Index, June 2018: "Great strength at a steady rate is the signal from Kansas City's manufacturing index which held nearly unchanged" [Econoday]. "Helping to limit immediate pressure on capacity is sharp slowing in backlog orders… New orders also slowed… Strength without increasing stress is the welcome indication from today's report." And: "Kansas City Fed manufacturing has been one of the more stable districts and their index remains very strong. Note that the key internals were strongly in expansion" [Econintersect].
Corporate Profits, Q1 2018 (Revised): "Pre-tax profits are revised sharply higher for the first quarter" [Econoday]. "When including inventory and capital adjustments, pretax profits were $2.252 trillion with after-tax profits at $1.920 trillion for 1.8 percent year-on-year growth and making for an annualized corporate income tax rate of $332.1 billion. This tax rate is up $3.9 billion from the first estimate and down substantially from $445.6 billion in the fourth quarter for the lowest rate of the expansion, since third-quarter 2009."
Bloomberg Consumer Comfort Index, week of June 24, 2018: "[G]ains suggest that tariffs and talk of trade wars are having no significant effect on the U.S. consumer in contrast, however, to both the consumer confidence and consumer sentiment reports which are showing a step back in expectations" [Econoday].
Jobless Claims, week of June 23, 2018: "Initial jobless claims rose more than expected in the June 23 week but remain very low" [Econoday].
Shipping: "Amazon.com Inc. is calling in smaller truckers and delivery companies to help the online retail giant build its own logistics network. Amazon is inviting entrepreneurs to form small delivery operations employing up to 100 drivers and leasing between 20 and 40 Amazon-emblazoned vans,… an initiative that pushes Amazon more squarely than ever onto the turf of shipping partners United Parcel Service Inc. and FedEx Corp" [Wall Street Journal]. "Amazon says the small businesses will carry the overflow from the growing volumes of packages it generates. Still, Amazon has taken broad steps in recent years to poach some of the most desirable deliveries from its partners and is on a collision course to one day compete directly with the shipping giants." • Hopefully the Teamsters will make union literature available online, to be handed to the Amazon drivers by consumers. I know I'd far rather see a unionized UPS driver than any other kind.
Shipping: "Amazon claims it doesn't want to take on UPS and FedEx. So why is it introducing tons of its own Amazon delivery vans?" [ReCode]. "The e-commerce giant is unveiling a program meant to fuel the creation of hundreds of new package-delivery businesses that can help Amazon handle the fast growth that its U.S. retail business continues to enjoy. Amazon says the program will offer new partnering delivery companies access to discounted rates on everything from fuel to vehicle insurance to delivery vans, as well as coaching from Amazon and an app to guide delivery people on which order should be dropped off when. As part of the launch, Amazon is also introducing its own Amazon-branded delivery vans that partner companies can lease, as well as uniforms that delivery partners can outfit their drivers with. Amazon claims that new partners can start up their business for as little as $10,000 — an amount that the company will reimburse to businesses founded by U.S. military veterans." • Oh, great. More militarization.
Shipping: "The company estimates that an individual operating a 40-vehicle fleet could earn up to $300,000 per year under this new program. Amazon said that they hoped for hundred of new partners to sign up for the program in more than two dozen states over the next 18 months. If the program is successful, the company expects to roll it out into more states and other countries going forward" [Freight Waves].
Manufacturing: "Is It Time to Sell Your Manufacturing Company?" [Industry Week]. "owners of mid-sized manufacturing firms who want to sell all or part of their company in the next few years should consider speeding up the process while economic conditions remain favorable. A particularly ripe selling climate may only exist for another 12-18 months." Hmm…
The Bezzle: "Safeguarding autonomous vehicles: The role of AI" [Automotive IQ]. "[M]eeting the physical demands of an autonomous platform is the easy part; the difficulty in today's competitive marketplace is weaving together manufacturers' patented platforms into a cohesive unit. Every system in every vehicle must be able to seamlessly receive and interpret signals from each other: '… the domain of and so on,' the report said." • This sounds rather like the systems architecture of bank IT, as reported by Clive. So good luck with that, robot car fans. "Everything Is Like CalPERS," except this time coded into training data and software that nobody can understand or maintain….
Five Horsemen: "All of the Fab Five fell in yesterday's market rout, but only Apple has bounced enough today to exceed its close on Tuesday" [Hat Tip, Jim Haygood].
NakedCap Mania-Panic Index: "Yesterday's vigorous selloff sent the mania-panic index plunging to 35 (worry) as VIX spiked to 17.91 and the put-call ratio to 1.08, both reflecting heightened fear" [Hat Tip, Jim Haygood]. (The NakedCap mania-panic index is an equally-weighted average of seven technical indicators derived from stock indexes, volatility (VIX), Treasuries, junk bonds, equity options, and internal measures of new highs vs new lows and up volume vs down volume … each converted to a scale of 0 to 100 before averaging, using thirty years of history for five of the seven series.)
Gaia
"Mathematics Shows How to Ensure Evolution" [Quanta]. Important! "Mathematical graphs are structures that represent the dynamic relations among sets of items: Individual items sit at the vertices of the structure; the lines, or edges, between every pair of items describe their connection. In evolutionary graph theory, individual organisms occupy every vertex. Over time, an individual has some probability of spawning an identical offspring, which can replace an individual on a neighboring vertex, but it also faces its own risks of being replaced by some individual from the next generation. Those probabilities are wired into the structure as "weights" and directions in the lines between the vertices. The right patterns of weighted connections can stand in for behaviors in living populations: For example, connections that make it more likely that lineages will become isolated from the rest of a population can represent migrations. With graphs, [Martin Nowak, the director of the Program for Evolutionary Dynamics at Harvard University] could ….. Those efforts led to a 2005 Nature paper ["Construction of arbitrarily strong amplifiers of natural selection using evolutionary graph theory"] in which Nowak and two colleagues showed how strongly [as represented in the graph] . In populations that have "burst" and "path" structures, for example, individuals can never occupy positions in the graph that their ancestors held. Those structures stymie evolution by denying advantageous mutations any chance to take over a population." • Holy moly. Those of a speculative turn of mind [ahem] will immediately remember Facebook's "social graph" (or, for that matter, LinkedIn's graph, or — no doubt — Google's, etc.) and speculate that political structures in the general population, as represented and managed by graphs, that "stymie evolution" might be optimized for by, oh, people with lots and lots of money and control of the commanding heights of the media and the parties. Not that I'm foily.
Neoliberal Epidemics
"Another Hurdle For Former Inmates: Their Teeth" [The Marshall Project]. "In 2016, 74 million Americans had no dental coverage, according to the National Association of Dental Plans. But poor oral health is a particularly nagging problem for many formerly incarcerated people, experts say. For recently released inmates already carrying the social burden of a criminal record, dental problems can exacerbate the daunting challenges involved with returning home, such as finding employment and housing. Severe teeth and gum problems can cause debilitating pain and are associated with a host of other illnesses, including cancer and cardiovascular disease. They also carry a heavy stigma." • Filed here because mass incarceration is a neoliberal thing. Thanks, Bill! You played your part….
Class Warfare
"Supreme Court ruling on union fees could shift healthcare politics" [Modern Healthcare]. "Harvard's [Theda Skocpol, a professor of government at Harvard University,] doubted the ruling will diminish unions' political muscle in the November elections. Beyond that, she said it could force progressives to organize more effectively outside unions to advocate for healthcare and other public programs. 'That could be a silver lining, because we could see a broader array of citizen movements taking some of the space of unions,' she said." • A "silver lining" only if unions focus on building power in the workplace, instead of through weak proxies like the Democrat Party.
"Academic Capitalism and Regional Planning: A Review of Shadows of a Sunbelt City" [Southern Spaces]. From February, still germane: "As national and global priorities began to trumpet high technology in the 1970s and 1980s, Austin was in a prime position to prosper. Tretter explains this process using David Harvey's 'tertiary circuit of capital,' [see footnote 4] in which 'the growing significance of technological and knowledge-rent seeking' increasingly drives economic growth in the developed world (18).3 To Tretter, 'cities of knowledge such as Austin, and their growth coalitions, strongly supported by federal policy, succeed because they are able to switch capital into the tertiary circuit and expand infrastructure that supports knowledge-rent taking.' Research universities, with their wealth of knowledge labor, scientific infrastructure, and public-supported capital, are central to this process, generating private wealth through patenting, technology transfer, and spinoff companies." • Anybody remember Richard Florida's "creative class"?
"Eight Theses on the 'Revolutionary Left' – Outrages and Interludes" [John Halle]. On the "tankies": "Their decision to abstain from participation [in 2016] was, they claimed, based on a principled objection to 'collaborating with capitalist politicians.' But this principle was somewhat flexible… [N]ot so long before, many of them were collaborating with neoliberal Democrats in helping to undermine the candidacy of the declared socialist, Bernie Sanders. Smears manufactured by the Democratic Party leadership in its successful effort to beat back a challenge to its hegemony would be routinely forwarded by left revolutionaries. These included Sanders supposed 'problems with black voters', the 'casual racism' and even white supremacist tendencies of his Berniebro or 'Sandernista' supporters. That these emanated from both the far left and neoliberal Clintonite center was indicative of a shared recognition that a viable left insurgency constituted a threat to the organizational existence of both." • The DSA "big tent" may have its problems….
News of The Wired
Sadly, I am not wired today. You?
* * *
Readers, feel free to contact me at lambert [UNDERSCORE] strether [DOT] corrente [AT] yahoo [DOT] com, with (a) links, and even better (b) sources I should curate regularly, (c) how to send me a check if you are allergic to PayPal, and (d) to find out how to send me images of plants. Vegetables are fine! Fungi are deemed to be honorary plants! If you want your handle to appear as a credit, please place it at the start of your mail in parentheses: (thus). Otherwise, I will anonymize by using your initials. See the previous Water Cooler (with plant) here. Today's plant (Samuel Conner):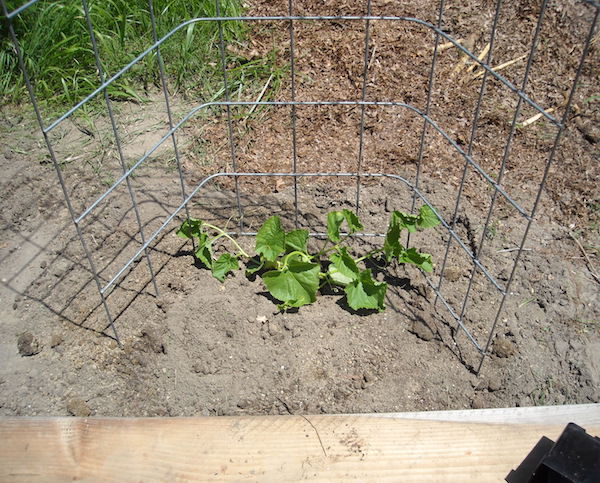 These are Korean melons, and I bet they're a lot farther along now. Korea is having a very good year, isn't it? First, K-Pop boy band BTS tops the U.S. Billboard 200, and now this! Samuel Conner writes:
First food planting of the season, desperately late but not as desperately late as last year. The deep tuber weed grass is still a problem, which is forcing me to double dig again, which is best for the plants and also seems to be doing my aching back some good. I got quite flabby and a bit stiff in the joints over the cold months; really need to start much earlier in 2019.

This is "chamoe", a Korean melon that has a flavor reminiscent IMO of pear. An elderly Korean friend can no longer afford to purchase these — they are rather dear — and has too little space to grow them. The plant spreads aggressively and will cover this cage and probably take over the surrounding ground if not aggressively pruned. I expect this plant to produce around 30 fruits weighing perhaps 60 pounds total. Given what these sell for in the market, that might be a side income-generating gig.

The seeds (for last year's plants) came from an Amazon "marketplace partner"; this year's plantings are from seeds saved from last year's output. Open-pollinated varieties are wonderful (I think this is open-pollinated; will know in a few weeks. The seed package probably stated whether it was hybrid or open-poll, but it was written in Korean). The cage is a Tractor Supply 4'x8′ "Handy Panel" with the sides folded up 2/3 of the way to perpendicular to the back. Last year I folded these cages all the way to a "U" shape but the interior was too cramped for the massive plant growth I got in the double-dug beds. I lost a lot of fruit because I could not reach it; the plants were so dense I couldn't see inside very well and I was reluctant to damage or contaminate them with wilt or mildew by reaching in. These somewhat more open cages are still pretty stiff front to back and should improve the accessibility of the fruit and air flow through the vines.

For readers who may be interested in making these cages, get 10′ long piece of 2″x8″ or 2×10 lumber to use as the bending form. I marked the metal bars 16.75 inches in from the sides and bent on those marks; adjust as desired for the width and depth wanted. One person can easily bend these into shape, taking it slowly. Don't hurt your back. I suspect that if the sides are bent upward less than 45 degrees the structure may be very floppy and prone to bending in wind when covered with a viny plant. Additional vertical reinforcement might be needed in that case. When installing, I have found that burying the lowest 1-1/2 of the horizontal spaces gives adequate purchase in the soil (2 sets of horizontals are below ground, much more secure than a conventional "cone" cage with only a few verticals contacted to soil) and results in a very tall cage. If you have quack or bermuda grass that comes back (not that I hope you do), that will attach them to the soil even more securely. First food planting of the season, desperately late but not as desperately late as last year. The deep tuber weed grass is still a problem, which is forcing me to double dig again, which is best for the plants and also seems to be doing my aching back some good. I got quite flabby and a bit stiff in the joints over the cold months; really need to start much earlier in 2019.
I have really bad quack grass. I'm thinking of covering it in concrete — kidding! — but even that might not do it. Readers, how are your projects coming? Send pix!
* * *
Readers: Water Cooler is a standalone entity not covered by the annual NC fundraiser. So do feel free to make a contribution today or any day. Here is why: Regular positive feedback both makes me feel good and lets me know I'm on the right track with coverage. When I get no donations for five or ten days I get worried. More tangibly, a constant trickle of small donations helps me with expenses, and I factor that trickle in when setting fundraising goals. So if you see something you especially appreciate, do feel free to click the hat!

To give more, click on the arrow heads to the right of the amount.
If you hate PayPal — even though you can use a credit card or debit card on PayPal — you can email me at lambert [UNDERSCORE] strether [DOT] corrente [AT] yahoo [DOT] com, and I will give you directions on how to send a check.