By Lambert Strether of Corrente.
Trade
"Trump lashes out at Canada, France over trade — and will bail on G-7 summit early" [MarketWatch]. "Speaking in Washington Friday, Trump called for the group to reinstate Russia. The country's membership of the then G-8 group was suspended after the annexation of Crimea in 2014. His comments were backed by Italy's new prime minister, who is making his debut in the group at the meeting. 'I agree with President Donald Trump; Russia should return to the G-8,' Conte said, according to a report in Italian newspaper Repubblica."
"Donald Trump's trade policy violates every rule of strategy" [Larry Summers]. "A first rule of strategy is to have well defined objectives so that success can be judged and your negotiating partners are not confused about what you want…. From tweet to tweet, and senior official to senior official, it is impossible for anyone to know what this administration's priorities are. … A second rule of strategy is to unite your friends and divide your potential adversaries….. Yet, after alienating its Asian allies by pulling the plug on the Trans-Pacific Partnership, the US enraged all of its G7 allies with the imposition of tariffs on steel and aluminium as well as making further threats that have caused them to doubt the US commitment to the rule of law in global trade…. A third rule of strategy is to use as leverage threats that are credible in the sense that they do more damage to those you are negotiating with than they do to you…. By raising the price of steel the US hurts much more of its economy than it helps. Why does the White House think this counts as leverage against the nations it competes with? Especially when in all likelihood they will retaliate in highly strategic ways, with international legal support, by limiting imports from key US industries."
"A deal between the U.S. and China will revive connections between telecommunication giant ZTE Corp. and American suppliers. ZTE will pay $1 billion to settle charges the company violated sanctions in sales to North Korea and Iran, ending restrictions that crippled the business" [Wall Street Journal]. "[T]he ban on American shipments to the Chinese manufacturer has buffeted telecom supply chains, paralyzing ZTE's operations as parts deliveries to its factories were suspended and leaving customers around the world without access to network construction maintenance. About 60% of the electronics in ZTE's flagship smartphone come from suppliers in the U.S. The agreement won't end the controversy around ZTE, however. Lawmakers of both parties are critical of the deal and question why the Trump administration is throwing a lifeline to a Chinese firm that violated U.S. sanctions."
"Airbus Seals Bombardier C Series Deal in Challenge to Boeing" [Industry Week]. "Bombardier struck the deal with Airbus in October in the midst of a bitter trade dispute in the U.S. with Boeing, which complained the Canadian plane had received illegal government aid that helped it undercut competitors in a sale to Delta Air Lines Inc. Bombardier won relief in January when the U.S. International Trade Commission ruled that American industry wasn't being harmed by the C Series."
Politics
2020
"How unpopular is Donald Trump?" [FiveThirtyEight]. Lots of handy charts….

"Bernie Sanders says Starbucks' Howard Schultz 'dead wrong' on health care" [CNN]. "'I think his comment is dead wrong,' said Sanders, responding to remarks the businessman made this week in which he signaled an openness to running for office and argued the Democratic Party ought to more concerned about national fiscal responsibility."

"Shelburne political newcomer challenges Sen. Bernie Sanders" [Shelburne News]. "Adelola, 55, describes herself and her stances on policy as a 'Clinton Democrat.' 'I will push (Sanders) on issues,' Adelola said. She does not agree with Sanders running as a Democrat. 'Like we don't have anyone else?' A political newcomer, Adelola said she is interested in getting younger people engaged with politics, especially given the activism in the past several months by youth in the state and across the country. Born in Nigeria, Adelola moved to the United States after she finished high school in the early 1980s. She became a naturalized U.S. citizen in the mid-1990s." It will be interesting to see how much cash rolls in, and where it comes from. No mention of any of Adelola's concrete views on policy. Of course.
2018
CA-10: "The Central Valley Surprise: Why Democrats Came Close to a Shutout" [Roll Call]. "Democrats laser-focused on three races in Southern California, but not on the 10th District in the Central Valley [which is Tilt-R], held by Republican Rep. Jeff Denham. The incumbent did draw a Republican challenger, veterinarian Ted Howze, while six Democrats were also on the ballot. And to the surprise of Republicans and Democrats, Howze is currently in third place in a race that The Associated Press has not yet called… Combining Denham and Howze's vote totals shows that a majority of the primary votes counted so far — 52 percent — were for Republican candidates. Democrats won a combined 48 percent of the primary vote" in a district Clinton won.
Health Care
"The 2 words you can't say in a Democratic ad" [Politico]. "To avoid divisive intraparty fights that drive candidates left — only to be attacked by Republicans for favoring socialized medicine — the Democratic Congressional Campaign Committee warned aspirants last year about the political liabilities of endorsing 'single payer,' according to sources familiar with the advice. An influential progressive [sic] group even urged candidates to discard the often-misunderstood phrase and embrace 'Medicare for all' to draw strong connections with the popular seniors' health program." This advice actually mirrors a permathread in the #MedicareForAll activist community, with some saying "single payer" sounds technical and wonky — however accurate it may be — and others saying "Medicare for All" has better branding (though the phrase also erases the requirement to eliminate neoliberal infestations within the program). Since it would be ludicrous to assume that either the DCCC or the unnamed "influential progressive group" (Center for American Progress?) are making this argument in good faith, their assumption is probably that "Medicare for All" enables brand confusion with "Medicare Extra" and "Choose Medicare' in a way "single payer" does not, reproducing the bait-and-switch tactics liberal Democrats used against single payer in 2009.
Our Famously Free Press
"Shocked by Trump aggression against reporters and sources? The blueprint was drawn by Obama." [Margaret Sullivan, WaPo]. "But Trump's anti-press bluster aside, there's a clear blueprint to follow — courtesy of Barack Obama, who once claimed that he would be the most transparent president ever but proved to be no friend to press rights…. Under Obama, the Justice Department subpoenaed the telephone records of AP journalists as investigators pursued a leak. It also went after Fox News reporter James Rosen and named him as a "co-conspirator" in a leak about North Korea's nuclear program. And James Risen, then a New York Times reporter, struggled for years to avoid testifying about his confidential source during the leak investigation of Jeffrey Sterling, a former CIA officer."
Realignment and Legitimacy
"Why Are So Many Executives Running for Office These Days?" [Pro-Market]. "[T]he share of federal office holders (i.e., US congressmen, senators, and presidents/vice-presidents) who had executive experience prior to being elected remained relatively flat at around 13 to 14 percent between 1980 and 2000 but then increased rather sharply to more than 21 percent in 2014…. What motivates corporate executives to run for political office? Our evidence suggests that the increase in the number of executives serving in federal elective office is largely supply-driven, i.e., this increase is due to a higher propensity of businessman candidates to put their names on the ballot rather than a higher likelihood of their winning political office. Further, we show that the increase in the number of businessman politicians is at least partly driven by intensifying global competition, suggesting that firms may have attempted to capture the political process to improve their deteriorating competitive position… Turning to more systematic firm-level evidence, we show that the expected benefits to firms from having their executives in elected office are indeed substantial and that some of these benefits accrue directly to executives. Firms whose executives win federal elections experience significant positive abnormal stock returns around such elections. For example, our estimates suggest that ." Will Howard Schultz please pick up the white courtesy phone?

"Breaking Away From the Democrats" [Counterpunch]. "We on the North Star editorial board were open in our advocating that DSA fully break from the Democratic Party and for DSA, along with others, such as the militant wings of labour, help to form a new political party completely independent from the Democrats." Interesting compare and contrast with the Greens, both strong (New York) and weak (South Carolina). Although I'm not as up on left wing factions and groupuscles as I should be…

"New warnings about cuts to Social Security and Medicare are a reason to worry" [MarketWatch]. "That one brighter spot aside, there's no doubt that these massive programs—some 61.5 million people receive retirement or disability benefits from Social Security and 58.4 million receive Medicare—are in increasingly perilous shape, and there's little desire among politicians—from either party—to do much of anything about it. They simply lack the guts to tell citizens—i.e. voters—that sacrifices will likely have to be made. What politician wants to do that?" That's unfair to Nancy Pelosi, who by endorsing "Pay Go" yet again endorses austerity and sets up a Grand Bargain, no doubt pleasing the donor class, if nobody else.

"With Bundy story, the national media slowly learns how to cover the American West" [Columbia Journalism Review]. Interesting wrapup of coverage. "The Bundys represent a fringe movement, something that got lost in the initial round of media coverage. When it comes to Western ranchers, the Bundys are outliers. Most ranchers in the West pay their grazing fees to the federal government, with no intention of stopping, says Tay Wiles, associate editor at High Country News."
Stats Watch
Wholesale Trade, April 2018: "Inventories need to be built up in the wholesale sector in what may be soft news for GDP, where low inventory numbers are a negative, but very good news for production and employment" [Econoday]. "The nation's businesses, wholesalers included, have been very conservative in their inventory manage, reflected not only in hard data like today's report but also anecdotal reports like ISM manufacturing where more and more of the respondents say inventories of finished goods are too low." And: "The improvement this month in the headline data was mostly farm products. Overall, I believe the rolling averages tell the real story – and they improved this month. The short term trends are showing a slowing in the rate of growth – with the long term trends showing an improving cycle beginning in 2016" [Econintersect].
International Trade (Wednesday): "The trade deficit narrowed but due to a drop in consumer spending on imported cell phones, which doesn't bode well for retail sales, which are under pressure from the reduced growth of real disposable personal income" [Mosler Economics]. A cursory search yields no explainers for dropping spending on imported cell phones. Seems like useful anecdotal data, if we could figure out what it meant. Maybe this whole cell phone thing is just a fad?
ECRI's Weekly Leading Index: "Even with the general downward trend in this index over the last 6 months, the forecast is for modest growth six months from today" [Econintersect].
Retail: "Vaping essays: E-cigarette sellers offering scholarships" [Associated Press]. "The tactic is taken from a method that was once believed to improve a site's ranking in search results, and it has successfully landed vaping brands on the sites of some of the nation's best-known universities, including Harvard. It also has drawn criticism that the scholarships are a thinly disguised ploy to attract young customers. The scholarships, ranging from $250 to $5,000, mostly involve essay contests that ask students to write about the dangers of tobacco or whether vaping could be a safer alternative. At least one company asks applicants to write about different types of e-cigarettes and which one they recommend. Some seek papers in support of medical marijuana."
Retail: "McDonald's Plans Corporate Job Cuts, 'Eliminating Layers'" [Wall Street Journal]. "McDonald's Corp., battered by price wars and struggling to revive its U.S. burger business, said it will cut layers of managers as part of a half-billion-dollar plan to shrink administrative expenses by the end of next year… . Several franchisees interviewed by The Wall Street Journal applauded the move, saying too much bureaucracy has impeded decision making. More than 90% of McDonald's U.S. restaurants are operated by franchisees who pay McDonald's a percentage of their sales for the right to use the brand. 'I'm not sure what all of those management layers even do,' said one franchisee. 'The mood in the field is very positive because it will put a focus on things we hoped would be a focus for a long time.' The franchisee said that beyond just reducing management layers, the restructuring will enable the chain's field consultants to spend more time helping operators figure out ways to boost restaurant profitability rather than just grading restaurants on such things as cleanliness, customer service and order accuracy. McDonald's had spent about a decade chasing health-minded consumers who favored fast-casual chains by adding salads, snack wraps and oatmeal to its menu. After a major study in 2016 revealed that McDonald's had lost about 500 million orders in the U.S. to rival fast-food chains in the previous five years, it decided to go back to basics and figure out how to make a better burger. McDonald's assembled a panel of sensory experts consisting of suppliers, chefs and employees to compare rivals' burgers against theirs. They discovered that McDonald's burgers just weren't hot and fresh enough." Cliches like "stick to your knitting" hang around because they express certain truths….
Retail: "KFC is right — people are gobbling up 'meat replacements'" [MarketWatch]. "The chicken chain is responding to growing demand. Sales of 'meat replacement' products, including versions of commonly-eaten meats made of wheat-based seitan, the chicken substitute 'chik'n,' tofu-based deli meats and soy burgers and sausages have risen sharply in both the U.S. and the U.K. Goldman Sachs called 'meatless meats' one of the hottest emerging trends in December 2017."
Shipping: "UPS expands its LCL service by adding sailings in 130 lanes" [DC Velocity]. "UPS Inc. said today it has expanded its ocean less-than-containerload (LCL) service by adding direct sailings in 130 lanes. The origin and destination countries cover most of the globe, including ports in Asia, Latin America, Africa, Europe, U.S., the Caribbean, and the Middle East, Atlanta-based UPS said. LCL services are designed to provide economical ocean freight sailings for companies that don't have enough cargo to fill an entire sea container."
Supply Chain: "Labor Crisis: A proactive approach to filling Logistics Jobs" [Logistics Management]. "The dearth of quality logistics and supply chain talent is one factor that's boosting salaries for the field's most valued employees… However, as logistics salaries have risen, so too have the number of functions that these professionals are being asked to do. Seventy-seven percent of readers say that the number of functions they're performing has increased over the last year… And it's not always low salaries that prompt employees to seek out new positions. When asked what factors affect their job satisfaction, for example, readers listed "feeling of accomplishment" and "relationships with colleagues" as their two top factors, followed by salary and the relationship they have with their bosses. Company politics, high stress levels, salary and a lack of room for advancement top the list of grievances with their current jobs."
Supply Chain: "Today's pickup: the signs of supply chain inflation are popping up all over the place" [Freight Waves]. "The anecdotal evidence of creeping inflation keeps coming through in news story after news story. It's freight; it's tariffs; it's labor costs. In the past 24 hours, these stories all popped up. In Arkansas, three companies that make tire cords–Bekaert Corp., Kiswire America and Tokusen USA–are seeking exclusion from the tariffs on the steel wire rod that is the intermediate product used to make tire cords. Specifically, they say they can't get grade 1078 wire rod that they say is needed to make the tire cords. A coalition of U.S.-based manufacturers of wire rod is pushing back. Next up, the biggest maker of recreational vehicles is blaming steel tariffs as the reason for higher costs and weaker earnings. Bob Martin, the company's CEO, said in a statement Wednesday that while labor costs during the fiscal third quarter moderated, "we are experiencing inflationary price increases in certain raw material and commodity based components due in large part to the headwinds created by the announcement and implementation of the steel and aluminum tariffs and other regulatory actions, as well as higher warranty costs." Finally, that peanut butter and jelly sandwich you like to have at lunch may be getting more expensive because of transportation costs. Smucker's cited higher transport costs–but not solely that–in saying it would need to raise consumer prices."
Bonds: "Banks show largest drop in muni holdings in 30 years" [Bond Buyer]. "Bank holdings of municipal securities fell to $555.7 billion in the first quarter of 2018 from $571.5 billion in the final quarter of 2017, a 2.8% decline that is the first in nearly a decade and the largest in more than 30 years. The drop is directly attributable to tax reform, according to experts… Bank holdings of munis had been growing steadily for many years, with the exception of a brief dip immediately following the financial crisis. But new federal tax law slashing the corporate tax rate to 21% from 35% has made munis less appetizing for banks and could have implications for competitive sales."
Honey for the Bears: "Bernanke Says U.S. Economy Faces a 'Wile E. Coyote' Moment in 2020" [Bloomberg]. "Bernanke said the $1.5 trillion in personal and corporate tax cuts and a $300 billion increase in federal spending signed by President Donald Trump 'makes the Fed's job more difficult all around' because it's coming at a time of very low U.S. unemployment. 'What you are getting is a stimulus at the very wrong moment,' Bernanke said Thursday during a policy discussion at the American Enterprise Institute, a Washington think tank. 'The economy is already at full employment.' The stimulus 'is going to hit the economy in a big way this year and next year, and then in 2020 Wile E. Coyote is going to go off the cliff,' Bernanke said, referring to the hapless character in the Road Runner cartoon series." Chronicle of a Crash Foretold, an extremely long book with rather a lot of eccentric characters….
The Fed: "The Fed Will Soon Switch Off the Autopilot" [Bloomberg]. "Quiescent inflation, though, prevents the Fed from overplaying its hand with a rapid pace of rate hikes. Policy makers do not want to choke off the recovery without reason, and that reason cannot be found in inflation. Moreover, as the minutes of the May 2018 Federal Open Market Committee meeting make clear, the Fed would view some overshooting of the inflation target as consistent with its policy goals. In other words, officials will not overreact to stronger inflation numbers in coming months. Consequently, the stage is set for the Fed to continue with its policy of gradual tightening as it marches rates up to neutral."
Five Horsemen: "The Fab Five are luckluster in late morning trade, as beginning-of-month seasonality wanes" [Hat Tip, Jim Haygood].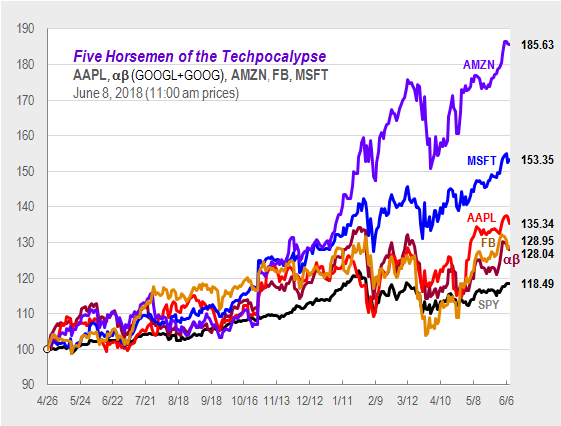 NakedCap Mania-Panic Index: "The mania-panic index eased to 67 (complacency) in yesterday's dull market" [Hat Tip, Jim Haygood]. (The NakedCap mania-panic index is an equally-weighted average of seven technical indicators derived from stock indexes, volatility (VIX), Treasuries, junk bonds, equity options, and internal measures of new highs vs new lows and up volume vs down volume … each converted to a scale of 0 to 100 before averaging, using thirty years of history for five of the seven series.)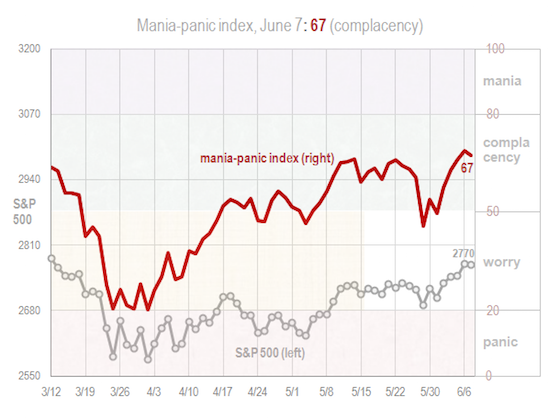 Facebook Fracas
"A Small Window into the Soul's Corruption" [Power of Narrative]. From May, still germane. On the Bosworth Memo ("The ugly truth is that we believe in connecting people so deeply that anything that allows us to connect more people more often is *de facto* good") and the subsequent media fracas: "I don't think these people ever left junior high school. I also don't know whether to laugh or cry. These are the people running the world, or a significant part of it. Ponder that. Then maybe laugh and cry. And break a few dishes. A friend of mine used to strongly advise keeping some old, cheap dishes around, just so they might be smashed during tough times. This story might deserve three or four dishes. Maybe five. Well, it couldn't hurt." Not a bad idea, on the dishes. That the Beltway is High School ("Kool Kidz") is a well-known trope. My question, "Is everything like CalPERS?" is a variant of this, I supppose.
Health Care
"Private-equity firms are buying doctor's offices across the U.S. — and critics say profits are coming before patients" [MarketWatch]. "In a growing and powerful trend, private-equity and venture-capital groups have been swooping in with ever larger offers for all kinds of doctor's practices. They offer to handle practices' business affairs and their complex regulatory requirements, leaving doctors to practice medicine. They also say they can introduce efficiencies and leverage economies of scale in the process, a proposition that, backed by deals offering EBITDA multiples as high as 15 times, many doctors have found enticing. Critics, though, say that financial firms' involvement has gone far beyond the back office, harming patient care and driving up health-care costs. Doctors report pressure to upcharge when billing health insurers and to sell products and procedures, while financial firms skimp on medical supplies and employees." Hmm. I wonder if the Besoz/Dimon/Buffet health care effort, or whatever it is, will accelerate this tendency, or retard it. I'm guessing accelerate.
"Justice Department won't defend Obamacare in GOP states' lawsuit" [Modern Healthcare]. "The U.S. Justice Department on Thursday refused to defend the Affordable Care Act against 20 states' lawsuit looking to strike down the healthcare law, calling the individual mandate unconstitutional. Although the DOJ stopped short of asking a federal judge in Texas to overturn the entire ACA, the agency echoed the core arguments of the Republican state attorneys general: that the ACA can't stand without the individual mandate's tax penalty."
"Texas Fold 'Em" [Incidental Economist]. "I am at a loss for words to explain how big of a deal this is. The laws that Congress passes and the Presidents signs are the laws of the land. They aren't negotiable; they're not up for further debate. If the Justice Department can just throw in the towel whenever a law is challenged in court, it can effectively pick and choose which laws should remain on the books. That's as flagrant a violation of the President's constitutional duty to take care that the laws are faithfully executed as you can imagine. But don't take my word for it. For Justice Department lawyers—I count myself among them (2007-10)—the duty to defend congressional statutes is at the core of what it means to be a government attorney. Yet, hours before the federal government filed its brief, three line attorneys from the Justice Department withdrew from the case. That's almost unheard of. These are lawyers who have made arguments they personally disagreed with countless times. They're civil servants. They're good soldiers. Yet they could not sign it. That's how far out the administration's position is. Do you want to live in a country where the Justice Department can embrace the craziest of arguments and decline to defend laws—or even enforce them!— on that basis?" Sounds like I should be filing this up under Realignment and Legitimacy…
Neoliberal Epidemics
Lambert here: I hate to cover this topic, but with Kate Spade and Anthony Bourdain it rather does force itself upon us. We don't want copycats! In the United States: National Suicide Prevention Lifeline. Internationally: International Association for Suicide Prevention (IASP).
"Suicide rates rising across the U.S." [Center for Disease Control]. "Researchers found that more than half of people who died by suicide did not have a known diagnosed mental health condition at the time of death. Relationship problems or loss, substance misuse; physical health problems; and job, money, legal or housing stress often contributed to risk for suicide. Firearms were the most common method of suicide used by those with and without a known diagnosed mental health condition…. The most recent overall suicide rates (2014-2016) varied four-fold; from 6.9 per 100,000 residents per year in Washington, D.C. to 29.2 per 100,000 residents in Montana. Across the study period, rates increased in nearly all states. Percentage increases in suicide rates ranged from just under 6 percent in Delaware to over 57 percent in North Dakota. Twenty-five states had suicide rate increases of more than 30 percent."
"Suicide Rate Highest in Decades But Worst in Rural America" [Governing]. "A review of the federal data, however, shows that it's rural America that is sustaining the largest increases. The aggregate suicide rate for counties outside of metropolitan areas climbed about 14 percent over the five-year period ending in 2016. By comparison, the rate within metro areas also increased — but only by 8 percent. The largest metro areas, in particular, experienced relatively small increases compared to everywhere else." So in the places that are "optimistic, diverse, dynamic, moving forward," people aren't killing themselves. Good to know. Let's go to brunch!
Anthony Bourdain (1):
An octogenarian columnist who'd written a review about a new Olive Garden in her small city was ripped to shreds by pretentious assholes in the food blogging community and beyond.

Anthony Bourdain flew her to New York for a meal at Per Se. Then he wrote the forward to her book.

— Zac Echola (@celiasojourn) June 8, 2018
Anthony Bourdain (2):
I worked in restaurants for 7 years in college and when I was a struggling freelance writer. Anthony Bourdain once saw a busboy sexually harass me and he told my manager. I was vocal about the issue for weeks, and it wasn't until he said something that they took it seriously.

— Vera Papisova (@VeraPapisova) June 8, 2018
Anthony Bourdain (3):
"I am not a fan of people who abuse service staff. In fact, I find it intolerable. It's an unpardonable sin as far as I'm concerned, taking out personal business or some other kind of dissatisfaction on a waiter or busboy."
― Anthony Bourdain

— Kath Bassett (@WLtictacofalady) June 8, 2018
Deaths of despair climbing up the food chain?
* * *
"Together with the de Beaumont Foundation, [the Kaiser Foundation] examined the 40 largest cities to see how well they're helping residents live their healthiest lives. They looked at things like paid sick leave policies and whether people can bike or walk to work. 'Your mayor, city council and city manager has just as much of an impact on your health as your doctor,' [Loel Solomon, vice president of community health at Kaiser Permanente] says" [Governing]. "On Friday, during the opening night of the U.S. Conference of Mayors' annual meeting in Boston, 24 cities will be awarded for their work in population health. The gold medalists are Boston, Chicago, Los Angeles, New York and San Jose, Calif. Nine cities earned a silver medal, and 11 earned a bronze. The cities were each judged on nine policy areas: affordable housing, alcohol regulations, walkability, paid sick leave, food safety, healthy food options, universal pre-K, smoke-free places and the smoking age…. While some of the policies seem obvious as influential on health, others — like universal pre-K and affordable housing — are less explicitly so. But according to Solomon, access to both is foundational to a healthy community. 'These policies aren't just nice things to do. They are powerful and necessary prevention,' he says."
Class Warfare
"Rank-and-File Union Members Are Leading Another Massive Strike. This Time It's AT&T Workers." [In These Times]. "Thousands of AT&T employees across the Midwest are entering the sixth day of a rare, rank-and-file-led work stoppage over alleged unfair labor practices. The union representing them, Communications Workers of America (CWA) District 4, has been in contract negotiations with AT&T since March. While members voted overwhelmingly in April to authorize a strike if necessary, the decision to walk off the job last week was not coordinated by union leadership or subject to an official vote."
"Dockworkers, East and Gulf Coast Ports Reach Tentative Labor Agreement" [Wall Street Journal]. "Dockworkers at U.S. East and Gulf Coast seaports reached a tentative six-year contract agreement with the port operators, the two sides said Wednesday, beating the September expiration of the current pact and setting the stage for several years of labor peace at the country's trade gateways…. A ratified agreement, along with an existing contract between the separate West Coast dockworkers' union and port employers there, would leave all ports across the U.S. covered under labor deals through at least the middle of 2022, easing concerns by retailers and manufacturers over a sector marked by labor strife in recent years."
"How We Marched on Our Boss" [Labor Notes]. "As they talked, I encouraged their anger by asking questions: "How does that make you feel?" "Oh my goodness, did they really do that?" "" That last question sent them over the edge. "No!" said one. "What can you do about this?" I've had occasion to run this Thomas Nast cartoon before: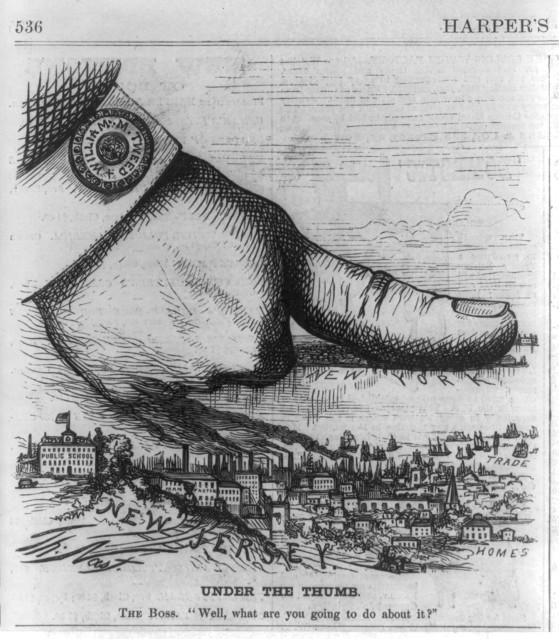 Caption: UNDER THE THUMB. The boss: "Well, what are you going to do about it?" This is not new. But it's new to them.
News of The Wired
"Ethical Implications and Accountability of Algorithms" [Journal of Business Ethics]. "I conceptualize algorithms as value-laden, rather than neutral, in that algorithms create moral consequences, reinforce or undercut ethical principles, and enable or diminish stakeholder rights and dignity. In addition, algorithms are an important actor in ethical decisions and influence the delegation of roles and responsibilities within these decisions. As such, firms should be responsible not only for the value-laden-ness of an algorithm but also for designing who-does-what within the algorithmic decision. As such, firms developing algorithms are accountable for designing how large a role individual will be permitted to take in the subsequent algorithmic decision. Counter to current arguments, I find that if an algorithm is designed to preclude individuals from taking responsibility within a decision, then the designer of the algorithm should be held accountable for the ethical implications of the algorithm in use."
"French MPs back ban on mobile phones in schools" [Agence France Presse]. "But the law does not set out any specific punishment for their use, and lawyers have noted that teachers do not have the right to confiscate non-dangerous belongings from students."
"Wisdom doesn't always come with age, according to science" [MarketWatch]. "A recent paper for the Journals of Gerontology: Psychological Sciences began with the following sentence: 'It is often assumed colloquially that wisdom comes with age and experience, yet empirically and anecdotally this is not necessarily the case.' The paper continues, 'wisdom seems to be rare among any age group.'"
"Lost John Coltrane Album Discovered" [Pitchfork]. "Out June 29 as Both Directions at Once: the Lost Album, the record had long been thought lost and likely destroyed in the early 1970s. But Coltrane had given a reference tape to his wife Naima. Coltrane made the recording at Van Gelder Studios with his Classic Quartet: McCoy Tyner, Jimmy Garrison, and Elvin Jones. He plays soprano sax on the pair of unheard recordings. 'This is like finding a new room in the Great Pyramid,' wrote Sonny Rollins in a press release."
* * *
Readers, feel free to contact me at lambert [UNDERSCORE] strether [DOT] corrente [AT] yahoo [DOT] com, with (a) links, and even better (b) sources I should curate regularly, (c) how to send me a check if you are allergic to PayPal, and (d) to find out how to send me images of plants. Vegetables are fine! Fungi are deemed to be honorary plants! If you want your handle to appear as a credit, please place it at the start of your mail in parentheses: (thus). Otherwise, I will anonymize by using your initials. See the previous Water Cooler (with plant) here. Today's plant (Grantham Ecologist):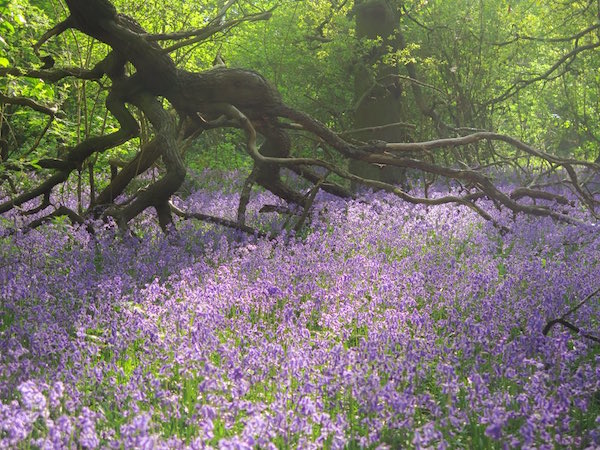 Grantham Ecologist writes: "I love the way this tree limb has fallen within the bluebells, it feels like some tree spirit guarding its young on the woodland floor."
* * *
Readers: Water Cooler is a standalone entity not covered by the annual NC fundraiser. So do feel free to make a contribution today or any day. Here is why: Regular positive feedback both makes me feel good and lets me know I'm on the right track with coverage. When I get no donations for five or ten days I get worried. More tangibly, a constant trickle of small donations helps me with expenses, and I factor that trickle in when setting fundraising goals. So if you see something you especially appreciate, do feel free to click the hat!

To give more, click on the arrow heads to the right of the amount.
If you hate PayPal — even though you can use a credit card or debit card on PayPal — you can email me at lambert [UNDERSCORE] strether [DOT] corrente [AT] yahoo [DOT] com, and I will give you directions on how to send a check.