By Lambert Strether of Corrente.
Trade
"President Donald Trump made good Tuesday night on a promise to keep raising the pressure on Beijing in a trade war over its intellectual property practices by publishing a list of an additional $200 billion worth of Chinese goods that he plans to hit with a 10 percent tariff" [Politico]. "No further negotiations between the world's two largest economies have been scheduled, but an administration official noted that the U.S. remains open to finding a solution. In the meantime, the Office of the U.S. Trade Representative will hold a hearing on the proposed tariffs Aug. 20-23 as part of a public comment period that ends Aug. 30. A final decision will come sometime after that, administration officials said."
"China vows retaliation for $200 billion US tariff threat" [Associated Press]. "China's government vowed Wednesday to take 'firm and forceful measures' as the U.S. threatened to expand tariffs to thousands of Chinese imports like fish sticks, apples and French doors, the latest salvo in an escalating trade dispute that threatens to chill global economic growth…. A second round of tariff hikes announced Tuesday by the U.S. Trade Representative targets a $200 billion list of Chinese goods. That came four days after Washington added 25 percent duties on $34 billion worth of Chinese goods and Beijing responded by increasing taxes on the same amount of American imports."
"Trump's Tariff Barrage Pushes China Fight to Point of No Return" [Industry Week]. "China has or dig in and try to outlast the U.S. leader. President Xi Jinping, facing his own political pressures to look tough, has vowed to respond blow-for-blow. He's already imposed retaliatory duties targeting Trump's base including Iowa soybeans and Kentucky bourbon. Yet matching the latest U.S. barrage would force China to either levy much higher tariffs or take more disruptive steps like canceling purchase orders, encouraging consumer boycotts and putting up regulatory hurdles. Not only does that risk provoking Trump to follow through on threats to tax virtually all Chinese products, it could unleash nationalist sentiment on both sides that fuels a deeper struggle for geopolitical dominance. 'It's already past the point of no return,' said Pauline Loong, managing director at research firm Asia-Analytica in Hong Kong. 'What's next is not so much a trade war or even a cold war as the dawn of an ice age in relations between China and the United States.'" • As it turns out, deindustrializing America in favor of Chinese manufacturing wasn't the best idea, though if the "losers" had been compensated things might be less poisonous. But here we are.
"Tesla Plans China Plant With 500,000 Vehicle Capacity" [Industry Week]. "The electric-car maker's planned capacity for the factory is 500,000 vehicles a year, the Shanghai government said in statement. Bloomberg reported earlier that Musk, Tesla's chief executive officer, would be in the city for an event with the government on Tuesday…. While Tesla has been working on setting up production in China for more than a year, President Donald Trump has been trying to bolster manufacturing in the U.S. Tesla follows Harley-Davidson Inc. in expanding outside the U.S., underscoring the urgency with which companies are moving to avoid damage from escalating trade disputes."
"Why Germany Can't Buy Natural Gas From the US" [247 Wall Street]. "It's not clear whether Trump's goal in targeting Merkel this morning was to shame Germany into putting more money into NATO or to encourage the Germans to buy more natural gas from the United States. But if it's the second, that will be very difficult to achieve. Germany currently receives about a third of its current 80 billion cubic meters of annual natural gas supply from Russia, nearly all transported by pipelines running through Eastern Europe…. For the U.S. natural gas to reach Europe, it must first be converted to liquefied natural gas (LNG), loaded on a special tanker and sailed from the U.S. Gulf Coast to a receiving terminal where it is reconverted into gas. Naturally this costs more than simply putting natural gas in a pipeline and sending it off. In addition, Qatar, Australia and other countries are way ahead of the United States in developing liquefaction facilities. In time the United States could sell more natural gas to Europe, but the sales probably will be limited to countries like Spain, Portugal and Turkey that have never received a lot of their supply from Russia. It is exceedingly doubtful that U.S. LNG will ever be a major source of supply to Germany." • Who runs pipelines through the World Island…
Politics
New Cold War
Apparently the UK's Telegraph is under Russian control:

A baseless narrative about Hillary Clinton secretly plotting to run in 2020 is gaining traction among accounts linked to Russian influence networks. It's occupying 2 of the top 10 trending URLs & 2 of the 10 ten URLs overall, per @SecureDemocracy's Hamilton 68 dashboard. pic.twitter.com/OXQynhhRyC

— Caroline O. (@RVAwonk) July 9, 2018

Read the responses; they're a hoot. (Apparently, the narrative is "baseless" because — hold onto your hats here, folks — Clinton denied it.)
2018
"Dems grasp for way to stop Trump's Supreme Court pick" [The Hill]. " on the U.S. Court of Appeals for the District of Columbia Circuit: Sen. Tom Carper (Del.) and former Sens. Ben Nelson (Neb.), Mary Landrieu (La.) and Robert Byrd (W.Va.)." • Kavanaugh is, apparently, qualified. Why all the yammering now?

"Analysis: Dems meet Supreme Court pick with mixed message" [Associated Press]. "Chuck Schumer, the Senate Democratic leader, says it's all about health care. Sen. Richard Blumenthal, D-Conn., worries about the impact on the special counsel investigation. And Sen. Kamala Harris, D-Calif., sees an assault that could set women's rights back decades…. Democrats struggled to unify behind a clear and coherent message to combat the nomination, which could shift the court to the right for decades. They're energized, outraged and ready to fight. But what, exactly, is their argument to voters?" • Translation: They have the same message they've had since 2017: "Democrats 2018: I Mean, Have You Seen the Other Guys?"

"What Trump's Supreme Court Pick Could Mean for States' Rights" [Governing]. "The 14th Amendment's Equal Protection Clause has been used by the Supreme Court in landmark cases such as Brown v. Board of Education (racial discrimination), Roe v. Wade (reproductive rights) and Bush v. Gore (the recount), to set limits on states' rights…. Kavanaugh has shown a particular interest in the 14th Amendment from his earliest law school days at Yale University. In a 1989 piece for the Yale Law Journal, he discussed a 1986 Supreme Court ruling in Batson v. Kentucky that outlawed using race as the sole criteria for preemptive challenges to jurors, under the Equal Protection Clause. Kavanaugh wrote the decision did not lay out enough specific criteria on how to strike jurors aside from their race, and made some suggestions that were later employed by courts. He brought up that issue again in 2006, in his hearing on his nomination as a federal judge for the D.C. Circuit, saying Batson was 'one of the great Supreme Court decisions ever decided.'"

* * *

"House Ratings Changes: 10 Districts Move, Mostly in Democrats' Direction" [David Wasserman, Cook Political Report]. "If the 24 Toss Ups were to split evenly between the parties, Democrats would gain 18 seats, five short of a majority. But that doesn't take into account that there are 26 GOP-held seats in Lean Republican with strong potential to become Toss Ups, and an additional 28 GOP-held seats in Likely Republican with the potential to become more competitive. In other words, there's still a lot of upside for Democrats." • Here is my favorite sentence, which Wasserman delivers with an absolutely straight face: "Plenty of DC Democrats have expressed excitement about Wallace's potential to spend whatever it takes to win." Ka-ching! And Wasserman's handicapping–

"July House Overview: Democrats Remain Slight Favorites for Majority" [David Wasserman, Cook Political Report]. "Democrats remain the narrow favorites to pick up the 23 seats they need to win the majority. Based on the Republicans' structural advantages from redistricting and residential patterns, Democrats likely need to win seven to eight percent more votes than the GOP to win the barest possible majority of 218 seats. By that measure, it's close: today, the RealClearPolitics average of congressional generic ballot polls gives Democrats a seven-point lead, while FiveThirtyEight's gives Democrats an eight-point advantage…. But in our view, the between the parties' voters is what gives Democrats a slight edge. In the most recent NBC/WSJ poll, 63 percent of Democrats rated their interest level in the midterms as a '9' or '10,' compared to 47 percent of Republicans. And by 25 points, voters said they were more likely to support a candidate who runs as a 'check' on Trump. This heightened Democratic enthusiasm – and voters' receptivity to a 'check and balance' message – helps explain why, on average, Democrats have run nine points ahead of their typical shares of the vote in eight special elections held since last April." • The Republicans, of course, will not remain passive, and will no doubt be able to gin up some intensity of their own. (Another way to think of a "check and balance" message is the ratchet effect.)

* * *

"Alexandria Ocasio-Cortez, In Her Own Words" [Jacobin]. "I was coming into this race with a background as an organizer. From the beginning, I was always focused on organizing people, building a coalition, and deepening that coalition with other organizers. The campaign was almost entirely focused on physical organizing and digital outreach to reinforce that physical organizing. Almost everybody involved in this campaign was a first-time organizer. I built relationships with other previous organizers, but many of the organizers I knew were not electoral organizers. I come from a background focused more on education, so a lot of the activists and organizers that I knew were very cynical towards electoral politics. Most of them deliberately do not get involved in electoral politics. I spent a good six months building trust with grassroots organizations and earning some of that trust and credibility to turn out people who normally do not believe in electoral politics. We knocked on 120,000 doors. We sent 170,000 text messages. We did another 120,000 phone calls. Before we even got to that phase of the Democratic turnout, a year earlier, we ran an entire get-out-the-registration campaign, because New York is one of the most suppressive states for voting in America." • As I keep saying, what AOC did with voter registration should be a core party function. It isn't, not only because donor class does not want to expand the Democrat base, but because the existing, professional Democrat base doesn't want to associate with smelly proles.

"EXCLUSIVE: Ocasio-Cortez with another surprise election win – in a district she wasn't even running in" [New York Daily News]. "In addition to recently whipping longtime Queens Rep. Joseph Crowley in the 14th congressional district Democratic primary, Ocasio-Cortez also won the Reform Party write-in primary over Bronx Rep. Jose Serrano in the neighboring 15th congressional district. Neither she nor Serrano were competing for the line. Still, the city Board of Elections certified Ocasio-Cortez's write-in victory on Tuesday. Of the 22 people who received write-in votes, Ocasio-Cortez got the most with nine. While write-in votes are not unusual, someone actually winning a race she wasn't running for is."

"New Dem star to rattle DC establishment" [The Hill]. "Democrats are racing* to figure out how to handle Alexandria Ocasio-Cortez… 'The entire spectrum of House Democrats, party leadership, [campaign] leadership, is trying to assess what she wants to do and how ready she is to play ball,' said one Democratic source. They want to know 'how does her coming to Washington change my plan, or even help my plan?'" NOTE * "Racing" is one of those words… I generally translate it to something like "institutional factors prevented us from seeing or reacting to a problem, erased from the article." • "My plan"? "My plan?"

"Notes from a Winning Campaign" [KITCHEN3N]. "Soon after I e-mail her volunteer organizer, Bilal Tahir, letting him know I grew up in her district and I have a strong network there of relatives and friends that I could work to help get her on the ballot. His response came a few days later in the form of an email addressed to me and a few other folks: "Congratulations! You are your neighborhoods' respective !" • Impressive.

AOC endorsement:

.@Ocasio2018's endorsement of @AbdulElSayed is just unrelenting on big $$$:

"Abdul is the only candidate in his race that doesn't take any corporate money"

"This race is absolutely about people versus big money"

"Corporate money is to blame for corrupting our politics." pic.twitter.com/1zl1Tri6zY

— Jeff Stein (@JStein_WaPo) July 6, 2018

Age-appropriate:

People think it's weird that @Ocasio2018 is 28. They forget: MLK was 26 during the Montgomery Bus Boycott. As was Trotsky during the 1905 Revolution. Walter Reuther was 29 during the sit-down strikes. Hamilton was 30 at the Constitutional Convention. People do a lot in their 20s!

— corey robin (@CoreyRobin) July 7, 2018

* * *

CA: Turnout:

There don't appear to be any ballots left to count in California.
Semi-final turnout: 7.14 million votes cast, or 37.5% of registered voters.
That's a 60% increase from 2014, when turnout was 4.46 million.
It nearly matches the 7.5 million votes cast in the 2014 general election

— Nate Cohn (@Nate_Cohn) July 8, 2018

WI Senate: "Wisconsin Democrats fear another debacle in November" [Politico]. "Mitch McConnell and Chuck Schumer effectively declared the first-term senator a favorite to keep her seat in November by leaving [Tammy Baldwin] off their lists of top-tier Senate races. After their pronouncements, major outside groups in both parties skipped Wisconsin in their initial $120 million of spending planned for this fall — triggering fears among state Democrats that the party will take victory for granted. But there's palpable concern here among Democrats — and Baldwin especially — that Wisconsin is ripe for a repeat of 2016, when Donald Trump carried the state by less than a percentage point and GOP Sen. Ron Johnson surged to a surprise reelection behind a flood of late spending from conservative groups…. Baldwin might have reason to worry. She's the most liberal of the 10 Democrats up for reelection in states Trump won. She's voted with the president just 22 percent of the time, the lowest among her 2018 colleagues, and is the only one to support Bernie Sanders' Medicare for All plan." • Maybe Clinton will visit this time. That should do it. Or maybe the liberal Democrats see Baldwin as a problem, and are cleaning up the situation?

VA-06: "This Progressive Is Betting Her Populist Platform Can Win In Trump Country" [HuffPo]. "Progressive activist Jennifer Lewis quietly clinched the Democratic nomination for Virginia's 6th Congressional District in June, handily defeating three opponents, including an establishment favorite with twice as much campaign cash…. Lewis' candidacy is an intriguing test case for the national left — especially in the wake of Alexandria Ocasio-Cortez's upset win in New York. (Lewis sent a member of her team to help Ocasio-Cortez the weekend before the election.)… Lewis, 36, a mental health professional and prominent opponent of the Atlantic Coast Pipeline, maintains that she can defeat her Republican opponent, state Del. Ben Cline, by appealing to voters of all parties ― as well as disenchanted nonvoters ― fed up with money in politics and hungry for affordable health care and clean water."

SC-01: "National Democrats return to deep-red South Carolina district" [McClatchy]. "National Democrats sent a Washington operative to South Carolina's First Congressional District this week — a second visit in just three weeks since Republican incumbent Rep. Mark Sanford lost his primary election. The return trip sends a strong signal Democrats see a big chance to retake control of a seat they haven't held since 1981 — in a year when the party needs to win 23 races to win back control of the House. The Democratic effort appears to be a sign the Democratic Congressional Campaign Committee, the party's official fundraising arm for House candidates, is preparing to make crucial investments in Democratic candidate Joe Cunningham's campaign. That could include broadcasting the district as a potential pick-up opportunity on the party's "Majority Makers" list. Cunningham might even land in the DCCC's prestigious ;Red-to-Blue' program, which entitles an election cycle's most promising Congressional candidates to significant 'organizational and fundraising support.'*" NOTE * As long as they agree to spend four hours a day on the phone servicing donors, yes. • Not a word on policy, of course. So, just what we need! Another Blue Dog!

MA-07: "After New York's electoral upset, eyes turn to Massachusetts" [ABC]. "'This is Massachusetts. Every Democrat is going to vote the same way," [challenger Ayanna ] Pressley said. 'The hate that is coming out of this White House will not be defeated by a reliable vote on the floor of Congress. The hate coming out of this White House will be defeated by a movement and a coalition.'"

WI-01: Nice:

So the "Wisconsin Resistance Radio Network" (WRRD) just cut the broadcast of the @CathyMyersWI and @IronStache debate after Randy made his final statement but BEFORE Cathy could make hers!!! They cut her off! Then they immediately played an @IronStache ad. I kid you not.

— Gregory Pecked (@Gregory_Pecked) July 9, 2018
Migration
"Which Politicians are Taking Money from Immigrant Detention Profiteers?" [LittleSis]. "[Some] Democratic elected officials on the federal level who oppose family detention… take significant sums from GEO Group and CoreCivic…. Republicans raise more money from the industry, but Democrats and their PACs have still taken significant sums, including $52,750 in direct contributions this cycle with a $10,000 contribution from the GEO Group PAC to the DCCC. The industry also relies heavily on lobbyists with deep Democratic Party ties – the piece notes that four lobbyists for GEO Group and CoreCivic have bundled $350,000 in this cycle alone. For example, Henry Cuellar, a member of Congress who represents Texas's 28th district, which includes Laredo and other border towns, is a top Democratic recipient of private prison money."
Realignment and Legitimacy
He's a real Democrat:

In Great Falls, MT @SenatorTester welcomes @realDonaldTrump with a full-page newspaper ad touting 16 Tester bills Trump has signed into law pic.twitter.com/bP801OVXgX

— Garrett Haake (@GarrettHaake) July 5, 2018

"Almost One Year Later, Many Still Wait for Funds from Charlottesville" [It's Going Down]. • The DSA national organization seems more than a little opaque, and that could turn into a problem.

"Why Not Democratic Socialism?" [Dayton City Paper]. • From 2012 (!).
Stats Watch
Wholesale Trade, May 2018: "Wholesale inventories climbed a sharp 0.6 percent in May in a build that is nevertheless far short of sales at the wholesale sector" [Econoday]. "Year-on-year rates show how far inventories, at a 5.9 percent gain, are behind sales which are up 11.8 percent. This report is very positive with the inventory build a plus for second-quarter GDP and the need to restock inventories given the enormous strength in sales a plus for production and employment outlooks." And but: "The improvement this month in the headline data was due to petroleum, farm, and hardware products. Overall, I believe the rolling averages tell the real story – and they improved this month. The short term trends are showing a rebound in the rate of growth – with the long term trends showing an improving cycle beginning in 2016" [Econintersect]. "Inventory levels this month are are the high side of normal – but not recessionary. To add to the confusion, year-over-year employment changes and sales growth do not match."
Producer Price Index (Final Demand), June 2018: "Services and metals are factors in June's producer price report where all three headline indexes — overall, less food & energy, less food & energy & trade services — rose 0.3 percent" [Econoday]. "Year-on-year rates are all on the climb… There are definitely signs, though limited of ones, of inflation in this report…." And: "The Producer Price Index rose year-over-year. Food and energy prices did moderate. Here is what the BLS said in part" [Econintersect]. And but: "The level of inflation is still relatively low historically and the PPI is not an especially accurate predictor of future trends. Most economists tend to discount its readings" [MarketWatch].
Atlanta Fed Business Inflation Expectations, July 2018: "Energy may be high and metals may be rising on tariffs, but year-ahead inflation expectations at the business level remain unchanged" [Econoday].
MBA Mortgage Applications, week of July 6, 2018: "Purchase applications for home mortgages rose sharply" [Industry Week].
NFIB Small Business Optimism Index (yesterday): "Lots of job openings at lower wages as companies work to replace higher wage employees" [Mosler Economics]. • An acute reading; see the highlighted portions in the quote from the report.
Shipping: "U.S. Warehouse Supply at Its Tightest in Two Decades" [Wall Street Journal]. "For U.S. retailers, manufacturers, importers and exporters, warehouse space is at its tightest since 2000, when the first dot-com boom was driving strong consumer spending and imports from China were beginning to surge…. As consumers increasingly do their shopping on the internet—even buying big, bulky items like furniture off the internet—the availability of warehouse space to store those goods and fulfill orders continues to decline across the U.S. In the second quarter, industrial real estate availability fell to 7.2%, the lowest measure since 2000, [real-estate brokerage CBRE Group] economists said."
Shipping: "Robust container production predicted through to 2020" [Splash 247]. "The container fleet grew by a robust 3.7% last year and Drewry anticipates prospects for the coming years are almost as good, with container production expected to be above 3.5 million teu in all four years from 2017-20, which would be the most consistently strong production figures seen in over a decade. 'Given that buyers had cut back too much on their purchases in 2016, the latest surge in production – up by 80% in 2017 – has concentrated on standard equipment and particularly the 40ft high-cube,' added Foxcroft. 'Drewry forecasts that 75% of capacity built in the second half of this decade will be of this type.' This fleet expansion is still being driven by the leasing sector. Shipping lines have focused their investment on ships rather than boxes in recent years, while the lease sector – invigorated by a series of mergers that has created a new market leader in Triton following its merger with TAL two years ago – is seeing the major players jockeying for position."
Shipping: "US shippers face daunting intermodal peak season" [Journal of Commerce]. "Intermodal traffic rose 7 percent in the first five months of the year, according to the Intermodal Association of North America. The number of 40-foot containers moving on the rails rose 7 percent, while 53-foot containers increased 6.4 percent and trailer-on-flatcar shipments jumped 17 percent. In the past five years, overall intermodal volume grew 12 percent; domestic business increased 20 percent. Much of the upswing in this year's domestic intermodal has been tied to the US electronic logging device (ELD) mandate. As truckload capacity tightened to record levels, shippers have turned to rail to get goods off port docks. Because truck drivers can no longer use paper log books, making trips longer in many respects and forcing some drivers to leave the industry, some regional drays from ports have transferred to intermodal hauls. Intermodal marketing companies (IMCs) and truckers are warning cargo owners that this peak season will be as tight as ever, and the last minute, or 11th hour, appears to be now, and not in August.
Supply Chain: "Does reshoring need a reboot?" [Logistics Management]. "The amount of manufacturing being brought back to the United States is once again failing to keep up with offshored volumes, according to the latest Reshoring Index. In fact, imports of manufactured goods from the 14 countries that are typically associated with offshoring grew 8 percent last year—reaching a record-high value of $55 billion and the largest one-year increase since the economic recovery of 2011."
Mr. Market: "U.S. stocks in broad retreat as latest China tariffs rekindle trade-war jitters" [MarketWatch]. "U.S. stocks are poised to snap a four-session winning streak Wednesday after the Trump administration announced new tariffs on Chinese goods, further escalating tensions between the U.S. and its major trading partners, which some investors fear could morph into a full-on trade war."
Five Horsemen: "In late morning trade, Seattle sluggers Amazon and Microsoft are within a fractional point of record highs" [Hat Tip, Jim Haygood].
NakedCap Mania-Panic Index: "Yesterday's market rise lifted the mania-panic index to 55 (complacency) despite an increase in the put-call ratio to 0.98" [Hat Tip, Jim Haygood]. (The NakedCap mania-panic index is an equally-weighted average of seven technical indicators derived from stock indexes, volatility (VIX), Treasuries, junk bonds, equity options, and internal measures of new highs vs new lows and up volume vs down volume … each converted to a scale of 0 to 100 before averaging, using thirty years of history for five of the seven series.)
Health Care
"CMS slashes navigator funding to just $10 million" [ModernHealthCare]. "The CMS has released an annual funding notice for navigators for the federal exchange. Applicants will compete for just $10 million in funding, down from $36 million last year. They will also be expected to promote not just qualified health plans but association and short term plans as well. A minimum of $100,000 will be awarded in each of the 34 states that use Healhcare.gov to enroll people into coverage. Contracts will go to chambers of commerce, small businesses, trade associations, and faith-based organizations to recruit navigators. Funding for navigators has fallen 84% since 2016 when funding was $62.5 million." • Not good, but it's even more unfortunate Obama designed and implemented a system so complex you need professional help to understand it.
"Sometimes Patients Need Other Patients" [The Incidental Economist]. "In an ideal world, when we are faced with a new health problem, a clinician is available to sit down and address all our questions and anxieties about the condition and its treatment. This ideal is rarely met in the United States health system. More typically, we're rushed through doctor visits that fly by too quickly for us to gather our thoughts. Other patients can help. They have (or have had) your condition, as well as your anxieties and questions, and they've found a path through. Their journeys can be informative and helpful, and can also help you prepare for the next session with a doctor. 'There's a lot about the patient experience that doctors and nurses cannot convey because they haven't gone through it,' Ms. [Noel] Peters said. 'You can get a much better sense of what it means to be a patient from another patient.'"
Gunz
"Would You Download A Gun?" [Safe Haven]. "The Second Amendment Foundation (SAF) is announcing that it has reached a settlement with the U.S. Department of Justice in SAF's lawsuit on behalf of Cody Wilson and Defense Distributed over free speech issues related to 3D files and other information that may be used to manufacture lawful firearms…. Americans may now "access, discuss, use, reproduce or otherwise benefit from the technical data" that the government had previously ordered Defense Distributed to cease distributing, tweeted libertarian magazine Reason." • I knew it would be the First Amendment….
Class Warfare
"Why Envy Might Be Good for Us" [Sapiens]. "If the behavior of 20th-century hunter-gather societies is anything to go by, over and above its obvious selective benefits for individuals, envy formed part of the cocktail of traits that ultimately assisted Homo sapiens to form and maintain strong social groups…. Ju/'hoansi egalitarianism was not born of the ideological dogmatism that we associate with 20th-century Marxism or the starry-eyed idealism of New Age 'communalism.' There was no manifesto of 'primitive communism.' Rather, it was the organic outcome of interactions between people acting explicitly in their own self-interest in a highly individualistic society. This was because, among foraging Ju/'hoansi, self-interest was always policed by its shadow, envy—which, in turn, ensured that everyone always got a fair share, and that those with the natural charisma and authority to 'lead' exercised it with great circumspection." • Very interesting!
"New Era for Bike-Share in New York: Dockless and Electric Bikes" [New York Times]. "New York recently approved new rules for electric bikes, allowing so-called pedal-assist bicycles that require a rider to pedal to activate an electric motor and to keep the bike moving. Bikes favored by delivery workers, known as throttle-controlled electric bikes, that can travel faster than 20 m.p.h. will remain illegal, a decision that raised concerns over discrimination against a largely immigrant work force."
"Unions Could No Longer Get Medicaid Money Under New Trump Proposal" [Governing]. "The Trump administration on Tuesday proposed rolling back an Obama-era rule that allows Medicaid payments to be diverted to unions supporting home health care workers…."
"Opinion: Maybe the labor market isn't so tight after all" [MarketWatch]. "Every month, economists struggle to reconcile a strong jobs report with a tepid increase in wages. How is it that hiring is solid — an average 198,000 new jobs added each month for the past year — the unemployment rate is near multi-decade lows, employers are complaining about a lack of qualified workers, yet wage growth is still flat-lining at a 2.7% annual rate?… Until things change, or a more convincing argument comes along, we are left to conclude that, while not obvious to the naked eye, there is still enough slack in the labor market to satisfy strong demand."
News of The Wired
"Atomic Anxiety and the Tooth Fairy: Citizen Science in the Midcentury Midwest" [The Appendix] (2014). "the scientists of the Greater St. Louis Committee for Nuclear Information not only expressed their misgivings, but also proved the validity of their concerns with a citizen science project carried out on a massive scale. The study collected more than 250,000 baby teeth from the children of St. Louis city and county and analyzed them for traces of radioactivity. This effort to understand and inform the public about the effects of radioactive fallout from above-ground atomic weapons testing ultimately persuaded President John F. Kennedy to sign the Limited Nuclear Test Ban Treaty in 1963. Tiny teeth, it turned out, could speak louder than bombs." • Citizen science is one of the obvious use cases for a Jobs Guarantee; Kelton et al. suggest species monitoring, but as this example shows, there are plenty more options. It's ridiculous insane that we have digital metric f*cktons of surveillance data from the Intertubes, but scientists have to scratch for pennies to get data about the real, physical, natural world.
* * *
Readers, feel free to contact me at lambert [UNDERSCORE] strether [DOT] corrente [AT] yahoo [DOT] com, with (a) links, and even better (b) sources I should curate regularly, (c) how to send me a check if you are allergic to PayPal, and (d) to find out how to send me images of plants. Vegetables are fine! Fungi are deemed to be honorary plants! If you want your handle to appear as a credit, please place it at the start of your mail in parentheses: (thus). Otherwise, I will anonymize by using your initials. See the previous Water Cooler (with plant) here. Today's plant (Carla):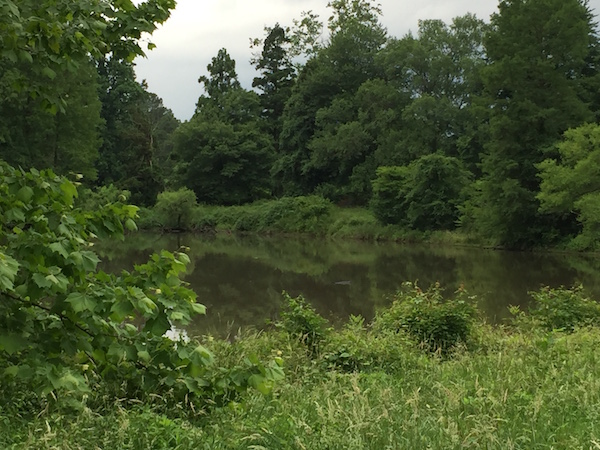 The National Arboretum in Washington, DC. What a lovely vista!
* * *
Readers: Water Cooler is a standalone entity not covered by the annual NC fundraiser. So do feel free to make a contribution today or any day. Here is why: Regular positive feedback both makes me feel good and lets me know I'm on the right track with coverage. When I get no donations for five or ten days I get worried. More tangibly, a constant trickle of small donations helps me with expenses, and I factor that trickle in when setting fundraising goals. So if you see something you especially appreciate, do feel free to click the hat!

To give more, click on the arrow heads to the right of the amount.
If you hate PayPal — even though you can use a credit card or debit card on PayPal — you can email me at lambert [UNDERSCORE] strether [DOT] corrente [AT] yahoo [DOT] com, and I will give you directions on how to send a check.