By Jerri-Lynn Scofield, who has worked as a securities lawyer and a derivatives trader. She is currently writing a book about textile artisans.
The United Nations Food and Agriculture Organization (FAO) Monday released its biannual report, The State of the World's Fisheries, this week, reporting that more than one-third of fish caught ever gets eaten and is instead either tossed overboard or rots before it can reach a dinner plate:
Despite the technical advances and innovations, many countries, especially less developed economies, still lack adequate infrastructure and services for ensuring fish quality, such as hygienic landing centres, electric power supply, potable water, roads, ice, ice plants, cold rooms, refrigerated transport and appropriate processing and storage facilities. This shortcoming, especially when associated with tropical temperatures, can result in high post-harvest losses, as fish can spoil in the boat, at landing, during storage or processing, on the way to market and while awaiting sale….Throughout the world, post-harvest fish losses are a major concern and occur in most fish distribution chains; an estimated 27 percent of landed fish is lost or wasted between landing and consumption….[W]hen discards prior to landing are included, 35 percent of global catches are lost or wasted and therefore not utilized (FAO report, p. 50, citations omitted.)
According to the Guardian:
Lasse Gustavsson, executive director of Oceana in Europe, said huge improvements were needed across the fishing industry. "Food waste on a hungry planet is outrageous," he said. "The fact that one-third of all fish caught goes to waste is a huge cause for concern for global food security."
Fish Consumption Outstrips Population Growth
Global fish production reached a total of 171 million tonnes in 2016, about half of which was farmed, according to the FAO. The capture of wild fish has stagnated since the late 1980s, and aquaculture accounts for the subsequent increase in fish production.
Aquaculture raises its own waste and sustainability concerns, noted Gustavsson, "Aquaculture is far from being the magic bullet, as it is often unsustainable. Using 20m tonnes of fish like mackerel, sardines and anchovies to feed farmed fish instead of people is a blatant waste of food." It has also distorted world fish markets; with farmed salmon ubiquitous on restaurant menus, for example, side-by-side with local fish, as I've noticed in my own travels, throughout Asia in particular..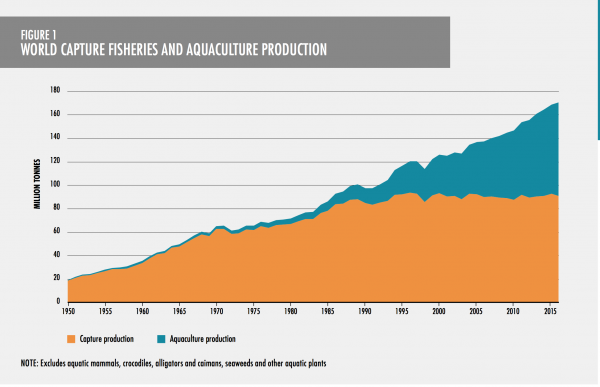 Source: UN FAO, The State of the World's Fisheries (2018), p. 3
According to the FAO's press release summarising the report's highlights:
Since 1961 the annual global growth in fish consumption has been twice as high as population growth, demonstrating that the fisheries sector is crucial in meeting the FAO's goal of a world without hunger and malnutrition," noted José Graziano da Silva, FAO director general.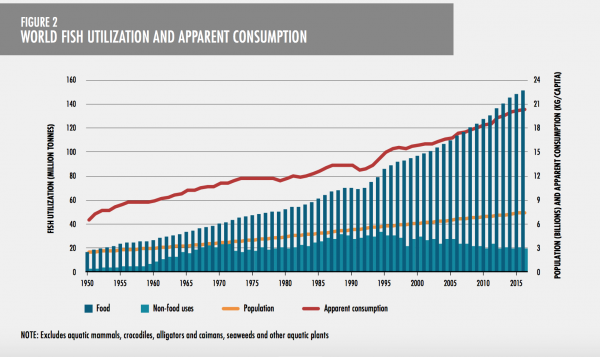 Source: UN FAO, The State of the World's Fisheries (2018), p. 3
Increase in Overfished Species
Waste is not the only problem plaguing the fisheries sector, which has also seen an increase in overfished species, reaching unsustainable levels. The FAO reports:
Based on FAO's monitoring of assessed stocks, the fraction of fish stocks that are within biologically sustainable levels has exhibited a decreasing trend from 90.0 percent in 1974 to 66.9 percent in 2015. In contrast, the percentage of stocks fished at biologically unsustainable levels increased from 10 percent in 1974 to 33.1 percent in 2015, with the largest increases in the late 1970s and 1980s (FAO Report, pp. 39-40, citations omitted).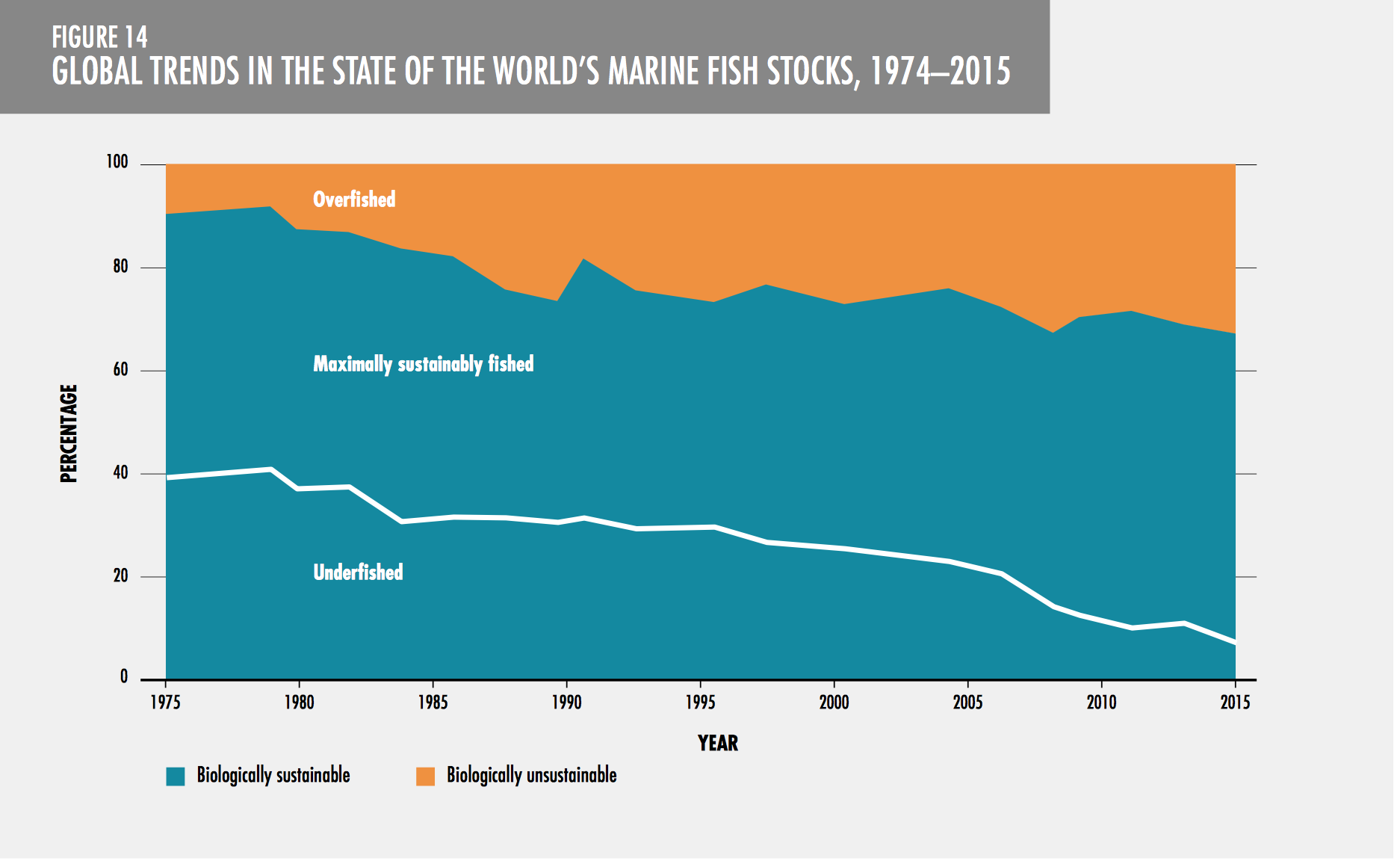 Source: UN FAO, The State of the World's Fisheries (2018), p. 40.
This sustainability problem varies heavily by region, with the Mediterranean and the Black Sea in 2015 having the highest percentage (62.2 percent) of unsustainable stocks, followed by the Southeast Pacific (61.5 percent),  and Southwest Atlantic (58.8 percent). Yet the news is not all grim, with some areas registering much lower levels of unsustainable stocks, ranging between 13 and 17 percent.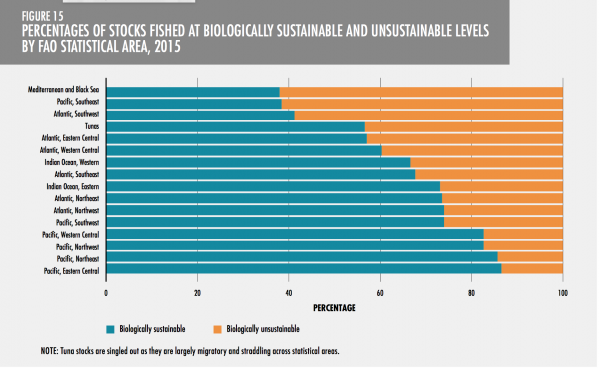 Source: UN FAO, The State of the World's Fisheries (2018), p. 41.
The overfishing problem is not insoluble. Over to Gustavsson again: "We know the situation, we have the solutions: setting fish catch limits to scientific advice and stopping illegal and destructive fishing. All we're missing is political action."
Yet as reported in Undercurrent News:
"This steady creep upwards in overfishing must be seen as a clear warning that despite many efforts to curb this serious problem, clearly, we are not yet winning the battle," said Michele Kuruc, head of [World Wide Fund of Nature's (WWF)]  delegation to the ongoing FAO Fisheries Committee meeting (held July 9-13).

…

According to WWF, solutions to unsustainable and destructive fishing must include governments urgently setting aside short-term economic interests and responding instead to scientific advice on managing shared fish stocks and ecosystems with a long-term, responsible outlook; partnering with small-scale fishing communities to support sustainable fishing; ending harmful subsidies; and making further progress on tackling illegal, unreported and unregulated fishing.

In addition, WWF is calling for robust action to protect important habitats like fish spawning areas, coral reefs, mangroves and seagrasses which are vital for global ocean and fisheries health.
As with so many other environmental issues, individuals acting alone cannot solve these problems, which require the attention of governments to fix. That general concern to one side,  Treehugger this week posted a list of suggestions about actions consumers can take to alleviate pressure on the world's fisheries. Although I'm not sure I agree with every recommendation, I post the list so as to spark debate from the commentariat. At least three recommendations appear to me to be particularly  sound– eating lower on the food chain, eating locally and seasonally, and eating unusual, locally-sourced species:
1. Educate yourself. Not all farmed fish are bad, especially if they come from the U.S. or Canada, where the industry is more tightly regulated. Download a fish-buying guide from Seafood Watch, which is geared toward each state and will tell you which fish are the best choices, good alternatives, and important to avoid.

2. Smaller is better. Why feed small fish to the big ones, if you can eat them yourself? These tend to be richer in omega-3s and selenium. Eat at the bottom of the food chain in order to avoid chemical bioaccumulation, as well.

3. Look for unusual, U.S.-sourced species. So many great fish are exported because Americans aren't interested in eating them; people here tend to be fixated on shrimp, salmon, and tuna, but there's so much more out there. Expand your culinary horizons.

4. Farmed filter feeders are the best. Called the most ethical seafood, clams, mussels, and oysters don't require feeding and don't have the kinds of ethical concerns that other creatures do.

5. Eat local, seasonal catches. If you live near a body of water, find out what comes from there. Eat the species grown closest to home, rather than importing exotic species from the other side of the world. Join a CSF (community supported fishery) program if you can. Eat according to the season, as well. The Marine Conservation Society has a guide to seasonal fish-buying here.
When I buy fish, I try to buy fresh fish buy from local fisherman. New York City's Greenmarkets have decent options– and buying just what one needs, and looking beyond the usual suspect species, can keep costs manageable. This is my ideal and of course not always possible. So I suppose the Treehugger recommendations are a useful starting point for guiding one's own fish consumption along a more sustainable trajectory.