Patient readers, here are some topics to get you started. I will return with more after I complete my post on "Why I hate Google, Twitter, and Facebook." Talk amongst yourselves! –lambert UPDATE All done.
Trade
"This Trade War is a Different Ballgame" [Wolf Street]. "'Superficial similarities abound with the latest campaign launched by Trump against China. But striking differences suggest Trump's gambit might have some better leverage,' [Automotive News Asia editor Hans Greimel] writes." China has no automobile presence in the US, unlike Japan, when we fought (and lost) that trade war with them.
"Whirlpool Corp. got the new U.S. tariffs it initially wanted, but now it looks like the appliance maker is getting more than it bargained for. Whirlpool's raw-materials costs have been rising since steel and aluminum tariffs went into effect, offsetting the gain it counted when the Trump administration hit South Korean competitors LG Electronics Inc and Samsung Electronics Co. with levies on imported washing machines" [Wall Street Journal]. Well, you can't unmake an omelette without unmaking the omelette.
"The United States on Monday launched five new cases at the World Trade Organization, formally challenging tariffs that China, the European Union, Canada, Mexico and Turkey have imposed on more than $20 billion worth of U.S. exports in retaliation for President Donald Trump's duties on their steel and aluminum exports. A Geneva diplomat said it was possible that some of the separate cases could ultimately be combined. However, the legal claims in each case are not identical, making it harder to say what will happen until the litigation gets to the panel stage, he added. The WTO could be forced to make an extremely high-stakes decision on whether the United States misused a national security exception under WTO rules to impose the steel and aluminum tariffs" [Politico].
"Boeing Says US-China Trade Spat a Concern for Aerospace World" [Industry Week]. "'We are concerned about some of the discussions right now around trade,' [Boeing Co. CEO Dennis Muilenburg] said in an interview with Bloomberg Television. 'Our aerospace business thrives on free and open global trade and we're hopeful we're going to find solutions as alternatives to some of the tariff discussions that have been going on.'"
Politics
2020
Dammit Bernie:

President Trump's press conference with Putin was an embarrassing spectacle. Rather than make clear that interference in our elections is unacceptable, Trump instead accepted Putin's denials and cast doubt on the conclusions of our intelligence community. This is not normal.

— Bernie Sanders (@SenSanders) July 16, 2018

(WARNING: If you're considering whinging, first read "Truer words" under Class Warfare, and focus on systems, not the person, as I am about to do.) "Our," apparently, like "we" — "What do you mean, we?" — has become a word to watch. " intelligence community"*? Really? This locution originated with the Clinton faction's "our democracy" — by which they really do mean "our," as in in their, democracy — and promptly spread like kudzu all over everything. Thinking in systems, what this quote means to me is that the "intelligence community" clambering into the Constitutional saddle is one possible outcome of the current legitimacy crisis. Look who's winning; it's them, across the board. If things go on as they are, after 2016, there won't be a President, or a Presidential candidate, who will be able to run or take office without being vetted first by the intelligence community (via, no doubt, oppo or, if need be, quiet conversations). Start with the fact that no party will want to take any risks and go on from there. That's a change in the Constitutional order implicitly accepted by liberal Democrats today, and no doubt by #NeverTrumpers in the future. Now, it's always possible that the intelligence community will "promote the general welfare" better than the constitutional order we have today, but with public faces for that community like Brennan (torturer), Clapper (perjurer), and Mueller (entrapment artist) color me skeptical. Now, it's possible for Bernie to unring this bell at his forthcoming War on Terror town hall, and we'll have to see. But I think we're seeing an excellent politician — and we want politicians, dammit — bending to the current correlation of forces. NOTE * The infestation of corrupt language takes Bernie's tweet out of the "he has to say that" category for me, sadly.

This on the other hand is very good:

This is the reality of working at Amazon. #CEOsvsWorkers #PrimeDay pic.twitter.com/osJJRjNoTJ

— Bernie Sanders (@SenSanders) July 17, 2018

Amazon is, of course, a massive defense contractor as well…

"Bernie Sanders: Trump's economy is great for billionaires, not for working families" [Bernie Sanders, USA Today]. • I assume that USA Today editors wrote the horrid headline, not Sanders. It's horrid, first, because "Trump's Economy" is "the economy" since the neoliberal dispensation began, and real wages were flattened, forty years ago. Systems, not persons! Second, "working families" is a vile focus-grouped phrase that is supposed to signify the working class in a verbal form acceptable to liberals but does not, because — follow me closely, here, liberals — not all working class people have families. I know the phrase is supposed to be kitchen-table-y and make me feel all warm and runny on the inside but stop it. Just stop it. You too, AOC, if you or yours are reading this.
2018
"The incredulity and anger on the left that followed Mr Trump's election resulted in nearly 150% more women putting themselves forward for congressional primaries this year than in the equivalent races two years ago" [The Economist]. • Let's just hope they're not all Daughters of the Confederacy. The Economist must believe, with identity politics liberals, that all women are "progressive", exactly as the same crowd believed that Obama was "progressive" because of his black skin.

ME-02: Follow the money:

Here's Amazon's political action committee giving the maximum donation to Bruce Poliquin, Republican congressman in Maine's second district, and among the top recipients of NRA donations in the House. Poliquin has cashed over $200K of NRA checks in his career. pic.twitter.com/gfHrqiVpS8

— Pinboard (@Pinboard) July 15, 2018

Poliquin beat the last Democrat who ran against him like a gong. Jared Golden might do better.

"Why Kavanaugh Looks Like a Done Deal" [Cook Political Report]. "In terms of defeating or just significantly slowing down the Kavanaugh nomination, Senate Democrats have very few, if any, arrows in their quiver. Barring the disclosure of a major smoking-gun development, unlikely given that he seems to be a pretty straight-arrow kind of guy, Kavanaugh will probably be hearing cases on the Court before the Nov. 6 midterm election. Even in a chamber divided between 51 Republicans and 49 Democrats, and with the absence of Sen. John McCain due to illness, the odds of Democrats suffering a defection from one or more of their own is pretty high. Specifically, the defection of at least one of the electorally vulnerable three of Joe Donnelly (Indiana), Heidi Heitkamp (North Dakota), and Joe Manchin (West Virginia) looks likelier than that of a Republican like Susan Collins (Maine) or Lisa Murkowski (Alaska)." • To the Republican base, and to the Republican leadership, this is far more important than Trump going off-message in Helsinki.
New Cold War
"Stephen F. Cohen on Helsinki Summit: Media Held A 'Kangaroo Court' And Found Trump Guilty" [RealClearPolitics]. (Cohen is an American scholar and professor emeritus of Russian studies at Princeton University and New York University, and so, naturally, the venue where he gets a hearing is FOX.) "COHEN: The reaction by most of the media, by the Democrats, by the anti-Trump people is like mob violence. I've never seen anything like it in my life*…. You've asked a fundamental question. Do they know what they're doing? I don't know. They see to hate or resent the idea of Trump as president, that they've lost all sense of American national security. If you ever get these people on, ask them this question. For yourself, for me, for the American people. Do you, these people who are hunting Trump. do you prefer trying to impeach Trump to trying to avert war with nuclear Russia? That is the bottom line, and that is where we're at today." * NOTE Neither have I, and I was present at the creation for WMDs and the Iraq War in 2003.

"Trump corrects his quote, says misspoke on Russian meddling" [Associated Press]. "'I accept our intelligence community's conclusion that Russia's meddling in the 2016 election took place,' Trump said Tuesday. But he added, as he usually does, 'It could be other people also. A lot of people out there. There was no collusion at all.'"

Intelligence community reax (1):

Intelligence community reax, with subtext clarified (2):

(Dear me. Not, perhaps, entirely safe for work, but what a great band!)

If Trump really wanted to own the libs, this is what he would do:

Russian MoD says it's "ready to activate contacts with US colleagues via general staffs and other existing communication channels to discuss extending Strategic Arms Reduction Treaty, cooperation in Syria, other current issues of ensuring military security."

— Lucian Kim (@Lucian_Kim) July 17, 2018

"So What If There Was an Attempt to Widen the Gap" [BLCKDGRD]. • A trifle oblique, but not without interest. What I'm not seeing is an alliance between #Resistance and #NeverTrump, even by implication. Too soon? And speaking of that alliance–

Thread:

and on a side note, it's ALSO very scary. bcz the thing is. i think that people on the left are misreading people on the right. i think that people on the right are actually outraged. like, ready to organize type of outraged over 45.

— RustBelt Rebel (@RustBeltRebel) July 17, 2018

The bottom line:

so, i see all these conservatives talking about how 'weak' they looked and how 'humiliated' they feel–and i think 1 that they honestly really and truly mean it, and 2. that it means not one single good thing for the rest of us.

— RustBelt Rebel (@RustBeltRebel) July 17, 2018

Hard choices…
The Reality-Based Community Has Lost Its Mind
More memories from an old-school blogger, back in the day. This famous quote comes from an anonymized Karl Rove (the "aide") in Ron Suskind's article:

The aide said that guys like me were "in what we call ," which he defined as people who "believe that solutions emerge from your judicious study of discernible reality." I nodded and murmured something about enlightenment principles and empiricism. He cut me off. "That's not the way the world really works anymore," he continued. ". And while you're studying that reality — judiciously, as you will — we'll act again, creating other new realities, which you can study too, and that's how things will sort out. We're history's actors . . . and you, all of you, will be left to just study what we do."

(More or less random usage example from 2005.) And many, many bloggers of that day put statements like "Proud member of the reality-based community" in their banners. What grieves me, what makes the current gaslit hysteria so hard that I feel, "literally," as the kids say, stunned, is that the quote is still true. We are still an empire, and only the "we" has changed. As for example–

"America's day of shame: Donald Trump acts as Putin's puppet. Will Republicans do anything?" [Heather Digby Parton, Salon]. Clintonian rhetoric aside, "Day of Shame"? Worse than March 20, 2003, when Bush invaded Iraq and caused hundreds of thousands of civilian deaths? Worse than November 1, 2003, when the Associated Press revealed torture at Abu Ghraib? Worse than March 19, 2011, when NATO's Clinton-inspired bombing of Libya began, which led to the re-establishment of Libyan slave markets? Clearly, the reality-based community — possibly in the person of a Salon editor, if Salon editors write the headines — knows nothing of shame. At one time, I thought it did. I'm sickened.
Realignment and Legitimacy
The karmic hammer:

This is why the weakness of the Bush and Obama years was so destructive. Failing to fix a system, or even recognize the flaws, leaves that system open to exploitation. Not using power when granted democratic authority to do so destroys democracy.

— Matt Stoller (@matthewstoller) July 16, 2018

If Obama hadn't signaled his fealty to the "intelligence community" by giving the telcos retroactive immunity for Bush's illegal program of warrantless surveillance in July 2008, or if he had prosecuted some torturers instead of stopping at "we tortured some folks," or even if he had closed Gitmo, we wouldn't be seeing Brennan and Clapper fronting for the #Resistance today as Heroes of the Republic, and there probably would be no Mueller investigation in the first place.

"Wreckers and Dissent" [Medium]. "Organizationally, we [in the DSA] have built a culture resistant to frank discussions. We prefer to avoid political questions, avoid uncomfortable conversations, and we use civility as a shield against discomfort; indeed, simple disagreement is 'uncomradely.' Instead, we prefer backbiting, concern trolling, smearing, and badjacketing. It's understandable; society socializes us as such. But when we fail to have those conversations we fail our comrades, we fail ourselves, and we fail a generational opportunity to build something genuinely different. What happens next matters. We may be experiencing an influx of new members, but we're bleeding organizers. We may have 44,000 members, but how many members are renewing their dues?" • I keep seeing a steady stream of DSA chapter actions, some socializing (not a bad thing) others more, er, political. This is good. But I also keep hearing rumbles of discontent about the national leadership. To be expected, perhaps. Since the national leadeship seems to have no visibility at all, at least in the press, this could end up being a bad thing. (The left has a lot of history, very complicated, some of it multi-generational. I hope we can all remember that not only does history not repeat, it does not necessarily rhyme.)

* * *

"Larry J. Sabato's Crystal Ball: Center for Politics/Ipsos poll: Just Half of Americans Believe Elections Are Fair and Open" [Sabato's Crystal Ball]. "By a 51%-43% margin, those surveyed agreed with the statement that 'American elections are fair and open.' However, there was a partisan gap, as 68% of Republicans but just 43% of Democrats agreed with the statement. Couched opinions — those who just 'somewhat' agreed or disagreed with the statement — were more common than strong opinions from Democrats, Republicans, and Independents…. When asked which of two statements was closer to their views, nearly three-quarters of respondents agreed more with a statement that the donation is an "invitation to corruption," while a little over a quarter of respondents agreed more with an alternative statement that "People should have a right to give as much as they please, and do so anonymously." Democrats (78%) and Independents (76%) were likelier than Republicans (62%) to agree with the first statement expressing concern about the large donation."

"Federal push to update voting machines like South Carolina's is heating up" [McClatchy]. "Wednesday's hearing of the Senate Rules Committee, the second of its kind, comes a day after a lawsuit was filed in U.S. District Court in South Carolina alleging the state's 14-year-old voting machines are vulnerable to hacking, undermining South Carolinians' right to vote. South Carolina is one of five states that uses voting machines that don't produce a paper trail. That makes the machines uniquely vulnerable to hacks, since there is no record that can be used to audit electronic results, some experts say. 'Paper ends up being a wonderfully robust kind of backup and safeguard against cyber attacks,' said Alex Halderman, a professor of computer science at the University of Michigan. 'It may seem retrograde, but it's not.'" • Paper should not be a backup for digital balloting. Paper should be the ballot.
Stats Watch
Industrial Production, June 2018: "A big snap back in manufacturing helped to lift industrial production" [Econintersect]. "With the manufacturing component back on track, factory data look to be a very strong highlight of the second-half economy." And: "There was significant downward revision to last month's data. So industrial production is pretty much at the same level as we thought it was last month. The best way to view this is the 3 month rolling averages which was unchanged. Industrial production is in a long term upward trend" [Econintersect].
Housing Market Index, July 2018: "The housing market index is unchanged" [Econoday]. "The report notes that the high cost for construction materials is a negative for home builders."
Shipping: "June 2018 Sea Container Movements Show Good Growth" [Econintersect]. "The rolling averages are positive and improving for both imports and exports suggesting both a strengthening USA economy and global economy."
Shipping: "U.S. freight operators appear to be reaping the benefits of the strongest shipping market in generations" [Wall Street Journal]. "J.B. Hunt's revenue jumped 24% from a year ago, and it showed double-digit growth in major pricing indicators across the company's various operations. Broader industry measures show truckers in a commanding position in freight markets, and increasingly trying to turn strong spot prices into higher long-term contract rates."
Five Horsemen: "Amazon and Facebook are at record highs in late morning trade" [Hat Tip, Jim Haygood].
NakedCap Mania-Panic Index: "Yesterday's small dip reduced the mania-panic index to 54 (complacency) as VIX rose to 12.83" [Hat Tip, Jim Haygood]. (The NakedCap mania-panic index is an equally-weighted average of seven technical indicators derived from stock indexes, volatility (VIX), Treasuries, junk bonds, equity options, and internal measures of new highs vs new lows and up volume vs down volume … each converted to a scale of 0 to 100 before averaging, using thirty years of history for five of the seven series.)
Class Warfare
Truer words:
Don't focus too much on individuals; focus on SYSTEMS and the RESULTS they bring.

Don't focus too much on labels; focus on CONCEPTS and how they fit into METHODS.

Don't focus too much on policing language; focus on CHANGING others' IDEAS so change is REFLECTED in the language.

— Black Socialists of America (@BlackSocialists) March 25, 2018
"Obama: Consider a universal basic income" [The Week]. "[Obama] additionally called on the rich to support higher taxation, saying that 'you don't have to take a vow of poverty just to say 'let me help out a few of these folks." • Help me.
News of The Wired
"Can Classes on Field Experiments Scale? Lessons from SOC412" [Freedom to Tinker]. "Most behavioral experiments out in the world are conducted by people with no university training. In 2016, bloggers at NerdyData estimated that A/B test company Optimizely's software was deployed on over half a million websites. In 2017, the company announced that it had passed its one millionth experiment. Companies trying to support millions of behavioral studies aren't waiting for universities to train socially conscious experimenters. Instead, training happens in hotel ballrooms at events like Opticon, which draws in over a thousand people every year, SearchEngineLand's similarly sized SMX marketing conference series, and O'Reilly's Strata conferences. And while scientists might consider experiments to be innocuous on their own, many have begun to wonder if the drive to optimize profits through mass behavioral experimentation may have damaging side effects." • Indeed….
"A Short Guide to Hard Problems" [Quanta]. • I wonder if anybody's transferred this line of thinking to political "science." Suppose we start with a graph representation of political relationships. What would follow?
Technical query: I recently rebooted my Mac and for some reason the "Dock Bounce" misfeature has been automagically disabled. I don't want the icons on my dock to expand when hovered over because it's distracting and as an experienced professional user I know where I'm clicking and don't need additional cues. (Yes, I know about System Preferences > Dock > Animate opening application and that is not checke. This is a diffrent behavior in any case.) This does not work:
$ defaults write com.apple.dock no-bouncing -bool TRUE
$ killall Dock
Readers, thoughts? I can live with the stupidity, but I find a lack of control over what should be my machine disturbing. Thank you!
* * *
Readers, feel free to contact me at lambert [UNDERSCORE] strether [DOT] corrente [AT] yahoo [DOT] com, with (a) links, and even better (b) sources I should curate regularly, (c) how to send me a check if you are allergic to PayPal, and (d) to find out how to send me images of plants. Vegetables are fine! Fungi are deemed to be honorary plants! If you want your handle to appear as a credit, please place it at the start of your mail in parentheses: (thus). Otherwise, I will anonymize by using your initials. See the previous Water Cooler (with plant) here. Today's plant (TH):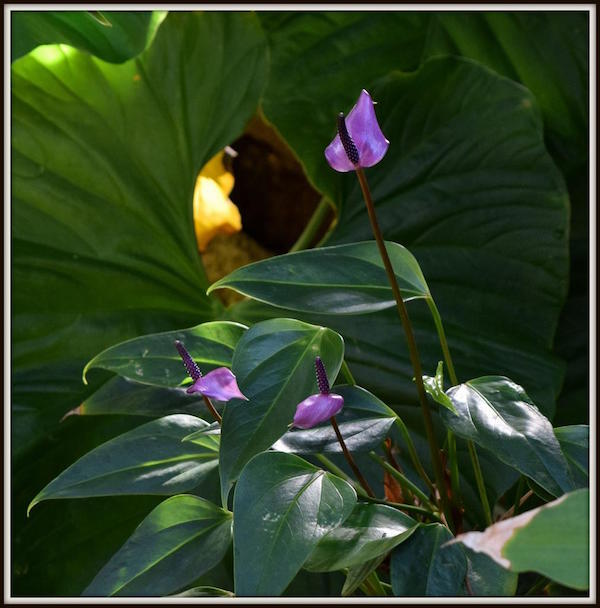 TH writes: "Purple anthurium in the Tropical Conservatory of the Sherman Library and Gardens in the Corona Del Mar neighborhood of Newport Beach, CA."
Lovely use of bokeh in the background. Although I'm basically an f/64 guy — I wish! — I accept the need for a depth-of-field speed trade-off when photographing flowers; they are always in motion!
* * *
Readers: Water Cooler is a standalone entity not covered by the annual NC fundraiser. So do feel free to make a contribution today or any day. Here is why: Regular positive feedback both makes me feel good and lets me know I'm on the right track with coverage. When I get no donations for five or ten days I get worried. More tangibly, a constant trickle of small donations helps me with expenses, and I factor that trickle in when setting fundraising goals. So if you see something you especially appreciate, do feel free to click the hat!

To give more, click on the arrow heads to the right of the amount.
If you hate PayPal — even though you can use a credit card or debit card on PayPal — you can email me at lambert [UNDERSCORE] strether [DOT] corrente [AT] yahoo [DOT] com, and I will give you directions on how to send a check.