By Lambert Strether of Corrente.
Trade
"China files WTO challenge to US $200B tariff plan" [Associated Press]. "China announced it filed a World Trade Organization challenge Monday to President Donald Trump's latest tariff threat, stepping up its diplomatic efforts to counter U.S. pressure in a spiraling technology dispute… The move is unusually swift, coming less than one week after the U.S. Trade Representative proposed 10 percent tariffs on a $200 billion list of Chinese goods. Those wouldn't take effect until at least September…. China's lopsided trade balance means it will run out of U.S. imports for penalty tariffs before Washington does. Beijing is trying to recruit support, so far in vain, from Europe, South Korea and other governments."
"The Commerce Department has formally lifted a ban preventing U.S. companies from doing business with Chinese telecom giant ZTE after the company put $400 million escrow" [Politico]. "'While we lifted the ban on ZTE, the Department will remain vigilant as we closely monitor ZTE's actions to ensure compliance with all U.S. laws and regulations' [Commerce Secretary Wilbur Ross] said in a statement. The U.S. will draw on the money if ZTE violates a new, June agreement with Commerce. ZTE had said the April denial order would put it out of business. In May, Trump told Commerce to come up with another way to punish ZTE, which was found to be illegally selling to Iran and North Korea. That alternative approach included a $1 billion fine, a management shake-up and an embedded compliance team to ensure it abides by the agreement."
"Unpacking Disingenuous GOP Complaints About Presidential Trade Authority" [Eyes on Trade]. "At midnight on June 30, Fast Track, which delegates Congress' constitutional trade authority to the president, extended for another three years….. The GOP inaction on Fast Track disapproval made 100 percent clear what is really going on: Team Trade Status Quo is keen to eliminate presidential authority on trade matters that break with their pro-job-outsourcing trade agenda while remaining committed to the current iteration of Fast Track with a view to trying to use it to get more-of-the-same trade deals…. That dynamic makes the current NAFTA renegotiation a moment of truth. The U.S. Trade Representative, Robert Lighthizer, is using this delegation of Fast Track to negotiate a NAFTA replacement that actually has a chance of making things better for working people rather than expanding greater corporate control over our lives….. However, the revised NAFTA deal is not done yet. And the GOP's decision not to act against Fast Track extension suggests that they still think they can get the terrible, TPP-style NAFTA deal that they want."
"What Game Theory Says About Trump's Trade Strategy" [Mohamed A. El-Erian, Bloomberg]. "Whether by accident or design, the U.S. is now playing in an uncooperative game that it is well placed to win in relative terms. For many reasons, trade tensions are less damaging for the U.S. than for China, whose growth model is still notably dependent on foreign markets. This relative advantage is already evident in the performance of the equity and currency markets of the two countries. While this advantage certainly isn't protection against some absolute damage, it gives the U.S. a stronger hand to play….. The situation resembles the 1980s, when President Ronald Reagan embarked on a military spending race with the Soviet Union, a contest America was destined to win, albeit with costs and at considerable risk." • Time for some game theory? Or not?
"Preparing for (Trade) War and an Uncertain Future" [Industry Week]. "[N]ew tariffs mean that companies are going to need to onboard new supply partners much faster than in the past, involving configuring partner profiles and connections to securely exchange order, invoicing, shipping and payment data. To truly enable a lean and agile supply chain, legacy systems and custom coding cannot support onboarding new customers in a timely and effective fashion, and such disparate technologies silo the critical data flows and hinder visibility into daily business processes. World-class supply chains have onboarding and visibility capabilities built into their systems, reducing the complexity and cost of partner onboarding and enabling holistic views into data…." • "World-class" causes my bogometer to twitch…
A handy chart:
Nice one from @VisualCap – a history of US trade wars. An illustration that anti-globalism is always countertrend and short-lived. https://t.co/Roy1ImhJuT pic.twitter.com/CYwqGb7qDU

— Downtown Josh Brown (@ReformedBroker) July 15, 2018
Politics
2020
UPDATE "Trump raises $90 million for his reelection bid and the Republican Party, with less going to legal fees" [WaPo]. "With the 2018 midterms underway, President Trump's reelection campaign and two affiliated committees entered the third quarter with a massive fundraising haul of $90 million and a steep decline in attorneys' fees, which have consumed his reelection expenses since he took office. … Unlike his predecessors, Trump began fundraising for 2020 soon after he won the presidency. He continues to energize small-dollar donors, FEC filings show. In the second quarter of 2018, 62 percent of the direct contributions to his campaign committee came from donations of $200 or less." • It's almost like this small-donor model isn't so crazy….

"Ex-Bill Clinton lawyer would advise Hillary against running in 2020" [The Hill]. "Lanny Davis said on Wednesday he would advise Hillary Clinton against launching another presidential bid. …. Davis was hired to join the legal team of President Trump's former fixer, Michael Cohen, last week."

"Pittsburgh feels the Bern as Bernie Sanders addresses national teachers conference" [News-Tribune]. "Pittsburgh felt the Bern on Sunday, but it wasn't anything close to the torching that flamboyant U.S. Sen. Bernie Sanders gave to the wealthiest Americans, Wall Street and President Donald Trump….. '[Trump] is in the most un-American way possible attempting to divide the people of our country up based on the color of our skin, our country of birth, our gender, our sexual orientation or our religion,' Sanders said. 'When Trump tries to bring back discrimination in this country, we tell him that this country has suffered for too many years from racism and sexism and homophobia and xenophobia. We are not going back. We are going forward.'" •  I agree with Senator Sanders that identity politics is very bad. And I wish the Sanders staff would get it together to release transcripts of Sanders speeches, because here's what he said — I think; via NTK with clip, the only other venue Google's miserably inadequate and untrustworthy algos returns when I search on bits of the quote — before the News-Tribune quote: "But not only has his economic policies benefit the very rich. The truth is his social policies are even worse." So, we don't get to hear about Sanders' views on economics. Odd!

UPDATE "Bernie Sanders is hosting a town hall for workers. Their CEOs are invited." [CNN]. "Letters addressed to Amazon's Jeff Bezos, Doug McMillon of Walmart, Steve Easterbrook of McDonald's and Disney's Bob Iger will be sent on Thursday. 'My staff and I have spoken with Disney workers who are hungry, homeless, or struggling to make ends meet,' Sanders writes to Iger in one of the invites. He then quotes an employee who says, 'I currently don't make enough to eat three times a day. I eat cans of tuna or celery sticks and carrots because that's what I can afford.'" • That's the stuff to give the troops!

UPDATE "No, Bernie 2020 Will Not Be The Same As 2016" [Niko House, Medium]. "There is a difference between picking the lesser of two evils and picking someone with flaws, understanding that they can (and likely will) put experienced progressives at the helm to cover down for his shortcomings or lack of experience in particular fields of politics. To surmise, it's time for people to decide if we are going to continue attacking our allies for making one or two decisions we disagree with, or finally start removing our enemies on both sides of the political aisle who present a clear and present danger to the entire world. Hindsight is 2020." • A rousing defense, though not all will be persuaded.

"Witness in Jane Sanders land deal probe says she was recently interviewed by FBI" [Fox]. "A key witness in the possible bank fraud case against Sen. Bernie Sanders' wife, Jane Sanders, was questioned by FBI agents just over a week ago, Fox News has learned…. [Coralee Holm, the former Burlington College dean of operations] said she was visited by agents two weeks ago and answered 'some clarifying questions on materials.'"

UPDATE "Warren Is Preparing for 2020. So Are Biden, Booker, Harris and Sanders." [New York Times]. "Altogether, [Warren's] moves are among the most assertive steps taken by any Democrat to prepare for 2020.
2018
"Alexandria Ocasio-Cortez's Historic Win and the Future of the Democratic Party" [David Remnick, The New Yorker]. "After Sanders failed to overtake Clinton, some of his staff started an organization, called Brand New Congress, with the aim of recruiting candidates in the Bernie mold to run for the House and the Senate. For the B.N.C. activists, Sanders had shown that a non-corporate, 'small dollar' campaign based on a left-wing agenda could win, and not only in traditionally left-leaning districts…. In the weeks to come, by phone, by video chat, and in person, leaders of B.N.C. and another post-Bernie-2016 group, called Justice Democrats, gave Ocasio-Cortez media training and coached her on policy issues, Federal Election Commission filings, debate tactics, and social-media strategies. In a district where contested primaries were rare and turnout low, organization could win the day. In a year of campaigning, Ocasio-Cortez and her volunteers made a hundred and seventy thousand phone calls, knocked on a hundred and twenty thousand doors, and sent a hundred and twenty thousand text messages." • Well worth a read, especially for the biographical material; Remnick, for once in his life, seem to be playing it reasonably straight. It feels to me like there's a story here about disagreements within OR shortly after it's founding, and a contrast between OR and JD/BNC, who certainly knew how to pick a winner, and at the national level.

"Brett Kavanaugh and the Midterm Effect" [Stuart Rothenberg, Inside Elections]. "The selection of Brett Kavanaugh for the Supreme Court will have less of an impact on November's midterms than you think. Sure, depending how the confirmation process develops, it's possible the nomination could affect a handful of races, but the most likely scenario will not change the overall trajectory of the November elections." Three scenarios, concluding: "Most Democrats don't like the Kavanaugh nomination and would like to see a more moderate nominee. But they are playing a very weak hand now, and there is little reason to believe that the next hand they are dealt will be any better. In fact, it might be worse."

"Senate: Gaming Out Kavanaugh's Confirmation" [Cook Political Report]. "The one consolation that Democratic Senators are getting is that the confirmation process is a boon for their fundraising. If my email is any indication, Democrats are stepping up fundraising requests. In the days following the Kavanaugh announcement, interest groups focused on the need to defeat him while Democratic Senate incumbents and challengers put their energy into raising money."

NJ Senate: Pharma 'greed' emerges as a potent political issue in a raucous election year" [Endpoints]. "[Hugin's campaign] just posted a new 30-second spot featuring the father of another cancer patient who says the pharma exec provided Revlimid when his insurance company wouldn't cover it for his son. 'It's not the drugs,' he says. 'It's not the profits. It's a very personal thing for Bob Hugin.'" • So the PR will work or it won't…

SD: "LISTEN: S.D. GOP could have made convention SNAFU worse for Democrats" [KELO]. "The Democrats will hold a do-over convention August 10 in Sioux Falls at the Icon Lounge." • Odd.

NJ-10: "In Surprise Vote, Hudson County Renews Contract With ICE To Detain Immigrants" [WNYC]. "Officials in Hudson County, N.J., voted Thursday to renew a controversial contract to detain immigrants at the county jail in exchange for about $35 million a year from Immigration and Customs Enforcement…. Hudson County has a foreign-born population of more than 42 percent, according to the U.S. Census. It is overwhelmingly Democratic." • They have no place to go…

UPDATE WI-01: "Bice: Ironworker Randy Bryce being paid undisclosed amount by Democratic firm" [Journal-Sentinel]. "In his latest personal financial disclosure form, Bryce reports earning more than $5,000 from Wavecrest Consulting and Analytics since the start of 2017. Wavecrest is owned and operated by former Democratic Party Chairman Mike Tate. The firm works with political campaigns, private corporations and nonprofits…. What's not clear from the records is how much Bryce was paid by Wavecrest.Bryce discloses that he made a little less than $19,000 from three metal fabricators between Jan. 1, 2017, and April 15. He also reports receiving at least $5,000 from Tate's firm. [Julia Savel, communications director for Bryce] said Bryce doesn't have to provide that figure to run for the U.S. House of Representatives."

UPDATE Is Russia! Russia! Russia! a wining message?

I ran by the Newseum's wall of 50 state newspapers, with front pages from around the nation.

Two takeaways:
– Unlike national media's focus on Russia, local papers collectively focused much more on health care problems.

– Most of those health care problems were opioid-related.

— Dan Diamond (@ddiamond) July 15, 2018

Yes, on the Acela! And who else matters?
2016 Post Mortem
"Bourdain Confidential" [Popula]. Bourdain: "Bill Clinton, look, the bimbo eruptions—it was fucking monstrous. That would not have flown today. A piece of shit. Entitled, rapey, gropey, grabby, disgusting, and the way that he—and she—destroyed these women and the way that everyone went along, and, and are blind to this! Screamingly apparent hypocrisy and venality. How you can on the one hand howl at the moon about all these other predators. And not at least look back. OK, let's say, well, it was all consensual: powerful men, starstruck women, okay fine, let's accept it at its most charitable interpretation. Fine. He is a very charming man, I met him, he's fucking magnetic…. As is she. When you're in the room, you think wow, she's really warm and nice and funny. But the way they efficiently dismantled, destroyed, and shamelessly discredited these women for speaking their truth… is unforgivable….. I would never under any circumstances vote for Bill Clinton today. But I think impeaching the guy over Lewinsky was ridiculous. Particularly given today. It was the shaming, discrediting, undermining the women that made both of them unsuitable for any future endeavors. I don't think they should've pulled him from office." • And yet liberal Democrats are still dragging The Big Dog's raddled almost-corpse up to whatever podia they can find that will have him…
New Cold War
"Indictment of 12 Russians: Under the Shiny Wrapping, a Political Act" [Scott Ritter, TruthDig]. "There is one major problem with the indictment, however: It doesn't prove that which it asserts. True, it provides a compelling narrative that reads like a spy novel, and there is no doubt in my mind that many of the technical details related to the timing and functioning of the malware described within are accurate. But the leap of logic that takes the reader from the inner workings of the servers of the Democratic Party to the offices of Russian intelligence officers in Moscow is not backed up by anything that demonstrates how these connections were made." • Particularly when the DNC laundered those servers through CrowdStrike. More from Ritter:

The biggest clue that Mueller and Rosenstein have crafted a criminal espionage narrative from whole cloth comes from none other than the very intelligence agency whose work would preclude Rosenstein's indictment from ever going to trial: the National Security Agency. In June 2017 the online investigative journal The Intercept referenced a highly classified document from the NSA titled "Spear-Phishing Campaign TTPs Used Against U.S. And Foreign Government Political Entities." It's a highly technical document, derived from collection sources and methods the NSA has classified at the Top Secret/SI (i.e., Special Intelligence) level. This document was meant for internal consumption, not public release. As such, the drafters could be honest about what they knew and what they didn't know—unlike those in the Mueller investigation who drafted the aforementioned indictment.

A cursory comparison of the leaked NSA document and the indictment presented by Rosenstein suggests that the events described in Count 11 of the indictment pertaining to an effort to penetrate state and county election offices responsible for administering the 2016 U.S. presidential election are precisely the events captured in the NSA document. While the indictment links the identity of a named Russian intelligence officer, Anatoliy Sergeyevich Kovalev, to specific actions detailed therein, the NSA document is much more circumspect. In a diagram supporting the text report, the NSA document specifically states that the organizational ties between the unnamed operators involved in the actions described and an organizational entity, Unit 74455, affiliated with Russian military intelligence is a product of the judgment of an analyst and not fact.

If we take this piece of information to its logical conclusion, then the Mueller indictment has taken detailed data related to hacking operations directed against various American political entities and shoehorned it into what amounts to little more than the organizational chart of a military intelligence unit assessed—but not known—to have overseen the operations described. This is a far cry from the kind of incontrovertible proof that Mueller's team suggests exists to support its indictment of the 12 named Russian intelligence officers.
The Blob Has Lost Its Mind
Honestly, I don't know what else to call this category. I wish I did.

Oh, the incongruities:


— Rob Rousseau (@robrousseau) July 13, 2018

The Iraq war wasn't that long ago….

The frightening thing is that he may actually believe this:

International order for 4 centuries has been based on non-interference in the internal affairs of others and respect for sovereignty. Russia has violated this norm by seizing Crimea and by interfering in the 2016 US election. We must deal w Putin's Russia as the rogue state it is

— Richard N. Haass (@RichardHaass) July 14, 2018

(Haas is head of the Council on Foreign relations, the blobbiest blob blob blob blob of The Blob). Dude, as I just said, the Iraq war wasn't that long ago. And the Norms Fairy died in the wreckage. Please move on to the Anger Stage. It's been what, seven years?

Poor Larry waves his tiny fist and stamps his little feet:

US citizens who work with a foreign power to "levy war against the United States" are guilty of Treason (Article III, US Constitution.) It was the Russian *military* that levied the cyberattack charged in the grand jury indictment obtained by Mueller today. "War" or not? Hmmm. .

— Laurence Tribe (@tribelaw) July 14, 2018

Dude, I get it. I get that everybody who is anybody wants to go to war with Russia, a nuclear power. But how and where? And what does victory look like? And will you send your kids?
Realignment and Legitimacy
"Planned Parenthood CEO Working with Trump Officials to Bust Healthcare Workers' Union" [Gritpost]. "According to a letter circulated by the Planned Parenthood of the Rocky Mountains (PPRM) bargaining team, PPRM CEO Vicki Cowart is actively opposed to the union her workers voted to form in December. Cowart reportedly organized against the unionization vote, and then appealed the vote after a majority of employees voted to unionize. This includes working with the Republican-controlled National Labor Relations Board (NLRB) to appeal the union vote. The NLRB was, until April, chaired by Marvin Kaplan — whom President Trump appointed to the position in 2017." • Remember the hysteria when Sanders called Planned Parenthood part of the "political establishment"? Good times…

UPDATE "'Kiss my you know what': Schumer hamstrung in SCOTUS fight" [Politico]. • Hardly. Schumer's "hamstrung" by the last crop of reactionary Blue Dogs. And since the DCCC and DNC are busily working to elect more Blue Dogs this time round, he'll be "hamstrung" again. If only the Democratic strategists knew!
Stats Watch
Retail Sales, June 2018: "Strong gains for the discretionary categories of autos and restaurants and a big upward revision to May highlight the June retail sales report" [Econoday]. "[U]nless services prove flat again, June — based on today's report — should prove a very strong finish for the second-quarter economy." And: "Retail Sales Growth Improves In June 2018" [Econintersect]. "The general feel from the data is that this was not as strong of report as last month." • "General feel" is a bit squish for Econintersect. Odd.
Empire State Manufacturing Survey, July 2018: "[V]ery strong and right at expectations" [Econoday]. "[T]he fundamental strength of this report, that is new orders, continue to pour in…" But: "July 2018 Empire State Manufacturing Index Declined" [Econintersect]. "I am not a fan of surveys – and this survey jumps around erratically – but has been relatively steady for the last year. Key internals in the report declined. This report was weaker than last month."
Business Inventories, May 2018: "Inventories are rising which is an immediate positive for GDP and they're behind the strength in sales which is a future positive for both production and employment" [Econoday]. "Sales are very strong right now and businesses may be having trouble keeping up with the demand." And: "May 2018 Headline Business Sales Improved" [Econintersect]. "Inventories remain elevated this month. Our primary monitoring tool – the 3 month rolling averages for sales – improved this month and remains in expansion."
Manufacturing: "American manufacturing drives 35 percent of productivity growth, 60 percent of exports, and 70 percent of private sector R&D nationwide, the [Brookings Institute] study found. Manufacturers contribute $2.17 trillion to the United States economy, which is nearly 12.1 percent of the U.S. GDP" [Industry Week]. "'Moreover, the gap in labor costs found in the United States in comparison to other countries has started to drop and likely will continue to drop as the cost of industrial robots falls,' the study authors stated, with additive manufacturing, advanced robotics, the Internet of Things and Big Data driving this." • Maybe I should have filed this under Class Warfare…
The Bezzle: "BlackRock begins exploration of bitcoin" [Financial News]. "The working group, which includes New York multi-asset investment strategist Terry Simpson, will examine whether BlackRock should invest in bitcoin futures, one of the people said…. [F]irms in the City are increasingly interested in getting into the asset class. Fidelity Investments, which manages $2.4tn in assets, has begun a hiring spree, while Goldman Sachs said in May that it is setting up a crypto trading desk…. Simon Taylor, the former Barclays executive behind Global Digital Finance, a trade body that has produced a code of conduct for users of crypto assets, said of BlackRock's move: 'We shouldn't read too much into a working group being formed but rather what that working group might decide to do.' He added: 'I would venture that broadly collaboration between smaller funds and larger buyside firms is how institutional capital will enter the crypto space.'"
Five Horsemen: "In late morning trade, Seattle sluggers Amazon and Microsoft are at record highs" [Hat Tip, Jim Haygood].
NakedCap Mania-Panic Index: "Friday's modest market rise lifted the mania-panic index one tick to 57 (complacency)" [Hat Tip, Jim Haygood]. (The NakedCap mania-panic index is an equally-weighted average of seven technical indicators derived from stock indexes, volatility (VIX), Treasuries, junk bonds, equity options, and internal measures of new highs vs new lows and up volume vs down volume … each converted to a scale of 0 to 100 before averaging, using thirty years of history for five of the seven series.)
Rapture Index: Closes unchanged [Rapture Ready]. Record High, October 10, 2016: 189. Current: 182.
Gaia
"Chart of the day: In 2017, US had largest decline in CO2 emissions in the world for 9th time this century" [American Enterprise Institute]. "For that impressive "greening" of America, we can thank the underground oceans of America's natural gas that are now accessible because of the revolutionary, advanced drilling and extraction technologies of hydraulic fracturing and horizontal/directional drilling, and are increasingly displacing coal for the nation's electricity generation." • Oh.
Our Famously Free Press
"The Decline of the 20th Century Political Campaign" [Benjamin Studebaker]. "It's still the case, especially with primaries and local politics, that mailings and activists on the ground are necessary. It's still the case, especially with general elections and national politics, that TV allows campaigns to reach millions of offline or barely online voters who are otherwise unreachable. But we're getting closer and closer to a time when it may be possible to run a successful campaign with a few kids manning laptops in a basement. The median CNN prime time viewer is now 59 years old. The median FOX viewer is 66. Traditional media has started to report on what goes on online, and this is the first step to a new world where politics happens more online than offline, where what we collectively post on Facebook and Twitter really does become the driving force in elections. This will make it even more important in the coming years to contest the unaccountable, absolute sovereignty Mark Zuckerberg exercises over the Facebook algorithms." • Break the giant social media firms up. Optimize for personal campaigning by outlawing advertising on digital media. And so forth. From the article–
"Facebook's First Wave of Funded News Shows Will Debut July 16, With More on the Way" [Variety]. "Starting on Monday, July 16, programming from CNN, Fox News Channel, Univision, ABC News and others will be featured in a dedicated news section in Facebook Watch, its recently launched video platform for episodic programming. The Watch news section will feature news videos from national and local news orgs, and users will see a personalized feed based on the publishers they follow and what their friends are watching. (Facebook users also can access the shows directly from their show pages.) The first lineup of previously announced shows from news publishers include those from ABC News, Advance Local, ATTN:, CNN, Fox News, Mic, Quartz, and Univision. Over the course of the next few months, Facebook will bring out additional news shows from ABC-owned stations, Bloomberg, BuzzFeed News, McClatchy, Group Nine Media's NowThis and Tegna. For Facebook, the initiative is an effort to support journalism after the company has been lambasted for its role in spreading "fake news" — including an effort by Russian operatives to influence the 2016 U.S. presidential campaign." • Say, what do you think is going to happen to "news groups" that are not "established"? Oh, wait. Silly me. Burying the venues that are not established is for Google's algos to handle. My bad.
Tech: "Bad Romance" [The Verge]. "The fight over #Cockygate, as it was branded online, emerged from the strange universe of Amazon Kindle Unlimited, where authors collaborate and compete to game Amazon's algorithm. Trademark trolling is just the beginning: There are private chat groups, ebook exploits, conspiracies to seed hyperspecific trends like "Navy SEALs" and "mountain men," and even a controversial sweepstakes in which a popular self-published author offered his readers a chance to win diamonds from Tiffany's if they reviewed his new book. Much of what's alleged is perfectly legal, and even technically within Amazon's terms of service. But for authors and fans, the genre is also a community, and the idea that unethical marketing and algorithmic tricks are running rampant has embroiled their world in controversy. Some authors even believe that the financial incentives set up by Kindle Unlimited are reshaping the romance genre — possibly even making it more misogynistic…. [A]t stake are revenues sometimes amounting to a million dollars a year, with some authors easily netting six figures a month. The top authors can drop $50,000 on a single ad campaign that will keep them in the charts — and see a worthwhile return on that investment. In other words, self-published romance is no joke."
The answer is "No":
ethics question:
– if a guy who is talking very loudly on his mobile on the Acela and keeps reiterating he's "off the record" to a reporter, can I share his discussion which I can hear from 15 feet away?
– does it matter if he also keeps playing the Nats game at full audio?

— Jason Kint (@jason_kint) July 13, 2018
Actually, the answer is "No. Throw the guy off the train. While it's moving." (Honestly, though, can our Acela-riding elites be any more foolish? You might almost think they believe they live in a bubble where nobody can hear them…)
Class Warfare
"How States Are Making It Harder to Leave Unions" [Governing]. "Just over two weeks since the [Janus] decision, about a third of the affected states – most led by Democrats — have already taken actions meant to make it harder for people to leave unions and harder for anti-union advocates to persuade them to leave."
News of The Wired
"The Unique Neurology of the Sports Fan's Brain" [Nautilus]. "The fact that athletes experience a tidal rush of testosterone, a hormone associated not just with male sexuality but with self-esteem, upon winning a big game was well established. But there was a hypothesis floating around among social psychologists at the time that fans ride a similar hormonal high…. Again, a 20 percent increase in testosterone was observed among fans of the winning team, the Brazilians (along with a corresponding 20 percent drop for the Italians). 'Statistically, the correlation is very strong,' says [Paul Bernhardt, an aspiring young behavioral scientist at Georgia State University]. 'The importance of [the experiment] was to show that testosterone isn't just about a body getting pumped up; it's not, for want of a better term, about being burly. It is about , of seizing the moment.' Testosterone is produced during moments of intense competition, even if the experience is purely psychological." • Amazing to think what the World Cup did. Or, for that matter, The Mueller report.
* * *
Readers, feel free to contact me at lambert [UNDERSCORE] strether [DOT] corrente [AT] yahoo [DOT] com, with (a) links, and even better (b) sources I should curate regularly, (c) how to send me a check if you are allergic to PayPal, and (d) to find out how to send me images of plants. Vegetables are fine! Fungi are deemed to be honorary plants! If you want your handle to appear as a credit, please place it at the start of your mail in parentheses: (thus). Otherwise, I will anonymize by using your initials. See the previous Water Cooler (with plant) here. Today's plant (KH):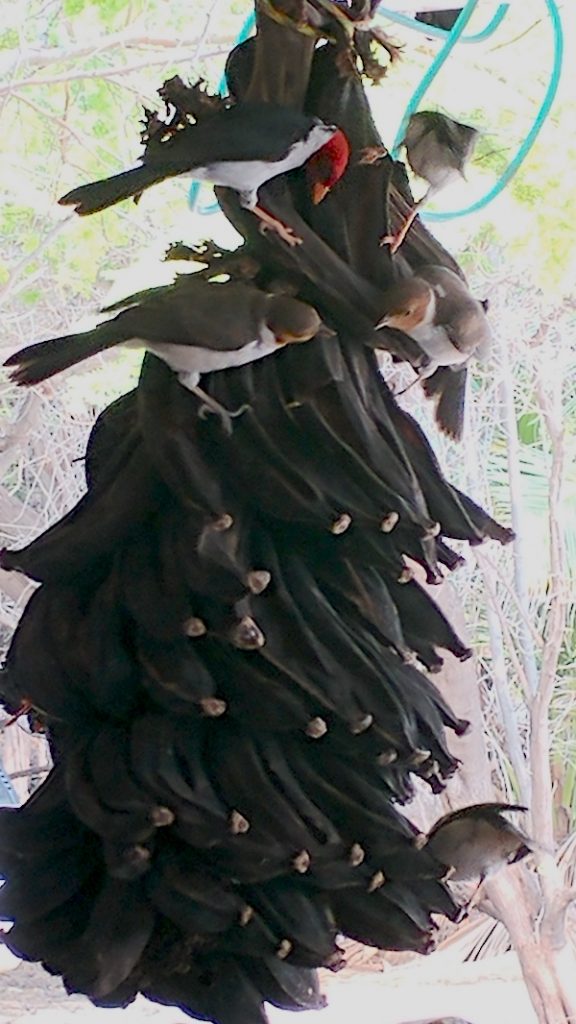 KH: "So the bananas got too much rain in June and turned but didn't rot. The family of yellow billed cardinals join us each day for feeding. The fledgelings get fed even though they've fledged and it's quite a noisy scene, beachside." I hope this shows up on-screen OK; I tinkered with the exposure a bit to solve the backlighting problem, because how often to you get to see yellow billed cardinals eating over-ripe bananas?
* * *
Readers: Water Cooler is a standalone entity not covered by the annual NC fundraiser. So do feel free to make a contribution today or any day. Here is why: Regular positive feedback both makes me feel good and lets me know I'm on the right track with coverage. When I get no donations for five or ten days I get worried. More tangibly, a constant trickle of small donations helps me with expenses, and I factor that trickle in when setting fundraising goals. So if you see something you especially appreciate, do feel free to click the hat!

To give more, click on the arrow heads to the right of the amount.
If you hate PayPal — even though you can use a credit card or debit card on PayPal — you can email me at lambert [UNDERSCORE] strether [DOT] corrente [AT] yahoo [DOT] com, and I will give you directions on how to send a check.