By Lambert Strether of Corrente.
Patient readers, I got wrapped around the axle on Obama's Long Con. Much more in a bit. Here are a few snippets to get you going. –lambert UPDATE All done!
Trade
"U.S. launches national security probe into uranium imports in apparent new trade war front" [Associated Press]. "The Commerce Department has started an investigation into the impact of uranium imports on U.S. national security, a move that could limit future imports and add another front to the Trump administration's trade fight. Commerce Secretary Wilbur Ross said Wednesday that the United States produces just 5 percent of the uranium it needs for the U.S. military and for electricity generation, down from nearly half in 1987." • That fragile supply chain…
"Trump says U.S. may pursue separate trade deal with Mexico" [Reuters]. "President Donald Trump said on Wednesday the United States may hammer out a trade deal with Mexico, and then do a separate one with Canada later, sowing fresh doubts about the future of the North American Free Trade Agreement (NAFTA)."
Politics
2020
All in the framing (1):

Divine knew. pic.twitter.com/S6owogsvvU

— Eric Nelson (@Oogabooga) July 19, 2018
2018
"Dozens of Democrats are endorsing Md.'s Republican governor. Will it matter?" [WaPo]. "But Gov. Larry Hogan is hoping that the 40 Democrats — and counting — who have endorsed him in recent days will be a potent weapon in his campaign to defeat Democratic nominee Ben Jealous and become the first Republican governor to win a second term in Maryland since 1954. 'I'm a Democrat supporting Governor Larry Hogan because his actions over the last four years transcend party politics,' said Dennis Donaldson, who served as a state lawmaker in the 1980s, in a statement posted on Hogan's Twitter feed Friday with the hashtag #DemocratsForHogan. Dozens of similar sentiments have been tweeted since July 3, and Hogan campaign officials say more are coming." • These are real Democrats, and you'd better neutralize them before they neutralize you.

"Centrist Democrat Runs as an Independent to Thwart Democratic Socialist Who Won Primary" [GritPost]. "Montgomery County, Maryland, which is one of the bluest counties in one of the bluest states in the country, may end up being represented by a Republican thanks to a centrist Democrat's recently announced campaign. Democrat Nancy Floreen — who has currently serving her fourth term on the county council — is now running as an independent in this year's county executive race, which is between Democrat Marc Elrich and Republican Robin Ficker. 'I am determined to give Montgomery County a third, independent choice come November,' Floreen told the Washington Post, saying that the two major party nominees were 'flawed extremes.' • AOC, Ben Jealous, now this. It's quite clear that liberal Democrats will run straws and seek to defeat left (or even non-establishment) Democrats (as we learned long ago with Lamont v. Lieberman). That reveals "But Bernie's not even a real Democrat!" as the vile hypocrisy that it is, but then we knew that. And there's no point whinging about norms; just win, baby.

"Jayapal Endorses Opponent Of Fellow Justice Democrat In Washington 9th" [Citizen Truth]. "United States Congresswoman Pramila Jayapal extended her endorsement to Democratic incumbent Adam Smith, who was first elected as the congressional representative of Washington's 9th district in 1997. Congressman Smith endorsed Jayapal in her 2016 run for the House… Jayapal would win her race to become the House representative for Washington's 7th district in the United States Congress. Her endorsement for Congressman Smith would not raise eyebrows if not for his top challenger, Sarah Smith. Washington state has a unique 'top-two' primary where the top two vote earners; regardless of party, move on to the November general election. Sarah Smith has run a grassroots campaign which has led to her receiving endorsements from numerous progressive organizations including Our Revolution Washington Berniecrats Coalition (WABC), Progressive Party of Washington, Our Revolution King County (Jayapal represents King County), The Progressive Ballot, Demand Universal Healthcare (DUH), and Justice Democrats. Sarah is expected to advance to the general election along with Rep. Smith after the August 7th primary. Rep. Jayapal is also endorsed by Justice Democrats…." • One wonders if there's some way for Justice Democrats to discipline her….

"Democrats' 2018 slogan: 'For the People'" [Axios]. "Why it matters: Dems are trying to capture what they stand for by simplifying their economy-focused "A Better Deal" message, but neither slogan will inspire Democratic voters the way Trump's 'Make America Great Again' broke through with Republicans." • I know I ran this in Links, but I really wanted an excuse to run this exchange:

Daniel's right on this "verb, proper noun, value-laden adjective, even more charged adverb" business. Also: "for the people" leaves off the 2 key parts of Lincoln's statement: "of the people, by the people." That was the democratic triad. W/o that, it's just: we'll do for you. https://t.co/SU09XQAdEC

— corey robin (@CoreyRobin) July 19, 2018

Looks like the liberal Democrats read that Gallup poll that says voters don't care about Russiarussiarussia:

Just got an email with survey from Kamala Harris asking what issue I consider most important, and "Russia Investigation" was listed 2nd which seemed like a fairly obvious effort to get more clicks for that. I picked climate change :)

— The Teacher Liberation Front (TLF)????️ (@e_rock1980) July 19, 2018

NY-14: "Alexandria Ocasio-Cortez Knows She Can't Save America All By Herself" [Elle]. "It's this 'different' playbook that Ocasio-Cortez credits with her success. 'It's not just that I'm a woman of color running for office,' she says. 'It's the way that I ran. It's the way that my identity formed my methods. Because if I was still a woman of color, but I was playing by their playbook, I'm convinced I would've gotten squashed. What the people on this campaign accomplished was groundbreaking on so many levels.' She checks off all the things that were 'supposed' to happen to her. 'Nobody ever wins the first time they run for office. Nobody's ever supposed to win their first bid for office. Nobody's ever supposed to win without taking lobbyists' money, no one's ever supposed to defeat an incumbent, no one's ever supposed to run a grassroots campaign without running any ads on television,' she rattles them off. 'We did all of those things.'" • Very hopeful, which is nice.

KS-04: "Bernie Sanders rally outgrows Orpheum, moved to Century II" [Wichita Eagle]. "A Friday political rally featuring former Democratic presidential contender Bernie Sanders and rising progressive star Alexandria Ocasio-Cortez has been moved to the Century II Convention and Performing Arts Center [capacity 5,000] after rapidly outgrowing its original venue at the Orpheum [capacity 1,400]. Sanders and Ocasio-Cortez are coming to Wichita to stump for Democratic congressional candidate James Thompson." • Readers, if any of you, please report!

KS-04: "To Combat 'Political Malpractice' of Democrats in the Midwest, Sanders and Ocasio-Cortez Joining Forces to Boost Progressive Agenda in Kansas" [Common Dreams]. "'I've believed for years that the Democratic Party has committed political malpractice by writing off half the states in this country,' said Sanders. 'They've got to fight for every state in this country.'"

WS-01: "Questions raised about payment made by lawyer to Randy Bryce's ex-girlfriend" [Journal-Sentinel]. "Congressional candidate Randy Bryce owed money to his ex-girlfriend for more than a decade. That debt — which totaled about $4,200 by late last year — has since been paid. What's unclear is exactly who paid it." • Cathy Myers does seem to be hanging around…
New Cold War
Thread on the latest gaslighting episode on McFaul. Worth a read:

OK so a lot of misdirected attention on the Russian request to "arrest/question former US ambassador to Russia McFaul" — perhaps worth a quick thread

— Pwn All The Things (@pwnallthethings) July 18, 2018

In short form, the Russians are trying to send a signal. However, the liberal Democrats are yammering so loudly that the Trump administration may not hear it, even if they were competent to receive and decode it, which is unlikely.

Justin Armash on Helsinki; thread:

A thread for my fellow libertarians on the #HelsinkiSummit:

— Justin Amash (@justinamash) July 19, 2018
The Liberal Democrats Have Lost Their Minds
Neera Tanden with a clenched fist power move:

@neeratanden always on the front lines of what is absolute shit about modern Democrats. pic.twitter.com/IAAQQIf5Ld

— Kamala Harris is a Cop (@BethLynch2020) July 18, 2018

And if that was PhotoShopped, this one was too:

.@NeeraTanden got a rockstar reception at #OccupyLafayettePark! pic.twitter.com/3b2BLOAOvO

— Matt Rogers (@Politidope) July 17, 2018

The sign reads: "I hope they used condoms when Trump took it up the ass from Putin." OK, we get it. Being gay means you're weak. A strange message from liberal Democrats, but as Obama points out, these are "strange and uncertain times." Frankly, I'm baffled. Is it stupidity, or calcuation? But if it's calculation, and the liberals really want to own the conservatives on this, my thought is that Neera could have some of her wealthy supporters fund some Astroturf groups. "Faggots for Putin," say. Or "Trump's Gay Agenda." Idea:

Maybe The World's Greatest Newspaoer could run some Op-Eds from them. After Louise Mensch, why not?

I figured there was a 50/50 chance the @nytopinion would apologize—or at least in some way acknowledge the many complaints about their homophobic garbage. Three days later…nothing…still up… #WeSeeYou ? pic.twitter.com/IkTilpCvim

— Scott Wooledge ? (@Clarknt67) July 19, 2018

"How Russia Conquered America — Without Firing a Bullet" [Umar Haque]. "Everyone had lost faith in the system. The urbans dropped out of civic life entirely. The rurals attached themselves to civic life with a vengeance — but only for a perverse purpose — to destroy the very government that had failed them." • The prose is less deranged than the headline, but still a trifle… schematic. For example, if the "urbans" had dropped out of civic life, brunch would still be a viable business model.
Obama Legacy
All in the framing (2):

Hypothesis: winning the presidency and a filibuster proof majority amid a disastrous war and financial crisis, only to then promptly lose Congress, the White House and most statehouses — this qualifies as the most epic self-own in modern American history.

Discuss.

— David Sirota (@davidsirota) July 18, 2018
Realignment and Legitimacy
"Michelle Obama wades into the midterms" [Politico]. "Michelle Obama is jumping into the 2018 campaigns with a voter registration initiative that will be strictly nonpartisan — exciting and frustrating top Democrats who'd like the popular former first lady to actively campaign for candidates." • So Michelle is "wading" in a thoroughly bipartisan matter, doing — 110 days before the election — what ought to be done as a core party function 24/7/365. But then the liberal Democrats don't really want to enfrancise more voters, do they?

"Inside the Democratic Party: Major changes ahead as Unity Reform Commission proposal moves forward" [Daily Kos]. • I read this twice. I couldn't understand it.

"A Critical Factor In 2020: Democrats Make Significant Cut To Caucus States" [Buzzfeed]. "By next year, Democrats could see the number of caucus states cut in half. Four states have already moved from a caucus system to a traditional primary: Maine, Minnesota, Colorado, and, as of last month, Idaho made the switch. Party officials say two more states — Nebraska and Washington — are now considering the same change." • I don't think much of caucuses. But the Democrats have also eliminated a path for insurgent campaigns. Not a coincidence.

Thomas Frank on "The Travails of Centrism":

One of the best things about Frank is that he's very funny…
Stats Watch
Leading Indicators, June 2018: "June was a month of broad strength for the index of leading economic indicators" [Econoday]. "Building permits are the only weakness with the new orders index of the ISM manufacturing report the leading strength in a report that points to steady economic growth ahead." But: "Because of the significant backward revisions, I do not trust this index" [EconIntersect].
Philadelphia Fed Business Outlook Survey, July 2018: "Philadelphia Fed Business Outlook Survey" [Econoday]. "The sharpest rise in input costs since July 2008 — and no doubt tariff related — leads an overheated Philly Fed report for July." And: "Consider this a stronger report than last month as key elements significantly improved" [EconIntersect].
Jobless Claims, week of July 14, 2018: "The labor market keeps tightening as initial jobless claims fell" [Econoday]. "Timing and related adjustments in the statistics for summer retooling shutdowns in the auto sector are always wildcards at this time of year, yet the signal from this report is nevertheless very clear: demand for labor is unusually strong."
The Bezzle: "Musk Enlisted Sierra Club to Deflect Flak Over GOP Donation" [Bloomberg]. • Unsurprising. See NC on the Sierra Club.
Supply Chain: "Strikes, Boycotts, and Outages Mar Amazon Prime Day" [Wired]. • There's that complex and very vulnerable supply chain again…
Five Horsemen: "It's another day without sunshine for the Fab Five, all mildly down at late morning" [Hat Tip, Jim Haygood].
NakedCap Mania-Panic Index: "Yesterday's modest market rally raised the mania-panic index to 60 (complacency) as the put-call ratio receded to a less worried 0.85" [Hat Tip, Jim Haygood]. (The NakedCap mania-panic index is an equally-weighted average of seven technical indicators derived from stock indexes, volatility (VIX), Treasuries, junk bonds, equity options, and internal measures of new highs vs new lows and up volume vs down volume … each converted to a scale of 0 to 100 before averaging, using thirty years of history for five of the seven series.)
Water
"Who will control PWSA? A public hearing will tackle governance" [Post-Gazette]. • "Governance," by which we mean privatization.
Health Care
"CMS plots path forward for Kentucky work requirements after court setback" [Politico]. "The Trump administration is redoubling efforts to allow Kentucky to impose controversial Medicaid work requirements after a federal court halted its attempt to overhaul the safety-net program three weeks ago. CMS plans to announce that it will open a new 30-day federal comment period on the Kentucky plan — allowing the administration to potentially show it's addressing the court's concerns…. While the state's bid already went through a similar process last year and was approved in January, Trump administration lawyers are said to be confident that the strategy will allow them to surmount a federal judge's misgivings, although advocates and external observers have doubts. Federal health officials have approved Medicaid work requirements in three other states. Arkansas' program is already in effect, and officials remain confident that Indiana and New Hampshire's will move forward." • I believe that social welfare functions in Prussia were handled by the Police. That seems to be where we're headed….
MMT
"A Job Guarantee vs a Universal Basic Income" (podcast) [The MMT Podcast].
Twenty years of schoolin' and they put you on the day shift:
It's happening. https://t.co/zLhO2tgVC5 pic.twitter.com/ZDXqkFfhko

— Stephanie Kelton (@StephanieKelton) July 14, 2018
But if you think that's dumb or even wrong, MMT University might be a good place to go to get a grasp on the facts of life (at least about money).
Thread:
The concerted effort to police the boundaries of economics by ostentatiously excluding MMT is highly interesting as an observation on the history of economics as a discipline. /1

— Marshall Steinbaum ? (@Econ_Marshall) July 16, 2018
It's almost like "merit" doesn't have a lot to do with the "meritocracy." Of course, "merit" can be defined in various ways…. s
AOC gets it:
Ever notice how the "how do you pay for it" argument is selectively employed against working class benefits?

FT: "For those who make politically motivated forecasts of doom for US fiscal health, it may be their own credibility that ends up paying a price."https://t.co/UW8qH1tld5

— Alexandria Ocasio-Cortez (@Ocasio2018) July 14, 2018
Our Famously Free Press
"Too much bad news can make you sick" [CNN]. "With the surge of technology, social media and a 24-hour news cycle, exposure to traumatic events has rapidly increased over the past few decades, as well. According to a survey conducted by Pew in 2015, '65% of adults now use social networking sites — a nearly tenfold jump in the past decade.' Much of the public's news consumption occurs on these digital platforms…. Our brains are hardwired to process stress relating to trauma by entering what is known as "fight, flight, freeze" mode before returning to a restful state, explained Susanne Babbel, a psychotherapist specializing in trauma recovery. However, constant exposure to trauma can derail our ability to cope healthily and hinder our ability to return to a relaxed state…. Chronic levels of stress can have myriad physical manifestations such as headaches, muscle tension or pain, stomach problems, anxiety and sleep issues."
"On a big story like the Helsinki Trump/Putin summit, Google News' algorithm isn't up to the task" [Nieman Labs] • So I'm not the only one. The issue is that all four stories appearing up top as part of the current gaslighting episode were derived from the same FOX story. But the issue isn't FOX at all; that's only a trigger or story hook. The real issue is that Google's algorithm — which must be very stupid indeed — is unable to recognize that some stories are similar, and adjust the user interface accordingly. Hence link after endless link to the same AP copy from different venues, the only difference being that the headline differs. Then throw crapification into the mix.
Black Injustice Tipping Point
I don't understand how this can be:
Local Democrats have absolutely failed the family of Eric Garner. It's been FOUR YEARS since his death. No justice. https://t.co/pQjckFGyu6

— Shaun King (@ShaunKing) July 19, 2018
Look on the bright side, though. At least Neera isn't putting both Trump and Putin in blackface and calling them "niggers." As a society, we have truly advanced.
"Persons outside the Law" [London Review of Books]. "William, following the well-worn pattern of white colonists, began a relationship with an enslaved woman, Countess. He named their first child Eliza, after his mother. In 1807 he returned to Scotland, having persuaded the man who owned Countess to sell her to him for £120, but leaving her and Eliza behind. He borrowed £2000 from his father to try to establish his own plantation. On his return to Berbice he set up house with Countess, whom he renamed Harriot, after his sister. Their second child, Matilda, was named for his favourite cousin and a son after his father, Allan. William freed Harriot and her children, moved, he recorded, by affection for them. His business did not prosper and he was soon heavily in debt. He contemplated marrying his main creditor's daughter, but she was of mixed heritage and he could not swallow the idea of a mulatto wife. He surrendered his estate and sailed for Scotland with the two girls, leaving Harriot and their son in Berbice. Allan was to follow when he was a little older. Harriot/Countess, whose African name we do not know, would have to find her own way like many other women abandoned by white men. Affection had its limits. Her motherless children would have to deal with their new environment."
"From Slavery To Freedom" [Frederick Douglass, The Sun]. From 1845, still germane.
Class Warfare
"Food-Stamp Use Is Still at Recession-Era Levels Despite Job Gains" [Bloomberg]. "Judging by the number of Americans on food stamps, it doesn't feel like one of the best job markets in almost a half century and the second-longest economic expansion on record. Enrollment in the Supplemental Nutrition Assistance Program, better known as food stamps, fell to 39.6 million in April, the most recent government data show. That's down from a record 47.8 million in 2012, but as a share of the population it's just back to where it was as the economy emerged from the longest and deepest downturn since the Great Depression." • Best economy ever…
News of The Wired
"Writing Prescriptions to Play Outdoors" [New York Times].
"Everything Changed When My Trip To Get New Glasses Revealed A Shocking Diagnosis" [HuffPo]. "Even though glaucoma cannot really be prevented, I've been known to chastise my family and friends when they don't go see their eye doctors regularly, even if they don't wear glasses. Had I gone a year sooner, I might have had an extra five years of eyesight." • I hate this kind of story, because what's the point of getting a diagnosis if you can't afford the treatment? Still, catching glaucoma early is a lot cheaper to deal with than catching glaucoma late.
"The Living New Deal" (map) [The Living New Deal]. "New Deal projects covered the whole country. No city, town, or rural area was left untouched. Hundreds of thousands of roads, schools, theaters, libraries, hospitals, post offices, courthouses, airports, parks, forests, gardens, and artworks were created in a single decade, 1933-42, by our parents and grandparents. Not only did they improve and modernize the country back then, most are still in use today. The long-term payoff from this public investment helped propel American economic growth after the Second World War and is still working for America today. The Living New Deal's purpose is to make that enduring legacy visible."
* * *
Readers, feel free to contact me at lambert [UNDERSCORE] strether [DOT] corrente [AT] yahoo [DOT] com, with (a) links, and even better (b) sources I should curate regularly, (c) how to send me a check if you are allergic to PayPal, and (d) to find out how to send me images of plants. Vegetables are fine! Fungi are deemed to be honorary plants! If you want your handle to appear as a credit, please place it at the start of your mail in parentheses: (thus). Otherwise, I will anonymize by using your initials. See the previous Water Cooler (with plant) here. Today's plant (via):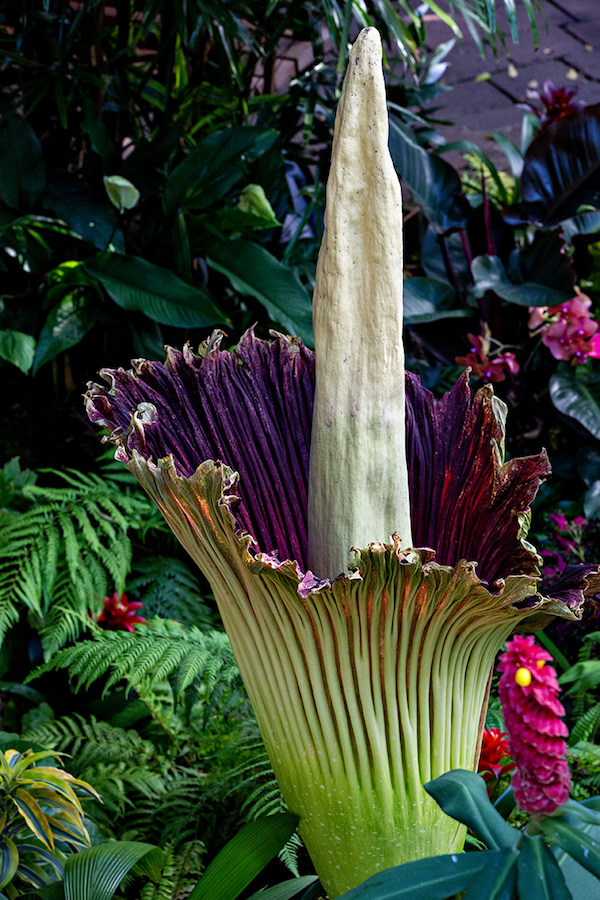 It's an Amorphophallus titanum.
* * *
Readers: Water Cooler is a standalone entity not covered by the annual NC fundraiser. So do feel free to make a contribution today or any day. Here is why: Regular positive feedback both makes me feel good and lets me know I'm on the right track with coverage. When I get no donations for five or ten days I get worried. More tangibly, a constant trickle of small donations helps me with expenses, and I factor that trickle in when setting fundraising goals. So if you see something you especially appreciate, do feel free to click the hat!

To give more, click on the arrow heads to the right of the amount.
If you hate PayPal — even though you can use a credit card or debit card on PayPal — you can email me at lambert [UNDERSCORE] strether [DOT] corrente [AT] yahoo [DOT] com, and I will give you directions on how to send a check.