By Lambert Strether of Corrente.
Patient readers, I became engrossed in writing a mini-essay about William Gibson. I'll pull a few more items off the shelves in short order. –lambert UPDATE 2:35PM All done!
Trade
"Trump Says He's 'Ready To Go' With $500 Billion in Tariffs on All China Imports" [Bloomberg]. "President Donald Trump said he's "ready to go" with tariffs on $500 billion of Chinese imports, saying the U.S. has been taken advantage of for too long. 'I'm not doing this for politics. I'm doing this to do the right thing for our country," Trump said in a CNBC interview aired Friday. 'We are being taken advantage of and I don't like it.' The $500 billion figure is about the value of Chinese goods imported into the U.S. last year." • If goods really are backed up on China's docks, then they're backed on on the factory loading docks too. Then come the layoffs. So perhaps "making China scream" will work, if the Chinese worker screams before the American consumer.
UPDATE "Amodei, chamber express concerns about Trump's tariffs" [Nevada Independent]. "'We're willing to give the president a little bit of time to do whatever it is he's doing, but…there is definitely some antsiness out there,' [Rep. Mark Amodei] told a delegation from the Las Vegas Chamber of Commerce visiting Washington, D.C…. Hugh Anderson, chairman of the chamber's Government Affairs Committee and a managing director with investment firm HighTower Las Vegas, said the general concern is that there doesn't seem to be a plan on tariffs. 'Nobody seems to be very clear on what the strategy is. Is this just an attention-getting proposition? Is it going to be carried through?' he said. 'But the ramifications are already hitting, because businesses can't plan.'" • The Nevada Independent is John Ralston's venue — he of the fake chair-throwing story at the Nevada caucuses — so who knows, but presumably even Ralston would quote these sources correctly.
Politics
2020
UPDATE "Eric Holder for President? Obama's Former Attorney General 'Seriously Considering' Running in 2020" [HuffPo]. "Former Our President Barack Obama's play cousin, Eric Holder, is reportedly strongly considering running for the White House in 2020." • Don't give up your day job, Eric. Though I suppose Biden/Holder might resonate with some.
2018
"Three Republican Governors Face Increasingly Tough Election Contests" [Larry Sabato's Crystal Ball]. "Despite the bad news for the GOP in our ratings, we will add an important caveat to close: The RGA continues to have a substantial money edge on its rival, the Democratic Governors Association. Granted, the RGA is defending a lot of ground — Republicans already control 26 of the 36 governorships on the ballot this year — but the committee has the financial wherewithal to move the needle and potentially snatch victory from the jaws of defeat in some close races. The RGA's deep pockets are always a factor to consider in close gubernatorial races."

UPDATE KS-03: "But Ocasio-Cortez and Sanders have more expansive aims than turning the 3rd blue. They want to prove their theory of the progressive case" [The Intercept]. "On Friday, [Sanders and AOC] will rally for Brent Welder, a former labor lawyer running on a platform of "Medicare for All," a $15 an hour minimum wage, tuition-free public college, and reducing big money's influence in politics. 'Brent can win, he can win,' Ocasio-Cortez said on The Dig, a podcast from Jacobin magazine…. Indeed, a February poll of the district gave Welder a 7-point lead against Yoder, with broad support for many of Welder's ideas. 'People say, 'How can you win in Kansas on progressive policies?'' Welder told The Intercept in an interview. 'I've learned that the only way to win in Kansas is on progressive policies.'" • Or with oodles of outside money: "To make their case, however, they'll have to get past EMILY's List first. Last week, the group's Super PAC Women Vote! dropped $400,000 on an ad to support Sharice Davids, a lesbian, Native American, amateur mixed martial arts fighter who was a fellow in the Obama administration." Wowsers, Davids ticks a bunch of boxes doesn't she? I especially like the way that "mixed martial arts fighter" ties in with the liberal Democrat "fighting for" trope…
New Cold War
"Lunatic Politics (Part 2) – It's Becoming Impossible to Have a Conversation" [Liberty Blitzkreig]. " Russiagate has morphed into a creepy D.C. establishment religion where merely demanding evidence for the wild claims being made gets you labeled a traitor or Putin agent. Ironically, average Americans don't care about the issue [according to the Gallup poll cited]…. One of the more discouraging and sad parts of the current environment is watching many of Trump's opponents, who define themselves by being ethical, completely toss this aside in their furor at Trump." • That's not a bug. It's a feature.

"Americans have forgotten what 'treason' actually means — and how it can be abused" [NBC]. From February, still germane: "The Founders went out of their way to define treason narrowly because they knew how it had been repeatedly abused in the past…. For much of the pre-revolutionary period in England, the accusation was a means of suppressing political dissent and punishing political opponents for [trivial] crimes." • Indeed.

Lambert here: Liberal Democrats seem to have invested the "intelligence community" with a sort of lèse majesté, no doubt appropriate for other nations but odd in our own. Unless you make the assumption that a ruling meritocracy and democracy are in some way incompatible, of course. One might speculate that liberals are in love with the complexity of "the secret world," as Le Carré calls it, in the same way that, as Thomas Frank points out, they're in love with the complexities of Dodd-Frank or ObamaCare. Liberal spy-humping would then be the fun-house mirror equivalent of conservative gun-humping. Of course, the militarism implicit in gun-humping can be rarified and commodified. William Gibson, in Zero History describes just that: "Young men who dress to feel they'll be mistaken for having special capability… It's an obsession with the idea not just of the right stuff, but of the special stuff. Equipment fetishism. The costume and semiotics of achingly elite police and military units. Intense desire to possess same, of course, and in turn to be associated with that world. With its competence, its cocksure exclusivity." Revise as follows: "semiotics of achingly elite police and military intelligence units," and you have a neat formula to explain the liberal elevation of "intelligence commmunity" apparatchiks like Clapper (perjurer), Brennan (torturer), and Mueller (entrapment artist) to the #Resistance pantheon; there are, no doubt, blogs devoted to "equipment" intel fetishism, and I would imagine that access journalists are especially vulnerable to being "turned" as assets. If you read Gibson's Bigend Trilogy through this lens, you'll see that spy-humping is pervasive, both in plot and theme. It's not called out explicitly; Gibson's readers, one speculates, would balk at self-identification as spy-humpers, even as they distance themselves from gun-humpers ("young men who dress to feel"). Gibson's next novel will be an alternative future where Clinton won, so it will be interesting to see that play out in plot and theme terms.

"Here's What Americans Made Of Trump's Meeting With Putin, According To The Polls" [Ariel Edwards-Levy, HuffPo]. "Just over half the public currently says the Trump administration's relationship with Russia is a legitimate issue… Opinions, as ever, are deeply politicized. In the HuffPost/YouGov poll, 83 percent of Trump voters approve of Trump's performance in Helsinki, compared to the 9 percent approval he garners among voters who supported Hillary Clinton in the 2016 election. Non-voters and third-party voters narrowly approve, 35 percent to 26 percent, with a 40 percent plurality undecided." The story includes the following chart:

Kudos to Edwards-Levy for including a link to the data; alert reader Dan Kloke reworked the chart, with better colors, and bar heights that correspond to population (for 2016 voters):

Kloke comments:

The point is that although the polling universe's respective group volume proportions (of self-reported HRC, DJT, Other, and non-voters in the 2016 Presidential) don't exactly match the national demographics, they're in the ball-park, and the lower self-reporting for DJT voters may suggest some buyer's remorse or social shame [Hat tip: MyLessThanPrimeBeef, q.v.]. Also, it shows how much more extreme the differences in perception/position are between the HRC Dems and pretty much everybody else. Charts comparing in-group percentages with each other don't show group proportions.

Naturally HuffPo would prefer to let its readers feel they are more mainstream, but maybe they're than they realize. A little self-awareness can go a long way especially during strategic/tactical planning.

I don't think liberal Democrats are in their self-awareness space right now, unfortunately for everybody.

UPDATE Solid jab:

Brian Wilson just made a corrected title change. pic.twitter.com/UjMwTi8vwT

— Eric Nelson (@Oogabooga) July 19, 2018
The Liberal Democrats Have Lost Their Minds
"God Bless the 'Deep State'" [Eugene Robinson, WaPo]. "Before this hare-brained and reckless administration is history, the nation will have cause to celebrate the public servants derided by Trumpists as the supposed 'deep state.'" The term itself is propaganda, intended to cast a sinister light upon men and women whom Trump and his minions find annoyingly knowledgeable and experienced. They are not participants in any kind of dark conspiracy. Rather, they are feared and loathed by the president and his wrecking crew of know-nothings because they have spent years, often decades, mastering the details of foreign and domestic policy. God bless them. With a supine Congress unwilling to play the role it is assigned by the Constitution, the 'deep state' stands between us and the abyss." • I don't want to sound like a nihilist, and I don't accept the "deep state" as a tool for analysis; but this is an excellent example of spy-humping. I mean, these "Masters of Detail" are the ones who brought us Iraq, right? And Obama's disposition matrix?

UPDATE #russiarussiarussia:

60 minutes of the March 9th episode of @maddow condensed to just the hundreds of Russia references.#russiarussiarussia pic.twitter.com/ZDaXrQhRyn

— Maya (@mayavada) March 10, 2017
2016 Post Mortem
UPDATE Dear me:

To every woman who threw up on election night, who sobbed on the bathroom floor, who dry heaved trying to imagine how to tell her kids what had happened, who couldn't stop physically shaking, who felt the horror of what was to come, I say this:

WE KNEW. WE KNEW. WE KNEW.

— ElizabethCMcLaughlin (@ECMcLaughlin) July 19, 2018
Realignment and Legitimacy
"Liberal Blind Spots Are Hiding the Truth About 'Trump Country'" [Sarah Smarsh, New York Times] (Smarsh; she has the New Yorker imprimatur.) "Stories dispelling the persistent notion that bigotry is the sole province of 'uneducated' people in derided 'flyover' states are right before our eyes: A white man caught on camera assaulting a black man at a white-supremacist rally last August in Charlottesville, Va., was recently identified as a California engineer. This year, a white male lawyer berated restaurant workers for speaking Spanish in New York City. A white, female, Stanford-educated chemical engineer called the Oakland, Calif., police on a family for, it would appear, barbecuing while black…. To find a more accurate vision of these United States, we must resist pat narratives about any group — including the working class on whom our current political situation is most often pinned. The greatest con of 2016 was not persuading a white laborer to vote for a nasty billionaire with soft hands. Rather, it was persuading a watchdog press to cast every working-class American in the same mold" • Worth a read…

UPDATE "U.S. Treasury moves to protect identities of 'dark money' political donors" [Reuters]. "The U.S. Treasury said on Monday that it will no longer require certain tax-exempt organizations including politically active nonprofit groups, such as the National Rifle Association and Planned Parenthood, to identify their financial donors to U.S. tax authorities." • Ka-ching.
Stats Watch
There are no official stats of note today.
UPDATE Employment Situation: "BLS: Unemployment Rates Lower in 9 states in June, Oregon at New Low" [Calculated Risk]. "At the worst of the employment recession, there were 11 states with an unemployment rate at or above 11%. Currently only one state, Alaska, has an unemployment rate at or above 7% (light blue); And only Alaska is above 6% (dark blue)."
Shipping: "Big truckers to provide 50,000 jobs over next five years, ATA pledges" [DC Velocity]. "The American Trucking Associations (ATA) said today that the trucking industry will create 50,000 jobs over the next five years as part of the Trump administration's initiative to provide career opportunities for 500,000 Americans."
The Bezzle: "Electric scooters on collision course with pedestrians and lawmakers" [CNBC]. "The problem is that pedestrians walk 3-4 miles per hour, or slower. This means scooters are traveling four times as fast. If there is a clear path, the riders are going at full speed, because that is where the fun and thrills are. But considering the speed, weight of the devices and weight of the rider (sometimes two riders), the result is a dangerous force. In a collision, the pedestrian will always be the loser. Putting these speeding motorized vehicles alongside pedestrians is a disaster waiting to happen." • Another example of "permissionless innovation." When will the glibertarian greedheads and morons in Silicon Valley realize that "it's better to ask for forgiveness than permission" applies only inside the firm, and not in public spaces? Perhaps scooter riders should be forced to purchase collision insurance when they reserve a scooter on their phones.
Honey for the Bears: "Sounding the Alarm: Now Is The Time to Be a Cockroach" [Erica.biz]. "Be a cockroach, right now, while everyone else is still getting wasted at the party. Warren Buffet famously said, 'Be fearful when others are greedy and greedy when others are fearful.' Now is most certainly the time to rein in." • Include this not as any sort of call — I am super unqualified for that — but because of the vivid metaphor, and because I too went through two tech downturns, and both of them did me a lot of damage (though I have ended up here in my garden, so there are positives, no matter how things might be considered to have netted out).
The Fed: "The New York Fed DSGE Model Forecast–July 2018" [The New York Federal Reserve]. "The model attributes the stronger growth in 2018 to a more buoyant environment for investment. The higher inflation is by and large attributed to price markup shocks."
The Fed: "Fed Chair Jay Powell: We're 'independent of political considerations'" [MarketPlace].
Five Horsemen: "Among the Five Horsemen, Microsoft is at a record high today after a favorable earnings report. Facebook also is at a record high" [Hat Tip, Jim Haygood].
NakedCap Mania-Panic Index: "Among the Five Horsemen, Microsoft is at a record high today after a favorable earnings report. Facebook also is at a record high" [Hat Tip, Jim Haygood]. (The NakedCap mania-panic index is an equally-weighted average of seven technical indicators derived from stock indexes, volatility (VIX), Treasuries, junk bonds, equity options, and internal measures of new highs vs new lows and up volume vs down volume … each converted to a scale of 0 to 100 before averaging, using thirty years of history for five of the seven series.)
Feduciary: "After a bounce last week, the Federal Reserve's new short-term yield spread fell back to 0.81%, leaving room for three more rate hikes before inversion. At 0.26%, the traditional 2y10y yield spread allows but one more hike before inversion looms" [Hat Tip, Jim Haygood]. (Review of Fed Indicators, Thursday closing values.)
Class Warfare
"Uber drivers "employees" for unemployment purposes, NY labor board says" [Ars Technica]. "For years, Uber has fought tooth and nail against having its drivers be classified as employees, and not only in the United States—Uber lost a similar case in 2016 in the United Kingdom, and a major case on this exact issue is currently pending before the 9th US Circuit Court of Appeals in San Francisco. By having significantly fewer employees than it otherwise would, Uber likely saves millions of dollars each year by not paying for drivers' health, retirement, unemployment, or other benefits that typically come with full-time employment."
News of The Wired
"Wilde about Paris: the sex, drink and liberation of Oscar Wilde's 'lost' years" [Prospect]. "'The keynote of Wilde's exile,' writes [biographer Nicholas Frankel], was 'laughter.' Even if that's overdoing it, he marshals some good evidence. Sources are dug up, accounts listed. Much of Wilde's correspondence with his friend Ross was light-hearted and tongue-in-cheek; his letters are laced with bon mots: 'Laughter is the primeval attitude towards life,' he wrote, 'a mode of approach that survives only in artists and criminals.' Wilde, of course, was both. And what of the work? There was one piece of note in these years: The Ballad of Reading Gaol, which Frankel describes as 'arguably the best and most important of Wilde's poems.' Wilde also prepared some other of his works for publication, but the prolific years of the early 1890s, during which he produced four plays and one novel, were a distant memory." • Hmm. Is happiness more important than "the work"?
"DARPA Wants Your Insect-Scale Robots for a Micro-Olympics" [DARPA]. "Yesterday, DARPA announced a new program called SHRIMP: SHort-Range Independent Microrobotic Platforms. The goal is 'to develop and demonstrate multi-functional micro-to-milli robotic platforms for use in natural and critical disaster scenarios.'" • Yeah, sure. Surveillance and targeted advertising, more likely, a la Philip K. Dick's Theodorus Nitz. From The Simulacra:
Something sizzled to the right of him. A commercial, made by Theodorus Nitz, the worst house of all, had attached itself to his car.

"Get off," he warned it. But the commercial, well-adhered, began to crawl, buffeted by the wind, toward the door and the entrance crack. It would soon have squeezed in and would be haranguing him in the cranky, garbagey fashion of the Nitz advertisements.

He could, as it came through the crack, kill it. It was alive, terribly mortal: the ad agencies, like nature, squandered hordes of them.
* * *
Readers, feel free to contact me at lambert [UNDERSCORE] strether [DOT] corrente [AT] yahoo [DOT] com, with (a) links, and even better (b) sources I should curate regularly, (c) how to send me a check if you are allergic to PayPal, and (d) to find out how to send me images of plants. Vegetables are fine! Fungi are deemed to be honorary plants! If you want your handle to appear as a credit, please place it at the start of your mail in parentheses: (thus). Otherwise, I will anonymize by using your initials. See the previous Water Cooler (with plant) here. Today's plant (AW):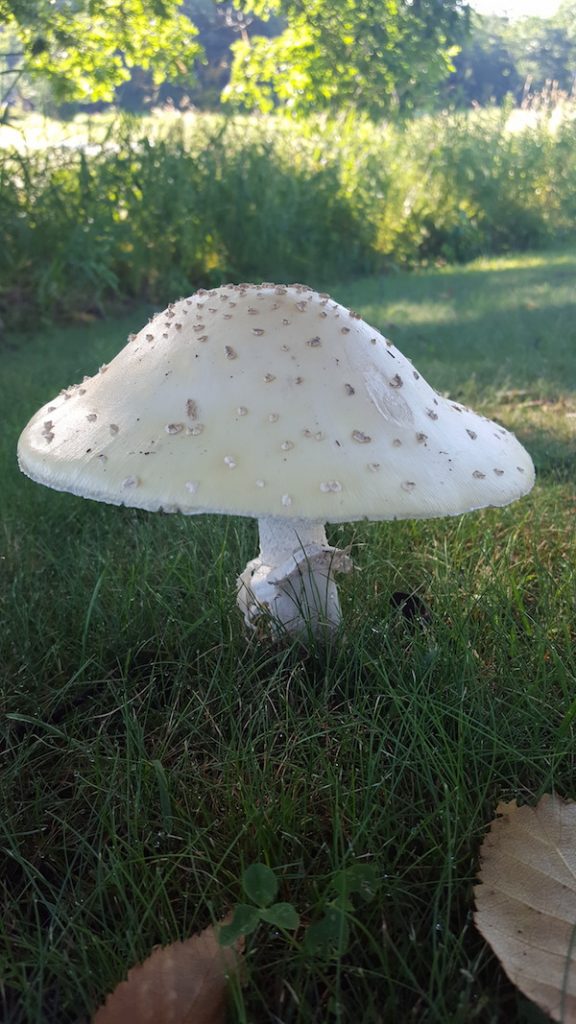 AW writes: "From my yard in central ME this morning. I can't identify, but if you feel its worthy to post, maybe you or one of your astute readers can. I found NC in approximately 2009 when I was looking for answers to the financial crisis and have been a loyal daily reader ever since. Love the site." Thank you for the fungus, the query, and the kind words!
Holy moly, a wasp the size of a B-52 just circled round my desk; it went from flower to flower and then accelerated off into the distance, so perhaps they work a route for their nectar, like butterflies and hummingbirds do.
* * *
Readers: Water Cooler is a standalone entity not covered by the annual NC fundraiser. So do feel free to make a contribution today or any day. Here is why: Regular positive feedback both makes me feel good and lets me know I'm on the right track with coverage. When I get no donations for five or ten days I get worried. More tangibly, a constant trickle of small donations helps me with expenses, and I factor that trickle in when setting fundraising goals. So if you see something you especially appreciate, do feel free to click the hat!

To give more, click on the arrow heads to the right of the amount.
If you hate PayPal — even though you can use a credit card or debit card on PayPal — you can email me at lambert [UNDERSCORE] strether [DOT] corrente [AT] yahoo [DOT] com, and I will give you directions on how to send a check.