By Lambert Strether of Corrente.
Trade
"Trump to offer emergency aid to farmers hurt by trade disputes" [Bloomberg] • The obvious riposte, and just in time for the midterms.
"Parsing China's Bogus Response to the Latest Round of U.S. Tariffs" [IndustryWeek]. "The bottom-line analysis of China's recent statement is that part of this trade war, which China launched two decades ago, will be won or lost in the court of global opinion. The media, policymakers and citizens around the world should not fall for the Chinese spin that it is the victim. Its violations of the letter and spirt of WTO's rules are clear for all to see. If China does not act more like a legitimate WTO member, then the integrity of the global trading system will suffer the consequences." • Opinion, obviously. But it got me thinking tangentially. What if China really is more fragile than we think? Thinking back to Links about mild bank runs, and adulterated Chinese vitamins and baby milk (and perhaps, adulterated concrete in all those building projects). Not signs of health, though the counter-argument would be that all these stories are rather Victorian, and the Brits and their empire did rather well for themselves for some time, despite all the alum in working class bread. Nevertheless, this chart of Chinese GDP: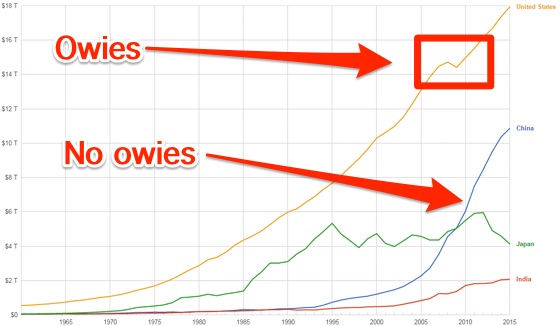 Speculating very freely now: Has China experienced a real, brutal downturn in the last few decades? If not, China might be ripe for a sort of societal (not necessarily financial) Minsky moment, and the Administration playing Jenga with its exports might well bring it on. I realize all of the stats are bad and we know nothing about China, but would any China hands in the commentariat care to chime in?
By Intsokzen at the English language Wikipedia, CC BY-SA 3.0, https://commons.wikimedia.org/w/index.php?curid=3945452
Politics
2020
"Lockheed Martin to Create 8000 New Apprenticeship Opportunities" [Industry Week]. "Marilyn HewHewson,Lockheed Martin's CEO, pledged on July 19 that the company will create 8,000 new apprenticeship opportunities and invest $5 million in vocational and trade programs over the next five years. The was announced as President Donald J. Trump signed an executive order establishing the President's National Council for the American Worker. The president's newly formed council will develop and implement a national workforce strategy to address the growing skills gap in vocational workers' readiness for current jobs and careers of the future." • Too funny. Trump just stole the liberal Democrat "Training!" issue, and how easy it was, too, for some reason. Of course, the program won't come to anything, but that's hardly the point.
2018
"The House Tilts Toward the Democrats" [Larry Sabato's Crystal Ball]. "Democrats are now a little better than 50-50 to win the House. This is the first time this cycle we've gone beyond 50-50 odds on a House turnover. We're making 17 House ratings changes this week, all in favor of the Democrats." • Contrary to my view, FWIW, but I follow Inside Elections handicapping, exactly because they're more conservative; no point calling a Blue Wave* prematurely, especially when liberal Democrat triumphalism distorts all the coverage." NOTE * I've gotta think about that term "Blue Wave." AOC, for example, isn't "Blue" in any sense that the Democrat establishment would accept, or even understand. I mean, the DSA shirts aren't blue, right? More: "It's not that GOP fundraising, in total, was bad: Many vulnerable incumbents had very solid quarters. Rather, it's that Democratic fundraising was extraordinary, with dozens of Democratic candidates turning in blockbuster quarters and outraising their GOP opponents. Money isn't everything, but one expects incumbents to have a clear financial edge on their opponents, and it's not clear that some current GOP members will have even that with several months of buckraking to go before the Nov. 6 election." • The money is important, as Ferguson cogently urges here and here. But do note that this comment shows how practitioners like Sabato, as well as Establishment Democrats, mentally conceive of a "Blue Wave": Ginormous amounts of money from the Donor Class to fund the Air War. That's very different from the "knock on doors" Ground War espoused by AOC and the left generally, even if the outcome is "Blue" seats.

Just gonna say it: if you are throwing your weight behind Bernie 2020, you are virtually ensuring another four years of Trump. You are also getting in bed with the Russians.

Stop it.

— ElizabethCMcLaughlin (@ECMcLaughlin) July 21, 2018

"Fox Business Thinks Ocasio-Cortez Saying Everyone Deserves a Living Wage Is Scary" [GritPost]. • And in a neat example of liberals and conservatives working together against the left:

"Bernie Sanders, Ortiz — uh, Ocasio-Ortiz, in Kansas of all places, where there are at least one marginal House seat, this is self-destructive behavior," [Hillary Clinton pollster Douglas Schoen] said, mispronouncing the candidate's name. "Most Americans who vote in midterm elections are not socialist, don't want socialist policies, and would like to know how we're gonna pay for programs. As attractive as they may seem, we gotta be able to pay."

"Mispronouncing the candidate's name." I don't believe that's accidental (though if it is, it says nothing good about Schoen). We've seen a campaign by liberal Democrats to blue AOC's image, preparatory to redefining her themselves, and this is just another example of that.

"Alexandria Ocasio-Cortez Fires Back at GOP Representative Who Called Her a 'Girl … or Whatever'" [The Cut]. • Presumably the "Girl … or Whatever" is meant to suggest AOC is a lesbian (and so what). But note also how the conservative "whatever" dovetails neatly with "mispronouncing" her name. Both neoliberal parties are working the same schtick.

WV-03:

Richard Ojeda is running in West Virginia on an aggressively left, populist platform. Trump won the district by nearly 50 points. @LarrySabato just moved the House race to a toss up.

This guy could win: https://t.co/kTQMhshpzN

— Ryan Grim (@ryangrim) July 24, 2018
New Cold War
"Why the left needs to wise up to the growing Trump-Russia scandal" [Ryan Cooper, The Week]. • The problem is that there are so many assumptions built into the narrative that the left cannot accept. I'm not sure how to square that circle, but I know that Sanders and the left generally aren't doing it.
Stats Watch
Richmond Fed Manufacturing Index, July 2018: "Manufacturing activity in the Fifth District slowed slightly but remained solidly in expansionary territory" [Econoday]. "Together with other strong regional manufacturing reports, the Fifth District's persistent strength along with price acceleration in July should bolster the case for further tightening by the Fed."
Purchasing Managers' Index Composite Flash, July 2018: "Signaling another month of solid growth for the U.S. economy with services steady" [Econoday]. "High costs and tight labor conditions are of course consistent with unusual strength in demand, underscored by optimism for the year ahead which is above last year's very strong trend."
FHFA House Price Index, May 2018: "Price data in yesterday's existing home sales report showed an uptick but not today's FHFA house price index" [Econoday]. "Though yearly rates are still healthy, they are bound to move lower if monthly rates remain flat. There has not been much punch at all in the nation's housing data during this year's Spring selling season, a negative not only for the nation's home sellers and Realtors but also for second-quarter residential investment."
Commodities: "Whirlpool Sinks With Raw Material Costs Climbing Around the World" [Industry Week]. "The maker of home appliances said rising raw material costs hurt results in three out of four of its regional markets in the second quarter, including North America, Asia and its struggling Europe, Middle East and Africa division. The only region where it didn't cite input-cost inflation was in Latin America, which faced its own problems in the second quarter, including a Brazilian . 'Our annual steel contracts and hedging contracts with our base metals give us some protection but do not insulate us from these more material trends,' Chief Executive Officer Marc Robert Bitzer said on a Tuesday morning conference call." • There's that supply chain fragility again….
Commodities: "Thieves Jump on Cobalt Craze With $10 Million Warehouse Heist" [Bloomberg]. "About 112 metric tons of cobalt was stolen from a warehouse in Rotterdam owned by Vollers Group Gmbh earlier this month, according to a statement from the Minor Metals Trade Association, a U.K.-based industry group. At today's prices, the loot is worth almost $10 million. The explosion in cobalt prices over the past two years has made the metal enticing for crooks…."
Finance: "Amazon a prime threat to fund managers, analysts warn" [Financial News]. "A move by the tech giant Amazon into selling mutual funds would spark a price war that could slash asset managers' profit margins — already under pressure — still further, analysts have warned. Amazon is 'well-placed' to move into selling funds to retail investors, said analysts at the research house Bernstein in a note published on July 24 — thanks to the roughly 100 million people who subscribe to its flagship Amazon Prime service. Edward Houghton, one of Bernstein's senior analysts, added that 'given the industry's profitability, [it] may well be minded to do so.' Amazon could also set up robo-advisory services, the analysts wrote, as Chinese e-commerce giant Alibaba has already done. Robo-advisers provide automated investment advice and direct customers' money toward particular mutual funds. But the Bernstein team said if they were 'hypothetically' advising Amazon on asset management strategy, they would recommend the tech firm steer clear of actually managing money itself. 'The potential revenue would not outweigh the risks to reputation*," they wrote. Nevertheless, a move by Amazon to set up an online fund supermarket could spark a fresh fee war among asset managers." • It's always alll about the fee-fees, isn't it? NOTE * Kidding, right? I would have thought the Crash would have put a stake in the heart of the "reputational damage" thesis. If Goldman Sachs and Citibank are TBTF, what's Amazon? If Lloyd Blankfein can skate away clean, why not Jeff Bezos, who has a house organ of his own in DC?
Banks: "Banks Are Falling Out Of Favor With The Wealthy" [Safe Haven]. "Slowly but surely, cash is moving away from banks as depositors increasingly shift funds to products that pay higher yields. That much has become abundantly clear during the current earnings season whereby the big banks have reported an acceleration in deposit outflows especially from wealthy individuals as interest rates continue rising across the board. … Understandably, the wealthy tend to have plenty of cash sloshing in their bank accounts with about 40 percent holding 10-24 percent of their portfolios in cash; 14 percent hold 25-50 percent and 8 percent hold 50 percent or more of their portfolios in cash. A full 38 percent, however, hold less than 10 percent of their portfolios in cash." • But will there be banks on Mars?
Shipping: "July trucking market off to a slower start" [FreightWaves]. "The July trucking market has started off slow, at least compared to the peak volumes that we saw at the end of the second quarter. The gradual slow down in rejections is evidence that carriers are getting less selective in the freight market versus May and June…. This is a normal July freight pattern that occurs every year. Auto plants shut down in mid summer and shippers take extended vacations. We are seeing this same trend show up in other data sets, like hourly driving utilization."
Shipping: "Cass Freight Index report highlights ongoing strength of freight economy" [Logistics Management]. "The most recent edition of the Cass Freight Index Report from Cass Information Systems continued to point to a very strong freight economy, with both freight shipments and expenditures finished the first half of 2018 in strong fashion."
Shipping: "What's Going on in Trucking and Rail?" [Wolf Street (EM)]. "Transportation – trucking in particular, but also railroads – is an infamously cyclical industry that suffered through the "transportation recession" from 2015 through much of 2016, when the goods-based sector in the US slowed down, inventories were high, and demand from shippers fell sharply. With impeccable timing, it came just after the industry had invested in capacity additions. Excess capacity reigned, and prices fell. Now, once again, euphoric trucking companies are building capacity to meet demand. This has led to record orders for new Class 8 trucks that exceed the capacity of truck manufacturers that two years ago were laying off workers. And so the cyclicality of the business continues." • Same capacity cycle happens at sea. "… But when Quinn the Eskimo gets here, everybody's gonna jump for joy." Or not!
Transportation: "Safety groups call for Senate to add 'commonsense improvements' before passing AV START Act" [Freight Waves]. (AV = Autonomous Vehicle = robot cars (and trucks). • What is wrong with these people? I can't imagine weaker tea than the vacuous — though doubtless [heads nodding] focus-grouped — "common sense"; the gun regulation groups use it too, for pity's sake, and look at how well they're doing. Anyhow, here IMNSHO is the key demand, which is critical: "." The alternative being incompatible data formats, tending toward a system where the robot car makers investigate themselves. I can't imagine anything that would work more against "safety culture" than that. Imagine if Boeing, Airbus, Bombardier, Embraer, Cessna, Gulfstream, and all the legacy manufacturers* all had different and proprietary data formats for their Black Box data! (And for "safety culture," please reread this important material from yesterday's Water Cooler. Yes, it's about the Thai cave rescue but click through anyhow; the lessons are general.) Silicon Valley and safety culture are incompatible, and guess who's leading the robot car charge? NOTE * Aircraft mavens in the readership please hop in and correct me, here!
Transportation: "BlackFly electric ultralight unveiled" [General Aviation News]. "OPENER has unveiled the BlackFly, an ultralight all-electric fixed-wing vertical takeoff and landing (VTOL) aircraft. 'BlackFly is a single-seat Personal Aerial Vehicle (PAV) designed and built for a new world of three-dimensional transportation," company officials said in a prepared release. BlackFly is simple to master and requires no formal licensing in the USA or special skills to operate safely,' officials continued." • Big if true. Dunno about the marketing. "Flies" are vermin, and in Maine, "Black Flies" are especially vicious. And are scooters in the sky necessarily a good thing?
Mr. Market: "Google is a great investor, and Alphabet earnings are showing the results" [Bloomberg]. "Alphabet Inc.'s big earnings beat was partly due to large gains from investments, and not the money it spends on its own company." • Rather like GM and GE going into the finance business?
Five Horsemen: "Well–received earnings at Alphabet have sent Alphabet, Facebook and Microsoft to new record highs" [Hat Tip, Jim Haygood].
NakedCap Mania-Panic Index: "Yesterday's mild market gain raised the mania-panic index to 60 (complacency)" [Hat Tip, Jim Haygood]. (The NakedCap mania-panic index is an equally-weighted average of seven technical indicators derived from stock indexes, volatility (VIX), Treasuries, junk bonds, equity options, and internal measures of new highs vs new lows and up volume vs down volume … each converted to a scale of 0 to 100 before averaging, using thirty years of history for five of the seven series.)
Rapture Index: Closes down 1 on oil prices. "American oil production hits a new high" [Rapture Ready]. Record High, October 10, 2016: 189. Current: 181. Will 175 be the new floor?
Our Famously Free Press
"Why we need local journalism: Look around at how vulnerable we are right now" [New York Daily News]. "No one lives in America, exactly. We all live somewhere in America, like the nearly 9 million of us in New York City. The thing I love about local news is that it doesn't scale. It happens one court hearing or campaign or crime at a time so that you can fairly try and connect political decisions to individual people, the life of the city to that of its inhabitants. Tracking those connections is crucial since the powers that be will always try to arbitrage things, and get their cut. There's only so much to go around, and how it gets spread defines who we are and how we live." • But capital loves scale, and also loves arbitrage. Especially so for Silicon Valley and private equity. So here we are!
"Flemish master Rubens' paintings have fallen foul of Facebook's censors" [It's Nice That]. "Mark Zuckerberg's ever so slightly beleaguered team of censors have found themselves embroiled in one of their most unusual mistakes to date. Posts featuring paintings by Flemish master Peter Paul Rubens have been removed from the site, having fallen foul of strict nudity regulations. The paintings, which were being used on the social media platform as part of a promotion for the Belgian region of Flanders, featured – as you'd expect from the artist responsible for the term 'Rubenesque' – a fair amount of cherubic flesh. It was, so it seems, a display of nudity so wanton that Facebook had no option but to hide the posts. Even if the flesh in question was 400 year old paint splattered on 400 year old canvas." • Just break up Facebook and have family-friendly and normal social media networks. It's insane to have a ginormous monopoly trying to impose a uniform censorship policy on the world. Holy moly.
Big Brother Is Watching You Watch
Handy:
Find out if you are shadowbanned on Twitter https://t.co/8v8idks0k2

If you have been shadowbanned we'll give you your voice back.

If you think Twitters shadowbanning is unacceptable get ready for something new.

A Twitter replacement owned by its users. No more censorship.

— Kim Dotcom (@KimDotcom) July 20, 2018
Class Warfare
"'It's the New Form of Affordable Housing': More People Are Living in Their Cars" [Bloomberg]. "When a homeless count was conducted in Seattle this year, the city realized that more people are living in their car than ever before and 46 percent more than the year prior. In King County, which surrounds Seattle, around 25 percent of the homeless population is reported to live in their vehicles… There's been an explosion in many major cities — from Los Angeles to Portland, Ore., to San Francisco — of 'vehicular homelessness.' The issue is of particular concern on the West Coast." • Best economy ever! Just look at those Blue Cities go! "Optimistic, diverse, dynamic, moving forward"! Which might be true if the back seat of your car was in the front, I suppose…
News of The Wired
The "knob" datatype goes up to 11:
Introducing Rockstar – a proposal for a Turing-complete programming language in which you can write programs that are also 1980s power ballads. https://t.co/E9ggfFkbQE

Here's an idiomatic implementation of FizzBuzz that complies with the draft #rockstar language specification. pic.twitter.com/gDscYiGofO

— Dylan Beattie ?? (@dylanbeattie) July 21, 2018
"Why Is Synaptic Pruning Important for the Developing Brain?" [Scientific American]. "For decades neuroscientists believed that neural pruning ended shortly after birth. But in 1979 the late Peter Huttenlocher, a neurologist at the University of Chicago, demonstrated that this excess production and pruning strategy actually continues for synapses long after birth."
Remembrance of things past:
LV: Cape Kennedy, Fla.
AR: Moon https://t.co/yoIjQ4vlIZ

— Niels Lesniewski (@nielslesniewski) July 20, 2018
This is so "right stuff" I can't hardly stand it.
"Thinner and Lighter Laptops Have Screwed Us All" [MotherBoard]. "Over the last few days we've seen outcry about Apple's new MacBook Pro, which offers an optional top-end i9 processor, and how its performance is throttled to the point of parody as the laptop heats up over time… Apple's insatiable thirst for thinner, which we can see across the iPhone and Mac, appears to have finally caught up with the company. Its new hardware is the most powerful yet, but the form factor betrays that on-paper performance, because the laptop's form factor means it's thermally constrained… Outside of making the MacBook thicker—which is unheard of, for Apple—there's little the company can do to solve this. This isn't the only thermally constrained machine Apple builds, either. After years of silence, Apple admitted in 2017 that the top-end Mac Pro was stagnant because '[…] we designed ourselves into a bit of a thermal corner, if you will.'… The MacBook Pro isn't designed for pro users at all, it's a slick marketing machine designed to sell to the wealthy 'prosumer' that wouldn't notice anyway. That much has been clear since the introduction of the Touch Bar and death of the SD slot—and it's making a ton of money anyway." • Which is frustrating if you're a gamer, but has business consequences if you're a professional (the class of users Apple hates and wants to get rid of). Which allows me to vent: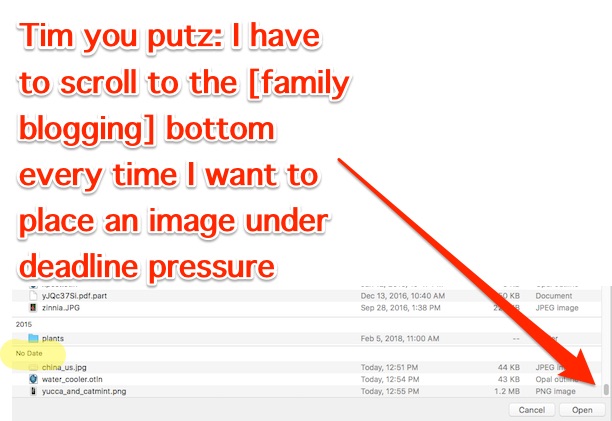 Allow me to explain. I have two-and-one-half hours to write this post, which always includes at least one graphic. For graphics, the workflow is: (1) download, (2) resize/edit/rename, (3) upload to the site, and (4) place in HTML. The above screen shows the problem at step (3): the Mac apparently does not collect the file creation or addition date at the moment the graphic is added to the file system via download. If it were, the graphic file I want to upload would be at the top of the dialog box. Instead, it ends up at the bottom, so that every time I upload a file to the site I have to waste a little time by scrolling to the bottom of the file dialog, which is long, and worse — maybe Apple Marketing will pay attention, here — I get to experience a brief jouissance of toothgrinding frustration as I realize how much Apple hates me, the professional user. At one time, this horrid UI/UX would never have been allowed, but the iOS programmers have been gradually crapifying the professional Mac user's experience, and so has Apple as a whole. Crapified keyboards. Laptops where performance is throttled when the machine overheats, which it inevitably does after twenty or so minutes, because functional heat sinks have been sacrificed on the altar of thinness. What is wrong with you people? But who cares about my time? My laptop is thin! And don't @ me; I've got over twenty years of Mac muscle memory; switching costs are significant. Marketing: Just sell me a Thicc™ laptop!
* * *
Readers, feel free to contact me at lambert [UNDERSCORE] strether [DOT] corrente [AT] yahoo [DOT] com, with (a) links, and even better (b) sources I should curate regularly, (c) how to send me a check if you are allergic to PayPal, and (d) to find out how to send me images of plants. Vegetables are fine! Fungi are deemed to be honorary plants! If you want your handle to appear as a credit, please place it at the start of your mail in parentheses: (thus). Otherwise, I will anonymize by using your initials. See the previous Water Cooler (with plant) here. Today's plant (Aleric):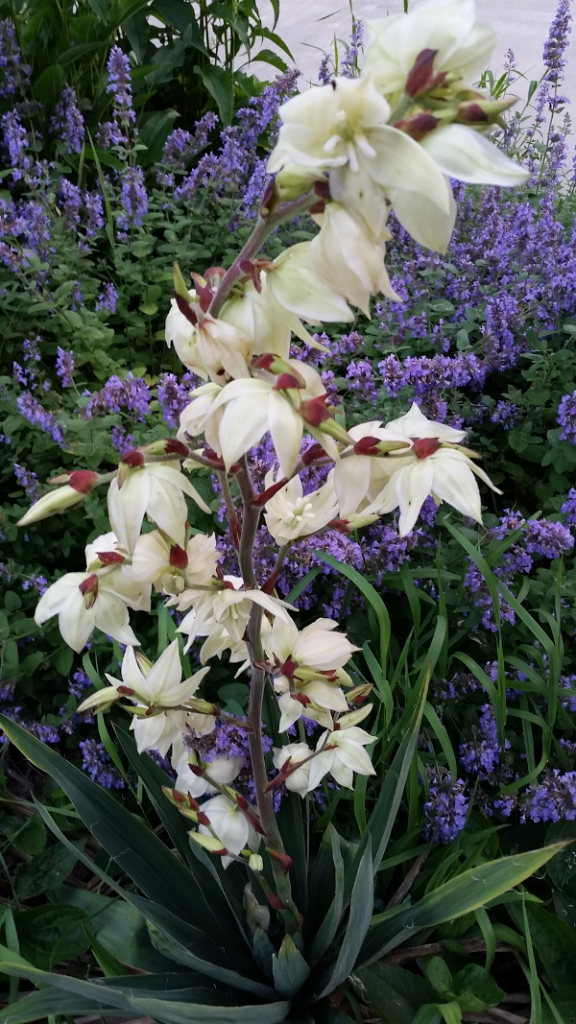 Aleric writes: "Aleric here. Only a few weeks of spring between winter and summer here in Minnesota this year – blizzard in mid-April, then 100 on Memorial Day. Lots of my delicate spring flowers never bloomed – some plants however are doing well – here are a few." Yucca and catmint…
* * *
Readers: Water Cooler is a standalone entity not covered by the annual NC fundraiser. So do feel free to make a contribution today or any day. Here is why: Regular positive feedback both makes me feel good and lets me know I'm on the right track with coverage. When I get no donations for five or ten days I get worried. More tangibly, a constant trickle of small donations helps me with expenses, and I factor that trickle in when setting fundraising goals. So if you see something you especially appreciate, do feel free to click the hat!

To give more, click on the arrow heads to the right of the amount.
If you hate PayPal — even though you can use a credit card or debit card on PayPal — you can email me at lambert [UNDERSCORE] strether [DOT] corrente [AT] yahoo [DOT] com, and I will give you directions on how to send a check.