By Lambert Strether of Corrente.
Trade
"China can 'win big battles', economic team says as trade row with United States heats up" [South China Morning Post]. "The Financial Stability and Development Committee, which comprises some of President Xi Jinping's must trusted officials, convened to discuss economic threats and 'external risks', according to a statement published late on Tuesday on the government's website. While it did not directly mention China's long-running trade dispute with the US, it appeared to reference it by saying the country has 'favourable conditions to win big risk control battles and cope with external risks'." • This seems a bit Delphic to me, and not necessarily about trade per se. (Apparently, nobody knows how much China has loaned out to the One Belt One Road initiative, though presumably that's not levered, so no problem.) Applying the theory that Everything Is Like CalPERS at the international level, is there a reason to think that Chinese "trusted officials" are any different or better at what they so than, say, Hank Paulson? Any China hands in the readership care to comment? And but–
"Are these Chinese export numbers an olive branch in the countdown to a trade war with the US?" [South China Morning Post]. "China's customs agency broke with protocol late on Monday, releasing first-half and June export data days ahead of schedule and giving a rare breakdown for shipments to the United States…. General Administration of Customs said growth in China's US-bound shipments slowed to 5.4 per cent in the first six months from 19.3 per cent a year earlier. June export growth was even slower at 3.8 per cent, down 23.8 percentage points from the same time in 2017, the administration said. China's exports of electronics and mechanical products to the US grew 8 per cent year on year in the first half, accounting for 62.6 per cent of the total shipments. Shipments of labour-intensive products were flat in the same period, while garment sales dropped 1.8 per cent."
"Trump's new trade bill is peak Trump" [The Week]. "[Trumps bruited WTO] bill would give the president the unilateral authority to carry out all these changes as he sees fit, with no input from Congress. We've been headed in this direction for many, many decades: Law after law has transferred ever more power over tariffs and trade policy from the legislature to the executive branch. But this new bill would take that trend to its extreme endpoint." • Well, it would have been OK if Obama were still President. So there's that.
"Trade: It's About Class, Not Country" [Dean Baker, Truthout]. Must-read. "There is a fundamental flaw in the way that both Donald Trump and his critics generally talk about trade. They make it an issue of country versus country, raising the question of whether China, Canada and other trading partners are treating the United States fairly as a country…. These deals were about putting US manufacturing workers in direct competition with much-lower-paid workers in the developing world. The expected and actual effect of these policies is to reduce employment in manufacturing. This also put downward pressure on the wages of the manufacturing workers who kept their jobs, as well as on the wages of less-educated workers more generally, since manufacturing has historically been a source of relatively high-paying employment for workers without college degrees. This is not a story of free trade. Our trade deals did little or nothing to make it easier for highly educated professionals to work in the United States…" • The exception that proves the rule, of course, for "highly educated" tech "professionals" with H1B visas, who undercut wages in Silicon Valley, exactly as the program was designed to do.
Politics
2020
"Oprah Winfrey Covers August Vogue" [British Vogue]. "It was following her rousing Time's Up speech at this year's Golden Globes that talk of Oprah 2020 reached fever pitch. But anyone hoping a presidential bid might be in the works for Winfrey will be sadly disappointed. 'In that political structure – all the non-truths, the bullshit, the crap, the nastiness, the backhanded backroom stuff that goes on – I feel like I could not exist,' Winfrey says. 'I would not be able to do it. It's not a clean business. It would kill me.'"
2018
NY Senate: Chuck Schumer blows off a town hall:

We are extremely disappointed that @SenSchumer cancelled his last minute Town Hall.

He must reschedule this Town Hall IMMEDIATELY.

"We are not settling for him phoning it in."#SchumerNoShow #WhatTheFuckChuck #CardboardChuck pic.twitter.com/GeB7YJEtY9

— NY Indivisible (@ny_indivisible) July 2, 2018

Trouble flying into the district? Send a surrogate, at the very least. And if the New York Indivisible chapter is chirping this loudly, I may have to surrender a little of my cyncism.
2016 Post-Mortem
Ever green:


Wow this is awkward pic.twitter.com/h4c2uCNkQp

— Gallifreyan Jedi (@JediofGallifrey) July 2, 2018

The front-row kids at work….

And at work here too:


liberals in 2016: sanders is doing well, but socialism only appeals to white workers, he lost because it doesn't have appeal to black and brown voters
liberals in 2018: AOC is doing well, but socialism only appeals to brown workers, it wont work with white voters

— ??? would you like to buy a socialist newspaper (@mike_hugs) July 1, 2018
Obama Legacy
"Obama in 2007: 'I'll walk on that picket line' if bargaining rights threatened" [The Hill]. • Good times…
Realignment and Legitimacy
"Bernie Sanders-backed nominees score wins, but in longshot races" [NBC]. "The group Our Revolution, a progressive political organization that rose out of Sen. Bernie Sanders' presidential campaign, has endorsed candidates in 33 of the House Democratic primaries held so far this year. And overall, their candidates have won in 14 of those races, including this week's big victory in NY-14. That works out to winning 42 percent of their races held thus far. And while anyone would rather be above .500 than below it, winning 42 percent of the time isn't bad for a nascent political group… Only one of those 14 congressional primary wins has come in a district that is currently labeled as a battleground, by the Cook Political Report – New York's 24th district, which is currently rated 'likely Republican.' Of the other 13 wins, 10 have come in districts that are rated as safe Republican seats, meaning those Democratic nominees aren't likely to make it to Congress." • The headline is deceptive; it means longshot in the general. Of course, this suggests a level of coordination, implicit or no, between OR and DNC. Whether that makes you go crazy depends on how important taking the House as a check on Trump is to you (while the OR platform has broad appeal, that doesn't mean that, operationally, they have what it takes to win in the general (so far). Personally, I regard any win as a good thing; electoral politics is a tough game and a learned skill; the left needs a bench, and that only comes when you get out on the field and play.

"The Millennial Socialists Are Coming" [New York Times]. "Many of the D.S.A.'s goals, reflected in Ocasio-Cortez's platform, are indistinguishable from those of progressive democrats. But if the D.S.A. is happy to work alongside liberals, its members are generally serious about the 'socialist' part of democratic socialist. Its constitution envisions 'a humane social order based on popular control of resources and production, economic planning, equitable distribution, feminism, racial equality and non-oppressive relationships…. Talk of popular control of the means of production is anathema to many older Democrats, even very liberal ones. It plays a lot better with the young; one recent survey shows that 61 percent of Democrats between 18 and 34 view socialism positively. The combination of the Great Recession, the rising cost of education, the unreliability of health insurance and the growing precariousness of the workplace has left young people with gnawing material insecurity." • As I keep saying, the Overton Window is dead, Jim. There is not a spectrum between conservative and liberal. There are three forces at play: Liberal, conservative, and left. A plane, not a line.

"After Ocasio-Cortez's victory, democratic socialists are just getting started" [Maria Svart, New York Daily News]. "[As D]irector of DSA, the largest socialist organization in America, I'll explain. Democratic socialism means a world where we all can live in dignity and comfort. It means a world that we, the working-class majority, run for ourselves, without the poverty, oppression, environmental devastation, and war the wealthy have given us. Democratic socialists believe that if poor and working-class people unite and fight across differences, we can win a better world — a democratic socialist world….. Days before her victory, Ocasio-Cortez ​told Vogue magazine about democratic socialism, "There is no other force, there is no other party, there is no other real ideology out there right now that is asserting the minimum elements necessary to lead a dignified American life." She's right." • Sort of amazing to see this in a major New York Daily. Let the oppo begin! And–

Svart does not mention Open Borders, so presumably she doesn't want to destroy the DSA. Check this out:

Nicely put, I think.
via @Millermena on FB pic.twitter.com/K7dZYLpflj

— David Patrikarakos (@dpatrikarakos) July 2, 2018

(Picked up by a Daily Beast writer from a writer for the Interpreter. But it will be clarifying, and in a very bad way, if this sentiment goes viral on the putative left.)

You can't do this when open borders bring labor arbitrage:

A union carpenter is walking around camp at #OccupyICEPDX offering DHS/ICE agents jobs with the Carpenter's Union if they turn in their badges & walk off the line.

You don't have to kidnap children for a living. You could have a job with benefits, high pay, respect.

Just quit. pic.twitter.com/4xE75Bdx5U

— Portland General Defense Committee (@pdxgdc) June 30, 2018

"A Morgan Stanley Star Wants You to Back His Political Movement" [Bloomberg]. "[Eric Grossman is] the top lawyer at Morgan Stanley… He also wants to topple America's two-party system….. Grossman is trying to build a new party—called the Serve America Movement, or SAM. Don't expect this crusade for unity to turn into the next Women's March, Tea Party, or even a semi-memorable hashtag. At least so far, this is what resistance to President Donald Trump looks like on Wall Street. Even though tax cuts and reduced regulation have made big banks and corporations some of this era's big winners, many of their executives squirm when the president abandons global agreements and threatens trade wars. These people also tend to resent and even dread the Democratic Party's progressive wing, as if it's out to get them personally. That opens a space for SAM's unlikely, ambitious and well-moneyed cry for something else." • Interestingly, Cuomo's female Democrat straw in the race against Cynthia Nixon, Stephanie Miller, is running on the SAM ticket.

* * *

UPDATE "Perez: Ocasio-Cortez Is 'The Future of Our Party'" (YouTube) [The Free Beacon]. ""What's this tell you about where the Democratic Party is going today?" [Bill] Press asked the DNC chair. Perez said his daughters both texted him about their excitement over Ocasio-Cortez's win. 'Because, she really, she represents the future of our party,' Perez said, complimenting the self-described Democratic socialist for running a 'spirited campaign.'" • Before getting too excited about this — no matter your place on the political terrain — remember: Perez et al. have no other way to think than identity politics. Reasoning from Perez's premises, since AOC is young, a woman, and Latinx — i.e., part of the so-called "coalition of the ascendant" — she must be the future of the Democrats. Because she already is! Perez may also believe that AOC can be bought, of course.

"Alexandria Ocasio-Cortez tweeted out her shade of lipstick, and now it's sold out" [Daily Dot]. "During a primary debate earlier this month, Ocasio-Cortez wore a striking shade of matte red lipstick, and that led to people asking her about it on Twitter. 'I have been getting many inquiries about my debate lip color in the last two days,' she tweeted to her followers earlier this month. 'I GOT YOU. It's Stila Stay All Day Liquid in Beso.' … Now, the lipstick shade is completely sold out online on both Stila and Sephora's websites. If Ocasio-Cortez's influence on young female voters wasn't already apparent enough, her ability to sell lipstick is also rather impressive. • Readers, I don't think I'll be putting on lipstick any time soon, but do any of you have local sightings?

Only sensible:


Congress MUST repeal the AUMF.

It is incredibly destabilizing legislation that erodes our government's system of checks and balances, and a persistent threat to peace worldwide.

War doesn't bring peace. Alleviating poverty does. Education does. Representative gov does. /2

— Alexandria Ocasio-Cortez (@Ocasio2018) April 14, 2018

"ALEXANDRIA OCASIO-CORTEZ: "I KILLED ROSA LUXEMBURG" [John Halle]. "For years mired in almost complete dysfunctionality and irrelevance, a viable socialist organization of the sort which DSA represents would almost certainly be the coup de grace [to the the alphabet soup of Marxist, Lenninist, Trotstkyite or Maoist sects] finally dispatching them into oblivion. Their increasingly hysterical attacks on a brilliant, charismatic and principled Puerto Rican woman is nothing more than -the death throes of the old as the new is being born."

"On Magical Thinking VS Sober Analysis of the Ocasio-Cortez Victory in NY" [Bruce Dixon, Black Agenda Report]. "Still, 16 or 17 thousand votes in a congressional district of 750,000 is far from a socialist landslide. Winning a congressional seat with that small a vote is a rare feat made possible by some local features that seldom occur outside New York City. While the Alexandra Ocasio-Cortez crew no doubt worked their asses off to get what they got, the same money and effort in most other places would not have done the trick in a congressional race. The 14th NY CD was a target well chosen by the folks at Brand New Congress , whom Ocasio-Cortez says asked her to run…. [W]e're all gonna have to sober up eventually and figure out which parts of the Ocasio-Cortez playbook are peculiar to and which ones are applicable outside a majority Latino New York City district, and we have yet to devise any means of holding progressive politicians truly accountable." • So, kudos to Brand New Congress, yes? (And DSA, who Brown does't mention.) Still, BAR is absolutely always worth a read, and this article is especially lucid.

* * *

"Florida Democrats Ban Private-Prison Donations, but Emails Show Internal Pushback" [Miami New Times]. "At a gala fundraiser for the Florida Democratic Party in Hollywood on Sunday, party leaders including Chair Terrie Rizzo stood onstage and repeatedly condemned the Trump Administration for imprisoning immigrant children at detention facilities across the country. But when a group of activists proposed a ban on all political donations from the private-prison companies who profit off Trump's policies, a small but influential minority of old-guard party officials (and at least one former Clinton White House employee*) fought back and nearly succeeded in killing the measure… [R]idding the state and national parties of prison PAC money is proving more difficult because national groups like the DCCC still take thousands from the industry." NOTE * "Craig T. Smith, the former White House political director under President Bill Clinton. Smith was also a prominent volunteer on Hillary Clinton's 2016 presidential campaign." • Always, always follow the money….

* * *

He's talkin' sense Merle:

The Left needs to get back to embracing "study," "critical thinking," systemic analysis. Teach-ins; how modern propaganda works; how the ruling elite maintains control. Then, how do we undermine that system, strategically. In the meantime, how do we build new systems.

— Ray Pensador (@RayPensador) July 1, 2018

I remember a teach-in at the local university in 1966 or 1967; turned me against the Vietnam War, and was also the very first time I saw serious political argument carried on in a public, live-and-in-person setting.

"Uses & Abuses of Ideology in Political Psychology" (PDF) [Nathan P. Kalmoe]. From the abstract: " In stratified tests, only the most knowledgeable 20-30% of citizens carry substantive, coherent, stable,and potent ideological orientations. In other words, political sophistication is necessary for predispositions to actualize as ideology. Moreover, ideology's power is confounded—largely due to partisan identity instead, and I show that ubiquitous convenience samples make trouble for ideology generalizations. Finally, I propose analytic best practices to avoid inferential errors. Taken together, what first appears to be strong and broad ideology is actually ideological innocence for most people, and real ideology for a few." • I can't speak to methodology, but big if true.
Stats Watch
Employment Situation, June 2018: "Following a very strong May, nonfarm payrolls are expected to extend their strength to June" [Econoday]. "The workweek is seen unchanged at 34.5 hours with the labor participation rate also unchanged at 62.9 percent."
International Trade, May 2018: "The advance data showed a very strong 2.1 percent rise for exports against only a 0.2 percent gain for imports" [Econoday]. "Tariff effects have so far been limited in this report."
The Bezzle: "Tesla Hits Model 3 Target and Focus Shifts to Sustainability" [Bloomberg]. "[P]roducing 5,000 units of one vehicle in a week is far from unheard of in the auto industry, and the company had to pull out all the stops to get to this point, including constructing a tent and makeshift assembly line next to its factory. What Musk still needs to prove is that this level of output can endure."
The Bezzle: "Read what Elon Musk told Tesla after the car maker met its Model 3 goal" [CNBC]. "On Sunday, Musk sent an effusively worded communication to all employees, thanking them for their hard work, adding that the company became 'a real car company' in the process." • Reminds me of something…
The Bezzle: "Elon Musk ordered Tesla engineers to stop doing a critical brake test on Model 3s" [Business Insider]. "Tesla CEO Elon Musk appears to have asked engineers at Tesla's factory in Fremont, California, to remove a standard brake test, called the brake and roll test, from the tasks Model 3 cars must complete to move through production, according to internal documents seen by Business Insider…. Ron Harbour, a consultant at Oliver Wyman who founded and writes 'The Harbour Report," a worldwide guide to manufacturing, told Business Insider that after everything is installed in a car during the manufacturing process, . 'If you just abandon [the test], you could potentially have a lot of quality issues with your customers, 'he said. "Every plant does that … It's part of finishing the build of the car.' • I'm shocked. Elon removed a quality and safety test to make his numbers? Incroyable! But wait: There's more:
On Monday, Tesla announced it had "factory gated" 5,000 cars the week before, reaching its goal.

The employee Business Insider spoke with said the factory-gate distinction is important. They said it means , then readying them for factory gating.
Sadly, I didn't call my shot that Elon would make his number by pulling cars out of inventory. However, credit where credit is due: Turning rework from a problem into a stock price pop (however fleeting) is GENIUS!
The Bezzle: "Inside Tesla's Audacious Push to Reinvent the Way Cars Are Made" [New York Times]. • The article is a sloppy wet kiss from the Times Business Section to Elon Musk, but does include several images of the manufacturing process, including the famous tent: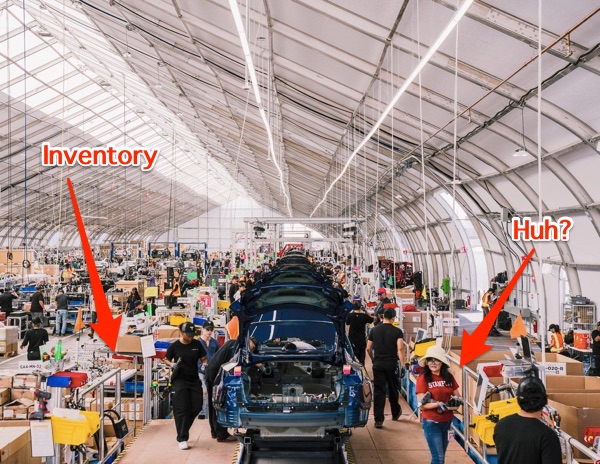 I'd love to hear what manufacturing mavens in the commentariat have to say about all this, but my immediate reactions are: (1) Look at all the inventory build-up next to the line. I suppose when you've got unlimited amounts of stupid money you can afford that, but is that any way to run a plant? (2) What on earth is the person in the Stanford sweatshirt doing, wandering along the line with no protective gear and a drill in the crook of her arm?
The Bezzle: "Let's Talk About All Those Electric Scooters" [Bloomberg]. • A Q&A with Bloomberg columnists Virginia Postrel and Nathaniel Bullard. This question leaped out:
[VIRGINIA POSTREL:] How do you see this concept interacting with regulation and , especially in the transportation arena, which tends to be highly regulated?
"Permissionless innovation." Makes tech's business model today crystal clear, especially when you replace "permissionless" with "illegal," or, more politely, with "regulatory abitrage." True for Amazon (sales taxes), Uber (name it), AirBnB (DYI hotels), robot cars, and on and on and on.
The Bezzle: "The Hidden Cost of Touchscreens" [Medium]. Important:
In 2012 I tried out a brand new luxury vehicle at a automotive conference. It was a minimalist European model, and nothing seemed out of place — until I tried to use the in-car entertainment system. The whole thing was a monolithic rectangle of reflective, flat glass. . It took me five steps to pair my phone to the car, and I had to devote all my attention to the display just to figure it out. There were no physical buttons for the basics – like changing the volume or turning on the radio. .

I expressed my frustration to the man sitting next to me. "I can't believe the company let this thing on the road with this horrible display! It's as if this entire system was tested in a lab under ideal conditions, but never once on the road with a single confused driver!"/p>

The man started laughing at my outburst. Then he apologized and gave me his card. As it turned out, he was the head of company.

Apparently the management was so convinced that the entertainment system's blue-tinted, rectangular touchscreen interface was "the future" that the company didn't even bother using it on the road before releasing it. After all, had recently debuted (to much acclaim), its first model which boasted a similar touchscreen system.
The whole article is worth a read; we should get rid of the idiotic touchscreens through immediate regulation if need be. The more important point is institutional, and yet another confirmation that Everything Is Like CalPERS. The idiotic CEO — who certainly makes a metric f*ckton of money and has a lot of power in the industry — didn't even bother to test the touchscreen because, sheep-like, he followed Elon Musk. If the CEOs in the auto industry follows Musk in manufacturing, there are going to be a whole lot of low-quality, dangerous cars, and a whole lot of injured or killed workers before the fever breaks…
Concentration: "AT&T promised lower prices after Time Warner merger—it's raising them instead" "[Ars Technica]. "AT&T is raising the base price of its DirecTV Now streaming service by $5 per month… Price benefits should flow to consumers quickly, AT&T's filing [in the AT&T-Time Warner merger case] said. "[C]ertain merger efficiencies will begin exerting downward pressure on consumer prices almost immediately [after the merger]" AT&T wrote…. AT&T attributed its changes to market forces." • Scratch out "down" and write in "up" and it's all good!
Concentration: "Surprise, surprise: Comcast is already throttling users" [Daily Dot]. "Comcast will begin throttling video speeds to 480p on Comcast mobile plans unless you pay additional fees, the company announced in an email to customers. Comcast's "unlimited" plan will also restrict mobile hotspot speeds to 600kbps or less. If you pay for data by the gigabyte, you'll still get full-speed tethering—but you're charged $12 per gig, so that could quickly add up if you're streaming high-quality video over your hotspot connection…. Without net neutrality, Comcast and other internet service providers are now legally able to do things like throttling internet speeds without recourse." • Text is great. Why not forget about streaming high-quality video over the Internet entirely?
Tech: Hurry up, @jack:
I had a very good convo with @jack this weekend at Kanye's bday and I think he really heard me out on the edit button.

— Kim Kardashian West (@KimKardashian) June 13, 2018
Five Horsemen: "At late morning, all of the Fab Five are down from their close yesterday" [Hat Tip, Jim Haygood].
NakedCap Mania-Panic Index: "On yesterday's mild market gain, the mania-panic index rose one tick to 34 (worry), even as new lows trounced new highs by 107 to 47" [Hat Tip, Jim Haygood]. (The NakedCap mania-panic index is an equally-weighted average of seven technical indicators derived from stock indexes, volatility (VIX), Treasuries, junk bonds, equity options, and internal measures of new highs vs new lows and up volume vs down volume … each converted to a scale of 0 to 100 before averaging, using thirty years of history for five of the seven series.)
Rapture Ready: Closes up 1 on Wild Weather. "A massive heat wave has hit the central US" [Rapture Ready]. Record High, October 10, 2016: 189. Current: 181.
Police State Watch
"ILLINOIS PRISONERS SPEAK OUT—AND THEN LOSE A CHERISHED DEBATE PROGRAM" [The Appeal]. • Debate is good — for readers who came in late, both Yves and I were debaters — so this is bad.
Class Warfare
"The Oklahoma Primaries Show the Lasting Impact of the Teacher Walkout" [The New Yorker]. "Red states such as Oklahoma—with its decade of dramatic cuts to public services and fanatical antagonism to taxes—are often mentioned as leading indicators of the direction in which the whole country may be heading. This primary, which boosted teachers and rejected the current state-level Republican leadership, may be ." • Wierdly agency-free language, despite the headline.
"Thomas Frank – Meat Bone Express podcast (filmmaking of Steve Bannon, Hollywood)" (video). [YouTube]. • I'm having an awful lot of fun listening to Thomas Frank videos from his Listen, Liberal! book tour; they're repetitious, but not entirely so. (Frank was also a debater, so he's fast on his feet.) This one's from Australia. Incidentally, Frank's been shut out from all the venues he used to publish at. That's a fine example supporting the idea that the press is a wee bit more controlled than we think (and an argument to read Frank's book, since they don't want you to, and besides it's fun and excellent).
"Why Sexism and Racism Never Diminish–Even When Everyone Becomes Less Sexist and Racist" [Marginal Revolution]. "The idea that concepts depend on their reference class isn't new. A short basketball player is tall and a poor American is rich. One might have thought, however, that a blue dot is a blue dot. Blue can be defined by wavelength so unlike a relative concept like short or rich there is some objective reality behind blue even if the boundaries are vague. Nevertheless, in a thought-provoking new paper in Science the all-star team of Levari, Gilbert, Wilson, Sievers, Amodio and Wheatley show that what we identify as blue expands as the prevalence of blue decreases…. The paper also gives us a way of thinking more clearly about shifts in the Overton window. When strong sexism declines, for example, the Overton window shrinks on one end and expands on the other so that what was once not considered sexism at all (e.g. "men and women have different preferences which might explain job choice") now becomes violently sexist."
"As Companies Rely on More Branding Elements, the Question Becomes: What is in a Color?" [The Fashion Law]. "This string of cases also serves to highlight the importance that color has in a brand's enduring identity and its marketing strategy. In much the same way as a trademark acts as an immediate indicator of the source of a product or service for consumers, color can play an important source-identifying function. And unsurprisingly, just as many brands have been able to monetize the recognizability and appeal of their trademarks, no shortage are looking to color for the very same benefits."
"People kicking these food delivery robots is an early insight into how cruel humans could be to robots" [San Francisco Chronicle]. "Amid all the controversy about Google weaponising AI and fears over Boston Dynamics' door-opening robot dogs, perhaps we should actually be worried about how humans treat tech, rather than the other way around? Besides, after the AI revolution, our little mechanical friends might remember who was doing the kicking." • Leaving aside the philosophical question of whether it's even possible to be cruel to a machine, why shouldn't people kick them? People don't get their cut from productivity gains, so one more pizza-delivering robot is one less pizza delivery person feeding their babies.
News of The Wired
"There's no grace period for Georgia's distracted driving law" [Atlanta Journal Constitution]. "The act (also known as House Bill 673), which passed the General Assembly in March, prohibits motorists from handling their phones or other electronic devices while driving. You can still talk on the phone – you'll just have to use a hands-free device."
"More Americans are considering cutting their ties with the US — here's why" [CNBC]. • Worth a read, but shorter: It's a [family blogging] mess, and probably takes a professional to sort it out. Impossible to stay, impossible to escape. And in not unrelated news–
"Juggalos figured out how to beat facial recognition" [The Outline]. "[F]acial recognition works by pinpointing the areas of contrast on a human face—for instance, where a nose is located, or where the chin becomes the neck. As it happens, juggalo makeup often involves applying black paint below the mouth, but above the chin. That makes facial recognition vulnerable to misidentifying the placement of the jaw." • Respect due.
* * *
Readers, feel free to contact me at lambert [UNDERSCORE] strether [DOT] corrente [AT] yahoo [DOT] com, with (a) links, and even better (b) sources I should curate regularly, (c) how to send me a check if you are allergic to PayPal, and (d) to find out how to send me images of plants. Vegetables are fine! Fungi are deemed to be honorary plants! If you want your handle to appear as a credit, please place it at the start of your mail in parentheses: (thus). Otherwise, I will anonymize by using your initials. See the previous Water Cooler (with plant) here. Today's plant (PM):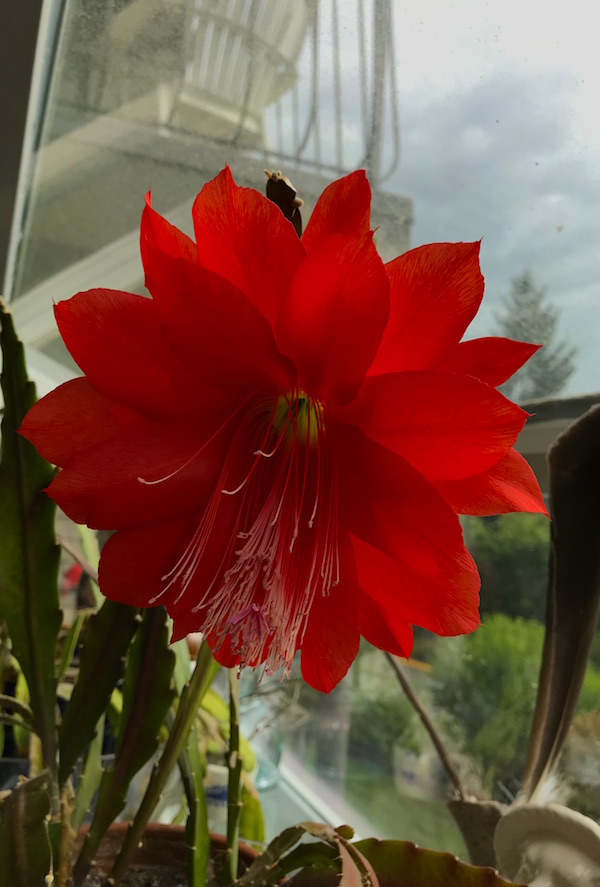 PM writes: "Epiphyllum–indoor grown from a cutting. Blossoms once a year."
* * *
Readers: Water Cooler is a standalone entity not covered by the annual NC fundraiser. So do feel free to make a contribution today or any day. Here is why: Regular positive feedback both makes me feel good and lets me know I'm on the right track with coverage. When I get no donations for five or ten days I get worried. More tangibly, a constant trickle of small donations helps me with expenses, and I factor that trickle in when setting fundraising goals. So if you see something you especially appreciate, do feel free to click the hat!

To give more, click on the arrow heads to the right of the amount.
If you hate PayPal — even though you can use a credit card or debit card on PayPal — you can email me at lambert [UNDERSCORE] strether [DOT] corrente [AT] yahoo [DOT] com, and I will give you directions on how to send a check.