Heathrow border officers seize smuggled vulture chicks BBC
Horseshoe crabs Quartz
The 103-year-old pianist BBC. You must watch this.
VIDEO: Incredible moment rescue workers find boys trapped in cave Thai Visa (furzy). After ten days….But then this: Thailand cave rescue: Boys 'could be in cave for months' BBC
Scientists Capture First Birth Of A Planet NPR (David L)
Remembering the 155th Anniversary of the Battle of Gettysburg – July 1 to 4, 1863 Jesse. Kevin W: "That first 17-minute film clip is not to be missed. A beautiful combination of animated maps, contemporary photos and battle recreations. Best combination that I have ever seen and the music makes it sound like an ancient Homeric battle."
Three months on: Oxford Union refuses to tell truth about why whistleblowing panel debate is censored WSWS
Archbishop Philip Wilson sentenced for concealing child sex abuse BBC. Sentence is pathetic.
Biggest study of vaginas shows there's no such thing as 'normal' New Scientist (Dr. Kevin)
UCLA Professor Dies During BDSM "Mummification" Game Jonathan Turley. Forgive me, but no wonder Turley is popular. You can get a daily dose of prurient interests stories in the guise of legal reporting, as in upscale Daily Mail fare.
Behind the secret U.S. war in Africa Politico (UserFriendly)
As mob lynchings fueled by WhatsApp messages sweep India, authorities struggle to combat fake news – The Washington Post (furzy)
Stumbling and Mumbling: Deluded centrists Stumbling and Mumbling (UserFriendly)
Revolution in Mexico. The risk domestically is that AMLO will be perceived to be a dud because he won't be effective against the gangs and won't be able to deliver all that much on the economic justice front because he is fiscally orthodox. And if he does manage to succeed despite that, the CIA will be after him.
A change is coming to US-Mexico relations The Hill

Mexico election: Trump and López Obrador discuss 'development deal' BBC

Enter, stage left Economist
Brexit
Ditching Theresa May will not change the political reality Financial Times (Kevin W)
HBOS – fraud, cover-up and consistent public exploitation Richard Murphy (UserFriendly)
Syraqistan
Catastrophic drought threatens Iraq as major dams insurrounding countries cut off water to its great rivers Patrick Cockburn, Independent (Bill B)

Iranian general says Israel stealing Iran's clouds Ynet. Furzy: "Wingnutz on both sides of the ME problem…."
Migration
Merkel and Seehofer make fragile peace Politico. Text of compromise below. And yes, that is it in its entirety.

Habemus Einigung! @csu @cdu @cducsubt pic.twitter.com/DKr0aFZ3td

— Dorothee Bär (@DoroBaer) July 2, 2018

Austria brings hard-line refugee policy to EU DW

Denmark's new laws on immigrant 'ghettos' are a chilling look into what happens after the border Business Insider (David L)
Imperial Collapse Watch
Trump Sends Disturbing Letters to Nine NATO Leaders Before Key Summit Atlantic Council
Tariff Tantrum
Commerce Secretary Wilbur Ross: It's 'premature' to say whether Trump's threatened EU auto tariffs will come to pass CNBC

Trump's Tariffs: a Car Crash for Germany Bloomberg (Kevin W). Important.

Every US-made car is an import. That's bad news for automakers CNN

Trump's EU trade war costing manufacturers in US and eurozone Guardian (Kevin W)

The Trade War is Here: Some of the New "Facts of Life" Zero Anthropology. UserFriendly questions a parenthetical: "Canadian provinces don't ​have free trade with each other?" Separately, a friend warned me I need to emigrate to Canada soon (as much as I'd like to, I don't have the energy right now, and I don't have a path in unless I am sponsored) because when Trudeau gets turfed out, immigration restrictions will tighten. Unless the Canadian real estate market tanks, of course, since they might copy Spain at the crisis low and give citizenship in return for a big enough real estate purchase (which was not all that high since the point was to prop up normal people's home prices, but that still takes $ and a lot of fracas).

'It stinks': Trump's Fair and Reciprocal Tariff Act, or Fart Act Guardian (Dr. Kevin)
Trump Transition
Will Cohen flip? New interview raises the question The Hill

How Trump Used Mar-a-Lago to Boost His Personal Business Shadowproof (UserFriendly). If you really want to tear your hair….Trump should have given up Mar-a-Lago in one of his bankruptcies, but persuaded the banks he needed to keep it as part of his brand image, which had value for the other Trump properties at issue.
Supremes
Dem senator says Supreme Court vote could be 'career ending' for lawmakers The Hill

Schumer faces heavy pressure from left on Supreme Court The Hill
Health Care
What Millennials Want the Government to Do About Long-Term Care Next Avenue (UserFriendly)

Prescription Drug Costs – Standing Front and Center National Conference of State Legislatures
AAs Democrats Look Left, A Massachusetts Congressman Doubles Down On Biography Huffington Post. UserFriendly: "​He is in my top 10 worst Democrats list. You can thank him for all the intelligence Dems.​"
Ex co-worker no fan of Democrat darling Alexandria Ocasio-Cortez Page Six. UserFriendly: "Wow, did she get in a fight in kindergarten we need to know about?​" Moi: Lambert warned the establishment Dems would go hunting for every bit of dirt they could find…so this is the sort of thing they are flogging? Help me. How would Nancy Pelosi look under a microscope?
Ben Jealous Is Ready to Make Maryland America's Laboratory of Democracy The Nation (furzy)
Cities Are Saying 'No' to ICE by Canceling Their Contracts With the Agency The Nation
Tesla's official number: It says it built 5,031 Model 3s in a week Autoblog. EM:
One wonders how many of those 5000-plus are junk … Yahoo Finance has a big 'Tesla shares soar after reaching Model 3 production goal' headline today, but TSLA shares slid relentlessly after the opening 5% pop and finished the session over 2% down. Looks like an appreciable number of shareholders decided to avoid the risk of becoming bagholders and sold into the pop.
Gunz
How to Fight the Gun Lobby Rolling Stone (furzy)
American Democracy on the Brink Joseph Stiglitz, Project Syndicate (David L)
Conviction of SAC's Martoma upheld despite jury instructions Reuters
The Outer Line: Beer money or nest egg? Revamping prize money VeloNews. Alex V: "Some "economics" from a different field than that normally found on NC. An intriguing proposal, but assumes too much regarding trustworthiness of finance and performance of invested funds."
Class Warfare
The fading American dream may be behind rise in US suicides New Scientist (Dr. Kevin)

When a stagehand gets hurt, who pays? MPR (Brian D)

Trump Tax-Cut Bonuses are a Bust for Middle Class Workers, Wages Lie in a Wasteland of Failed Promises Great Recession Blog. Anyone who read the tax pros would have known the sales pitch for the tax cut was a crock. The 2004 tax holiday which allowed companies with earnings parked overseas for tax purposes to repatriate them tax free were used for stock buybacks and exec bonuses. And supply side economics has also been debunked. But as John C points out, this is still a great rant, with details on deliberately misleading PR.
Antidote du jour. Tracie H: "French Bulldog' comes to mind but I think the legs are too long, so either it's a mix, or I'm completely wrong and it's a breed I should know but apparently don't. He's cute whatever he is."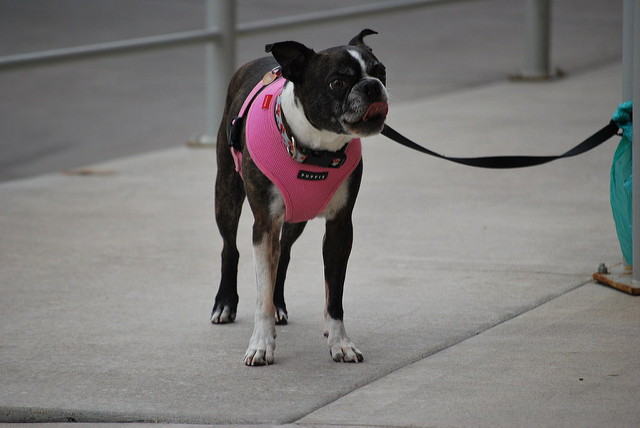 And a bonus video:
See yesterday's Links and Antidote du Jour here.