By Lambert Strether of Corrente.
Readers, this will be a bit light, partly because the news flow is light and I did a pantry clearout on Tuesday, partly because it's the day after a holiday, and I'm being lazy. –lambert
Trade
"The global trade slowdown that businesses have been watching for may already be underway" [Wall Street Journal]. "Business surveys published this week show that global export growth has slowed to a relative crawl after strong and synchronized expansion in 2017…. [T]he slowdown across markets world-wide is likely to have a greater impact on trade than the developing conflict among the U.S., China and other major economies. J.P. Morgan Asset Management latest survey of manufacturing purchasing managers showed new exports were barely above growth level last month, with that measure at its weakest point in nearly two years after weakening every month since a January peak. That's been reflected in recent subdued growth numbers at some U.S. seaports. The broader trade figures suggest last year's 4.8% rise in global merchandise trade—the strongest since 2011—is unlikely to be repeated."
Politics
2018
"Court vacancy fuels abortion politics in midterm elections" [Associated Press]. "A pair of recent abortion restrictions in Iowa have made the state a focal point in the national debate. A late-June decision by the Iowa Supreme Court to strike down a required 72-hour waiting period before an abortion sparked outrage among Christian conservatives, a potent force in the Iowa GOP. It also emboldened Democratic nominee for governor, Fred Hubbell, who is a past Iowa leader of Planned Parenthood, and underscored the contrast with Republican Gov. Kim Reynolds, who opposes abortion in all cases except to save a mother's life. The decision, which asserted ',' also bodes ill for the even more restrictive law [Republican Gov. Kim Reynolds] signed in May but was blocked pending court review." • Hmm. If this doctrine ever became Supreme Court precedent (unlikely), some clever leftie might apply it to alienatedl labor.

"The Uncertain Political Ramifications of Justice Kennedy's Exit" [Larry Sabato's Crystal Ball]. "The modern procedural arms race over judicial nomination norms, which one can trace all the way back to the Senate Democrats' successful defeat of Robert Bork in 1987 (Kennedy ultimately got that seat), shows no signs of abating. This will be another vicious fight at a time when the nation is deeply divided and partisanly polarized. It's not going to be pretty or fun."

"Senators Collins and Murkowski, It's Time to Leave the G.O.P." [New York Times]. "Republicans have a one-vote majority in the Senate. Their number includes two female moderates, Susan Collins and Lisa Murkowski, both of whom support abortion rights, and one of whom — Ms. Collins — has already declared this week that she would not support a candidate hostile to Roe v. Wade…. Since 1890, 21 senators have switched party affiliation during their time in office, some for matters of conscience, some to advance careers. … By leaving the G.O.P. — either to join the other party or, more plausibly, to become independents and caucus with the Democrats — Ms. Collins* and Ms. Murkowski wouldn't simply be registering their opposition to a single Supreme Court justice. They'd be taking a powerful stand against their party's escalating betrayals of the country." NOTE * What Collins said: "U.S. Sen. Susan Collins said Sunday that she won't support a U.S. Supreme Court nominee who has to Roe v. Wade." Lotta wiggle room there. • A Democrat Party composed of moderate Republicans and democratic socialists will be divided against itself and will not stand.

UPDATE "The working-class struggles that propelled Alexandria Ocasio-Cortez to victory" [WaPo]. "It's no surprise, then, that voters here were pulled over by Ocasio-Cortez's platform of Medicare for all, free education and a livable minimum wage." • Mirabile dictu, a WaPo writer mentions policy instead of identity!

UPDATE "Democrats Underperforming With Hispanic Voters" [National Journal]. "Even during the heat of the family-separation crisis, Democrats are underperforming in heavily Hispanic constituencies, from GOP-held border battlegrounds in Texas to diversifying districts in Southern California to the nation's most populous Senate battleground in Florida. Those results mirror the results from the March Texas primaries, in which the Democrats' Senate nominee Beto O'Rourke, a progressive favorite [not], badly underperformed in many border towns with large Hispanic populations… Move to the West Coast, and the results look similar. One of the Democrats' must-win targets in California, the seat of retiring Rep. Ed Royce, is looking surprisingly competitive. Even though this is a plurality-Hispanic district that Clinton comfortably carried, a recent poll commissioned by the Democratic Congressional Campaign Committee found Republican Young Kim leading Democrat Gil Cisneros by 2 points (45-43 percent). It's another sign that Hispanics may not be turning out to vote at a level commensurate to their representation. Florida is offering an even bigger shock to the Democrats' system, given its perennial battleground status." • If Democrat internal polling confirms this, watch for this deeply principled party — is it just barely possible that Hispanic voters remember what Obama actually did yesterday, and retain some skepticism about liberal virtue-signaling today? — to deep-six the "baby jails" talking point tout suite, and move on to abortion, in their (perennial) quest to appeal to suburban Republican voters, this time women. After all, there are still 123 days until the election. Plenty of time to find a message. And nobody pays attention until after Labor Day.

UPDATE "Democrats in Disarray? No, That's the Myopic Media." [Michael Tomaskey, The Daily Beast]. "The general idea here was that a) the Democrats are weak because they can't block President Donald Trump's Supreme Court nominee and b) the primary election victory of one self-avowed socialist, Alexandria Ocasio-Cortez, means that the left is taking over. Yes, those things happened—Democrats can't block the nominee, and a socialist did win a congressional race. But you know what else happened last week? The generic ballot widened in favor of the Democrats, according to FiveThirtyEight—from about six-and-a-half points to about eight… Also in the past week, Larry Sabato's Crystal Ball changed the ratings of half a dozen House races in the favor of the Democratic candidates." • This is very funny; note how Tomasky manages to seamlessly pivot to the meta: the generic ballot and Larry Sabato — who I just linked to, because I like a good horserace as much as anyone else. But I don't conflate an actual race that has been run with what the touts and the Daily Racing Form say, and I think covering "things" that "happened" is more important than speculating about things that might happen, or are devoutly wished to hapen. YMMV, and liberal pundit Tomaskey's obviously does.
Realignment and Legitimacy
"The history of Black Socialism in America" [The Nib]. • A comic book, but well worth a read. Great material from progressive icon, Democrat Woodrow Wilson (here): "…the President said…that if the present government of Germany is recognizing the soldiers and workers councils, it is delivering itself into the hands of the bolshevists [sic]. He said . For example, a friend recently related the experience of a lady friend wanting to employ a negro laundress offering to pay the usual wage in that community. The negress demands that she be given more money than was offered for the reason that 'money is as much mine as it is yours.' Furthermore, he called attention to the fact that the French people have placed the negro soldier in France on an equality with the white men, and 'it has gone to their heads.'" Wowsers.
Stats Watch
Purchasing Managers Services Index, June 2018: "[A] small dip… to signal very solid growth for the bulk of the U.S. economy" [Econoday]. "New orders remain strong but did slow slightly in June while backlogs are at 3-year high…. This report has been running a little less hot than the ISM non-manufacturing survey which tracks not only services but mining and construction as well."
Institute For Supply Management Non-Manufacturing Index, June 2018: "Business continues to boom for ISM's non-manufacturing sample where the headline composite just tops Econoday's consensus range" [Econoday]. "[C]omments from the sample remain very heated, centered on tariff worries and tariff effects as well as trouble in shipping especially a lack of truckers…. The pace of this report is very strong and the slight cooling in the supply chain readings points to sustainably for a sample that continues to show steady and outstanding strength."
Bloomberg Consumer Comfort Index, week of July 1, 2018: "rose 3 tenths" [Econoday]. "The gains suggest that tariffs and talk of trade wars are having no significant effect on the U.S. consumer in contrast, however, to both the consumer confidence and consumer sentiment reports which are showing a step back in expectations."
Jobless Claims, week of June 30, 2018: "After hitting deep lows in mid June, initial jobless claims have been inching higher" [Econoday]. "The increases, however, are limited and should have no effect on expectations for tomorrow's monthly employment report."
ADP Employment Report, June 2018: "A steady and strong… gain is ADP's private payroll call for June's employment report on Friday" [Econoday].
Challenger Job-Cut Report, June 2018: "June layoff announcements came in steady and low" [Econoday].
Shipping: "Survey data highlights strong economy, freight challenges" [Freight Waves]. "Survey data in both the manufacturing and service sectors continued to point to strong economic growth at the end of the 2nd quarter. Details in the survey responses continue to suggest that high transportation costs, labor shortages, and tariff uncertainty remain significant issues in the economy."
Shipping: "Truck-Factory Backlogs Soar on Heavy Demand for Big Rigs" [Wall Street Journal]. "Fleets ordered 42,200 trucks in June, more than double the number they bought in the same month a year ago, according to preliminary figures from ACT Research, and 18.5% more than they ordered in May. 'We're expecting in June that the backlog will rise to a level we haven't seen since about 1999," said Kenny Vieth, president of Columbus, Ind.-based [ACT Research]. The backlog-to-build ratio was about 9.6 months at the end of May, he said, meaning most trucks ordered in June won't arrive until the first half of 2019. June is typically a weak month for truck orders. But the persistent robust demand for the heavy-duty vehicles used for long hauls meant carriers ordered new trucks at a seasonally adjusted rate of 492,000 vehicles in the first six months of this year—'the strongest six-month order period that we have in our database, which goes back to 1982,' Mr. Vieth said…. Truck operators are racing to meet unrelenting shipping demand in a strong U.S. economy.'"
Shipping: "`Nuclear' verdicts take toll on insurance firms' appetite to underwrite trucking risk" [DC Velocity]. "Truckers and the companies that insure them have grown accustomed to increasingly adverse jury awards stemming from truck-related accidents… Insurance companies have also been thinking, and several have thought better of staying in a business where "nuclear" verdicts in the many millions of dollars have wreaked havoc with their claims-loss ratios….. Premiums are one of the ingredients baked into freight rates, which given today's sellers' market for freight, has made it easier for fleets to pass on. However, being a cyclical business, trucking demand will at some future point turn down. At that time, said Richard Malchow, an editor for consultancy and media firm J.J. Keller & Associates, Inc., 'carriers will very much be affected by the high insurance premiums and deductibles." • Presumably, robot vehicle lobbyists are working hard, even now, to make sure that algo designers and implementers are immune from liability….
UPDATE The Bezzle: "Self-driving cars are headed toward an AI roadblock" [The Verge]. "But the dream of a fully autonomous car may be further than we realize. There's growing concern among AI experts that it may be years, if not decades, before self-driving systems can reliably avoid accidents. As self-trained systems grapple with the chaos of the real world, experts like NYU's Gary Marcus are bracing for a painful recalibration in expectations, a correction sometimes called 'AI winter.' That delay could have disastrous consequences for , putting full autonomy out of reach for an entire generation…. Each accident seems like an edge case, the kind of thing engineers couldn't be expected to predict in advance. But nearly every car accident involves some sort of unforeseen circumstance, and without the power to generalize, self-driving cars will have to confront each of these scenarios as if for the first time. The result would be a string of fluke-y accidents that don't get less common or less dangerous as time goes on. For skeptics, a turn through the manual disengagement reports shows that scenario already well under way, with progress already reaching a plateau." • Important! Because "banking on" really does mean banking on…
Transportation: "GM Puts Pieces in Place for Robo-Taxis in San Francisco" [Industry Week]. "General Motors Co. has created its own ride-hailing platform and quietly built one of the largest charging stations in the U.S. to get its Cruise self-driving car unit ready to enter the robo-taxi business next year. Cruise has installed 18 fast chargers in a parking facility near San Francisco's Embarcadero… 'It's an indication that Cruise is getting ready to commercialize autonomous ride-hailing services for the public and it will be in San Francisco," said Grayson Brulte, co-founder of autonomy consulting firm Brulte & Co. "I imagine they would want to own and operate the service.'" • Well, at least GM knows how to manufacture cars. That said, let's watch for how San Francisco's built environment is optimized for robots, at the expense of MUNI and BART. Because honestly, who wants to share space with smelly proles?
Transportation: "Boeing, Embraer Forge $4.75 Billion Commercial Jet Venture" [Industry Week]. "Under a preliminary deal, Boeing will own 80% of a partnership controlling Embraer's commercial airplane and services business while the Brazilian manufacturer holds 20%, the companies said in a statement Thursday. The tie-up caps years of talks between the two, while extending the duopoly held by Boeing and Airbus SE as competitive threats emerge from rivals in Russia, Japan and China. By adding Embraer's E-Jet family to its portfolio, Boeing bolsters its arsenal in the newest battlefront with Airbus: the market for 100-seat planes….. Embraer brings engineering talent that Boeing could tap for the new midrange jet on its drawing board, dubbed the 797 by analysts. Embraer also has that the Chicago-based planemaker could use to build components such as actuators and landing gear as it brings more supplier work in-house." • Just like textiles: First the mills moved South (Boeing to South Carolina), then they moved off-shore (Boeing to Brazil).
Capital Investment: "The bad news for the economy is also good news" [MarketWatch]. "'[S]luggish investment deprives businesses of productivity-enhancing physical capital, but if investment does not boom it may also not bust,' point out analysts at Credit Suisse. 'The ratio of business to GDP is not historically high even after a decade of recovery.'" Handy chart: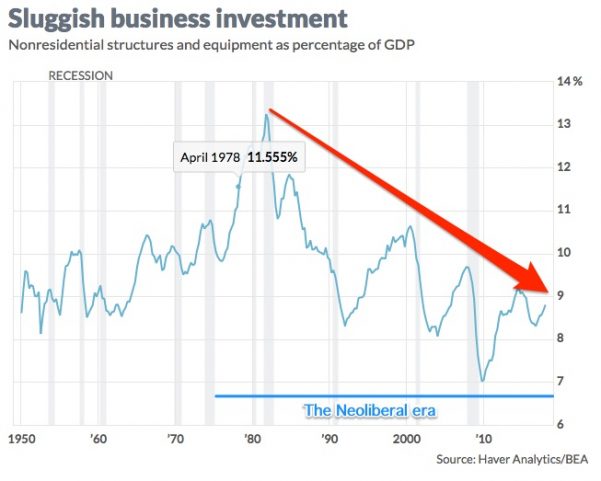 If only there were some body of scholarly work that could give insight into this, er, tendency.
Five Horsemen: "At late morning, the Fab Five are managing only a modest bounce following Tuesday's pre-holiday wilt" [Hat Tip, Jim Haygood].
NakedCap Mania-Panic Index: "The mania-panic index remained flat at 34 (worry) after Tuesday's weak showing, with the put-call ratio remaining high at 1.07" [Hat Tip, Jim Haygood]. (The NakedCap mania-panic index is an equally-weighted average of seven technical indicators derived from stock indexes, volatility (VIX), Treasuries, junk bonds, equity options, and internal measures of new highs vs new lows and up volume vs down volume … each converted to a scale of 0 to 100 before averaging, using thirty years of history for five of the seven series.)
Guillotine Watch
"Tech Elites Recreate Burning Man Inside Their Living Rooms" [New York Times]. "Tech elites who are looking for more than extra zeros in their bank statements are finding it in an unlikely place: so-called songversations, emotion-heavy gatherings that combine philosophical rap sessions with improvised music, run by a ukulele-strumming songstress who describes herself as a 'heartist.' Branded as 'Soul Salons,' they import the cosmic-explorer sensibility of Burning Man's dusty playa into the cozy living rooms of prominent entrepreneurs, where they sing freestyle on topics as diverse as environmental degradation and heartbreak…. The tech A-list is a curious place to land for Ms. [Jess] Magic, 37, who speaks in the soothing tones of a massage therapist and divides her time between Cardiff, Calif., and Bali, Indonesia." • Put down your coffee and read the whole thing. These are the ninnyhammers who are making enormous capital allocation decisions that will affect all of us.
"Why capitalism won't survive without socialism" (interview) [Eric Weinstein, Vox]. • This is utterly extraordinary, a must-read. Weinstein is very smart and perceptive, but his work for Thiel Capital has left him with a certain and to-be-expected degree of deformation professionelle. This quote gives the flavor:
I believe that once our top creative class is unshackled from those impediments which are socially negative, they will be able to choose whether capitalism proceeds by evolution or revolution, and I am hopeful that the enlightened self-interest of the billionaire class will cause them to take the enlightened path toward finding a rethinking of work that honors the vast majority of fellow citizens and humans on which their country depends.
Note the explicit assertion of class power on behalf of the 0.1% ("top") within the 10% ("creative class," themselves the 9.9%). Weinstein is, of course, a UBI supporter (prole consumption) and doesn't mention a Jobs Guarantee (a different baseline for production). One also wonders just what those "shackles" might be. Anyhow, when I imagine rolling back all the innovation these guys introduced, all the way back to the 90s, the only thing I would have a hard time living without would be the personal computer, which empowered and enabled me to write. And these guys didn't invent it. I mean, does what these guys do really compare, as innovation, to potable water? Soap? The weekend? The eight-hour day? I don't think so. I would be very happy if Thiel, Musk, and the whole innovative pother of 'em were sealed into a rocket ship and shot off to the ultimate in gated communities, Mars. Which they seem to want anyhow. So that would be win-win. Let's do it!
Class Warfare
"What 9 Instagram Employees Wore to Their New Offices" [New York Times]. • Hipster job titles in the user manipulation, data extraction, and data exploitation field (UMDE2, I suppose): Curator, Fashion partnerships, Co-founder and chief executive, Technical program manager in machine learning, Product manager, Culture lead, iOS software engineer.
"Why aren't most Americans rich? These theories may help explain it" [MarketWatch]. "Interestingly, the Wealth Index study found that more millennials partake in financial planning than baby boomers, most of whom are now in their 50s and 60s. Millennials are much more likely to take advantage of free financial planning resources and money management apps, Stein said. 'Baby boomers don't have the same trust in the financial-planning industry as millennials do,' he added." • Oh.
"Why Rebellions and Revolutions Don't Work Very Well" [Benjamin Studebaker]. "When people stop believing in these stories and begin to see themselves as enslaved people subjected everyday to a sophisticated brainwashing apparatus, they tend to want to do something about it. And if they are angry–and really, anger is a very understandable response to realising our society has played them in this way–they might want to use violence to emancipate the slaves. After all, there are more slaves than there are masters. If the slaves rise up together, won't they inevitably prevail?" • I'm suspicious of claims that "Order is built on two types of social technology" (with abbreviations). Still, worth a read.
UPDATE "How Wealth Reduces Compassion" [Scientific American]. "Who is more likely to lie, cheat, and steal—the poor person or the rich one? It's temping to think that the wealthier you are, the more likely you are to act fairly. After all, if you already have enough for yourself, it's easier to think about what others may need. But research suggests the opposite is true: as people climb the social ladder, their compassionate feelings towards other people decline…." • This is a review of the literature from 2012 (2016; 2017; 2018). My question is this: Will something like "Capital-Induced Empathy Deficit" go into the next version of "Diagnostic and Statistical Manual of Mental Disorders"? If not, why not?
Good point:
More "unauthorized labor actions" pls. ✊?✊?✊? The WORKERS are the union, never forget that. #solidarity #IWW #1u https://t.co/81E2gXgDuo

— IWW NYC GMB (@IWWNYC) July 4, 2018
News of The Wired
"The scientist who coined "stress" wished he had chosen a different word for it" [Quartz]. "His work was not immediately recognized as paradigm-changing. Conventional belief held that specific diseases led to a specific pathology, end of story. But [Hans Selye, the late Hungarian-Canadian endocrinologist and so-called "father of stress,"] found that in every disease, stress also played a role, and in some cases a decisive one. The general adaptation syndrome, he said, unfolded in three stages: alarm, resistance, and exhaustion. By 1950, he had rebranded the whole bundle of behaviors as stress." • See under Deaths of Despair.
Maps (1): "Brooklyn Pirate Radio Sound Map" [Waves Over Flatbush].
Maps (2):
This #map allows you to navigate every city. Hilarious piece of work by the fantastic @instachaaz (make sure you follow him!). pic.twitter.com/VYzhKBDwwq

— Simon Kuestenmacher (@simongerman600) July 3, 2018
I hope your Fouth of July was a pleasant one:
A Nathan's hot dog has 24 carbs.

Joey Chestnut ate 74 hot dogs.

Eating 1776 carbs and 74 hot dogs on 7/4 is the most American stat in history.

— Justin Karp (@jskarp) July 4, 2018
* * *
Readers, feel free to contact me at lambert [UNDERSCORE] strether [DOT] corrente [AT] yahoo [DOT] com, with (a) links, and even better (b) sources I should curate regularly, (c) how to send me a check if you are allergic to PayPal, and (d) to find out how to send me images of plants. Vegetables are fine! Fungi are deemed to be honorary plants! If you want your handle to appear as a credit, please place it at the start of your mail in parentheses: (thus). Otherwise, I will anonymize by using your initials. See the previous Water Cooler (with plant) here. Today's plant (Carla):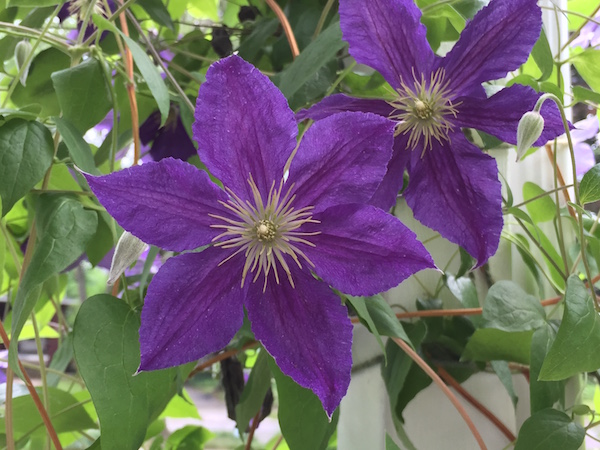 * * *
Readers: Water Cooler is a standalone entity not covered by the annual NC fundraiser. So do feel free to make a contribution today or any day. Here is why: Regular positive feedback both makes me feel good and lets me know I'm on the right track with coverage. When I get no donations for five or ten days I get worried. More tangibly, a constant trickle of small donations helps me with expenses, and I factor that trickle in when setting fundraising goals. So if you see something you especially appreciate, do feel free to click the hat!

To give more, click on the arrow heads to the right of the amount.
If you hate PayPal — even though you can use a credit card or debit card on PayPal — you can email me at lambert [UNDERSCORE] strether [DOT] corrente [AT] yahoo [DOT] com, and I will give you directions on how to send a check.