Oregon woman finds cougar in living room, says telepathy helped her get it out OregonLive
1 Hen, 76 Ducklings: What's the Deal With This Picture? New York Times (Glenn F)
Business students more likely to have a brain parasite spread by cats New Scientist
Water on Mars! Really for Real This Time (Probably) The Planetary Society
Methane Deathtrap Threatens Democracy Counterpunch
The Challenge of 'Chronic Lyme' New York Review of Books
IBM Watson Reportedly Recommended Cancer Treatments That Were 'Unsafe and Incorrect' Gizmodo
China?
Beijing police identify suspect in US embassy blast South China Morning Post

The Latest: Chinese police say explosion outside U.S. Embassy in Beijing was caused by a small homemade device wielded by a 26-year-old man who hurt only himself. https://t.co/eBJPVS2Kje

— The Associated Press (@AP) July 26, 2018

US airlines change Taiwan reference on websites ahead of Chinese deadline Reuters
'A huge win': New Zealand brings in paid domestic violence leave in world first Guardian (Shane)
EU court damns Polish legal system Politico
Brexit
Brussels bullies can't stop Britain accessing Galileo 'secret data' (we already have it) Express

Brexit: an irresponsible use of power Richard North. On the BBC's misreporting of the aviation mess. Quite a takedown.

L'Europe doit éviter un Brexit dur Bruegel. Google Translate version. Astonishingly out of touch with the political realities
Syraqistan
Pakistan election in disarray as incumbent rejects result Guardian
New Cold War
Imperial Collapse Watch
The World According to Ben Rhodes: Hypocrisy in Obama's Foreign Policy Consortiumnews

Watchdog finds $15.5 billion "wasted" on 11-year presence in Afghanistan Axios
Big Brother is Watching You Watch
Tariff Tantrum
Trump-Juncker meeting: US and EU strike deal to avoid trade war Independent (Kevin W)

From Politico's European newsletter:

Bottom line: To get what he wanted, Juncker promised Trump things that have already happened. Expect some noise from France (on agricultural products) and Germany (on gas), and perhaps some murmurings about the fact that Trump didn't unconditionally surrender, but chalk this one up as a Juncker victory.

Europe to Become 'Massive' Buyer of U.S. LNG, Trump Says Bloomberg
Trump Transition
Majority of Democrats Want Candidates to Be More Like Bernie Sanders, Poll Finds Newsweek
Bernie Sanders Introduces Bill to End Money Bail Intercept
Ocasio-Cortez campaign ad creators release powerful new video for another socialist candidate Mic.com (UserFriendy) See below:
A Hawaii for the many is possible, but we have to take it, together.

On August 11, this movement can make history, but I need your help.

Please Retweet this video, Donate, and sign up to knock on doors, send texts + https://t.co/dELbZgUFNP#Ing2018 pic.twitter.com/aGXwSj4m5f

— Kaniela Ing (@KanielaIng) July 25, 2018
Time to break up Google and Facebook, says New York attorney general candidate Washington Post
2020 Democrats Band Together to Call for Puerto Rico Debt Cancellation Intercept (UserFriendly)
Fake News
If you thought fake news was a problem, wait for 'deepfakes' Financial Times. FWIW, the Google engineer (a guy with heavy academic chops) who sat next to me on my flight back from Seattle was tasked to this issue at YouTube

Erasing Flint's Water Crisis: Or How to Lie With Statistics Counterpunch
Class Warfare
San Francisco looks to ban free lunch at tech companies CBS (Kevin W)

Jeff Bezos' Paper Tells You Not to Worry About Those Billionaires FAIR (UserFriendly)

There's an Entire Instagram Account Devoted to Destroying Rideshare Scooters Vice. I was so annoyed I missed my chance to wreck on in San Francisco. I was going to a pharmacy on Market Street near my hotel and saw one abandoned. I planned in my mind how to step on it on the way back so as to damage its back wheel without damaging me. But it was gone when I returned. So I don't have fast enough reflexes to be a good vigilante.

US corporate tax collections are down by a third from last year… and near a 75-year low.

And that's despite the repatriations from tax havens, which were supposed to boost revenue.

https://t.co/onKky4Nbzg pic.twitter.com/0qyubgJvjY

— Gabriel Zucman (@gabriel_zucman) July 25, 2018

No, Amazon Cannot Replace Libraries Vice. Forbes was shamed into taking down its article.

Inside Google's Shadow Workforce Bloomberg (Chuck L)
Antidote du jour. From crittermom:
This is a neighbor's dog, named Twitter.
Somehow, the name 'Yoda' always comes to my mind…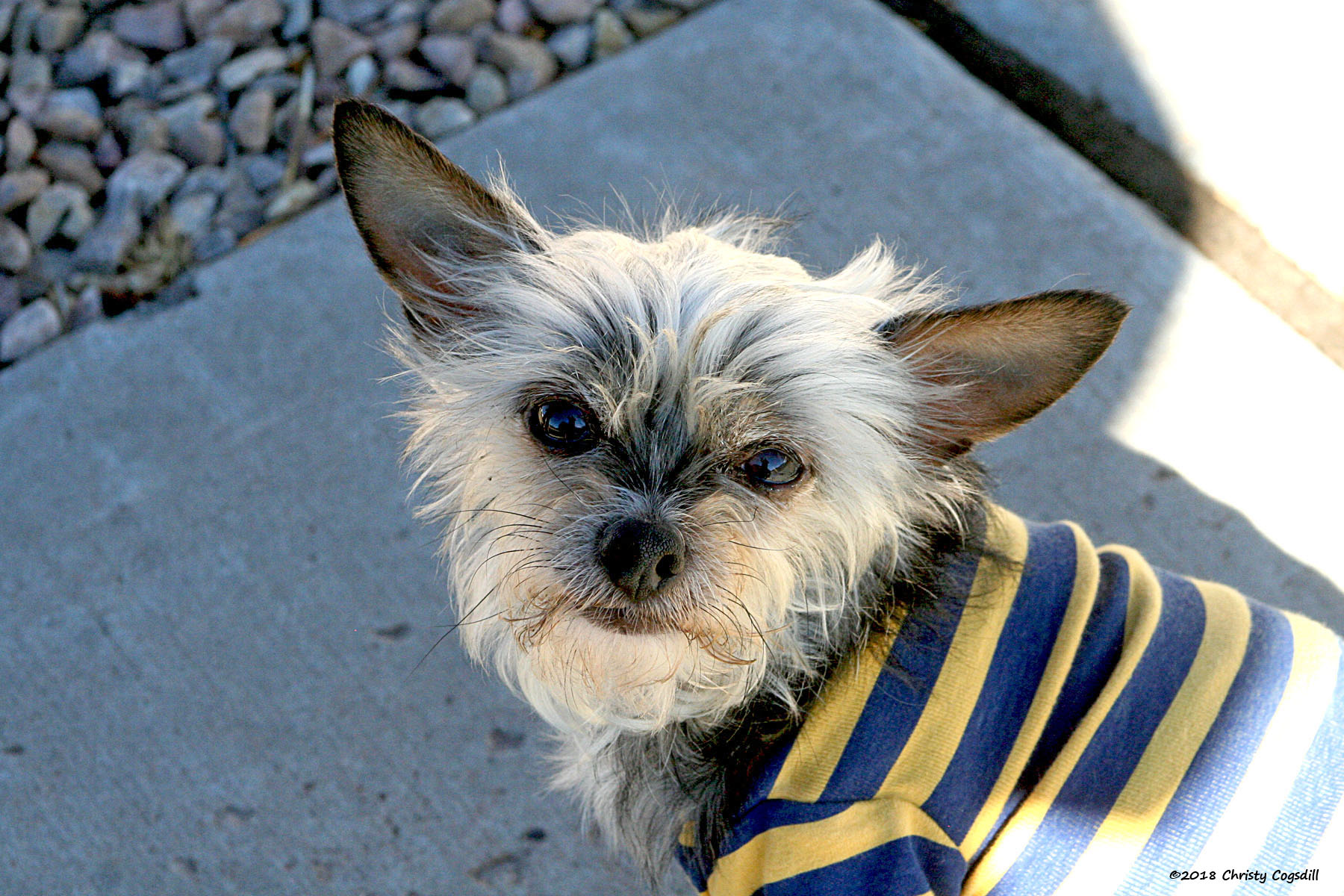 And a bonus video:
See yesterday's Links and Antidote du Jour here.