Yves here. I am convinced that one of the reasons climate change isn't getting the media attention it warrants in the US is that the Northeast is one of the few areas to have gotten generally more moderate weather. In New York City, summers are on average less hot, with markedly fewer above 90 degree days, and winters milder than in the 1980s.
First, from the Bulletin of the Atomic Scientists, Global heat wave: an epic TV news fail: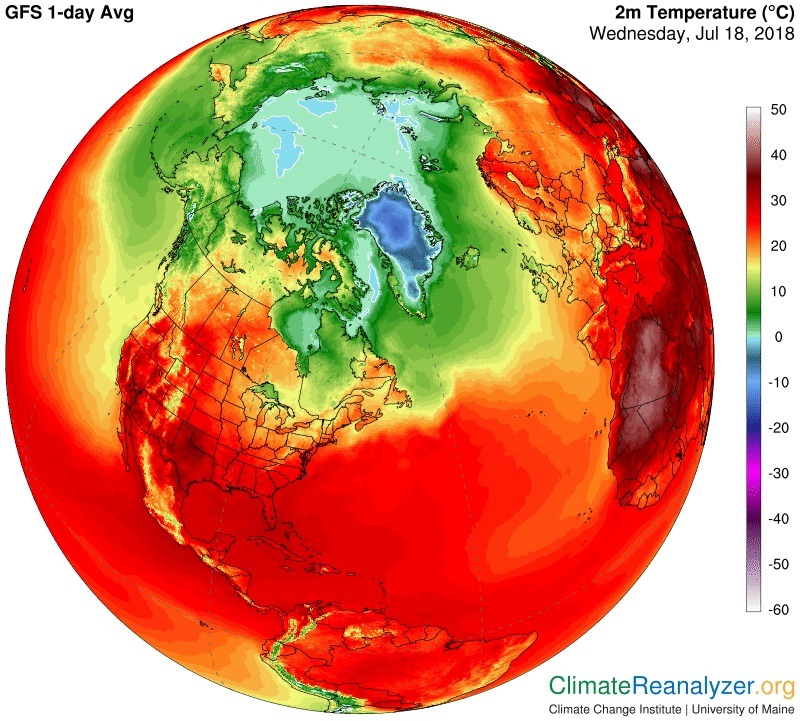 This month's scorching heat wave broke records around the world. The Algerian city of Ouargla, with a population of half a million, had a temperature of 124.3 degrees Fahrenheit on July 6, the hottest reliably measured temperature on record in Africa. In Ireland and Wales, the unusually hot weather revealed ancient structures normally hidden by grass or crops. In Chino, California, the mercury soared to 120 degrees. Another round of hazardous summer heat is expected this week, with record high temperatures possible in the southern United States.

The prolonged heat wave has been a staple of television news for weeks. However, most of the coverage has been sorely lacking in context: Humans are warming the planet, and scientists have already linked some heat waves to climate change. A recent analysis published in the journal Nature Climate Change concludes that human-driven climate change, rather than natural variability, will be the leading cause of heat waves over the western United States and Great Lakes region as early as the 2020s and 2030s, respectively.

Like the heat itself, much of the media coverage was stupefying. "Major broadcast TV networks overwhelmingly failed to report on the links between climate change and extreme heat," according to a Media Matters survey. "Over a two-week period from late June to early July, ABC, CBS, and NBC aired a combined 127 segments or weathercasts that discussed the heat wave, but only one segment, on CBS This Morning, mentioned climate change."
And now to Grist:
By Eric Holthaus, a meteorologist and staff writer for Grist, covering climate science, policy, and solutions. He has previously written for the Wall Street Journal, Slate, and a variety of other publications. Originally published at Grist
The worst ravages of climate change are on display around the world.
Wildfires have ripped through towns in Greece, floods have submerged parts of Laos, and heat waves have overwhelmed Japan. These are striking examples of climate change playing out in its deadliest forms, and they're making  the term "natural disaster" an outdated concept.
People in Greece were jumping into the Aegean to escape advancing wildfires, according to a report in the New York Times. More than 70 are confirmed dead so far, and some scenes are horrific. 
"Greece is going through an unspeakable tragedy," saidPrime Minister Alexis Tsipras, in a televised address to declare three days of national mourning.
This is already Greece's hottest year on record. Although the last few weeks have been mild and wet, it's nearly certain that warm weather has played a role in drying out forests throughout Europe, where the number of fires this year is 43 percent above normal. Longer summers, more intense drought, and higher temperatures are all linked to greater fire risk.
We've known enough about meteorology to link extreme events to their increased likelihood as they are happening for years now. Recent advances in extreme weather attributioncan often tell us exactly how much.
Ample evidence links worsening fires with human activity. Greece and much of the Mediterranean region is projected to turn into desert over the next several decades, and there are signs that this shift has already begun. As the region's native trees die off and urban areas expand into neglected forests, firefighting resources are becoming woefully overmatched. Regardless of ignition source — arson or lightning or human carelessness — massive wildfires will become more common as droughts intensify and heat waves get more common. Extreme winds, like those blamed for fanning the flames this week in Greece and during megafires in Portugal last year, can make an already dire situation uncontrollable.
It's the hottest month of one of the hottest years in the history of human civilization, and unusual wildfires are sprouting up all over the map. Sweden has called for emergency assistance from the rest of the European Union to help battle massive wildfires burning north of the Arctic Circle. Across the western United States, 50 major wildfires are burning in parts of 14 states, fueled by severe drought. The wildfires burning in Siberia earlier this month sent smoke plumes from across the Arctic all the way to New England, four thousand miles away. Last year, big wildfires burned in Greenland for the first time in recorded history.
And then there are the rains. In Laos, after days of downpours, a hydropower dam that was under construction collapsed on Tuesday. Hundreds of people have been reported missing. Higher global temperatures increase the evaporation rate, putting more water vapor in the atmosphere and making extreme downpours more common.
In recent weeks, high temperature records have been set on nearly every continent. On Monday, Japan had its hottest temperature in recorded history— 106 degrees Fahrenheit — just days after one of the worst flooding disasters the country has ever seen.
Algeria has recorded the highest reliably measured temperature in Africa, 124 degrees Fahrenheit. In late June, the temperature never dropped below 108 degrees Fahrenheit in Oman — the highest overnight low temperature anywhere in the world.
Even in normally temperate places the air has been sweltering: Temperatures approaching 100 degrees Fahrenheit hit parts of Canada, overwhelming hospitals in Montreal— where another heat wave is imminent this week.
According to calculations from climate scientist Gavin Schmidt, this year will likely be the world's fourth warmest year on record globally, behind 2015, 2016, and 2017. With another El Niño on the way, next year could be even hotter.
All over the world, heatwaves are getting longer and more intense, the most well-documented and deadliest consequence of our failure to cut greenhouse gas emissions.