By Lambert Strether of Corrente.
Trade
"Backing off auto tariffs, US and EU agree to more talks" [Associated Press]. "In a hastily called Rose Garden appearance with Trump, European Commission President Jean-Claude Juncker said the U.S. and the EU had agreed to hold off on new tariffs, suggesting that the United States will suspend plans to start taxing European auto imports — a move that would have marked a major escalation in trade tensions between the allies. Trump also said the EU had agreed to buy 'a lot of soybeans' and increase its imports of liquefied natural gas from the U.S. And the two agreed to resolve a dispute over U.S. tariffs on steel and aluminum. But while politicians and businesses welcomed the deal Thursday, the agreement was vague, the negotiations are sure to be contentious, and the United States remains embroiled in major trade disputes with China and other countries." • The soybeans should help with the Farm Lobby and the mid-terms, at least in terms of perception…
"Today's D.C. Visit by Top Mexican Trade Officials May Reveal Whether a Renegotiated NAFTA Deal Can Be Signed in 2018" [Eyes on Trade]. "What's new is Mexico's heightened motivation to finalize a deal now, given that both the outgoing and incoming administrations appear to have compelling reasons to want a deal done in time for the current Mexican president to sign it and they generally agree on what terms would be acceptable. 'If a deal cannot be reached now and negotiations roll into 2019, the timeline for talks to be concluded, as well as NAFTA's ultimate fate, become less certain. Achieving a deal that can get through the U.S. Congress and that satisfies Donald Trump's high-profile campaign pledges to bring back manufacturing jobs and reduce the NAFTA trade deficit is extremely tricky, but ironically less so if current predictions of Democratic gains in the midterm elections hold true. For decades, congressional Democrats have advocated for the NAFTA changes that could deliver the outcomes Trump promised." • Of course, now the Democrats would have to deliver, instead of "advocate"….
"Mexico's negotiating team is back in Washington today to talk NAFTA 2.0 with U.S. Trade Representative Robert Lighthizer, almost two months after talks chilled between the U.S., Mexico and Canada. Mexican Economy Secretary Ildefonso Guajardo and Lighthizer will meet today to formally resume the talks, renewing hopes that negotiators can land a deal in the coming months" [Politico]. "'There's hope that the U.S. should have a new position. It wouldn't make sense to schedule this meeting if there's no change in position,' a source close to the negotiations told Morning Trade. A big part of today's meeting will be to 'see if the U.S. has found a way to work through the challenges with Mexico.'"
"Tariffs Once Tore the GOP Apart—and May Be Doing So Again" [The Atlantic]. The deck: "It's only a matter of time before rural voters again learn what their forebears knew: Protectionist policies are rigged against them." • The trope that all the Democrats have to do is wait crops up everywhere, doesn't it?
Politics
2020
"Hillary Clinton to appear on 'Madam Secretary'" [Associated Press]. "CBS on Tuesday announced former secretaries Hillary Clinton, Madeleine Albright and Colin Powell will appear on drama's fifth season premiere on Oct. 7." • Please, please, please, I'm begging here, let this just be a grift — Clinton making money from being a public official — and some kind of signal….
2018
"Here comes that blue wave" [The Week]. • Reads like analysis until the author just can't help it, and lets go. More: "Democrats have been at their strongest over the past two years when they have come together to fight the Trump administration with [(!!)]. That was true during the health-care fight in the summer of 2017, and it was true during the tax-cut battle that December. When that unity has dissipated, or when Democrats in Congress have lost their fighting spirit, they have watched their polling numbers decline." • Unspoken whenever the unity schtick is deployed: The liberal Democrats have the power to blame, but the left has the power to determine who wins and loses. ("The people who can destroy a thing, they control it." –Frank Herbert.) Nice little party you have here. It would ba a shame if something happened to it. I don't think this is a winning message, but it would be nice to see it more often as a subtext.

UPDATE "House Dems introduce bill to require two years of debt-free college across the US" [ABC]. • Damn. Ask for four years, get two. The left should have asked for free grad school, and then they might have gotten four years.

UPDATE "Democrats overperforming with the real swing voters: those who disapprove of both parties" [NBC News]. "President Trump helped win the White House thanks to an overperformance among voters who disliked both Trump and Democratic presidential nominee Hillary Clinton in 2016…. Democrats have a 30-point advantage over Republicans among this constituency on the generic ballot, a stronger lead than Republicans had during each of their midterm wave years of 2010 and 2014. Fifty-five percent of these voters back Democrats, compared to just 25 percent who back Republicans."

"Why So Many Reporters Are Missing the Political Story of the Decade" [Nancy LeTourneau, Washington Monthly]. "Frankly, someone needs to tell [Bernie Sanders] to sit down and shut up for a while…. By zeroing in on the oudated battles between old white men, too many reporters and pundits are missing one of the biggest political stories of the decade as it unfolds right in front of their faces. That is what white male privilege will do to you." • Even in these days of gender fluidity, I'm surprised to learn that Alexandria Ocasio-Cortez and Nina Turner are "old white men." Perhaps the memo came when I was at brunch?

UPDATE "A Top Democrat Says Alexandria Ocasio-Cortez Would Need To Wait Her Turn For Leadership" [Buzzfeed News]. "'I would* ask her to remember how long I had to wait to get here,' [#3 Democrat Jim] Clyburn said on BuzzFeed News' AM to DM on Wednesday morning when asked if Ocasio-Cortez would have to wait for her turn at seniority. 'Let's not forget the history of all of this,' said Clyburn. 'And I think that all of the folks who have that mentality seem not to give much respect to those of us who sat in jails, as I did, so that they would have the kind of activities or the kinds of rights that they have today.'" NOTE * A fine example of the Beltway Subjunctive. • I would think that, very sadly, the transformation of the heroes of the Civil Rights of yore into the Black Misleadership class of today negates Clyburn's point, as shown by Rep. John Lewis' disgraceful performance in campaign 2016, not to mention Clyburn's own role in maintaining the South Carolina firewall, but AOC can't say that…

"So do I get any credit for being on the cutting edge of all of that? Or should the credit go to my children and grandchildren who are the beneficiaries of it? I think that we have to balance this out."

UPDATE Then again:


Looks like @Ocasio2018 will be holding a fundraiser here in San Francisco. Unfortunately tickets are $250+ and one of the hosts is @BuffyWicks, who is running against DSA and OR endorsed @JovankaBeckles.

— San Francisco Berniecrats-Our Revolution (@sfberniecrats) July 24, 2018

See Down with Tyranny on Buffy Wicks: "New Anti-Berner Model Test In California's 15th Assembly District Election." Whoever got AOC to come to this fundraiser played her for a fool. I know AOC won't have a chief of staff 'til November — crossed fingers — but this is really an own goal, and one easily avoided. I'll say it again: She should stay grounded by continuing to knock doors in the district.

UPDATE Hmm….

I have learned so much from the awful experience with @justicedems & the folks who made decisions to turn away "non viable" candidates, who are now being praised as leaders of the "progressive movement".https://t.co/8O1y7yFvJX

— Sema Hernandez ? (@_SemaHernandez_) July 24, 2018

Remember that "Berniecrat" Hernandez got 24% against establishment darling Beto O'Rourke with almost no funding. So Hernandez is worth listening to, if not necessarily agreeing with. Politics ain't beanbag….

"No. 2 Democrat Steny Hoyer Unveils Centrist Economic Pitch" [Wall Street Journal]. "In a speech Monday at a WeWork co-working facility, Mr. Hoyer said he sees education and skills training, entrepreneurship and infrastructure on the Democrats' policy list if they retake control in the 2018 midterms. The speech followed a tour of nine states, where the Maryland Democrat hosted events with business owners, city officials and students." • Attaboy.

UPDATE "There Is No Silent Centrist Majority [The New Republic]. "In fact, national polling suggests that there is public support for an institutional move to the left. Polls consistently show that two-thirds to three-quarters of Americans support raising taxes on the rich. Nearly half of Americans support a federal jobs guarantee, according to a Rasmussen poll in May. And a Kaiser Family Foundation poll in March found that 59 percent of Americans support Medicare for All; around 75 percent support the public option, which would have been part of the Affordable Care Act if it weren't for moderates like then–Senator Joe Lieberman. Among Democrats specifically, support for these and other policies is even higher. For instance, while Himes believes abolishing ICE is "not a real political proposal," 43 percent of Democrats say the government disagree, versus 34 percent who want to keep ICE."

Liberal Democrat appeal to Republicans continues unabated:

It's time for Republicans to hold Trump accountable, put country over party, and join Democrats in taking necessary action to defend against future attacks. https://t.co/6UJm1hitNN

— Tom Perez (@TomPerez) July 23, 2018

"It's time…" is so weak…

UPDATE Left appeal to Republicans continues:

Fox & Friends had Daily Caller editor @VAKruta on to discuss the fear she felt attending @Ocasio2018 rally.

"They talk about things everybody wants, especially if you're a parent. They talk about education for your kids, health care… it was really uncomfortable." #BeyondParody pic.twitter.com/BULE0KFuPJ

— Aaron Rupar (@atrupar) July 24, 2018

MI Governor: "Abdul El-Sayed Is Running for Governor of Michigan on a Platform That Embraces the Future" [The Nation]. "El-Sayed proposes to create the nation's first state-operated Internet-service provider with an eye toward expanding access in rural and urban communities across Michigan. The plan would close the state's digital divide." • More than this, of course. If liberal Democrats cared about the rural vote, they'd push this, so of course not.

DE Senate: "Carper Dominates in Fundraising due to Corporate and PAC donations" [Blue Delaware]. "Progressive challenger Kerri Evelyn Harris has raised a total of $52,306 this year, and $29,512 this past quarter. She has raised all but $519 from grassroots individual donations. She has $15,458 cash on hand as of June 30Three term Senator Tom Carper has raised $780,687 in individual donations since January, but has received $1,354,580 from corporations and PACs. Seriously, there are 35 pages of 20 PACs and corporations in Carper's latest filing….. I have noticed that health insurance companies seem interested: Aflac PAC, Aetna, AES Corp., and TransAmerica. I wonder if these health insurance companies expect Tom Carper to the the Joe Lieberman of 2021. A moderate Senator in his final term that kills Medicare for All." • Ka-ching…
New Cold War
"Leon Panetta: How To Save America From President Trump's Foreign Policy Hell" [Newsweek]. • New headline: "Democrat Spy-Humper Tells All."

"Henry Kissinger Pushed Trump to Work With Russia to Box In China" [Daily Beast]. • Hillary Clinton's very good friend…

UPDATE Tit-for-tat shouldn't be that hard to understand. Thread:


It's become a core tenet of the Russiagate narrative that Trump's perceived personal affinity for Putin is just so WILDLY out of character. But… it's firmly *in-character.* Trump always behaves nicely toward people (including world leaders) who are nice to him pic.twitter.com/RxcbdFQckj

— Michael Tracey (@mtracey) July 24, 2018



Realignment and Legitimacy
"House Intel chair calls for ban on electronic voting systems" [The Hill]. "House Intelligence Committee Chairman Devin Nunes (R-Calif.) called for a ban on electronic voting systems in an interview that aired Thursday on Hill.TV's 'Rising.' 'The one thing we've been warning about for many, many years on the Intelligence committee is about the electronic voting systems, Nunes told Hill.TV…. 'Those are really dangerous in my opinion, and should not be used. In California — at least in the counties that I represent — they do not use an electronic system,' he continued. 'I think anybody that does that, and that's communicating over the web, it's going to be a challenge. So you have to make sure that you limit that as much as possible, and we need a paper trail so that you can go back in case you have to do a manual recount,' he said." • Yes but no. Hand-marked paper ballots, hand-counted in public means that the paper is the ballot (and not just a paper trail. It is, as it were, the transaction, and not a receipt for the transaction). Nevertheless, it's interesting to see this come from the Republican side of the aisle. If Sanders joined him, and they introduced a bill together — they could start by cutting off all DHS funding for crapping around with electronic voting systems, which is an obviously Bad Idea — that would cause any number of heads to explode….

"Republicans and Democrats love luxury goods, but buy them for different reasons" [MarketWatch]. Interesting, particularly in light of the OzyFest just passed. "A study published earlier this year in the Journal of Consumer Research found that conservatives prefer products that broadcast to the world that they are better than other people, while liberals like products that [irony alert] signal their 'uniqueness.'" • So the "snowflake" moniker has a grain of truth, according to science.

"As Tensions Rise in National Politics, Democratic Socialists Push Denver Chapter" [WestWord]. "The Denver chapter of Democratic Socialists of America started with three radical activists disappointed by the outcome of the 2016 election. Not quite two years later, 73 Denver residents packed into a church classroom on a hot Saturday afternoon to discuss socialist organizing tactics and political issues. With nearly 300 registered members, an endorsement of candidate Julie Gonzales that might have helped make her the Democratic nominee for a state Senate seat in District 34, and a hand in some of the most well-attended recent progressive rallies, Denver DSA is no longer on the fringe of local politics."

UPDATE At some point, disorder in the front office is going to affect the players on the field. Thread:

…OF COURSE there's a goddamned "animal liberation working group" in DSA now. If there were ANY other org active in the south I swear to God…

— ?Comrade Shepherd? (@NeolithicSheep) July 25, 2018

True, it's just a caucus, But I see little indicators like this thread constantly. Maybe it's all part of the plan ("Let 100 flowers blossom"). Or perhaps there is no plan. "Growing pains" works until it doesn't.
Stats Watch
Durable Goods Orders, June 2018: "[A]ircraft orders did in fact rise sharply in June but still not nearly as much as expected" [Econoday]. "Strength in the report is centered in core capital goods (nondefense ex-aircraft) where orders rose…. Though aircraft is soft, this is otherwise a very positive report showing solid strength for capital goods. Manufacturing remains one of this year's top performing sectors." And but: "Civilian aircraft and autos were the main drivers this month in the adjusted data. This series has wide swings monthly so our primary metric is the unadjusted three month rolling average which declined" [Econintersect].
Kansas City Fed Manufacturing Index, July 2018: "A little less acceleration in orders and production and even more stress in deliveries and prices" [Econoday]. "This sample, like other regional surveys, has more than enough business than it can handle. Manufacturing, as underscored by this morning's durable goods report, is enjoying a very strong year." And: "Kansas City Fed manufacturing has been one of the more stable districts and their index remains very strong. Note that the key internals remained in expansion" [Econintersect]. And: "All of the regional surveys for July have been solid so far" [Calculated Risk].
International Trade in Goods, June 2018: "The goods portion of June's trade deficit is a bit deeper than expected" [Econoday]. "There was a very steep decline in exports of consumer goods in June… Capital goods exports, a key U.S. strength, also fell."
Jobless Claims, week of July 21, 2016: "Jobless claims remain very low in confirmation that employers are holding onto their workforces" [Econoday]. But: "Jobless claims rise after hitting 48-year low" [MarketWatch]. "Claims often bounce up and down during the summer, but the broader picture is unchanged. Very few people are being laid off and companies are struggling to find skilled workers to fill a sea of open jobs. More people are leaving jobs but it's voluntary and doesn't show up in claims data."
Retail Inventories, June 2018 (Advance): "unchanged in June" [Econoday].
Wholesale Inventories, June 2018 (Advance): "unchanged in June" [Econoday].
Coincident Indicators: "June 2018 Philly Fed Coincident Index Year-over-Year Rate of Growth Declined" [Econintersect]. "The reality is that most of the economic indicators have moderate to significant backward revision – and this month they are generally more positive."
Finance: "Private investors are getting involved in the tug-of-war over cash in the supply chain. U.S. pension funds, private-equity firms and other investors are plowing capital into trade finance…, a business that was historically dominated by large banks" [Wall Street Journal]. "The new capital is helping to transform a $10 trillion market that greases the wheels of cross-border trade, as , the highest level in the past decade. By selling their invoices to private financiers, small businesses that banks often view as riskier borrowers can get cash to keep operations running. Over the past decade stricter regulations world-wide have forced banks to set aside more capital against these types of loans, making them less lucrative, and institutional investors are increasingly stepping in to fill the void." • Regulatory arbitrage once more…
Shipping: "The changing face of cargo theft: interview with Scott Cornell" [DC Velocity]. "According to security consultancy CargoNet, nationwide incidents of cargo theft last year declined 17 percent from 2016 levels. Yet there were still more than 700 reported incidents last year, involving $89 million of stolen goods. Many more incidents were believed to have gone unreported. The bulk of the thefts occurred over long holiday weekends when drivers take extended breaks and often leave their rigs and cargo unattended. Businesses are getting smarter, but so are thieves." • $89 million doesn't seem like very much.
Shipping: "Truckload driver wages must hit $75k annually to boost supply, executive says" [DC Velocity]. "Lana R. Batts [co-president of Tulsa-based Driver iQ] said in an e-mail that driver wages 'certainly' must hit the $75,000 threshold for seats to be filled and stay that way. Another possible metric, that of wages equaling 60 cents per mile or about $80,000 a year, is irrelevant because drivers aren't getting the miles they need to make a solid living due to issues such as delays at shipping and receiving docks and a federal mandate requiring virtually all drivers use Electronic Logging Devices (ELD) to track compliance with hours-of-service requirements. Batts' comments indicate that drivers must be assured of miles equating an annual wage of $75,000 or more for the truckload sector to compete with other industries for valuable labor." • Carpe truckem…
The Bezzle: "Facebook pays for all its mistakes at once, and it is a big bill" [MarketWatch]. "Many analysts were rather dumbstruck on the conference call, with some stammering a bit as they asked questions trying to get their heads around a decline in revenue-growth that had long been presaged but never actually arrived. Wehner warned exactly two years ago this month ["You knew damn well I was a snake before you took me in"] of a coming revenue slowdown, due to a slowing ad load, but it still had not happened…. Now, as investors mull Facebook's surprising forecast for revenue growth to sharply decelerate in the second half of the year, some may be hoping that Wehner was just the boy crying wolf again. But based on all the controversies that have surrounded Facebook this year — especially its role in the Cambridge Analytica scandal, where data from 87 million user profiles was scraped and used for marketing purposes during the 2016 campaign — Facebook is finally paying for its sins." • "All at once"? How do we know that? And when is the karmic hammer going to strike Google? Since it seems both companies belong in the same circle of Hell. (Circle VII, "Fraud," I would think. All the bolge are relevant, but particularly 10, "Falsifiers.")
The Bezzle: "Facebook's Worst Day Ever Isn't Over Yet" [Safe Haven]. "Techland is reeling as yet another FANG stock bites the dust—this time, it's a major Facebook fall from grace. First, it was Netflix Inc., whose shares dropped nearly 10 percent about a week ago after the company failed to meet subscriber growth projections during Q2 earnings. And now, Facebook Inc. stock is on pace for its worst single-day stock drop in its six-year history as a public company…. FB stock managed to claw back lost ground after the Cambridge Analytica privacy scandal earlier this year. But this next climb is going to be one very tough slog."
The Bezzle: "Facebook, Under State Pressure, Will End Discriminatory Ad Targeting" [Governing]. "Facebook will be legally required to end its practice of allowing businesses to block certain groups like blacks, gays and immigrants from viewing ads under an agreement reached with the Washington State Attorney General's Office. The Attorney General's Office said Tuesday it had launched an investigation into the social-media giant and successfully bought 20 fake Facebook ads that excluded various ethnic minorities in late 2016. The ads, all approved by Facebook, were in some cases blatantly racist: One housing ad contained a headline specifically stating that people of certain ethnicities need not apply; another was looking for a white tenant." • Less regulatory arbitrage, lower profits…
The Bezzle: "Safeguarding autonomous vehicles: The role of AI" [Automotive IQ]. "As this report states, "[S]ensing is easy; perception is difficult… The paper defines the components necessary to create this movement from sensing to perception… Manufacturers must cooperate in developing these components in the most interchangeable way possible. This goes against the autonomy of major auto suppliers in all tiers, just as other industries have proprietary systems and patents they hold most dear. However, this appears to be the only way for a fully functioning autonomous vehicle system to perform; any other system demands severe limitations on its size and scope." • The same issue I raised yesterday re: robot car "Black Box" data; standardization is at once necessary and resisted by all manufacturers.
The Bezzle: "LifeLock Bug Exposed Millions of Customer Email Addresses" [Krebs on Security]. "[LifeLock — a company that's built a name for itself based on the promise of helping consumers protect their identities online — may have actually exposed customers to additional attacks from ID thieves and phishers. The company just fixed a vulnerability on its site that allowed anyone with a Web browser to index email addresses associated with millions of customer accounts, or to unsubscribe users from all communications from the company. The upshot of this weakness is that cyber criminals could harvest the data and use it in targeted phishing campaigns that spoof LifeLock's brand. Of course, phishers could spam the entire world looking for LifeLock customers without the aid of this flaw, but nevertheless the design of the company's site suggests that whoever put it together ." • Ouch. "In late 2016, Symantec said it would buy Lifelock for $2.3 billion, and the deal was closed in February 2017." • Imagine what the price would have been for a company with a technical staff that knew what it was doing.
Supply Chain: "Why Amazon's supply chain ambitions should have logistics companies worried" [Freight Waves]. "Though the e-commerce industry has been quite successful in shielding the actual cost of logistics from the eyes of the consumer, increasing fuel costs are winding the screws so hard that even Amazon failed to bear the brunt. This was evident from the recent change in Prime membership plans, which would cost a bit more than usual going forward, as the annual price jumped to $119 from $99. Even with the rise in premium, Amazon would still be compensating heavily for the actual costs, as total logistics expenses stood at $46.9 billion in shipping and fulfillment last year – with membership premiums amounting to only a fraction of it. It is evident from the company's financials that logistics expenses play a primary role in bringing its profits down. And Amazon's attempt to reduce its overhead is leading it to take interest into how its supply chain is run. • Of course, Mr. Market doesn't demand that Amazon make a profit. So there's that.
Five Horsemen: "Shaking off the Facebook blues, Apple is the only rider at a new high at late morning after yesterday's five-fecta" [Hat Tip, Jim Haygood].
NakedCap Mania-Panic Index: "Yesterday's brisk rally lifted the mania-panic index to 67 (complacency)" [Hat Tip, Jim Haygood]. (The NakedCap mania-panic index is an equally-weighted average of seven technical indicators derived from stock indexes, volatility (VIX), Treasuries, junk bonds, equity options, and internal measures of new highs vs new lows and up volume vs down volume … each converted to a scale of 0 to 100 before averaging, using thirty years of history for five of the seven series.)
Our Famously Free Press
"Beyond the Truth-O-Meter" [Columbia Journalism Review]. "Today, about 70 percent of the world's 149 fact-checking organizations use rating systems like the Truth-O-Meter…. [W]e found that a large share of our audience fixated on the meter, no matter how thorough the article was. That was especially true when they disagreed with the rating. The meter was so effective that people used it to hate us…. One of the projects we're funding is Truth Goggles, which will experiment with new ways to present corrective information…. To counter that, Schultz says Truth Goggles will be like customized lenses for each user. The [developer] is developing questions to calculate a user's needs: What are their biases? What makes them upset? Where are their blind spots—the information they may be ignoring, consciously or subconsciously? The answers will provide clues about how to present fact-checks so users won't feel attacked, dismissed, or that their values are being disrespected. The next step is to tailor the fact-check to the situation." • Too bad we fired all the editors. They used to handle stuff like this. Dunno about goggles, though. Even as a metaphor, they suggest a They Live! scenario. In reverse.
"MSNBC has done 455 Stormy Daniels segments in the last year — but none on U.S. war in Yemen" [Salon]. "On July 2, a year had passed since the cable network's last segment mentioning U.S. participation in the war on Yemen, which has killed in excess of 15,000 people and resulted in over a million cases of cholera. The U.S. is backing a Saudi-led bombing campaign with intelligence, refueling, political cover, military hardware and, as of March, ground troops. None of this matters at all to what Adweek calls 'the network of the Resistance,' which has since its last mention of the U.S. role in the destruction of Yemen found time to run over a dozen segments highlighting war crimes committed by the Syrian and Russian governments in Syria."
Gaia
"Mars at Opposition 2018: How to See It and What to Expect" [Space.com]. "Just after Mars reaches opposition with the sun July 27, 2018, observers on Earth will have their closest view of the planet since 2003….. Mars arrives at opposition on the same day as July's full moon. For some lucky skywatchers, that means they also have the chance to see a total lunar eclipse."
Health Care
UPDATE Who knew, Medicare for All polls well in the battleground states:

New poll finds 60% support for Medicare for All in Northeast Ohiohttps://t.co/7L1Fi1qzGw

— Jeff Stein (@JStein_WaPo) July 24, 2018
UPDATE "The Conservative Case for Universal Healthcare" [The American Conservative]. "The objections to socialized healthcare crumble upon impact with the reality. One beloved piece of folklore is that once people are given free healthcare they'll abuse it by going on weird medical joyrides, just because they can, or simply let themselves go because they'll have free doctor visits. I hate to ruin this gloating fantasy of lumpenproletariat irresponsibility, but people need take an honest look at the various health crises in the United States compared to other OECD (Organisation for Economic Cooperation and Development) countries. If readily available healthcare turns people hedonistic yahoos, why does Germany have less lethal drug overdoses than the U.S. Why does Canada have less obesity and type II diabetes? Why does the Netherlands have less teen pregnancy and less HIV? The evidence is appallingly clear: Among first-world countries, the U.S. is a public health disaster zone. We have reached the point where the rationalist santería of economistic incentives in our healthcare policies have nothing to do with people as they actually are… Strange as it may seem to American Right, $600 EpiPens are not the sought-after goal of conservatives in other countries." • At some point, The Next Trump, if they're focused and disciplined, is going to totally own the libs by stealing this issue, and they'll pass it, because Republicans like to get stuff done. Of course, they'll only do it if they want to stay in power for the next generation or two….
"Black Mom Collapses, Ambulance Won't Help Because She's Uninsured. Now She's Dead." [GritPost]. "'The EMS came, the whole conversation was that my daughter couldn't afford an ambulance because she had just had a baby. Did I want to spend $600 just to take her three blocks," [grandmother Nicole] Black told local media. 'They didn't do any vital signs, no blood pressure. No temperature, as my daughter was in her bed under the covers, screamed and begged for them to take her to the hospital.'" • America is already great.
Class Warfare
"Employees actually work harder if they think their boss gets a big fat paycheck" [MarketWatch] (NBER original). "New research suggests employees don't work as hard if they think they earn less than their co-workers, yet they work even harder if they find out that their bosses get a big fat salary." • I suppose one might label this "false consciousness." But I think a behavioral economist would have a word to say about that, and rightly.
"The Role of Technology in Political Economy: Part 2" [Law and Political Economy]. "Yesterday I outlined the ways in which the dominant 'skills-biased technical change' and 'winner-take-all economics; explanations of inequality share an idealized view of both markets and technology as natural and necessary…. The pro-labor economists' story is that policy choices as diverse as minimum wage erosion (particularly for women), deregulation, monetary policy, trade, immigration, as well as legal and political attacks on unions and unionization combined to weaken labor's negotiating power and enable managers and shareholders to extract an ever-growing share of productivity growth, leaving labor running as fast as it can just to stay in place, at best."
Class warfare always has identity dimensions (however):
Things not looking so good for millennials..

via @axios pic.twitter.com/YvP2QxmBM1

— ian bremmer (@ianbremmer) July 23, 2018
News of The Wired
"Attempting to modify e-coli with CRISPR in my bathroom" [Benjamin Computer]. • What could go wrong? I had to dig for this, but I remembered reading Greg Bear's Blood Music in 1985, and so extrapolating every-so-slightly, this from protagonist Virgil's Mom: "Snyone who's ever sanitized a toilet or cleaned a diaper pail would cringe at the idea of germs that think." Disruptive though they might be.
"The Shipping Forecast" [99% Invisible] (Includes the podcast, which is good.) "Four times every day, on radios all across the British Isles, a BBC announcer begins reading from a seemingly indecipherable script. "And now the Shipping Forecast issued by the Met Office on behalf of the Maritime and Coastguard Agency," says the voice over the wire. "Viking, North Utsire; southwesterly five to seven; occasionally gale eight; rain or showers; moderate or good, occasionally poor." Cryptic and mesmerizing, this is the UK's nautical weather report." • People use the shipping forecast to fall asleep, a perfectly honorable purpose.
* * *
Readers, feel free to contact me at lambert [UNDERSCORE] strether [DOT] corrente [AT] yahoo [DOT] com, with (a) links, and even better (b) sources I should curate regularly, (c) how to send me a check if you are allergic to PayPal, and (d) to find out how to send me images of plants. Vegetables are fine! Fungi are deemed to be honorary plants! If you want your handle to appear as a credit, please place it at the start of your mail in parentheses: (thus). Otherwise, I will anonymize by using your initials. See the previous Water Cooler (with plant) here. Today's plant (SG):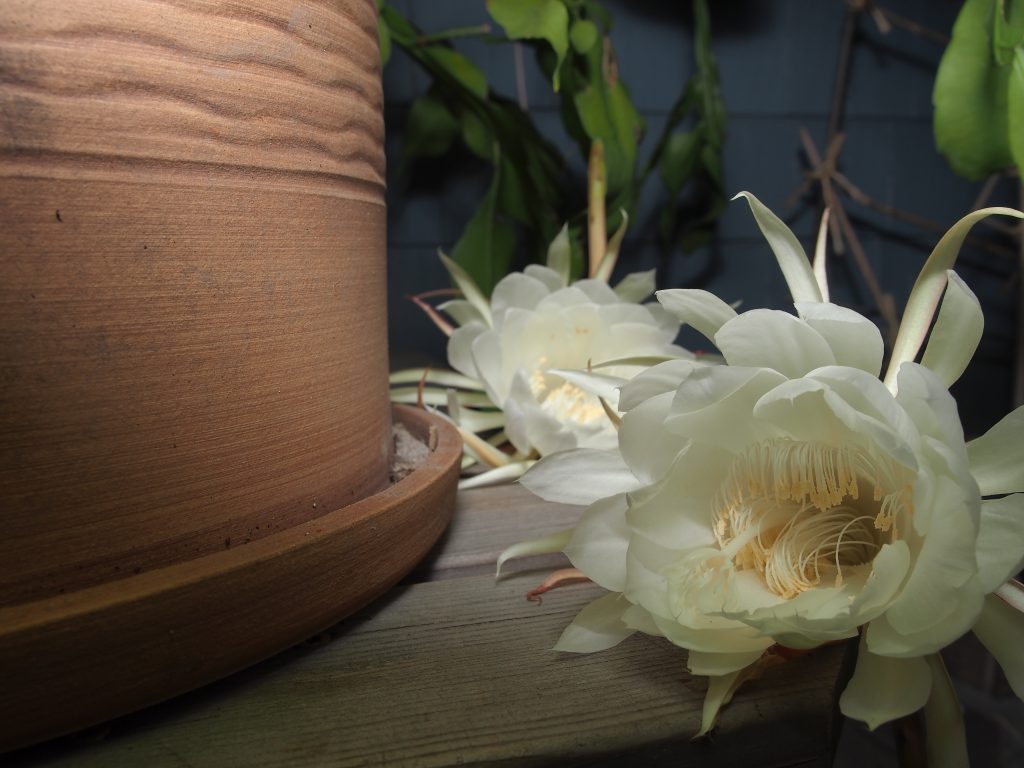 SG writes: "Shot of my night-blooming Epiphyllum oxypetalum, apropos the epiphylum featured on Jul 3rd: This plant blooms continuously through the late-summer/fall, and does so even when brought in for winter. Usually 2-3 blooms at a time, this past year we got nine blooms all at the same time. The backyard smelt heavenly, as if transported to a small equatorial island."
I wonder if there are night-blooming perennials in Zone 5….
* * *
Readers: Water Cooler is a standalone entity not covered by the annual NC fundraiser. So do feel free to make a contribution today or any day. Here is why: Regular positive feedback both makes me feel good and lets me know I'm on the right track with coverage. When I get no donations for five or ten days I get worried. More tangibly, a constant trickle of small donations helps me with expenses, and I factor that trickle in when setting fundraising goals. So if you see something you especially appreciate, do feel free to click the hat!

To give more, click on the arrow heads to the right of the amount.
If you hate PayPal — even though you can use a credit card or debit card on PayPal — you can email me at lambert [UNDERSCORE] strether [DOT] corrente [AT] yahoo [DOT] com, and I will give you directions on how to send a check.