By Lambert Strether of Corrente.
Patient readers, I spent most of the morning writing on the neoliberal assault on Canadian Medicare, so this is a little sparse; I'll add more material in a bit. (Tomorrow I'm going to work on the UK's NHS, so the same conditions will apply.) Talk amongst yourselves! –lambert UPDATE 4:20PM All done!
Trade
"Key takeaways from Stifel's deep dive on trade war risk" [Freight Waves]. "Even a large-scale trade war is unlikely to reshore large volumes of industrial production back to the United States because the country is already experiencing a widespread shortage of blue-collar labor (it manifests itself in the trucking industry as a driver and maintenance technician shortage), [Stifel's equities analysts] said. And shippers will wait to see how severe, and more importantly how permanent the tariffs will be before undergoing costly adjustments of their supply chains…. Stifel believes the mode [of transportation] most exposed to trade war risk is maritime shipping, particularly dry bulk haulers carrying commodities like steel, iron ore, coal, bauxite, and grains that have been specifically targeted by tariffs…. Railroads are slightly less exposed trade war risk than maritime shipping, but more threatened than trucking or air cargo…. [G]lobal freight forwarders and logistics providers could see an increase in volumes due to tariffs, as shippers lean on them to provide access to capacity across modes, to help redesign and manage supply chains to offset the cost of tariffs, and to navigate complex regulatory and customs frameworks."
"China Slams U.S. 'Blackmailing' as Trump Weighs Higher Tariffs" [Bloomberg]. "China warned the U.S. against 'blackmailing and pressuring' it over trade as the Trump administration mulls trying to force officials back to the negotiating table through threats of even higher tariffs….. At the same time, representatives of U.S. Treasury Secretary Steven Mnuchin and Chinese Vice Premier Liu He are having private conversations as they look for ways to reengage in negotiations, according to people who spoke about the deliberations on condition of anonymity. Holding an open door to talks while threatening worse consequences represents yet another increase in tension in the months-long standoff between the world's two largest economies over commerce."
Politics
2020
Baked in:

Barack Obama and Joe Biden made a surprise visit to a DC bakery.

"We were absolutely stunned to see them!" Lolly Rivas of Dog Tag Bakery says. Their order? Ham and gruyere on shallot-jam ciabatta, a slice of mint-basil blueberry cake, brownies and coffee, Rivas says. pic.twitter.com/XPcQjE4Y4k

— CNN (@CNN) July 30, 2018

(The Dog Tag bakery helps veterans and military families, not bad in and of itself, destructive though militarization may be.)
2018
"Veterans Hit a Breaking Point With Trump" [The American Conservative]. • The veterans didn't like Trump calling out the press. However, there's no indication that "Helsinki means Trump is weak" got any traction.

UPDATE "Trump is going to use America's strong economic numbers to ensure a GOP midterm victory" [NBC]. "[T]here's enough substance in the numbers and in the nearly 3 percent growth rate for the five complete quarters he's been president that a salesman as good as Trump can sell the success. Democrats were left to grumble about the rich benefiting most, and the mainstream press pointed to farmers hurrying silos of soybeans to China ahead of looming tariffs. But others recognized the seriousness of 4.1 percent growth. The Twitter feeds of House Minority Leader Nancy Pelosi (D-Calif.), and potential presidential candidates like Sens. Cory Booker (D-N.J.), and Kamala Harris (D-Calif.), were silent on the numbers…. The president can help elect Republicans with the economic numbers because the 2018 midterms are going to be all about Trump." • If indeed the midterms are nationalized, that's not a bad tactic for the Republicans to use. Of course, I don't think a "You've never had it so good!" message is full of win, because the material conditions of most voters don't support that, but given Trump's well-deserved reputation for puffery, voters might well convert his triumphalism into "Things are way better than the nay-sayers said they would be." And (modulo an October crash) they'd be right.

UPDATE "Is Trump colluding with Democrats?" [Steve Israel, The Hill]. "There's no sound reason for a shutdown threat, so I'm sticking with my original theory that our Republican president is secretly rooting for the election of a Democratic majority. He may even be taking a dive for Democrats." • For more on Steve Israel, "grotesquely corrupt Blue Dog," see Down with Tyranny.

UPDATE MO: "Ferguson Prosecutor Faces First Political Test Since Michael Brown Shooting" [Governing]. "Now, McCulloch — currently Missouri's longest-serving elected official — faces perhaps his most serious challenge since first winning the job back in 1990. 'This is the event that has marked our region, that is literally in the history books already,' says Wesley Bell, a member of the Ferguson City Council and McCulloch's opponent in the Aug. 7 primary. 'Most people don't agree with the way that he handled Ferguson.' Still, McCulloch remains a favorite for reelection. At the end of June, he reported a fundraising total of nearly $250,000, which was more than six times the size of Bell's campaign treasury. The incumbent is a close ally of leading area politicians, including U.S. Sen. Claire McCaskill and County Executive Steve Stenger. He's also backed by a number of labor unions, which are running a sizable get-out-the-vote effort in support of a ballot measure that could overturn Missouri's right-to-work law. And he has the endorsement of every living former police chief in St. Louis County."
2016 Post Mortem
"Mic Daily: Why Bernie Sanders' campaign strategist is caught in the Manafort trial and more" [Mic]. • Ukraine money. Shocking, I know. This sentence caught my eye: "A review from Slate found that Devine shared at least $10 million worth of commissions with a Virginia-based ad firm that placed some of the millions in television advertising Sanders ran during his failed primary bid." (Such a commission structure is the, er, norm for political consultants.) This may be pie-in-the-sky about the real cost of campaigning, but just suppose…. This strikes me as a fine example of the Air War vs. Ground War permathread. Suppose we wanted to have 10 organizers in each of the 50 states and we paid them $2500 a month for a year. That would be [breaks out calculator, follow me closely here for errors] 10 * 50 * 12 * 2500 = $15,000,000. So, Devine's commission — never mind the total funds raised by the Sanders $27-average-contribution campaign — would pay for an awful lot of AOC-style doorknocking. Too idealistic?
New Cold War
"Poll: Majority of Americans say FBI showed bias in Trump, Clinton probes" [The Hill]. • See under Plague, Both Houses?

"Why We're Sharing 3 Million Russian Troll Tweets" [FiveThirtyEight]. "FiveThirtyEight has obtained nearly 3 million tweets from accounts associated with the Internet Research Agency. To our knowledge, it's the fullest empirical record to date of Russian trolls' actions on social media, showing a relentless and systematic onslaught." • I would love to see some comparative studies made on this; 3 million tweets is not that many, given that 500 million tweets are sent per day. I would especially like to see how many Tweets were the result of the million-dollar troll farm run by David Brock for the Clinton campaign. Which was more damaging to "our democracy"?
The Liberal Democrats Have Lost Their Minds
"Facebook Identifies an Active Political Influence Campaign Using Fake Accounts" [New York Times]. • An "active political influence campaign"? On Facebook? Who could have known? Guess how many Facebook pages this campaign has; it's right in the lead.[1] Nobody knows where the "active" — as opposed to passive, I suppose — "influence campaign" comes from, either. Imagine my surprise. Attribution is hard….
Realignment and Legitimacy
At the borders. Thread:

What do you tell your kids about borders? Crossing into Canada a few days ago, I warned my 9-yr-old, Saira (not her real name), not to giggle. Crossing was a breeze. Coming back, I said, would take longer…

— Jeff Sharlet (@JeffSharlet) July 29, 2018

UPDATE "How to tell the difference between persuasion and manipulation" [Aeon]. "What makes an influence manipulative and what makes it wrong are the same thing: the manipulator attempts to get someone to adopt what the manipulator herself regards as an inappropriate belief, emotion or other mental state. In this way, manipulation resembles lying. What makes a statement a lie and what makes it morally wrong are the same thing – that the speaker tries to get someone to adopt what the speaker herself regards as a false belief. In both cases, the intent is to get another person to make some sort of mistake. The liar tries to get you to adopt a false belief. The manipulator might do that, but she might also try to get you to feel an inappropriate (or inappropriately strong or weak) emotion, attribute too much importance to the wrong things (eg, someone else's approval), or to doubt something (eg, your own judgment or your beloved's fidelity) that there is no good reason to doubt. The distinction between manipulation and non-manipulative influence depends on whether the influencer is trying to get someone to make some sort of mistake in what he thinks, feels, doubts or pays attention to."
Stats Watch
ADP Employment Report, July 2018: "ADP has underestimated the strength of the last two employment reports making perhaps today's much higher-than-expected 219,000 result for July a noticeable indication of strength" [Econoday].
Purchasing Managers Manufacturing Index, July 2018: "New order growth is strong and backlogs continue to pile up" [Econoday]. "Orders, however, are centered in the domestic economy with export sales flat…. The text of the report is clearly downbeat warning, as it first did back in June, that manufacturing is beginning to struggle with supply shortages, rising prices and weak exports." But: "Based on these surveys and the district Federal Reserve Surveys, one would expect the Fed's Industrial Production index growth rate remain about the same as last month. Overall, surveys do not have a high correlation to the movement of industrial production (manufacturing) since the Great Recession" [Econintersect].
Institute For Supply Management Manufacturing Index, July 2018: "A useful easing in what were enormous and perhaps unsustainable rates of growth" [Econoday]. "A contrast between this report and the PMI manufacturing report released earlier this morning is exports, strong in this report and weak in the latter. Otherwise the themes of both are the same: strong demand, strong activity, and capacity stress." And: "This was below expectations…. and suggests manufacturing expanded at a slower pace in July than in June. Still a solid report" [Calcuated Risk].
Construction Spending, June 2018: "Volatility once again appears in construction spending data" [Econoday]. "Part of the weakness in construction spending is likely tied to shortages of construction workers, especially skilled labor. High prices for construction materials is another likely negative. And for the residential sector, weakness in new construction will continue to limit buyer choices and overall home sales. Still, stepping back and looking at the year-on-year change offers a reminder that construction is overall very strong." And: "This was well below the consensus forecast of a 0.3% increase for June. However, construction spending for April and May were revised up (most residential construction spending was revised up)" [Calculated Risk]. And but: "The primary reason this month was soft was due to the significant upward revision of the last few months of data. The rolling averages improved. Also note that inflation is grabbing hold, and that inflation adjustments bring this series barely into expansion" [Econintersect].
MBA Mortgage Applications, week of July 27, 2018: "Purchase applications for home mortgages fell" [Econoday].
Real Estate: "The latest leasing prices in New Jersey are a stark sign of the growing value of logistics space near consumers. The WSJ's Keiko Morris reports that asking rents in the hot warehouse market jumped 7.4% in the second quarter to $7.80 a square foot, the 10th straight quarter in which real-estate services firm Transwestern has measured record rents in the market. E-commerce and logistics firms have been willing to absorb the higher rent to get closer to New York City and the surrounding, densely populated areas, with new sites filling up faster than developers can build them. That's a trend playing out nationally" [Wall Street Journal].
Retail: "Links in 7-Eleven's Chain Threaten to Snap as Store Owners Balk at Contract" [New York Times]. "The relationship between 7-Eleven and its store owners has been deteriorating for years. In the early 2000s, the company and franchisees split profits equally. But 7-Eleven has taken an increasingly bigger cut, franchisees say, and is now saying that store owners who do not renew their contracts by the end of 2018 could see their profits shrink further….. The dispute underscores the shifting nature of the franchise business, traditionally a path to the middle class for would-be entrepreneurs….. Seven & I Holdings, the Japanese company that owns 7-Eleven, said gross profit margins at its overseas convenience stores, including those in the United States, fell half a percent in the most recent fiscal year."
Retail: "Auto Sales Plunge Amid First Cut in US Discounts Since 2013" [Industry Week]. "The drop in sales caps a rough month for the auto industry during which Detroit's carmakers all reined in their earnings guidance and Ford Motor Co. embarked on a five-year restructuring plan. The sales month will underscore investor fears that auto sales have peaked and that, without ever-higher sales incentives to keep consumers interested, demand will continue to soften…. Part of the reason for the pullback is that it's getting more expensive to offer incentives, especially those tied to loans. The Federal Reserve hiked interest rates three times last year, once this year and has signaled that it will bump them two more times in 2018. That makes subsidized interest rates more expensive to offer and undercuts sales…. Another issue, said Charlie Chesbrough, senior economist for Cox Automotive, is that while carmakers are pulling back on new-vehicle incentives, there are great deals on the used lot. Cars are coming out of leases in huge numbers, giving consumers a low-priced alternative just across the parking lot from the showroom."
Retail: "How Sellers Trick Amazon to Boost Sales" [Wall Street Journal]. "As Amazon has cracked down on fake reviews, some sellers are leaving five-star, fake-looking reviews on rival listings so they trigger Amazon's scam-detecting algorithm and get the rival seller suspended, according to the people familiar with the practices. Another tactic is to vote rivals' bad reviews the most helpful. Others buy the product and leave safety complaints, which typically trigger an immediate listing suspension as Amazon investigates." • Moderation in all things….
Shipping: "U.S. Seaborne Imports Surging as Retailers Stock Up Early" [Wall Street Journal]. "Cargo streamed into U.S. seaports at a rapid rate in June, as businesses pulled in goods in an apparent rush to stock up ahead of new tit-for-tat tariffs between the U.S. and China. Container imports at California's ports of Los Angeles and Long Beach, Calif., the biggest U.S. gateway for seaborne trade, rose 8.4% in June from the same month a year ago."
The Bezzle: "Tesla earnings should be a doozy: Live blog" [MarketWatch]
Transportation: "13 Things We Learned by Rigorously Testing St. Louis' New Lime Scooters" [Riverfront Times]. "5. Everyone Will Stare at You. And mostly with disgust. People in cars are angry with you for holding up traffic; people on bicycles are angry with you for taking up space in the bike lane. In the Loop, I actually had a man boo me, from across the street. "Boooo!" he yelled. He looked me dead in the eyes, too, and then repeated it, his stare unblinking. "BOOOO!" These things have quite the reputation for being hated in the cities in which they've so far been rolled out; St. Louis will, predictably, be no different." But: "13. They Are Fun As F" • So, there you go. Public goods vs. Fun. The eternal question!
Transportation: "MH370 probe considered risks from batteries and fruit" [Flight Global]. "Investigators have disclosed that they analysed the potential hazard posed by the combination of fruit and lithium batteries during the probe into the disappearance of Malaysia Airlines flight MH370…. The fruit and batteries, in their own protective containers, were loaded in close proximity in the aft hold. Mangosteen juice is electrically conductive, as was the damp sponge used keep the fruit fresh. 'There were concerns that the mangosteen extracts could have got into contact with the batteries and produced hazardous fumes or, in a worst-case scenario, caused a short circuit [or] fire,' says the latest detailed update to the MH370 inquiry. But after testing the items – both individually and in combination – Malaysian Science & Technology Research Institute for Defence was 'convinced' that they 'could not be the cause' of MH370's disappearance, a conclusion backed by the investigation team."
The Bezzle: "Elon Musk offers billionaire David Einhorn a 'box of short shorts' to comfort him after his Tesla short bet put a big dent in his fund (TSLA)" [Business Insider]. Einhorn: "We doubt the entry-level Model 3 will be produced profitably anytime soon, if ever." • Hmm. Assuming the tear-downs are legit, it's not clear Einhorn is right on that.
Health Care
"Physicians aren't 'burning out.' They're suffering from moral injury" [STAT]. "The term 'moral injury' was first used to describe soldiers' responses to their actions in war. It represents 'perpetrating, failing to prevent, bearing witness to, or learning about acts that transgress deeply held moral beliefs and expectations'… We believe that burnout is itself a symptom of something larger: our broken health care system. The increasingly complex web of — to patients, to self, and to employers — and its attendant moral injury may be driving the health care ecosystem to a tipping point and causing the collapse of resilience." • "So many vows… they make you swear and swear. Defend the king. Obey the king. Keep his secrets. Do his bidding. Your life for his. But obey your father. Love your sister. Protect the innocent. Defend the weak. Respect the gods. Obey the laws. It's too much. No matter what you do, you're forsaking one vow or the other." –Jaime Lannister. However, another way of saying this is that we're optimizing our health care system to select for providers who have no problem throwing people under the bus for money. Go, neoliberalism!
Staff needed:
We are hiring! Are you passionate about pursuing bipartisan health care reform? Do you want to make sure every American has access to quality, affordable health care coverage? See if your talents and skills can help us put #healthcareoverpolitics https://t.co/jXsacMhRi7

— United States of Care (@USofCare) July 27, 2018
I can't think of many reasons to be passionate about bipartisanship. None of the ones I came up with are good. Ka-ching.
Staff strong-armed:
The gigantic behemoth of a "nonprofit" hospital that I work for emailed all staff with instructions on how we can create personal fundraising pages for the hospital system while our CEO made $4.1 mill last year LOL. Abolish all CEOs and millionaires.

— Martha Christine (@larthamarson) July 23, 2018
One of the many ways administrators let you know who's in charge, and for whose benefit institutions are really run.
"A big overlooked flaw with health tech: Patients hate going to the doctor" [CNBC]. "Ample studies have found that many avoid it because the experience sucks, while others are put off by the cost." • I've never understood the neoliberal "skin in the game" argument, which implies that co-pay is needed to prevent patients from over-using the system. "Hmm. What shall I do this afternoon? Garden, or go to the doctor's office?" Do people really think that way? (Note that the link to those "put off by the cost" refers to regular checkups, which are medically necessary.)
Water
"Calley declares emergency in Kalamazoo County over tainted water" [Detroit News]. "Lt. Gov. Brian Calley on Sunday declared a state of emergency for Kalamazoo County after high levels of contaminants were found in the drinking water…. Health officials say long-term exposure to the [Perfluoroalkyl and polyfluoroalkyl (PFAs) in drinking water could harm human health, with links to issues such as thyroid, kidney, heart and reproductive problems." • Idea: Give Flint's bottled water to Kalamazoo?
Gaia
"Here's How America Uses Its Land" [Bloomberg]. Many handy maps, of which this is my favorite: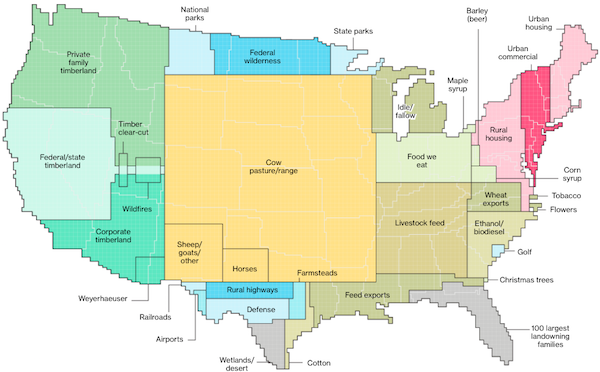 At bottom right, we seem to be devoting a disproportionate amount of land to "ethanol." And it's pretty cheeky to put "golf" inside "ethanol"! Any Georgites in the house?
Class Warfare
"Uniting the Working Class Across Racial Lines" [Law and Political Economy]. "What affirmative vision could unite both old and new working class across these divisions? What democratic demands could a united working class make of capital? I think this part is easy, actually. Ocasio-Cortez has it right—it's Socialism 101: a political economy that responds democratically to the needs of the working class. Universal healthcare they can access. Free college tuition or retraining. Housing that they can afford. Economic security and opportunity for advancement. The end of state violence (for example, dismantling ICE) against vulnerable people. A country that affords them dignity. These goals span the old and new working classes, and significantly, extend even to Trump voters. Survey research analyzing the five types of Trump voter suggests that for close to 40% of the Trump vote in 2016, economic issues were very high priority. Reforming health care, securing economic opportunity, shoring up Social Security, all ranked quite high among these voters' priorities." Importantly:
Fight for Fifteen was able to organize across racial lines without scrubbing race out of the picture. Three aspects of the campaign have seemed important to their success in that regard. First, organizers worked hard to create coalition across racial lines. In fact, the first major F4F campaign at the Seattle-Tacoma airport got off the ground when white working class organizers joined together with Somali Muslim airport workers to demand that their subcontractor employer continue to allow Muslims to pray throughout their shifts. Religious leaders from many denominations manned the front lines in marches, providing moral clarity around the Somali workers' demands. Faith organizations would prove to be a crucial player in the subsequent campaign for a fifteen-dollar wage.

Second, Fight for Fifteen organized around a distinctive and unambiguous goal: $15 an hour. An affirmative, measurable goal that benefited all workers proved key to persuading key white players to commit to the campaign. When racial tensions flared over who had the requisite experience to lead, the campaign could defuse those tensions by pointing out that both union and community group experience would prove useful in organizing for a wage increase.

Third, Fight for Fifteen scaled its campaign carefully, moving from local to city to state to nation in a series of steps. F4F organized first at the local level, focusing on the particularity of local communities.
"Eliminating Gender Bias at WCCO Belting" [Industry Week]. "When the company wanted to expand the role of women in its workforce they viewed this goal from the perspective of respect and so focused on ability and not gender. 'To attract more women, especially in a tight labor market, we adopted a strategy of driving gender bias out of our company,' said [Jean Voorhees, vice president of Business Development]. "And that strategy worked. Women comprise almost half of the production floor jobs and 45% of the management jobs…. Using a kaizen-type of process, in 2014 the company asked employees for improvements. The 1000 improvements that were made based on these suggestions had nothing to do with who made the suggestions… Another issue that many women have about working in manufacturing is rotating work schedules. Schedules often change based on production demands. But WCCO chose another route. 'We found that by using a known schedule, it would be easier for women to be able to plan around the demands on their personal lives,' said Voorhees."
Our Famously Free Press
I'm noticing a trend toward data projects tuned to electoral politics. Here are two:
"categorized tweets" [Categorized Tweets]. "Enter your zipcode to catch up on the candid thoughts of individuals who represent you." • Well, as candid as Twitter ever is (modulo BigFoot eruptions). Still, interesting!
"Political Ad Collector" [ProPublica]. "The Political Ad Collector is a tool you add to your Web browser. It copies the ads you see on Facebook, so anyone, on any part of the political spectrum, can see them in our public database."
The tool I wish I had: I would input zip code or (better) Congressional District, and get the media venues that cover it (including blogs). Maybe it's out there and I just don't know about it, because, very oddly, Google and Facebook make it hard to find stuff!
* * *
"News From Your Neighborhood, Brought to You by the State of New Jersey" [New York Times]. "The state's lawmakers have embarked on a novel experiment to address a local news crisis: putting up millions of dollars in the state's most recent budget to pay for community journalism. While public television and radio stations have long received government funds, new media experts like Kelly McBride of the Poynter Institute say they have not heard of any other efforts on this scale, with a state helping to pay for reporting projects among a range of news media, including for-profit outlets… The effort has come at a moment of instability, but also invention, for the news media. National news organizations like The New York Times and The Washington Post have attracted a surge of new readers* since President Trump's election, even as he has persisted in his attacks on journalists. (The momentum has trickled downward: The Village Green gained 100 new subscribers after the presidential election, a not insignificant sum, Ms. Mann said.)" NOTE * The very last thing they want is for Trump to stop tweeting.
News of The Wired
"I tracked my daughter's first words from 12-18 months [OC]" [Reddit]. • I wonder how cross-cultural this would be….
UPDATE "Open offices can lead to closed minds" [The Economist]. "The supposed aim of open-plan offices is to ensure that workers will have more contact with their colleagues, and that the resulting collaboration will lead to greater productivity…. [T]he [Harvard Business School] authors found that face-to-face interactions were more than three times higher in the old, cubicle-based office than in an open-plan space where employees have clear lines of sight to each other. In contrast, the number of e-mails people sent to each other increased by 56% when they switched to open-plan. In the second company, face-to-face interactions decreased by a third after the switch to open-plan, whereas e-mail traffic increased by between 22% and 50%. Why did this shift occur? The authors suggest that employees value their privacy and find new ways to preserve it in an open-plan office. They shut themselves off by wearing large headphones to keep out the distractions caused by nearby colleagues. Indeed, those who champion open-plan offices seem to have forgotten the importance of being able to concentrate on your work."
UPDATE "The simplicity of dropping Google in 2018" [MacWright]. "lowly, and without intention, I left it all behind: they shut down Google Reader, and I switched to Feedly. GitHub replaced Google Code. I switched from Google Search to DuckDuckGo. From Docs to Dropbox Paper, iA Writer, and Notion. From Picasa to Flickr and a simple folder of images. Google Analytics grew obtuse and unusable, so I switched to gaug.es, and then eventually removed analytics from all my sites. Google Groups, once a forum for discussion, has been overtaken by Discourse, Slack, and GitHub Issues. Switching off of Google in 2018 is easy because you've probably abandoned most of their products anyway, and the ones you're still using are stagnating." • What the heck are Google's programmers doing with their time? Search is crapified, and UI/UX is getting worse and worse all the time? Some kinda moon-shot? Any Google shorts out there? Probably not, you'd think there'd be one or two….
NOTES
[1] 32. Now, if it had been 42, that would be different. The accounts had 290,000 followers. There are 214 million (214,000,000) Facebook accounts in the United States. We're really not looking at analysis here. We're looking at a moral panic about ritual contamination from a political class that has lost its mind.
* * *
Readers, feel free to contact me at lambert [UNDERSCORE] strether [DOT] corrente [AT] yahoo [DOT] com, with (a) links, and even better (b) sources I should curate regularly, (c) how to send me a check if you are allergic to PayPal, and (d) to find out how to send me images of plants. Vegetables are fine! Fungi are deemed to be honorary plants! If you want your handle to appear as a credit, please place it at the start of your mail in parentheses: (thus). Otherwise, I will anonymize by using your initials. See the previous Water Cooler (with plant) here. Today's plant (winstonsmith):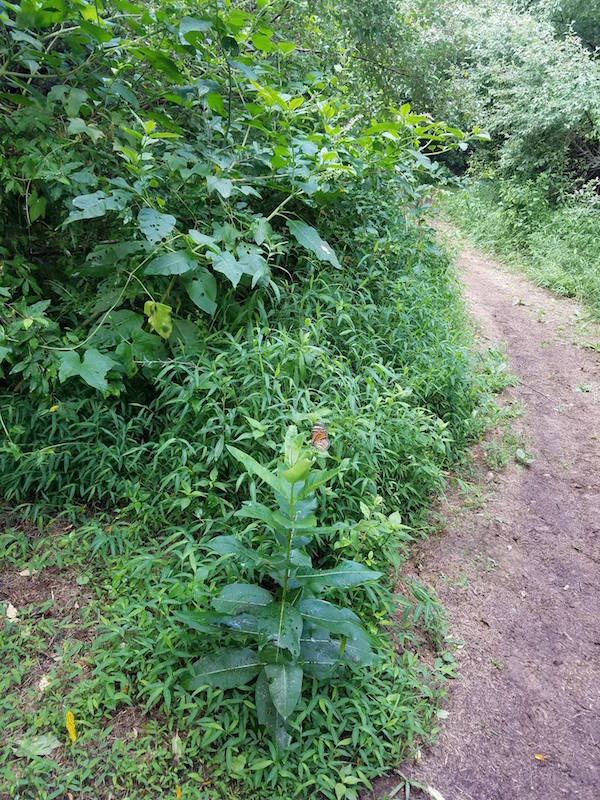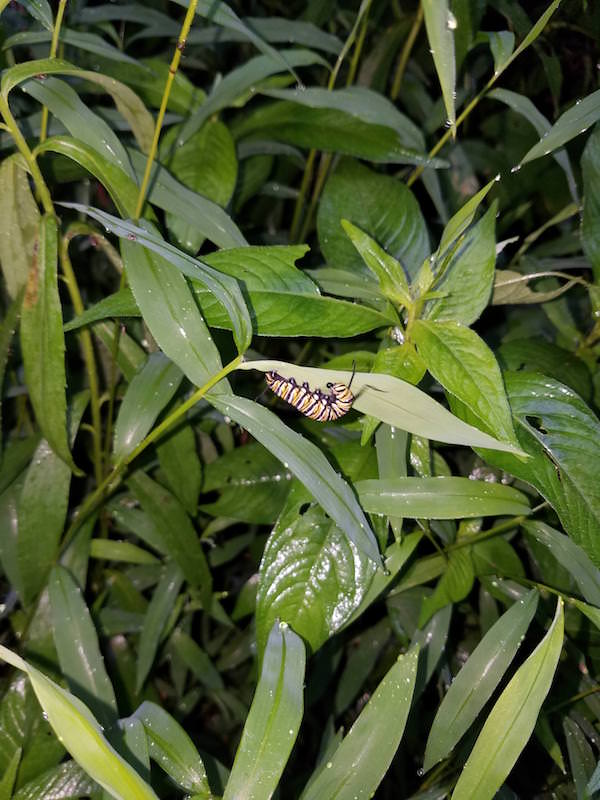 Smith writes: ") In response to yesterday's antidote, this is a milkweed plant on the edge of a clearing in the woods near our house. I took the photo of the caterpillar yesterday evening and the photo of the butterfly today." That is a very inviting garden path!
* * *
Readers: Water Cooler is a standalone entity not covered by the annual NC fundraiser. So do feel free to make a contribution today or any day. Here is why: Regular positive feedback both makes me feel good and lets me know I'm on the right track with coverage. When I get no donations for five or ten days I get worried. More tangibly, a constant trickle of small donations helps me with expenses, and I factor that trickle in when setting fundraising goals. So if you see something you especially appreciate, do feel free to click the hat!

To give more, click on the arrow heads to the right of the amount.
If you hate PayPal — even though you can use a credit card or debit card on PayPal — you can email me at lambert [UNDERSCORE] strether [DOT] corrente [AT] yahoo [DOT] com, and I will give you directions on how to send a check.