By Lambert Strether of Corrente.
Today I'm going to take a quick look at Canadian Medicare and how the neoliberals are using their playbook in that country. I'm really trying to avoid posing as an expert on Canadian politics[1], or as an expert on good faith proposals for refreshing and improving Canada's single payer system, because I am neither of those things! Rather, I plan to do two things: First, I'll provide a number of testimonials about the quality of Canadian Medicare. Then, I'll look at "wait times" as the flash point that neoliberals are using in their persistent, decades-long attempts — funded at least in part by American business interests — to destroy it. But first, let me review the neoliberal playbook for destroying public goods and services (here in a post on the US Veterans Administration):
The stories intertwine because they look like they're part of the neoliberal privatization playbook, here described in a post about America's universities:

It's almost like there's a neo-liberal playbook, isn't there? No underpants gnomes, they! [1] Defund [or sabotage], [2] claim crisis, [3] call for privatization… [4] Profit! [ka-ching]. Congress underfunds the VA, then overloads it with Section 8 patients, a crisis occurs, and Obama's first response is send patients to the private system. Congress imposes huge unheard-of, pension requirements on the Post Office, such that it operates at a loss, and it's gradually cannibalized by private entities, whether for services or property. And charters are justified by a similar process.

(I've helpfully numbered the steps, and added "sabotage" alongside defunding, although defunding is neoliberalism's main play, based on the ideology of austerity.) We can see this process play out not only in public universities, public schools, the Post Office, and the TSA, but in Britain's NHS, a national treasure that the Tories are systematically and brutally dismantling.)
Spoiler alert: [2] is "wait times," and [3] is already taking place (though in the form of inroads and neoliberal infestations, and not the complete dismantling of the system). But first, let's look at those testimonials.
An amazing thread developed on the Twitter after an opponent of "socialized medicine" deployed the "wait times" talking point, and asked: "Tell me again about how good Canadian health care is." People were very willing to do so! First, I'll give a sampling of responses — images, unfortunately, because Twitter insists on including the parent tweet in its Embeds whether I want it or not, and I don't want the same parent Tweet to show up ten times — starting with Americans who have had the opportunity to compare and contrast the two systems:

One reason Canadian Medicare is less stressful is that you don't have to worry about losing everything and going bankrupt:

And note that Canadian "triage" eliminates "wait times" for those who are critically ill: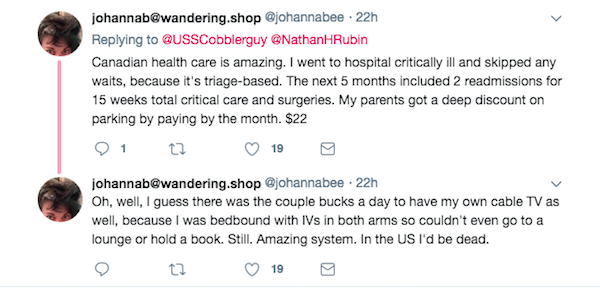 And now here are some Canadians politely dunking on the original poster because their major expense at the point of care was "stress snacks":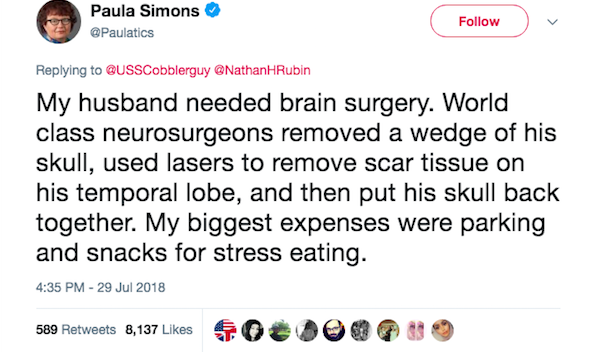 Although, to be fair, parking is a cost, too, besides snacks: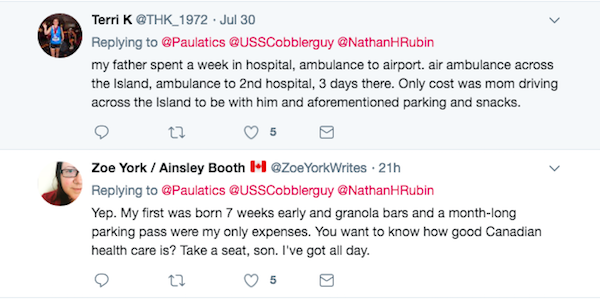 And then there's the whole concept that you get to keep on snacking and parking, because you're alive: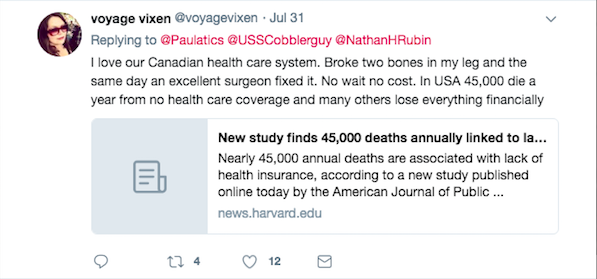 Finally, "triage" again: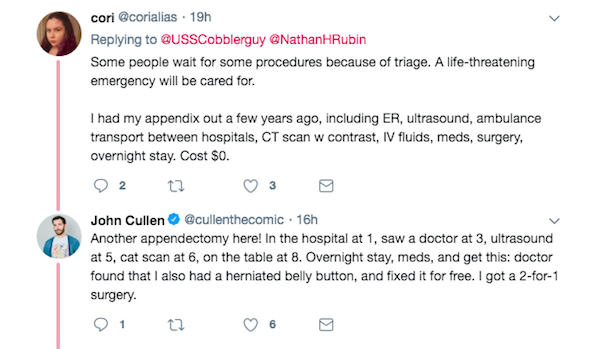 Let's sum up that "wait times" argument. To begin with, it's as anti-social as they come. Suppose I'm waiting in a queue for the bus. What would I think of a person who cut in front of me because they could hand the bus driver a buck, even if those were the rules? Or suppose I'm sitting in my optometrists office with another patient, and they walk up to the receptionist, hand them twenty bucks, and say "I'd like to go first?" That's the principle involved here. Granted, in this country, the organs of state security are busily trying to make shoving in front of other people because you have money the, er, norm with programs like "Trusted Traveller," but so far, at least, the practice hasn't trickled down to everyday human interactions. Et ego in Canada, from the Toronto Star:
At Canada's Wonderland, you can buy your child a "Fast Lane Pass" so he or she can experience the thrill of pushing ahead of all the other children waiting to get on a ride.

It's excellent preparation for today's world of hyper-privilege – where the rich get to buy their way to the front of just about every line.
Wonderland, indeed! Besides being anti-social, the "wait times" argument is anti-care; note several of the testimonials above mention that they got care instantly when they had serious conditions, unlike the poor lady in this country who died while the ambulance people failed to check her vital signs. Heaven knows I have my issues with credentialed professionals, but I would certainly want the queue for medical care to be organized based on medical necessity, and not financial incentives. We have that in the United States, and there are issues with it.
From the quality and principles behind Canadian Medicare, let's turn to the neoliberal assault, where "wait times" are the wedge issue. The journal Health Economics, Policy and Law gives an overview in 2018 (PDF):
Growing wait times and gaps in access are causing Canadians to question their system. Some 15% of Canadians lack the basic security of a family physician (Health Fact Sheets, 2015). A recent Commonwealth Fund study ranked Canada near the bottom of developed countries with respect to accessibility – behind the US health care system – on some important indicators: half of Canadians surveyed reported waiting more than two hours for emergency room care, compared to 25% of Americans. Some 30% of Canadians said they waited two or more months to see a specialist, compared to 6% of Americans (Schneider et al., 2017).
Step [1]: Underfund and sabotage. Clearly a resource issue. If the queue is too long, then, within reason, add the human and technical resources to shorten it.
… by long wait times and growing gaps in access to family care and specialists, important medications and long-term care. IPSOS Reid (2003–2010) reports that .
Step [2]: Claim crisis. That's working splendidly. Step [3] (privatization) is still on the bubble system-wide:
The lackluster performance of the Canadian system may lead to the mistaken conclusion that the basic values underlying medicare are outdated or quixotic.
Nevertheless, step [3] (privatization) is happening (and in defiance of the law, I might add). From the University of British Columbia Medical Journal:
[T]he private market is not waiting around for the question to resolve itself…. In addition to supplementing the public system, the private system shows signs of infringing upon its domain. [ka-ching] that are covered by Canada's publicly funded universal healthcare system. These clinics allow Canadians who are willing and able to pay out-of-pocket to avoid lengthy public system wait times, effectively creating a tiered healthcare system. In 2005, a Supreme Court Case ruling in Quebec allowed an individual to access private health care as a solution to long wait times. (10) This ruling sets a precedent for the nimble private market to fill in the gaps of the public system, pending rulings in other provinces across the country.
And from HuffPo:
Saskatchewan has just enacted a licensing regime for private MRI clinics, allowing those who can afford the fees — which may range into the thousands of dollars — to speed along their diagnosis and return to the public system for treatment [after sucking resources from the public system –lambert]. Quebec has just passed legislation that will allow private clinics to extra-bill for "accessory fees" accompanying medically necessary care — for things like bandages and anesthetics.
$619 bandaids, here we come! C'mon, who doesn't want that?
Once upon a time, these moves would have been roundly condemned as violating the Canada Health Act's principles of universality and accessibility. These days, two-tier care and extra-billing are sold to the public as strategies for saving medicare.

This is understandable [an effect of steps [1] and [2] –lambert], coming as it does on the heels of a decade-long void in federal leadership on health care. Throughout the Harper government's time in office, the Canada Health Act went substantially unenforced as private clinics popped up across the country.

Instead of modernizing medicare, Saskatchewan and Quebec are looking to further privatize it.
In fact, neoliberals are using "wait times" for a Constitutional assault on the entire Canadian Medicare system. From Colleen Flood and Bryan Thomas, "A successful Charter challenge to medicare? Policy options for Canadian provincial governments," Health Economics, 2018:
Across Canada, laws designed to protect public medicare are subject to court challenges on the grounds that a public monopoly on health care subjects Canadians to long wait times, infringing the right to 'life, liberty and security of the person', guaranteed under the Canadian Charter of Rights and Freedoms. By way of remedy, the claimants demand the liberalization of privately financed care, to create a 'safety valve' for wait times in the public system. The most prominent of these challenges (the Cambie trial), led by Cambie Surgical Services, a private clinic headed by Dr Brian Day, challenges various laws in British Columbia that prohibit physicians in the public system from extra-billing patients and moonlighting in the private sector, and also prohibit private health insurance for services covered by medicare (parallel private insurance). Although the litigation appears temporarily stalled as the applicants allege they need more financial resources (Mulgrew, 2017), it nonetheless seems likely that in the coming years, the Supreme Court of Canada ('the Court') will be called upon to rule on Cambie or a similar Charter challenge, setting an uncharted course for Canadian medicare
The Editors of Health Economics comment:
That Charter rights could be used to undermine medicare is a grave rebuke to the assumption, common among advocates of human rights and dignity, that rights litigation is a positive, progressive force. As Flood and Thomas (2018) discuss in this volume, these Charter challenges will serve either as a wakeup call or death knell for medicare; everything depends on how Canadian governments respond. The courts can permit privatization to undercut equity and access, or they can respond creatively with new legal and policy solutions to improve equity and access, defending the human rights and dignity of all.
* * *
I hadn't thought that there was a Constitutional right to queue jumping for those with the money to do it, but life is full of surprises![2] Oh, and when you hear "wait times," know that the talking point is part of an international assault.
NOTES
[1] It strikes me, as a rank outsider, that the "pay for" issues occur at the Provincial level (as in principle they cannot at the Federal level, Canada being sovereign in its own currency). Each province has its own plan, and each province (AFAIK) also budgets for health care spending. It occurs to me that this Federal structure has provided the neoliberals with opportunities for attack; they can pick out on province and privatize there, for example. Something to think about for advocates of state level #MedicareForAll in this country.
[2] Once you throw the NHS into the mix, there's a strong case for internationalizing health care as a universal concrete material benefit. If one really wishes to appeal to the international working class, that strikes me as a stronger case than open borders, particularly after the effects of labor arbitrage are taken into account.
APPENDIX I
Here are the five Principles of the 1984 Canada Health Act:
1) Public Administration

2) Comprehensiveness

3) Universality

4) Portability

5) Accessibility
This is what Canadians mean by "access," so different from what liberals (and conservatives) in this country mean by it:
must provide for insured health services on uniform terms and conditions and on a basis that does not impede or preclude, either directly or indirectly whether by charges made to insured persons or otherwise, reasonable access to those services by insured persons
These principles are extremely popular. From the University of British Columbia Medical Journal:
[B]etween 93% and 98% of Canadians support the five principles of the Canada Health Act, (12) which confirms strong support for equal access to health services across socioeconomic groups in Canada.
MedicareForAll advocates should make sure that similar principles are written into our own legislation (and not compromised away).