By Lambert Strether of Corrente.
I probably shouldn't even tangle with David Cutler; he's from Harvard, and he's wicked smart. Anyhow. Also too, he advised the 2008 Obama Campaign on health care. But there were some things he said in this recent interview with PBS (and in his now famous 2010 letter to Larry Summers) that really ticked me off, and so I want to lay down a few markers. First, let's look at two charts: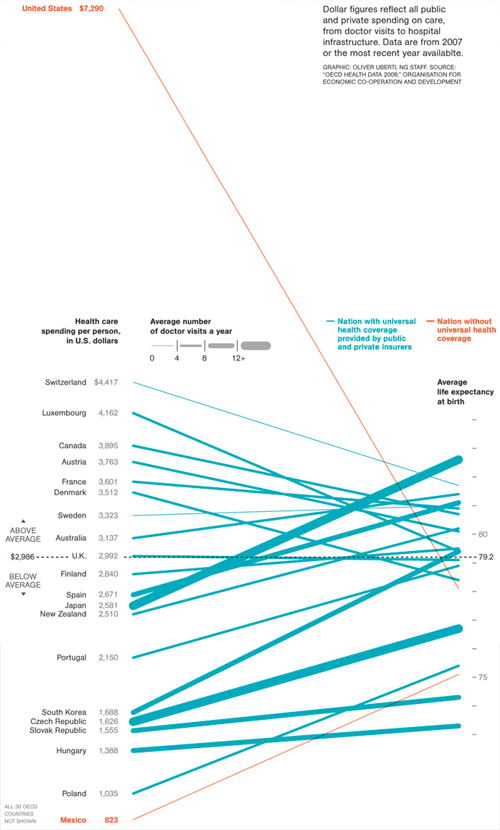 On the left, per capita spending. On the right, average life expectancy. The chart, from Michelle Andrews in National Geographic, shows that our health care system has costs are literally off the chart, and benefits — assuming life expectancy is a good measure of a health care system effectiveness — that are mediocre at best.[1]
Via Ezra Klein, who says:
This is serious pitchforks-and-torches stuff, if only people really understood it. … America may not be the best, but we're not supposed to be the worst by such a large margin.
And here is our second chart[2]: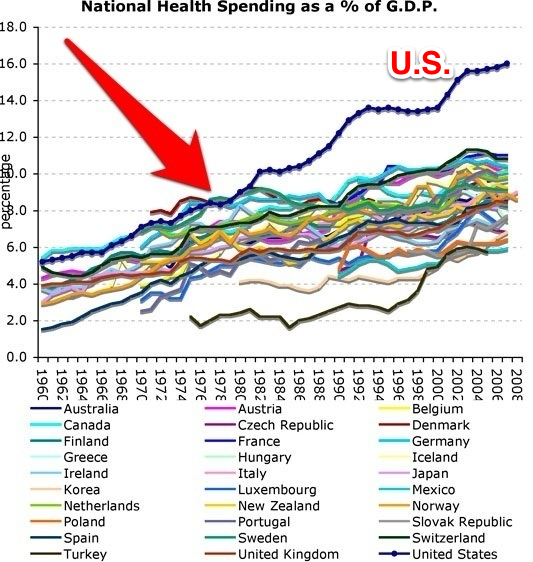 Via Catherine Rampell, who says:
[O]nce upon a time, it was more or less on par with its peers, and at various points even spent less of its G.D.P. on health care than some other countries (namely, Canada, Sweden, Denmark and Germany). …. Although you could quibble about the exact trajectories, it seems to have been in the late 1970s or early 1980s that America's health care spending really broke from the pack.
Taken together, what do these two charts show? First, that there is at least one way that the United States is exceptional: flagrantly, floridly, off-the-charts exceptional. That is the cost of our health care system. It's a wild outlier, globally. Second, there is another way the United States is exceptional: We are the only country that does not have universal health care[4]. We are also (as Andrews might have written, but did not) exceptional in the freedom we give the profit motive ("the market") to operate in the health care system. All other countries have government regulate their health care delivery systems more tightly than we do, and many have single payer systems. Canada's costs, for example, diverge from our own in the mid-70s, when they adopted a single payer system.
So those are the charts, and that is the background. Let's turn to David Cutler. What does he have to say about our exceptionally high costs?
Paul Solman: Why does health care cost so much in America?

David Cutler: Let me give you three reasons why. The first one is because the administrative costs of running our health care system are astronomical. …. The second reason health care costs so much in America is that the U.S. spends more than other countries do on many of the same things. ….  The third one is Americans receive more medical care than people do in other countries, not so much in terms of doctor visits, but if a person has a heart attack in the United States, they're much more likely to get open heart surgery than they are in most other countries.
So far so good; I'll take the reasons as read for the sake of the argument. And at this point — and maybe this is why I am where I am, and Cutler is where he is — I'd look at health care systems that accomplish what I want to accomplish, and try to adopt what they do, advocating for their approach if need be. Why reinvent the wheel? Not so Cutler:
David Cutler: [W]hat we're doing is two things: one is on the demand side trying to make people smarter consumers, and the second is on the provider side, eliminating the monetary incentives to do more testing and procedures. Instead, let's move to a system that says, "do what's appropriate, make the patients better and you'll get rewarded for it."
(Oddly, or not, Cutler seem to regard reward as synonymous with monetary reward.) Notice, of course, that Cutler makes no effort whatever to compare or contrast ObamaCare's approach with already proven systems (see the charts) that achieve his goals. No, he wants people to "shop." 
Paul Solman: So that will provide comparison shopping.

David Cutler: That's on the demand side. Give people more skin in the game and give them the information so they can do real shopping.

Paul Solman: More skin in the game, meaning higher co-pays?

David Cutler: Higher co-pays.
I love that "skin in the game" trope, and so does Obama. Cutler, however, leaves out a detail: Under ObamaCare, the only people with skin in the game — their literal skin, I might add, since this is health care — are those who are not wealthy; the wealthy don't have to worry about co-pays at all, or hospital concierges, or narrow networks, or balance billing, or any of that prole-type nonsense. Class warfare at its finest!
More importantly, note that Cutler's approach to cost containment is experimental ("trying to make people"; "let's move to"). In fact, Cutler says, quite explicitly, that from the cost containment perspective ObamaCare is an experiment in his famous 2010 memo:
For example, I recently met with the senior CMS staff about how all the new demonstration and  pilot programs envisioned in the legislation might work. This is a crucial issue because the  current demonstration process takes about 7 to 10 years, and thus following this path would lead  to no serious cost containment for the next decade.
Here's what ticks me off: The ObamaCare Marketplace — supported by Obama (personally), and Cutler (personally) — is a health care experiment, where proven solutions already exist (see the charts), on a captive population, without their informed consent. ObamaCare's test subjects are captives because of the mandate; and if they consented to participate, they were not informed of alternatives to the experiment, because the administration and the Democratic nomenklatura systematically censored single payer advocacy — the obvious alternative to being experimented upon — throughout the passage of ObamaCare. It should not be necessary to say that experimenting on consumers patients without informed consent is a gross violation of medical ethics. Bogus experiment; no informed consent; captive population. Does that remind you of anything? That's right: the Tuskegee experiments. Except, to be fair, on a much larger scale.
So how did Cutler get involved in such an intellectually and morally corrupt endeavor? I have no idea, but I would speculate TINA: In our neo-liberal regime, There Is No Alternative to a market-based solution. And for whatever reason, it does not seem to have occured to Cutler to seek to create one.[5]
And here's the second thing that ticks me off, but this is a lot shorter and simpler: Cutler keeps calling me a "consumer," and that gives me the creeps. I think of myself as a patient or a citizen. A commenter at PBS says this better than I can:
I get so tired of listening to people like Harvard's David Cutler referring to healthcare patients as consumers. Like I am going out to buy a TV rather than wondering if the experts are going to be able to save my life while sick as a dog.

And more skin in the game. As if when I am in a car accident or have a heart attack or kidney stones or diabetes, a patient has any real choices except to deal with the bills assuming they survive.
So when the severe debilitating chest pain hits, I The Consumer comparison shop for the best ambulance, and while I'm on the road, I direct the driver, between spasms, to the in-network hospital, even though it's thirty miles away, and then I comparison shop for the cheapest room, and when I'm in bed, I pop open my laptop, and comparison shop for the cheapest surgeon…. And the cheapest drugs… Because I've got "skin in the game"…. Even if it's not a game…. To me… Well, Cutler puts it less vividly but more succinctly:
The trend in health care nationally is to put more and more on the patient.
What could go wrong? Consumer, my sweet Aunt Fanny. Are these people demented?
NOTES
[1] Klein's link to the National Geographic article, by Michelle Andrews, has rotted, but the article is well attested. Here's a useful critique of the infographic. I'm not sure why Mexico's costs parallel the normal countries, and not the exceptional United States. Perhaps the IMSS played a mitigating role?
[2] Yet another chart showing a mid-70s inflection point at the beginning of the neo-liberal dispensation. Yes, the problem with the label on the axes exists in the original.
[3] It is true that the growth of health care spending in the United States has slowed, as would be expected, given a continued economic depression. (Dean Baker argues that although the economy has recovered, spending is still slowing, so ObamaCare must be the cause of the spending slowdown. Some recovery, if you look at labor force participation, persistently high unemployment, and lousy jobs.)
[4] ObamaCare, despite at best careless rhetoric by its advocates, is not universal and will not be even when fully implemented in 2017, causing thousands of excess deaths.
[5] David Cutler, Health Affairs, 2010. Note lack of agency:
A single-payer system in the recent debate…

Acknowledgements

David Cutler was an adviser to the Obama administration during the development of the legislation discussed in this paper.
NOTE Here's a handy chart from PNHP that summarize the differences between the ACA (ObamaCare) and single payer. Well done, Democrats!