By Lambert Strether of Corrente.
Trade
"With no end in sight to the trade standoff with China, NAFTA has emerged as a bright spot in President Donald Trump's trade agenda. Even incremental progress and ongoing good-faith negotiations there offer somewhat of a sign of hope to American farmers and businesses who are bearing the brunt of retaliatory tariffs and desperate for some sign of more certainty in the global trade arena. To be sure, significant portions of the negotiation remain unresolved — the sunset clause chief among them, though there are others — and Canada still needs to be brought back into the fold once U.S.-Mexico bilateral issues are worked out. But the political situation in both countries is such that each is more eager than ever to make a deal, setting up a scenario in which significant progress could be on the near horizon" [Politico].
Politics
2020
"Can the US track how its weapons are used in Yemen? Elizabeth Warren ." [Defense News]. "In response to the Saudi-led coalition bombing of a school bus that reportedly killed 51 people — 40 of them children — Warren sent a letter to U.S. Central Command's Gen. Joseph Votel on Tuesday asking that he clarify his testimony the military cannot do detailed tracking…. 'The reported presence of U.S. advisors in a command center responsible for actively approving and directing such airstrikes, and the reported existence of at least one U.S. intelligence assessment of an airstrike acknowledging the use of U.S.-manufactured munitions, raise questions about whether the U.S. does in fact have the capability to track the origins, purpose and results of U.S.-supported airstrikes should it choose to do so,' Warren wrote." • "Wants to know" is Warren's branding. She's good at that…
2018
"Democrats Discard Washington Platform in Bid for House Control" [New York Times]. "House Democrats, looking to wrest control of the chamber from Republicans in November, are discarding the lessons of successful midterms past and pressing only a bare-bones national agenda, leaving it to candidates to tailor their own messages to their districts." • A morally and intellectually bankrupt party apparatus, operating solely on a reptilian backbrain-like reflex for institutional survival, and incapable of delivering on whatever promises it makes to voters (as opposed to the promises it makes to the donor class, of course).

"Midwest Democrats' answer to Trump: White, conventional and boring" [Politico]. "Democrats across the Midwest are opting for a conventional cast of technocrats and long-time public officials in the party's first response to Donald Trump's 2016 victories — a rebuttal of sorts to the party's lunge leftward in the run-up to 2020.

CA: "Combating corruption: How effective is the political watchdog Jerry Brown helped create?" [CalMatters]. "Now [the Fair Political Practices Commission] has a new leader who has spent many years in the political trenches but has little experience as a government regulator[:] Alice Germond, a longtime Democratic Party activist, took over this month to complete the term of the prior chair who resigned. Germond, 75, worked on several presidential campaigns, including Bill Clinton's, before becoming a leader in the Democratic National Committee." • Interestingly, Germond was a vocal Ellison supporter, and was purged from the DNC in 2017.

CT-05: "Jahana Hayes Blows Out Democratic Establishment in Connecticut Congressional Primary" [GritPost]. "Hayes ran on a progressive platform of implementing a living wage for all workers, moving toward a single-payer healthcare system, strong new gun reform laws (her district includes Newtown, where 20 children were killed in a 2012 school shooting), and strengthening public education. As the 2016 National Teacher of the Year, Hayes is particularly passionate about public education, and is calling for an end to diverting public dollars to private schools." • Hayes: "I support moving towards a single-payer healthcare system." Plus: "single payer"; the technical term is a good sign. Minus: "Moving towards" is weasel wording; translates to the so-called public option, perhaps? Plus: Refreshing absence of focus-grouped liberalisms like "access."

MN Governor: "Pawlenty's Loss Moves Race to Lean Democratic" [Cook Political Report]. "Pawlenty had his own political persona that is quite separate from Trump and national Republicans, and he had a relationship with general election voters in the state. This is why national GOP strategists were enthusiastic about his candidacy. Johnson doesn't have these advantages. He is a conservative who is tethered to an unpopular Trump and running in a strong Democratic year in a swing state. As such, this race has gotten more difficult for Republicans and thus moves to the Lean Democratic column."

PA-01: "A red flag for the 'blue wave'? In Philly suburbs, GOP Rep. Fitzpatrick has more union support than Dem challenger" [Philadelphia Inquirer]. "Democrats in Pennsylvania can almost always count on labor groups to support them in major general elections. But in a pivotal midterm race in the Philadelphia suburbs, many high-powered unions are pledging their support to a Republican. U.S. Rep. Brian Fitzpatrick, a freshman GOP lawmaker who has sided with Democrats on some key issues and said he is "extremely disappointed" by a recent Supreme Court decision weakening unions, has raised more than $200,000 from labor groups, according to the website OpenSecrets. His Democratic opponent, multimillionaire philanthropist Scott Wallace, has collected only about $3,000."

New Cold War
"Manafort Money 'Littered With Lies,' Feds Tell Jury" [Courthouse News]. "In contrast to [Special Counsel prosecutor Greg] Andres' plea for the jury to primarily focus on the documents in evidence, [Defense attorneys Richard Westling] urged jurors to rely on the witness testimony. He said emails can sometimes leave out the context necessary to clarify important issues such as intent…. A chart that defense attorney Westling provided establishing standards around the requirements of reasonable doubt should also be ignored, Andres said, and instead jurors should only consider instruction about reasonable doubt from Judge Ellis himself." • Most of the national coverage of closing arguments was awful, giving no sense of prosecution and defense strategies. This is better.

"John Brennan: President Trump's Claims of No Collusion Are Hogwash" [John Brennan, New York Times]. The deck: "That's why the president revoked my security clearance: to try to silence anyone who would dare challenge him." • A man gifted with a Op-Ed in the Times to protest his "silencing" perhaps perhaps has skin thinner than the norm? Speculating freely on the real issue, here: Without his security clearance, torture advocate and Hague-dodger Brennan will be able to opine less authoritatively on cable, losing bookings. But surely he can make up the difference on GoFundMe, or with a book deal? Aaron Maté comments on the substance of Brennan's piece in this thread:

1/ Despite calling Trump's collusion denials "hogwash," Brennan has not just re-affirmed that he knows of no evidence of collusion, he is also manipulating those who've been led to believe that there is: https://t.co/TOVK1zEOzi

— Aaron Maté (@aaronjmate) August 16, 2018

"2016 Trump Tower Meeting Looks Increasingly Like a Setup by Russian and Clinton Operatives" [RealClearPolitics]. "The June 2016 Trump Tower meeting between high-ranking members of the Republican presidential campaign staff and a Russian lawyer with Kremlin ties remains the cornerstone of claims that Donald Trump colluded with Russia to steal the election. A growing body of evidence, however, indicates that the meeting may have been a setup — part of a broad effort to tarnish the Trump campaign involving Hillary Clinton operatives employed by Kremlin-linked figures and Department of Justice officials." • Readers may find this interesting; I'm not master of the detail on this. However, from the 30,000-foot level, there is very little about the Obama administration's part in "the narrative" that makes sense. Assume that Clinton's strong-form claim that Trump is a "Russian puppet" is true. One would expect a Presidential Finding to that effect to be set in motion; instead, we have the infamous "17 agencies" report from hand-picked analysts, and Obama hands over the nuclear codes. Huh? The article is at least salutary in that it grants the Obama administration agency, instead of treating them as horrified bystanders, as most coverage does.

Memories:

Newly Released FBI Files Expose Red-Baiting of Woody Guthrie https://t.co/bRgPPOXmzW via @truthout

— Madhusudan Katti ?@ #ESA2018 (@leafwarbler) August 15, 2018
The Crash, Ten Years After
"The biggest policy mistake of the last decade" [The Week]. "In the great economic battle of the past decade, the winner is the tried and true — in a rout. After the 2008 financial crisis, old-fashioned Keynesians offered a simple fix: Stimulate the economy. With idle capacity and unemployed workers, nations could restore economic production at essentially zero real cost. It helped the U.S. in the Great Depression and it could help the U.S. in the Great Recession too. But during and immediately after the crisis, neoliberal and conservative forces attacked the Keynesian school of thought from multiple directions. Stimulus couldn't work because of some weird debt trigger condition, or because it would cause hyperinflation, or because unemployment was 'structural,' or because of a 'skills gap,' or because of adverse demographic trends. Well going on 10 years later, the evidence is in: The anti-Keynesian forces have been proved conclusively mistaken on every single argument. Their refusal to pick up what amounted to a multiple-trillion-dollar bill sitting on the sidewalk is the greatest mistake of economic policy analysis since 1929 at least." • First thing we do…
Realignment and Legitimacy
"Want Young People to Vote? Make Them Sign a Pledge." [Governing]. "But will they actually turn out on Election Day? Democrats, who are aiming to inspire a blue wave that helps them take back some control of federal and state offices… But across the country, just 28 percent of young adults are "absolutely certain" they will vote…. On other shifts, they asked them to sign a pledge that they would make it to the polls. Two weeks ahead of the election, the first group received mailers that said, 'Remember to vote,' while the second group's reminders said, 'Remember your pledge to vote.' 'Overall,' the researchers concluded, 'pledging to vote increased voter turnout by 3.7 points among all subjects and 5.6 points for people who had never voted before.'… Democrats have nearly three months to energize young voters." • One despairs. First, as I keep saying, voter registration should be a core party function, 24/7/365. The article lists a number of siloed celebrity and squillionaire efforts, three months before the election, for pity's sake. One might almost think the Democrats don't really want to expand the electorate, except for short-term, tactical, effects. Second, "Remember your pledge to vote" is classic liberal Democrat fingerwagging and voter shaming and blaming. To be fair, it's certainly easier to prey on youthful and gullible authoritarian followers overly trusting voters than it is to deliver on actual policies that might improve their lives, like free college or a debt jubilee. Heaven forfend! This isn't "governing." It's ruling.

"The Revolution Against the Revolution" [City Journal]. Shay's Rebellion: "The farmers and shopkeepers in Massachusetts repeatedly petitioned Boston, asking the government to stop the courts from foreclosing until after the next election, in the spring of 1787, when they hoped that their pleas would be acted upon by a new and more sympathetic administration. If the courts were allowed to continue foreclosing, half the people of the affected counties might go bankrupt. Since the vote was limited to white men of property, the rebellion wasn't just about losing money; it was about becoming a political nonperson. Losing one's farm or home or shop could disenfranchise a citizen." • The first foreclosure crisis…

"The 5 M's for Describing Why Congress Is Broken" [Roll Call]. Money, maps, media, mingling, masochism. "Psychologists call it the Golem effect, after a clay figure in Jewish mythology: Low expectations placed upon individuals by people they've been trained to respect tend to get adopted by those individuals, and poor performance is the result…. Congress has moved steadily in the past decade to reduce its own capabilities and capacities for making legislation and conducting oversight — the only two options available to lawmakers who care about standing up to an executive branch, no matter who's in the White House, that has been steadily making its balance of power more lopsided. Members have put their committee and personal office budgets on starvation diets, drastically reducing the median tenure of Hill staffers. The resulting brain drain has only expanded power in the ideologically polarized leadership suites of both the House and Senate, and in the better-paying lobby firms and advocacy groups already derided by voters as a swamp with too much sway." • And term limits would only reinforce this, as they have in Maine.

Stats Watch
Philadelphia Fed Business Outlook Survey, August 2018: "Rates of growth may finally be slowing in the Mid-Atlantic manufacturing sector based on the Philly Fed general conditions index" [Econoday]. "New orders are the life blood of business and growth here is clearly slowing… Slowing should be no surprise for this report which was the first of the regional and private reports to shoot higher after the 2016 election. Slowing in orders should help limit the risk of capacity constraints for this sample." And: "Consider this a much weaker report than last month as key elements significantly declined" [Econintersect].
Housing Starts, July 2018: "Capacity constraints in construction may very well be slowing down the sector as housing starts have turned lower" [Econoday]. "The housing sector in general is lagging though the gain in permits is a plus…" And: "We consider this a weaker report relative to last month – and both housing starts and completions are in contraction year-over-year" [Econintersect].
Jobless Claims, week of August 11, 2018: "The labor market is the key strength of the U.S. economy" [Econoday]. • Especially since wages are flat or declining!
Retail: "July retail sales turn in solid performance based on Commerce and NRF data" [Logistics Management]. "Retail sales are a direct, and largely current, barometer of economic activity, more so than the aforementioned consumer confidence, which really gauges how consumers "feel" about the economy at a given moment, with feelings and sentiment able to quickly change based on just about anything. And based on recent earnings calls from publicly-traded freight transportation and logistics services providers, they are also echoing a theme of a healthy economy, specifically a healthy economy buoyed by strong retail sales, which had various executives touting the gains in revenue stemming from things like increased e-commerce activity, which has had a direct impact on things like last, or final, mile logistics, and the ongoing build out and development of warehouses and distribution centers that are needed to help meet increasing demand and uptick in service to meet that higher demand."
Retail: "Walmart sees sales rise at stores and online, raises outlook" [Associated Press]. "Walmart raised its financial outlook for the year after beating Wall Street's expectations for the quarter and seeing the strongest growth in more than a decade in sales at established stores. Its shares rose nearly 10 percent…. Walmart said sales were strong across many categories but the grocery business was notable with sales rising the most in nine years, fueled by fresh items like meat and produce. That helped sales at stores open at least a year rise 4.5 percent at Walmart's U.S. division, better than analysts expected. The measure, an indicator of a retailer's health, was helped by a more than 2 percent increase in customer traffic and in transactions." • I remember a couple years ago Walmart had stocking problems in produce. So it looks like they solved that.
Marketing: "OPINION: Interpretation of airline 'big data' must be objective" [FlightGlobal]. "Confirmation bias is a common problem, for instance. This occurs when data is wittingly interpreted to confirm a pre-existing hypothesis. For airlines fixated on big data as a money-saving opportunity, that is a real danger…. Looking at sales of in-flight food as an example, data will not tell you why very few people are buying your sandwiches. But a carrier with a fixation on using data to cut wastage might see that data and cut the number of sandwiches loaded on to aircraft, then celebrate the financial saving. In reality, however, it could be missing out on a significant growth in revenues, simply because it is ignoring the fact that its cheese and tomato baguette is revolting." • I dunno whether I'd say "objective." Maybe "imaginative," or "empathetic." Or "non-sociopathic."
Shipping: "July 2018 Sea Container Movements Slow" [Econintersect]. "Simply looking at this month versus last month – export rate of growth declined whilst exports also declined. The three month rolling averages remain in positive territory – but both exports and imports are declining. It may be that we are seeing the impact of the trade wars." • And see the very interesting "Caveats on the Use of Container Counts" at the end of the article.
Shipping: "Cass' July volume, rate data shows market staying red-hot" [DC Velocity]. "Volumes and freight rates have escalated dramatically since the end of last year. After leveling off somewhat in the first quarter, rates spikes in the spring and summer to levels not seen for years. To put 2018's strength in perspective, traffic levels in February, normally not a great month due to adverse winter weather and other seasonal factors, were roughly equal to the activity in June 2014, which was the peak of a very strong year, Broughton said. He called such a phenomenon 'extraordinary.'"
Shipping: "As we publish this, a story we ran yesterday on the city of Springfield, Illinois fining a local Walmart $50,000 for violating what the city said was an agreement on truck parking in its lot had received an enormous number of hits" and comments [FreightWaves]. "Those sheer numbers point to how big of an issue parking has become…. [T]here was the constant theme in the comments about how parking has gotten even more complicated in the [Electronic Logging Device (ELD)] era, and parking opportunities are getting squeezed with more trucks on the road delivering more freight. This comment was typical: 'This is the number one issue for me. Safe and legal parking. This is why the older truck drivers are getting fed up. This is how you destroy America. Limit distribution of goods and services. Please don't be surprised if you're notified I've been killed while I was sleeping in my truck, or someone you love. Please tell your elected official to make more safe and legal places to park.'" • Turf wars over infrastructure? Like scooters?
Shipping: "Increased crop-storage capacity means farmers can hold onto grain longer as they wait for prices to rise. As the balance of power shifts, U.S. grain giants have to reset decades-old crop-buying practices and devote more personal attention to increasingly tech-savvy farmers who get price alerts on their phones" [Wall Street Journal]. Cargill is shrinking its grain-elevator footprint, directing more volume to higher-capacity facilities and pushing to make them more efficient so farmers don't get stuck waiting around: 'If [their trucks] are sitting still, we're the worst place in town.'" • See above; same issue.
The Bezzle: "Tesla on Track to Make 8,000 Model 3s Per Week, Analysts Report" [Industry Week]. "Tesla produced more than 5,000 Model 3s in the last week of June, working around the clock to hit the mass-manufacturing milestone. The push also included assembling vehicles in a tent outside its factory, raising questions on the carmaker's ability to sustain that rate and keep up quality standards….. [After a site visit to the Fremont plant, the] analysts that would suggest Tesla isn't able to produce 5,000 Model 3 cars per week currently and increase that by 1,000 per week 'very shortly.'" • "Throw a tarp over that rework, boys!"
The Bezzle: "Uber's Losses Mount at Self-Driving Car Unit" [The Information]. "Some investors have told Uber officials that it may be wise to divest the self-driving car unit, said a person familiar with the issue. Uber has invested least $2 billion in the unit over the past three years. Yet the company hasn't yet come up with a clear path to commercializing the technology it has developed." • Because the technology doesn't work!
The Bezzle: "US Drivers Learn More About Self-Driving Cars, Like Them Less" [247 Wall Street]. "Over the past two years, U.S. drivers have become more aware of autonomous (self-driving) vehicles. More than three-quarters (78%) have some knowledge of autonomous vehicles that a human driver may choose to drive and 64% know something about self-driving cars that do not require a human driver. Both totals are more than 20 percentage points higher than they were two years ago. But in both those categories. The reason, according to a new survey from Cox Automotive, is that recent involving self-driving cars have cast a pall over the previous excitement over driverless cars and the technology that enables them." • Thanks, Trav!
Tech: "Tech Giants Charge Deeper Into $8 Trillion Healthcare Industry" [Safe Haven]. "Apple, IBM, Amazon, GE, Intel and Alphabet are placing their bets in the $3-trillion industry and driving a major digital health renaissance. And they're viewing this as something between a rescue mission and a great business opportunity. The fusion of healthcare and tech is expected to lower costs and provide a better experience for both healthcare professionals and patients…. A key part of healthcare reform involves the use of technology to address issues such as access, cost and value." • I'll bet. How about we start with this: I want a doctor who was the time and incentives to actually look at me instead of pecking into the sucky app on their tablet.
Health Care
"Best Buy is buying a health tech company that caters to the elderly and analysts are gushing" [MarketWatch]. "Best Buy Co Inc. shares rose Thursday as analysts cheered the news of its acquisition of San Diego-based GreatCall, a health technology company that focuses on the elderly. The electronics retailer BBY, +0.60% said late Wednesday it is paying $800 million in cash to acquire the company, which provides connected health and emergency response services to more than 900,000 paying subscribers. GreatCall offers mobile products and wearables that connect users to agents who can hook them up with family caregivers or send emergency medical help."
Class Warfare
"US bosses now earn 312 times the average worker's wage, figures show" [Guardian] (original). "CEO pay dipped in the early 2000s and during the last recession, but has been . Chief executives are even leaving the 0.1% in the dust. The bosses of large firms now earn 5.5 times as much as the average earner in the top 0.1%." • Thanks, Obama!
"Relocation for Work Reaches Historic Lows" [247 Wall Street]. "In the 1980s, over one-third of job seekers were willing to move for a new position. Now more than ever this number is dramatically shrinking as new trends are emerging in the labor market. Over the past decade, only 11% of job seekers relocated for work, versus 19% of workers who relocated in the previous decade, according to new data from Challenger, Gray & Christmas." • So much for "Why don't they just move…."
"Building a Rapid-Response Network to Defend Immigrant Workers" [Labor Notes]. "The rapid-response network consists of a 24-hour emergency hotline, 2,000 members, and 20 religious congregations. Forty bilingual responders are trained to manage the hotline, where they instruct callers in their constitutional rights, connect them to services, and activate the response team if necessary. Since November 2016, members of the network have supported 35 families and individuals facing deportation and workplace abuse, including wage theft and sexual harassment." • Impressive.
"90,000 Forgotten Sears Employees" [247 Wall Street]. "The CEO of Sears Holdings Corp. (NASDAQ: SHLD) wants his hedge fund to buy the company's Kenmore appliance division as another means of getting the retailer cash and stripping it of one of its most valuable assets. It is one more in a long line of financial engineering by Eddie Lampert, which has included shuttering stores, loaning the company money and disposing of part of Sears and Kmart, the company's operating divisions. Lost in all the noise are the approximately 90,000 workers whose jobs are at risk, many of whom can count on being laid off."
News of The Wired
"Twitter's Secret 'Guest Mode'" [Terence Eden's Blog]. "Twitter has an undocumented feature which lets you follow accounts without being logged in. Here's how I found it, and how you can use it." • If you have an ancient browser…
"The Akrasia Effect: Why We Don't Follow Through on What We Set Out to Do and What to Do About It" [James Clear]. "Akrasia is the state of acting against your better judgment. It is when you do one thing even though you know you should do something else. Loosely translated, you could say that akrasia is procrastination or a lack of self-control. Akrasia is what prevents you from following through on what you set out to do….. Aristotle coined the term enkrateia as the antonym of akrasia. While akrasia refers to our tendency to fall victim to procrastination, enkrateia means to be "in power over oneself.'" • With an excellent anecdote. Victor Hugo signed an agreement with his publisher and then procrastinated for a year:
Hugo developed a plan to beat his procrastination. He collected all of his clothes, removed them from his chambers, and locked them away. He was left with nothing to wear except a large shawl. Lacking any suitable clothing to go outdoors, Hugo was no longer tempted to leave the house and get distracted. Staying inside and writing was his only option.

The strategy worked. Hugo remained in his study each day and wrote furiously during the fall and winter of 1830. The Hunchback of Notre Dame was published two weeks early on January 14, 1831.
In memoriam Aretha Franklin (1):
And more trechant commentary on political economy–
Aretha Franklin (2):
* * *
Readers, feel free to contact me at lambert [UNDERSCORE] strether [DOT] corrente [AT] yahoo [DOT] com, with (a) links, and even better (b) sources I should curate regularly, (c) how to send me a check if you are allergic to PayPal, and (d) to find out how to send me images of plants. Vegetables are fine! Fungi are deemed to be honorary plants! If you want your handle to appear as a credit, please place it at the start of your mail in parentheses: (thus). Otherwise, I will anonymize by using your initials. See the previous Water Cooler (with plant) here. Today's plant (CR):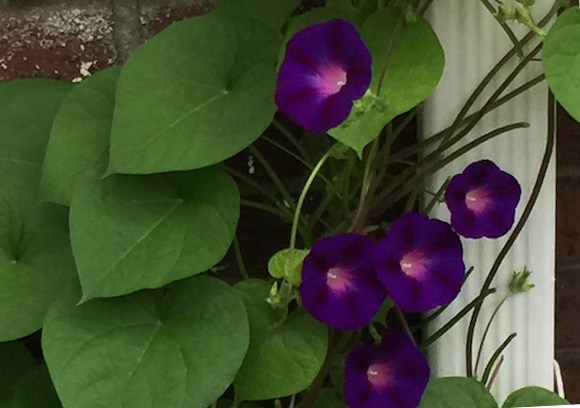 I should have grown morning glories this year, but never got around to it.
* * *
Readers: Water Cooler is a standalone entity not covered by the annual NC fundraiser. So do feel free to make a contribution today or any day. Here is why: Regular positive feedback both makes me feel good and lets me know I'm on the right track with coverage. When I get no donations for five or ten days I get worried. More tangibly, a constant trickle of small donations helps me with expenses, and I factor that trickle in when setting fundraising goals. So if you see something you especially appreciate, do feel free to click the hat!

To give more, click on the arrow heads to the right of the amount.
If you hate PayPal — even though you can use a credit card or debit card on PayPal — you can email me at lambert [UNDERSCORE] strether [DOT] corrente [AT] yahoo [DOT] com, and I will give you directions on how to send a check.