By Lambert Strether of Corrente.
Trade
"China's Most Powerful Weapon In The Trade War" [Safe Haven]. "The potential LNG glut was forecast to persist until 2022, but Beijing singlehandedly changed the fortunes of producers with a massive increase in imports. China has already surpassed South Korea to become the second biggest importer of natural gas and, according to the IEA, the country is set to become the largest importer next year…. The effect of tariffs on U.S. LNG could be significant as it would obviously raise the cost of transporting the super-chilled natural gas to Chinese customers. Despite American exporters being the sixth biggest supplier of LNG at the moment, impressive growth and overabundance of natural gas in the U.S. provide it with even more supply for global customers. For every 175 units being produced, just 100 are being consumed in America while 75 percent is available for export…. In the short-term, tariffs are likely to simply shift the global LNG market. When China decides not to buy LNG from the U.S. and instead purchase from alternative sources, other consumers are likely to act in the opposite direction. However, the factors that made Beijing reconsider its threat regarding crude oil (the discount of U.S. product and higher quality) do not apply for LNG where the cost of transportation rises significantly with distance and quality is not an issue."
"Sen. Sherrod Brown is warning that what the U.S. currently has on the table on labor issues in NAFTA 2.0 may be insufficient to get his support, jeopardizing his ability to bring other Democrats to a 'yes' vote. Brown and U.S. Trade Representative Robert Lighthizer have maintained close contact on NAFTA talks as the administration's top trade official tries to woo a significant number of Democrats to support the pact when it's up for a vote" [Politico]. "'I looked President Trump in the eye and told him that if they get a deal that's better for American workers, not only will I vote for it, I'll help him get the votes it needs to pass. I think we've made a lot of progress,' Brown said…. 'But it's hard to see how we get those votes if this deal doesn't do more on labor enforcement than we've seen in past FTAs. We can't make a real difference for American workers without enforcement of labor law in Mexico.'"
Politics
2020
"Elizabeth Warren Proposes a Second New Deal" [The American Prospect]. "Comes now Elizabeth Warren, like Sanders, seeking to re-create the New Deal's creation of a vibrant middle class—but in this instance, not through an updated version of governmental social provision, as Sanders suggested, but through that other dimension of New Deal success: bolstering worker power." • As I wrote yesterday, outflanking Sanders from the left. More: "Warren, then, is seeking to reinvent the 'corporate conduct' side of the New Deal, much as Sanders wants to reinvent its social-rights dimension. This is not to say either is opposed to the other's endeavors: Warren, for instance, supports Sanders's Medicare for All bill, among other similar proposals. Both also support the next iteration of labor law reform, which would renew the promise of the NLRA by restoring workers' rights to associate and bargain…. co-determination has been a major factor in Germany's ability to maintain world leadership in manufacturing, preserve its middle class, and limit CEO pay—a whole raft of achievements that have eluded the financialized United States." • Although "co-" is doing a lot of work in that "co-determination," and delineates precisely the limits up to which Warren is willing to expend poltical, er, capital. Ditto, I think, for Sanders.

"Some Illuminating Reactions To Elizabeth Warren's Worker Rights Plan" [Current Affairs]. "Warren's plan is similar, though less radical, than the employee co-determination scheme that operates in Germany. It would leave the basic structure of American enterprise entirely untouched. But, in a sign of just how extreme U.S. "free market" thinking truly is, commentators on the right instantly denounced Warren's as representing the total destruction of economic life as we know it.…. Either way, though, this is a dispute about the best policy. It is not about whether the government is being a "dictatorship" or not, because no matter what you think the legal purpose of a corporation ought to be, there is a legal purpose, a.k.a. a government requirement. In fact, there are already tons of requirements that the government imposes on corporations, because the corporation is a creation of government. If Kevin Williamson thinks Elizabeth Warren's proposal is dictatorial, just wait until he sees the Delaware incorporation statute, the law that defines how a corporation works. It tells corporations how their officers are to be selected, who has liability for what, what powers the stockholders have. It even tells them how often they have to have meetings! Dictatorship! Slavery! The road to serfdom!" • Yep. Oh for the days of rational conservative discourse. Say, when were they?
2018
"The Governors: Ratings Changes Abound" [Larry Sabato's Crystal Ball]. "Democrats should net governorships, and more than just a few, but there's a lot of uncertainty. To wit: Three of the ratings changes benefit Democrats, but the other three are in favor of Republicans. Watch the Midwest. The Republicans control five of the six governorships on the ballot this fall from that region, but the Democrats hypothetically could sweep all six or at least win several of those races."

PA-07: "Lehigh Valley velodrome board put Pennsylvania congressional candidate Marty Nothstein on leave after sexual misconduct allegation" [Morning Call]. "The probe, as well as the board's vote, have not been previously reported and come after a three-month investigation by The Morning Call. The newspaper could not determine what the complaint alleges, whether the investigation is open or if Nothstein has been cleared of wrongdoing. Nothstein, who has been a county commissioner since 2016 and is now the chairman, is seeking an open seat in Pennsylvania's 7th District during a competitive midterm election that could factor into whether Democrats can flip control of the House. More than 35 velodrome board members, track personnel and cyclists ignored or declined to respond to repeated questions by Morning Call reporters about Nothstein, U.S. track racing's most decorated athlete and a rising political star. Some cited legal constraints, others cited fairness to Nothstein, some said they feared retaliation." • Not a good look, to say the least.

"What Did Campaigns Advertise About This Primary Season?" [Cook Political Report]. "As you can see, Democrats are talking overwhelmingly about healthcare (with a healthy dose of anti-Trump), while Republicans are more evenly distributed between pro-Trump, taxes, and immigration." With handy chart:

"Health care" as a category, of course, neatly erases the distinction between #MedicareForAll and the various fake alternatives proposed by liberal Democrats. So Democrat messaging is not nearly as consistent as the chart shows. By my count, 89 of 392 challengers, or roughly 25%, backed #MedicareForAll. If the flippable sample in my worksheet is representative, and advertising is evenly distributed across all candidates, that would bring fake Medicare ads down to roughly 97,000 in the above chart, making anti-Trump at 59,000 a much larger proportion.

New Cold War
"AP Interview: Top Republican opens up about Russia probe" (interview) [Associated Press]. "For much of the last two years, Senate Intelligence Committee Chairman Richard Burr has been the Russia investigator who is seen but rarely heard on Capitol Hill… Burr said there is 'no factual evidence today that we've received' on collusion or conspiracy between Russia and President Donald Trump's campaign. But he said he's still open on the issue…. The committee is also still talking to lawyers for former British spy Christopher Steele, who compiled a dossier containing allegations of ties between Trump, his associates and Russia during the election, and lawyers for WikiLeaks founder Julian Assange in hopes of gaining closed-door interviews, Burr said… For now, Burr says, the committee is preparing to put out two reports by the end of September: one on the Obama administration's response to Russia's election interference, and a second on Russia's election meddling on social media…. 'I don't think any of us when we started understood just how coordinated was. I think what probably will be shocking is how early it started — much earlier than the parameters that people have put on the 2016 election," Burr says, teasing information that will come out in one of the future reports. He wouldn't give any additional details." • Yes, Brock's been operating for years….

UPDATE What Atrios said, especially the "burned to the ground" part:

the motive is bad – it's trump! – but the "ex-intelligence community officials get to cash out in the private sector by maintaining their security clearances" is a bad racket which should be burned to the ground

— Atrios (@Atrios) August 15, 2018

The racket, as I should have pointed out yesterday, is not only lucrative cable gigs for intelligence community insiders, but consulting contracts as well. It's particularly schadenfreude-inducing that it's credentialed professionals who are being hit where it hurts, in their wallets, by removing credentials: Security clearances. Public goods for private gain: The whole racket is openly corrupt, and I don't care who set it on fire, or why.

UPDATE "Top former intelligence bosses sign letter supporting John Brennan" [CBS]. "Thirteen former senior intelligence officials, including 12 former CIA directors and deputy directors and one former director of national intelligence, have signed a letter of support for former CIA director John Brennan, calling the signal sent by the White House's decision to strip him of his security clearance "inappropriate" and 'deeply regrettable.'" • Holy moley, look at the signers. There's George "slam dunk" Tenet. There's Michael Hayden, who helped destroy the Fourth Amendment and lied about it to Congress. There's David Petraeus, who leaked classified information to his mistress slash biographer (!). There's James Clapper. He helped destroy the Fourth Amendment and lied to Congress, too! And there's Mike Morell, torturer. What a rogue's gallery! Why are any of these evil clowns able to participate in public life without derision, let alone cash in on their security clearances? Tapeworm to doctor: "Removing me would be deeply regrettable!"
The Crash, Ten Years After
"Barney Frank on His Regrets From the Great Recession" [New York Magazine]. "If you had asked me in 1953 whether we were prepared to deal with credit-default swaps, I'd say — I was busy with my bar mitzvah, so I probably wouldn't have had the attention to pay. Back then, I would have said, "What, what, what is that? Who? What?" So I don't know. I can't foresee what the innovations will be 20 years from now. But to the extent that there are incremental changes, that they find loopholes, we think that the regulators have the power now to handle those." • Is financial "innovation" all that important? As a public good?
Realignment and Legitimacy
"Aug 16 Washington's Culture of Deception" [Castellanos]. "[Trump's] new lies are different from the ones with which Washington is familiar, the lies they have spent decades practicing. They have jolted Washington with their crudity. They are evident and unembarrassed. These deceits have been marched, bare of pretense, raw and muscular, to parade in the public sun, without apology or shame…. The American people know Donald Trump tells lies. They believe the government he was sent to disrupt lives them." • From a Republican consultant…

UPDATE "The grand jury report about Catholic priest abuse in Pennsylvania shows the church is a criminal syndicate" [NBC]. "The report was written by 23 grand jurors wrote over the course of two years, and is very clear about how the authorities of the church protected the clergy while further abusing victims with payoffs, silencing and attempts to denigrate their character. Two cardinals, Cardinal Wuerl and the now-deceased Cardinal Bevilacqua (who also figured prominently in the Philadelphia grand jury report), are among those who disciplined but moved around clergy who sexually abused children…. It chronicles in detail how the Catholic hierarchy from the diocese to the Vatican worked not only mitigate the church's legal exposure, but to maintain strategies to 'avoid scandal.'" Horrible stuff, and the shameful behavior of the Catholic Church is such a great contrast to the way Obama's Justice Department prosecuted scores of banking executives for accounting control fraud after The Crash. Oh, wait…
Stats Watch
Consumer Sentiment, August 2018 (Preliminary): "A big downshift in the perception of auto and home prices headlines a soft consumer sentiment report where the preliminary August index fell" [Econoday]. "August's with buying conditions for large household durables at a 4-year low and pricing perceptions at a 10-year high." • Not unnatural, since real wages are flat or actually falling. And: "August Consumer Sentiment Slides to 11-Month Low" [247 Wall Street]. "The August index and subindex readings came in either flat or down, both for the month and when compared to August of last year. The preliminary August reading represents an 11-month low. The threat of inflation gets the blame because many Americans do not see their spending power rising, either through wage increases or tax cuts." • Not just inflation!
Leading Indicators, July 2018: "July was a second month of strength for the index of leading economic indicators" [Econoday]. And but: "Because of the significant backward revisions, I do not trust this index" [Econintersect].
E-Commerce Retail Sales, Q2 2018: "The pace of online shopping picked up slightly in the second quarter but against a downward revised first quarter" [Econoday].
ECRI's WLI Growth Index: "ECRI's WLI Growth Rate Index At 47 Week Low" [Econintersect]. "Even with the general downward trend in this index over the last 6 months, the forecast is for modest (approaching insignificant) growth six months from today."
GDP: "Q3 GDP Forecasts" [Calculated Risk]. "Since it is early, the range of estimates are wide. These estimates suggest real annualized GDP in the 2.4% to 4.3% range in Q3."
Retail: "Walmart Extends Grocery Dominance as Whole Foods Has Too Few Stores" [247 Wall Street]. "Amazon has a problem as it battles for market share in the grocery business. Its recent buyout of Whole Foods gave it ownership of an operation with only 487 stores in North America and the United Kingdom. This is nowhere near the number of locations of its primary rivals. It has trouble reaching enough customers to matter. Whole Foods' two primary rivals are Kroger Co. (NYSE: KR) and Walmart, which have 2,229 and 4,761 stores, respectively. Not all Walmart stores carry groceries, but most do. Grocery sales are among the largest components of Walmart's U.S. operations."
Retail: "Walmart Inc. may be on the way to solving one of the e-commerce era's biggest operating challenges: inventory. The retailer says inventories declined in the second quarter while its sales soared, suggesting efforts to line up goods for online and physical-store sales are gaining traction…. [T]he world's largest retailer saw sales rise at the fastest rate in over a decade as higher wages and employment put more cash in shoppers' pockets. Walmart's sales rose to $128 billion in the quarter, and e-commerce shot up 40% in the wake of major investments to expand its online business and fend off competition from Amazon.com Inc." [Wall Street Journal].
Shipping: "The impact of last-mile delivery and visibility in logistics on consumer retention" [FreightWaves]. ""There is a lot of emotion linked to products that customers order. If I order something on an ecommerce website, I'm curious as to where the package is at different stages of its journey to my house," [said Dhruvil Sanghvi, CEO at Loginext]. 'Visibility is not a choice these days, but a need.' Social media and real-time updates have helped evolve the traits of people to make them crave for instant gratification. This has led to a situation where the sooner the promised delivery date and more often a business keeps its word on delivery promptness, the more trustworthy it becomes. Sanghvi insisted that delivery schedules and last-mile delivery success might even trump the quality of products being sold. 'When a customer goes online and sees a product, he also looks at the date of delivery. He is more likely to buy a product if there is a promise of it being delivered the next day, rather than if it comes with a week-long delivery schedule,' he said. '. And this can only be done with the right kind of technology and real-time visibility." • This Sanghvi dude is talking book, and the Freight Waves staffer is writing it down. That said, I never thought of logistics as creating a social media-like dopamine loop. But apparently it does.
Tech: "The Hill Interview: Twitter CEO Jack Dorsey explains what got Alex Jones suspended" [The Hill]. "[DORSEY:] 'We're always trying to cultivate more of a learning mindset and help guide people back towards healthier behaviors and healthier public conversation." • @jack. J-a-a-a-a-c-k!!!!! No. All I want is a timeline, in reverse chronological order, of tweets from people I subscribe to. That's all I want. I don't want your algos crapping up my timeline. And I specifically do not want Silicon Valley squillionaires "guiding" me to "healthier" "conversations." "We broke it, but we're the experts, now let us fix it." Dear Lord.
The Bezzle: "Shows with legs – – more background on the Netflix thread (and an excuse for a Friday post of MeTV promos)" [West Coast Stat Views]. "When increasing supply increases demand, things get very strange very quickly. Insert highly appropriate Twilight Zone reference here. For now, we'll focus on one specific corner of the topic, television shows that maintain a viable and highly lucrative syndication presence for decades, often actually growing in popularity since their initial run." Like I Love Lucy, Perry Mason, Friends, etc. More: "Nobody understands the economics of these shows better than Weigel Broadcasting, the [family-owned] company that almost single-handedly developed the entire terrestrial superstation segment of the industry." More here. And from "the Netflix thread": "[I]t is fairly obvious that Netflix has a strong preference for shows that are easy to promote and that a significant portion of their original content budget (and presumably virtually all of their remaining content budget) is going toward . If Netflix really is playing the wildly ambitious, extremely long term game that forms the basis for the company's standard narrative and justifies incredible amounts of money investors are pouring in, then this distribution makes no sense whatsoever. If, on the other hand, the company is simply trying to keep the stock pumped up until they can find a soft landing spot, it makes all the sense in the world." • Another valuation story. But what isn't these days, eh?
Mr. Market: "Tesla shares slide after Elon Musk describes his 'excruciating year' in NYT interview" [MarketWatch]. • I suppose Musk smearing that Thai cave rescue volunteer as a pedophile was down to the Ambien…
Health Care
What Stoller said:

This is a bet the health care system becomes shittier and more expensive. https://t.co/j93ZocsNVw

— Matt Stoller (@matthewstoller) August 14, 2018
It's also a bet against #MedicareForAll, by people who have enough loose cash lying about to rig the game.
Our Famously Free Press
"Headline Hoedowns and How The Texas Tribune Integrated SEO into Its Newsroom" [Emily Roseman, Shorenstein Center of Media, Politics, and Public Policy]. "Leading up to the election, Amanda set a goal for the Trib to dominate search authority during Texas's primary election coverage. This involved rigorously searching and tracking the competitive keywords and keyword search rank associated with each candidate and updating a collection of keywords to optimize in certain stories." • Hmm. This doesn't sound very much like reporting.
Gaia
"Wheat's complex genome finally deciphered, offering hope for better harvests and nonallergenic varieties" [Nature]. "Thanks to a decadelong effort, the wheat genome has finally come into sharp focus, speeding the search for genes that could boost harvests and even make wheat less likely to trigger allergies…. The data, described this week in Science, represent the long-awaited culmination of the International Wheat Genome Sequencing Consortium, a massive collaboration of academic and industry researchers from 20 countries." From the Consortium: "The International Wheat Genome Sequencing Consortium is pleased to announce that all data related to the reference sequence of bread wheat, IWGSC RefSeq v1.0, are ." • Sadly, my first thought was "What about the intellectual property?" But that's the time that we live in…
"The great African regreening: millions of 'magical' new trees bring renewal" [Guardian]. "From the peanut basin of Senegal to the Seno plains of Mali, to Yatenga, formerly the most degraded region of Burkina Faso, and as far south as Malawi: gaos are thriving in Africa. And over the past three decades, the landscape of southern Niger has been transformed by more than 200m new trees, many of them gaos. They have not been planted but have grown naturally on over 5m hectares of farmland, nurtured by thousands of farmers."
Class Warfare
"Standards Go Out The Window As Employers Struggle To Fill Jobs" [Safe Haven]. "In the first half of 2018, the share of job postings requesting a college degree fell from 32 percent to 30 percent, according to an analysis by labor-market research firm Burning Glass Technologies covering some 29 million job postings. Share of posts requiring three or more years of job experience have dropped from 29 percent in 2012 to 23 percent in 2018, which translates to 1.2 million jobs that could be open to less-experienced candidates. Even better … some one million job openings—for everything from preschool teachers and warehouse workers to e-commerce analysts–have opened up to candidates with 'no experience necessary' in the last year." • I'm so old I remember when "on-the-job training" was normal, and you didn't need a Masters Degree in Medieval Literature to send most of your Starbucks check to the student loan people. And how come headlines like that are never written for CEOs?
"Love and Death in Mississippi" [Southern Spaces]. "A Mississippi law that protects a funeral home's decision not only to deny a gay man mortuary service for his late husband but also to renege on the contract already established once they learned of the couple's intimate status is shameful, unethical, and arguably unconstitutional." • Very moving. On Zawadski v. Brewer Funeral Services.
"South Korea: After 12 Years of Protests, Women Workers Get 'Dream Jobs' Back" [Labor Notes]. "After 12 years of campaigns and protests against unjust layoffs, 180 female attendants at South Korea's premier train service are getting their jobs back. These tenacious women workers defeated a ham-handed privatization effort and corrupt political collusion." • Good! Random note: See the picture accompanying the article; I've always thought those headbands with lettering look especially, well, tenacious and solidaritous (if that's a word, which I don't think it is). They seem to be worn only by East Asian protesters, but perhaps the practice might spread…
"The Week in Public Finance: The Unexpected Cost of Trying to Land Amazon's HQ2" [Governing]. "[The race to win Amazon's second headquarters] is basically Amazon's way of gathering a lot of information for free in a short amount of time and understanding the incentives those localities are willing to offer,' says Kasia Tarczynska, who curates the data on Amazon for Good Jobs First…. Take the Birmingham, Ala., metro area. It was one of hundreds that bid for Amazon's HQ2 and didn't make the short list released in January. But just weeks ago, Amazon announced it would open a new distribution center there — the first in the state — and create 1,500 jobs. For doing so, the company will receive in state, county and local tax incentives, on top of an unspecified amount in local occupational tax incentives…. The deal was hailed by regional leaders as a huge win…. But some have begun to question the price tag. Standing out in stark contrast to the deal in Alabama is one made just weeks before for a similarly sized distribution center in Tulsa, Okla., that will also create 1,500 jobs. That deal cost Tulsa just in reported local subsidies." • Of course, $50 million is chump change to Amazon. But it means a lot to a state or locality.
UPDATE Everything's going according to plan:

New Estimates Show Overdose Deaths Surpassed 72,000, a New High, in 2017 https://t.co/KQG6sMYJv2

— Keith Humphreys (@KeithNHumphreys) August 15, 2018
The 9.9% + 0.1% do nothing about it, so they support it.
News of The Wired
"Universal Method to Sort Complex Information Found" [Quanta]. This is dense. The conclusion: "[T]he new papers recast nearest neighbor search for high-dimensional data in a general light for the first time. Instead of working up one-off algorithms for specific distances, computer scientists now have a one-size-fits-all approach to finding nearest neighbor algorithms." • People who work with, say, data structures like Facebook's social graph will be very happy with this result.
* * *
Readers, feel free to contact me at lambert [UNDERSCORE] strether [DOT] corrente [AT] yahoo [DOT] com, with (a) links, and even better (b) sources I should curate regularly, (c) how to send me a check if you are allergic to PayPal, and (d) to find out how to send me images of plants. Vegetables are fine! Fungi are deemed to be honorary plants! If you want your handle to appear as a credit, please place it at the start of your mail in parentheses: (thus). Otherwise, I will anonymize by using your initials. See the previous Water Cooler (with plant) here. Today's plant (crittermom):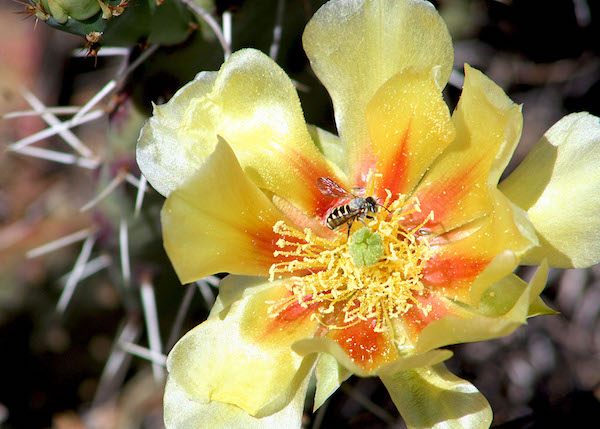 Crittermom writes: "Bees on a cactus flower." Holy moley, look at that pollen! And an enormous fritillary just sampled my sunflowers. So, good news on the the pollinator front!
* * *
Readers: Water Cooler is a standalone entity not covered by the annual NC fundraiser. So do feel free to make a contribution today or any day. Here is why: Regular positive feedback both makes me feel good and lets me know I'm on the right track with coverage. When I get no donations for five or ten days I get worried. More tangibly, a constant trickle of small donations helps me with expenses, and I factor that trickle in when setting fundraising goals. So if you see something you especially appreciate, do feel free to click the hat!

To give more, click on the arrow heads to the right of the amount.
If you hate PayPal — even though you can use a credit card or debit card on PayPal — you can email me at lambert [UNDERSCORE] strether [DOT] corrente [AT] yahoo [DOT] com, and I will give you directions on how to send a check.