By Lambert Strether of Corrente.
Readers, this is a bit short, because I keep wandering off into mini-essay mode. But I have to run errands now, so this is as long as it is going to be. –lambert
Trade
"It's not the right time to talk to China about trade war, Trump says, as he focuses on Nafta renegotiation" [South China Morning Post]. "'They want to talk,' Trump said, speaking of Chinese officials. 'It's just not the right time to talk right now, to be honest with China…. 'It's too one-sided for too many years and too many decades, and so it's not the right time to talk,' he said. 'But eventually I'm sure that we'll be able to work out a deal with China."
"Truth, Tariffs and the Perils of Short-Term Gains" [Travis Hessman, Industry Week]. "A year into President Trump's administration, half of us assume he has fixed everything that President Obama broke, half of us assume he has broken everything Obama fixed. Neither president could make or break our economy; neither president could fix or break our democracy. But they can certainly put a dent in both…. I have become very well-acquainted with tariffs and trade disputes. I have followed the stories of the industries they are hurting, followed the financials of the industries they are helping, and I re-run the math in my head endlessly. And the math doesn't work out. The damage keeps outpacing the benefits…. I honestly lose sleep over this issue. I struggle to see the strategy, I struggle to see the add. But I can't find it. All I can find is the damage being done, the impact to small and midsized companies that have stuck it out in America…. The fight for trade is vital. But we can't lose sight of long-term struggles through short-term crises. Manufacturing—not as an industry, but as a movement, as an engine to democracy—can fight through these crises for the long-term win." • After the neoliberal turn, we gutted manufacturing and sent it offshore. Forty years later, it seems that wasn't such a good idea after all, except for the 9.9% + 0.1% (ka-ching). Bringing manufacturing back onshore is going to cause a lot of upset. But, as the writer suggests, I don't see how the nation survives without it (assuming that's a good thing, and assuming the turn hasn't come too late). But Trump isn't making a coherent case for a national project that would last decades, and it's not even on Democrat radar.
Politics
2020
A propos elite impunity for financial crimes, I give you Eric Holder:

Eric Holder's comment about this on Chris' show is just remarkable. He suggests bank fraud isn't that big a deal and says law enforcement has been "generally" getting it right on "truly consequential" white-collar crime. https://t.co/12MXHrzFzn

— Zach Carter (@zachdcarter) August 27, 2018

Wowsers. Stoller comments:

I bring this up bc I just spent some time with a very smart suburban liberal older woman who watches Maddow every night. She likes Holder for 2020 and didn't believe me when I mentioned his record of amnesty for white collar crime. Just discounted it. https://t.co/9BIEUXifOZ

— Matt Stoller (@matthewstoller) August 27, 2018

2020 is going to be so fun. Thank gawd we've got the Superdelegates to rein in the cray cray.
2018
69 days until Election Day. 69 days is a long time in politics.

"Key races to watch as Florida, Arizona head to polls" [The Hill]. "Expectations that Democrats can retake the governor's mansion in Florida have led to the emergence of a five-way primary for the party's nomination, though only three are seen as having a realistic shot…. Tallahassee Mayor Andrew Gillum, a progressive who has been endorsed by Sen. Bernie Sanders (I-Vt.), is pulling out all the stops to win the primary, taking a bus tour across Florida and bringing in a slew of high-profile surrogates, including Sanders himself. Those late-in-the-game efforts may be paying off for Gillum. A survey by St. Pete Polls released Sunday showed the Tallahassee mayor running in second place behind [Former Rep. Gwen Graham (D-Fla.), daughter of the late Sen. Bob Graham], with 25 percent of the vote."
New Cold War
"Stormy Daniels Isn't Backing Down" [Amy Chozick, Vogue]. Good clean fun from the author of Chasing Hillary. "Avenatti, with his refrigerator-shaped jaw and overcaffeinated demeanor, can come off as Daniels's macho protector. But up close their relationship is warmer and more equitable. For all his cable-TV cockiness, Avenatti seems to admit that Daniels could outsmart him. ('She's really [family blogging] smart,' he will tell me at least three times.) Daniels clearly trusts and relies on Avenatti, but she also treats him like a lovable, well-meaning stepbrother who forgot to take his Ritalin. 'You want a cookie?' Daniels calls over to Avenatti, extending the box of pastries his way." • Indeed. It's as if Mae West had, well, something on Warren G. Harding… Still, all this agita over consensual sex?

"Fact-Checking the Red Menace" [RealClearPolitics]. Let me just pull out this one horrid sentence: "The report concerns [torture advocate John] Brennan's turn as a speaker at the 2016 Congressional Black Caucus Foundation's annual conference. During a panel on diversity in the intelligence community, Brennan was asked whether a history of activism would hamper an individual's prospects for future government service." • Stanning for torture. That's our Black Misleadership Class….
Realignment and Legitimacy
"Tens of Thousands of Adults Line Up for Free College in Tennessee" [Inside Higher Ed]. "State officials had initially anticipated 8,000 adult learners to apply for the program, which expanded the popular tuition-free Tennessee Promise. But a week before the start of the new college semester, more than 30,000 adults had applied for the scholarship according to state education officials." • While liberal Democrats busy themselves deriding such programs as ponies and unicorns, while Tennessee, with a Republican governor and a Republican legislature, passes it. (Liberal Democrat Cuomo's parallel program is, as we might expect, a debacle of rejections, as foreshadowed at NC here.)

"California's Unprecedented Plan to Tackle Fake Election News" [Governing]. "Earlier this month, the California legislature approved the creation of an Office of Elections Cybersecurity to be overseen by Democratic Secretary of State Alex Padilla. He expects Democratic Gov. Jerry Brown to support the new office, which Padilla says would be 'the first of its kind in the nation, as far as we understand.' In addition to addressing cyber threats to California's voting systems, the office would proactively root out false information online about the state's electoral process, including where and how to vote. Staffers would monitor social media platforms like California-based Facebook and Twitter, then coordinate with local election authorities — or directly with those companies — to remove the falsehoods." • I can't find the link (it was in the last month), but ironically Google search provided incorrect voting times and locations for a 2018 primary (2010 example; parallel 2018 example). But what are the odds that the "Office of Elections Cybersecurity" will regulate Google's algos?

"RGJ investigates: Nevada's voting machine problems were much bigger than first thought" [Reno Gazette Journal]. "Officials said then that a spate of well-publicized voting machine problems — including glitches that left some candidates off of ballots or displayed the wrong slate of ballot choices — only affected a small handful of voters. But a Reno Gazette Journal review of public records found more than 300 reported machine malfunctions across the state. More than 100 were recorded in Washoe County alone. Those software hiccups contributed to a double-voting snafu that forced officials to call a rare special election in Clark County. Records reveal they also saw Washoe threatened with at least one election-challenging lawsuit amid widespread reports of candidates being left off the ballot." More:

Now, little more than two months ahead of the general election, elections officials have said in interviews with the RGJ during the primary.

Broken record: Hand-marked paper ballots, hand-counted in public, would solve Nevada's problems with machine voting (and as a bonus, solve any security problems by removing digital from the equation). You would think that local elections officials would welcome a simple, rugged, and proven voting system that didn't oblige them to display ignorance, or lie. And yet they don't. One can only wonder why.

"The Demography of the Alt-Right" [Institute for Family Studies]. "Although the racist right can be ideologically diverse and make many different arguments, there are three key sentiments that are widely shared across these movements: 1) a strong sense of white identity, 2) a belief in the importance of white solidarity, and 3) a sense of white victimization. Although someone who rates high on all of these views may not necessarily identify with the Alt-Right or a similar movement, we can anticipate all or nearly all individuals who are involved in white identity politics to share these attitudes… [A]bout 6% of respondents expressed all three opinions. It is worth noting that a 2017 Washington Post-ABC News poll estimated that about 10% of respondents supported the Alt-Right."
Stats Watch
Consumer Confidence, August 2018: "The consumer sentiment index at mid-month came in much weaker than expected in complete contrast to today's consumer confidence index which easily tops expectations" [Econoday]. "The most important detail in the August report is a notable decline in those saying jobs are currently hard to get which is down very steeply…. A second detail that speaks to impressive strength is the outlook on income… Buying plans are yet another major positive showing strong gains across the board: autos, homes, and major appliances." And: "Consumer confidence looking strong, in line with the stock market, while consumer sentiment fell" [Mosler Economics].
Richmond Fed Manufacturing Index, August 2018: "expanded strongly" [Econoday]. Contrasting with slowing reported by the Philadelphia Fed and Kansas City Fed and more aligned with the strength seen in the Dallas Fed manufacturing survey, the Fifth District's expansionary acceleration in August will probably bolster the case for more rather than less tightening by the Fed."
International Trade in Goods, July 2018: "July's $72.2 billion goods deficit compares with a monthly average of $66.7 billion in the second quarter which was a very good quarter for trade, representing 1.1 percentage points of the quarter's 4.1 percent pace" [Econoday]. "Today's results, however, pose a very slow start for the third quarter." And: "Larger than expected" [Mosler Economics].
Retail Inventories [Advance], July 2018: "Retail inventories rose" [Econoday]. "Given that inventories were very lean going into the quarter, today's news is not only positive for GDP but also for production and employment as businesses, meeting strong demand, restock warehouses and shelves."
Wholesale Inventories [Advance], July 2018: "Spiked, led solidly by a rise in durable goods" [Econoday]. "[T]oday's news is not only positive for GDP but also for production and employment as businesses, meeting strong demand, restock warehouses and shelves."
S&P Corelogic Case-Shiller Home Price Index, June 2018: "missed already subdued expectations" [Econoday]. "The housing sector is having a tough year with construction limited by labor constraints and high prices and buying demand also limited by high prices. Yet the ongoing sag in home prices, which started in the early part of what proved to be a disappointing Spring selling season, should begin to make homes more affordable and in turn help stimulate sales." • [whistles in dark].
Durable Goods: "Weak apart from 'core capital goods' but best to wait until next month's revisions before passing judgement" [Mosler Economics].
Shipping: "Expect peak shipping season to be tougher than ever, experts warn" [FreightWaves]. "The U.S. economy remains on one of its best trajectories in years, leading to higher demand from consumers. The demand is butting up against tight transportation supply, especially for trucking. As a result, intermodal freight likely will become an increasingly popular option during the peak season…. 'You have this combination of low inventories and high demand, which means inventories have to be replenished and sent out again,' [Ibrahiim Bayaan, chief economist at FreightWaves] said. 'This lean inventory is positive for the transportation industry, but it does put pressure on carriers to do things in a timely fashion.' Of course, more of those goods are moving through ports, and FreightWaves' data platform SONAR points to shippers having started their peak shipping early…."
Manufacturing: "Prevalence of composites prompt calls for updated airframe rules" [FlightGlobal]. • This is a paid article I can't read, but the headline alone gives me the creeps. Can knowledgeable readers comment?
Tech: "Trump takes on Google in complaints about social media" [Associated Press]. "President Donald Trump lashed out at tech companies Tuesday, accusing Google and others of 'suppressing' conservative voices and "hiding information" and good news…. [Google responds: 'Search is not used to set a political agenda and we don't bias our results toward any political ideology,' the Mountain View, California-based company said. 'Every year, we issue hundreds of improvements to our algorithms to ensure they in response to users' queries. 'We continually work to improve Google Search and we never rank search results to manipulate political sentiment." • Uh huh [nods vigorously]. NOTE * Uh huh [nod vigorsously again]. I mean, have you tried using Google News lately?
Tech: And speaking of Silicon Valley and manipulating political sentiment, an alert reader throws this over the transom: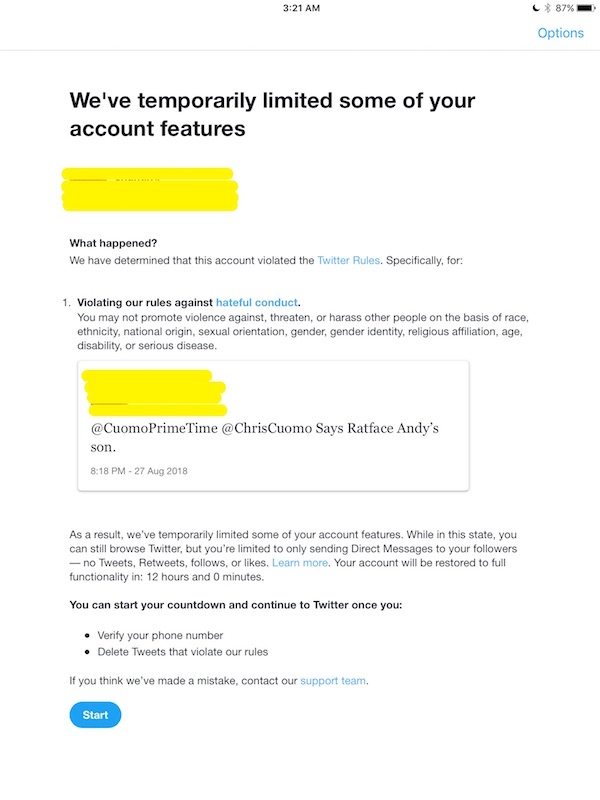 From yesterday:
Source passes along this paragraph from a book on Spy magazine, that's another entry in the history of @realDonaldTrump and @andrewcuomo https://t.co/dBQ6R6zmKN pic.twitter.com/UuVva02jIy

— Shane Goldmacher (@ShaneGoldmacher) August 26, 2018
"Ratface Andy" is no more hate speech than "short-fingered vulgarian," also invented by Spy, and converted to the ubiquitous "small hands" meme for Trump. The real moral of the story is that if you fail to show proper deference to a thin-skinned Blue ✔ failson like Chris Cuomo, down comes the Twitter hammer! And the cream of the jest is that the source of "Ratface Andy," Shane Goldmacher, is a New York Times reporter, also with a Blue ✔, who continues to Tweet vigorously. Welcome to "our democracy"! Mastodon is looking better all the time.
The Bezzle: "The undertakers of Silicon Valley: how failure became big business" [Guardian]. "That's the funny part of the tech industry's narrative about itself. For tech, failure is always assumed to be temporary; for everyone else, it's terminal. Taxicab companies are going out of business because they're losing money? Creative destruction, my friend – sink or swim. Uber hemorrhages cash? Well, that's just a sign of how visionary the company is. This double standard justifies the exploitation of workers outside of the tech industry – and, in certain cases, the exploitation of workers within it." • Turns out that liquidating Silicon Valley startups is a good business. Not very romantic, auctioning off all those Aeron chairs and foosball tables, but steady.
Mr. Market: "Saudi King Overrules World's Largest IPO" [Safe Haven]. "Saudi Arabia's King Salman has demanded that the initial public offering of Saudi Aramco be called off, stepping in to shelve the plans of his heir apparent, Crown Prince Mohammed bin Salman, for what was tipped to be the world's biggest IPO ever… According to one of Reuters' sources, Saudi King Salman held consultations with family members, oil executives, and bankers in early June. The main concern over listing Aramco was reportedly that an IPO would require full disclosure of finances and reserves of the Saudi state oil giant." • The original Reuters story: "But the shelving of the Aramco IPO is a major blow to the prince's Vision 2030 reform program, which aims to fundamentally transform Saudi Arabia's oil-dependent, state-driven economy. It suggests the king is keeping the new unilateral power of the young prince – accrued soon after his father's accession to the throne in January 2015 – in check. It also raises doubts about Riyadh's management of the IPO process and commitment to making the economy more transparent, some investors say." • It's certainly odd that the Saudis don't want Aramco's books opened. Graft, one assumes, but… issues with inventory?
Water
"The paradox of irrigation efficiency" [Science]. Let me just quote to whole abstract:
Reconciling higher freshwater demands with finite freshwater resources remains one of the great policy dilemmas. Given that crop irrigation constitutes 70% of global water extractions, which contributes up to 40% of globally available calories (1), governments often support increases in irrigation efficiency (IE), promoting advanced technologies to improve the "crop per drop." This provides private benefits to irrigators and is justified, in part, on the premise that increases in IE "save" water for reallocation to other sectors, including cities and the environment. Yet substantial scientific evidence (2) has long shown that increased IE rarely delivers the presumed public-good benefits of increased water availability. Decision-makers typically have not known or understood the importance of basin-scale water accounting or of the behavioral responses of irrigators to subsidies to increase IE. We show that to mitigate global water scarcity, increases in IE must be accompanied by robust water accounting and measurements, a cap on extractions, an assessment of uncertainties, the valuation of trade-offs, and a better understanding of the incentives and behavior of irrigators.
Our Famously Free Press
"On NYT 's homepage, the simpler, the better" [Columbia Journalism Review]. "More important, though, is that I don't want people to sort their news via byline. Too many readers get their news exclusively from sources they are predisposed to agree with; untold articles have been written about the need to break out of our echo chambers. Saying that readers should choose their media diet based on individual reporters' names seems antithetical to responsible news consumption." • This dude will change his tune once bot-written stories ripped from the wire start showing up on front pages everywhere, but by then it will be too late.
Class Warfare
"GoFundMe Marine veteran is homeless (again), claiming couple won't give him his money" [Marine Times]. • Ugly. Those poor people had better be worthy if we're going to give them their money.
"The United States Has a National-Security Problem—and It's Not What You Think" [The Nation]. "Over the past decade the proportion of people who exhausted their monthly paychecks just to pay for life's essentials actually increased from 31 percent to 38 percent. In 2013, 71 percent of the families that had children and used food pantries run by Feeding America, the largest private organization helping the hungry, included at least one person who had worked during the previous year. And in America's big cities, chiefly because of a widening gap between rent and wages, thousands of working poor remain homeless, sleeping in shelters, on the streets, or in their vehicles, sometimes along with their families." • Thanks, Obama!
News of The Wired
I'm going to be lazy, and overplay the cat card: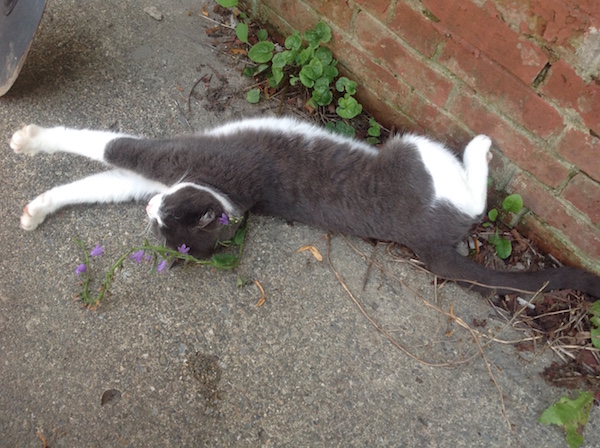 Sorry for the less than ideal composition, but I was at my desk. The shovel at top left is to dispose of the cat's little gifts, one of which this morning was right where I put my feet when I sit down. Thoughtful! (And then, after I bury the casualties, something comes in the night and digs them up! What Disney termed "The Circle of Life," I suppose…
* * *
Readers, feel free to contact me at lambert [UNDERSCORE] strether [DOT] corrente [AT] yahoo [DOT] com, with (a) links, and even better (b) sources I should curate regularly, (c) how to send me a check if you are allergic to PayPal, and (d) to find out how to send me images of plants. Vegetables are fine! Fungi are deemed to be honorary plants! If you want your handle to appear as a credit, please place it at the start of your mail in parentheses: (thus). Otherwise, I will anonymize by using your initials. See the previous Water Cooler (with plant) here. Today's plant (ChiGal):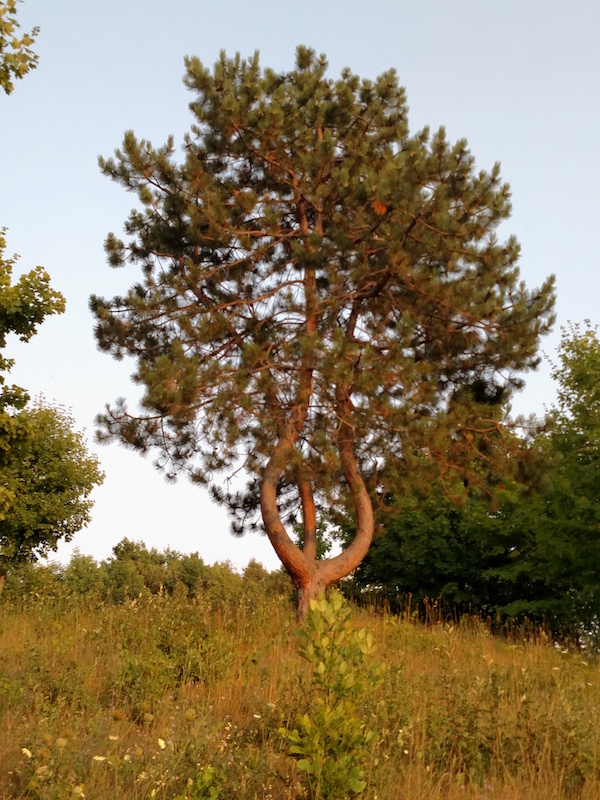 ChiGal writes: "I like to think musical spirits inhabit these trees up the Lelenau peninsula duneside of Lake Michigan (east coast). Never seen others like this, just these two, nor do I know what causes them to grow like this."
* * *
Readers: Water Cooler is a standalone entity not covered by the annual NC fundraiser. So do feel free to make a contribution today or any day. Here is why: Regular positive feedback both makes me feel good and lets me know I'm on the right track with coverage. When I get no donations for five or ten days I get worried. More tangibly, a constant trickle of small donations helps me with expenses, and I factor that trickle in when setting fundraising goals. So if you see something you especially appreciate, do feel free to click the hat!

To give more, click on the arrow heads to the right of the amount.
If you hate PayPal — even though you can use a credit card or debit card on PayPal — you can email me at lambert [UNDERSCORE] strether [DOT] corrente [AT] yahoo [DOT] com, and I will give you directions on how to send a check.