By Lambert Strether of Corrente.
I'm off to the optometrist's this afternoon! –lambert
Trade
https://www.scmp.com/business/global-economy/article/2157320/factories-shift-out-china-avoid-trade-war-boosting-volume
"China said it's [hitting $60 billion worth of U.S. exports with new tariffs] 'because the U.S. side has repeatedly escalated the situation despite the interest of both enterprises and consumers' and it must '[a]defend the country's dignity and the interests of the people, [b] defend free trade and the multilateral system, and defend the [c] common interests of all countries in the world'" [Politico]. "What to expect: Under the plan, China would impose tariffs – between 5 percent and 25 percent – on nearly all of the $130 billion in goods imported from the United States. China's Ministry of Finance said Friday the new tariffs would target more than 5,200 types of U.S. goods, including energy exports like biodiesel and liquefied natural gas and more U.S. agricultural goods like lamb and honey." • That "country's dignity" at [a] language is dangerous; if we posit that the statement is the outcome of factional splits in the Chinese government, then "dignity" is, as it were, the highest common denominator, not the lowest; like the "blackmail" rhetoric, it's a bell that's hard to unring. It would have been perfectly possible to issue a tough statement using only points [b] "free trade" and [c] "common interests." Of course, I'm not a China watcher, nothing near it, so reader corrections/expansions are welcome. I could, after all, just be projecting an interpretation into boilerplate.
Politics
2018
"How Trump's Trade Policies Could Impact Governors' Races" [Governing]. "So far, there are only scattered signs that Democratic candidates are using trade as a wedge issue, or that Republican candidates are aggressively distancing themselves from Trump to side with their constituents' economic interests…. Trade offers a rare opportunity for Democrats to make a play for two categories of voters that have swung heavily toward Republicans in recent elections: rural Americans and blue-collar workers." • Do they have college degrees?

Turnout is everything, or was in the last Democrat wave in 2006:

The last time there was a Democratic midterm wave was 2006. Luckily, we have voter files with vote history records from 2006. What do they say?

— Patrick Ruffini (@PatrickRuffini) August 6, 2018

A wave which was, sadly, squandered (at least as far as voters were concerned)…

Senate: "Senate Observations: Placing 2018 in the Context of Upper Chamber Elections Since 1913" [Sabato's Crystal Ball]. "In 2018, the Democratic caucus is defending 26 of the 36 seats (72%) that will contested this cycle, the most for any party in the post-World War II period. That figure includes the Alabama special election in 2017 as a seat for the GOP to defend, which it remarkably failed to do. Democrats are defending more seats than any non-presidential party in previous midterm elections. Of those seats, just over half (14) are in states that leaned toward the Democrats in the 2016 presidential election while 12 are in states that leaned toward the GOP in 2016, including 10 in states that Trump carried…. While Republicans are favored to retain control of the chamber, and possibly gain seats in the process, Democrats do have a chance of winning a slim majority this November. To win 51 or 52 seats, Democrats would have to hold most or all of those 10 seats in Trump-won states while also adding one or two other seats in states the president carried — Arizona and Tennessee — while also winning the lone Clinton-won state the GOP is defending this cycle — Nevada." • Stranger things have happened. As in 2016!

TX Senate: "O'Rourke Puts Race into Lean Republican Column" [Cook Political Report]. "Of the eight general election polls aggregated on RealClearPolitics, six showed Cruz at between 47 percent and 51 percent. In those same six polls, O'Rourke was between 39 percent and 43 percent. While O'Rourke has room to grow, Cruz is consistently closer to and in some cases at or above 50 percent. In a state as Republican as Texas, those last few points that O'Rourke needs to hit 50 percent are going to be very hard (and very expensive) to get. There are some observers who believe that there simply aren't enough Democratic and Democratic-leaning independents voters to push O'Rourke across the line. Suffice it to say that O'Rourke has made incredible progress in a pretty red state, at least when it comes to running for statewide office. The race moves to Lean Republican. Whether it ever gets to Toss Up remains to be seen."
New Cold War
"Ex-FBI agent: Trump got elected, thanks to Russia" [Yahoo News]. • One thing to remember about RussiaRussiaRussia — R3? — is that it's very profitable to be a talking head.

"DOJ Announces Public Release of the Cyber-Digital Task Force's First Report; Impact on and Role of the Private Sector Likely to be a Focus in the Coming Months" [Compliance and Enforcement]. "[Deputy Attorney General Rosenstein] lauded 'self-policing' efforts to remove 'fake accounts' and encouraged companies to 'consider the voluntary removal of accounts and content' that are linked by the FBI to foreign agents' activities, which he said 'violate terms of service and deceive customers.'" • What could go wrong?
Conservatives Have Lost Their Minds, Too
Cosplay:

the proudest boi pic.twitter.com/jilzU2bKzL

— George Ciccariello-Maher (@ciccmaher) August 5, 2018

"It's Looking Extremely Likely That QAnon Is A Leftist Prank On Trump Supporters" [BuzzFeed]. • Big if true; the thesis is that QAnon is an enormous jape perpetrated by the Italian "Wu Ming Foundation" (mentioned, as one might expect [lambert preens] at NC in 2013 (commenter Syzygy) and 2015 (commenter DJG)).å
"Living in the Age of the Big Lie" [Stephen Gold, Industry Week]. Gold is President and Chief Executive Officer, Manufacturers Alliance for Productivity and (MAPI):
All this has created the potential for an American cultural crisis of distrust, captured in two recently published analyses.

In "Truth Decay," [cute! –lambert] the RAND Corporation lays the blame for the deteriorating role of facts and data in public life on four primary causes:

1. The rise of social media
2. An overtaxed educational system that cannot keep up with changes in the "information ecosystem"
3. Political and social polarization
4. And—perhaps due to all of these factors—the increasing tendency of individuals to create their own subjective social reality, otherwise known as "cognitive bias."

"The Death of Truth" by Pulitzer-Prize winning book critic Michiko Kakutani explores the waning of integrity in American society, particularly since the 2016 elections. Daniel Patrick Moynihan's observation that "everyone is entitled to his own opinion, but not to his own facts," is more timely than ever, Kakutani says: "polarization has grown so extreme that voters have a hard time even agreeing on the same facts." And no wonder: Two-thirds of Americans get at least some of their news through social media—a platform that has been overwhelmed by trolls and bots, and which uses algorithms to decide what each of us gets to see.

Executives ignore the cultural shift away from honesty at their peril.
Social media has its own problems, gawd knows — break them up and outlaw the algos, and they'd be a lot more like the public utilities they should really be — but it's amazing how vague hand-wringing pieces like this ignore at least four seismic events since 2000, all of which involve perceived legitimacy and the nature of truth: (1) Bush v. Gore, (2) Iraq WMDs, (3) Obama's "hope and change" campaign, followed by (4) the crash, the bailouts, the free passes for bankers, and a brutal recession. The official narrative and its maintainers didn't lose credibility because of trolls and bots, who might be regarded as opportunistic infections overwhelming an already weakened immnune system.

Grassroots and/or AstroTurf?

Every single person can make a difference – and everyone should try. Step 1: Join an indivisible group in your community. Find your local group here: https://t.co/PoWCVmP84s pic.twitter.com/ni8jiDNPE0

— Indivisible Guide (@IndivisibleTeam) August 4, 2018
Stats Watch
No stats of interest today.
Employment: "July Diffusion Indexes" [Calculated Risk]. "The BLS diffusion index for total private employment was at 64.0 in July, down from 67.4 in June. For manufacturing, the diffusion index was at 65.1, down from 67.8 in June. Note: Any reading above 60 is very good. Think of this as a measure of how widespread job gains are across industries. The further from 50 (above or below), the more widespread the job losses or gains reported by the BLS." The lead: "The U.S. experiment with dockless bike and scooter sharing is at a crossroads, with operators and cities struggling to find a balance between governments' need to regulate the services without stifling the companies' ability to make money." • Scratch out "dockless bike and scooter sharing" and write in "kidney sales" and you've got "permissionless innovation" in a nutshell. Just because some squillionaires decided to toss their loose cash at some firm, does that imply that the firm should even exist? Why?
Commodities: "U.S. coal shipments reach lowest levels in years" [Kallanish Energy]. "The 661 million short tons (MMst) of coal consumed in the electric power sector in 2017 was the lowest amount of coal consumed in 35 years. Last year also was the fourth consecutive year U.S. coal consumption and coal shipments by all transport modes declined…. The real delivered cost of coal has fallen nearly $8 per ton (16%) since 2008, with most of the reduction attributable to declining commodity costs. Over that same period, overall coal transportation costs have fallen by 4%, as declines in truck (down 9%) and river barge (down 39%) costs more than offset a 3% increase in rail shipping costs."
Commodities: "Your Chicken's Salmonella Problem Is Worse Than You Think" [Mother Jones]. "As of June 30, 2018, according to the [US Department of Agriculture's Food Safety and Inspection Service's (FSIS)] latest report, 35 percent of the nation's 154 large chicken-slaughter facilities—which churn out the vast majority of the drumsticks, thighs, and breasts shrink-wrapped on supermarket meat counters—failed to meet the inspection service's standard for chicken parts testing that took place over the previous 64 weeks….. If knowing that US supermarket chicken quite often carries salmonella isn't chilling enough, consider this: In a recent analysis of Food and Drug Administration data, the Environmental Working Group found that 'over the last five years of available data, on average, 1 in 5 strains of salmonella found on grocery store chicken were resistant to amoxicillin, a type of penicillin.' In short, it's getting harder for doctors to treat infections from this common pathogen." • Sounds like the Tories are going to have to do some fancy footwork to import chicken from the US after they're cut off from the EU…
Commodities: "A heat wave sweeping across Europe and Asia is setting fire to global wheat prices. The hot temperatures are slashing forecasts for this year's harvest…. and could provide some relief to North American farmers just as Chinese tariffs are sapping demand for soybeans and other crops. The price of Paris-traded milling wheat has jumped 33% this year, leading to more expensive animal feed in some regions and the likelihood of higher bread prices. The first decline in global wheat stockpiles since 2013 would come after years of over-supply and leave the U.S. positioned to increase its export share of the global market" [Wall Street Journal]. "So far, most agricultural analysts say this wheat-stunting summer is an aberration. But the prospect of global warming has led some observers to predict an eventual shakeup for farming in parts of the world." • Not sure how you hedge the Jackpot, though no doubt the smart money is thinking hard about it….
Shipping: "Logistics Payrolls Surging Ahead of Fall Shipping Season" [Wall Street Journal]. "Overall wages rose 2.7% in July year-over-year, but the transportation and warehousing sector has seen wages grow only a 1.9%." • And these clowns are still whinging that they can't find workers! (The headline is payrolls in the aggregate, not the same thing as your paycheck!)
Supply Chain: "One of most fiercely independent automotive manufacturers is proving no match for the rapid advance of technology in car-making supply chains. Honda Motor Co. is shopping among suppliers for the rapidly advancing systems that are part of new generations of automobiles, pointing to… a radical culture change at the company" [Wall Street Journal]. "The shift is a sign of how new technologies from engines to autonomous driving systems are altering global manufacturing supply chains, pushing car companies toward suppliers tightly focused on developing sophisticated components. That is raising hackles among some at Honda who complain that the company's engineers are patching together others' technology rather than building it themselves. But car makers are under stress from the huge investments needed to develop new technologies, leaving them to lean on megasuppliers to keep down costs and keep up with the market." • Like aircraft….
The Bezzle: "Dockless bike, scooter firms clash with U.S. cities over regulations" [WaPo]. "Dockless bike systems began to pop up in the United States a year ago, growing exponentially in part thanks to the millions of dollars that investors such as Uber and Google have put into companies such as Lime, Jump Bikes and Bird….
The Bezzle: "The Messy Business of Selling Meal Kits" [Wall Street Journal]. "Meal kits may make cooking easier, but getting a box of pre-portioned ingredients and instructions to a customer's door is one of the most complicated logistics riddles in the food business. Companies have poured millions of dollars into solving such questions as how to stack fish and fennel in boxes. They're also investing in systems to reroute shipments during snowstorms and algorithms to predict what customers want to eat during the summer months…. Some meal kits are starting to stabilize financially. HelloFresh hopes to break even companywide by year's end, and Blue Apron is looking to do the same next year. Chicago-based Home Chef said it had two profitable quarters last year, and expects to have a full-year of profitability by the end of 2018."
The Bezzle: "Maybe They Could Invent Houses" [Eschaton]. • After having invented the bodega, the bus…
Tech: "Boston-area startups are on pace to overtake NYC venture totals" [Tech Crunch]. "After years of trailing New York City in total annual venture investment, Massachusetts is taking the lead in 2018. Venture investment in the Boston metro area hit $5.2 billion so far this year, on track to be the highest annual total in years… [W}e'd be remiss not to give biotech the lion's share of the credit. So far this year, biotech and healthcare have led the New England dealmaking surge, accounting for the majority of invested capital. Once again, local investors are not surprised." • Elevator pitch: "Genetic apps."
Tech: "Facebook removes Infowars pages, following Apple and Spotify" [MarketWatch]. "Facebook suspended Alex Jones in July for violating its policies and said at the time that his pages were close to becoming "unpublished." The company said Monday that its latest actions weren't in response to fake-news concerns but that it continues to work with fact-checkers to examine the veracity of content posted to its platform." • What could go wrong?
The Fed: "Trump v. Fed" [Money and Banking]. "Last month, interrupting decades of presidential self-restraint, President Trump openly criticized the Federal Reserve. Given the President's penchant for dismissing valuable institutions, it is hard to be surprised. Perhaps more surprising is the high quality of his appointments to the Board of Governors. Against that background, the limited financial market reaction to the President's comments suggests that investors are reasonably focused on the selection of qualified academics and individuals with valuable policy and business experience, rather than a few early-morning words of reproof. Nevertheless, the President's comments are seriously disturbing and—were they to become routine—risk undermining the significant benefits that Federal Reserve independence brings."
Rapture Index: Closes up 1 on earthquakes. "Fourteen people have died after a 6.4-magnitude earthquake struck Indonesia ." [Rapture Ready]. Record High, October 10, 2016: 189. Current: 181.
Our Famously Free Press
Sarah Jeong (1):
Hah! @sarahjeong randomly plays race card on me while I'm testifying on fair use and lyric websites. My testimony is a public record. Check it. Nothing about being a hip hop expert. I only mention hip hop in passing. She's just a Harvard trained troll. @sisario pic.twitter.com/cX4FdWItQu

— davidclowery (@davidclowery) August 5, 2018
From the person who sent me this: "This from Dave Lowery (of Cracker and Camper van Beethoven), who's become one of the great critics of how Big Tech is destroying music and the arts. Jeong tried smearing him as a racist for testifying on Google power."
Sarah Jeong (2): "Shenzhen Tech Girl Naomi Wu: My experience with Sarah Jeong, Jason Koebler, and Vice Magazine" [Naomi Wu, Medium]. • A complicated ad passionate post, but I do like the part where Jeong tweets that Chinese culture "is not that far off from Korean culture." Because, ya know, all Asian cultures are alike. That's what they're teaching at Harvard these days?
The 420
"How a Pair of Kentucky Pols Are About to Legalize Hemp" [Politico]. • Stealing an issue from liberal Democrats…
Our Famously Free Press
"The Press Doesn't Cause Wars—Presidents Do" [The Atlantic] • One of a ginormous steaming load of revisionist and defensive articles prompted by Trump's tweet that the press can "causes War." Anyone who was present for the build up to the Iraq War knows that Trump's claim is true; in fact, the "media critique" that began then was prompted by the Iraq WMDs scam, in which the press — *** cough *** Judy Miller ***cough*** — was not merely compliant or complicitous, but active and vociferous, especially in shunning and shaming skeptics. Of course, everybody who was wrong about Iraq was wrong in the right way, so they all still have jobs (David Frum, Bush speechwriter and Hero of the Resistance, at the Atlantic, among hundreds of others). So revisionist history is very easy for them to write.
Black Injustice Tipping Point
"Smith College president offers 'deepest apology' after police called on black student eating lunch" [Boston Globe]. "Smith College plans to bring in a third-party investigator to 'conduct a thorough review' after an employee this week called campus police on a black student who was eating her lunch in a common area at the Northampton school, officials say." • On the bright side, the black student didn't get whacked….
Class Warfare
"The New Class-Blindness" [Law and Political Economy]. "It is true that class-based discrimination does not trigger heightened scrutiny under equal protection in the way that race-based and sex-based discrimination do…. Some judges—even some Supreme Court Justices—have begun to argue that it is constitutionally impermissible for courts to take class into account under the Fourteenth Amendment. The Fifth Circuit reached this conclusion a few years ago in the Whole Woman's Health case, in which it asserted that judges could consider only obstacles created by "the law itself" when determining whether a law unduly burdens the right to abortion—a category that excluded obstacles such as lack of transportation, childcare, days off from work, and money for overnight stays. When Whole Woman's Health reached the Supreme Court, some of the Justices (in dissent) expressed support for this approach."
"Vermont's Striking Nurses Want A Raise for Nonunion Workers Too" [Labor Notes]. "Yet when 1,800 nurses and technical staff struck for better wages July 12-13 at the state's second-largest employer, the University of Vermont Medical Center, the people of Burlington came out in force to back them up. 'We had policemen and firefighters and UPS drivers pulling over and shaking our hands' on the picket line, said neurology nurse Maggie Belensz. 'We had pizza places dropping off dozens of pizzas, giving out free ice cream.' And when a thousand people marched from the hospital through Burlington's downtown, 'we had standing ovations from people eating their dinners,' she said. 'It was a moving experience.' One reason for such wide support: these hospital workers aren't just demanding a raise themselves. They're also calling for a $15 minimum wage for their nonunion co-workers, such as those who answer the phones, mop the floors, cook the food, and help patients to the bathroom."
"What Are Capitalists Thinking?" [Michael Tomaskey, New York Times]. "I write today with some friendly advice for the capitalist class about said socialists. You want fewer socialists? Easy. Stop creating them…. I understand completely why it's happening. Given what's been going on in this country, it couldn't not have happened. And if you're a capitalist, you'd better try to understand it, too — and do something to address the very legitimate grievances that propelled it." • Finally, reality begins to penetrate the thickened craniums of the better sort of liberal…
"In 2008, America Stopped Believing in the American Dream" [Frank Rich, New York Magazine]. (The "American Dream" being one of the official narratives.) "It's not hard to pinpoint the dawn of this deep gloom: It arrived in September 2008, when the collapse of Lehman Brothers kicked off the Great Recession that proved to be a more lasting existential threat to America than the terrorist attack of seven Septembers earlier. The shadow it would cast is so dark that a decade later, even our current run of ostensible prosperity and peace does not mitigate the one conviction that still unites all Americans: Everything in the country is broken. Not just Washington, which failed to prevent the financial catastrophe and has done little to protect us from the next, but also race relations, health care, education, institutional religion, law enforcement, the physical infrastructure, the news media, the bedrock virtues of civility and community. Nearly everything has turned to crap, it seems…." • Ditto…
"How to keep young people from fleeing small towns for big cities" [The Week]. "Communities also must change the way they train young people. One important thing Carr and Kefalas uncovered in their book about brain drain is that many communities have brought this problem on themselves. 'Fueling the out-migration is a regional filtering system pushing some young people to stay and others to go,' they write. 'Teachers, parents, and other influential adults cherry-pick the young people destined to leave and ignore the ones most likely to stay or return. Civic leaders may lament the rural youth exodus and the accompanying brain drain, but they fail to see how their own actions have helped create the problem." • Education is the key….
"On average for the year-ended this May, 58.5 percent of the job gains were in counties that backed Democrat Hillary Clinton in 2016, according to an Associated Press analysis of monthly government jobs data by county. Despite an otherwise robust national economy, the analysis shows that a striking number of Trump counties are losing jobs. The AP found that 35.4 percent of Trump counties have shed jobs in the past year, compared with just 19.2 percent of Clinton counties" [Associated Press]. • It's bad out here in the colonies…
News of The Wired
"'Spectacular' ancient public library discovered in Germany" [Guardian (SO)]. "The remains of the oldest public library in Germany…. have been discovered in the middle of Cologne. It is not clear how many scrolls the library would have held, but it would have been 'quite huge – maybe 20,000', said Schmitz. The building would have been slightly smaller than the famed library at Ephesus, which was built in 117 AD." • I wonder what happened to the scrolls? The article doesn't say…
"Freeing the Web from the Browser" [ReinterpretCast]. "[A]ll link-based navigation on the Web today is constrained to the connections made by document authors. Think about that for a second. Billions across the globe rely on the Web to enhance their intellectual capabilities on a daily basis, building understanding through its rich mesh of connections. Yet when they open their Web browsers, these people are presented not with navigation opportunities carefully selected to aid them in finding the information they are looking for, but rather by the connections that the authors happened to make in crafting their documents. While you might find these works eventually by following link after link, such a search is arduous and comes with no guarantees. Your success depends heavily on what popular authors happen to link to. The degree to which this constrains the Web is hard to overstate. Can we really expect authors to identify all salient connections from a piece of work to the wider Web…." • Opportunities, opportunities…. Created by Tim Berners-Lee's original use case at CERN?
"How Does Mastodon Work?" [KEVQ]. "That's right, NO ADVERTS! No sponsored posts, no "we think you might like this" and no tracking! Mastodon is designed to bring people together, not make money. It's that simple." • Very useful. Not sure about those three timelines, though ("Home, Local and Federated'). Can't I mix them? Mastodon users?
* * *
Readers, feel free to contact me at lambert [UNDERSCORE] strether [DOT] corrente [AT] yahoo [DOT] com, with (a) links, and even better (b) sources I should curate regularly, (c) how to send me a check if you are allergic to PayPal, and (d) to find out how to send me images of plants. Vegetables are fine! Fungi are deemed to be honorary plants! If you want your handle to appear as a credit, please place it at the start of your mail in parentheses: (thus). Otherwise, I will anonymize by using your initials. See the previous Water Cooler (with plant) here. Today's plant (SV):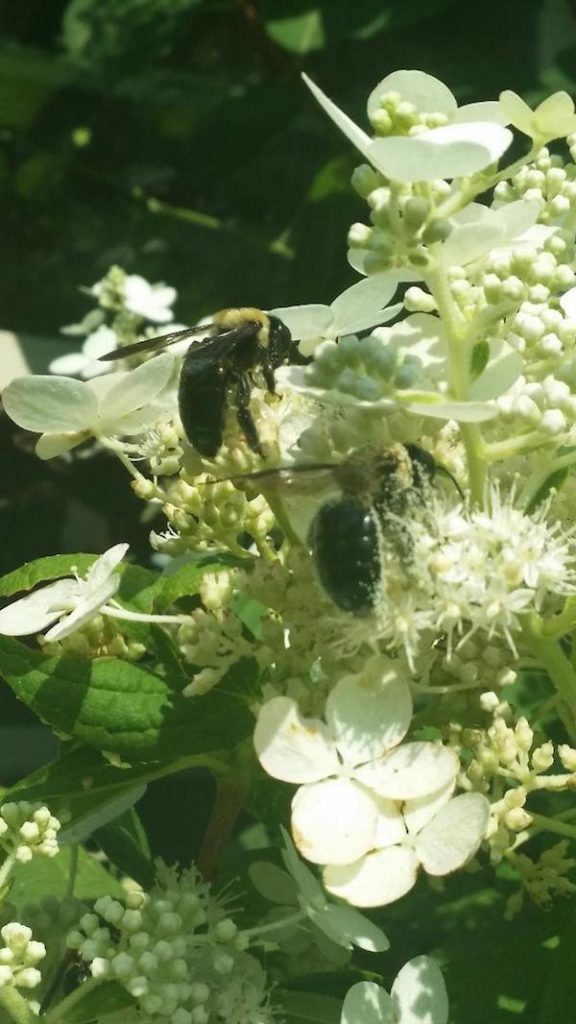 SV writes: "Making up for lost time on our Hydrangea. (Not shown are moths, wasps, honeybees, and others unknown.)" Same. I'm also very happy that the clutter of my garden ecology has attracted birds; I think, though, I won't venture an identification just yet, so as not to get in trouble with any birders in the commentariat!
* * *
Readers: Water Cooler is a standalone entity not covered by the annual NC fundraiser. So do feel free to make a contribution today or any day. Here is why: Regular positive feedback both makes me feel good and lets me know I'm on the right track with coverage. When I get no donations for five or ten days I get worried. More tangibly, a constant trickle of small donations helps me with expenses, and I factor that trickle in when setting fundraising goals. So if you see something you especially appreciate, do feel free to click the hat!

To give more, click on the arrow heads to the right of the amount.
If you hate PayPal — even though you can use a credit card or debit card on PayPal — you can email me at lambert [UNDERSCORE] strether [DOT] corrente [AT] yahoo [DOT] com, and I will give you directions on how to send a check.