CalPERS' board and staff look desperate. In response to our documenting that CalPERS' CEO Marcie Frost told multiple lies during the hiring process and after she joined the giant pension fund, as well as committing perjury on a gubernatorial questionnaire in Washington, Frost is now forcing staff members to lie for her.
We'll discuss how an article in the Financial Times' FundFire publication shows that CalPERS has not denied any of the falsehoods we flagged in Frost's resume, on the separate resume prepared by search firm Heidrick & Struggles, or in information later provided by CalPERS in news releases and on its website, and on Frost's LinkedIn page.
Instead, CalPERS' defense is to have communications officer Wayne Davis throw himself under the bus and try to claim that he was at fault for Frost saying that she was pursuing a dual bachelor's/master's degree at The Evergreen State College.1
The FundFire article did give credit to Naked Capitalism but did not address the other misrepresentations we documented, such as Frost omitting that she had worked at the Washington State Employees Credit Union, and her bogus claim that she had implemented Washington State's first human resources information technology system. Most disturbingly, Frost also made a clear-cut misrepresentation on a Washington filing made under penalty of perjury.
The Financial Times demonstrates that the CalPERS PR officer's self-blaming does not hold up by walking through CalPERS' statements about Frost's education over time. They exactly mirror ones we identified.
The PR fall guy's excuse is additionally implausible because it is impossible that anyone other than Frost herself could be the source of the misrepresentation on the Heidrick & Struggles resume, which is prominent by virtue of being the very first item presented about her: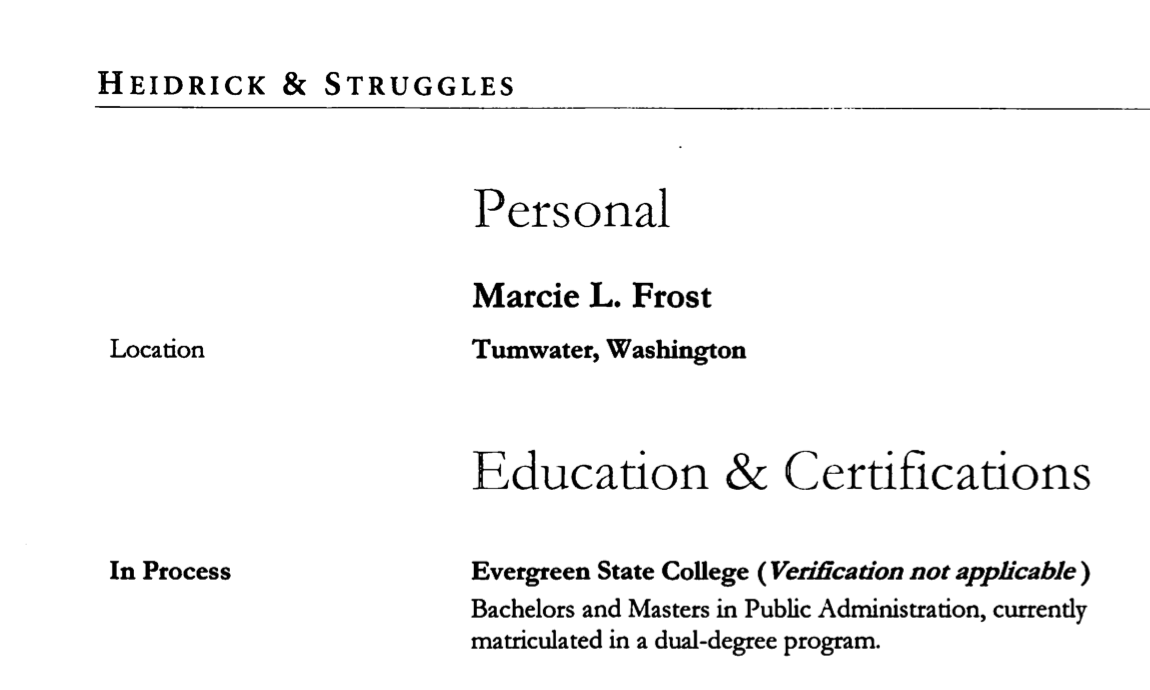 It is also hard to see how CalPERS' staff could be responsible for the misrepresentation Frost made when she was still working two states away in Washington and filled out a gubernatorial questionnaire under the penalty of perjury as part of her appointment to head Washington's Department of Retirement Services in 2013:

Recall that Frost attended Evergreen only for two quarters in 2010, a point CalPERS does not dispute. The "2009-" not only states she attended earlier than she actually did, but with the dash, also implies
that she was taking courses on a continuing basis through the date she signed the document.
Frost also represented on a SecuriCheck form she provided to CalPERS in 2016 that she had last attended Evergreen in 2014, and was "not degreed yet," which indictates she was working on a degree:

Recall that Frost had never enrolled in a degree program at Evergreen and thus was never "matriculated" or "pursuing a degree".
Finally, Frost was making fresh misrepresentations, all on her own, via her current Linked profile, which we believe she put up in early August 2018 (we did not see it before then despite making searches at the start of the month):

Frost never took any business or management courses. She took only an "experiential" writing class.
The Financial Times story also reports that the board is not merely defending Frost, but has also categorically said it will not investigate her. First, this means the board must have engaged in an illegal board meeting to do so.2 Second, and far more troubling, this means the board is actively defending a culture of lying at CalPERS.
We've regularly called out CalPERS on its culture of casual lying, which has gotten only worse under Frost. In our 25 years of consulting to financial institutions, the only place we've seen this pathology as advanced as it is at CalPERS was at Bankers Trust.3 BT was first caught out when tape recordings of its employees bragging about their success in ripping off derivatives customers became public. The bank was later prosecuted by the State of New York for the failure to escheat abandoned property to the state as required by law. Those scandals led to its acquisition by Deutsche Bank.
It should be obvious that lying badly in public on a regular basis, particularly when done as a matter of course by top executives to the board on YouTube at public meetings, tells staff that lying is not merely acceptable but is important to career advancement. This behavior guarantees adverse selection: honest people will be put off and will leave as soon as an acceptable opportunity opens up. And this is already happening. We are getting e-mails from insiders telling us of defections by frustrated employees, and even remarks in our comments section:
Word around the CalPERS Office of Audit Services is that high-school-educated Marcie Frost serves as a sort of straw (wo)man which allows former US Atty Matt Jacobs to run the show. Hard to say how much truth there is in that, but people are leaving left and right from this dismal environment that was pitched to us as a "destination employer."
In other words, if the board thinks there is no cost to hanging on to Frost, they are smoking something very strong.
Key sections from the paywalled FundFire story by Fola Akinnib:
The $361.5 billion California Public Employees' Retirement System (CalPERS) is defending CEO Marcie Frost from questions about her educational background, claiming that misrepresentations about her college experience were made in error.

A July 2016 press release naming Frost CEO said that she "is pursuing a dual bachelors and master's degree in public administration from Evergreen State College." The college has never offered such a program, a discrepancy first reported by the financial blog Naked Capitalism and confirmed with the college independently by FundFire.

The pension system claims this statement was made in error by the communications team, according to CalPERS public affairs chief Wayne Davis. He failed to address how the pension — or communications staff — came into possession of information with the specifics of the college and degree course in question….

The CalPERS board has no plans to further investigate or take any action regarding the misrepresentations, says board member Richard Costigan. Costigan says Frost's educational background had no bearing on the board's decision to hire her.

"I knew at the time we interviewed her she didn't have a college degree," says Costigan.
Let's stop here. First, the issue is that Frost lied, which Costigan astonishingly does not dispute. Lying in the course of being considered for a job is absolutely unacceptable in any functioning organization, and is even more dangerous in a financial institution responsible for the welfare of 1.9 million beneficiaries.
Second, it is not credible that Heidrick & Struggles depicting Frost as "in progress" to getting a master's degree did not influence how the board regarded her being merely a high school graduate. If the fiction that Frost was working on a master's degree wasn't important to Frost and CalPERS, why did they repeatedly flog this false notion?
Back to the story:
The timing of the changes to Frost's profile on CalPERS's website also raises questions.

Frost's 2016 biography used the same language to describe her educational history as the press release announcing her appointment. In 2017, the reference to Evergreen State College was dropped, although the reference to her pursuit of a dual undergraduate and master's degree remained. The next year, references to the degree were dropped.

The 2018 biography update occurred two days after media reports of the pension system firing Charles Asubonten, who was hired as CalPERS CFO last September. He was dismissed for embellishing his resume and having scant experience in pension finance….
This is as skeptical as you get in a reported story, particularly in the trade press, where journalists are under pressure to take up the talking points of the players they cover so as to preserve access.
And this is the closing, from a written statement by Board President Priya Mathur and Vice President Rob Feckner:
"These continued efforts to tear down CalPERS and discredit Marcie and the broader leadership team at the system are nothing more than a spiteful attempt to attack retirees, beneficiaries, and the promised benefits of public employees," the statement reads.
As far as CalPERS is concerned, we remain The Blog That Must Not Be Named.
It is noteworthy that Feckner and Mathur both defended former CEO Fred Buenrostro up to the end. Buenrostro is now serving a four and a half year sentence in federal prison for bribery and other charges. Then as now, they seem unable to recognize that defending CalPERS means demanding integrity from all of its executives, most of all, the CEO. We are acting to defend CalPERS beneficiaries and California taxpayers. But CalPERS executives and the board keep doubling down on incompetence, cover-ups, and lies rather than cleaning up the institution. As Fredrick Douglass said in a different context:
I shall feel myself discharging the duty of a true patriot; for he is a lover of his country who rebukes and does not excuse its sins. It is righteousness that exalteth a nation while sin is a reproach to any people.
The board's sputtering over Frost's supposedly maligned honor is unlikely to persuade CalPERS' rank and file employees. Recall that most are college graduates and many had to get degrees and/or certifications to secure employment and advance in their careers. Frost has already lost all credibility with them. As one senior staff member said in an e-mail: "No one expects her to survive this."
Our bank IT expert Clive had a similar take:
Having seen several board defendings of executives, I wouldn't be too concerned about CalPERS initial "We'll defend Marcie to the bitter end" stance. They stick by incumbents 100 percent, never give in to pressure, never let the press run the business, have complete confidence in their appointments etc. etc. etc. – right up until the point when they don't.
To put it more tersely: How can CalPERS retain a known perjurer as its CEO?
____
1 In another proof of Frost's minimal relationship to Evergreen, our Richard Kline, who is an Evergreen graduate, pointed out that the name of the school is The Evergreen State College, or TESC, and it is a sore point with graduates and employees when its name is incorrectly truncated.
2 All board meetings are required under the Bagley-Keene Open Meeting Act to have an agenda published in advance, and the body must also cite the legal basis for any private discussions. While there is a procedure CalPERS could have followed to hold an emergency meeting, what the board has effectively said is that they held an illegal serial meeting, as described in a guide to Bagley Keene published by the Attorney General. Specifically, on page 5:

3 We had Bankers Trust's Chief Scientist as our client for about three months. Ironically, we were brought in to force the bank to honor a promise to spin him and his technology out into an independent venture.