By Lambert Strether of Corrente.
Readers, I'm in the midst of running errands, but I took a break in the bagel shop downtown to put together this abbreviated Water Cooler. –lambert
Trade
"North America's auto supply chain up in air as Canada wants in on 'Nafta 2.0′" [Freight Waves]. "The new deal reached [sic] with Mexico includes provisions on the sourcing of parts used in vehicles sold on a tariff-free basis in North America. Among the main provisions are that 75% of the parts going into cars be sourced in either the U.S. or Mexico to qualify as tariff-free, up from the original 62.5% domestic content requirement in Nafta 1.0…. Kristin Dziczek, vice president of the Center for Automotive Research, says the domestic content requirement like needed updating as the list of parts going into cars and light trucks has changed since Nafta 1.0 was enacted. Nafta 1.0's tracing lists for parts included 'cassette players and distributor caps that are not in cars anymore," Dziczek said. "Now cars have lidar and sensors.' Many of these newer electronic components are being assembled in Southeast Asia and Mexico. Dzizeck says the evolving nature of car technology and parts sourcing means these supply chains are still fluid."
Politics
2020
"The Case Against Joe Biden" [Paste Magazine]. "It is unlikely, given his past, that Biden will be able to win over the left to become the face of the Democratic Party which is still trying to move beyond 2016. His candidacy would inevitably mean rehashing the same battles which Clinton's 2016 general election loss already settled." • Worth a read for the bill of particulars, but I don't think liberal Democrats regard 2016 as "settled" in any way, shape, or form.
2018
67 days until Election Day. 67 days is a long time in politics. And all the pallets of cash won't start dropping from the sky until after Labor Day anyhow. For a lot of people, the midterms haven't really begun!

"For Both Parties, 1998 Midterms Offer a Lesson for '18" [RealClearPolitics]. "Since Trump's election, the Democrats have been the party of resistance with the priority of many activists being nothing less than his removal from office. This attitude, fueled by an aggressive special prosecutor who has targeted Trump, has carried over to the midterms. 'This election will be a referendum on this president,' says Democratic mega-donor Tom Steyer, founder of an organization called Need to Impeach. House Democratic Leader Nancy Pelosi has been around long enough to know the pitfalls of that approach, and has tried, with mixed success, to tamp down impeachment talk among her members – and 2018 Democratic candidates. 'The Democrats are trying to have it both ways,' said Sarah Chamberlain, CEO of the Republican Main Street Partnership. 'Some are pushing the impeachment message, and some are not, which is different than in 1998 when the Republicans were all in on the impeachment message.'" • This assumes that, collectively, the Democrats are disciplined enough to "have it both ways," or indeed, any way.

NY Governor: "Cuomo Received $25,000 From Weinstein Lawyer's Firm as He Suspended Probe" [David Sirota, Capital and Main]. • That's nice. Meanwhile:

Greetings from Hofstra University, where Andrew Cuomo's campaign has a giant truck circling the campus playing video of Joe Biden endorsing him. pic.twitter.com/iTztcdcd1Q

— Jon Campbell (@JonCampbellGAN) August 29, 2018

Hoftsra? This should sell the kids for sure! UPDATE Damn. I forgot to call Cuomo "Ratface Andy." Sorry. My bad.

FL Governor: "'One of the Most Brutal Races in the Country' Has Just Begun in Florida" [The Atlantic]. "Florida Republicans on Tuesday chose Representative Ron DeSantis, a young conservative who ran unapologetically as the candidate of President Donald Trump, while Democrats surprised pollsters and prognosticators by picking Andrew Gillum, the progressive Tallahassee mayor who drew support from Senator Bernie Sanders and is vying to be the state's first black governor. In doing so, voters set up, in the country's largest swing state, a gubernatorial race befitting the hyperpolarized national political climate…. Floridians snubbed the so-called establishment candidates in both parties. "Gillum, 39, had been mired in third or fourth place in public polls, but he closed the gap in the race's final weeks with help from a visit from Sanders and infusions of money from the liberal billionaires Tom Steyer and George Soros. Seeking to excite the Democratic base, he ran on an ambitious liberal platform of expanding Medicaid, investing heavily in public education, raising the minimum wage to $15 an hour, and, though the governor of Florida has no power to do so, abolishing Immigration and Customs Enforcement and impeaching Trump." • The Atlantic is wrong. Gillum's site: "Andrew believes that Senator Sanders' Medicare for All plan will help lower costs and expand coverage to more Floridians" (same three monts ago). Granted, there's no "fight for" language there, but you'd think a mention on the candidate site would rate a mention in the press coverage.

MN Attorney General: "A Broken Relationship and Accusations of Emotional Abuse: The Case of Keith Ellison" [New York Times]. • Worth a read for the allegations (still no video). I dunno, I dunno. Maybe the answer is for any politician who wants a "relationship," marital or not, to work through a broker. Then, when things get messy, as relationships can do, both sides can blame the broker. It would also be helpful to have a universal list of proscribed emotions on a website somewhere. I mean, how is anybody supposed to respond to a charge like "narcissist abuse"? "I am not!"? Which is, in any case, a déformation professionnelle among politicians.
Realignment and Legitimacy
"Democrats Just Confirmed Lots Of Trump's Judges So They Could Skip Town" [HuffPo (RH)]. "[Senate Democrats just] agreed to expedite votes on 15 of his nominees to lifetime federal court seats because they wanted to go home. Majority Leader Mitch McConnell (Ky.) had lined up votes for all those district court nominees last week. Normally, Senate rules require up to 30 hours of waiting time for each nominee ― something Democrats typically take advantage of to delay action on confirming Trump judges. But Minority Leader Chuck Schumer (N.Y.) cut a deal with McConnell on Tuesday to bypass the wait times and let them all get through. Why? So Democrats could get back to campaigning and focusing on winning re-election in November. The Senate is now out of session until next Tuesday." Ladies and gentlemen, the #Assistance! Honestly, I don't have a dog in the mid-terms fight; I'm perfectly happy for the Democrats to win the House. Just as long as we all admit that the Democrats have no core principles at all.

Yves keeps insisting I watch The Lives of Others. I guess she's right:

CIA officers work as scientists, support staff, engineers, economists, linguists, mathematicians, secretaries, accountants, inventors, cartographers, architects, psychologists, police officers, editors, graphic designers, auto mechanics, historians, museum curators, & more!

— CIA (@CIA) August 29, 2018

They left out torturers. Also, serial fabricators. Still, nobody's perfect!
Stats Watch
Jobless Claims, week of August 25, 2018: "Unemployment claims remain very stable, low and favorable and they continue to set new milestones" [Econoday].
Personal Income and Outlays, July 2018: "The July personal income & outlays report is about exactly what the Federal Reserve is looking for: moderation to still solid levels of income and spending growth and steady readings on inflation that are right on target" [Econoday]. "One soft detail in the report is a 1 tenth slowing in real disposable income, up only 0.2 percent in July. Weakness here will definitely limit the strength of consumer spending which for right now, however, is right where the Fed wants it." And: "Flattened out at modest levels of growth with no sign that the tax cuts have led to an acceleration" [Mosler Economics]. "Personal Income increased 0.3% in July, Spending increased 0.4%" [Econoday]. "The increase in personal income was below expectations, and the increase in [Personal Consumption Expenditures (PCE)] was at expectations." And but: "Consumer income growth is higher than spending growth year-over-year" [Econintersect]. "The backward revisions this month were slight."
Banking: "Goldman Event Is Latest to Raise Questions on Riksbank Openness" [Bloomberg]. "Sweden's central bank often refers to itself as one of the world's most transparent monetary institutions. But a closer look reveals it holds plenty of private talks with members of the financial community… .Records of meetings since early 2017 obtained by Bloomberg show that 44 percent of the external events held by the Riksbank's policy makers were closed-door events." • Everythig is Like CalPERS…
The Bezzle: "What Airbnb really does to a neighbourhood" [BBC]. "Airbnb aims to host one billion guests each year by 2028. The scale of its ambition means regulatory battles are likely to continue for the foreseeable future, as more places try to shape and control its impact." • The one talking point I don't get is that AirBnB provides a more "authentic" experience. It's extremely difficult to get an "authentic" experience as a tourist to begin with; and in any case, a hotel, where all the business relationships are crystal clear, strikes me as a far more "authentic" experience than real estate speculuation and performative emotional labors by the few in the "lucky" neighborhoods.
The Bezzle: That fire at Tesla; I posted on it, but I don't think I posted this image–
Official picture from NBC Bay Area of a pile of shit and cardboard outside of Tesla Fremont factory that caught fire "threatening a structure" $TSLA pic.twitter.com/LBbPLjqD5R

— Quoth the Raven (@QTRResearch) August 24, 2018
As I said, I worked in factories for years, in places with plenty of "shit and cardboard," along with wooden pallets, oil, sulfiric acid, etc. Never saw a fire. Elon's high tech palace of industry must be in a real hellhole. No wonder the bumpers fall off. No wonder there's all that rework.
The Bezzle: "UPDATE: 'Autopilot Buddy' For Tesla Cars Deemed Unsafe By NHTSA" [Inside EVs]. "Sadly, some people have gone to great lengths to 'trick' Tesla Autopilot from nagging them to put their hands back on the wheel. We've heard about all sorts of homemade fabrications that will reportedly make the system think a driver is 'engaged.' There have even been reports of people hanging something from the steering wheel and then going to sleep or heading for the rear or passenger seat…. As of the time of this writing, Autopilot Buddy is still available for purchase on the internet. The product description says it's not a 'hands-free' device and that it's for Track Use Only, but its purpose is clear. Autopilot Buddy is billed as a 'Tesla Autopilot Nag Reduction Device.'" • In all the breathless coverage of robot cars, there seems to be very little consideration given to the idea that real people might game them for purposes of their own. The same applies to AI.
The Bezzle: About those robot cars:
hi I can answer this one.

Because self-driving tech, which does not work yet and is unlikely to work in the near future, is actively being used to FUD other kinds of badly needed transit projects and instead direct the money to continue to pay for roads for private vehicles https://t.co/MRSeBoR9l4

— Michael T Sweeney (@mtsw) August 29, 2018
Speculating freely, perhaps the robot car investment, at least by VCs, serves the purpose of blocking public solutions, rather than being profitable in itself? That is, there's so much free money sloshing about that capital can be "invested" for a return that's purely ideological?
Tech: "The rise of giant consumer startups that said no to investor money" [ReCode]. "[A] blueprint for a new path for ambitious direct-to-consumer entrepreneurs has emerged, one that has turned recent conventional wisdom in tech circles on its head even as it follows old-school business rules: Sell differentiated products for more than it costs to make and market them, and reinvest the profits in the business if you want to grow faster.
Tech: "Satellite Startup Swarm Is Back Online After Defying U.S. Officials" [Bloomberg]. "In January, Swarm Technologies Inc. placed four, tiny satellites on a rocket owned by the Indian government, sent them to space and started transmitting data to earth. What made this an unprecedented feat was that Swarm did all of it despite objections by U.S. regulators…. The Federal Communications Commission forced Swarm to disable the satellites and warned that the company's long-term plans to build a type of space internet were in peril. It turns out, though, that time and good lawyers can heal some wounds. Last Friday, Swarm received permission from the FCC to reactivate its satellites." • So, "permissionless innovation" is what the FCC is all about, now? Good to know.
Tech: "Here's what we know about Google's mysterious search engine" [WaPo]. "'We've developed a detailed series of guidelines about what it means to be authoritative,' said [Pandu Nayak, the head of Google's search ranking team] in an interview. "It's a 160-page document, it's been publicly available on the Web for several years now, and it's our representation about what it means to give relevant and authoritative results. Raters must study it and pass a test' before they can participate in the evaluation process." • Some day, I should read that document…
The Fed: "Monday Morning Notes: The Rate Hikes Keep Coming" [Tim Duy's Fed Watch]. "Jackson Hole came and went with little reason to believe the Federal Reserve will do anything other than raise interest rates in September and again in December of this year…. Absent a financial crisis, a 10-2 inversion would most likely happen well before a business cycle peak. It will be just one out of a "constellation of other information" that will look fairly solid if not downright frothy. It would be hard for the Fed to ignore everything else in favor of the yield curve… . Powell's contribution to the Jackson Hole conference did not give much guidance on this point. He basic point was that central bankers should not take estimates of such policy metrics as the neutral interest rate too seriously. Policy needs to be based on good analysis but also good judgement. My takeaway is that he isn't putting much faith into the Fed's estimates of the neutral rate. If they get to those estimates and the job market continues to churn away, Powell & Co. might reasonably conclude that their neutral rate estimate is too low – just as they concluded that their initial estimates of the natural rate of unemployment was too high." • What "natural" rate of unemployment? What's natural about it?
Our Famously Free Press
"I Used AI To Clone My Voice And Trick My Mom Into Thinking It Was Me" [BuzzFeed]. " I used Lyrebird, a free software for creating "vocal avatars." Lyrebird analyzes the cadence of your speech and the way you pronounce vowels and consonants to create a realistic digital copy of your speech patterns…. I used Lyrebird, a free software for creating "vocal avatars." Lyrebird analyzes the cadence of your speech and the way you pronounce vowels and consonants to create a realistic digital copy of your speech patterns…. To demonstrate its AI, Lyrebird used its technology create a digital copy of Donald Trump's voice." • In a well-made play, they call that "foreshadowing."
"It appears we've upset the Journal of Commerce" [Freight Waves]. "[The Journal of Commerce's] executive editor told us that their new intellectual property policy prohibits FreightWaves from ever quoting or linking to JOC's articles again." • Well, if that's how they want it…
Class Warfare
"Kids are hiring pricey personal stylists for their back-to-school shopping" [New York Posts]. • #NotAllKids
"Emails while commuting 'should count as work'" [BBC]. "The study, to be presented at the Royal Geographical Society on Thursday, found that 54% of commuters using the train's wi-fi were sending work emails… [A]s internet access improved it had the effective consequence of extending working hours, using laptops and mobile phones…. Instead of technology giving people more flexibility over working, the study showed that people were working extra hours on top of their time in the office." • Shocker!
News of The Wired
"THE MOST POPULAR PERSONALITY TEST IN THE WORLD IS A JOKE" [The Outline]. • Worth a read, but I dunno…. Scientific or not, but I've always been classified as an INTJ by multiple tests, and when one of them listed many of my literary heroes (Horatio Hornblower, George Smiley)… I'm not entirely persuaded there's nothing there.
* * *
Readers, feel free to contact me at lambert [UNDERSCORE] strether [DOT] corrente [AT] yahoo [DOT] com, with (a) links, and even better (b) sources I should curate regularly, (c) how to send me a check if you are allergic to PayPal, and (d) to find out how to send me images of plants. Vegetables are fine! Fungi are deemed to be honorary plants! If you want your handle to appear as a credit, please place it at the start of your mail in parentheses: (thus). Otherwise, I will anonymize by using your initials. See the previous Water Cooler (with plant) here. Today's plant (AM):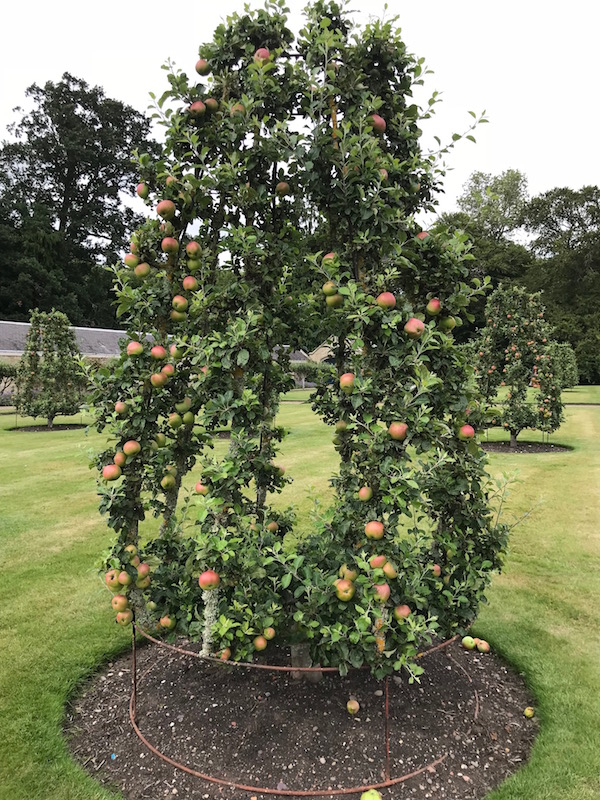 AM writes: "Fancy apple tree from Floors Castle garden in the Scottish borders area, just outside Kelso." A propos our discussion of apples! I dunno, though. I think I prefer wild to fancy. How does the tree feel?
* * *
Readers: Water Cooler is a standalone entity not covered by the annual NC fundraiser. So do feel free to make a contribution today or any day. Here is why: Regular positive feedback both makes me feel good and lets me know I'm on the right track with coverage. When I get no donations for five or ten days I get worried. More tangibly, a constant trickle of small donations helps me with expenses, and I factor that trickle in when setting fundraising goals. So if you see something you especially appreciate, do feel free to click the hat!

To give more, click on the arrow heads to the right of the amount.
If you hate PayPal — even though you can use a credit card or debit card on PayPal — you can email me at lambert [UNDERSCORE] strether [DOT] corrente [AT] yahoo [DOT] com, and I will give you directions on how to send a check.