By Gaius Publius, a professional writer living on the West Coast of the United States and frequent contributor to DownWithTyranny, digby, Truthout, and Naked Capitalism. Follow him on Twitter @Gaius_Publius, Tumblr and Facebook. GP article archive  here. Originally published at DownWithTyranny
A Bernie Sanders event in Madison, Wisconsin during the 2016 Democratic Party primary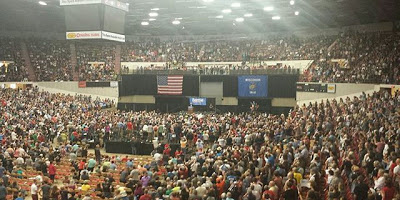 I wouldn't want to win on an old-fashioned leftist platform. Even if I thought it was the route to victory, I wouldn't take it.
I want to take just a few minutes to reflect on Thomas Frank's bepuzzlement, as expressed in his recent exit piece in the Guardian. (Frank is off to write "a few books" and will return in a few years to "see how things have gone." Those will be interesting years.)
His problem is this: "[U]nderstanding the perversity of rightwing populism only brought me to another mystery: the continuing failure of liberals to defeat this thing … My brain twirls to think that rightwing populism is still running strong in 2018 … that the invective and the journalism and the TV shows and all the mournful books about the decline of the middle class have amounted, basically, to nothing."
He lays that failure, correctly, at the feet of the Democratic Party, which had the perfect opportunity in 2008 to reverse course, and didn't. Which left the "task of capturing public anger" to Donald Trump.
"We're going to pay for that failure for a long time," he says, then professes not to know why it happened:
For all their cunning, Republicans are a known quantity. Democrats, however, remain a mystery. We watch them hesitate at crucial moments, betray the movements that support them, and even try to suppress the leaders and ideas that generate any kind of populist electricity. Not only do they seem uninterested in doing their duty toward the middle class, but sometimes we suspect they don't even want to win.
As evidence of his suspicion, he quotes Tony Blair (see the top of this piece). Then instead of saying why all this happened, why the Democrats betrayed their roots, historical and grass, he turns instead to a plea: "Beating the right cannot simply be a matter of waiting for a dolt in the Oval Office to screw things up. There has to be a plan for actively challenging and reversing it".
And there he ends. Which leads me to ask, why is he puzzled? He already knows the answer.
Tony Blair would rather lose to conservatives than to progressives in his own party. It's the same in this country, where 2016 Democratic leaders, in their wisdom and hubris, were more determined to throw the dice with Clinton, who could not fill a gymnasium, than pick the candidate their voting base packed stadiums to see.
We are indeed a nation in crisis (again). That crisis, that revolutionary discussion about the shape of our next constitution, our next agreement between government and the people, is not resolved. The radical right is in ascendance and will soon take complete and lasting control of the Supreme Court unless Democrats block their candidateand stop them.
Will a completion of the radical rightwing agenda resolve this crisis and create a government most of us can live under? Of course not. The truly radical right — a small handful of people — is vastly outnumbered by those opposed to its ideas. No one, not even Republican voters, will live under the government this minority is determined to create.
Will a return to neoliberal rule, to Obamism and Clintonism, create a stable order? Again, no. It's precisely that order that people in both parties rose to resist. The rebellion against that order, unheeded by Democratic Party leaders, created the opening the radical right just exploited.
Even a Sanders-style government, supported by the masses as FDR's government was, will face a counter-rebellion, this time by the dethroned rich — and I strongly suspect the Obamists and Clintonists in the Democratic Party would join that "resistance" as eagerly as they join the present one.
So what is Thomas Frank puzzled about? Isn't he really asking, why do the forces of money hate the people?
Because if he had asked that question, he wouldn't be puzzled at all. His book provides all the answers anyone need.