Dear patient readers,
Still behind due to tech restoration plus working on some research that will hopefully pan out. Plus Trump taking the Cohen plea/Manafort verdict punches the same day will divert attention from less riveting topics.
Huge python puts up fight on Pathum Thani road The Nation (furzy)
No More Cages: New Animal Cracker Packaging Sets The Mighty Beasts Free NPR (David L)
Amid fires and hurricanes, price of climate change begins to hit home Christian Science Monitor (David L)
Italy's famous dome is cracking and cosmic rays could help save it ars technica. Chuck L:
This is the kind of stuff your uncle was working with when he was collecting data for his thesis on K-mesons 12K feet up at the Inter-University High Altitude Cosmic Ray lab on Mt. Evans, CO, during the '54-'55 academic year. 40 or so years later he told me that at that time he could have got the necessary data by scheduling ten minutes on an accelerator at a place like Brookhaven or Batavia.
Artificial General Intelligence Is Here, and Impala Is Its Name ExtremeTech (David L)
Here's How Much Marijuana Costs on the West Coast vs East Coast PriceEconomics (Dr. Kevin)
Anti-vaxxers are still spreading false claims as people die of measles Guardian (Kevin W)
China?
A major hurdle in trade talks: US and China 'play by different economic rules' South China Morning Post (Kevin W)

Class Conflict Intensifies in China as it Heads into Uncertain Times Real News
Migration
Standoff in Italian port as Salvini refuses to let refugees disembark Guardian

From Politico's daily European newsletter:

HUNGARY — STARVING ASYLUM SEEKERS: A Hungarian Methodist pastor was prevented from delivering food to asylum seekers waiting in a transit zone along Hungary's southern border. Budapest stopped providing food to asylum seekers who are challenging their status in court. The European Court of Human Rights has been issuing emergency orders to Hungary to restart meals.
Brexit
UK hospitals yet to start planning for no-deal Brexit Politico

Banking is surprise item on list of Brexit 'no-deal' impact papers Guardian
New Cold War
Senator Paul Suggests Limiting Size of NATO to Influence Russia C-SPAN (Kevin C)

Microsoft Promotes Russia Scare To Gain Insider Access To Campaign Information Moon of Alabama (Bugs Bunny, Kevin W)
Syraqistan
Economic war on Iran is war on Eurasia integration Pepe Escobar, Asia Times (Wat). From last week.
Big Brother is Watching You Watch
Facebook is rating the trustworthiness of its users on a scale from zero to 1 Washington Post. Bill B: "To be augmented with a 'foreign agent' scale at some point in the future."

Security MadLibs: Your IoT electrical outlet can now pwn your smart TV • The Register. Chuck L: "The Internet of Shit strikes again."

Automated Filter Removed Parliament Member's Article Warning About Censorship By Automated Filters Techdirt. Chuck L: "Open the pod bay doors, Hal!"

The "neuropolitics" consultants who hack voters' brains MIT Technology Review (Dawn). I don't buy this "hesitation = uncertainty" thesis. It may be true in a lot of cases, but for terrible typists like me, hesitation can be a function of mechanical issues. Similarly, microexpressions aren't all they are cracked up to be either.

Google's data collection is hard to escape, study claims CNN. Another reason to have a dumbphone and leave that at home a lot. Notice how Google snoops your calendar. I don't use one either, and my deliberately sketchy address book is a non-standard flat file, as in not tab delimited.
Imperial Collapse Watch
Why wasn't road closed before FIU bridge fell? Judge orders release of key records Miami Herald (Dan K)
Trump Transition
Lanny Davis: "Mr. Cohen has knowledge on certain subjects that should be of interest to the special counsel and is more than happy to tell the special counsel all that he knows." pic.twitter.com/NxPmShwunw

— Maddow Blog (@MaddowBlog) August 22, 2018

Page One pic.twitter.com/2DGBxm0GuT

— Inyoung Kang (@inyoungk) August 22, 2018
New bill would require paper ballots to secure election results CNET
Sen. Elizabeth Warren speaks at The National Press Club YouTube (Kevin C)
Duncan Hunter and his wife indicted for using campaign funds for personal expenses CNN From Dan K : Duncan Hunter indictment. His comments:
The Overt Acts section is pretty stunning, topping out at 200 items. What's kind of interesting is that the Hunters lived hand-to-mouth in some ways, ignoring bills and bank balances as if they just didn't exist, overdrafting bank accounts and credit cards and fighting water service shutoffs. The actual poor are often castigated for financial irresponsibility; many poor people simply haven't had the experience of having money, and don't know of all the necessary activities required to maintain solvency and "good credit".

The Hunters show a similar pattern that suggests simple ignorance, and also a disinterest in learning. Not really what one wants in a representative who must constantly learn about issues and problems from the local to the national and international scope. All such people have to do is parrot party lines and talking points supplied by their donors and staff.

The Overt Acts section starts on page 11 and swings between the petty mundane and WTF.
Top Republican on Tax Subcommittee Received Yacht Loan From Foreign Bank Lobbying on 2017 Tax Bill David Sirota, Capital & Main
Keith Ellison's Daughter Responds to Domestic Violence Allegations Against Her Father Splinter News (Chuck L)
Flint water crisis: Michigan health director ordered to manslaughter trial ars yechnica (Chuck L)
Rentiers Among Us
Verizon throttled fire department's "unlimited" data during Calif. wildfire ars technica
Fake News
Facebook Fueled Anti-Refugee Attacks in Germany, New Research Suggests New York Times. Dan K, emphasis his:

Karsten Müller and Carlo Schwarz, researchers at the University of Warwick, scrutinized every anti-refugee attack in Germany, 3,335 in all, over a two-year span. In each, they analyzed the local community by any variable that seemed relevant. Wealth. Demographics. Support for far-right politics. Newspaper sales. Number of refugees. History of hate crime. Number of protests.

One thing stuck out. Towns where Facebook use was higher than average, like Altena, reliably experienced more attacks on refugees. That held true in virtually any sort of community — big city or small town; affluent or struggling; liberal haven or far-right stronghold — suggesting that the link applies universally.

Their reams of data converged on a breathtaking statistic: Wherever per-person Facebook use rose to one standard deviation above the national average, attacks on refugees increased by about 50 percent.

New Facebook Alliance Endangers Access to News about Latin America Venezuelanalysis (Micael)
Germany Has Proven the Modern Automobile Must Die Wired
Bill Gross's bond fund hit by wave of investor redemptions Financial Times. $1.2 billion is the functional equivalent of zero in institutional bond fund land, due to the low fees on them.
Tesla reworked 86 percent of Model 3s to reach production target AutoBlog (EM)
Morgan Stanley halts research coverage of Tesla, shares rise AutoBlog (EM)
Bill Gates Noticed a Global Economy Trend That No One Is Paying Enough Attention To The Observer (Dr. Kevin). Oh dear, Gates believed Econ 101 (I was lucky enough to have an Australian section leader, literally the first Australian I had ever met, who was very fond of the word "horseshit".). I have a whole section in ECONNED on how the little story of a downward-sloping supply line and an upwardly sloping demand line has in fact never been established and for good reason.
Class Warfare
ICYMI: Miami Beach Might Fine Airbnb and Other Platforms for Illegal Short-Term Rentals Miami New Times. From earlier this month, still germane.

The Changing Demographics Of Higher Education Safe Haven. I hate to sound like a nay-sayer, but feminization of professions is highly correlated with lower pay and status. Women were the first software engineers back in the day when hardware was cool, and then that speciality was reconstituted as requiring masculine attributes when software became a rewarding line of work. So I wonder if this development is a sign that more educational attainment is becoming less valuable than in the past.

Thread by @citizensmediatv: ""Then why does the military budget keep going up as social programs keep getting cut?" Now that's a good question Thread Reader
Antidote du jour. David D: "Albino American Alligator. Behind a very thick sheet of plexiglass, to my relief."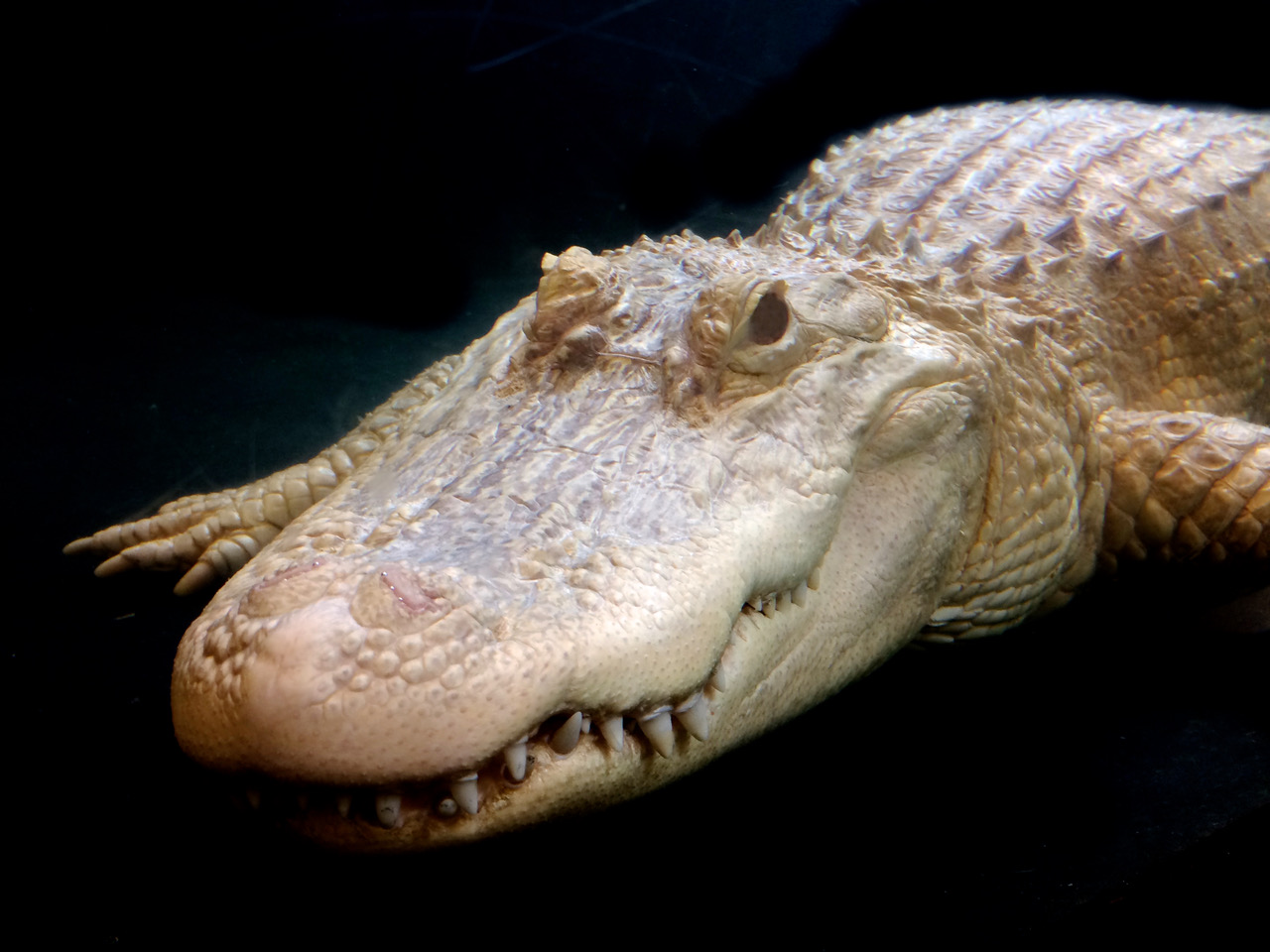 And a bonus video from reader ipso facto:
See yesterday's Links and Antidote du Jour here.