By Lambert Strether of Corrente.
Readers, Naked Capitalism's holiday week is over. I hope your Labor Day weekend, and the week following, was as pleasant as mine! So many threads over the past week, I'm not sure I picked them all up…. –lambert
Trade
"One of the electronics world's bedrock supply chains is getting caught up in U.S.-China trade tensions. Apple Inc. warns proposed U.S. tariffs on $200 billion of Chinese goods would affect some of its signature products…, highlighting questions over the global manufacturing strategies that are central to consumer electronics" [Wall Street Journal]. "Apple's alarm marks the first time the company has detailed specific damage the trade battle could inflict on its hardware lineup, and its potential impact on network of suppliers across its Asia-focused supply chain. President Trump has a simple solution for Apple, saying the company should move production to the U.S. from China, where it assembles most of its products."
Politics
2018
56 days until Election Day. 56 days is a long time in politics.

"High stakes as 2-month sprint to Election Day begins" [Associated Press]. "After crushing defeats in 2016, Democrats open the fall campaign brimming with confidence about their prospects for retaking the House, which would give them power to open a wide swath of investigations into Trump or even launch impeachment proceedings. The outcome of the election, which features a record number of Democratic female and minority candidates, will also help shape the party's direction heading into the 2020 presidential race…. The result is a Democratic field with more women and minorities on the general-election ballot than ever before, several of whom are poised to make history if elected." • Not a word on policy; same with the coverage in the Sunday Times I ploughed through. Not only are Democrats doubling down on Texeira's "coalition of the ascendant," that's the only lens Democrat assets in the press are using. Of course, these are very easy stories for lazy stenographers to write: All you need is a few photos of a candidate for a reasonable approximation of their ascriptive identity.

"It's Too Late to Stop a Blue Wave, But Not for Trump to Try" [Albert Hunt, Bloomberg]. "Over more than half a century, there have only been two midterm elections where a post-Labor Day event changed the dynamics of the overall race. In both cases, these involved weighty historical events and Republicans were marginally hurt. One was in 1974, when President Gerald Ford pardoned Richard Nixon for crimes related to the Watergate scandal. The other was the Cuban missile crisis of 1962…. For the midterms, one slim hope for Republicans is that they tend to narrow their polling deficits right before an election. That's often because Democratic voters aren't motivated. This November, however, Democrats have the great motivator sitting in the White House."

"A Grim Fall Awaits GOP" [Charles Cook, Cook Political Report]. "For over six months this column has suggested that this election amounts to a Democratic tidal wave crashing against a Republican seawall—the question is which will be stronger. At Labor Day, the traditional beginning of the general-election-campaign season, that continues to be the case, though how that dynamic manifests itself will likely vary between the House and Senate, governorships, and state legislatures…. We are most likely looking at a Democratic gain in the House of between 20 and 40 seats—with the odds of going higher than 30 and maybe 40 are greater than going lower than 30 or 20 seats."

"Captain Donald Trump's crew sounds the alarm" [Editorial Board, USA Today]. "How and when the Trump administration ends is unknowable at this point. But its current course is looking increasingly unsustainable." • USA Today stayed pretty sane throughout 2016.

"Shhhh! Dem leaders don't want to say 'impeach.' Bill Clinton's case explains why" [NBC]. "It's no coincidence that the top three Democratic leaders in the House today — Nancy Pelosi, Steny Hoyer and Jim Clyburn — were all there in 1998 and are all quiet on the impeachment front now. They remember the energizing effect that a push to remove their party's president had on their voters, and they all fear giving Trump's party that kind of motivation this fall. The same goes for the top Democrat in the Senate, Chuck Schumer." • Seems plausible, until you remember that Pelosi took impeaching Bush off the table after winning back the House in 2006 (and Bush surely deserved it, for warrantless surveillance and torture).

"5 States That Will Decide the House Majority" [Nathan Gonzales, Roll Call]. Minnesota (1/5), California (5/9), New York (2/5), Pennsylvania (4/9), Illinois (2/3). 1 + 5 + 2 + 4 + 2 = 14, so there's nine to be picked up elsewhere. More: "With a growing number of vulnerable House districts, there might be too much to watch for on election night. But by focusing on just a handful of states, you can get a pretty good idea of whether Democrats are having a good enough night to gain the 23 seats necessary to win back the majority."

Senate: "In what is a somewhat unusual development, the incumbent party is not a clear underdog in any single Senate race with just two months left to go. But there are at least a couple of cases where the incumbent party is likely behind. Republicans remain favored to hold the Senate, but the Democrats do have a path" [Larry Sabato's Crystal Ball]. "To be clear, we still call Arizona, Florida, North Dakota, and Nevada Toss-ups. In all likelihood, Democrats need to win at least three of four to avoid losses this year, and a sweep is likely necessary for them to win the majority."

WI Governor: "'Scott Walker fatigue' haunts Republicans" [Politico]. "Polling shows that the independent voters who were so critical to Walker's wins in the 2012 recall and 2014 reelection are breaking away from him…. His opponent, Schools Superintendent Tony Evers, has a slight lead in recent polls and there's evidence that critical suburban voters are shifting leftward." • For some definition of left; Evers' site is remarkably void of policy commitments.

NY Governor: "Cuomo expands lead against Cynthia Nixon in Democratic primary: Siena poll" [Democrat and Chronicle]. "The [Siena] poll showed Cuomo led 63 percent to 22 percent, up from 60 percent to 29 percent at the end of July…. 'Cuomo has a lead of at least 20 points with every demographic group and leads by at least 30 points in every region of the state,' [said Siena College poll spokesman Steven Greenberg]."

NY Governor: Ratface Andy smears Nixon as anti-semitic. Here's the mailer:

— Dan Radzikowski (@DanRadzikowski) September 9, 2018

AOC reacts:

How did the NYS Democratic Party manage to spend $11k on a mailer, falsely accusing a Dem candidate of anti-Semitism, w/o party leadership knowing?

Why isn't it issuing corrective action before Thursday's primary?

& why is the party taking sides in a primary to begin with? https://t.co/pzc0y0k4VV

— Alexandria Ocasio-Cortez (@Ocasio2018) September 10, 2018

Ratface Andy has form:

In Mario's campaigns, which Andrew worked on, the "Vote For Cuomo Not the Homo" signs similarly appeared one day, as if by magic, along Queens Boulevard. No one in the campaign could figure out who was responsible. Weird! https://t.co/y0mqFeQAE4

— Italian Alex Pareene (@pareene) September 9, 2018

NY Attorney General: "New York State Attorney General Race Remains a Tossup, New Poll Shows" [New York Times]. "The race for attorney general appears to be far more competitive, with Representative Sean Patrick Maloney leading the field with 25 percent of the vote, followed closely by Letitia James, the New York City public advocate, who has the support of 24 percent of those polled. Zephyr Teachout, a law professor, placed third in polling, with 18 percent, and Leecia Eve, a former Clinton administration aide and a Verizon executive, had only 3 percent."
Obama Legacy
"Obama touts Medicare for all as evidence of Democrats' new ideas" [Politico]. • Obviouusly, #MedicareForAll, which Obama and liberal Democrats did their best to destroy, is not a new idea. I should really put on my yellow waders and go through the Obama speech this comes from; everything I've read about it says it's appalling.
Realignment and Legitimacy
"For Older Voters, Getting The Right ID Can Be Especially Tough" [NPR]. " A 2012 survey estimated that 7 percent of American adults lack a government-issued photo ID. While some organizations have sued to overturn these laws, a nonprofit organization called Spread The Vote has taken a different tack: It helps people without IDs get them [in some cases by paying for the documents]. And people over 50 years of age have presented some of their biggest challenges… The group also has chapters in Florida, Tennessee, Texas and Virginia, all states with voter ID laws and partners with organizations like Sweetwater Mission that deal with their clients' most basic human needs…, The group also has chapters in Florida, Tennessee, Texas and Virginia, all states with voter ID laws and partners with organizations like Sweetwater Mission that deal with their clients' most basic human needs… Studies show that the people who are most likely to be prevented from voting by ID laws are not only low income, but also African-American or another racial minority. That has been true of the roughly that Spread The Vote has worked with." • 600 people…. If you want evidence that the Democrats, and the Democrat donor class, really don't want to expand the electoral base, here it is; it would be hard to find anything more clear. After all, that $1.4 billion that the Clinton campaign lit on fire and threw up in the air would have bought an awful lot of IDs…
Stats Watch
There are no official statistics releases of interest.
Employment: "August 2018 Conference Board Employment Index Strong Improvement" [Econintersect]. "The Conference Board's Employment Trends Index – which forecasts employment for the next 6 months improved with the author's saying 'This supports our projections for strong economic growth in the coming year, suggesting that demand for labor is likely to remain strong.'… Econintersect evaluates year-over-year change of this index (which is different than the headline view) – as we do with our own employment index. The year-over-year index growth rate accelerated 1.7 % month-over-month and 6.9 % year-over-year."
Shipping: "Ocean freight rates reach 2-year peak" [Supply Chain Dive]. "In 2016, it cost $1,300 to ship a 40-foot container from China to the U.S. West Coast during the first week of August. This year, Freightos August data pegs the cost at $1,901 — a 46% rise. Prices in the East Coast are even higher, with rates rising 66% over that same time frame." • OTOH–
Shipping: "CMA CGM Profit Plunges 90% on Surging Fuel Bill" [Wall Street Journal]. "French liner giant CMA CGM SA's second-quarter profit plummeted almost 90% on a surging fuel bill, falling freight rates and concerns over the growing trade tensions between the U.S. and China. The world's fourth biggest container ship operator is the latest among the top 10 liners to report sagging results, cutting short a much-anticipated recovery in the shipping industry after a multiyear slump….Container shipping moves 98% of the world's manufactured goods, but freight rates are about half of break-even levels across major trade routes. Prices for transporting goods have declined despite a wave of consolidation that cut the top dozen operators by about half over the past two years…. A.P. Moeller-Maersk A/S, the industry's largest operator with 18% of all containers, warned in August that its earnings would be weaker than forecast earlier this year. CMA CGM Chief Executive Rodolphe Saade said he expects a better showing in the second half on sustained volumes and stronger freight rates."
Shipping: "Port Tracker reports strong U.S. import growth, spurred on by tariffs" [Logistics Management]. "The byproduct of retail shippers' "pull forward" efforts to import goods in advance of new tariffs levied on products made in China remained intact… For July, the most recent month for which data is available, Port Tracker reported that U.S.-based retail container ports handled 1.9 million TEU (Twenty-Foot Equivalent Units), which marks a 2.8% increase over June and a 5.6% annual gain. This marks a new monthly record for container import volume…. Port Tracker estimated that August will hit another record at 1.92 million TEU for a 4.8% annual gain, which would represent the third consecutive month to set a new monthly record."
Shipping: "Economic data points continue to trend positive for trucking" [Freight Waves]. "[American Trucking Associations' Chief Economist Bob Costello] did caution, however, that a slowdown from the record high levels is coming and that 'year-over-year comps are going to get tough.'… Costello walked through many of the key numbers for the industry, and offered a general outlook heading into 2019, including about 3 ½% GDP growth in the third quarter and 3% in the fourth quarter…. For-hire truckload temperature-controlled loads, though, are down 8.8% year-to-date, and flatbed (6.1) and tank truck (3.9%) are also down….. Length of haul has continually decreased during this time as well and for the first time dropped below 500 miles this year. In fact, Costello pointed out, the average length of haul has been below 500 miles in four out of the seven months this year. 'Why is that?' Costello asked. 'It's the changing supply chain' as online sales continue to grow and necessitate distribution centers closer to final destinations."
Supply Chain: "Why USPS is the perfect fit for the last mile" [Supply Chain Dive]. "'USPS is a perfect fit for last-mile services,' [Michael Notarangeli, Executive VP of Maine Pointe] said. ;Parcel companies will continue to work with the USPS to deliver last-mile services. The USPS is required by law to deliver to all United States postal addresses in all jurisdictions, regardless of geography and density. This makes them an ideal partner for others that want to deliver to those locations, but do not have the infrastructure or capability to do so.'"
Manufacturing: "At Boeing Factory, Unfinished 737s Pile Up" [Wall Street Journal]. "The delays are due largely to two suppliers: engine maker CFM International, a joint venture between General Electric Co. and Safran SA, and fuselage manufacturer Spirit AeroSystems Holdings Inc. Both companies have said some of their own small suppliers are struggling to meet demand." • Hmm. I wonder where those small suppliers are located.
The Bezzle: "Self-Driving Technology Threatens Nearly 300,000 Trucking Jobs, Report Says" [Wall Street Journal]. "Autonomous driving technology could replace some 294,000 long-distance truck drivers over the next 25 years, a lighter impact than some have predicted but one that could still significantly reshape freight-industry employment, according to a new research paper….. Using autonomous vehicles for long-haul cargo runs, the most likely near-term scenario, would also spur increased demand for delivery and local trucking jobs, which tend to be lower-paid and often have poor working conditions, the report said…. 'The risk of autonomous trucks is not that there won't be enough jobs for American truckers, it's that there won't be enough good jobs,' [Steve Viscelli, a sociologist who is a fellow at the University of Pennsylvania's Robert A. Fox Leadership Program and a senior fellow at its Kleinman Center for Energy Policy] wrote in the report, which said job training programs could help drivers adjust to the changes." • Of course! Training! Why didn't I think of that?
The Bezzle: "Why Tesla's Autopilot Can't See a Stopped Firetruck" [Wired]. "These systems are designed to ignore static obstacles because otherwise, they couldn't work at all…. This unsettling compromise may be better than nothing, given evidence that these systems prevent other kinds of crashes and save lives. And it's not much of a problem if they see a stationary vehicle up ahead." • If I have to pay attention at all times, why don't I just drive?
The Bezzle: "Will Elon Musk's bullet train to O'Hare go up in smoke?"" [Chicago Reader]. "This far, the Boring Company's biggest accomplishment—beyond digging a mile-long hole in the ground in Los Angeles—is convincing the public to buy 50,000 baseball caps bearing the company's logo and 20,000 devices dubbed 'not-a-flamethrowers.' The flamethrowers, Musk says, were based on a gag from Mel Brooks's Star Wars spoof. "Does anyone tell you no?" Rogan wondered. Isn't selling a $500 flamethrower online a dumb idea? 'Yeah, it's a terrible idea. Terrible, you shouldn't buy one. I said don't buy this flamethrower. Don't buy it. Still, people bought it,' Musk replied. 'To be totally frank it's just a roofing torch with an air-rifle cover. It's not a real flamethrower. We were very clear, this is not actually a flamethrower.'" • When people tell you who they are…
Tech: "Congress Is Clueless About Google's Biggest Problem" [Bloomberg]. "[Jaron] Lanier's insightful point is that this [free service for data] model may also be a natural route to disaster, for a disconcertingly simple reason. Facebook, for example, makes money by helping advertisers target messages — including lies and conspiracies — to the people most likely to be persuaded. The algorithms looking for the best ways to engage users have no conscience, and will simply exploit anything that works. Lanier believes that , such as hatred, suspicion or rage. 'Social media is biased not to the left or the right,' as he puts it, 'but downward,' toward an explosive amplification of negativity in human affairs. In learning how to best to manipulate people, tech algorithms may inadvertently be causing mass violence and progressive social degradation." • I tried to find a good Hegel quote on the power of the Negative, but sadly, no…
Tech: "Anatomy of an AI system" (PDF) [AI Atlas]. "The Amazon Echo as an anatomical map of human labor, data and planetary resources." • Grab a cup of coffee; a novel, holistic perspective.
Honey for the Bears: "Goldman Bear-Market Risk Indicator at Highest Since 1969: Chart" [Bloomberg]. "While the gauge is at levels that have historically preceded a bear market, Goldman strategists including Peter Oppenheimer wrote in a note last week that a long period of relatively low returns from stocks is a more likely alternative."
Rapture Index: Closes up 1 on Tribulation Temple. "Major news outlets ran stories on the birth of the Red Heifer" [Rapture Ready]. Record High, October 10, 2016: 189. Current: 182. Seems indeed that 180 is a floor. ("Prophecy fulfilled after red cow is born at Temple of Israel" [New York Post]. "The sacrifice of a red heifer is essential to the construction of a third temple in Jerusalem, which would bring the coming of the Messiah and the final judgment." Not sure if I should file this under Fodder for the Bulls or Honey for the Bears….)
Class Warfare
"Many lawmakers and aides who crafted financial regulations after the 2008 crisis now work for Wall Street" [WaPo]. "Ten years after the financial crisis brought the U.S. economy to its knees, about 30 percent of the lawmakers and 40 percent of the senior staff who crafted Congress' response have gone to work for or on behalf of the financial industry, according to a Washington Post analysis. The pattern, which applies about equally to both parties, is a stark illustration of how policymakers sought to profit from the financial sector after dealing with one of the worst financial episodes in U.S. history." • Ka-ching.
"Tesla workers speak out: 'Anything pro-union is shut down really fast'" [Guardian]. "Another current employee in a Tesla factory who asked to remain anonymous expressed similar sentiments. 'Pro-union people are generally fired for made-up reasons. There's a culture of fear because if you don't comply, you will be fired,' the employee told me. 'We are told Tesla would go bankrupt if we unionize because we are not a profitable company yet.' He added that management quickly finds reasons to fire employees who tout their efforts to form a union and those who are fired are pushed to sign non-disclosure agreements before receiving their last paycheck." • Maybe the venture capitalists could just write the workers a big fat check?
News of The Wired
"An Engineer's Guide to the Docuverse" [Medium]. More on the Xanadu project here. I've never seen worse demos, although perhaps I'm too cynical.
The Lives of Others is an excellent film. Lucky the Stasi didn't have video. Or cell phones. Anyhow:
Stasi surveillance equipment from the 1980s. It's amazing we carry all this and more in our pockets now, for the convenience of those who watch. From #spionagemuseum Berlin, which demonstrates an ongoing commitment to surveillance by requiring a facebook checkin for "free" wifi. pic.twitter.com/DGTOrVR6Vn

— Steve Randy Waldman (@interfluidity) September 2, 2018
* * *
Readers, feel free to contact me at lambert [UNDERSCORE] strether [DOT] corrente [AT] yahoo [DOT] com, with (a) links, and even better (b) sources I should curate regularly, (c) how to send me a check if you are allergic to PayPal, and (d) to find out how to send me images of plants. Vegetables are fine! Fungi are deemed to be honorary plants! If you want your handle to appear as a credit, please place it at the start of your mail in parentheses: (thus). Otherwise, I will anonymize by using your initials. See the previous Water Cooler (with plant) here. Today's plant (TH):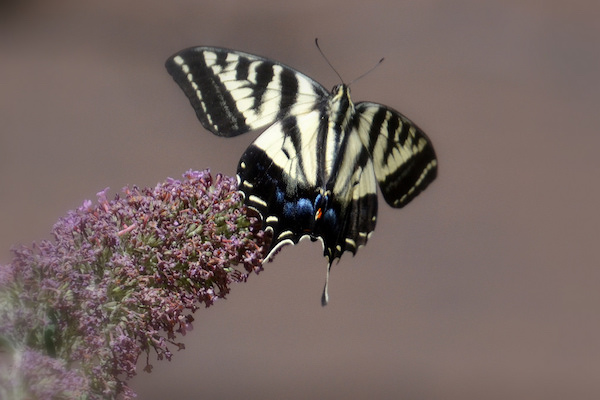 TH writes: "This is a Western Tiger Swallowtail taking flight from a flower on our Butterfly Bush. The bush lives at our cabin in Running Springs, California (6,000 ft. elev.). It's over 10 years old, but still fairly scrawny since it doesn't get a lot of attention beyond annual deadheading." This is more an antidote, since the subject is an animal. However, I'm such a fan of pollinators that I'm going to include it! And a butterfly bush sounds like a neat idea….
* * *
Readers: Water Cooler is a standalone entity not covered by the annual NC fundraiser. So do feel free to make a contribution today or any day. Here is why: Regular positive feedback both makes me feel good and lets me know I'm on the right track with coverage. When I get no donations for five or ten days I get worried. More tangibly, a constant trickle of small donations helps me with expenses, and I factor that trickle in when setting fundraising goals. So if you see something you especially appreciate, do feel free to click the hat!

To give more, click on the arrow heads to the right of the amount.
If you hate PayPal — even though you can use a credit card or debit card on PayPal — you can email me at lambert [UNDERSCORE] strether [DOT] corrente [AT] yahoo [DOT] com, and I will give you directions on how to send a check.