By Lambert Strether of Corrente.
Trade
"Countries have already launched roughly 30 disputes at the World Trade Organization this year, the most since 2002, "putting more strain on a dispute settlement system which is already under threat," WTO Director-General Roberto Azevêdo said Tuesday in a speech to the Commonwealth group of nations of the former British empire" [Politico]. "About 20 of the cases stem from the tariffs President Donald Trump imposed on other WTO members to protect U.S. producers of solar energy products, washing machines, steel and aluminum, as well as the duties on China to pressure Beijing to make trade reforms. The increased caseload, which Azevedo said is a positive sign of faith in the system, comes at a time when the United States is blocking the new appointment of Appellate Body members, making it increasingly hard for the WTO dispute settlement system to function." • Classic neoliberal play: Stress the system while denying it resources.
Politics
2020
"Booker placing staffers in Iowa: report" [The Hill]. "Sen. Cory Booker (D-N.J.) has sent four staffers to Iowa to help Democratic candidates campaigning in the state, multiple sources told The Guardian. The move may well be part of Booker's groundwork for a 2020 presidential run, according to the news outlet, as the senator is widely speculated to be building up for such a campaign. The new report comes one day after the Iowa Democratic Party announced that Booker will be headlining a gala in Iowa next month." • They have cameras in Iowa, I understand, so Booker should feel right at home.

"Iowans are health care voters" [Bleeding Heartland]. • Not one mention of #MedicareForAll. I sometimes criticize liberal Democrats for lousy messaging and a complete lack of principles, but when it comes to keeping the insurance companies in business, there's no better party.
2018
55 days until Election Day. 55 days is a long time in politics.

"There's Never Been a President This Unpopular With an Economy This Good" [Bloomberg]. "'There's a huge disconnect,' said Karlyn Bowman, a senior fellow and public opinion polling expert at the American Enterprise Institute, a conservative think tank based in Washington. 'The economy doesn't seem to be dominating in a way that it often does in elections.' That's a big problem for Republicans as they try to maintain control of Congress. White House Budget Director Mick Mulvaney acknowledged as much last week, telling Republican backers in a private meeting that they needed to get voters to focus on the economy and not on Trump in November, according to the New York Times." • Part of this, no doubt, is that the war between liberals, #NeverTrumpers, and Trump has dominated every news cycle for two years. But it may also be a trust issue in an already low-trust society: Leaving aside 10%-ers (especially highly optimistic small business owners) I would speculate that most voters have come to define a "good economy" as one where disaster seems to be more than a month out, and some of the damage done in the last decade has been undone. But if there's no trust that "the good times" will continue, and there's no trust that hard work will lead to a raise or a better job, when you get screwed whenever you get involved with somebody who has a letterhead, and when life expectancy is dropping, how "good" is that? How much credit is there to give?

"This Election Is All About Trump – Not Obama" [Amy Walter, Cook Political Report]. "But, the more salient question for Democrats isn't will Obama serve as a foil for Republicans, but will he do a better job at motivating his of voters to show up in this midterm election than he did in midterm elections during his presidency? Since 2009, Democrats have been unable to replicate Obama's success with younger and non-white voters." • That's because "the Obama Coalition" was never a coalition!

NH: "NH Breaks Ground in Candidate Selection for November" [Courthouse News]. "New Hampshire Democrats rejected more progressive candidates in their U.S. House and governor races on Tuesday, while picks for the state's 1st Congressional District from both parties represent historic firsts."
911
Holy moley, wotta thread:

*** THREAD ***

************************************************************************
AMERICA HAS WAITED LONG ENOUGH: THE REAL KILLERS ON 9/11
************************************************************************

1/

— Chris Nethery (@ToestringRd) September 11, 2018

Guess who…. It's so hard to tell what's a parody and what isn't, these days…
The Liberals Have Lost Their Minds
"'Anonymous' Is Hiding in Plain Sight" [Thomas Friedman, New York Times]. Ten paragraphs to the real agenda: "In June, The Associated Press reported on the latest International Monetary Fund survey of the U.S. economy, which concluded that as a result of Trump's "tax cuts and expected increases in defense and domestic programs, the federal budget deficit as a percentage of the total economy will exceed 4.5 percent of G.D.P. by next year — nearly double what it was just three years ago…. Faced with so much debt, which the country will not be able to grow out of, The A.P. story continued, paraphrasing the I.M.F. report, the U.S. "may need to take and imposing higher taxes on consumers. (We'll probably also have to limit spending on new roads, bridges and research.) You might want to let your kids know that." • Friedman is locked in the austerity box, and crocodile tears are leaking out of it…

"A hard look at America after 9/11" [Jane Harman, The Hill]. "What if? And what if, instead of close to two decades focused on counterterrorism, America's agenda focused on transforming the nature of work, , curing cancer and exploring the heavens? What if we celebrated progress in those areas while also remembering the heroes who didn't live to see it? What if?" • Incroyable! Harman has the same agenda as Friedman's!
Realignment and Legitimacy
"Since dark money changed politics as we know it in the post-Citizens United era, the top 15 dark money groups have spent more than $600 million in secret money in our elections" [Issue One] (report).

"Former Economic Advisor to Ronald Reagan: 'The GOP Needs to Die.'" [Grit Post]. "With the 2018 midterm elections just 8 weeks away, the GOP is projected to lose its majority in the House, and possibly the Senate. Bruce Bartlett — a former advisor to President Ronald Reagan and a Treasury official under President George H.W. Bush — thinks Republicans' expected loss is long overdue. 'I think the GOP needs to die,' Bartlett told Grit Post in a Twitter direct message. 'It's[sic] has been a zombie party for at least 10 years–brain dead but somehow still alive.'" • Very true. Today's GOP would never be able to invade Iraq. But Bush put together a bipartisan consensus!

"The Left's Guide to Reclaiming the Constitution" [Jedidiah Purdy, New York Times]. "[R]ather than despairing or scheming for 1930s-style court packing, what progressives need most is a constitutional vision of their own, a vivid picture of what judges should do with the power of the courts. At a time when the left is on the offensive in ideas and policies, political struggles are providing a compass for progressive jurisprudence. Progressives should not just resist the erosion of important legal gains, but say — starting today — what they believe the courts should do, and what they believe the Constitution means." • Reading this, I think that Purdy must really mean the left, because liberals haven't done any of the things Purdy suggests, even when given the opportunity to do so.

"A Trying Week for Washington" [Charles Cook, The Cook Report]. On Kavanaugh: "Senate Democrats know full well that Kavanaugh is going to be confirmed, and that it is mostly their own fault. One almost forgets that Democrats, led by then-Majority Leader Harry Reid and frustrated by GOP opposition to many of President Obama's nominations, voted in 2013 to change Senate rules to lower from 60 to 51 the threshold number of votes required for confirming executive and judicial nominees below the Supreme Court. Had Democrats, in their infinite wisdom, not lowered that threshold then, it would have been more difficult and, I think, unlikely that current Senate Majority Leader Mitch McConnell's Republican majority would drop it last year for the high court as well." • Or, conversely, if Obama's Democrats had lowered the threshold to 51 in 2009 and passed #MedicareForAll and a decent stimulus package, Obama would probably be packing the Court today after we passed an Amendment to give him a third term. So you never know.

"The Civil War on America's Horizon" [The American Conservative]. "Ultimately what is most disconcerting is that the divisiveness is not just about Trump: it's deeply rooted in two diametrically opposed civic religions. America is no longer one country*. These two groups view their national story through different symbolic mythologies… This will not end well, I fear. Goodwill and moderation exist on neither side. It may be that a civil war looms on the horizon. All that's required now is a spark because every cultural accelerant is now in place. That spark could come from the Mueller investigation, which is viewed by Trump and his supporters as a brazen attempt at a coup d'état by a thoroughly corrupt intelligence community and legal establishment. Impeachment over payments to paramours, for example, will be viewed as a phony pretext for the lawless removal of a duly elected president. Given the intemperance of Trump and the viciousness of his opponents, compromise seems unlikely. Most of the American media will blame any conflagration on Trump, and certainly he will deserve some of the fault. But American elites are the revolutionary children of the '60s and '70s, proud despoilers of their country's history and tradition. Now comes the counter-revolution, led by a gargoyle promising to defend the old cathedral." • What would victory in such a "Civil War" look like? In my view, it must include a geographical split, by definition. And I don't see how that's possible. NOTE * Was it ever?
Stats Watch
Producer Price Index (Final Demand), August 2018: "Wages may have shown inflationary pressures in last week's employment report but prices at the base of the supply chain remain very subdued" [Econoday]. "[Tarriff-affected] metals aside, this report is remarkably benign and includes outright retreats in the overall year-on-year rate, down 5 tenths overall to 2.8 percent and down 4 tenths less food and energy to 2.3 percent. Today's results will not raise any concerns over tomorrow's consumer price report…. Risks over inflation appear to be concentrated in the labor market and not the general economy, at least yet."
Atlanta Fed Business Inflation Expectations, September 2018: "Inflation expectations among businesses moved higher in September" [Econoday]. "the highest reading since… April this year,"
MBA Mortgage Applications, week of September 7, 2018: "Purchase applications for home mortgages rose" [Econoday]. "But applications for refinancing fell."
Retail: "China and Russia are finding strategic common ground in e-commerce. Alibaba Group Holding Ltd. will take a 10% stake in one of Russia's biggest tech players, Mail.Ru Group, the WSJ's Anatoly Kurmanaev and Stu Woo report, to set the groundwork for what the companies say will be the biggest online-shopping platform in Russia. The investment worth about $484 million is relatively modest from Alibaba's standpoint, but the pact marks a potentially significant step in expanding the reach of international digital commerce while building up Russia's online market. The deal represents a high-profile commercial alliance between the separate internet operations that have grown up in China and Russia, largely apart from the West and tech giants like Amazon.com Inc" [Wall Street Journal].
Shipping: "Introduction to Trade Finance" [Shipping & Freight Resource]. "Trade financiers provide or identify sources of capital for firms seeking to invest in international trade and create structures for them to access it. They then operate as a third-party between international buyers and sellers to facilitate the subsequent transaction, reducing the impact of the issues identified above. Specifically, trade finance specialists' experience of international trade ventures enables them to better scrutinise firm's proposed investments and assess the true levels of operational risk to all parties." • Slavers didn't arrive on the beach with chests of gold; the financing was handled back in Liverpool. An interesting read.
Shipping: "Federal Maritime Commission finally addresses detention & demurrage practice" [Logistics Management]. "Ocean cargo shippers have been telling us for some time now that marine terminal demurrage* and carrier detention charges continue to be one of their major headaches…. In its interim report for Fact Finding 28, the FMC has published the observations made by Commissioner Rebecca Dye on its ongoing investigation… Commissioner Dye advised the Commission that she has identified six areas to be developed: Transparent, standardized language for demurrage, detention, and free time practices;
Clarity, simplification, and accessibility regarding demurrage and detention billing practices and dispute resolution processes; Explicit guidance regarding types of evidence relevant to resolving demurrage and detention disputes; Consistent notice to shippers of container availability;
An optional billing model wherein MTOs bill shippers directly for demurrage; and VOCCs bill shippers for detention; and An FMC Shipper Advisory or Innovation Team." * NOTE Demurrage and detention defined: "Demurrage, is a charge levied by the shipping line to the importer in cases where they have not taken delivery of the full container and move it out of the port/terminal area for unpacking within the allowed free days…. Detention is a charge levied by the shipping line to the importer in cases where they have taken the full container for unpacking (let's say within the free days) but have not returned the empty container to the nominated empty depot before the expiry of the free days allowed." • Interestingly, a related post, "Causes of Demurrage and Detention," is the most popular post at Shipping & Freight Resource. So it's a pain point.
Shipping: "Dry bulk orders leap 60%, ultramaxes lead the charge" [Splash 247]. "The Baltic Dry Index has scaled highs this year not seen for four years and looking ahead Splash readers, in an ongoing poll, reckon dry bulk has the second best prospects behind LNG next year."
Shipping: "It turns out the economies of scale at the heart of freight transport can come in handy in getting crabmeat and pork dumplings for lunch. A burgeoning business in New York City is putting industrial shipping strategies to work in food-delivery…. by using bulk-ordering to stretch the economics of moving meals from restaurants to customers. Called Yun Ban Bao—or 'the bulletin board in the cloud' in Chinese—the business uses digital tools to organize the delivery of thousands of orders every day to more than 20 locations in New York City and parts of New Jersey. The niche operation is part of the growing field of nimble, food-focused delivery services piggybacking on the growing comfort consumers have in ordering meals online. YBB has even solved the last-mile problem by having its customers come to pre-arranged pickup points" [Wall Street Journal]. • I wonder how long before the "pre-arranged pick-up points" sprout competing restaurants.
The Bezzle: "Scooter use is rising in major cities. So are trips to the emergency room." [WaPo]. "They have been pouring into emergency rooms around the nation all summer, their bodies bearing a blend of injuries that doctors normally associate with victims of car wrecks — broken noses, wrists and shoulders, facial lacerations and fractures, as well as the kind of blunt head trauma that can leave brains permanently damaged. When doctors began asking patients to explain their injuries, many were surprised to learn that the surge of broken body parts stemmed from the latest urban transportation trend: shared electric scooters." • Yay for "permissionless innovation"! It's also nice to be able to see Silicon's real attitude toward safety revealed so rapidly. Remember this episode whenever you read safety claims by Silicon Valley firms on robot cars, and AI generally.
The Bezzle: "U.S. Judge Says Initial Coin Offering Covered by Securities Law" [Bloomberg]. "A federal judge has ruled that U.S. securities laws may cover an initial coin offering, handing the government a legal victory in its effort to regulate billions of dollars in cybercurrency offerings much like stocks…. About $18.7 billion has been raised this year by so-called ICOs, according to data compiled by Coinschedule.com. Securities and Exchange Commission Chairman Jay Clayton has said the fundraising method should be regulated, adding that he believes the market has become rife with fraud as it quickly expanded with the popularity of digital currencies and blockchains." • $18.7 billion isn't very much in the great scheme of thing…
The Bezzle: "Tesla cuts number of stock colors to streamline production" [Bloomberg]. "Tesla is dropping two of the seven colors it had offered to customers as it tries to streamline production." • So Elon hasn't been able to make the paint booth work by sleeping under his desk?
Tech: "Amazon is stuffing its search results pages with ads" [Recode]. "See, for example, our search below for 'cereal.' The first three results, which take up the whole screen above the fold — everything visible before you scroll — are sponsored placements that appear as search results: Ads for Kellogg's Special K, Quaker Life and Cap'n Crunch. (It's similarly dramatic on mobile, where it takes up the entire first screen.) This is followed by a section featuring Amazon's own brand, 365 Everyday Value…" • I wonder if "Everyday Value" is where the galaxy brains who ran the Clinton campaign got "everyday voter."
Tech: "Facebook and Its Users Are Telling Different Stories" [Bloomberg]. "Americans have drastically cut back their use of Facebook, according to a recent Pew Research Center survey. Yet the company's reported results have held steady. Something is not right…. [Facebook's] numbers should have reflected at least some reduction of user activity. That they don't is almost certainly the result of the company's continued inability to determine how many accounts belong to actual people and how many are fake. Investors and advertisers should take into account polls such as Pew's along with Facebook's user numbers. The combination could be a better indication of true activity levels than the company's bot-distorted estimates." • I don't see why any sensible person would trust Facebook's numbers on users, any more than a sensible person would trust a newspaper's unaudited circulation figures.
Class Warfare
"Some McDonald's workers vote to strike over sex harassment" [Associated Press]. "Emboldened by the #MeToo movement, McDonald's workers have voted to stage a one-day strike next week at restaurants in 10 cities in hopes of pressuring management to take stronger steps against on-the-job sexual harassment. Organizers say it will be the first multistate strike in the U.S. specifically targeting sexual harassment. Plans for the walkout — to start at lunchtime on Sept. 18 — have been approved in recent days by 'women's committees' formed by employees at dozens of McDonald's restaurants across the U.S. Lead organizers include several women who filed complaints with the U.S. Equal Employment Opportunity Commission in May alleging pervasive harassment at some of McDonald's franchise restaurants…. Organizers said the strike would target multiple restaurants — but not every local McDonald's — in each of the 10 cities: Chicago; Durham, North Carolina; Kansas City, Missouri; Los Angeles; Miami; Milwaukee; New Orleans; Orlando, Florida; San Francisco and St. Louis." • Nice to see how hard liberal Democrats are pushing this. Oh, wait….
"Yes, it could happen again. The flaws of American capitalism invite cycles of booms and busts." [Steven Pearlstein, WaPo]. "Could it happen again? To Hyman Minsky, a 20th-century economist as wise as he was overlooked, the answer was obvious: It could, and it would. According to Minsky's 'financial instability hypothesis,' financial systems — and the free-market economies that rest on them — are by their nature unstable, tending toward what he called 'Ponzi finance.' In boom times, companies take on too much debt, which gets them into trouble when profits fall, as they inevitably do, forcing them to sell assets to pay interest on those debts, causing asset prices to fall and triggering even more forced selling and market panic….. Although Minsky's theory found little resonance during the benign markets of the 1950s and '60s, it seemed to perfectly describe the 2008 financial meltdown, whose anniversary we mark this month. With corporate credit at an ominous all-time high and the stock market enjoying a record-breaking bull run, it's a fair guess the United States is on the verge of another 'Minsky moment.'" • Here is Minsky (PDF from the Levy Institute). You should read this in full; it's short, there's not an equation in it, and the writing is insanely lucid. Pearlstein's article is also worth a read, since it amounts to a wholesale rejection of the neoliberal economic model that's dominated policy-making since the mid-70s. Quite odd to see this in The Bezos Daily Shopper!
Autre temps, autre merde:
for fun i'm reading a schlocky book about being a crime reporter in Japan ("Tokyo Vice") and when the narrator describes how the Yakuza made its money in 2003 it's like… basically normal stuff for an American investment firm. the author puts it, "Goldman Sachs with guns"

— kill ? tim ? faust (@crulge) September 12, 2018
News of The Wired
"A single gene mutation may have helped humans become optimal long-distance runners" [Phys.org]. • Being able to run fast is, I would say, adaptive…
"Apple website suggests new iPhones to be named XS, XS Max, Xr" [Reuters]. "Wretched excess," amiright?
* * *
Readers, feel free to contact me at lambert [UNDERSCORE] strether [DOT] corrente [AT] yahoo [DOT] com, with (a) links, and even better (b) sources I should curate regularly, (c) how to send me a check if you are allergic to PayPal, and (d) to find out how to send me images of plants. Vegetables are fine! Fungi are deemed to be honorary plants! If you want your handle to appear as a credit, please place it at the start of your mail in parentheses: (thus). Otherwise, I will anonymize by using your initials. See the previous Water Cooler (with plant) here. Today's plant (CC):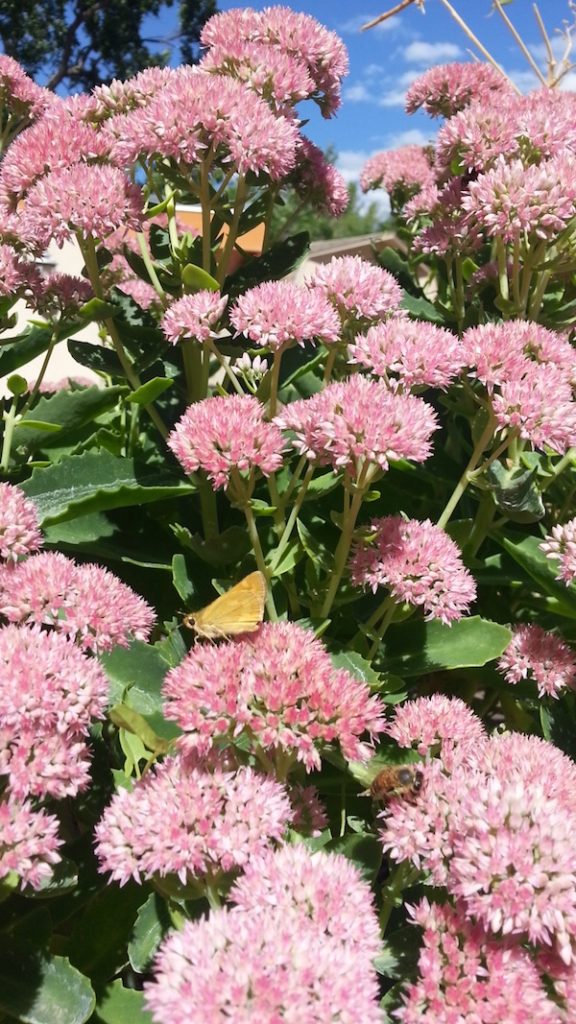 CC writes: "A pretty little yellow butterfly along with a honey bee on the sedum. Forage for the nectar drinkers is becoming scarce this time of year, and they're all over the sedum which just came into bloom this week."
Readers, I'm running a bit short on plants. Probably a little soon for fall foliage, or wrapping up the garden, but I'm sure you can find something!
* * *
Readers: Water Cooler is a standalone entity not covered by the annual NC fundraiser. So do feel free to make a contribution today or any day. Here is why: Regular positive feedback both makes me feel good and lets me know I'm on the right track with coverage. When I get no donations for five or ten days I get worried. More tangibly, a constant trickle of small donations helps me with expenses, and I factor that trickle in when setting fundraising goals. So if you see something you especially appreciate, do feel free to click the hat!

To give more, click on the arrow heads to the right of the amount.
If you hate PayPal — even though you can use a credit card or debit card on PayPal — you can email me at lambert [UNDERSCORE] strether [DOT] corrente [AT] yahoo [DOT] com, and I will give you directions on how to send a check.