By Lambert Strether of Corrente.
Trade
"One of the electronics world's bedrock supply chains is getting caught up in U.S.-China trade tensions. Apple Inc. warns proposed U.S. tariffs on $200 billion of Chinese goods would affect some of its signature products…, highlighting questions over the global manufacturing strategies that are central to consumer electronics" [Wall Street Journal]. "Apple's alarm marks the first time the company has detailed specific damage the trade battle could inflict on its hardware lineup, and its potential impact on network of suppliers across its Asia-focused supply chain. President Trump has a simple solution for Apple, saying the company should move production to the U.S. from China, where it assembles most of its products."
"Roughly two months after President Donald Trump and European Commission President Jean-Claude Juncker established a temporary trade truce, the United States and European Union are pressing ahead with plans to reach both quick results on bilateral trade in areas like regulatory cooperation as well as longer-term initiatives that might require Congress' participation" [Politico]. "U.S. Trade Representative Robert Lighthizer and EU Trade Commissioner Cecilia Malmström met for roughly three hours Monday morning in Brussels as part of the new Executive Working Group, which Trump and Juncker set up in July to tamp down escalating tensions stemming from the steel and aluminum tariffs. Afterward, the two leaders spoke of a 'forward-looking' and 'constructive' meeting in which they discussed 'how to achieve concrete results in the short to medium term,' as Malmström put it in a Twitter statement. Lighthizer added that 'specifically, we hope for an early harvest in the area of technical barriers to trade.'" • Makes me wonder if Trump whacking Canada was an example of "kill a chicken to scare the monkeys."
"The Trump administration remains hopeful that it'll be able to close a three-way deal that includes Canada, White House officials said Monday. "We continue to have ongoing conversations with the Canadians and are still hopeful we'll come to an agreement with them," press secretary Sarah Huckabee Sanders told reporters" [Politico]. • FWIW!
Politics
2020
UPDATE "Is the Left Ready to Handle National Security?" [Politico]. "One of the problems with the left's principled foreign policy positions is that they resemble something the left has spent a lifetime rallying against: neoliberalism. For the left, the term 'neoliberalism' has often had a pejorative association with capitalist empire; a ruling class controlling the global means of production while the rest of us take out loans for our avocado toast. Yet neoliberal foreign policy—especially as understood in the field of international relations—reflects a commitment to democracy promotion, human rights, economic interdependence, multilateralism over unilateralism, the primacy of upholding international commitments and the legitimacy of international institutions like the United Nations. In other words, a neoliberal foreign policy looks strikingly similar to what the left repeatedly advocates. It should thus be unsurprising that some neoliberals are of the political left." • "Reflects a commitment" is doing a lot of work, there. How did the Iraq War do any of those things? How did [genuflects] Obama's drone strikes?
2018
55 days until Election Day. 55 days is a long time in politics.

UPDATE "Establishment Democrats Are Pouring Millions Into Rhode Island to Save an Unpopular Governor From an Insurgent Challenge" [The Intercept]. "Democratic Gov. Gina Raimondo is working to fend off a progressive, albeit underfunded, primary challenge from the left. Matt Brown, a former Rhode Island secretary of state, is running a grassroots campaign against Raimondo, who he describes as 'the most extreme corporatist Democrat in the country.' The Democratic Governors Association has pumped in $1 million to support Raimondo, money that won't be available for Georgia, Florida, or Maryland." • The article doesn't mention how Raimondo is beholden to private equity, but it should have.

UPDATE "Their new mission? Foil Trump. Ex-intelligence officials run for Congress as Democrats." [CNBC]. "Fed up with what they see as Trump's disdain and distrust of the intelligence community — and his refusal to embrace fully the conclusion that Russia interfered in the 2016 election — an unusually large number of former intelligence officers and operatives are campaigning for office as Democrats in this fall's midterm elections, according to experts." • WSWS posted on this back in March, which more people would know about, if Google didn't suppress them.
Obama Legacy
"Obama, Trump, and the Golden Age of political hypocrisy" [Patrick Eddington, The Hill]. "But the fact of the matter is that Obama and key former senior officials who worked for him lack the moral authority and political credibility to go after Trump on the issues of "honesty and lawfulness" in government. Their past misdeeds and untruthfulness while in federal service render their attacks on Trump hypocritical and hollow. This is particularly true among that segment of the public that voted for Trump in 2016 but who might be persuaded to reconsider that decision in 2020, assuming Trump is not removed from office before then. That Trump is unfit—emotionally and temperamentally—to remain in office is manifest. That key Democratic "leaders" in the so-called "Resistance" are themselves ethically and politically bankrupt is also obvious." • Eddington is from the Cato Institute….
Realignment and Legitimacy
"Campaigns, Parties Can Accept Free Service From Microsoft, FEC Says" [Roll Call]. "Federal campaigns and national party committees can accept free security services from the Microsoft Corporation after a recent Federal Election Commission ruling…. The ruling, approved by a 4-0 vote at a commission hearing Thursday, noted the potentially 'severe and long-term' damage to the Microsoft brand if a campaign were breached by hackers, especially considering the, "public scrutiny regarding foreign attempts to influence U.S. elections…. Federal election law prohibits companies from providing free services to lawmakers. But the FEC would make an exception in this case, it ruled, because Microsoft would be acting out of business interests and not trying to curry favor. The decision also noted that Microsoft has promised to offer the services 'on a non-partisan basis.'" • Huh? We're rewriting the law because a corporate brand might be damaged? Who's running the FEC these days? Lanny Breuer*? NOTE * See link at "you made a reference to losing sleep at night, worrying about what a lawsuit might result in at a large financial institution."

"How Money Affects Elections" [FiveThirtyEight]. "Money is certainly strongly associated with political success. But, 'I think where you have to change your thinking is that money causes winning,' said Richard Lau, professor of political science at Rutgers. 'I think it's more that winning attracts money.'" • Hmm. Hard to imagine political scientists can't take this into account.

"Rogue billionaires are giving the GOP and Democrats a migraine" [McClatchy]. "Republican Richard Uihlein and Democrat Tom Steyer have poured tens of millions of dollars into the 2018 campaign. And their political parties are irritated about it…. 'Both parties have never been weaker than they are at this point in time,' said Jim Manley, a longtime Democratic operative. 'It allows vanity projects to dominate the process. These wealthy donors are taking over functions that have usually been left to the parties in years past.'" • Hmm. "It's her turn" sounds an awful lot like a "vanity project" to me. As, to be fair, does the exclamation point in "Jeb!"

"AP Poll: Voters open to candidates who aren't very religious" [Associated Press]. "Just 25 percent of Americans say it's very or extremely important that a candidate has strong religious beliefs, according to the poll. Only 19 percent consider it very or extremely important that a candidate shares their own beliefs, and nearly half say that's not very important or not important at all…. Still, most Americans see a role for religion in shaping public policy. A solid majority of Americans, 57 percent, want the influence of religion on government policy to extend beyond traditional culture war issues and into policies addressing poverty. Americans are more likely to say religion should have at least some influence on poverty than on abortion (45 percent) or LGBT issues (34 percent)." • Looks like the Poor People's Campaign is more in the mainstream than one might think.

"State Supreme Courts Increasingly Face Partisan Impeachment Threats" [Governing]. "The current effort to impeach the entire West Virginia Supreme Court, while not unprecedented, is taking place against a backdrop of political attacks against judges elsewhere…. Still, in a time of intense partisan divisions, voters want to see their 'team' win more often. They're less likely to worry about an assault on separation of powers or other concepts that they may hazily remember from civics class. After Senate Republicans kept a seat on the U.S. Supreme Court vacant for more than a year, GOP voters were a lot less interested in punishing them for violating a norm than they were in electing a president who would pick a justice they liked." • The Norms Fairy makes an appearance…

"Wear gloves" [West Coast Stat Views].

More on blockchain under "The Bezzle," below.

UPDATE "A Statement by R.L. Stephens Regarding the DSA Investigation" [Google Docs]. • I am not au courant with DSA's internal politics. But no matter how you slice it, this doesn't look good.

UPDATE "Report of Independent Investigation into Allegations of Sexual Assault, Harassment and Bullying" (PDF) [Cohen, Weiss, and Simon]. For background–

UPDATE "A Conversation with R.L. Stephens" [Philadelphia Partisan]. R.L. Stephens. "Let's talk about the brake light program, for example. The brake light program is not something that I came up with. It started in New Orleans, where people are going and trying to replace tail lights on cars, having an articulation of how the police use these broken tail lights to pull people over. They conceived of it as a mutual aid program. There's a variety of different ways that people are looking at this program: mutual aid or whether there's going to be a campaign to actually attack the police relations that actually put people in danger […] There's a lot of criticism. This got called 'white saviorism' in the organization which, again, in this context is a re-articulation of this brokerage thing: 'Is Black emancipation just for Black people?' And their answer is 'Yes,' because if you try to participate in it, then you're a white savior. I think that pejorative was a disciplining mechanism to try to delegitimize the efforts of people in this organization to break out of this trickle-down, entitlement-based, mass politics. […] And, it wasn't just a disciplining mechanism against the white people in the organization, because there were people of color doing it too, and they got called 'white saviors'! And there was a conversation about 'these people,' the masses, are not our base. There was chatter around that!" • Hmmm…
Stats Watch
NFIB Small Business Optimism Index, August 2018: "The Small Business Optimism Index rose 0.9 points in August to 108.8, a new record in the survey's 45-year history" [Econoday]. "Featuring the highest reading in inventory investment plans since 2005 and the highest reading for capital spending plans since 2007, as well as historical records in job creation and job openings, the August survey shows small business owners shifting into high gear to realize their earlier less concrete optimistic expectations of better business conditions and the view that now is a good time to expand. Yet the survey results may be seen as indicative of overheating, supporting the need for further tightening by the Fed." And: "The record-breaking figure is driven by small business owners executing on the plans they've put in place due to dramatic changes in the nation's economic policy" [Econintersect]. And: "A record 25% of owners cited "quality of labor" as the single most important problem facing their company 34% said now is a good time to expand business, up two points from prior month" [Industry Week]. And: "Note: Usually small business owners complain about taxes and regulations. However, during the recession, "poor sales" was the top problem. Now the difficulty of finding qualified workers is the top problem" [Calculated Risk].
JOLTS, July 2018: "Job openings are absolutely surging while hiring is falling further behind" [Econoday]. "The number of openings, for the first time on record, moved past the number of people actively looking for work in March this year. This gap also keeps widening…. Another sign of pressure, one watched by Jerome Powell, is the quits rate in this report which, up 1 tenth to 2.4 percent, is on the rise and what points to increasing willingness of those with jobs to look for better work." • One word, Jerome: "Monopsony." Not to worry. And: "Job openings are at a record level, and quits are increasing year-over-year. This was a strong report" [Calculated Risk]. And but: "The headline seasonally adjusted view shows little change in job openings. The unadjusted data analysis shows rate of growth did not significantly change" [Econintersect].
Wholesale Trade, July 2018: "Wholesales inventories rose… in a welcome build that will not only help third-quarter GDP but will narrow the gap with underlying sales" [Econoday]. "Checking tariff effects, inventories of metals at the wholesale level are showing significant distortions." • I dunno if I'd say "distortions," because I don't believe in The Equilibrium Fairy. Perhaps "the effects of new power relations?" And: "Overall, I believe the rolling averages tell the real story – and they improved this month. The short term trends are showing an improving cycle beginning in 2016" [Econintersect]. "Inventory levels this month are are the high side of normal – but not recessionary."
Consumer Expecations: "July 2018 Consumer Expectations: Largely Unchanged" [Econintersect]. "The Federal Reserve Bank of New York's Center for Microeconomic Data released the August 2018 Survey of Consumer Expectations, which shows a slight increase in the medium-term inflation expectations. Expectations about income and spending growth remained stable, while expectations about household financial situations improved… Median one-year ahead earnings growth expectations increased from 2.4% in July to 2.5% in August, tying its 12-month trailing average. The increase was most pronounced among lower educated (high school degree or less) respondents."
Income: "Americans Haven't Felt This Good About Income Growth Since 2001" [Transport Topics]. "Economists say the country is close to full employment, but pay gains for American workers have been flat since 2015. Even last week's upward blip in wage growth could be wiped out by inflation. Yet Americans haven't been this optimistic about future pay raises since the century began, according to the Conference Board's monthly surveys. The question is why. Answers are elusive."
Shipping: "Déjà vu all over again: kill the Jones Act now" [Freight Waves]. "Understanding the full implications of the Jones Act is complicated, as it reaches into a variety of sectors and interests. There are no less than 16 congressional committees and 6 federal agencies that have some form of oversight authority on the Jones Act. Nevertheless, the incumbent interests, regulators, and politicians inured to the privileges of a system that benefits a concentrated and well-organized few, persist…. While the world eyes the imminent devastation of Hurricane Florence, other storms such as Hurricane Isaac are also barreling headlong toward North American island communities…. It looks like [Puerto Rico] very well may get hit again. Among all the impediments standing in their way on the long road to recovery, the Jones Act won't be going anywhere. It's like a bad dream all over again."
Shipping: "Air freight capacity concerns prompt new forwarder strategies" [Lloyd's List]. "Reflecting concerns expressed by other freight forwarders, SEKO Logistics' VP for marketing, Brian Bourke told Lloyd's Loading List that despite infrastructure and cargo handling constraints at several airports recently in Europe and elsewhere, the biggest concern facing the industry was not accommodating higher volumes of air freight through the airports, where he argued there was sufficient ground handling provision in place, but a lack of aircraft capacity and lift."
Transportation: "Is New Car Technology Leading to More Distracted Driving?" [Automotive IQ]. "These bells and whistles aren't a terrible thing, but having too many toys in your car can be dangerous. According to the AAA Foundation for Traffic Safety, just taking your eyes off the road for two seconds can more than double your risk for a car accident." And here is a typology of driver distraction:
Types of Driver Distraction
Unfortunately, you can still be distracted even if you have your hands on the wheel and your eyes on the road. There are three main types of driver distraction, which include:

1. Manual: You've taken your hands off the wheel for some reason, whether it's to check your cell phone, adjust the AC or turn up the radio.
2. Visual: You've taken your eyes off the road.
3. Cognitive: You've taken your mind off the road.

If you pick up your cell phone to check a text message, you're experiencing all three types of driver distraction. Even hands-free technology isn't fully distraction-free. Telling your car to call someone and then having a conversation is a type of cognitive distraction, even if your hands are on the wheel and your eyes are on the road.

. According to experts, you're six times more likely to be involved in a car accident while texting and driving than you are while driving under the influence. Remember how we mentioned that taking your eyes away from the road for just two seconds doubles your risk of a car accident? Answering a text takes roughly five seconds.
There were 37,461 fatal car accidents in the United States in 2016; one quarter of 37.461 is 9365, the price of convenience, you might say. And also the price of "permissionless innovation." I imagine the application of the precautionary principle to cell phones would have saved those lives, but it's hard to see how that would work out in practice, institutionally.
The Bezzle: "Nomura/Instinet Downgrades Tesla Motors (TSLA) to Neutral, Says Equity is 'No Longer Investable'" [Street Insider]. Nomura/Instinet analyst Romit Shah: What Apple taught us is that, once brand recognition is established, consumer behavior can begin to deviate from traditional economics in ways that benefit the company immensely. With the launch of Model 3, we saw that consumers were willing to forego compelling alternatives despite extended wait times and a premium price point. That said, consumers are fickle and we suspect could become scared about buying a Tesla if they believe the company might not be around long term." • Readers, I'm not sure how this source got on my list. If there are better alternatives, please suggest. Thanks!
The Bezzle: "Breaking the blockchain: Major projects shelved as hype fades" [Financial News]. "many of the capital markets projects announced in recent years have been delayed, put in limbo or shelved altogether." (Projects at the Australian Stock Exchange, Depository Trust & Clearing Corporation, and NEX Group.) More: "For much of finance, the fact that participants on the blockchain can see each others' transactions has proven to be an obstacle. Faced with the prospect of overhauling their internal systems in order to participate in blockchain-related trials, banks have chosen instead to fall back on existing technology — calling the value of the trials into question…. Not connecting directly to the blockchain is less efficient, but given the alternative of potentially exposing transactions to the entire market, banks are treading lightly." • Well worth a read for blockchain and banking IT buffs.
Our Famously Free Press
"How Faking Videos Became Easy and Why That's So Scary" [Bloomberg]. "A minute-long video of Barack Obama has been seen more than 4.8 million times since April. It shows the former U.S. president seated, with the American flag in the background, speaking directly to the viewer and using an obscenity to refer to his successor, Donald Trump. Or rather, his lips move as the words are spoken. The video is actually a so-called deep fake made by actor-director Jordan Peele, who impersonated Obama's voice. Peele created the video to illustrate the dangers of fabricated audio and video content depicting people saying or doing things they never actually said or did. Researchers at New York University describe deep fakes as a 'menace on the horizon.'" • Not on the horizon at all. Suppose the big revea of RussiaRussiaRussia is digital. How on earth are we to trust the provenance, given the actors and the stakes?
UPDATAE "In choosing The New York Times to distribute the anonymous op-ed, 'I am part of the resistance inside the Trump administration," the Republican writer reaffirmed what we've only seen reinforced in the last two years: The Times still stands for credible, accountable, agenda-setting news reporting and analysis. The right-wing pseudo press may decry it, but, day after day, they follow it. They remain reactive" [Nieman Labs]. • After Judy Miller's really and truly fake WMDs story helped ignite the Iraq War, which the Times was all in for. After the Times suppressed James Risen's story on warrantless surveillance until after Bush was safely elected to his second term. In fairness, these incidents do not speak to the factual claim that the Times is "credible, accountable, agenda-setting." But one might ask why that remains so.
Gaia
"California Mandate for 100% Clean Energy by 2045 Signed Into Law" [Courthouse News]. "The climate change mandate forces utilities to incrementally ditch fossil fuels in favor of renewable electricity and joins the Golden State with Hawaii as the only states wholly committed to a zero-carbon energy sector. [Governor Jerrry] Brown says Senate Bill 100 puts California in line with the goals of the United Nations Paris Agreement and prepares the state for the "existential threat" of climate change." ª Kevin DeLeón, the author of the bill, is running for Senate (he supports Medicare for All).
"In Detroit, urban beekeepers partner with businesses to build a bee highway" [New Food Economy]. "People think of beekeeping as a rural pursuit, but honeybees can thrive in urban areas. Comprehensive studies on urban beekeeping are limited, but data in specific geographies from Boston to London suggest that bees actually do better in cities than in rural areas…. 'The levels of pesticides and fertilizers is much higher in a rural setting because of people treating their crops or in suburban areas,' Peterson-Roest says. 'Everybody has to have the best-looking lawn, and they spray for those dandelions and want to make sure that their yard is weed-free. But nobody is spraying the abandoned lots and the organic gardens.'… Urban environments also provide diversity in food sources for bees,
Neoliberal Epidemics
"Meth Makes a Comeback as Opioid Epidemic Worsens in Colorado" [Governing]. "Meth's resurgence comes as the opioid epidemic continues to worsen across Colorado. Statewide, 1,012 people died of accidental overdoses last year, 100 more than in 2016, state health department records show." • These lives are not professional lives, so they don't matter to liberal Democrats. Hence, there's no party position or program.
Class Warfare
"Balloting materials to be mailed tomorrow on UPS-Teamster pacts" [DC Velocity]. "Balloting materials will be mailed out starting tomorrow for Teamsters union members to vote on proposed five-year contracts covering 256,000 workers at UPS Inc.'s small-package operations and 12,000 additional workers at the Atlanta-based company's less-than-truckload (LTL) unit, according to Teamster dissident group Teamsters for a Democratic Union (TDU). For the first time in the long relationship between UPS and the Teamsters, ." • Yikes! This uses the same horrid architecture that CalPERS does, which leads to speculate that CalPERS management is using this technology due to, if not union pressure, a union's weltanschauung. The question of why union leadership would advocate for an inherently insecure voting method being, at this point, open…
"data for politics #20: A #MeToo Effect? Attitudes About Gender Equality and Workplace Harassment" [Data for Progress]. "The #MeToo movement, and the discussion of #MeToo in the media may have led to the increased awareness of sexual harassment against women in the workplace. However, this data suggests that the movement may not be changing Americans' views on other key issues that are connected to harassment: discrimination in the workplace, gender equality, and attitudes about women who speak out against harassment. Although the #MeToo movement may be talked about as a watershed moment for sex equality, its reach is not universal and many attitudes about equality, opportunity, and harassment aren't yet moved." • Concerning if you're in the "raising awareness" business, as so many NGOs are. Also concerning if you're in the closely allied stigmatization sector. Unless your business model is the self-licking ice cream cone, of course.
"The next financial crisis 'will be more severe' socially and politically, says billionaire investor Dalio" [MarketWatch]. • I'm not even going to quote Dalio's views on macro, which are horrible. And I'm seeing this narrative everywhere, which is making me counter-suggestible; there's some weird kind of normalization going on, and I don't like it. And if the next crash comes from accounting control-fraud leverage, like the last one, where's that happening?
"America moves closer to being a cashless society" [MarketWatch]. "Cashless commerce is popping up around the country, particularly in restaurants catering to a younger crowd, which is likely to leave home without any greenbacks, or even a wallet, and instead choose to live life with a smartphone and a few credit or debit cards attached. Businesses who've gone cashless rave about the results. Flatstick owner Sam Largent told me plastic-only reduces error rates during times of complex accounting, such as calculating tips when shifts change. Cash sure seems to be on the ropes. The dollar value of cash transactions sank 7% from 2010 to 2015, according to The Nilson Report, while credit and debit card payments rose nearly 50%. Meanwhile, ATMs, which had their 50th birthday last year, are disappearing around the block and around the world, signaling the decline of the "cash run." • Some shelves were bare at the convenience store where I forage for snacks; the cashier explained that they were short-staffed, with some new hires out sick, and then attributed that to their having to handle germ-laden cash. Call me crazy, but this is a college town, and the students are back. I would bet their hacking and sneezing in our first cold snap has more to do with viral transmission than cash, so propaganda works…
News of The Wired
"Illusion of control: Why the world is full of buttons that don't work" [CNN]. • This story seems to be broken at "Read more." Still, I love the notion of a "placebo button"!
* * *
Readers, feel free to contact me at lambert [UNDERSCORE] strether [DOT] corrente [AT] yahoo [DOT] com, with (a) links, and even better (b) sources I should curate regularly, (c) how to send me a check if you are allergic to PayPal, and (d) to find out how to send me images of plants. Vegetables are fine! Fungi are deemed to be honorary plants! If you want your handle to appear as a credit, please place it at the start of your mail in parentheses: (thus). Otherwise, I will anonymize by using your initials. See the previous Water Cooler (with plant) here. Today's plant (MG):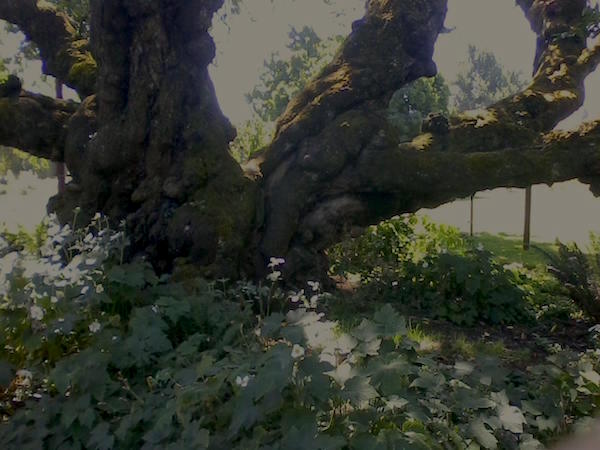 MG writes: "This is a Tartarian Cherry tree in our local city rose garden." I love that twisted trunk, so at odds with the simple sphericity of the cherry. It's hard to shoot into the sun, so I fiddled with the levels a bit. I hope this reproduces on-screen. Also "local rose garden"!
* * *
Readers: Water Cooler is a standalone entity not covered by the annual NC fundraiser. So do feel free to make a contribution today or any day. Here is why: Regular positive feedback both makes me feel good and lets me know I'm on the right track with coverage. When I get no donations for five or ten days I get worried. More tangibly, a constant trickle of small donations helps me with expenses, and I factor that trickle in when setting fundraising goals. So if you see something you especially appreciate, do feel free to click the hat!

To give more, click on the arrow heads to the right of the amount.
If you hate PayPal — even though you can use a credit card or debit card on PayPal — you can email me at lambert [UNDERSCORE] strether [DOT] corrente [AT] yahoo [DOT] com, and I will give you directions on how to send a check.