By Lambert Strether of Corrente.
Readers, I got distracted by a domestic chore in the midst of writing; I'll add a bit more shortly. –lambert UPDATE All done. Electoral politics is such a rich pageant just now…
Trade
"As Trump embraces more tariffs, U.S. business readies public fight" [Reuters]. "After months of waging a behind-the-scenes war against President Donald Trump's trade tariffs that have escalated far beyond what business groups once imagined, more than 85 U.S. industry groups launched a coalition on Wednesday to take the fight public… The launch of Americans for Free Trade comes as Trump increasingly warms to using tariffs. He has imposed levies on billions of dollars worth of goods on trading partners, prompting retaliation against U.S. exports."
"Trump denies pressure for trade deal as China welcomes U.S. talks invite" [Reuters]. Trump: "We are under no pressure to make a deal with China, they are under pressure to make a deal with us. Our markets are surging, theirs are collapsing. We will soon be taking in Billions in Tariffs & making products at home. If we meet, we meet." • Well, for some definition of "soon," which may not include "soon enough," at least for Trump's electoral hopes. Too bad the Democrats are so conspicuously silent on industrial policy, which is typically coupled with tariff walls when a developing country like our own wants to build an industrial base.
Politics
2020
UPDATE "Anonymous And Trumpism Without Trump" [Lobelog]. "I think [the anonymous New York Times Op-Ed] part of an effort within the Republican Party that will gain strength over the next two years: to build a movement of Trumpism without Trump…. [T]he next Republican politician who comes along will probably borrow just enough of Trump's populism to get elected. Someone like Tom Cotton, the Republican senator from Arkansas, is just the kind of political figure that Anonymous might choose to lead the party to the Promised Land, someone for whom populism is a condiment rather than the main dish." • Really? A condiment?

UPDATE "Let's Take Elizabeth Warren Literally, But Not Seriously" [Seth Ackerman, Jacobin]. "Let's get one thing straight about Elizabeth Warren's much-trumpeted Accountable Capitalism Act (ACA): even under a President Warren, nothing like it will ever see the light of day… why did corporations ever feel the need to consider interests other than shareholders' in the first place? The answer has everything to do with class struggle. Over time and across countries, as Harvard corporate governance scholar Mark Roe has shown, governance regimes are inexorably shaped by the strength or weakness of labor. When workers are strong, managers need greater autonomy to balance the interests of labor and capital, which requires suppressing the erratic and destabilizing demands of capital markets. But when workers are weak, owners can pursue immediate and unbridled profitability without fear of labor conflict." • That Mark Roe article that Ackerman dug out is interesting, too.
2018
53 days until Election Day. 53 days is a long time in politics.

UPDATE "The Note: Primary season highlights Democrats' leftward march" [ABC]. "Only two incumbent Democratic House members lost their primaries this year, and no incumbent senator had to even sweat it." • Some march!

UPDATE "Jimmy Carter cautions Democrats not to scare off moderates" [Associated Press]. "'Independents need to know they can invest their vote in the Democratic Party,' Carter said Tuesday during his annual report at his post-presidential center and library in Atlanta, where he offered caution about the political consequences should Democrats 'move to a very liberal program, like universal health care.'" • Sweet Lord, even "universal health care," the liberal attempt at brand confusion with #MedicareForAll is too much. If liberal Democrats can't even deliver on that, what good are they?

"Bush is boosting Republican candidates in districts where Trump lags" [National Public Radio]. • And after liberal Democrats went to such lengths to rehabilitate Bush and suck up to him generally. ("He gave Michelle candy [sqeee]!") I'd speculate that, as usual, Republicans will vote for real Republicans, even the credentialed suburban Republicans liberal Democrats wish so desperately to appeal to.

NY: Prominent Clintonite bemoans New York voter rolls:

Guess who wasn't on the rolls this morning at the polling place I've voted for four years?

— Rebecca Traister (@rtraister) September 13, 2018

First, they came for the Sanders supporters….

NY Governor: "Mailer linking Nixon to anti-Semitism was approved by top Cuomo aides" [New York Post]. "The revelations come five days since the mailer — paid by the state Democratic Party* — hit 7,000 mailboxes in Jewish neighborhoods. Cuomo has adamantly denied he had anything to do with the smear. But sources said one of his longtime confidants was deeply involved. 'Schwartz was very involved with the mailer and signed off on it,' a Democratic source said, describing the aide as a 'henchman' and 'enforcer.'" • What I can't figure out here is Ratface Andy's motive. He's well ahead of Nixon, so why smear her as anti-Semitic? Since the Democrat Party paid for the mailer, perhaps they're test marketing whether Tory/PLP smears of Corbyn will work in this country (presumably against Sanders). Or perhaps Cuomo is sending a 2020 message that he's a brawler. Or perhaps liberal Democrats just can't help themselves, and smear the left for no reason at all (except possibly for fun). NOTE * Somebody should ask DNC deck-chair Perez about this.

UPDATE RI Governor: "Rhode Island's Raimondo Brushes Aside Progressive Challenge" [New York Magazine]. "[Gina Raimondo, a] Harvard-educated former Rhodes Scholar and venture capitalist also to epitomize the sort of technocratic Clinton-era centrist that many of today's progressives blame for ruining the Democratic Party. Raimondo earned the ire of public-sector unions and many progressive activists by advocating (as state treasurer and then as governor) state pension reforms that included a shift from defined benefits to defined contributions, the prevailing private-sector trend. [Matt] Brown, backed by Justice Democrats and promising to reverse many of Raimondo's policies, called her "probably the most extreme corporatist Democrat in the country." In a state with a tradition of strong grassroots progressive activism, and with no public polling to indicate otherwise, an upset seemed entirely possible. But Raimondo, who vastly outspent Brown, won by a 57/34 margin." • "Seemed"?

UPDATE TX Senate: "Meet the 'new' Texas Democrats fueling Beto O'Rourke's race" [McClatchy]. "eto O'Rourke is awakening a grassroots movement in Texas — one that's led by gray-haired, once-loyal Democrats who are aggressively working to end decades of their own political dormancy in Texas. It's not the sleeping Latino base that Democrats have long believed would help them flip Texas blue — and whose engagement remains a critical question for the party's prospects of a full-blown comeback in a state that hasn't voted for a Democrat for president since Jimmy Carter in 1976 — or elected a Democrat statewide since 1994. Yet O'Rourke's energetic trek through rural parts of the state has electrified a different piece of the base that's also been missing for his party in recent years: Older supporters with the time to organize the nuts and bolts of a grassroots campaign. O'Rourke's army of retirees has spent the last year and a half knocking on doors, filling much-hyped campaign rallies and wallpapering the state with his campaign swag." • Wait, what? The so-called Obama Coalition doesn't exist after all in Texas?! And I do't know Texas, so all I can do is speculate, but does't it seem a little odd to expect to win by firing up a base that's been losing for twenty years?
911
Remember that inspiring moment of national unity that culminated in the Iraq War?

This photograph was taken in an exhibit showcasing artifacts from the Bush Administration. President Bush paused for a moment with no one else around and just stared at the bullhorn he used when he climbed on top of the crushed fire truck at Ground Zero … https://t.co/mesjepn07v pic.twitter.com/iF5Ju7itPT

— Grant Miller (@gmillerphoto) September 12, 2018

We have a winner:


Success of an asymmetric ("terror") attack is measured by the extent of reactive self-injury it ultimately induces on the more powerful side of the asymmetry.

— William Gibson (@GreatDismal) September 11, 2018
The Liberals Have Lost Their Minds
UPDATE Neera needs to get that knee seen to:


I would literally pay for a service to purge @SusanSarandon in every form from my feed. This woman has borne no pain from her stance on Trump and seems perfectly happy at the suffering of others. Kids in cages. But thankfully she's inspired. https://t.co/Jbq0hqcm67

— Neera Tanden ? (@neeratanden) September 12, 2018

More seriously, that "borne no pain" seems to be the latest virtue signaling trope; the "pain" being the never-to-be-healed wound of backing a candidate who lit $1.4 billion on fire and threw it up in the air, while losing to a reality TV star.
Realignment and Legitimacy
"The Hidden Influencer" [Gartner L2]. "[O]n Instagram, where invisible users with fewer than 5,000 followers can pack a powerful punch. Such is the case with toddler tonic-turned-hangover cure Pedialyte, which used the platform to transform from children's medicine into adult must-have. The idea of Pedialyte as a hangover cure had been floating around on social media for some time before the brand officially decided to target the audience in 2015. But while Pedialyte could have reached out to those already buzzing about it, like Pharrell, the brand chose to think small. By pairing up with Instagrammers boasting less than 1,000 followers, or "advocates" according to Gartner L2's report on the group, the brand was able to build an army of genuine fans. Armed with the hashtag #PowderPackedSummerTeam, they headed to 144 music festivals and sporting events throughout the US, accompanied by an interactive campaign on Twitter called #SeeTheLyte…. Adults now make up at least half of brand sales, up from about a third before the push." • Well, no wonder we have a low-trust society; you can't ever know who's trying to sell you something. (In William Gibson's Pattern Recognition (2003), Bond villain Hubertus Bigend's public relations/advertising firm, Blue Ant, has a program of "hidden Influencers." One such, the character Magda: "I'm devaluing something. In others. In myself. And I'm starting to distrust the most casual exchange." I'm not sure the model works in, er, retail politics, because neither candidates nor parties are brands.

"Supreme Court permanently bars split-California initiative" [At the Lectern]. "The Supreme Court today barred the split-California initiative not only from the 2018 ballot, something it had already done, but also from "any future ballot." The permanent action is a consequence of the initiative's proponent abandoning any defense of it in Planning and Conservation League v. Padilla, the writ proceeding challenging the initiative's validity…. The court's order presumably is not precedent that would prevent a different split-California initiative from qualifying for a later ballot. However, any future proponent is on notice that Supreme Court litigation would likely await an initiative that is similar to the one that the court today killed."

"Why the Right to Vote Is Not a Right" [New York Times]. "Republicans on the Supreme Court [in Bush v. Gore] invoked two centuries of jurisprudence when they stopped a recount: 'The individual citizen has no federal constitutional right to vote for electors for the president of the United States.'… [The Founders] failed to enshrine a right to vote in the Constitution or the Bill of Rights. Instead, the Constitution handed control over elections to state and local governments. Local officials developed thousands of different electoral systems with no uniform standards or regulations and little oversight. Elections were organized and supervised by partisans brazenly angling for advantage. [Allan Lichtman's] 'The Embattled Vote in America' traces the consequences through American history."

"Democrats Need to 'Fix Government' If They Win House, Pelosi's No. 2 Says" [Bloomberg]. "House Minority Leader Nancy Pelosi of California has called on fellow Democrats to 'be ready' to govern if the party takes power…. Hoyer called for legislation to require super-political action committees and so-called 'dark money' groups to disclose their contributors, and to public financing of elections. Hoyer said Wednesday that a Democratic majority would the Voting Rights Act, seek to partisan gerrymandering of House districts, and ethics rules for members of Congress." • In other words, incrementalism.

"Autopsy: The Democratic Party in Crisis (PDF) [Karen Bernal, Pia Gallegos, Sam McCann, and Norman Solomon]. From the Executive Summary: "Aggregated data and analysis show that policies, operations and campaign priorities of the national Democratic Party undermined support and turnout from its base in the 2016 general election. Since then, the Democratic leadership has done little to indicate that it is heeding key lessons from the 2016 disaster." • We drew attention to this report in 2017, but it's worth looking at it again. Needless to say, a party that wants to be ready to "govern" would have addressed at least some of these issues. Nothing has been done. Indeed, the Democrat Party has never released an autopsy of its own for 2016.
Stats Watch
Consumer Price Index, August 2018: "Contraction in medical costs and apparel and only a marginal increase in food all held down consumer prices in August" [Econoday]. "The core rate in this report is watched very closely as a fundamental vital sign of the economy. Going out another decimal shows the monthly gain at not even 1 tenth." And: "Energy was the main driver for year-over-year inflation. Core inflation remains above 2.0 % year-over-year" [Econintersect].
Jobless Claims, week of September 8, 2018: "A second straight 50-year low" [Econoday]. And but: "This marks 179 consecutive weeks of initial claims below 300,000, the longest streak since 1970. The general trend of the 4 week rolling average is a slowing rate of improvement year-over-year which historically suggests a slowing economy" [Econintersect]. • That "slowing rate of improvement" caveat always appears at Econintersect. Perhaps it's true?
The Bezzle: "Tesla: What's Really Going on, on the Plant Floor" [Industry Week]. "reports of multiple paint-room fires, a much higher-than-industry-average number of safety incidents (including reports of a leg amputation of a worker playing chicken with a forklift in the parking lot), an exodus of top people and oh yeah, those missed deadlines, have manufacturing vice presidents the world over wondering: SEC investigations aside, what the heck is going on in that plant?" One reaction from Jim Morgan, senior advisor for the Lean Enterprise Institute:
High, make it difficult to see. 'There was on the floor, and the stuff was . There were hilos (fork trucks)—I haven't seen hilos in an assembly floor in a long time. Most of the AGVs (automated guided vehicles) that they were so excited about were empty. I'm not sure what's going on with that. The aisles were , and some of the stuff, piled up, was leaning into the aisle. My take was that 'This is the kind of assembly plants that there were when I first got in the car business, years ago'.

Morgan didn't see much evidence of visual management, and green lighting over work stations makes it even harder to see.

Rear doors are on the Model 3 body going down the main assembly line, while the front doors aren't. "I think most everybody does doors off now. I don't know their process—it was just unusual to see. In most of the plants I've been in, all four doors are off while it's going through the main interior assembly so the workers can get better access, and the doors don't get damaged," he says.

"The other small thing I noticed, were there were . That seemed really odd to me. You don't' see that so much at other plants."

Flexible components are being installed by robots instead of people. "That was another thing that was a little bit reinventing the wheel," he says. "Some of the things like wire harnesses are better put on by people. I think the auto industry has known that forever, and why he would attach that with a robot is really curious to me. I'm not sure why his team would let him go there. Does it point to a bigger problem? Maybe he's got very competent people that he doesn't really leverage."
My interpretation: Musk's plant is a hell-hole. Since Musk is out on the floor all the time — at least before he goes to sleep under his desk — he has to see all this. To me, that means he wants things as they are, for reasons I'm not sure of. I mean, how hard is it to take a quick look at some photos of another plant that performs well? The piece is worth reading in full.
Transportation: "Shrinking pilot numbers hitting business aircraft sales" [Flight Global]. "A growing shortage of pilots in Europe is hitting business aircraft sales, as owners struggle to source crews to fly their assets. That is the view of UK aircraft sales and marketing company Colibri Aircraft, which predicts the squeeze on business aircraft pilots will continue over the coming years, as commercial airlines poach crews in increasing numbers to help address their recruitment demands. Colibri says around 70% of sales it works on encounter difficulties in relation to guaranteeing sufficient access to flightcrews. 'Five years ago, this affected only 20% of our cases,' it notes." • Since conditions for commercial pilots aren't that great, working conditions for private jet pilots must be awful.
Health Care
"Look-Up: Infection Risk Factors At Nursing Homes Near You" [KHN]. • Handy interactive map; pop-ups give names of nursing homes.
Our Famously Free Press
"News Use Across Social Media Platforms 2018" [Pew Research Center]. "Republicans are more negative about the news they see on social media than Democrats. Among Republican social media news consumers, 72% say they expect the news they see there to be inaccurate, compared with 46% of Democrats and 52% of independents. And while 42% of those Democrats who get news on social media say it has helped their understanding of current events, fewer Republicans (24%) say the same.1 Even among those Americans who say they prefer to get news on social media over other platforms (such as print, TV or radio), a substantial portion (42%) express this skepticism." • 
The Crash Ten Years After
Trust me, I'm a professional:
We tracked the employment histories of ~150 Congressional officials most responsible for responding to the '08 crash:

— 40% of senior staff have since worked for giant financial interests

— 30% of lawmakers have as well

Including:
Goldman
Citi
JPMorganhttps://t.co/5pRyjIN6FM

— Jeff Stein (@JStein_WaPo) September 8, 2018
Guillotine Watch
"The Super Rich of Silicon Valley Have a Doomsday Escape Plan" [Bloomsberg]. "Robert Vicino, founder of the Vivos Project, a builder of massive underground bunkers, said Silicon Valley elites discussed detailed plans to flee to New Zealand last year at the World Economic Forum in Davos, Switzerland. He said they foresaw 'a revolution or a change where society is going to go after the 1 percenters.' In other words, them." • Go long bunkers, apparently. Though Vicino is clearly talking his book.
Class Warfare
"Lotteries are Doing More Damage to Those Who Can Least Afford It" [Bloomberg]. "The lowest-income households in the U.S. on average spend $412 annually on lottery tickets, which is nearly four times the $105 a year spent by the highest-earning households, according to a study released on Wednesday by Bankrate.com. And almost 3 in 10 Americans in the lowest income bracket play the lottery once a week, compared with nearly 2 in 10 who earn more than that…. Americans making less than $30,000 a year are most likely to buy multiple lottery tickets each week, the study shows. These low earners spend 2.5 percent of their take-home pay on lottery tickets, or about $8 a week." • So, two lattés. Not a lot of shame in that…
"Who Speaks For the Suffering Upper Middle Class?" [The American Conservative]. "In one Brookings Institution study, researchers reported that nearly one quarter of households earning $100,000 to $150,000 a year claim to be unable to pull together $2,000 in a month to pay bills. Sustained economic growth has not repaired this cycle of debt*. According to Deutsche Bank economist Torsten Slok, Americans have more debt than cash than at any time since 1962. The 2018 Northwestern Mutual Planning and Progress Study found that the average American's personal debt (independent of home mortgages) now exceeds $38,000. Stock market growth and rising home prices have not altered this trend. In a Washington Post report last year, Todd C. Frankel demonstrated how modern life adds up for an upper-middle class family. Frankel reported on a couple in suburban Atlanta with a combined income of $180,000, an indisputably high earning level. But financial uncertainty rises from a mortgage, three children, day care costs, and the prospect of college tuition. the wife, a tax manager, told Frankel. 'I don't have a bunch of money stashed away anywhere.'" • The wife, I think, has "a bunch of money stashed away" confused with capital. And while the headline is worthy of derision, it's worth noting that nobody not in the 0.1% has a safe or stable place to stand (and perhaps not even them; see above). NOTE * So one might question how "sustained" the "growth" really was.
"Echoes from the canyon: One family's cantina in small town Texas" [Scalawag]. "Our family has lived in the Riverside barrio for generations, just a few blocks from the town placita, on the street that dead-ends near the sewage plant and the cemetery founded by the town's earliest settlers. The white kids at school used to call my mother and the other brown kids from that barrio "river rats" because of the odor hanging over that part of town. To this day, the smell of shit and chemicals falls like mist on the rundown houses that line the narrow streets, seeping through the windows like an intruder, battling scents of holy candles and cheap carne. Before he opened the family cantina in the late 1960s, my grandfather often drank at the R&R on Kingsbury Street, standing around the beer coolers with the men while my grandmother and the other wives sat in their cars with the children. Eventually, she'd get bored and go home, and when it got to be too late, she'd have the children call the R&R to ask my grandfather to bring them candy. That always got him home. Wanting to be near the family and tired of buying beer at other cantinas, my grandfather saved up some money, bought a small house across the street from the family home, leased a jukebox, took out the interior walls to make room for a pool table, and opened Tijerina's Cantina." • The whole "knapsack" discourse cannot give an account of complexity like this, which amounts almost to caste as well as class. Makes me wonder if there's such a thing as "the fog of class war." I bet there is.
News of The Wired
For our millennial and post-millennial readers, if any:
Netflix and krill https://t.co/iWkR9qASL6

— Hannah Sierp (@stop_hannahtime) September 11, 2018
"Let's Make it Personal: How Empathetic Technology Can Protect Individuality" (TEd talk) [Dolby]. "I recently spoke at TED about how technology that reads and integrates the personal signatures we give off and exchange will be a new part of how we interact with each other and our technology. It will mean that sharing how we are feeling — our authentic emotions — may at times be out of our control, and might even happen without us knowing. I'm sure this sounds scary to most of us. It does to me. But I truly believe there are more ways this type of 'empathetic technology' can improve our lives than do harm." • Truly believe. Oh.
* * *
Readers, feel free to contact me at lambert [UNDERSCORE] strether [DOT] corrente [AT] yahoo [DOT] com, with (a) links, and even better (b) sources I should curate regularly, (c) how to send me a check if you are allergic to PayPal, and (d) to find out how to send me images of plants. Vegetables are fine! Fungi are deemed to be honorary plants! If you want your handle to appear as a credit, please place it at the start of your mail in parentheses: (thus). Otherwise, I will anonymize by using your initials. See the previous Water Cooler (with plant) here. Today's plant (TH):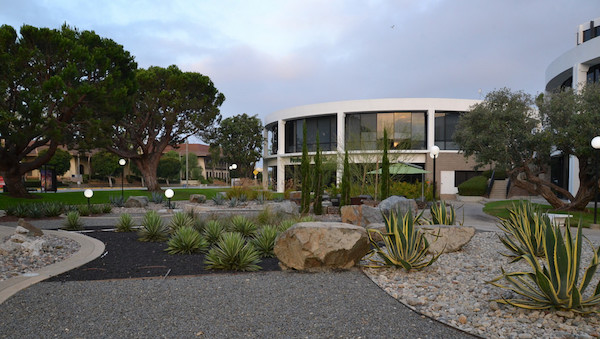 TH writes: "This is a business complex on Hawthorne in Torrance, California, called the Del Amo Crossing. All of the buildings are round and sweeping walkways border xeriscaping of rocks in variety of colors and sizes mimicking a stream and its banks, kangaroo paw for a splash of orange and yellow color, cactus such as blue and variegated agaves, ornamental grasses and a variety of shrubs and trees including spikey junipers that serve to demarcate the lounge area; all accessorized by globe lamps and seats arranged in a semi-circle around the one square—conspicuously not circular: a fire-pit." Normally I'd be a little put off by the corporate setting, even with xeriscaping, but a business complex with a fire pit is so Californian I can't not publish this!
Readers, I'm running a bit short on plants. Probably a little soon for fall foliage, or wrapping up the garden, but I'm sure you can find something! How about a project you completed over the summer?
Let me attempt to level up my cat game again: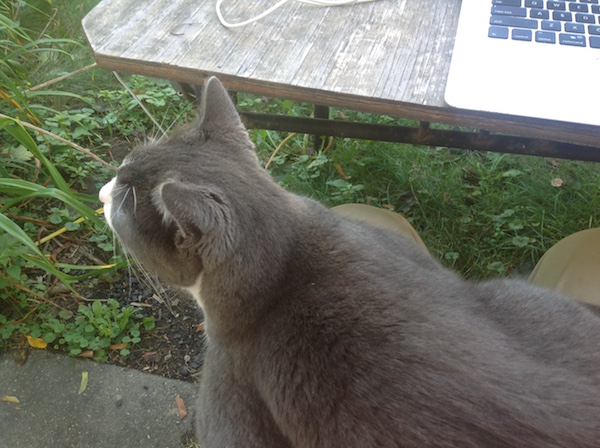 The cat is deciding whether or not to leap down and go kill something, the dear creature. Which won't be easy, since the cat seems to have had a brush with a skunk, removing the element of surprise…
* * *
Readers: Water Cooler is a standalone entity not covered by the annual NC fundraiser. So do feel free to make a contribution today or any day. Here is why: Regular positive feedback both makes me feel good and lets me know I'm on the right track with coverage. When I get no donations for five or ten days I get worried. More tangibly, a constant trickle of small donations helps me with expenses, and I factor that trickle in when setting fundraising goals. So if you see something you especially appreciate, do feel free to click the hat!

To give more, click on the arrow heads to the right of the amount.
If you hate PayPal — even though you can use a credit card or debit card on PayPal — you can email me at lambert [UNDERSCORE] strether [DOT] corrente [AT] yahoo [DOT] com, and I will give you directions on how to send a check.