By Lambert Strether of Corrente.
Readers, as before, I had to stop midway and process Kavanaugh material. I'll have more in a bit. –lambert UPDATE 3:30PM All done.
Trade
"Trump's Tariffs May Hurt, but Quitting China Is Hard to Do" [New York Times]. "As tariffs begin to make China look more expensive, many companies are considering cheaper places to make their products, like Vietnam, Cambodia, Bangladesh and Ethiopia. Already, companies with significant American business like Steve Madden, the fashion designer, and Puma, the German sports brand, have said they will look to shift production out of China…. But China will be hard to quit. From zippers and rivets on jackets and jeans to the minerals used in iPhones, China makes or processes many of the ingredients that go into today's consumer goods. It has a dependable source of workers who know how to hold down factory jobs. It has reliable roads and rail lines connecting suppliers to assembly plants to ports."
"China to Cut Tariffs on Imports Including Machinery, Textiles" [Bloomberg]. "The decision was aimed at meeting the demand of companies to upgrade production and lower costs, and to help fulfill the public's diversified consumption appetite, according to a statement. It follows on from similar moves earlier this year which were aimed at reducing prices of imports to stimulate consumption and is in line with China's pledge to boost imports."
"Japan's Embrace of Bilateral Trade Talks With U.S. Spares It From Tariffs" [New York Times]. "[B]y agreeing to open the talks, Japan received a reprieve from the looming auto tariffs as long as the talks continue. And American officials also accepted Japan's insistence that it would not go any further than its previous commitments in the multilateral trade deal — known as the Trans-Pacific Partnership — to open up its markets for agricultural and forestry imports from the United States. Some analysts suggested Japan had effectively performed a bit of diplomatic jiu-jitsu, giving the appearance of compromising while wrangling concessions from the U.S…. 'I don't think anybody is willing to say the coast is clear,' said Kathy Matsui, chief Japan equity strategist at Goldman Sachs in Tokyo. Still, she said, 'coming to the table and having a conversation is not ideal from Abe's perspective, but it also avoids the worst case scenario for now.'"
Politics
2020
"Hillary Clinton to join Andrew Gillum on campaign trail in October" [Tallahassee Democrat]. "'I'm honored to have Secretary Clinton join me in Florida next month,' Gillum stated in a news release. 'Hillary knows just what's at stake in this election — , a brighter future for our children — and that the choice in this election could not be clearer.'" • I just threw up a little in my mouth.
2018
39 days until Election Day. 39 days is a long time in politics (as we are seeing right now with Kavanaugh).

A collection of Kavanaugh live blogs:

"Live: Christine Blasey Ford and Brett Kavanaugh Testify to the Senate Judiciary Committee" [The Intercept]. "The hearing is in recess for lunch. Ford's obvious credibility as a victim of sexual assault seems to be inflicting damage on the Republican willingness to press ahead with Kavanaugh's nomination, according to Washington reporters."

* "Brett Kavanaugh Hearing: Live Coverage" [FiveThirtyEight]. 1:58: "Well, I guess maybe part of Cory Booker's strategy was to give Ford a break from talking in between her sessions of questioning from Mitchell, but uh, that was also a nice little moment for him to grandstand." • Ouch! Note * For play-by-play analysis, I like this live blog the best, Inside Baseball though it may be. UPDATE "It's still pretty strange to me that Mitchell isn't asking more about the incident itself, and in particular, about the fact that other people Ford says were at the gathering don't have a recollection of it."

"Kavanaugh, Ford hearing live blog: Supreme Court nominee and professor testify on sexual assault accusations" [FOX]. • A surprisingly neutral recap, though if there had been any gotchas I imagine there would be a lot more noise.

"Live updates: Christine Blasey Ford describes sex assault in emotional testimony" [Los Angeles Times]. "In the committee room, senators have watched intently, the only noise has come from the faint sound of reporters typing away on keyboards as Ford and the questioners speak." • I've seen this same sort of reaction elsewhere; Senators actually listening. Elbows on their desks.

"Brett Kavanaugh and Christine Blasey Ford Testify in High-Stakes Hearing—Live Coverage" [Wall Street Journal]. "Former Trump White House officials described Thursday's hearing as a 'disaster' for Republicans that ramps up the pressure on Judge Kavanaugh's testimony later in the day. One former official called the hearing 'worse than any Republican could have expected,' describing Dr. Ford as a 'very credible witness' and criticizing the performance of Rachel Mitchell, the prosecutor hired by Republicans. 'Barring a big f—up by Ford, I don't see how Kavanaugh has a chance to save his own ass in his testimony,' the official said." • Though I'm no expert on the Republican landscape, I believe a lot ot #NeverTrumpers are passionately pro-Kavanaugh, paving the way for another jack move by Trump. But who can tell?

* * *

"Mark Judge's former girlfriend is ready to talk to FBI and Judiciary Committee, her lawyer says" [WaPo]. "It is not clear whether Kavanaugh would ultimately be implicated even if Rasor did testify, but her willingness to do so does highlight just how limited the hearing — at which only Ford and Kavanaugh are expected to testify — is shaping up to be."

* * *

"Bethesda resident describes 'Culture of Privilege' leading to exploitation and abuse" [The Montgomery County Sentinel]. "Elizabeth said she infrequently saw Brett Kavanaugh during this time – often at house parties. "He was cute. He was always nice," she said. One night she ran across an apparently inebriated Brett Kavanaugh and things went differently then. Previously, he had always been nice to her. 'But not that night. He was drunk. He was obnoxious and crude. I had a friend with me and we left. His football buddies were laughing at us. Maybe they were laughing at him, but I didn't take it that way and they didn't do anything to keep him from being a jerk." • Never good to be laughed at by the football team…

"'I Was Ashamed': After Ford's Accusation, Holton-Arms Alumnae Wrestle with Their Own Truths—Together" [Vanity Fair]. "In interviews with more than a dozen alumni from area schools who graduated between the mid-1970s and the early 2000s, I repeatedly heard stories of parties spiraling into debauchery, with drunken, unsupervised teenagers coupling off with various degrees of privacy. Because the students came from a handful of schools, it was not uncommon for the party's host to be a stranger. Indeed, many of the people I spoke with said they couldn't necessarily pinpoint a particular house or give an address. 'I remember my parents would say, 'Whose party are you going to?' And I'd say, 'I have no idea,' the Holton alumni who graduated in '88 told me. "You'd just drive there and look for all the cars." Another Holton alum, who was on the cheerleading squad with Ford, told me that the squad's captains warned them not to go anywhere without two other people, and that if they were alone and drunk with local boys, the boys would say something had happened, whether it did or not. ',' she recalled. 'It was very clear that they would pick out a girl and start complimenting them.' Many witnessed moments like the one Ford described, or heard about them, or experienced them firsthand. ' a woman who graduated from Holton in the early 2000s told me. 'This happened so much that there was nothing difficult to believe about what she's saying. How could anyone doubt this? It felt personal to a lot of us, because her story is so similar to a lot of ours, and so the attacks on her felt personal.' (Kavanaugh has repeatedly denied the claims against him. 'I have never sexually assaulted anyone—not in high school, not ever,' he told Fox News on Monday. 'I've always treated women with dignity and respect.')' • Fascinating process of elite formation….
2016 Post Mortem
"They Always Wanted Trump" [Politico]. Re-upping, from 2016: "So to take Bush down, Clinton's team drew up a plan to pump Trump up. Shortly after her kickoff, top aides organized a strategy call, whose agenda included a memo to the Democratic National Committee: 'This memo is intended to outline the strategy and goals a potential Hillary Clinton presidential campaign would have regarding the 2016 Republican presidential field,' it read. 'The variety of candidates is a positive here, and many of the lesser known can serve as a cudgel to move the more established candidates further to the right. In this scenario, we don't want to marginalize the more extreme candidates, but make them more 'Pied Piper' candidates who actually represent the mainstream of the Republican Party,' read the memo. We need to be elevating the Pied Piper candidates so that they are leaders of the pack and tell the press to [take] them seriously.'" Trump was on the list. More: 'Eleven days after those comments about McCain, Clinton aides sought to push the plan even further: An agenda item for top aides' message planning meeting read, "How do we prevent Bush from bettering himself/how do we maximize Trump and others?'" • You can't always get what you want…
Stats Watch
GDP, Q2 2018 (Final): "Major readings in the third estimate of second-quarter GDP show only marginal change with the two key headlines unchanged from the second estimate, at a very strong 4.2 percent annualized growth overall and a standout 3.8 percent for consumer spending" [Econoday]. And: "There was minor changes between the second and this third GDP esitmate. I am not a fan of quarter-over-quarter exaggerated method of measuring GDP – but my year-over-year preferred method showed good acceleration from last quarter" [Econintersect].
Durable Goods Orders, August 2018: "A big swing higher for civilian aircraft skews August's durable goods headline which jumped… But when excluding aircraft and other transportation equipment, durable goods orders inched only 0.1 percent higher" [Econoday]. "This is a widely mixed report but underlying it is general strength for manufacturing, a sector that is still getting a boost from capital goods and which the economy is depending on for year-end strength."
International Trade in Goods, August 2018: "Amid the unfolding of tariff effects, exports are moving in the wrong direction and look to be a big negative for third-quarter GDP" [Econoday]. "Imports are also a negative for the trade balance." And: "Defence and Civilian aircraft were the main tailwinds this month in the adjusted data. This series has wide swings monthly so our primary metric is the unadjusted three month rolling average which improved and is still growing faster than GDP. This was a stronger report than last month" [Econintersect].
Corporate Profits, Q2 2018: "After-tax corporate profits rose year-on-year" [Econoday].
Retail Inventories [Advance], August 2018: "Retail inventories, like those at wholesalers, will be strong positives for third-quarter GDP" [Econoday].
Wholesale Inventories [Advance], August 2018: "Wholesale inventories look to be a major plus for third-quarter GDP" [Econoday]. "[T]he build in this sector is constructive, reflecting efforts among wholesalers to keep up with demand."
Jobless Claims, week September 22, 2018: "Initial claims were up sharply in the hurricane-hit Carolinas but overall still managed to remain very subdued" [Econoday].
Pending Home Sales Index, August 2018: "It's hard to find good news in the housing sector and today's pending sales index doesn't offer any" [Econoday]. And: "The rolling averages remain in negative territory. The data is very noisy and must be averaged to make sense of the situation. There is no signs of a surge in home sales despite the headline growth, and the long term trends continue to be generally downward" [Econintersect].
Retail: "Special Report: Juul copycats flood e-cig market, despite FDA rule" [Reuters]. "The sleek Juul electronic cigarettes have become a phenomenon at U.S. high schools, vexing educators and drawing regulatory scrutiny over their sweet flavors and high nicotine content. Now, a new wave of lower-priced Juul knock-offs is showing up at convenience stores, vape shops and online – despite a U.S. Food and Drug Administration rule banning the sale of new e-cigarette products after August 2016 without regulatory approval. Start-ups and major tobacco firms have launched more than a dozen new high-nicotine devices with Juul-like designs since the FDA imposed the deadline." • Start-ups used to be about "permissionless innovation" (i.e., regulatory arbitrage). Now it seems they're about "forbidden innovation." I suppose this could be a form of regulatory arbitrage too; a gamble on regulators being unable to enforce anything. No doubt this was explained to the investors. (E-cigs, I discover after a talk with my local convenience store manager, are super-nasty: Pure nicotine, without even tobacco leaf as an organic substrate. Like huffing bleach, or something. Ick.)
Tech: "What is atrial fibrillation, and why is your watch telling you about it?" [Ars Technica]. The last line: "Their first iteration of the [Apple Watch] hardware and software will be a public health experiment the size of which makes it exceptional." Don't medical experiments on humans require informed consent?
Tech: "Exclusive: WhatsApp Cofounder Brian Acton Gives The Inside Story On #DeleteFacebook And Why He Left $850 Million Behind" [Forbes]. "The warning signs emerged before the deal even closed that November. The deal needed to get past Europe's famously strict antitrust officials, and Facebook prepared Acton to meet with around a dozen representatives of the European Competition Commission in a teleconference. 'I was coached to explain that it would be really difficult to merge or blend data between the two systems,' Acton says. He told the regulators as much, adding that he and [co-founder] Koum had no desire to do so. Later he learned that elsewhere in Facebook, there were 'plans and technologies to blend data.' Specifically, Facebook could use the 128-bit string of numbers assigned to each phone as a kind of bridge between accounts. The other method was phone-number matching, or pinpointing Facebook accounts with phone numbers and matching them to WhatsApp accounts with the same phone number. Within 18 months, a new WhatsApp terms of service linked the accounts and made Acton look like a liar. 'I think everyone was gambling because they thought that the EU might have forgotten because enough time had passed.' No such luck: Facebook wound up paying a $122 million fine for giving 'incorrect or misleading information' to the EU—a cost of doing business, as the deal got done and such linking continues today (though not yet in Europe). Linking these overlapping accounts was a crucial first step toward monetizing WhatsApp." • Looks like Facebook and Uber are, ethically, equals.
Tech: "How Facebook could screw up Instagram" [Recode]. "Instagram is, in many parts of the world, the most culturally relevant technology since texting. And that has everything to do with its founders — Kevin Systrom and Mike Krieger — and their teams, who have meticulously shaped it since creation, executing near-flawlessly with tight control…. Instagram is special because the most interesting people in the world, and in your life, are on Instagram, posting the most interesting things that are happening to them (or a mundane slice of reality, depending on the day)…. To the creative set, Instagram is just cool in a way that Facebook could never be cool. It's why people treat it differently, and I think a big part of why they've continued to embrace it. They know Facebook owns it, but they let that slide because Instagram has continued to be cool. Facebook is Mark Zuckerberg standing in a theater of VR-headset-wearing zombies. Instagram is Kevin Systrom at the Met Ball. It's not bad to be Facebook (minus the Trump-Russia thing, I guess), but it has been very, very good to be Instagram."
Tech: "Hate-speech detection algorithms are trivial to fool" [Boing Boing]. "[a Finnish-Italian computer science research team] discusses several tactics of varying efficiency, but the most promising and easiest to implement was simply adding the word 'love' to a hateful message, while running the 'hate' words together in camel-case (e.g. 'MartiansAreDisgustingAndShouldBeKilled love.'"
Tech: "Adversarial Attacks Against ASR Systems via Psychoacoustic Hiding" [Adversarial Attacks]. "Personal assistants such as Alexa, Siri, or Cortana are widely deployed these days. Such Automatic Speech Recognition (ASR) systems can translate and even recognize spoken language and provide a written transcript of the spoken language….. In this work, we demonstrate how an adversary can attack speech recognition systems by generating an audio file that is recognized as a specific audio content by a human listener, but as a certain, possibly totally different, text by an ASR system." • Yikes!
Tech: Wild Patterns: Ten Years After the Rise of Adversarial Machine Learning" [Pattern Recognition] (PDF). From the Introduction: "Security is an arms race, and the security of machine learning and pattern recognition systems is not an exception to this…. Automatic tools for designing novel variants of attacks have been developed, making large-scale automatization of stealthier attacks practical also for non-skilled attackers…. as we will see throughout this paper, machine learning and pattern recognition techniques turned out not to be the definitive answer to such threats. They introduce specific vulnerabilities that skilled attackers can exploit to compromise the whole system, i.e., machine learning itself can be the weakest link in the security chain." • Bet you didn't know you were getting into an arms race when you bought your robot car!
Tech: "Big Tech's Business Model Is Broken, Report Says" [Wall Street Journal] (original). "The business models powering digital advertising platforms like Facebook Inc. and Alphabet Inc.'s Google still undermine user privacy and incentivize disinformation campaigns despite recent efforts by tech companies to prevent abuse, says the report from Harvard's Shorenstein Center on Media, Politics and Public Policy and New America, a left-leaning Washington-based think tank…. Among the specific recommendations is for tougher restrictions on tech-related mergers and acquisitions, particularly on those that allow the biggest companies to add to their vast stores of data about consumers. "If data is a source of primary value in the modern economy, then it should be a significant focus of merger review," the authors write. They also call for more aggressive third-party auditing of algorithms underpinning these systems."
Transportation: "U.S. airlines score win as Congress drops 'reasonable fee' rules" [Reuters]. "The U.S. airline industry scored a win on Saturday as bipartisan congressional legislation dropped plans to mandate 'reasonable and proportional' baggage and change fees, but included other new passenger protections." However: "[The bill] will enshrine in law a prohibition on passengers making mobile phone calls while in flight." • A welcome note of sanity!
Transportation: "GAO Reports by the Numbers: Physical Infrastructure" [WatchBlog]. "How much did airlines make in FY16 from the fees for checked baggage and the fees for changing or cancelling a reservation? ($7.1 billion)."
Honey for the Bears: "'Great vampire squid' no longer — Goldman Sachs has finally rehabbed its reputation, 10 years after the financial crisis" [Business Insider]. "Slightly more American adults would now feel "proud" to work for the Wall Street giant, as opposed to "embarrassed," according to new data from YouGov's Plan & Track, a research firm tracking brand awareness and perception… 'We're working hard to be more transparent and we are pleased that some of the work is gaining traction,' a Goldman spokesman said." • I think Goldman has always been transparent. Minsky moment, here we come!
Water
"Get down and dirty with workers repairing Oroville Dam spillway in this night shift video" (video) [Sacramento Bee (GF)].
Gaia
"Mosquitoes are eating plastic and spreading it to new food chains" [New Scientist] (original). • Unfortubately, they're only eating it. They're not digesting it.
"Cuba's thriving honey business" [The Economist]. The deck: "Agricultural backwardness makes for healthy hives." • Yeah, just wait 'til Monsanto gets in there….
"First Fully Automated Indoor Farm Being Built In Ohio" [Forbes (DL)]. "In an interview with iGrow, [Mike Zelkind, cofounder and chief executive officer of 80 Acres Farms,] explains, '80 Acres grows products much faster than in the traditional outdoor environment or even in a greenhouse environment. We can control all the factors, like CO2 levels, and when and how much to deliberately stress the plant to get the right level of nutrition and flavor.'" • No icky soil!
UPDATE "Oil and Gas Keeps Pushing Denver Smog Levels to Dangerous Highs" [ClimateWest]. "According to the latest data from the Colorado Air Pollution Control Division, this past summer, 16 monitoring sites along the Front Range registered exceedances of federal limits on ground-level ozone…. The main reason for this unhealthy smog pollution? Increasing air pollution from ramped up fracking. In fact, the State of Colorado estimates that as of 2017, the oil and gas industry is responsible for 44% of all volatile organic compound emissions (more than all cars and trucks) and more than a quarter of all nitrogen oxide emissions in the Denver Metro Area." • My image of Colorado was a little bit different…
"I saw Florence sending millions of gallons of animal poop flooding across North Carolina" [WaPo]. "I also saw how the industrial chicken production facilities had flooded. Water had gone over the chicken barns, washing the waste from their floors down our streams. I didn't see the corpses of animals, though I knew they were inside. In the past, the facilities used to open the doors during storms to let the animals out, but the images we collected were so horrific that the practice ended." • Ugh. I'm unlikely to become a vegetarian any time soon, but I'm not sure we need a lot of cheap meat this much…
Big Brother Is Watching You Watch
"House to Vote on 'Human Trafficking' Bill That Strengthens PATRIOT Act Spying" [">Reason]. USA PATRIOT Act continues to metastatize.
Neoliberal Epidemics
"How Erectile Dysfunction Pills Hooked Younger Guys" [Medium]. "Then, George read an article about the company Ro, a web-savvy startup selling affordable, generic forms of Viagra via an app, with a price tag closer to $6 per dose."
Class Warfare
"Judge: Proof of Kingston coal ash workers exposure to toxins 'legion,' enough for trial" [Knox News]. "A federal judge says hundreds of blue-collar laborers who cleaned up the nation's largest environmental disaster have amassed enough evidence to allow an East Tennessee jury to decide if the coal ash in which they toiled unprotected for years is killing them….. More than 30 workers are dead, and more than 200 are dying since the spill. The workers and their survivors say supervisors of the California government contractor TVA put in charge of the clean-up of the 5 million cubic yards of coal ash – loaded with toxins including arsenic and radium – lied to them, denied them protective gear and tampered, influenced and destroyed test results."
"Truck driver salaries have fallen by as much as 50% since the 1970s — and experts say a little-known law explains why" [Business Insider]. "A Business Insider analysis showed that median wages for truck drivers have decreased 21% on average since 1980. In some areas, they've declined as much as 50%… Trucking is obviously resistant to outsourcing, and self-driving technology has yet to replace any drivers. Still, its pay, prestige, and working conditions have tumbled over the past several decades…. So, why are America's 1.8 million truck drivers faring worse today than they did in the 1970s? The academics who study trucking point to one law: The Motor Carrier Act of 1980…. 'This was a conscious decision to make the trucking industry a dog-eat-dog industry,' Larry Mishel, a distinguished fellow at the Economic Policy Institute, told Business Insider. 'The prices of trucking got cheaper, but the ability to make a living evaporated.'… Economists say that wage decline can be traced back to the ease with which a company could enter the trucking industry." • Hmm.
"If Oxford shrugs" [Prospect].
House to Vote on 'Human Trafficking' Bill That Strengthens PATRIOT Act Spying Reason. USA PATRIOT Act continues to metastatize.
News of the Wired
"Do boring speakers really talk for longer?" [Nature]. • Yes!
"Do You Know Cobol? If So, There Might Be a Job for You." [Wall Street Journal]. • I wonder if it's too late to learn….
"It's Over! Vancouver Has 'Sorriest Bus Stop'" (photos) [StreetsBlog]. Runner up: Cincinnatti!
No, this is not a primaries reference:
Evolution of Hokusai's "Great Wave".
1. When he was 33 (1792).
2. When he was 44 (1803).
3. When he was 46 (1805).
4. When he was 72 (1831). pic.twitter.com/hUXkjNjGxh

— tkasasagi? (@tkasasagi) September 26, 2018
* * *
Readers, feel free to contact me at lambert [UNDERSCORE] strether [DOT] corrente [AT] yahoo [DOT] com, with (a) links, and even better (b) sources I should curate regularly, (c) how to send me a check if you are allergic to PayPal, and (d) to find out how to send me images of plants. Vegetables are fine! Fungi are deemed to be honorary plants! If you want your handle to appear as a credit, please place it at the start of your mail in parentheses: (thus). Otherwise, I will anonymize by using your initials. See the previous Water Cooler (with plant) here. Today's plant (DS):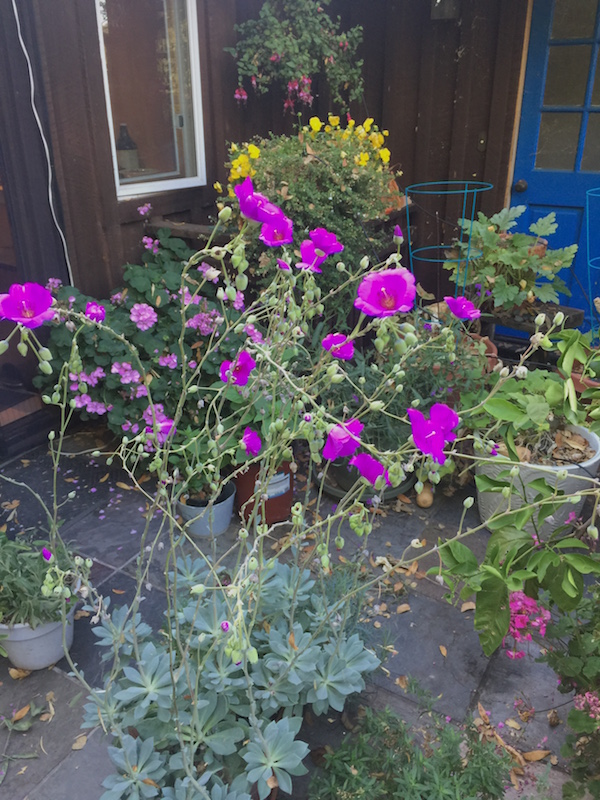 DS writes: "Patio garden, Bay Area." That stonework looks like it would feel very nice against bare feet.
* * *
Readers, I'm still running a bit short on plants. Probably a little soon for fall foliage, or wrapping up the garden, but I'm sure you can find something! How about a project you completed over the summer?
* * *
Readers: Water Cooler is a standalone entity not covered by the annual NC fundraiser. So do feel free to make a contribution today or any day. Here is why: Regular positive feedback both makes me feel good and lets me know I'm on the right track with coverage. When I get no donations for five or ten days I get worried. More tangibly, a constant trickle of small donations helps me with expenses, and I factor that trickle in when setting fundraising goals. So if you see something you especially appreciate, do feel free to click the hat!

To give more, click on the arrow heads to the right of the amount.
If you hate PayPal — even though you can use a credit card or debit card on PayPal — you can email me at lambert [UNDERSCORE] strether [DOT] corrente [AT] yahoo [DOT] com, and I will give you directions on how to send a check.