By Lambert Strether of Corrente.
During Naked Capitalism's comment holiday, Yves and I also visited the Coastal Maine Botanical Gardens (CMBG), "Maine's Premier Botanical Garden," which it is! From their site:
In just ten short years, Coastal Maine Botanical Gardens has become one of the largest public gardens in the country, ranking among the top ten percent. Our original master plan began in 1998 and was finished in 2004. Phase one of this plan was completed in 2011. The first phase included our original buildings, infrastructure, gardens, parking and restrooms, constructed based on a predicted attendance of 40,000 annual visitors. Remarkably, we surpassed 40,000 our second year of operation and in 2017, our attendance surpassed 190,000. We have welcomed visitors from 63 countries and all 50 states.
The (non-profit) CMBG is now in phases two and three of its master plan; this transition — phase transition might be a little too strong — gives rise to the "unease" in my title. I wouldn't go nearly so far as to say "crapification" — the gardens are still extraordinarily beautiful — but frankly, I came away from this year's visit feeling somewhat curmudgeonly.
This post will divide gradually into two parts: Photos in the first part will show the beauties of the garden; photos in the second part will shade into my sense of unease. (I hadn't used the camera I was carrying for some time, so I had fewer shots to choose from than I would have liked; and I failed to capture any pollinators!) I'll finally express my unease in prose; it had not occurred to me until the very end of the day to do anything by take pictures of plants!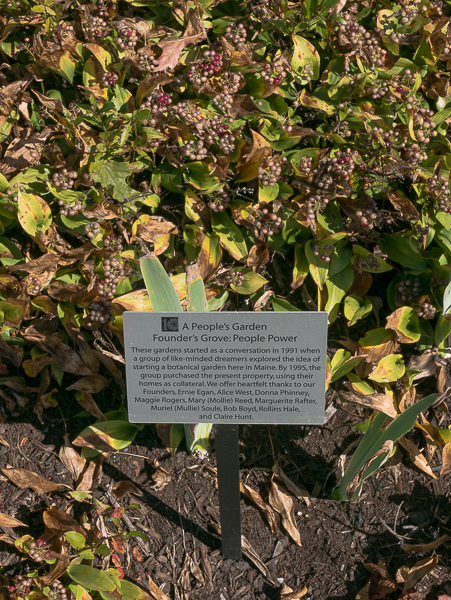 As with the museums for Maine two-footers that we posted on yesterday, volunteers ("like-minded dreamers") sparked the project. It would be nice if more things could work that way.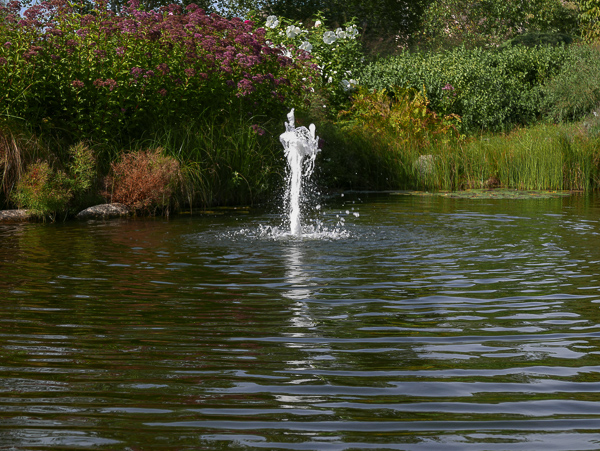 The sort of vista at which the CMBG excels; the circular regularity of the ripples from the fountain contrasts nicely with the rounded irregularity of the hills and plantings in the background.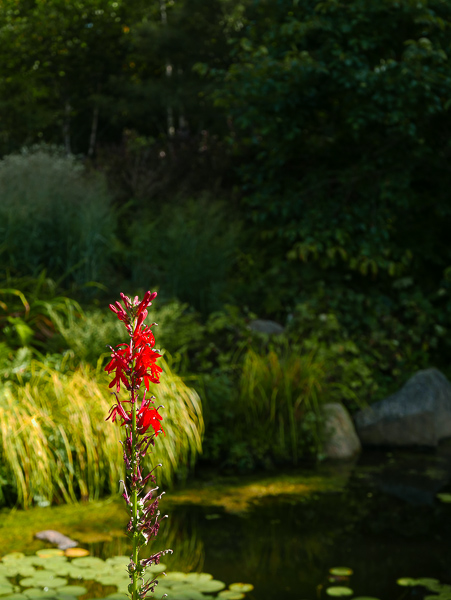 Foolishly, I made no notes of the plant species; perhaps readers can help. And although I deprecate bokeh, I can do it!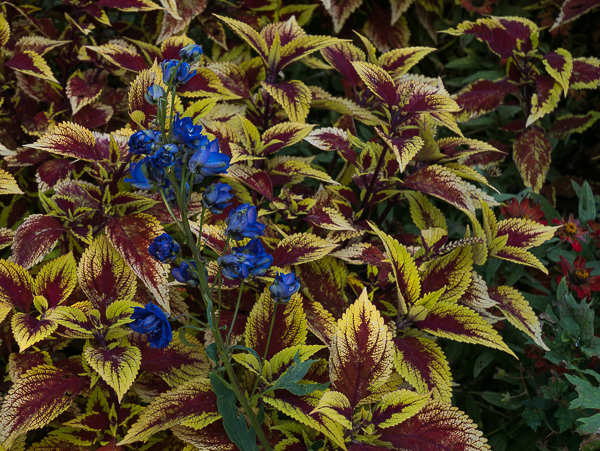 The CMBG also excels at color combinations in the beds.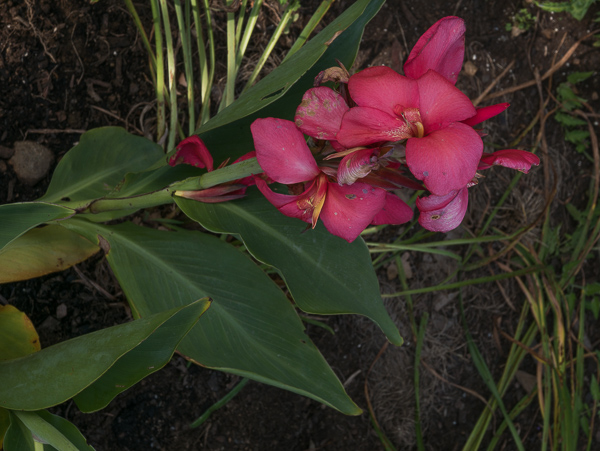 I'm not sure the sun threw that beam exactly where I would have wanted to to be, but the colors of the flower are painterly.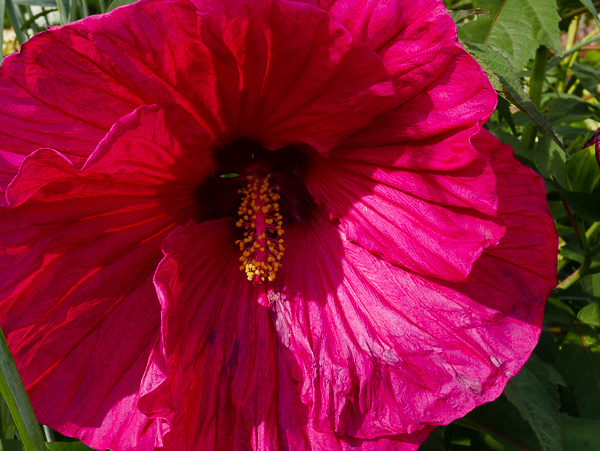 Sadly, no pollinator!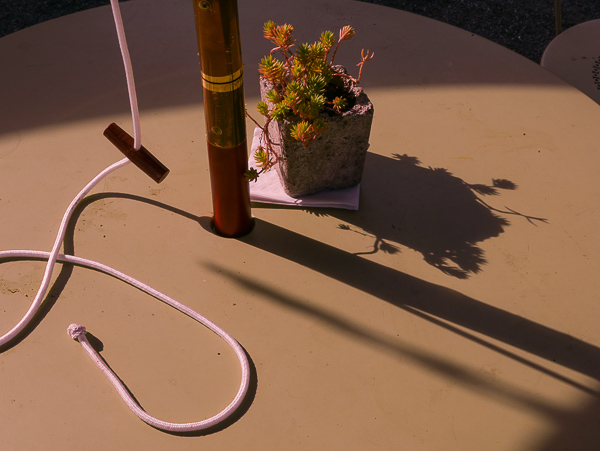 I had a lot of fun with the spiky cacti and curved umbrella cordage on the tables in a little outdoor café.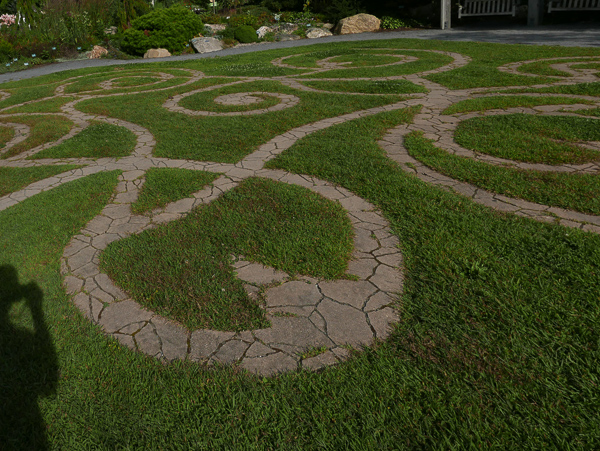 The photographer intrudes!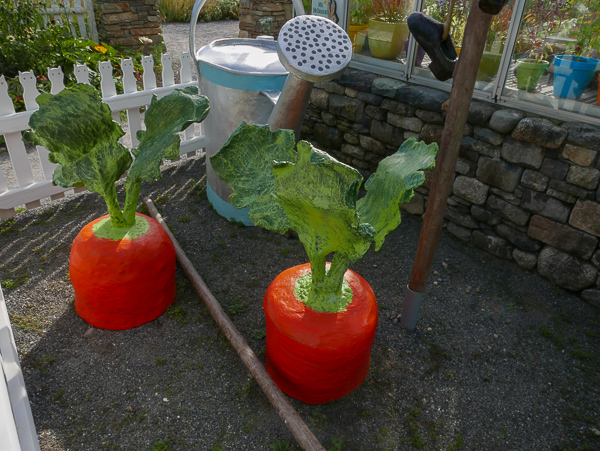 Monstrous artificial vegetables with garden tools, apparently meant to appeal to children (the area sponsored, to my unease, by Burpee[1]).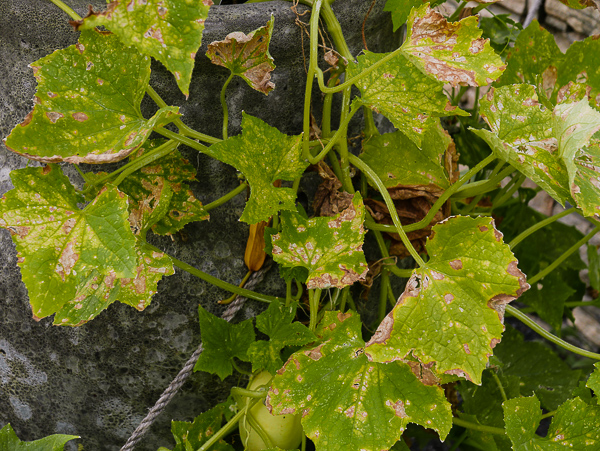 Squash leaves at the end of the season.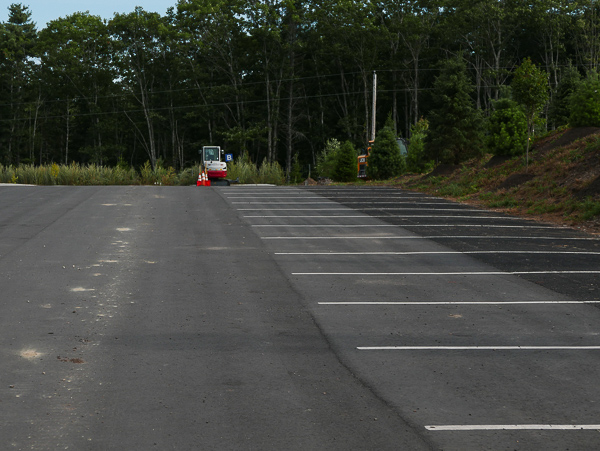 Just look at those impermeable surfaces! And what a contrast to the second photo of the fountain, eh? (The grey linearity of the asphalt's painted surface is also a nice contrast to the living foliage in the background.)
* * *
Impermeable surfaces are frowned upon especially by permaculturalists because water simply flows over them on its way downhill, instead of soaking into the soil and helping out the plants. (This particular impermeable surface, asphalt, might be frowned upon because it's made from fossil fuels.) While it's hardly fair to make a desolate heat island like an empty parking a lot a symbol of CMBG's second phase of development, that last photo does capture my unease. In past years, we parked in the woods and walked up a lovely, curved pathway to the Vistor's Center, surrounded by tall plantings on either side. This year, we parked in the lot that you see (faraway trees), and walked up a paved road to more impermeable surfaces: An enormous paved walkway, clearly meant to service tour buses, and not surrounded by plants, but with home-and-garden style low beds with far too few plants and far too much bark mulch; my local bank has better plantings, although, to be fair, my bank has very good plantings for a bank. (One's first site of the new Visitor's Center is an enormous pavilion of bathrooms. I have nothing against bathrooms, but that a pavilion of them should be my first sight of the Garden seems a little bit much, although I understand the sense of relief that a tourist alighting from a long tour bus-ride would feel.) Having purchased our tickets, we then walked out over a long, unshaded wooden bridge, and then along an under-construction road, until we finally entered the garden proper; the temperature must have instantly dropped ten degrees when we were surrounded by plants and were finally able to experience what we came for. Touring the garden, we noted that some plants had not been well-watered — to be fair, it's the end of the season — and unkempt lawns. More unease.
Once again, we came at the end of the season and part of the grounds was under construction. And the garden was truly as lovely as ever — once we got into it. However, the unkempt lawn and unwatered plants made me speculate that the CMBG staff was stretched too thin; or that perhaps new hires were not fully conversant with the institution's culture and methods. More concerning was my speculation that with growth as a goal in itself — even with, as "The People's Garden" the very best of motives — the CMBG had entered the maze of corporate gigantism; as, for example, the children's garden sponsored by out-of-state Burpee. I know the state of Maine, especially the coast, lives and dies by the tourist trade, so it would be churlish of me to complain about that; but I worry (because I'm a worrier) that if indeed it is optimizing for tourists, rather than for artistry in plant and landscape form, the CMBG's new phase will begin to lose the very qualities that made it a destination in the first place (a botanical garden). One does not, after all, put a billboard on the side of Notre Dame, or a Starbucks in one of the chapels, and Paris does fine, just fine, with its tourists. In any case, I hope that a year from now, the plantings at the new Visitor's Center will have greatly improved, the walk across the bridge to the gardens will be pleasant rather than galling, and some consideration will be given to minimizing impermeable surfaces, rather than maximizing them.
NOTES
[1] Sadly, not a Maine co-operative like Johnny's Selected Seeds or MOFGA.