CalPERS should be trying to get a refund from search firm Heidrick & Struggles for failing to vet Marcie Frost's educational claims during the CEO hiring process. They should also try to claw back any fees they have paid to public relations firms for advice given in the losing battle of shoring up Frost's deservedly damaged reputation.
CalPERS best course of action was to try to ignore the controversy and hope it would blow over.
But CalPERS and Frost are finding out the hard way that the more they try to spin Frost's lies, the more it does to call attention to her years of documentable falsehoods. And given that there's no credible way for her to talk her way out of lies that go back to Washington, the more she and CalPERS try to 'splain their way out of this, the worse they make matters, particularly since it's also become all too obvious that their story keeps changing.
As we'll discuss below, CalPERS' press strategy backfired in a big way when it used its favored mouthpiece, Adam Ashton of the Sacramento Bee, to run not one but two stories last week defending Frost. It turns out that CalPERS' favored ruse, to misdirect the public into thinking the issue isn't that Frost lied repeatedly over many years, but that she was only a high school graduate, is damaging the board's already tarnished credibility. The second story was even more of an own goal, by making Frost and the board look like union pawns. The Sacramento Bee stories then led the Associated Press to run a not-helpful piece.
With media friends like this, who needs enemies?
Let us not forget that Frost herself is the source of these misrepresentations, and as a result influential insiders like former CalPERS board designee Terry McGuire are calling for the board to fire Frost. CalPERS has conceded she attended The Evergreen State College for only 2 quarters in 2010, and has not disputed what official Evergreen sources told us, that she never enrolled in a degree program and was a mere special student: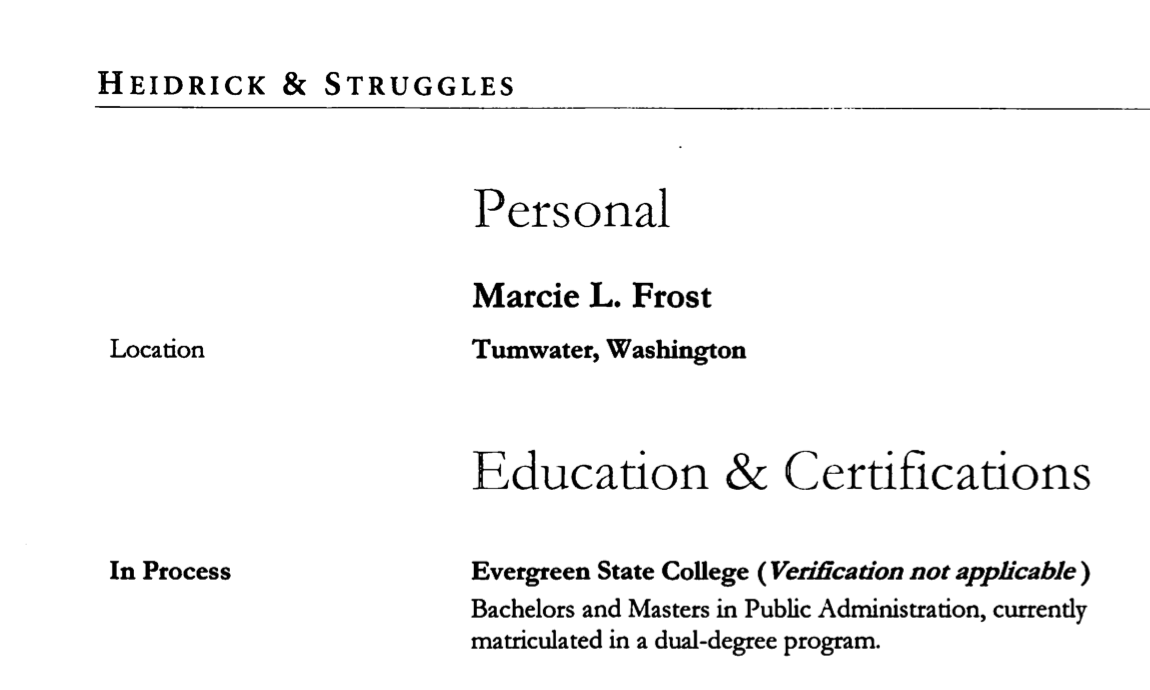 From a Washington form filed under penalty of perjury as part of her appointment to head Washington's Department of Retirement Services in 2013:

Frost also represented on a SecuriCheck form she provided to CalPERS in 2016 that she had last attended Evergreen in 2014, and was "not degreed yet," which indicates she was working on a degree:

And on her LinkedIn:

Frost never took any business or management courses. She took only an "experiential" writing class.
And these aren't the only falsehoods we found on Frost's resumes, but the educational misrepresentations are the ones that have attracted media attention.
It was already odd to see the Sacramento Bee run its first piece on Marcie Frost's resume misrepresentations last week, since there hadn't been any coverage in major California papers. The biggest US outlet to take notice so far, Bloomberg, had published its piece before the Labor Day weekend.
Ashton did an impressive job of misleading his readers on behalf of CalPERS and Frost. Scroll upwards to see the image where Frost, in her own handwriting, said she'd last studied at Evergreen in 2014, which was patently false, and managed to achieve the impressive feat of making a second lie in this small space by depicting herself as "not degreed yet" when she had never enrolled in a degree program at Evergreen. Frost clearly wanted readers to think she was working on an advanced degree when she wasn't.
How did Ashton distort this clear cut lie in his article? Look at his opening paragraph:
Marcie Frost did not claim to have a college degree when she applied to lead the California Public Employees' Retirement System in 2016. She emphasized it in blue ink, writing "not degreed yet" in a box that asked about her education.
Rather a different picture than you get if you read the posts, which starting with their headlines, make clear that the issue is Frost's misrepresentations, which as we documented, go beyond her flagrantly overstating her educational status.
Being a mere high school graduate versus being well along on an undergraduate degree (which would have to have been the case for her to be enrolled in a master's degree program, as she repeatedly claimed) are two different kettles of fish. Not only was at least one board member Henry Jones under the impression that Frost was on the verge of getting a college degree, but so to was reporter John Gittelsohn of Bloomberg, who went so far as to call Evergreen regularly to ask if Frost had yet been awarded a degree.
Ashton also presents Frost's eye-popping remark that "she told the board and a headhunting firm that she was interested in pursuing degrees at The Evergreen State College in Olympia, Washington" as if that were the same as the repeated claims on CalPERS website that she was actually enrolled in a dual bachelor's/master's degree program at Evergreen, when no such program has ever existed. So we are to believe that Heidrick & Struggles fabricated the existence of this program all on its own?
The comments on Ashton's first article, despite the considerable amount of real estate devoted to board defenses of Frost, show that the effort to falsely depict the issue as being that Frost is only a high school graduate, as opposed to the fact that she lied during and after she was hired about being enrolled in not just a bachelor's but even a master's degree program, which at Evergreen requires taking courses regularly to retain one's enrolled status, is backfiring. When you take out Ashton's comments and ones of readers name-calling each other, roughly half were critical of CalPERS or Frost.
Ashton's second story, about how California unions are backing Frost, elicited a higher level of negative comments about Frost and CalPERS. The article showcased a letter by David Low, the head Governmental Affairs for the California School Employees Association, which defended Frost by comparing her to Steve Jobs and Bill Gates. That elicited remarks like:
Dan Kelly
Comparisons to Steve Jobs and Bill gates have no relevance; they were/are visionary business people, who drove new paradigms and developed new industries. But, did she misrepresent her qualifications here or in Washington State?

Gregg Franks
Frosty ain't no bill gates………she worked the "Evergreen" connection and she plays the union card…….board wants a stooge, not a CEO
Low's intellectual dishonesty is also noteworthy. His letter refers only to our third post on Frost's shoddy resume and does not acknowledge the existence of our earlier posts on her misrepresentations. The third post described not simply that her resume was rife with errors, but more important, that it listed remarkably few accomplishments and made her sound like a seat-warmer rather than a seasoned executive. Low pointedly avoids the real issue, of Frost's misrepresentaions before and after being hired by CalPERS, including clearly having committed perjury on her gubernatorial questionnaire in Washington in 2013.
In further proof that CalPERS is losing the public relations war, the Associated Press did a short re-report of the Ashton article, titled, CEO of California's $350B pension fund has no degree (see a very short version here and a somewhat less short version here). It didn't help that the Associated Press story hoisted this quote from the Sacramento Bee:
"We are surprised. You just assume in today's market if you're going to be CEO of the nation's largest retirement system that you'd have some kind of degree," Tim Behrens, president of California State Retirees, told the newspaper.
So if it was all out in the open that Frost was only a high school graduate, why was Behrens surprised?
Let's step back and review what these stories say about CalPERS' media strategy.
First, the more press traction this story gets, the worse it is for Frost. So the fact that the Ashton story led the Associated Press to pick up the story, which has run on California local station websites and may also have been picked up by smaller California papers, is the last thing CalPERS wants.
Second, even though the substance of the short article hews to the CalPERS' "This is about her degree" spin, as opposed to about Frost having lied, the focus on Frost being only a high school graduate isn't helping her much. Look at how Behrens was taken aback. Recall that virtually all white collar jobs in the California government require a college degree, as is true of most municipalities. Jobs that involve handling or overseeing funds typically require even more qualifications. Readers in and around Sacramento who know state employees tell me that there is a lot of unhappiness and concern about why and how Frost got the job.
How can Frost come to work every day knowing the staff of 2900 people sees that she lied? Or is she a pathological liar like Elizabeth Holmes, who kept playing the victim card even as the FDA was shutting down virtually all of her business and exposing her as a fraud? And will this board perform as badly as the Theranos'did and keep backing Frost when it is becoming increasingly evident that she's losing more credibility with every passing day?