Financial Times' FundFire reporter Fola Akinnibi has written three stories this week that referred to misrepresentations made by CalPERS CEO Marcie Frost during and after her hiring by the giant pension fund. His latest report, CalPERS CEO Misstated Educational Background During Hiring Process (no online version) not only flatly calls out Frost's falsehoods, but also debunks CalPERS' lame defenses of her.
The very first paragraph calls Frost and CalPERS staffers out as liars:
Marcie Frost, CEO of the $360 billion California Public Employees' Retirement System (CalPERS), made misrepresentations about her educational background during the hiring process, raising questions about the pension's previous statements on the matter, according to documents obtained by FundFire.
Akinnibi had requested and we forwarded the Public Records Act request with Frost's resumes, her employment application, and e-mails with her name in them sent around the time of her hiring.
Key sections:
Frost completed and signed a background check form during the final round of the 2016 hiring process that said she had been attending Evergreen State College since 2014, but had not yet earned a degree, according to the documents, which were first reported by the financial blog Naked Capitalism. However, that information was inaccurate as Frost only attended the college briefly in 2010 and took a few writing courses in a so-called "prior learning program."

CalPERS public affairs chief Wayne Davis says that the misstatement on the form was an error on Frost's part and that "it should've said 2010."

Additionally, Frost told recruiting firm Heidrick & Struggles that she was enrolled in a dual bachelor's and master's degree program in public administration at the college. The recruiter then included that information on the first page of a candidate report it presented to the CalPERS board members tasked with the hiring decision. The resume was a "composite of information furnished by the candidate," the documents say, but Davis says the language used on the recruiter's report is not the language Frost would use to describe her experience.
Here is the language from the Heidrick & Struggles report: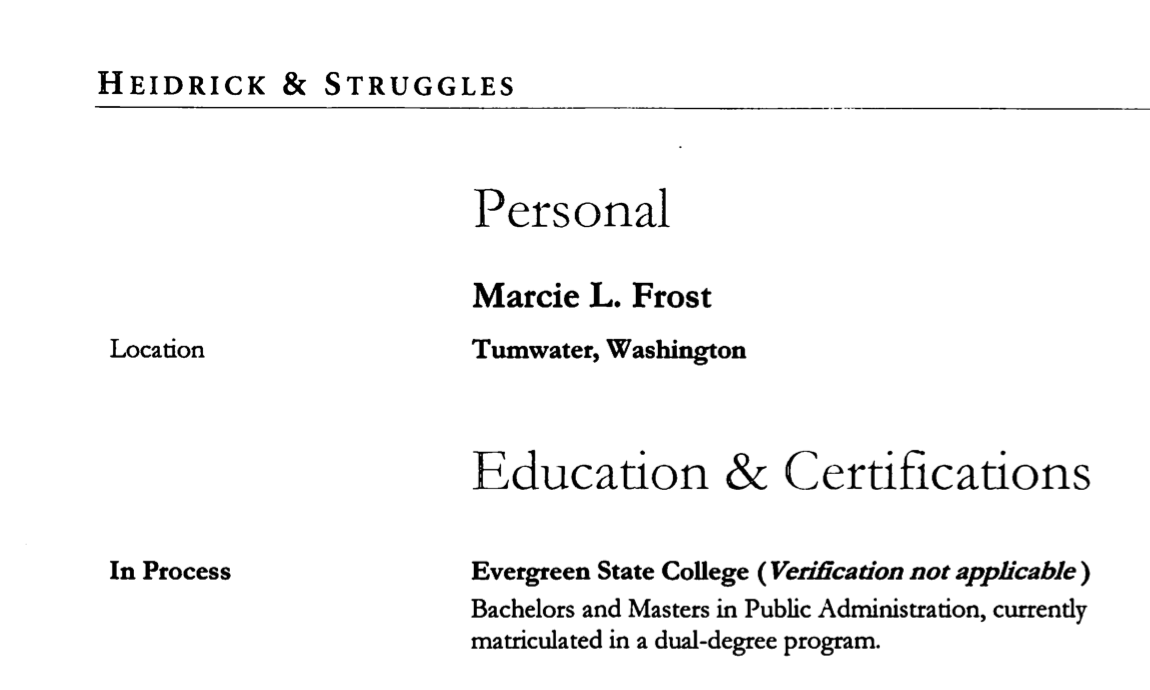 Help me. Davis is seriously trying to tell us that "I wouldn't have said it that way" is equivalent to "I didn't say that"? Or perhaps more specifically, the fact that Frost may not literate enough to use the word "matriculated" is to be taken seriously as an excuse?1
Back to the Financial Times' story:
Even so, the program does not exist at Evergreen, nor has it ever, according to the college, and Frost was not enrolled in 2016. Additionally, the misrepresentation made its way into the July 2016 press release announcing Frost's hire and remained in her biography for years on CalPERS' website until its recent removal…

Despite [CalPERS communications director Wayne Davis] taking responsibility for the language of the press release and biography, the documents show that Frost was the source of the misrepresentations.
CalPERS has been insulting the intelligence of journalists, its beneficiaries, and California taxpayers by claiming that Frost had nothing to do with the misrepresentations about her education made in the press release issued when her hiring was announced, and in her bio on the website. The latter was edited to remove any claims about her eduction shortly after former Chief Financial Officer Charles Asubonten was dismissed for misrepresentations on his resume and employment application during the hiring process:
Frost was also involved in the press release rollout process, coordinating with staff and outside stakeholders on the announcement of her hire, according to emails obtained by FundFire.

"At this point I'm planning a Friday morning release with the [governor's] office and we can change that if needed," one email from Frost to another party reads.
Note also that the press release stated that Frost was also available for press interviews. It is inconceivable that someone who was at ready to talk to the media would not have read and approved material about them.
No functioning organization would tolerate having someone who lied during the hiring process in an executive position, let alone as CEO. Former California official Tony Butka underscores this issue in a hard-hitting new story at LA CityWatch that raises additional questions about Frost's hiring. From his closing:
Back in the 90s, I served as the Executive Officer for the Los Angeles County Civil Service Commission for about a decade. Based on those experiences I can tell you for a fact that Marcie Frost's misrepresentations on her resume would have resulted in a quick letter of resignation or termination.

During that time, I learned a few things about acceptable conduct, and particularly about public employees. First, dishonesty seems to be a matter of character, be it stealing or fibbing. Whether it is an Eligibility Worker during the Northridge earthquake illegally putting in a claim for a hundred bucks or less, or a mid-level manager siphoning off public funds for personal use, you are either inherently dishonest or not. It's part of who you are.

The second thing I learned is that the abuse of power by a public official is a corrosive betrayal of what constitutes a "public servant." Whether displayed by a clerk, a public official, or a Board member, it straight up stinks. The tendency is again a matter of character, not training. It's pure "I have the power, you don't, too bad for you."

Further, the higher the levels of dishonesty or abuse of power, the more people are impacted. Believe me, lower level employees know about the foibles of their bosses. If the higher ups are unethical power junkies, the morale of the troops is directly impacted for the worse. A key sign becomes the number of staff members who leave or transfer.

Unfortunately, the current Board President, Priya Mahur, believes in truly Trumpian levels of secrecy and hiding what should be publicly available documents from us, the beneficiaries. She also tried to cover up Charles Asubonten's mess, presided over the $3.4 million settlement with Dow Jones over blatant copyright infringement, and put her finger on the scale of the recent CalPERS Board elections. What a Prez.
CalPERS board looks hopelessly corrupt by not having launched and independent investigation. If you are in California, I hope you will circulate this post widely, particularly to any CalPERS beneficiaries you know. The health of California pensions is too important to let this level of misrule continue.
___
1 If you think I am being unfair about Frost's facility with the English language, have a look at the resume she prepared, which is embedded at the end of this post.