Dear patient readers,
Thanks for accommodating our comments holiday. Even though the weather in Maine was terrific for nearly all of my week there, I still needed over 12 hours of sleep for three days running! So I desperately needed this break.
On a different topic: we expect to have a high level of CalPERS coverage for the next few weeks. The Marcie Frost misrepresentations story is very much in play. It is separately pressing because Board President Priya Mathur's seat is being challenged by Jason Perez, and Frost is up for her annual review by the Board at the upcoming board meetings, which start on Monday September 24 (I believe her review is to take place in closed session on September 26, but need to verify that).
Captivating video shows a superpod of dolphins chasing prey in California MNN (David L)
'End of days': Birth of red heifer in Israel signals coming of Messiah claim Hebrew scholars RT. Um, why should the Messiah respond to gaming the prophecy?
Will the Death of the Boundary Waters Canoe Area Wilderness MAGA? Medium (Jonathan E)
Alex Honnold Climbs Halfway Up a New Jersey Skyscraper New Yorker (David L). The Minneapolis raccoon did better.
'Tone deaf' Playboy Club opens in New York, defying the #MeToo era Guardian. Ahem, Playboy Clubs are retro and tame compared to strip clubs….of which there is no shortage in NYC.
About a quarter of rural Americans say access to high-speed internet is a major problem Pew
We DIDN'T win the war! Like us all, PETER HITCHENS grew up on stories of Britain's heroic victory over Hitler… but now, without questioning the bravery of our troops, he's written a book challenging all we think about WW2 Daily Mail
Call for atheism to be included in religious education Guardian (Dr. Kevin)
British women live shorter lives than most other Europeans Guardian (Kevin W)
New 'Poison Papers' Leak: EPA Knew About Many Dangerous Toxins, But Kept Quiet Real News (JTM)
Brain study shows why mindfulness eases pain MedicalXPress (David L)
U.S. "most dangerous" place to give birth in developed world, USA Today investigation finds CBS (furzy)
Among those near Ground Zero on 9/11, illnesses abound 17 years later Guardian. My apartment is about 6 miles from the WTC site. Prevailing winds generally sent the smoke into Brooklyn, but on the few occasions when it went north, it was acrid even at this distance.
High Price Of Insulin Leads Patients To Ration The Drug. That Can Be Lethal NPR (UserFriendly). Appalling.
North Korea
White House says it's working to plan 2nd Trump-Kim meeting Military Times
China?
A would-be city in the Malaysian jungle is caught in a growing rift between China and its neighbors Washington Post (furzy)

Russia's massive military exercise with China aimed at Pacific leverage Asia Times
People Might Be Getting the Swedish Elections All Wrong Intercept (Alex V)
Brexit
Brexit: Barnier says agreement possible by early November BBC. Only if every member of the Tory leadership plus key backbenchers like Rees-Mogg have brain transplants.

Tory Eurosceptics fail to agree on Brexit plan B Financial Times
Network Rail sells railway arches to investors for £1.5bn Guardian (allan, Alex V)
Syraqistan
Will World War III Start This Week? Sic Semper Tyrannis (Kevin W)

Leaked Clips from Censored Documentary on Israel Lobby Reveal Attacks on US Activists Real News

Syria's Idlib: High stakes for Turkey as offensive looms BBC (Kevin W)

9/11 In Context George Washington. Quite a list. Including it for relevance to Syria, but it is impressive regardless.

U.S. to close Palestinian office in Washington, citing lack of progress on peace process with Israel Washington Post (furzy)
Big Brother is Watching You Watch
Geofeedia Touted Surveillance Of Students To Sell Services To Police ShadowProof (Chuck L, UserFriendly)
Imperial Collapse Watch
Bolton threatens sanctions against International Criminal Court The Hill
The Neoconservative Comeback LobeLog (KF)
Trump Transition
Obama Urges Young Voters To Ignore How Many Lousy Candidates Democratic Party Runs The Onion (David L)
Kavanaugh Will Kill the Constitution New York Times (furzy)
New York Democrats' Mailer: Cynthia Nixon Weak on Anti-Semitism Governing (UserFriendly)
Andrew Cuomo Owes Cynthia Nixon an Apology New York Times. Reader Li: "He owes the entire state of New York an apology."
Campaigns Underway In Colorado, Other States To Make Redistricting Less Partisan Colorado Public Radio (UserFriendly)
Can Mark Zuckerberg Fix Facebook Before It Breaks Democracy? New Yorker (David L, furzy). Pray tell, why should he?
Keen to debunk the world RT (Chuck L)
How Education Reform Taught Teachers to Cheat Governing (UserFriendly)
Crisis Orgy
The Big, Dangerous Bubble in Corporate Debt New York Times. I should debunk this in a post but I don't have the energy. The comparison to 2008 is histrionics. The reason the financial system nearly failed then was due to a derivatives crisis that wiped out collateral used in the repo market (AAA tranches of CDOs).

Subprime shorts used largely synthetic [made of credit default swaps] CDOs to subvert normal market behavior and put on massive bets on subprime failure without leading CDS prices to rise (which would have among other things made additional wagers less attractive plus through arbitrage made subprime loans way more expensive). Due to lack of central data plus differing definition of what "subprime" amounted to, the amount of CDS wagers on subprime have been estimated at 4-6X the real economy value of the bonds. On top of that, highly leveraged, systemically important players like AIG, the monolines, Merrill, Citi, and some major Eurobanks were on the wrong side of these bets. We discuss this in detail in Chapter 9 of ECONNED.

Subprime mortgage defaults by themselves would not have produced a global financial crisis. They would have produced a real economy hit on the order of 150% of the S&L crisis. Recall that the S&L crisis did produce a very nasty recession in the early 1990s. Bad, but nothing like 2008. And as Cohan effectively admits, the big losers in corporate debt defaults would be investors, not banks.

The Real Cost of the 2008 Financial Crisis New Yorker (furzy)

The 2008 financial crisis upturned politics – and it's not done yet MoneyWeek (UserFriendly)
Cryptocurrency Wipeout Deepens To $640 Billion As Ether Leads Declines Bloomberg
Amazon bought Whole Foods to take on the grocery business — but one competitor shows where its plan is falling flat Business Insider. Recall we were in the decided minority that was skeptical about this deal.
New Study Confirms Offshore Earnings are Flowing into Stock Buybacks, Not Jobs and Investments Just Taxes. Also as we predicted.
Guillotine Watch
The Elite Humanitarians of Silicon Valley Atlantic (UserFriendly)
Class Warfare
Thousands in Arkansas fail to meet new Medicaid work rules CNN (furzy)

How to fix inequality Economist (David L)
Antidote du jour. Tracie H:
Backyard hooligans steeling cat food! (You may notice that the center one, the mom, is standing in the water dish—it's the best way to assure herself she gets to dip her hands full of cat food in the water before eating it.)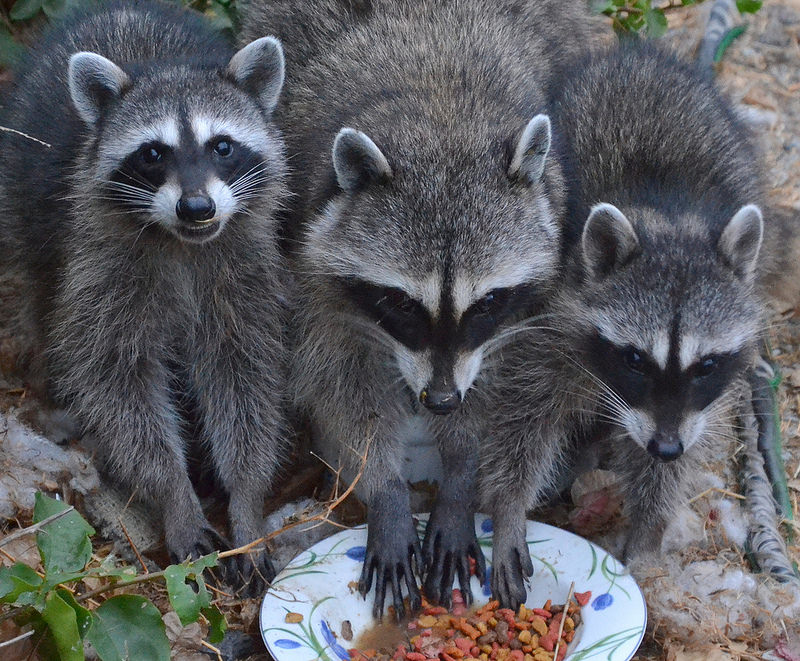 See yesterday's Links and Antidote du Jour here.