This Exhilarating Video of a Rare "Triple Whale Breach" Is a Real Nice Break from Everything Mother Jones
The Secret Life of Kelp Nature (David L)
Planet Earth Wobbles As It Spins, and Now Scientists Know Why LiveScience
Monsanto's global weedkiller harms honeybees, research finds Guardian (David L)
Study cracks open the secrets of the cancer-causing BRCA1 gene Stat (JTM)
US to be hit worse than almost any other country by climate change, report says Independent (David L)
Draft executive order from Trump would crack down on tech companies Daily Dot
Special Report: High-nicotine e-cigarettes flood market, despite FDA rule Reuters (EM)
U.S. Near Bottom, Hong Kong and Singapore at Top of Health Havens Bloomberg (Dr. Kevin)
The Current U.S. Drug Overdose Crisis Began In The Late 1970s, Study Finds Gizmodo. Original study: Changing dynamics of the drug overdose epidemic in the United States from 1979 through 2016 Science (Jeotsu)
DNA ancestry tests branded 'meaningless' Telegraph
North Korea
Gina Haspel Is Skeptical of North Korea's Willingness to Give Up Nuclear Arms New York Times Bill B" ""Ms. Haspel was careful with her remarks about the president, keeping her comments apolitical but supportive of the administration's stated priorities.' The Times is keen to paint division in the upper ranks."

What was the additional message (known as alpha α in SK) carried by Moon to Trump that convinced the US side to respond favorably to NK? Not clear but NSA Chung and Moon's special adviser Moon CI both insisted there was additional "oral message" from KJU https://t.co/iHowhoA2kJ

— Noon in Korea (@NoonInKorea) September 25, 2018
China?
China: Hong Kong Party Banned Human Rights Watch (furzy)

Inequality in China Bruegel

The next cold war? US-China trade war risks something worse The Conversation
German Catholic Church to own up to decades of child abuse AFP
Deutsche Bank ordered to do more to prevent money laundering Reuters
Brexit
Britain is humiliating itself Chris Grey (vlade)

Brexit Britain sets itself up to learn the hard way Financial Times
New Cold War
Extraordinary and Deliberate Lies from the Guardian Craig Murray (YY)
Syraqistan
Big Brother is Watching You Watch
Big Tech's Business Model Is Broken, Report Says Wall Street Journal

Spotify Is Using DNA Tests to Curate Playlists, Which Is Pretty Creepy Noisey
Trump Transition
Rod Rosenstein, who has been overseeing Russia probe, has offered to resign, according to White House officials Washington Post
Trump to meet with Rosenstein on Thursday The Hill
"The Strategy Was to Try and Do Something Really Big": Trump Wanted to Nuke Rosenstein to Save Kavanaugh's Bacon Vanity Fair (furzy)
Undocumented Immigrant Faces a Choice: Become an Informant for ICE or Be Deported Intercept
Kavanaugh
Death at Delta Sig: Heiress Wages a Million-Dollar War on Frats Bloomberg
Money – Born of Credit? Reserve Bank of Australia
The Myth of Authoritarian Competence Atlantic (Bill B)
Oil jumps to a 4-year high after OPEC denies Trump and fails to raise output CNBC
Saudi Arabia Worries Oil Crunch Could Push Up Prices EIA. Joe Costello: "This is first time House of Saud has ever said it could not increase capacity."
This is how UN scientists are preparing for the end of capitalism Independent (John C)
«We've wasted an important opportunity to fix the system» Finanz and Wirschaft
Guillotine Watch
What Beyoncé and These Billionaires Have in Common: Massive Mortgages Wall Street Journal (Lance)

Ultra-Rich Families Ride Surging Stocks to Double Annual Returns Bloomberg
Class Warfare
Unions Did Great Things for the American Working Class Bloomberg. UserFriendly: "Urgh, now they notice.

Teachers' Strikes May Reinvigorate US Labor Movement Consortium News
Antidote du jour. Anne M: "My husband shared some nuts with this fox, leaving them in the grass when he was playing golf at Overpeck in NJ, not far from the George Washington Bridge. Hopefully Mr. (or Ms. ) Fox will not be tempted to venture across the river!"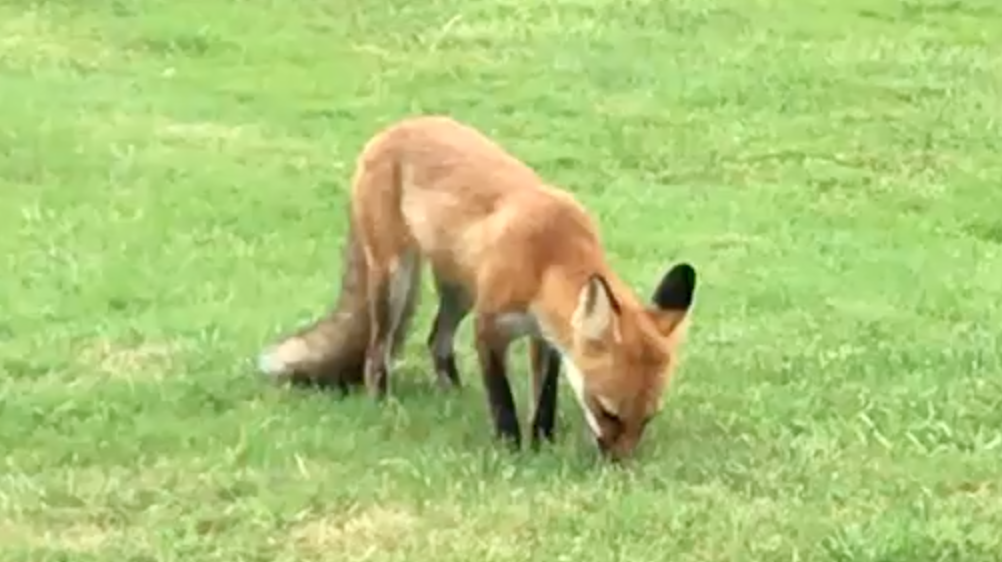 See yesterday's Links and Antidote du Jour here.