Jerri-Lynn here: Regular readers may recall that I've posted often over the past year or so on the plastics problem. Much of this waste ends up in the oceans, harms marine life, and fouls beaches. The government of Vanuatu has stepped up to confront this scourge by banning single-use plastics. The new policy was first announced in January, with implementation delayed until July, so that businesses could use up existing supplies. Other Pacific ocean states have adopted similar initiatives. The post also examines Vanautu's role in urging the Commonwealth countries to tackle the problem of marine plastic pollution.
By Ralph Regenvanu, Minister of Foreign Affairs, Vanuatu. Originally published at Inter Press Service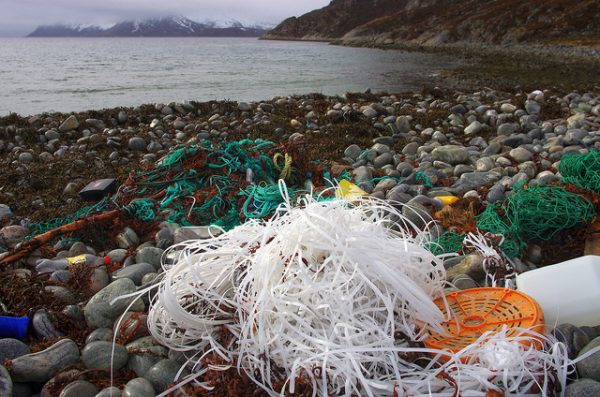 There are an estimated 13,000 pieces of plastic litter afloat every single square kilometer of ocean. Credit: Bo Eide Snemann/CC-BY-2.0
PORT VILA, Aug 21 2018 (IPS) – Cradled in the South Pacific, my home country Vanuatu is made mostly of ocean.  The Pacific covers 98 percent of the national jurisdiction. Here, some 280,000 Ni-Vanuatu like myself live simply off the land and sea.  We view the ocean as a living 'bridge' that connects islands and continents while sustaining life in all its forms. Where we come from, the ocean has a heartbeat.
So when scientists collected nearly 24,000 pieces of non-biodegradable trash on the beaches of the capital city Port Vila last August, it was a harsh reality check for us all. A tally of more than 4,400 plastic bags, 3,000 food wrappers, 4,400 plastic and foam packages, 2,600 beverage cans and 2,100 plastic drinking bottles showed that the addiction to cheap, convenient plastics had crept onto our shores and into our lives. The debris was choking marine life, slowly poisoning fish (and those who eat them) and negatively affecting tourism.
To save our oceans, the country had to take swift and decisive action.
Last month, Vanuatu became one of the first in the world to implement a ban on single use plastic bags, straws and polystyrene food containers. The Government announced the new rules in January, prohibiting the importation and manufacturing of certain non-biodegradable plastic products, followed by a six-month grace period so local businesses and manufacturers could use up supplies.
Alternatives were developed. Traditional natural fibre baskets took the place of plastic bags. Home-grown innovators such as Tom Yaken created community water taps using bamboo instead of the usual plastic pipes. We were guided by a National Ocean Policy for sustainable ocean management, framed around the traditional 'Nakamal' – the customary Ni-Vanuatu institution for governance.
A medium and long-term communication strategy is being put in place to begin the discussion on how to achieve lasting change in the age of plastic.
Looking at the region, I am proud that other Pacific 'big ocean states' are also rallying against the curse of marine plastic pollution. Samoa recently announced plans to ban all single-use plastic bags and straws by January 2019. New Zealand made a similar pledge to phase out single-use plastics over the next year. Meanwhile, island countries such as Palau, the Marshall Islands, Northern Marianas, Guam, and parts of the Federated States of Micronesia have all outlawed single use plastic shopping bags. Fiji and Tonga have levy systems in place to discourage plastic bag use.
But even beyond the Pacific, the momentum towards a major global transition has never before been so great.
In April, at the Commonwealth Heads of Government Meeting in London, 53 countries made a joint commitment to preserve the health of the ocean, recognising its role in sustaining life on our planet.  Under the Commonwealth 'Blue Charter', Vanuatu and the United Kingdom stepped forward as 'champion countries' to tackle marine plastic pollution.
It is a pressing global issue – scientists predict that if current trends continue, there will be more plastic than fish in the sea by 2050. Even now, the accumulation of trash floating in the Northern Pacific Ocean (commonly known as the 'Great Pacific Garbage Patch') spans an area three times the size of France and is estimated to weigh 80,000 tonnes – equivalent to 500 jumbo jets. The effects are dire for marine ecosystems, ocean economies and human life, and demand a global response.
Fortunately, the vast majority of Commonwealth countries are island or coastal states (just seven are landlocked).  There is huge potential for resources and good practices to be shared, refined and scaled across the Commonwealth, and with the rest of the world.
My own hope is that all 53 leaders who signed on to the Commonwealth Blue Charter commit to concrete steps to address plastic waste in their countries. We have a remarkable opportunity to jointly make improvements to our planet, and it must not be missed.
Vanuatu's journey so far has been instructive. I am confident that between traditional marine resource management practices and new knowledge and innovations, solutions to the plastic problem are available, or ready to be discovered. It just takes leadership.
Pacific Island countries like Vanuatu have already shown themselves to be ready and willing.