Several major media outlets picked up a new report by the JPMorgan Chase Institute on the so-called platform economy. The authors published a similar report last year that contended that gig economy growth was over. The problem with this document was by attempting to look across the entire gig economy, it didn't dig into the factors that were important in the local transportation sector. The JPMorgan Chase study, and even more so, Uber and Lyft-influenced press reports on the report, ignored the most probable cause of falling revenues per drivers and larger numbers of drivers: that churn has risen greatly due to deteriorating driver economics.
Admittedly, this chart is based on a sample of a very large set of Chase's transaction data, but you can see the flattening of transportation revenues: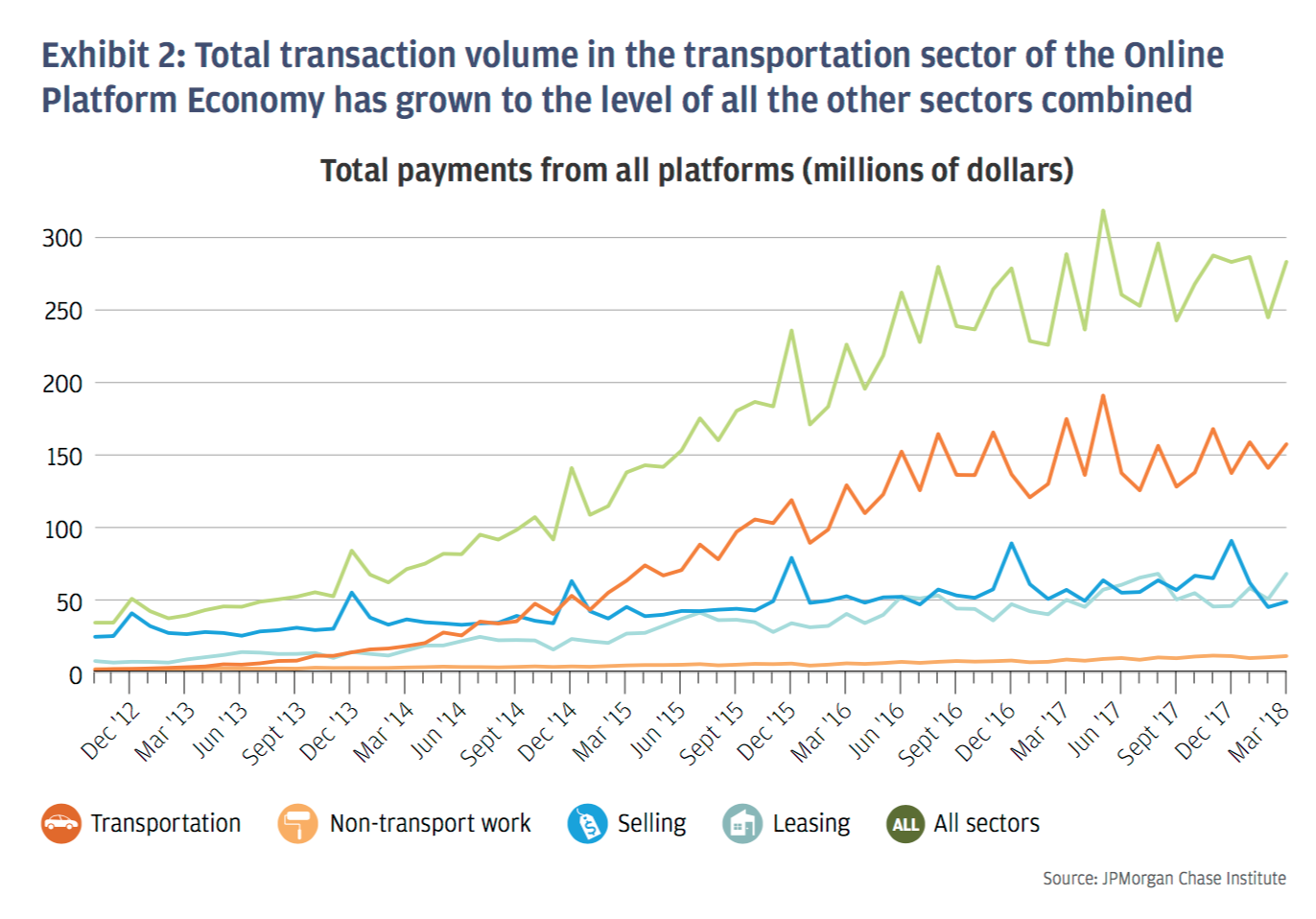 The chart below was the centerpiece of the news reports on how Uber and Lyft drivers are faring: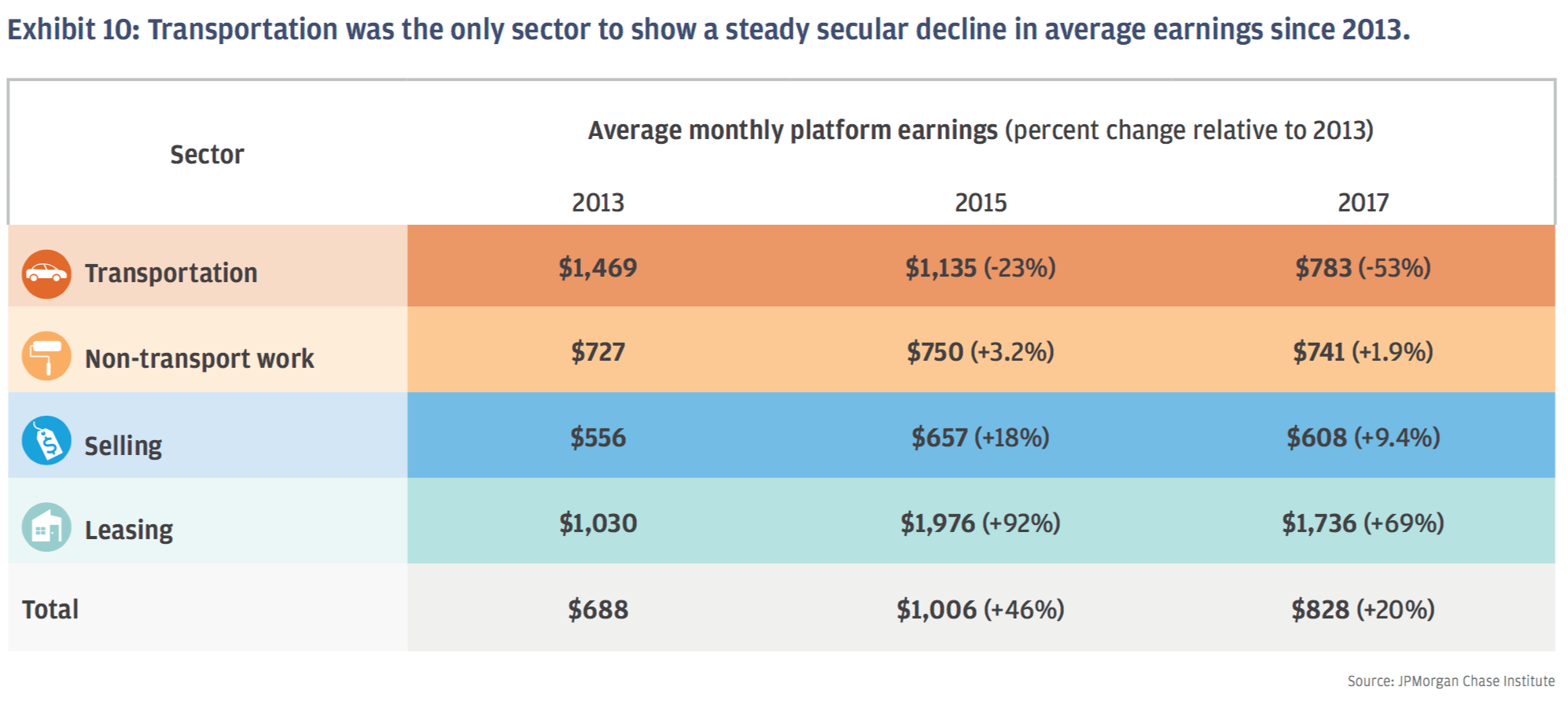 While the study suggests that demand and supply factors (more drivers leading to fewer average hours) is possible, the authors pointedly say they don't know due to the lack of data:
These declines in monthly earnings among drivers may reflect the fact that the growth in the number of drivers could have put downward pressure on hourly wages; they may also reflect a potential decline in the number of hours drivers are driving. In our data, we do not observe wages and hours separately; we see only their product, earnings.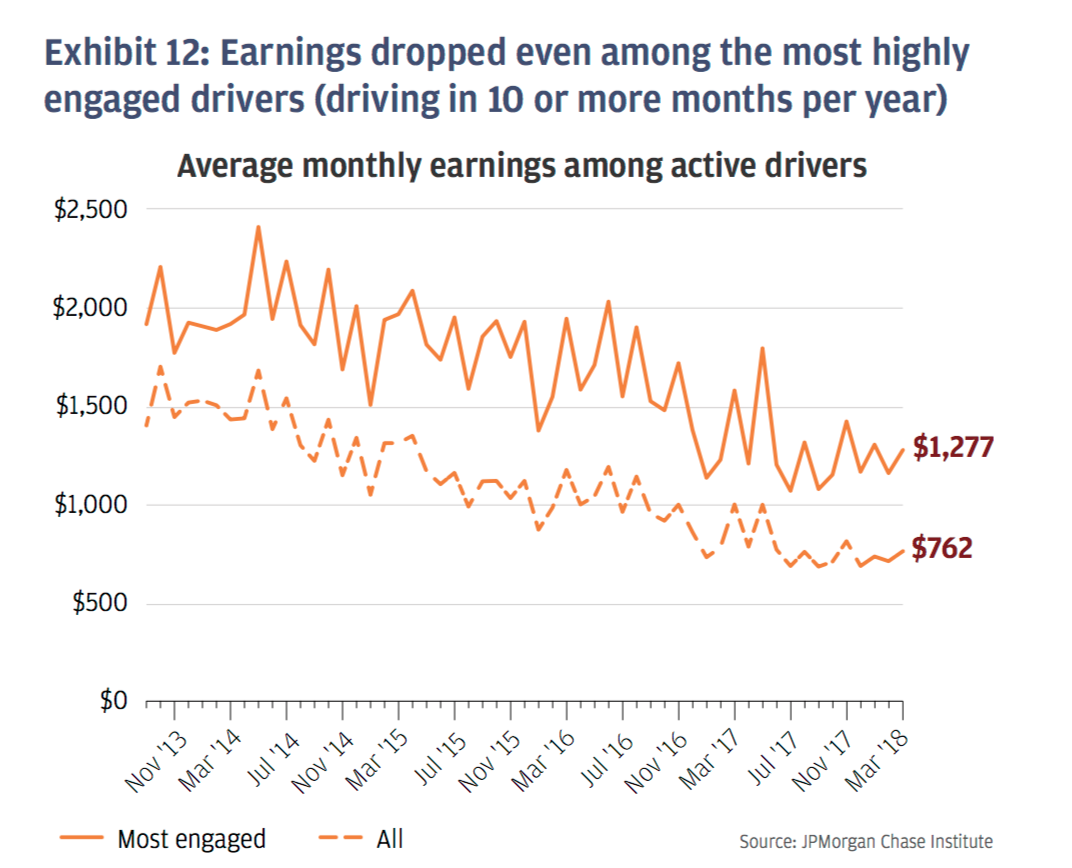 Noreover, research that goes only through 2015 points to decay in driver profits, not just gross revenues:
However, research into tax reporting indicates that self-reported costs by new drivers fell 41 percent between 2013 and 2015, whereas self-reported earnings fell 46 percent (Abraham et al, 2018). Since a significant fraction of these costs is likely to comprise variable costs (vehicle maintenance and fuel), the decline could reflect a reduction in hours, as well as the decline in fuel prices that occurred during this period. The fact that earnings declined more than costs, however, suggests that effective wages also fell.
How does the press treat this basic story line? The Journal relegated the study to its Real Time Economics section and tried to depict it as the natural workings of the market, and therefore not much to see here. In fairness. the lead author of the report took a much less measured line in interviews than in the report. From the article When the Supply of Uber and Lyft Drivers Rises, Their Earnings Fall:
It's a classic case of your Econ 101 class being right.

"When you increase the supply of something, you drive down the price," said Diana Farrell, chief executive of the institute, the research arm of the banking giant.
Uber and Lyft also claim that the fall in average hours per driver is due to drivers choosing to drive fewer hours during peak demand periods. From the Journal:
Similarly, Lyft said its drivers are most concerned with how much they make per hour, not per month. Having more drivers working fewer hours has helped push down average monthly earnings, the company said.
The implication is that these drivers are established drivers who decide to focus on the most lucrative times. But that's hard to square with this chart, that shows that nearly 60% of ride-share drivers had earnings only one to three months of the year: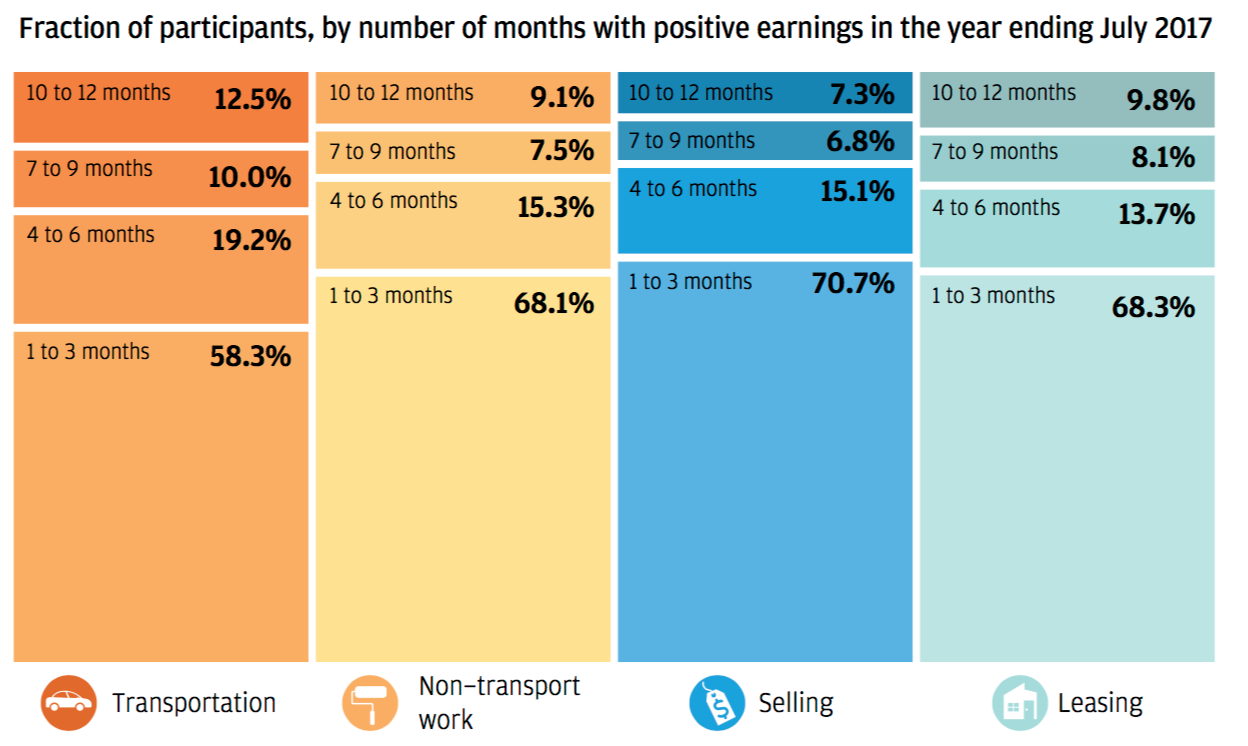 As Hubert Horan pointed out:
Since Uber is far and away the biggest company in their sample, the data directionally supports other anecdotal evidence about flattening Uber growth and other less anecdotal evidence about drivers getting a smaller and smaller piece of total fares.

The report talks about how typical gig providers in transportation are only active a few months a year, but didn't track individuals over time. My strong sense is that most of this is just the horrible turnover you get when people realize how awful the job and pay are, and not people who drive for a while, go on to do something else, but come back to driving multiple times a year. There's absolutely nothing in the report supporting the Uber/Lyft claim that the declining wages reflects people only driving a few hours a week at peak demand times.
And Hubert flagged a big reason for rising driver churn: their net take has been falling:
One driver issue that I haven't seen mentioned anywhere is that drivers have effectively been suffering from two separate pay cuts. The first, documented in the P&L data, is Uber's unilaterally giving drivers a smaller share of gross fare revenue. The second is that drivers bear the full burden of higher fuel costs. fares need to cover total Uber+driver costs; Uber hasn't been indexing fares to reflect rising gas prices. As opposed to regulated taxis in most cities, where fares were regularly increased (with a time lag) as fuel prices increased.
Since the worker-exploiting Ubers and Lyfts are popular (who wouldn't want to take a heavily subsidized ride?), both the tech and the general business press has been far too willing to buy their spin, save for salacious personnel scandals. We'll see if the halo survives Uber's efforts to go public in 2019, or make excuses as to why it didn't.